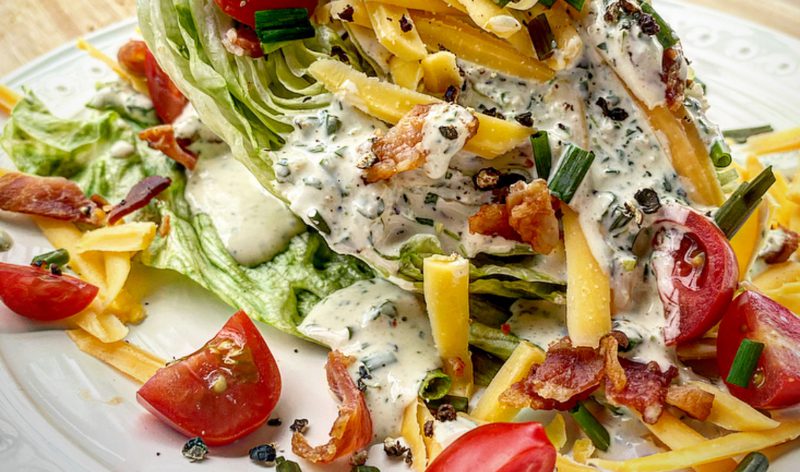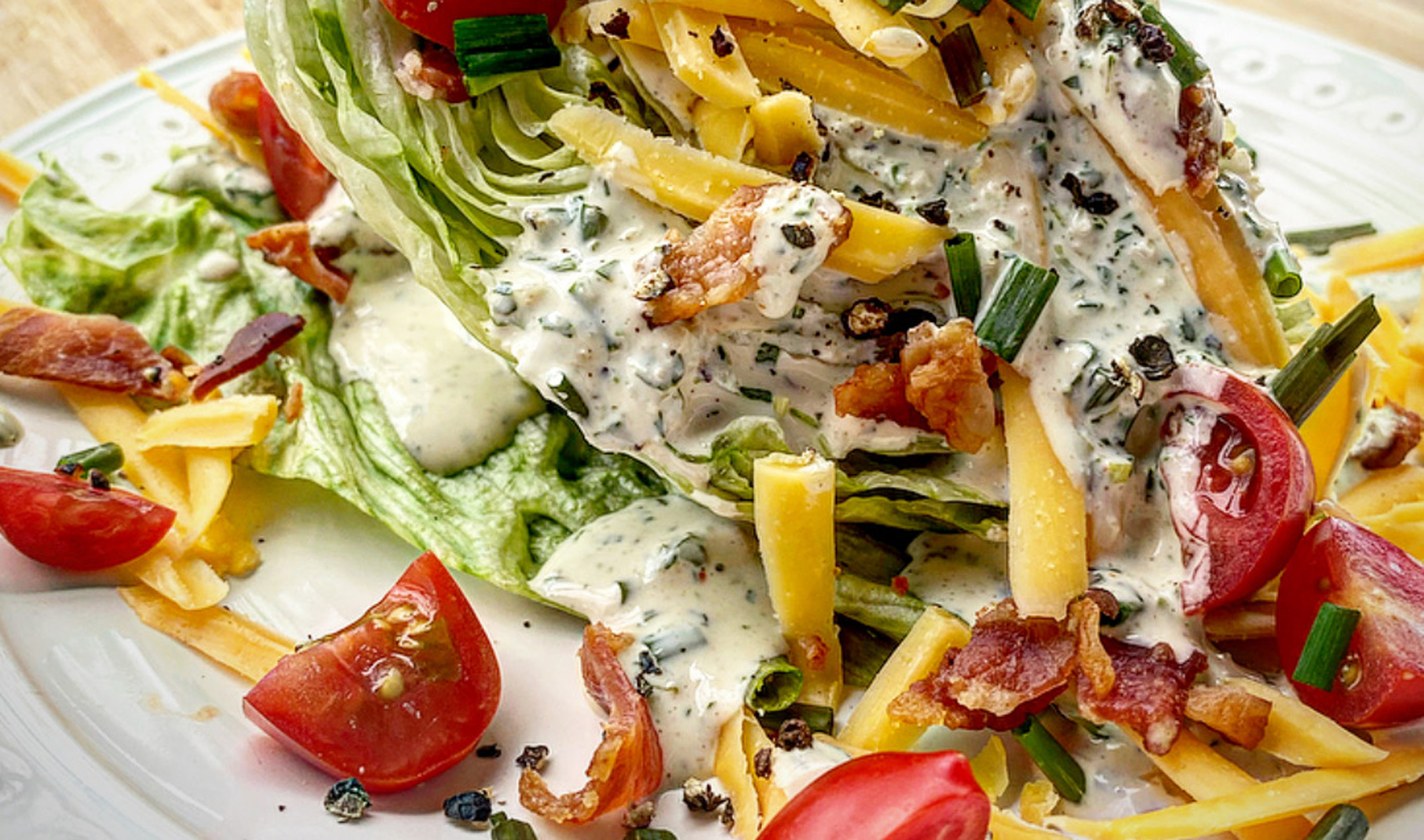 I am sitting here blissening (bliss+listening) to one of our most favorite songs ever, the full-length, original version of "Purple Rain," a pure masterpiece of emotion and guitar, and I'm reminded of how lucky we are to have Prince's music with us forevermore. Beautiful art doesn't age, and the Mighty Wedge Salad appeals to me and Felix in the same way. Timeless is a good descriptor for this gorgeous combination of crisp iceberg, warm bacon, fresh tomatoes and shredded cheese. It is especially delicious when drizzled with our own heavenly BFF Buttermilk Ranch Dressing.
The Mighty Wedge Salad is welcome at our table, no matter the occasion. It fits perfectly at a casual summer patio dinner, and just as easily grooves with a fine steak and cocktails. We will always love and enjoy the Mighty Wedge, like the magic of a well-made Manhattan or … Mmmmm … an ice-cold, fizzy Moscow Mule – all classics that will surely stand the test of time.
This salad is pure, simple joy on a plate, and everyone who has seen our version immediately lit up and blurted out something to the effect of "I want that, please, right now, in my mouth, I need to eat that!" It's a visceral love, and there are few things truer than that – passionate and deep, pure and satisfying.
Felix and I understand that feeling. We love it, live it, and seek it in all that we make. Our greatest wish is that you will join us in our daily quests for these wondrously delicious foods and enjoy the same satisfaction we do. The wedge isn't dead. LONG LIVE THE MIGHTY WEDGE!
The Mighty Wedge Salad Recipe
SERVES
6
DIFFICULTY
Easy
PREP TIME
15 minutes
COOK TIME
15 minutes (bacon)
DIET: GF, Keto, can be vegetarian (omit bacon)
SERVES: 6
DIFFICULTY: Easy
PREP TIME: 15 minutes
COOK TIME: 15 minutes (bacon)
DIET: GF, Keto, can be vegetarian (omit bacon)
Ingredients
(Tips: Sub blue cheese dressing, or add bay shrimp, minced red onion, croutons, Gorgonzola or diced cucumber, as desired.)
1 head iceberg, wedged into sixths
1 ½ c BFF Buttermilk Ranch Dressing
½ c cheddar cheese, shredded
4 slices bacon, cooked and crumbled, warmed
12 cherry or grape tomatoes, wedged
2 T chives, chopped
cracked black pepper, as desired
Instructions
Wedge head of iceberg lettuce, from top to base. Place wedge-cut side up on plate. Drizzle with a few tablespoons of dressing (this will be the base for toppings to adhere to). Sprinkle with cheese, bacon, tomatoes and another tablespoon or two of dressing. Top with fresh chives and cracked black pepper. Serve immediately.
Meet the Makers
Felix & Greg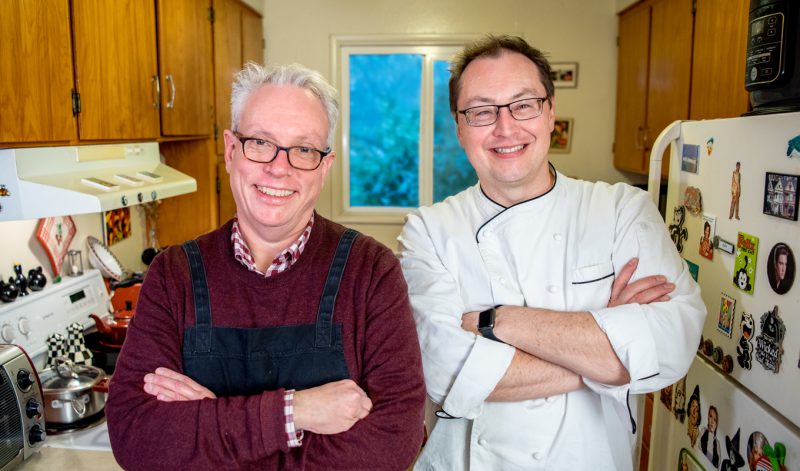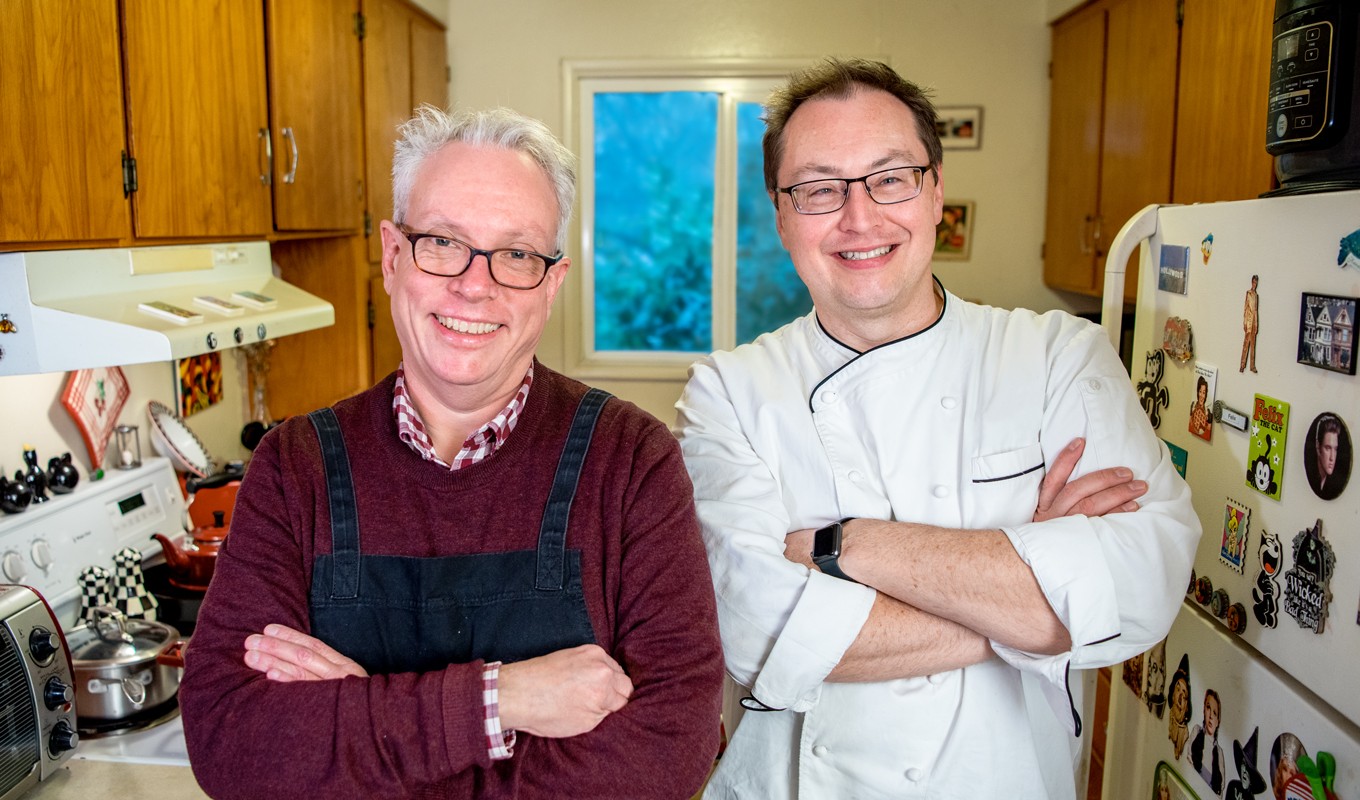 FELIX HUCK
Recipe Creator & Food Photographer
An artist and shutterbug, Felix finds beauty and inspiration in food and nature. He invents and photographs the recipes you'll find here.
GREG CABEZA
Professional Chef & Food Blogger
A food aficionado and lifelong music fan, Greg is an experienced artisan chef. He's also co-recipe creator and food blogger at Felix & Greg.
SUBSCRIBE TO OUR EMAILS
Good ideas could be cooking in your inbox. Sign up for our newsletter.