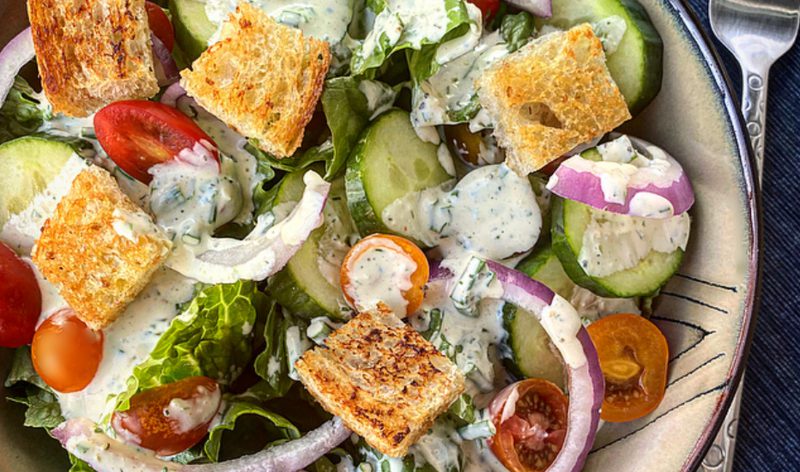 Felix and I love to cook together, because, well, we're BFFs. We love (and hate, ha ha) so many of the same movies, foods, bands – you name it. And we truly love a good buttermilk ranch dressing. We're not talking about that bottled stuff, full of thickeners and preservatives, or that powdered salt packet that we admit works in a pinch sometimes. Oh no, we mean the GOOD stuff, the one you make for company, for family and for BFFs. This is that one. It's so deliriously good, you'll be dipping and dunking veggies, fries, pizza, whatever you want in it (you can dip with no shame around your BFF, right?). Seriously though, this dressing is perfect for sandwiches and appetizers, and it's absolutely blissful on a green salad. Try it on our Mighty Wedge Salad, but make sure you're sitting down and holding on to something, so you don't fall out of your chair in sheer joy.
The secret to this dressing is pretty simple: lots of fresh herbs and a bit of hot sauce, because we like it like that. It's super easy, too. All the ingredients go into the food processor, and the dressing stores for a week or so in an airtight container in the fridge. You won't want any other ranch dressing after you've had this one. Try it and tell us us what you plunked into it. We won't tell. We're all BFFs here.
BFF Buttermilk Ranch Dressing Recipe
SERVES
Scant 3 cups
DIFFICULTY
Easy
PREP TIME
10 minutes
DIET: Vegetarian, Keto, GF
SERVES: Scant 3 cups
DIFFICULTY: Easy
PREP TIME: 10 minutes
DIET: Vegetarian, Keto, GF
Ingredients
1 c mayo (we like Best Foods)
1 c sour cream
½ c buttermilk
½ a lemon, juice of
1 t Worcestershire sauce (use a GF or vegetarian option, as desired)
½ t garlic powder
pinch of cayenne, salt and pepper (to taste)
few dashes hot sauce (Cholula or Tapatio are our favorites)
4 green onions, chopped
2 T parsley, chopped
1 T fresh dill, rough chopped
2 T fresh chives, chopped
Instructions
Add all to a food processor and blend well. Taste and adjust seasonings (add a bit more lemon, salt, pepper and hot sauce, as desired; dressing flavors will mellow slightly as it rests). Refrigerate in an airtight container until ready to use.
Meet the Makers
Felix & Greg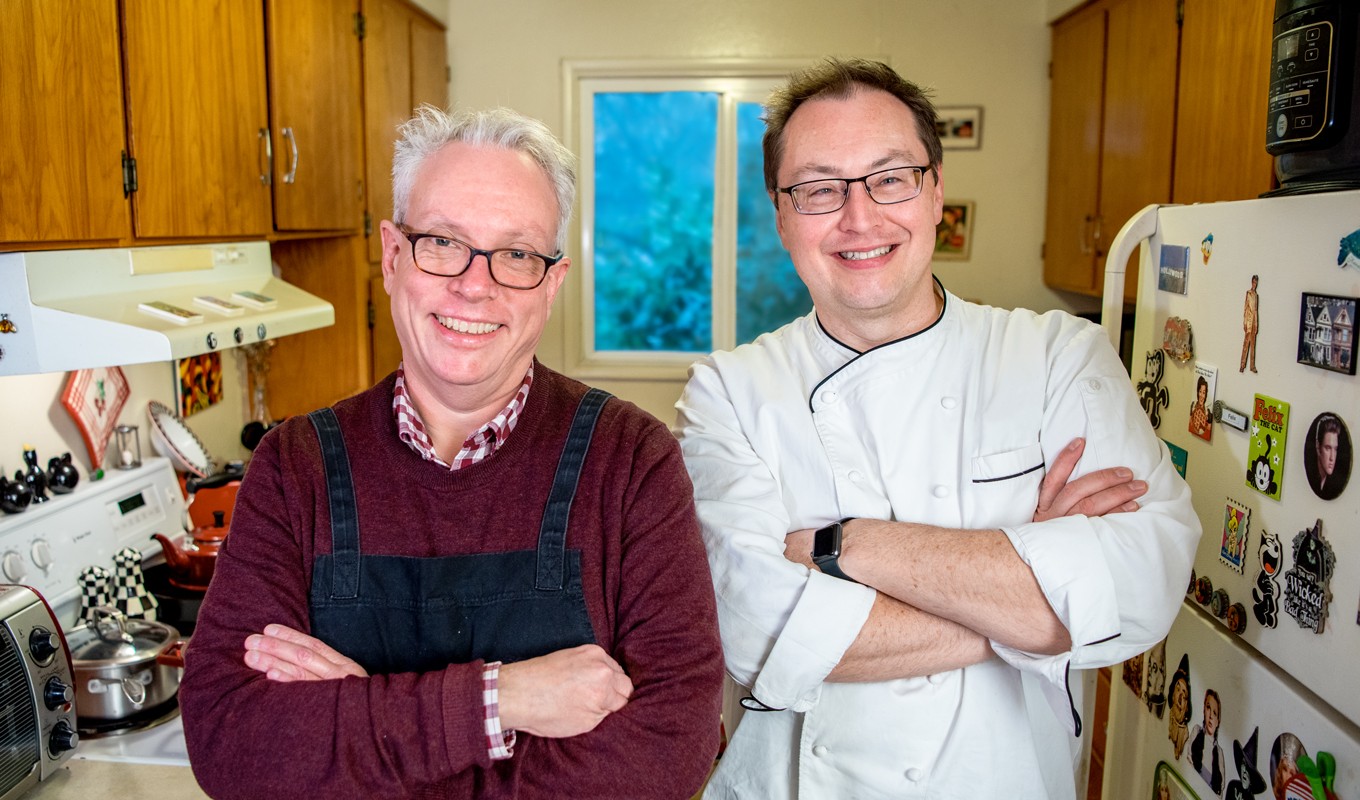 FELIX HUCK
Recipe Creator & Food Photographer
An artist and shutterbug, Felix finds beauty and inspiration in food and nature. He invents and photographs the recipes you'll find here.
GREG CABEZA
Professional Chef & Food Blogger
A food aficionado and lifelong music fan, Greg is an experienced artisan chef. He's also co-recipe creator and food blogger at Felix & Greg.
SUBSCRIBE TO OUR EMAILS
Good ideas could be cooking in your inbox. Sign up for our newsletter.