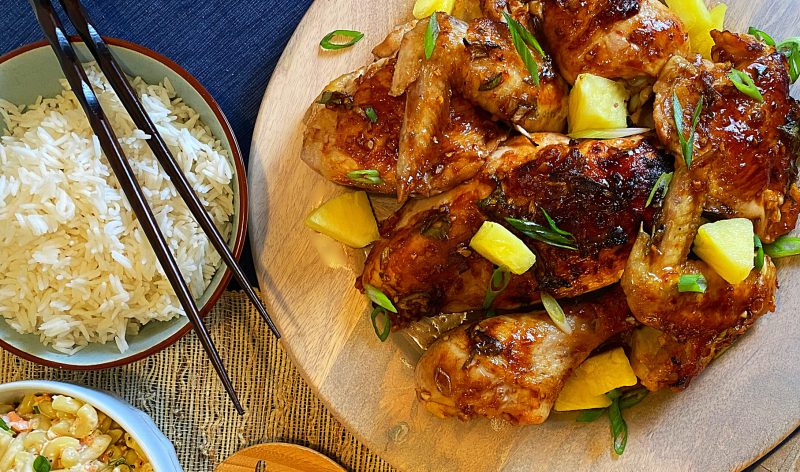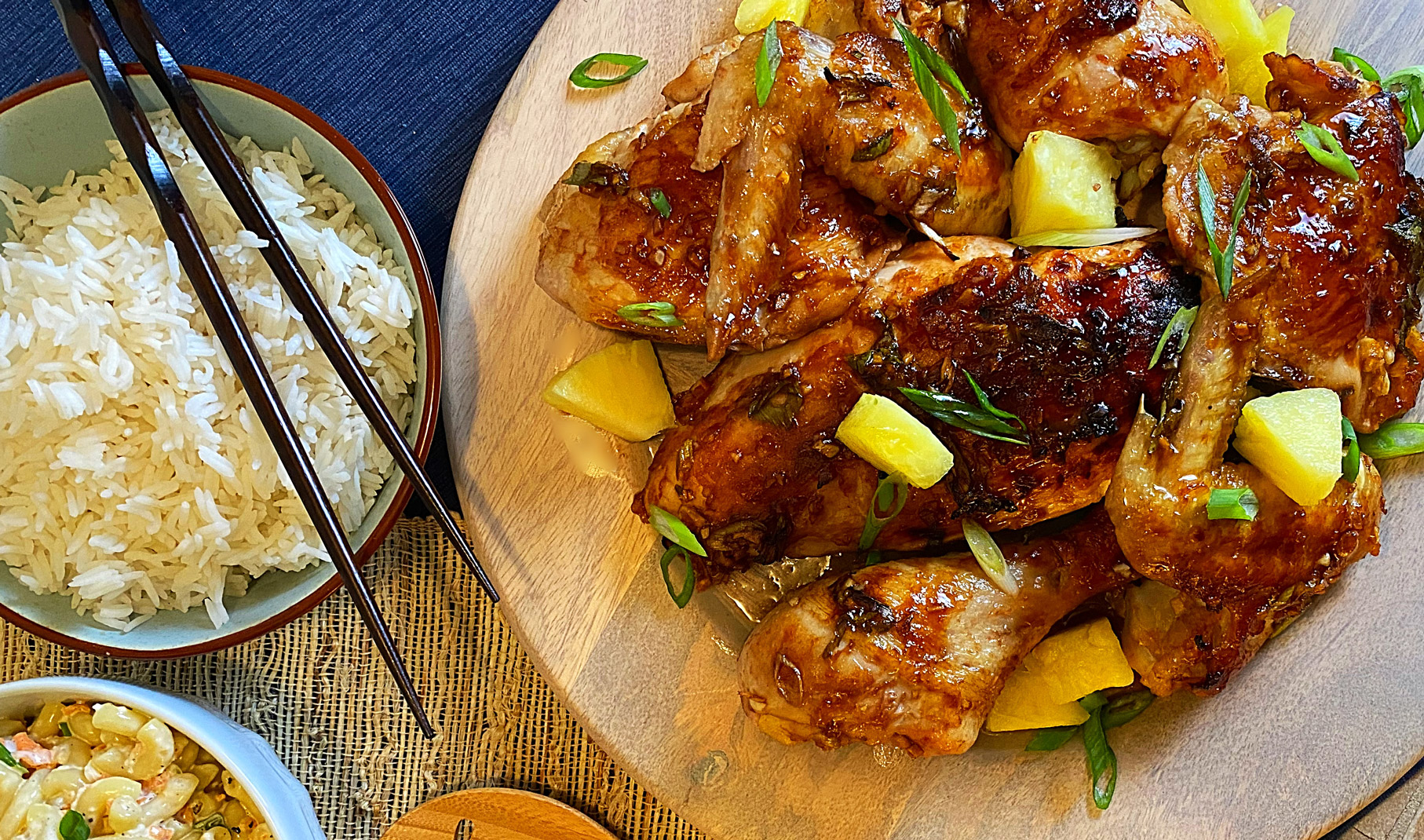 Hawaiian Huli Huli chicken comes together with just a few simple ingredients and a few hours to marinate, but it is well worth the wait!
Huli Huli, which means 'turn turn,' is traditionally made on a spit or rotisserie over a fire. If you have either available, cook the chicken slowly over hot charcoal – we highly recommend it! We've also made this chicken on the grill and in the oven with great results – directions, below! The most important part is to continually baste and turn the chicken and, if using an oven, simply broil for the final 3 minutes to give it some extra color and flavor.
Our recipe includes some of our favorite ingredients, like lots of ginger, garlic and tamari, instead of soy sauce, for a mellower saltiness. Feel free to adjust the mix a bit to suit your taste. Huli Huli chicken is normally both sweet and salty, similar to teriyaki, but a splash of hot sauce surely wouldn't hurt if you don't mind a little heat (we would recommend Sriracha).
You can make the marinade a few days in advance, then simply plop the chicken into it when ready. Make sure to have the marinade on hand as it cooks, so you can baste it repeatedly, at least 4-5 times, before it is all said and done. This marinade is also fantastic on pork ribs, so don't be shy about giving that a try! We've used bone-in, skin-on whole chicken, cut into eight pieces (two of each: thighs, breasts, legs and wings), but this would be enough marinade to do about 16 or so drumsticks or even more wings, if that's preferred. The smaller pieces don't need as long in the marinade to soak up all of the flavors, so you could be eating in few hours after getting started if you go that route.
We highly recommend trying our Hawaiian Mac Salad alongside this chicken and some fresh white rice. Take it to the beach and enjoy these island-style gindz around a campfire after a day of playing in the water.
Huli Huli Chicken Recipe
SERVES
4-6
DIFFICULTY
Easy
PREP TIME
10 min
COOK TIME
1 hr
CHILL TIME
4 hr (or overnight)
SPECIAL TOOLS
Grill
DIET: GF (if using GF Worcestershire, or omit)
Huli Huli Chicken Recipe
SERVES: 4-6
DIFFICULTY: Easy
PREP TIME: 10 min
COOK TIME: 1 hr
CHILL TIME: 4 hr (or overnight)
SPECIAL TOOLS: Grill
DIET: GF (if using GF Worcestershire, or omit)
Ingredients
2 T brown sugar
1 T white sugar
¼ c pineapple juice
¼ c ketchup
¼ c tamari
¼ c rice vinegar
1 T garlic, minced
2 T ginger, minced
2 green onions, chopped
1 T honey
¼ c chicken stock
2 T Worcestershire sauce
8 piece chicken (whole cut up, wings, thighs, breasts, legs) or 4 lb chicken pieces
Instructions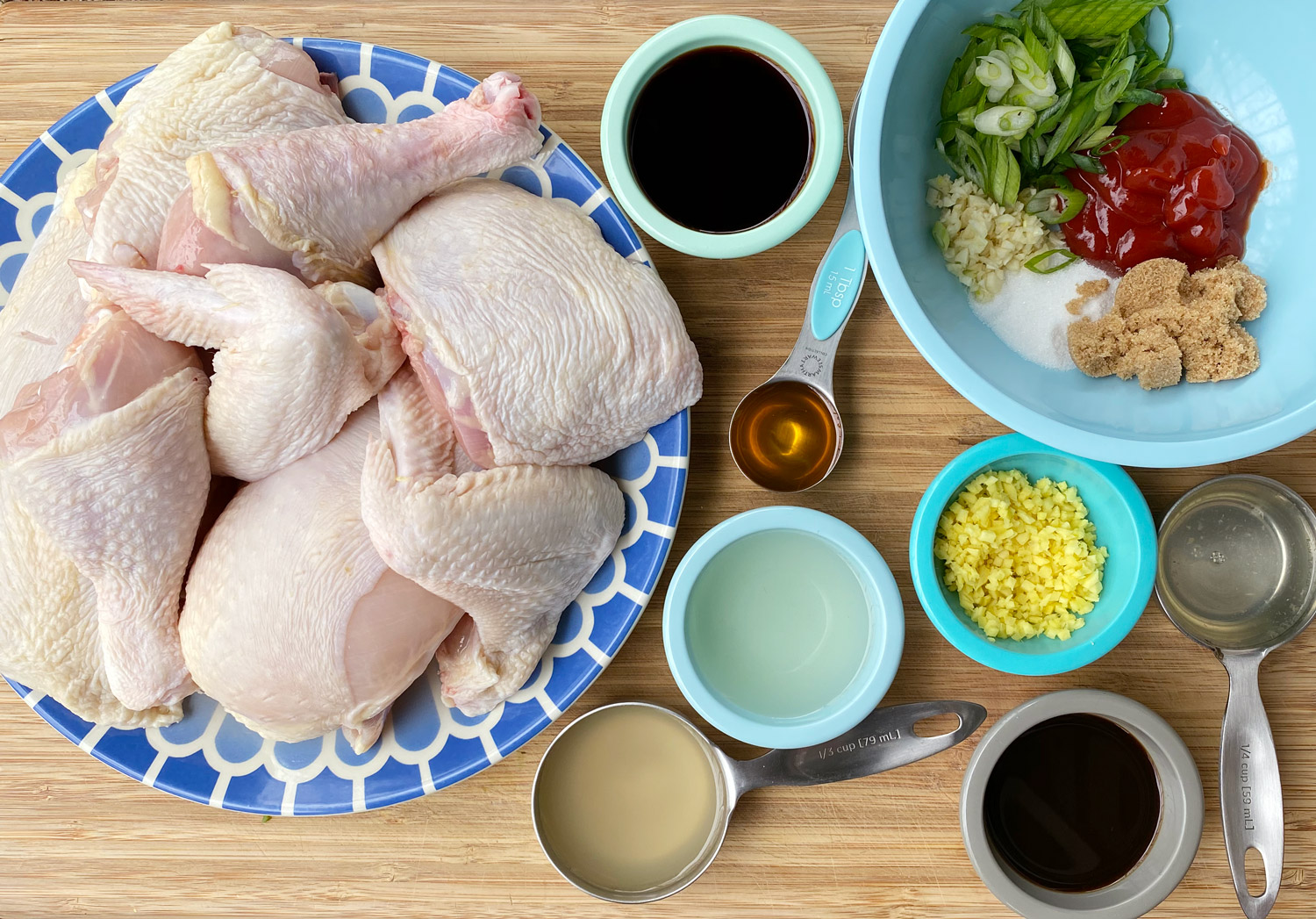 Gather ingredients.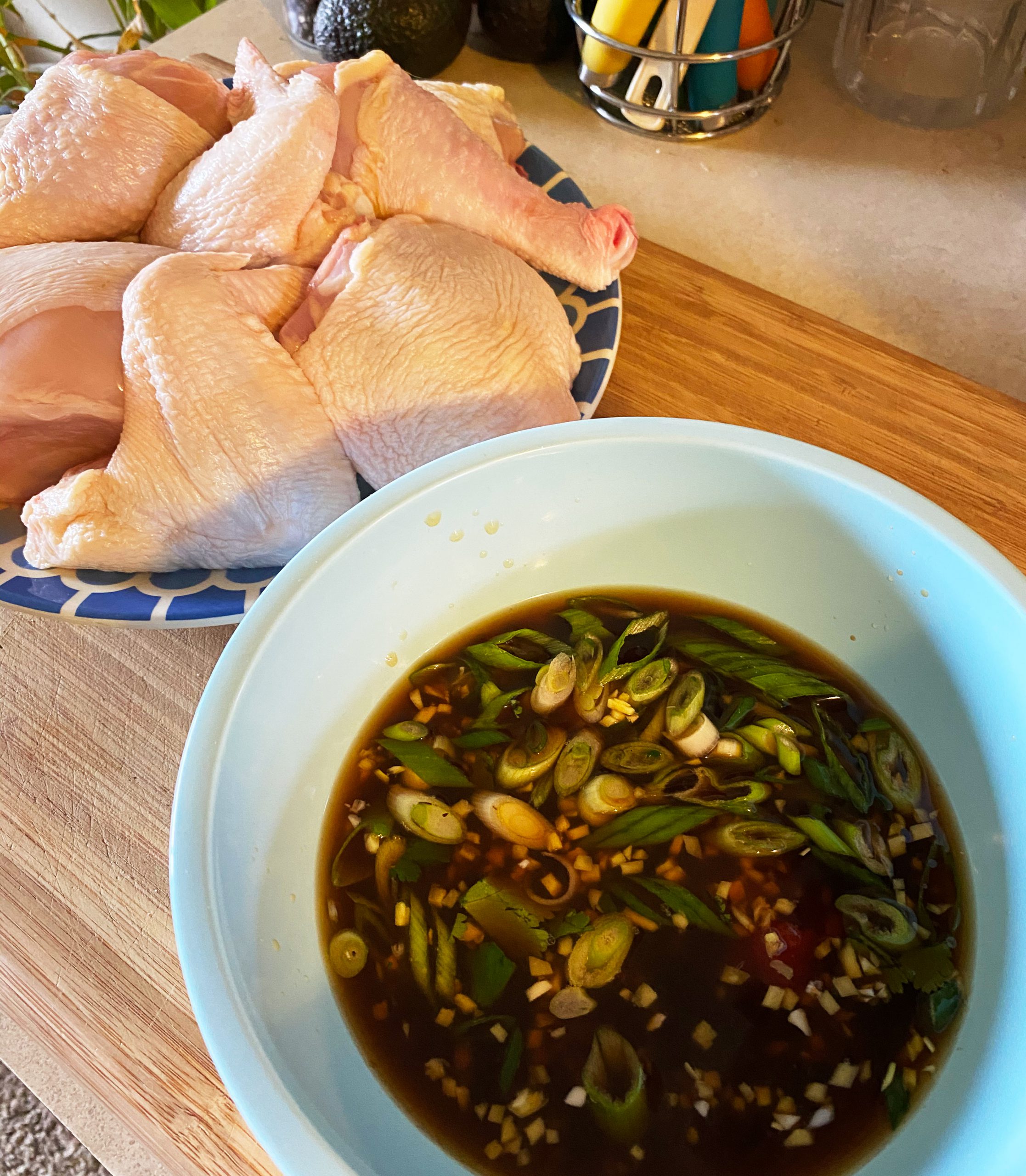 Combine all marinade ingredients and add to chicken in resealable bag. Chill bag in a bowl to catch any drips, 4 hr or overnight. Remove chicken from marinade and reserve marinade.
Grilling method: Preheat the grill so that there is both a hot side and indirect heat side (lower heat). If desired, bring marinade to a simmer in saucepan before using as a basting liquid. Mark chicken pieces on the hot side briefly – be sure to keep an eye on them, as the sugars in the marinade will burn rapidly if not watched closely. Move chicken pieces to the cooler side and baste with marinade. Cover chicken and continue to move chicken around on the cool side of the grill, turning occasionally and basting every 5 min or so, until deep color develops and each piece registers 165° on a meat thermometer, inserted in thickest part. Legs and wings will cook quickly, approx. 25 min. Thighs will take 35-40 min and breasts can take an hour or so.
Oven method: Preheat oven to 400°. Place chicken pieces on a sheet pan fitted with a rack. Bake chicken until done, basting every 10 min or so. Pull legs and wings early, then thighs, and then breasts as each piece reaches 165° internal temp. on a meat thermometer, inserted in thickest part. Turn broiler to high and return all chicken to the oven for three min, until a bit of color develops and the glaze darkens. Remove any remaining pieces from the oven and serve.
Have macaroni salad and rice ready to eat when chicken is done. Top chicken with pineapple chunks and green onion for garnish, if desired.
Meet the Makers
Felix & Greg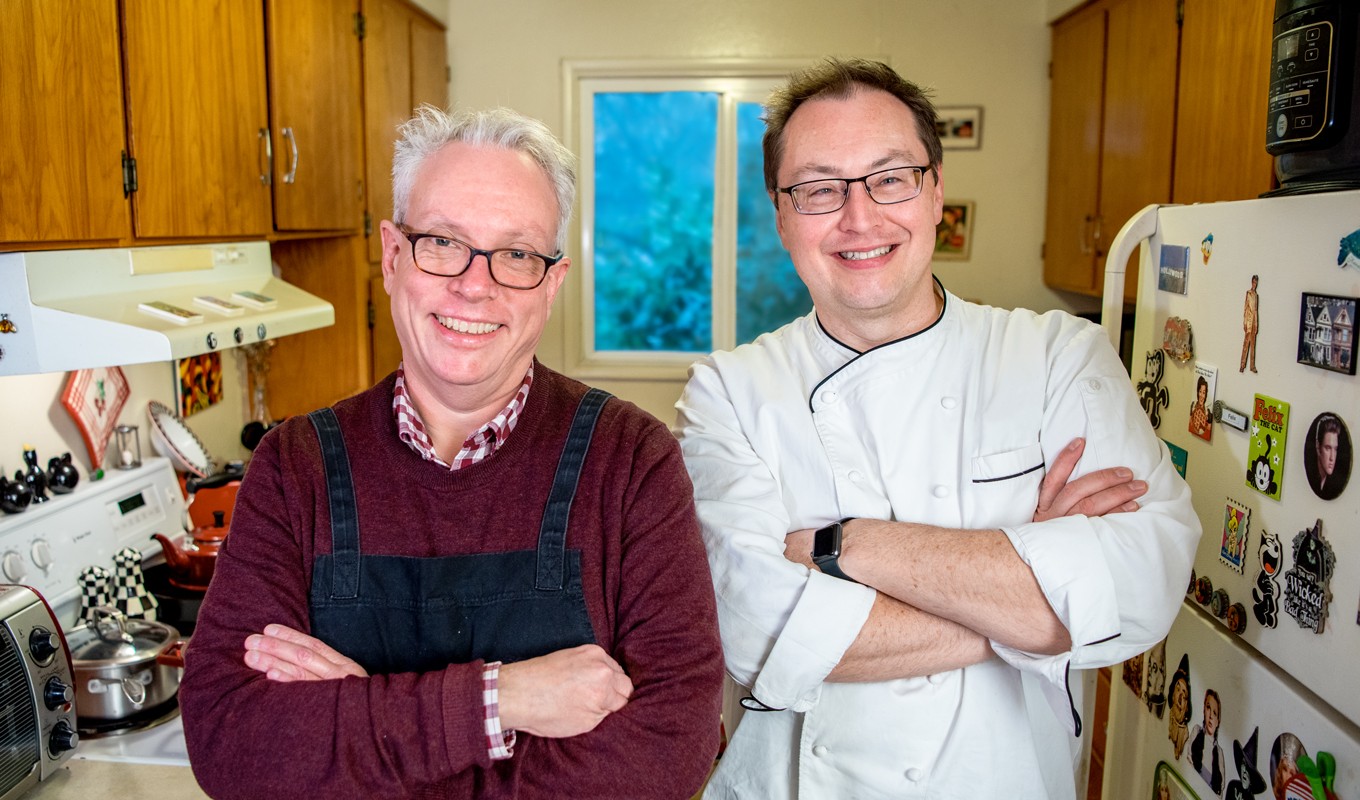 FELIX HUCK
Recipe Creator & Food Photographer
An artist and shutterbug, Felix finds beauty and inspiration in food and nature. He invents and photographs the recipes you'll find here.
GREG CABEZA
Professional Chef & Food Blogger
A food aficionado and lifelong music fan, Greg is an experienced artisan chef. He's also co-recipe creator and food blogger at Felix & Greg.
SUBSCRIBE TO OUR EMAILS
Good ideas could be cooking in your inbox. Sign up for our newsletter.