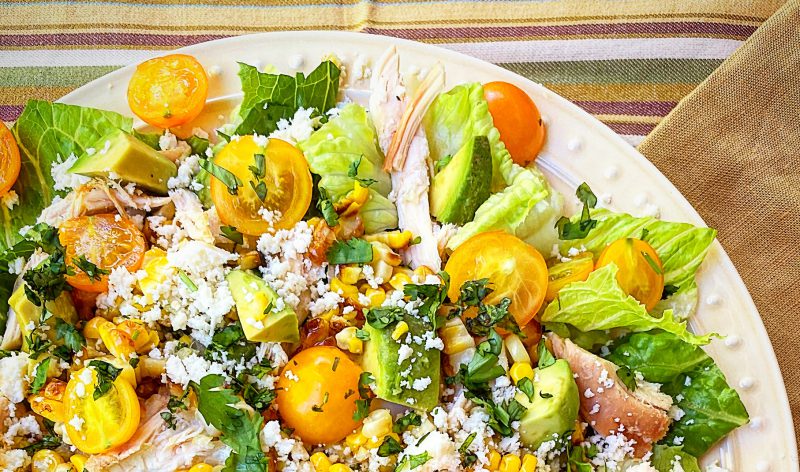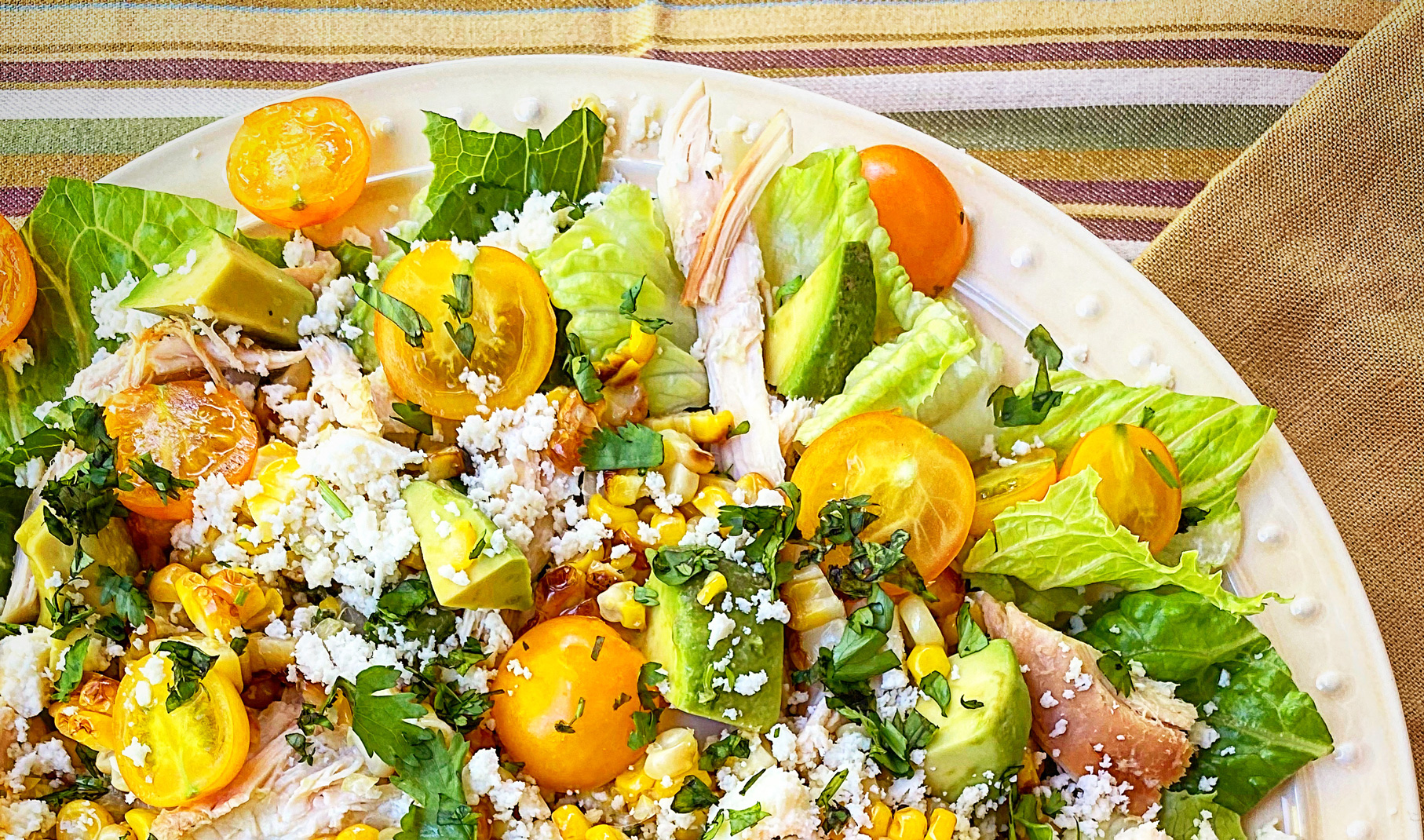 Fresh summer corn is amazing when it's in season. We love to toss some on the grill and play around with new recipe ideas like this one. Felix used to live in L.A. and loved the elotes (grilled corn) stands on the street corners. If you haven't had elotes, you're in for a treat. Elotes is a street food that originates from Mexico. It's made with fresh cooked corn on the cob that's rolled in a sauce (usually just mayo and lime juice, aka crema Mexicana), then covered in cotija cheese crumbles and Tajin seasoning. It's served with a squeeze of lime and plenty of cilantro sprinkled over it, and it's is simply divine.
We've captured those same flavors and transformed them into a beautiful, delicious summer salad. Simply grill the corn until softened, then trim the kernels off the cob by standing each ear upright and sliding a sharp knife down each side toward your cutting board. Toss the corn with freshly chopped onion and jalapeño, as desired, and plenty of our Elotes Dressing (soooooo good!).
This corn salad is great served alongside grilled shrimp, steaks or chicken, and it makes a tasty addition to fish tacos, too. We serve it with crisp romaine lettuce, creamy avocado chunks, and shredded roasted chicken (store bought, to make it fast and easy). Try it with some chips and salsa on the side and an icy margarita to enjoy on the patio. Felix and I will run on over, jump the fence and gladly join you!
Grilled Elotes Salad Recipe
SERVES
4
DIFFICULTY
Easy
PREP TIME
30 min
COOK TIME
10 min
DIET: Vegetarian
SERVES: 4
DIFFICULTY: Easy
PREP TIME: 30 min
COOK TIME: 10 min
DIET: Vegetarian
Ingredients
Elotes Dressing
3 cloves garlic, minced
1 lime, zest of
2 limes, juice of
½ c extra virgin olive oil
¼ c mayo
1 t Tajin seasoning
1 jalapeño, chopped
¼ c cilantro, chopped
¼ c cotija cheese
2 T honey
Salt and pepper to taste
Grilled Elotes Salad
For corn salad:
4 ears corn, grilled, cut from cob
¼ c chopped white onion
1 jalapeño chopped
3 T cilantro, chopped
3 T cotija cheese
¼ c Elotes Dressing (see recipe above)
Additional, when ready to serve:
4 c chopped romaine lettuce
2 c yellow cherry tomatoes, halved
2 avocados, chunked, tossed gently with lime juice
2 c rotisserie chicken, shredded
¼ c cotija cheese, crumbled
Instructions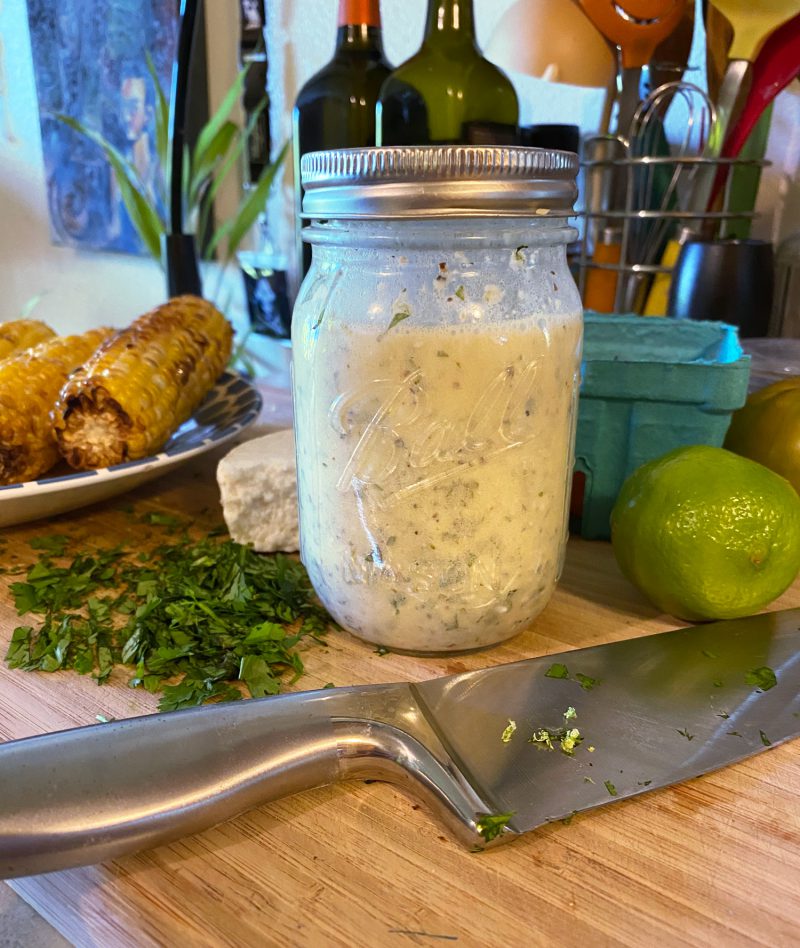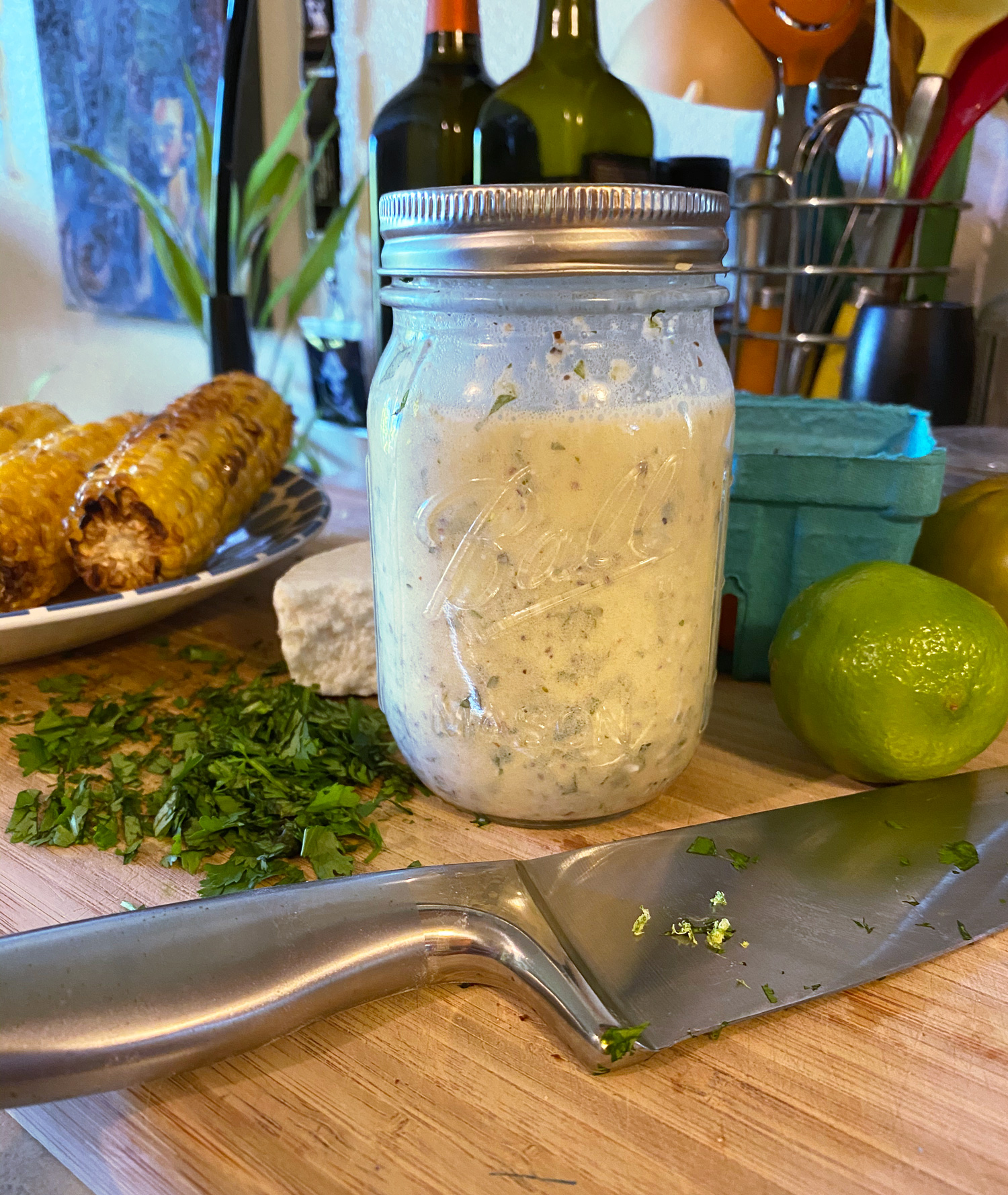 Combine all the Elotes Dressing ingredients, then refrigerate in an airtight container.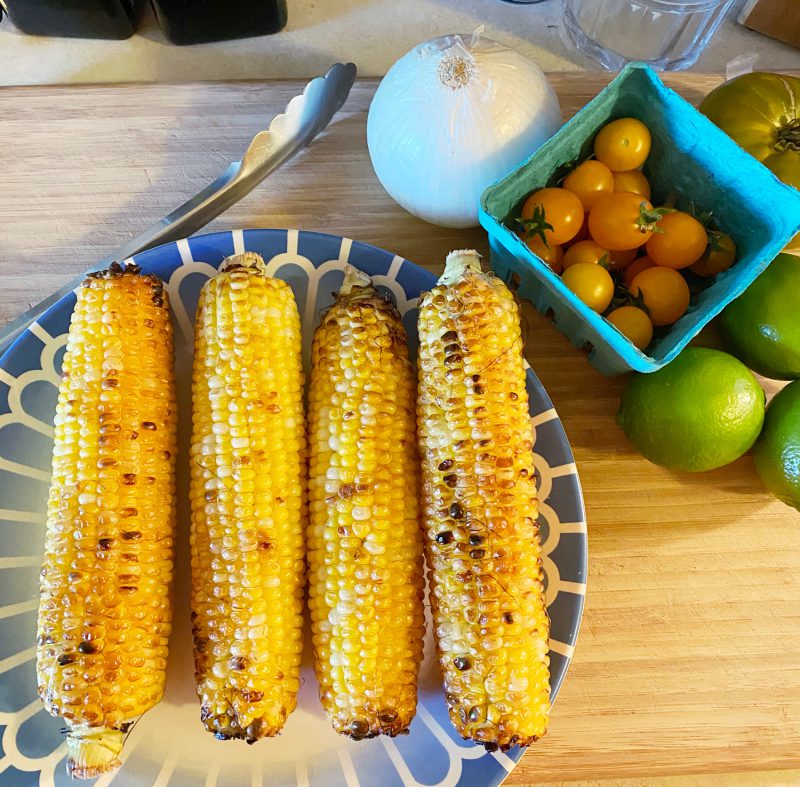 To make Grilled Elotes Salad, combine all salad ingredients and refrigerate until serving. When ready to plate, start with lettuce, then corn salad, then top with tomatoes, avocado, chicken, cheese and a drizzle of Elotes Dressing, with a pinch of fresh cilantro. Serve immediately.
Meet the Makers
Felix & Greg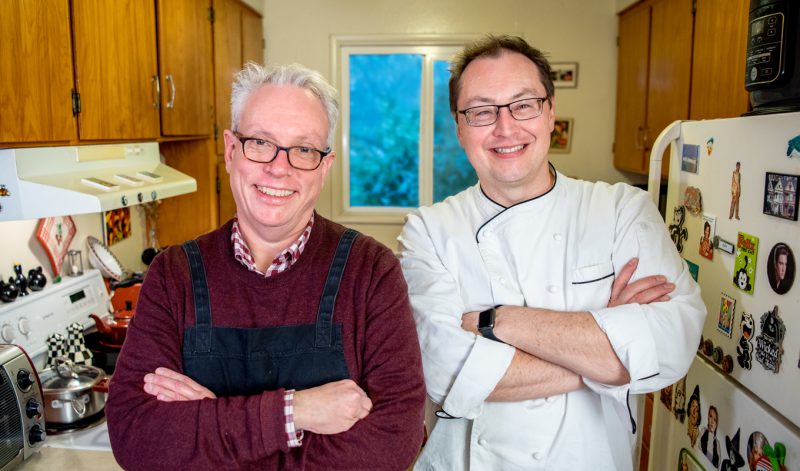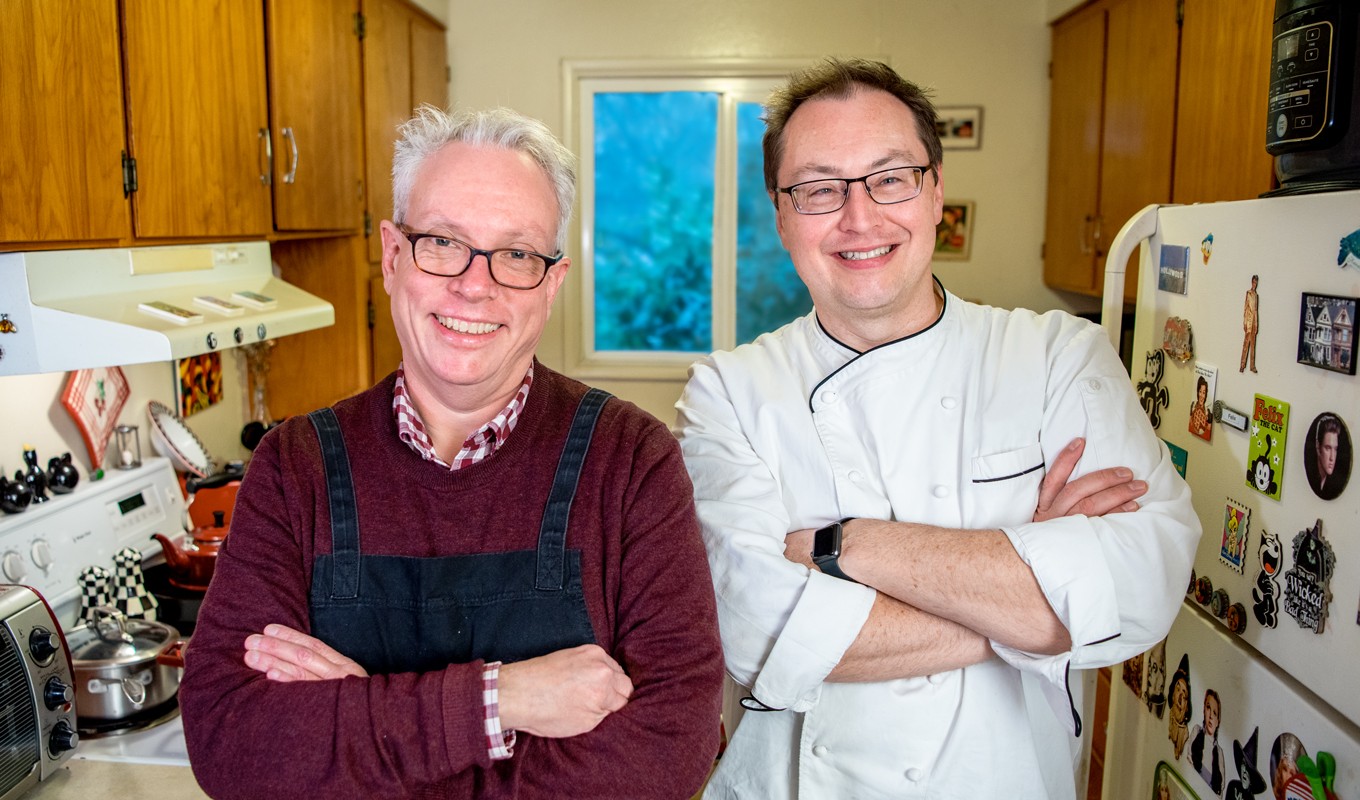 FELIX HUCK
Recipe Creator & Food Photographer
An artist and shutterbug, Felix finds beauty and inspiration in food and nature. He invents and photographs the recipes you'll find here.
GREG CABEZA
Professional Chef & Food Blogger
A food aficionado and lifelong music fan, Greg is an experienced artisan chef. He's also co-recipe creator and food blogger at Felix & Greg.
SUBSCRIBE TO OUR EMAILS
Good ideas could be cooking in your inbox. Sign up for our newsletter.