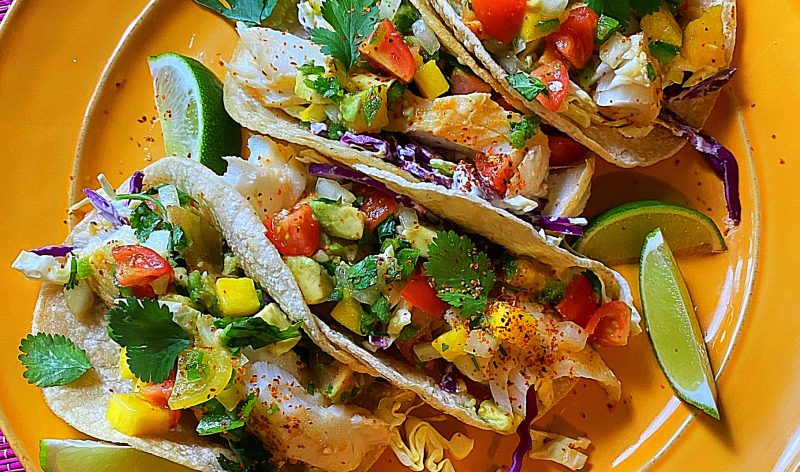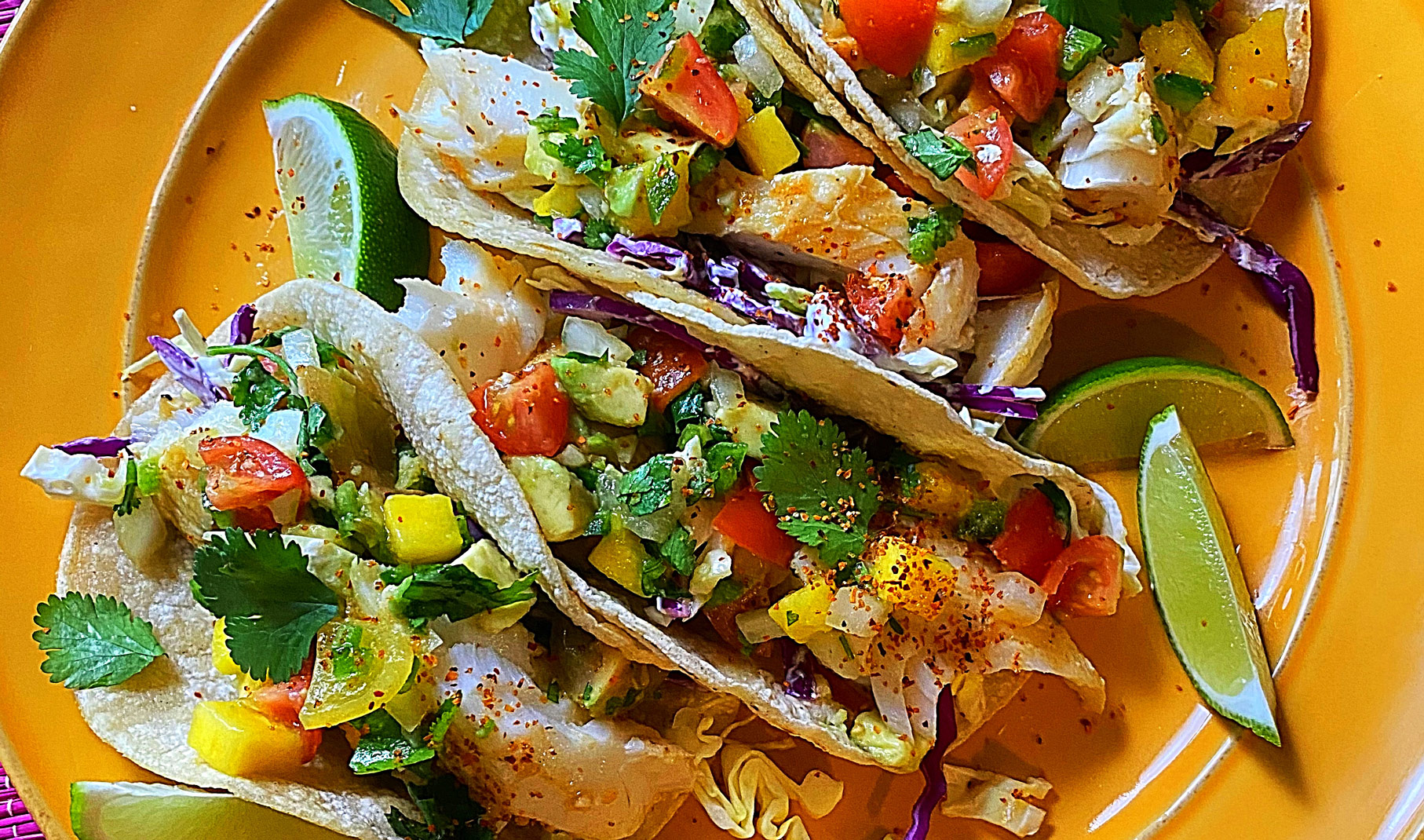 Mmmmmm … tacos. Pork carnitas, al pastor – you name it, we are always happy to hold a terrific taco in our hands before it makes its short, joyful trip to our mouths! Fish tacos, in particular, hold a special place in our hearts (and bellies!).
We really love fresh fish, and Felix and I are both very fond of spicy foods. And most important of all, fish tacos take us back to our happy places – somewhere by the sea, maybe Southern California, maybe the Yucatan – eating freshly grilled fish or shrimp on warm tortillas with a squeeze of lime, some creamy avocado and a bit of hot sauce, while enjoying a warm ocean breeze with a cold drink in hand. Yes, we dream about fish tacos often – we can't help ourselves.
So, when Felix had some cod that he bought from the fish market, and he asked me what I wanted to make with it, I immediately suggested tacos! My recipe for fish tacos is ready in minutes. It's quick and simpler than any other meat filling.
Salsa, Sauces and Seasoning
Make the salsa yourself or buy a favorite to save time – and don't forget the hot sauce! I love Tapatio while Felix loves Cholula, either works. Or if you prefer a fruity, hot habanero sauce, go for it! We love a bit of heat and sweet together, so I chopped up a simple mango and jalapeño salsa to drop on the fish, with generous hits of lime juice and cilantro, a base of sour cream slaw, and sprinkles of Tajin seasoning to top it off. If you don't know about Tajin, it is a favorite of ours for seasoning Mexican foods, like burritos, elotes, tacos, seafood and more. It adds a tartness with a bit of salt and heat that is just perfect for finishing fish and shrimp! You can find it in most supermarkets. If you happen to visit a Mexican specialty grocer, you may find a hot habanero variety as well.
Cod or Shrimp
For the fish, simply sauté in olive oil with a bit of garlic, hot sauce and lime juice – that's all it needs. Making it on a stove top is the easiest way to get from cooking to eating in a hurry. You could also cook it on the grill or in the oven, but it is a bit trickier with such a delicate fish like cod.
If you don't have fish, go the shrimp route! It is fantastic and cooks in about three minutes! Grilled shrimp happens to be another one of our weaknesses and would actually be worth the trouble of heating up the grill. This stovetop method also works really well with a larger shrimp (26/30 or bigger, peeled and tail off).
We suggest having everything for the tacos already prepped and on hand before cooking the fish or shrimp, since you'll want to assemble and eat these hot from the pan for best results. And, don't forget your sunglasses, beer and beach towel!
Tip: Make the sour cream slaw and mango salsa first, since the chopping takes longer than any other step in this recipe. Heat the tortillas quickly in a hot skillet with a few drops of oil, flipping over after 20 seconds or so, and keep the stack warm in a hot kitchen towel before cooking the fish or shrimp. This makes it easy to assemble everything quickly while the fish is still hot.
Fish Tacos with Mango Tajin Salsa Recipe
SERVES
4
DIFFICULTY
Easy
PREP TIME
15 min
COOK TIME
10 min
SPECIAL TOOLS
None
DIET: GF
Fish Tacos with Mango Tajin Salsa Recipe
SERVES: 4
DIFFICULTY: Easy
PREP TIME: 15 min
COOK TIME: 10 min
SPECIAL TOOLS: None
DIET: GF
Ingredients
Fish or Shrimp
1 T butter
2 T olive oil
1 T garlic, minced
1 ½ lb cod, halibut or rockfish, cut into 1" chunks, or medium shrimp (26/30)
2 t hot sauce (Tapatio or Cholula)
2 T lime juice
pinch salt and pepper
Mango Salsa
1 ripe mango, diced ¼"
½ sm red onion, diced fine
1 ripe tomato, diced ¼"
1 sm jalapeño, seeded and finely diced
2 T lime juice, fresh
1 T extra virgin olive oil
pinch salt, pepper and Tajin
2 T cilantro, rough chopped
dash hot sauce, as desired
Sour Cream Slaw
½ c sour cream
1 T lime juice
1 T extra virgin olive oil
pinch salt, pepper and Tajin
dash hot sauce
1 c ea thinly sliced green and red cabbage
Additional
tortillas
cilantro, to taste
lime wedges
Instructions
Fish or Shrimp
Warm a large skillet over medium-high heat. Add butter, oil and garlic. Cook 30 sec, until fragrant. Add fish, cooking and turning gently, until flaking easily, 2 min. Add hot sauce, lime juice, salt and pepper. Remove from heat and serve immediately on tortillas with salsa, cilantro, lime wedges, and sour cream slaw.
Mango Salsa
Combine all Mango Salsa ingredients well. Taste and adjust seasonings.
Sour Cream Slaw
Combine all Sour Cream Slaw ingredients well, except cabbage. Toss with cabbage when ready to serve.
Meet the Makers
Felix & Greg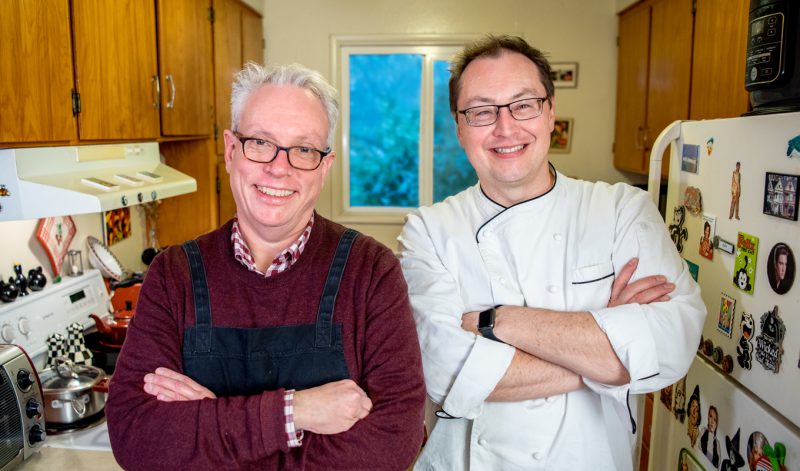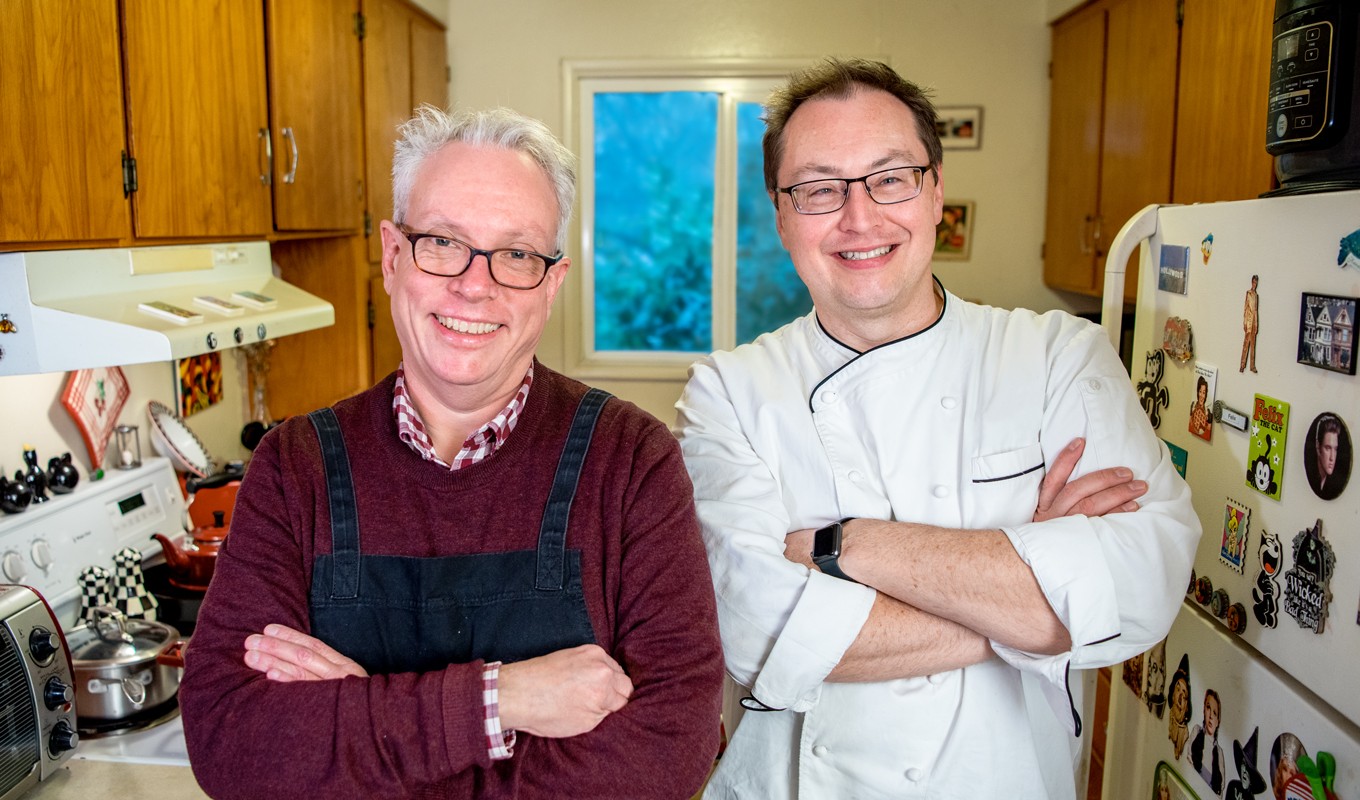 FELIX HUCK
Recipe Creator & Food Photographer
An artist and shutterbug, Felix finds beauty and inspiration in food and nature. He invents and photographs the recipes you'll find here.
GREG CABEZA
Professional Chef & Food Blogger
A food aficionado and lifelong music fan, Greg is an experienced artisan chef. He's also co-recipe creator and food blogger at Felix & Greg.
SUBSCRIBE TO OUR EMAILS
Good ideas could be cooking in your inbox. Sign up for our newsletter.