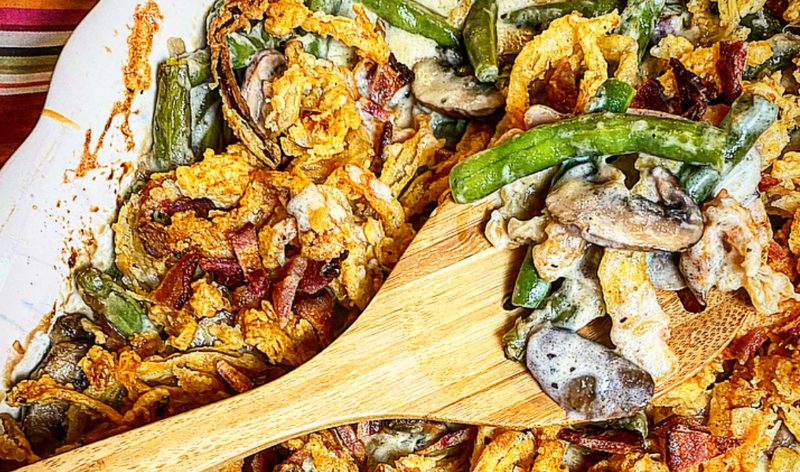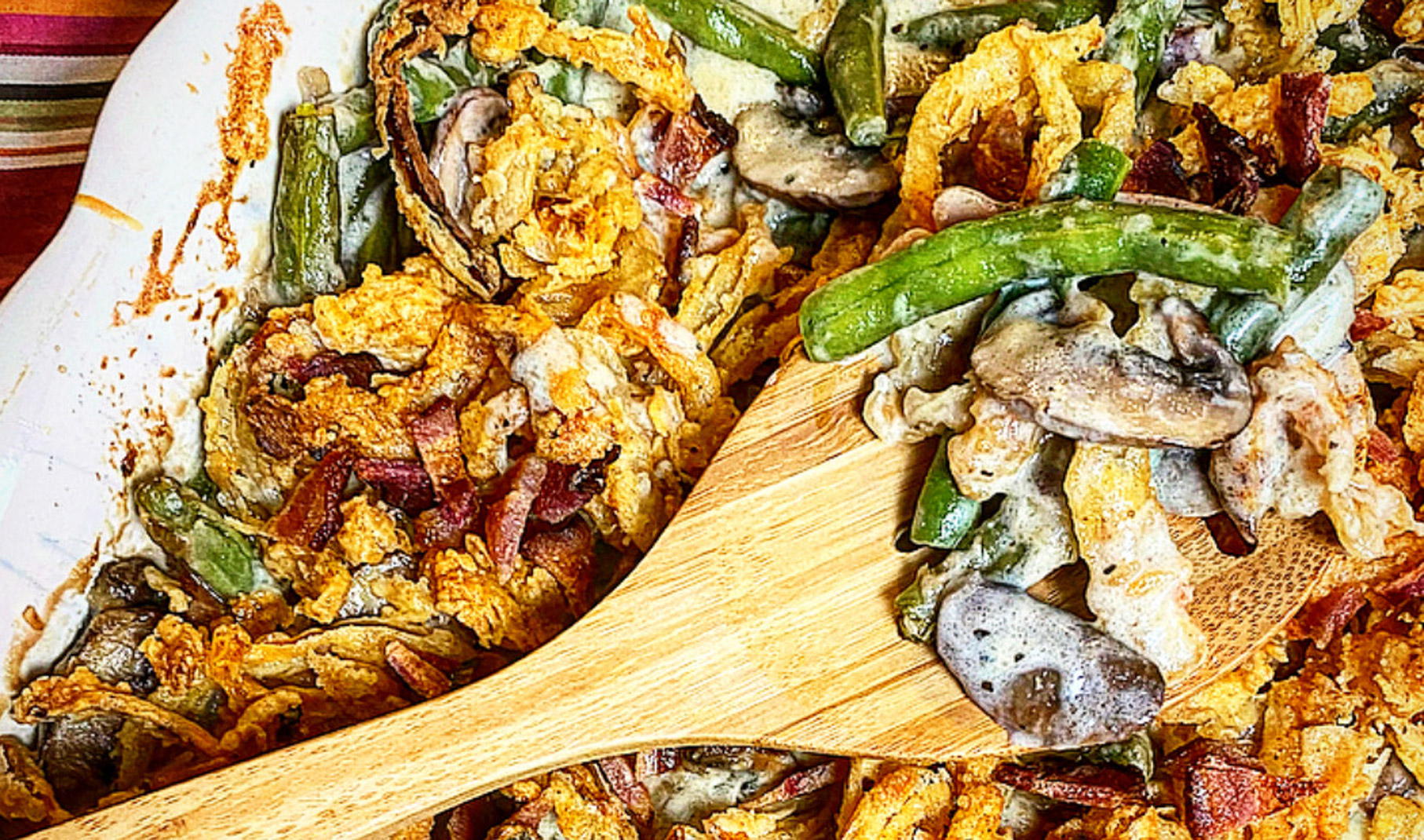 First, let's get something straight: this is NOTHING like the green bean casseroles you've had before. It's fantastically better! Once you taste it, you're sure to join our mission of making sure the world has better-tasting green bean casseroles forever more.
You don't want some old, tired beans on the table this holiday, do you? You want to make something that takes everyone's breath away – a dish so good it will go down in family lore for decades, shared through generations. Well, this could be that!
Is it more difficult to make than opening cans of beans and soup? Well, yes, but a little bit of extra work can be found in every glorious bite! Felix and I make our own Ooh La La French Fried Onions for topping these. Trust us on this – they're super fast to make and so amazing! We also add Boursin Garlic and Herb cheese to the sauce, plus some bacon, fresh mushrooms and a bit of Parmesan, because these are supposed to be special, right?
These green beans are so good, you'll want them year-round. In just a single bite, you'll suddenly realize that you've been lied to all of your life – green bean casserole can be so much better! This one deserves praise, love and glory! So, march forth and spread the gospel of better green beans – the world will thank you for it. After you make them, leave us a comment and tell us how you now see the world in a whole new light. We will simply nod, knowingly. Salut!
Glorious Green Bean Casserole Recipe
SERVES
8
PREP TIME
30 min
COOK TIME
1 hr
DIET: None
Glorious Green Bean Casserole Recipe
SERVES: 8
PREP TIME: 30 min
COOK TIME: 1 hr
DIET: None
Ingredients
½ lb thick bacon
1½ lb green beans, trimmed and cut in half
2 large shallots, minced
1 T + ¼ c butter
1 T olive oil
1 lb mushrooms, sliced
pinch salt and pepper
½ c flour
32 oz (1qt) chicken stock
1½ c heavy cream
1 T fresh thyme, chopped
1 pkg Boursin cheese (5.2 oz)
2 c Parmesan cheese
Ooh La La French Fried Onions (see recipe)
Instructions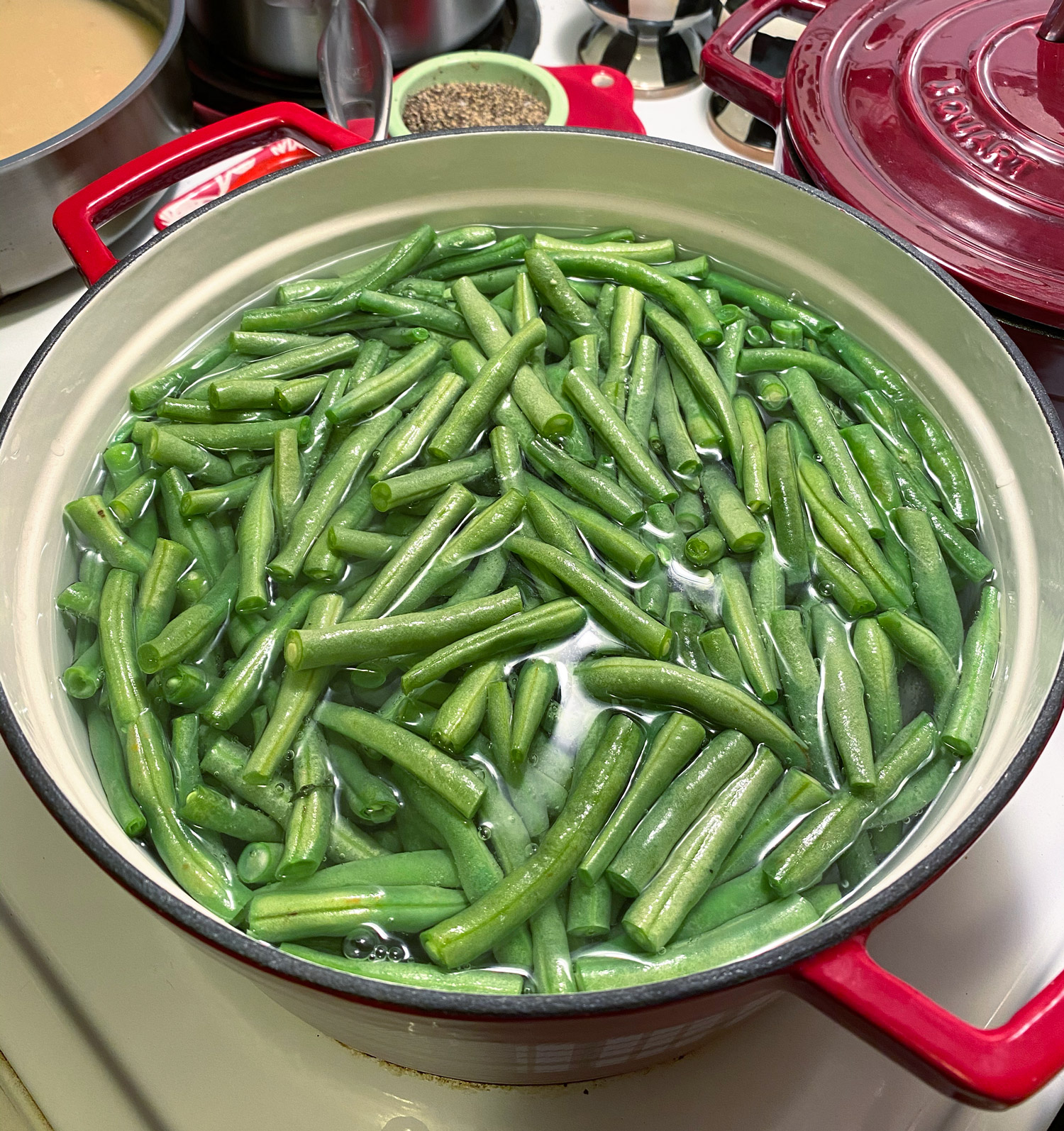 Preheat oven to 350°. Lay bacon on parchment-lined sheet pan and bake until crisp, 20 min. Drain and chop small. Meanwhile, blanch green beans in boiling water 3-5 min until crisp-tender (cooked through, but al dente/not soft). Drain and place in cold water to stop cooking.
Sauté shallots in 1 T butter and olive oil until softened, 2 min.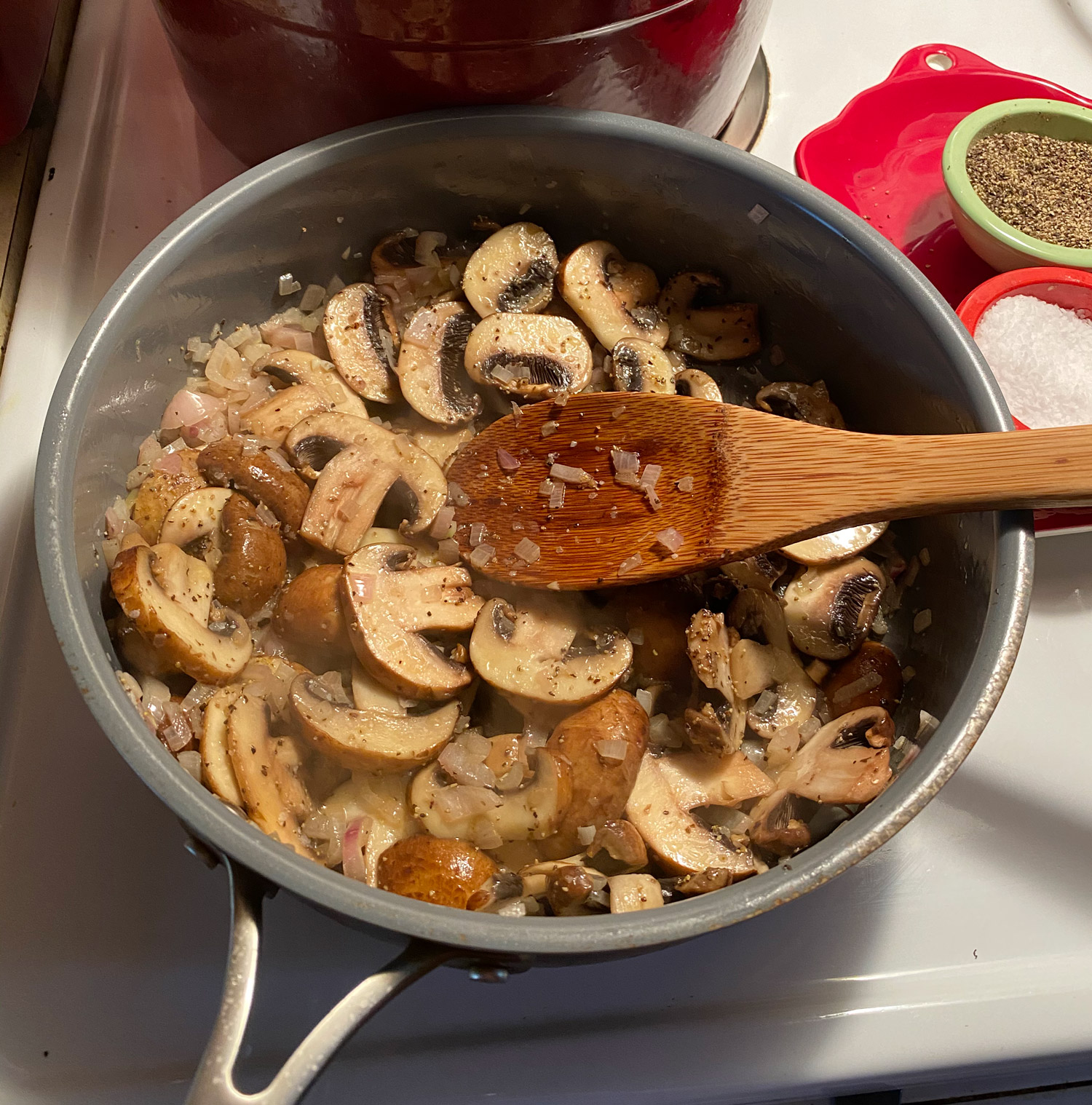 Add mushrooms with a pinch of salt and pepper and cook 2 min more.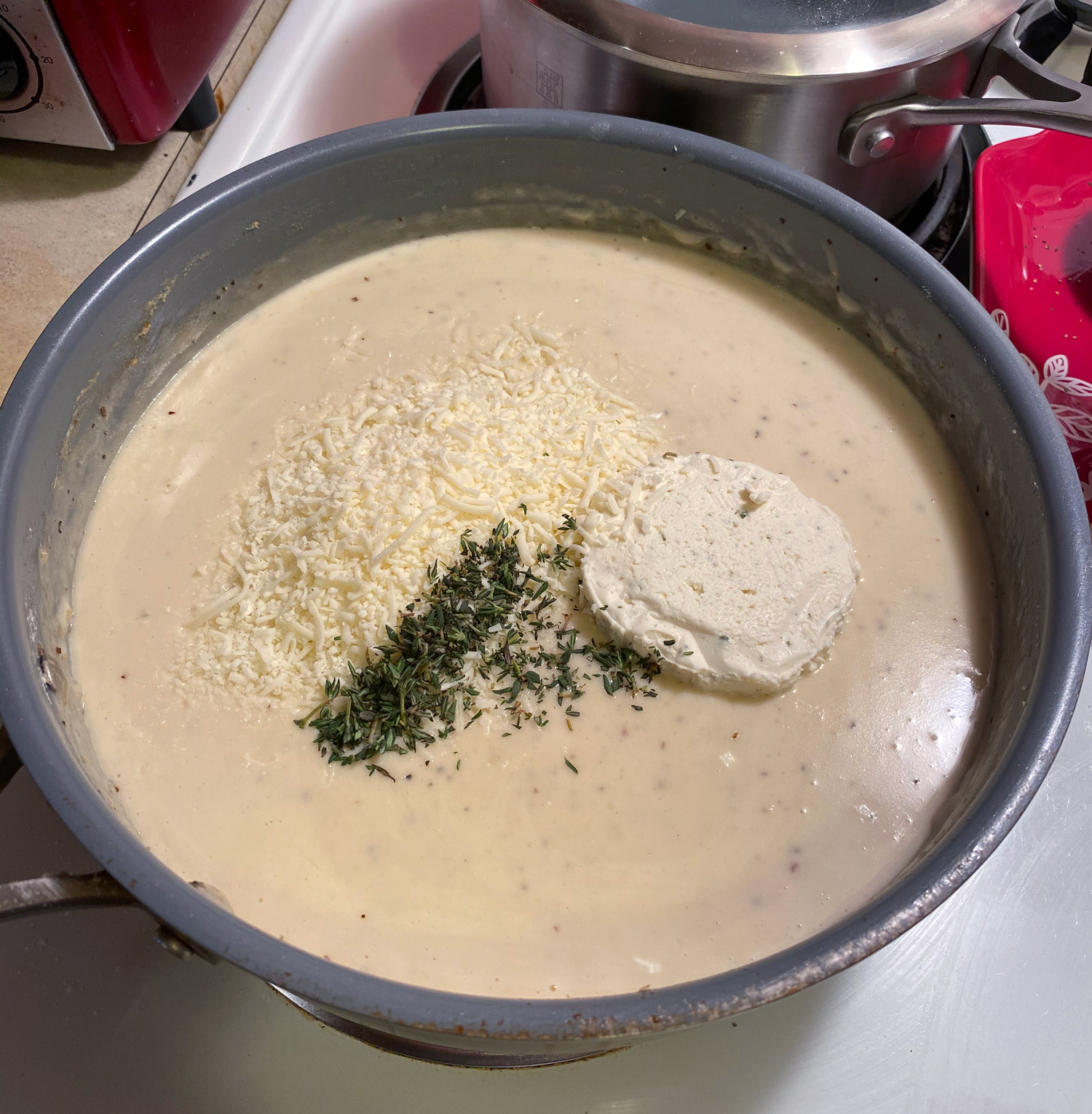 Set aside. In sauce pot, melt 1/4 c butter over medium-high heat with flour, whisking until foamy and fragrant/nutty, approx. 2 min. Whisk in stock and bring to a simmer. Add cream, thyme, cheeses and mushroom/shallot mixture. Stir well to combine.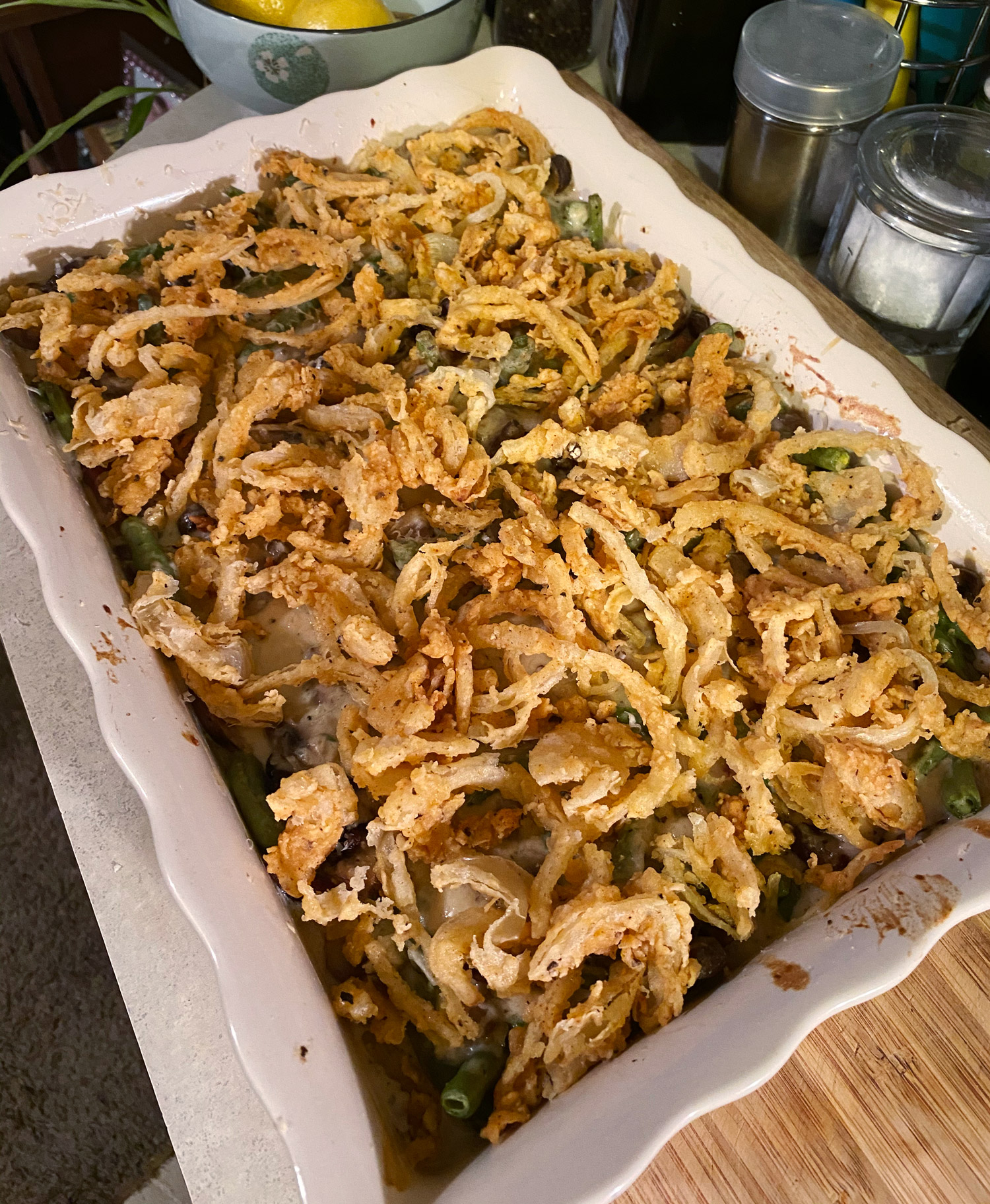 Add beans and bacon to sauce, pouring into a casserole dish, topping with a sprinkle of Parmesan and half of the Ooh La La French Fried Onions. Bake 20 min, until golden. Serve hot, with remaining fried onions.
Meet the Makers
Felix & Greg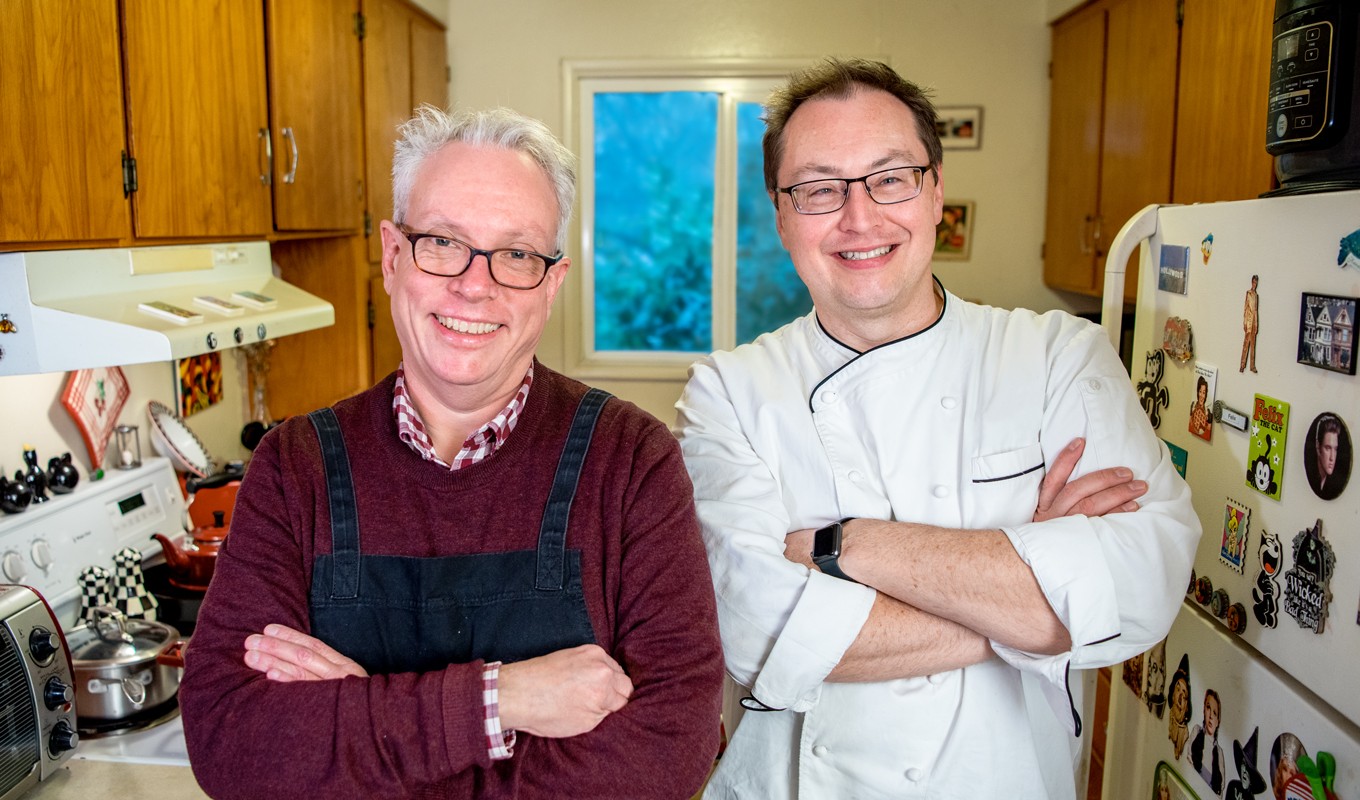 FELIX HUCK
Recipe Creator & Food Photographer
An artist and shutterbug, Felix finds beauty and inspiration in food and nature. He invents and photographs the recipes you'll find here.
GREG CABEZA
Professional Chef & Food Blogger
A food aficionado and lifelong music fan, Greg is an experienced artisan chef. He's also co-recipe creator and food blogger at Felix & Greg.
SUBSCRIBE TO OUR EMAILS
Good ideas could be cooking in your inbox. Sign up for our newsletter.