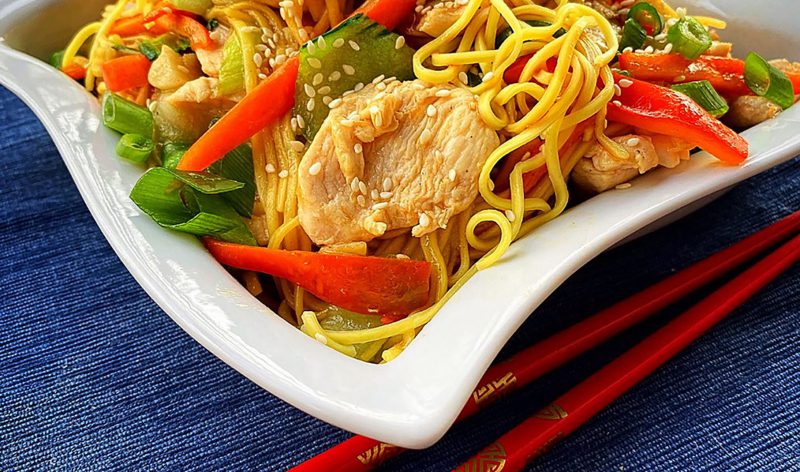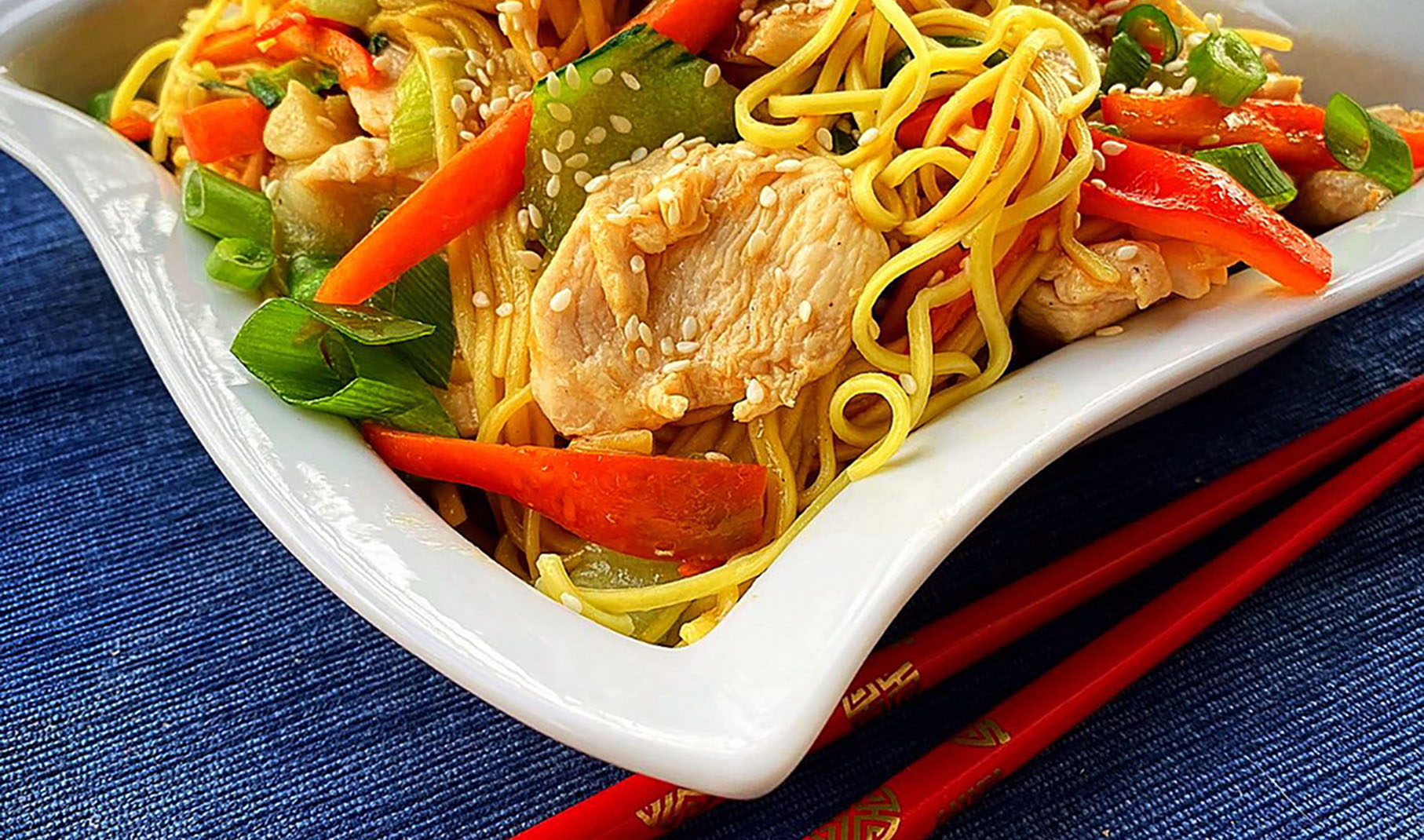 Felix and I love take-out favorites, if you haven't noticed. Many of our recipes are make-at-home versions, like this Chicken Lo Mein. Chow mein simply means fried noodles, while lo mein means tossed noodles. A staple of Chinese restaurant menus for decades, chow mein is likely most familiar to most. Lo mein is simply a healthier version of a stir fry, with the noodles tossed into the vegetables along with a warm, savory sauce. It can be made with shrimp, pork, tofu or however you desire – lots of veggies is a must! We make ours with chicken because we and our families love noodles and chicken.
Tips and tricks
The key to this recipe – and all sautés for that matter – is to have all the ingredients ready and near the stove before beginning. This allows you to focus on cooking everything in steps, quickly and perfectly, before adding the noodles and sauce. It all happens fast, so be ready with plates and any extras you might want to serve alongside. Our Chinese BBQ Pork would make a great addition to this recipe. Or, simply heat some frozen pot stickers or spring rolls for a quick appetizer. We use yakisoba noodles, which are widely available in supermarkets; however, if you have true Chinese lo mein noodles, consider yourself very lucky and by all means use them!
Chicken Lo Mein Recipe
SERVES
4
DIFFICULTY
Easy
PREP TIME
15 min
COOK TIME
10 min
SPECIAL TOOLS
None
DIET: Pescatarian (if using tofu instead of chicken)
Chicken Lo Mein Recipe
SERVES: 4
DIFFICULTY: Easy
PREP TIME: 15 min
COOK TIME: 10 min
SPECIAL TOOLS: None
DIET: Pescatarian (if using tofu instead of chicken)
Ingredients
Lo Mein Sauce

1 ½ c chicken or vegetable broth
2 T corn starch
2 T oyster sauce
1 T soy sauce
1 t sesame oil
Chicken Lo Mein
2 T vegetable oil
3 cloves garlic, minced
2 T ginger, peeled and minced
1 lg chicken breast, sliced thinly (about 10 oz.)
1 carrot, peeled and julienne (thin cut)
1 red pepper, julienne
4 oz snow peas, sliced
1 baby bok choy, chopped
1 pkg (8-10 oz) yakisoba noodles
Additional
green onions, for garnish
sesame seeds, for garnish
Instructions
Lo Mein Sauce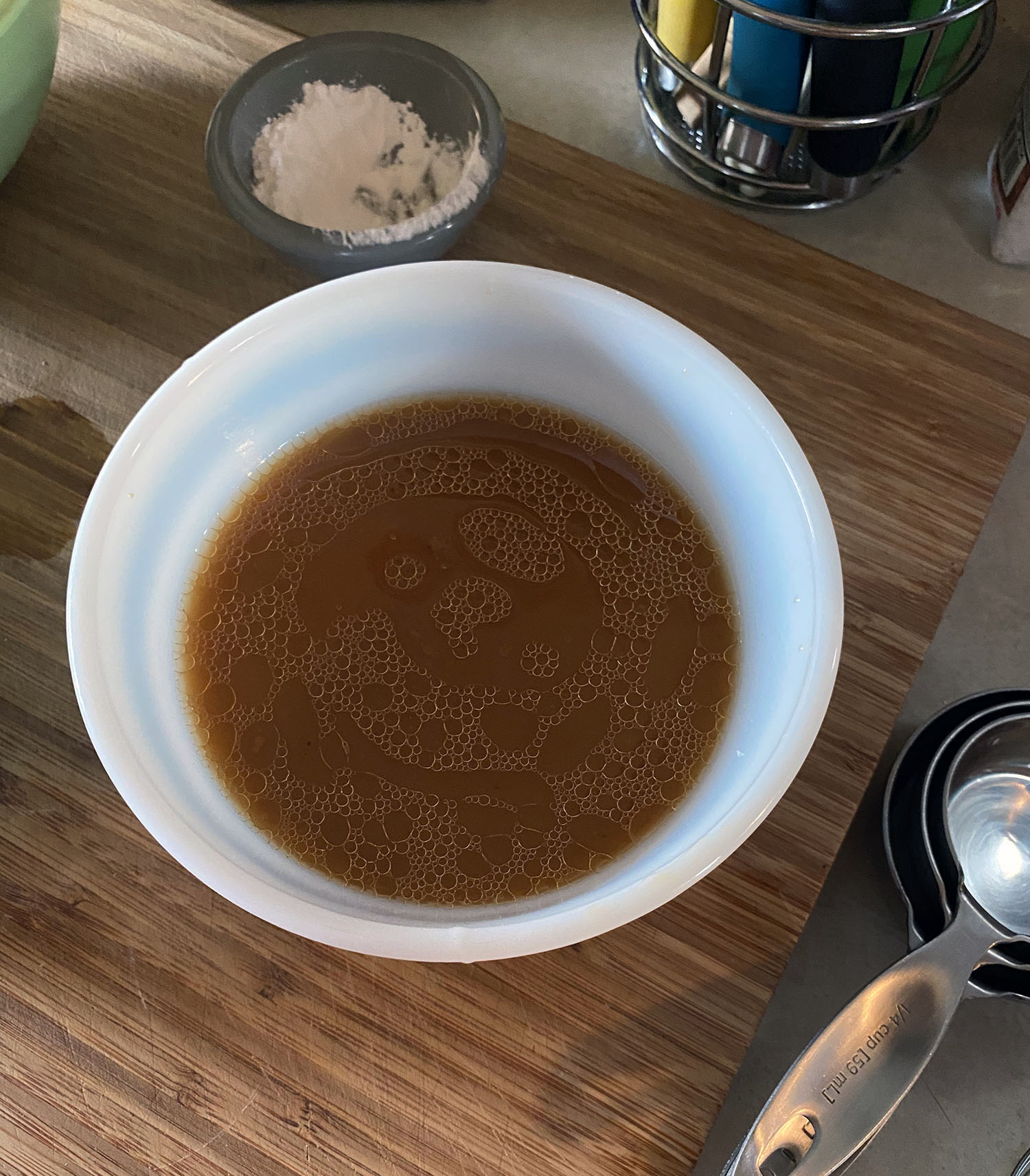 Combine all ingredients and set aside.
Chicken Lo Mein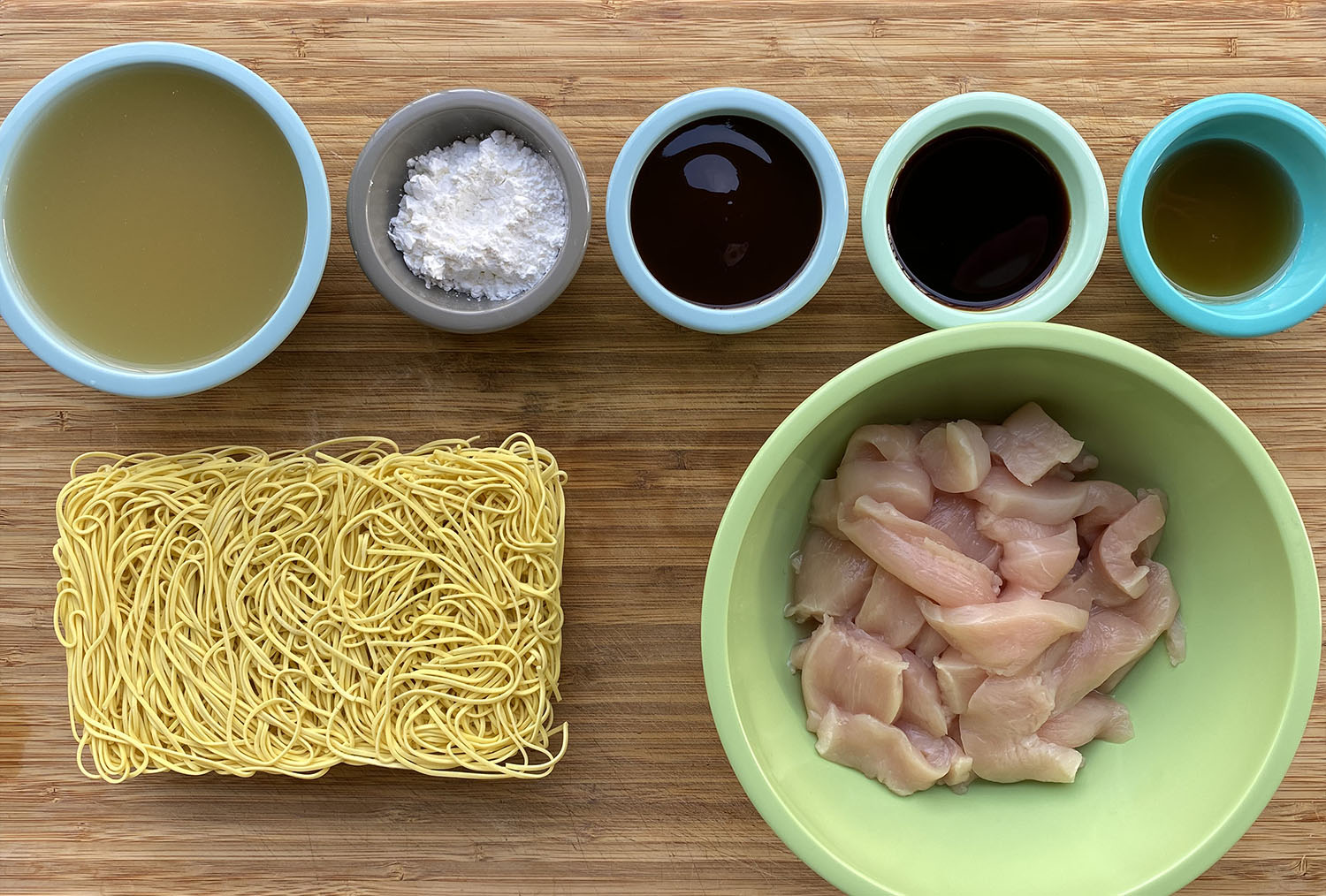 Gather ingredients "mis en place" style.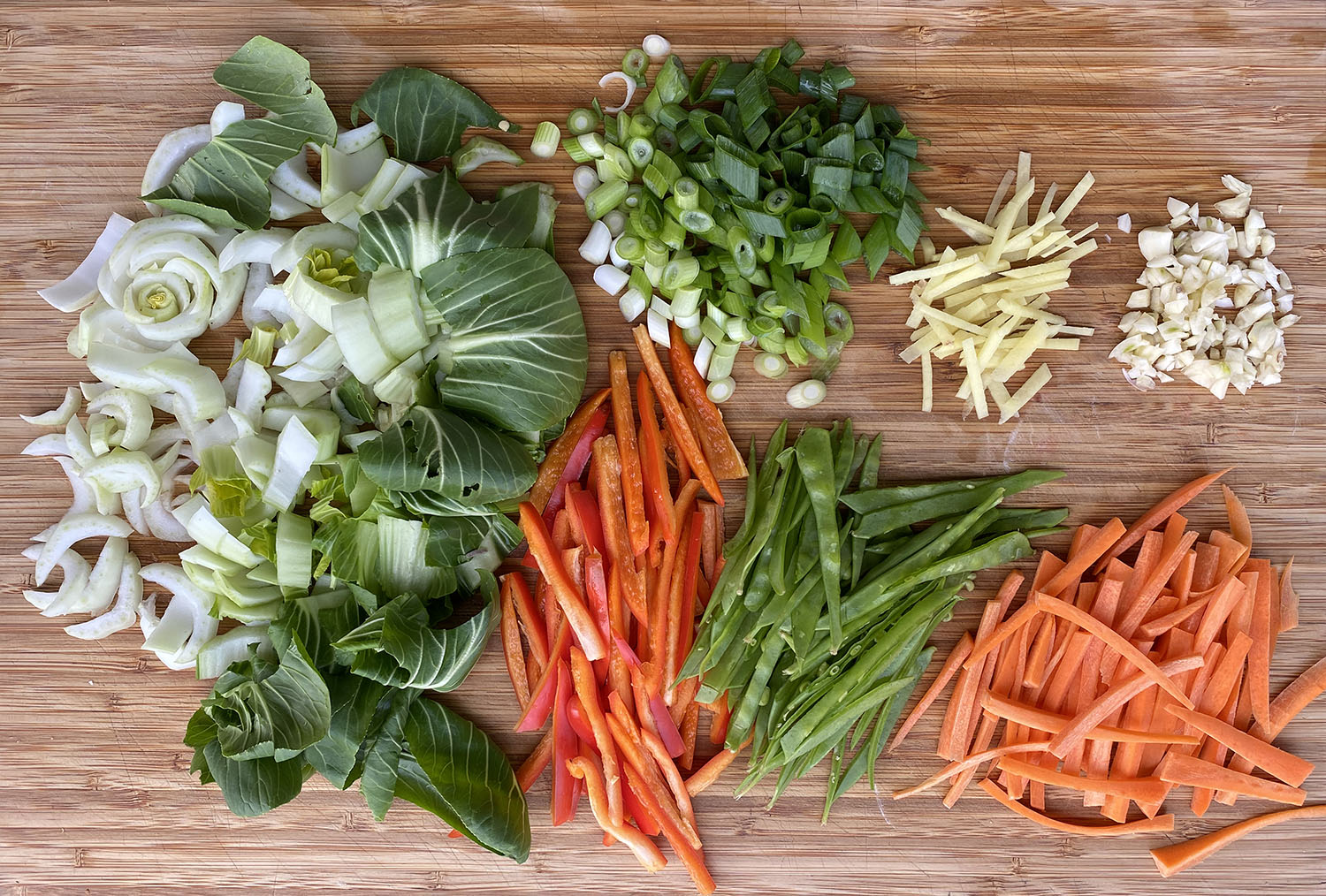 Chop all vegetables.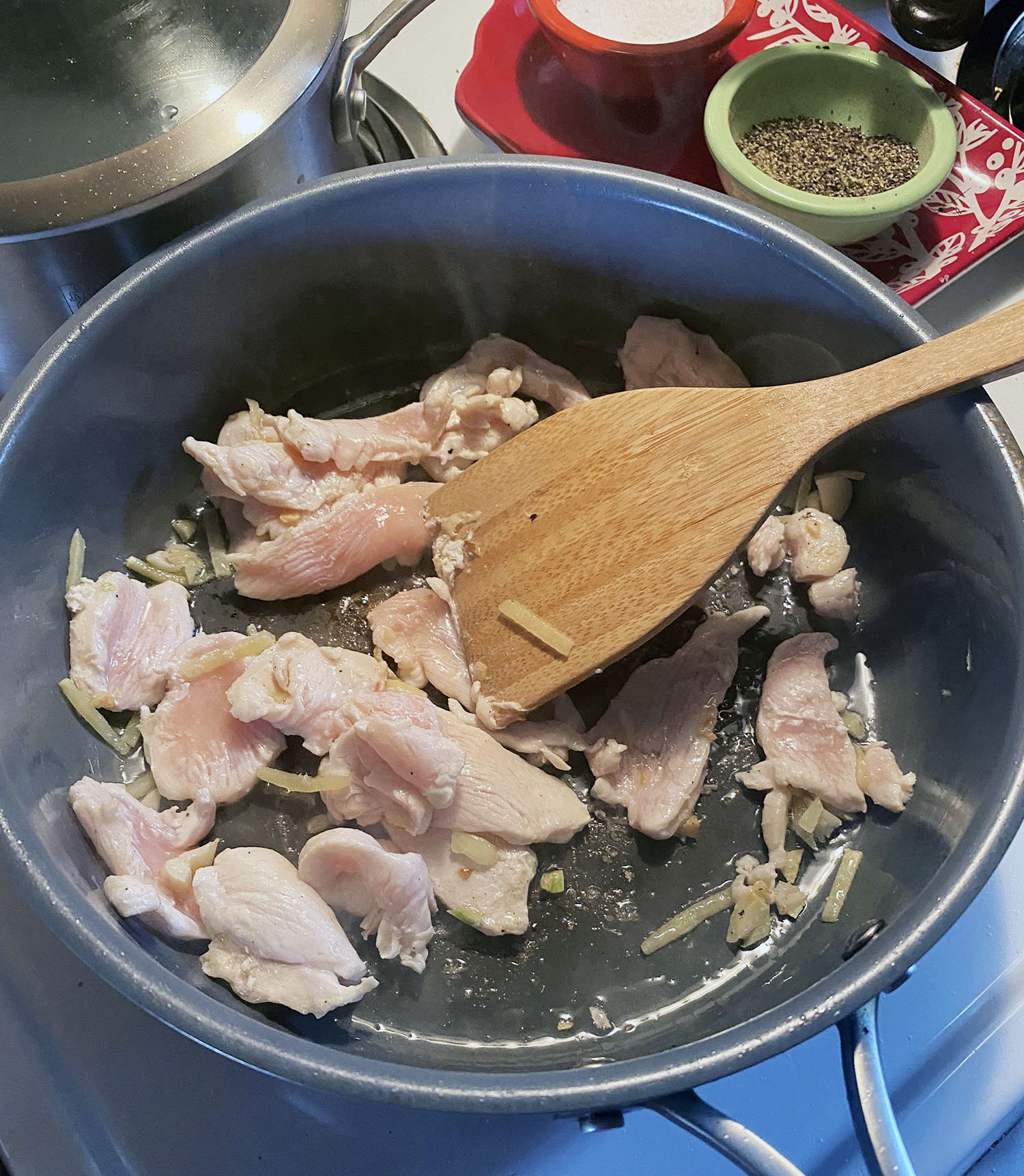 Warm oil in a large skillet over medium heat. Add garlic and ginger and cook quickly, 1 min, until fragrant. Add chicken and cook 2 min, stirring often.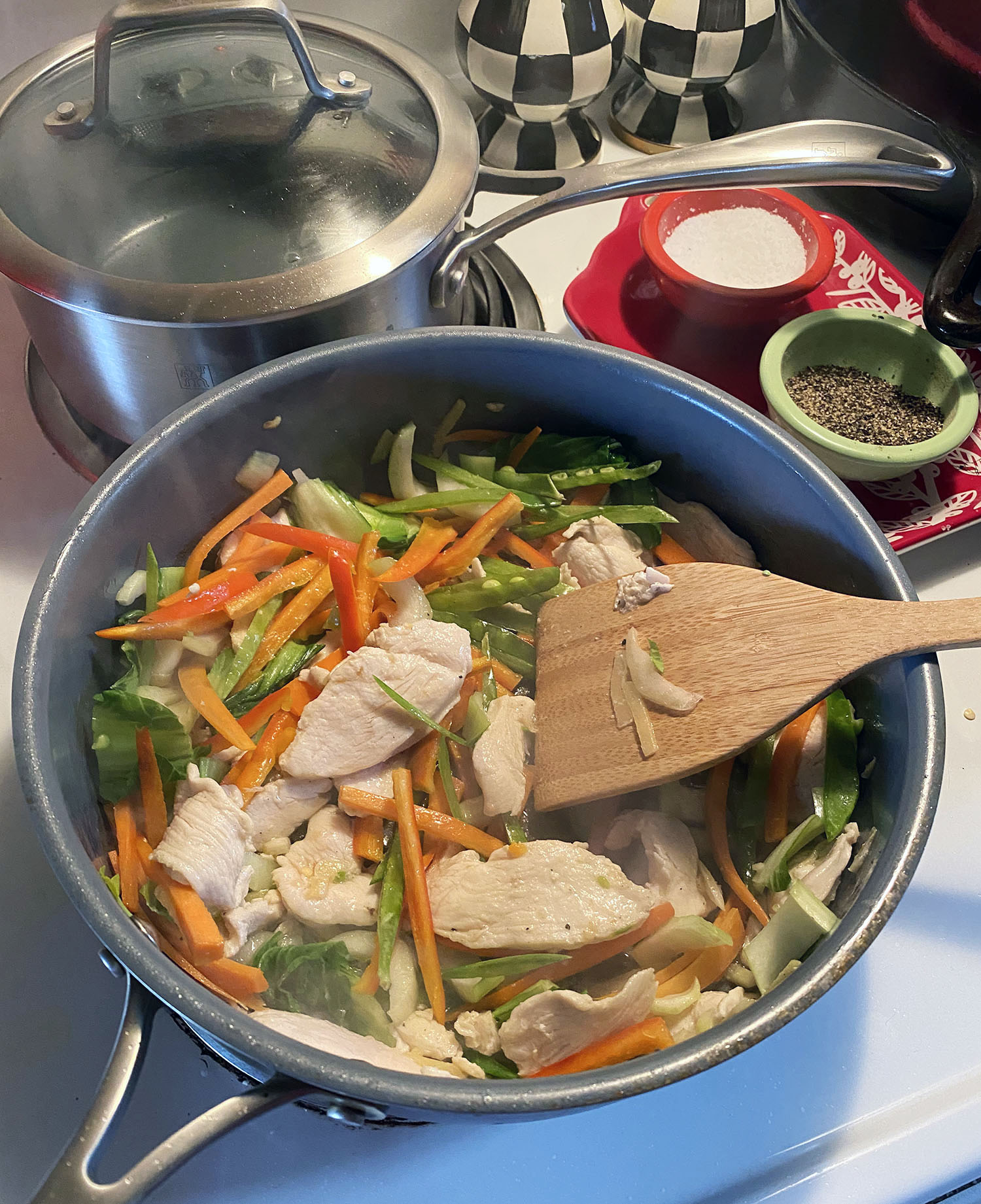 Turn heat to high, add all vegetables and cook until crisp-tender, approx. 90 sec.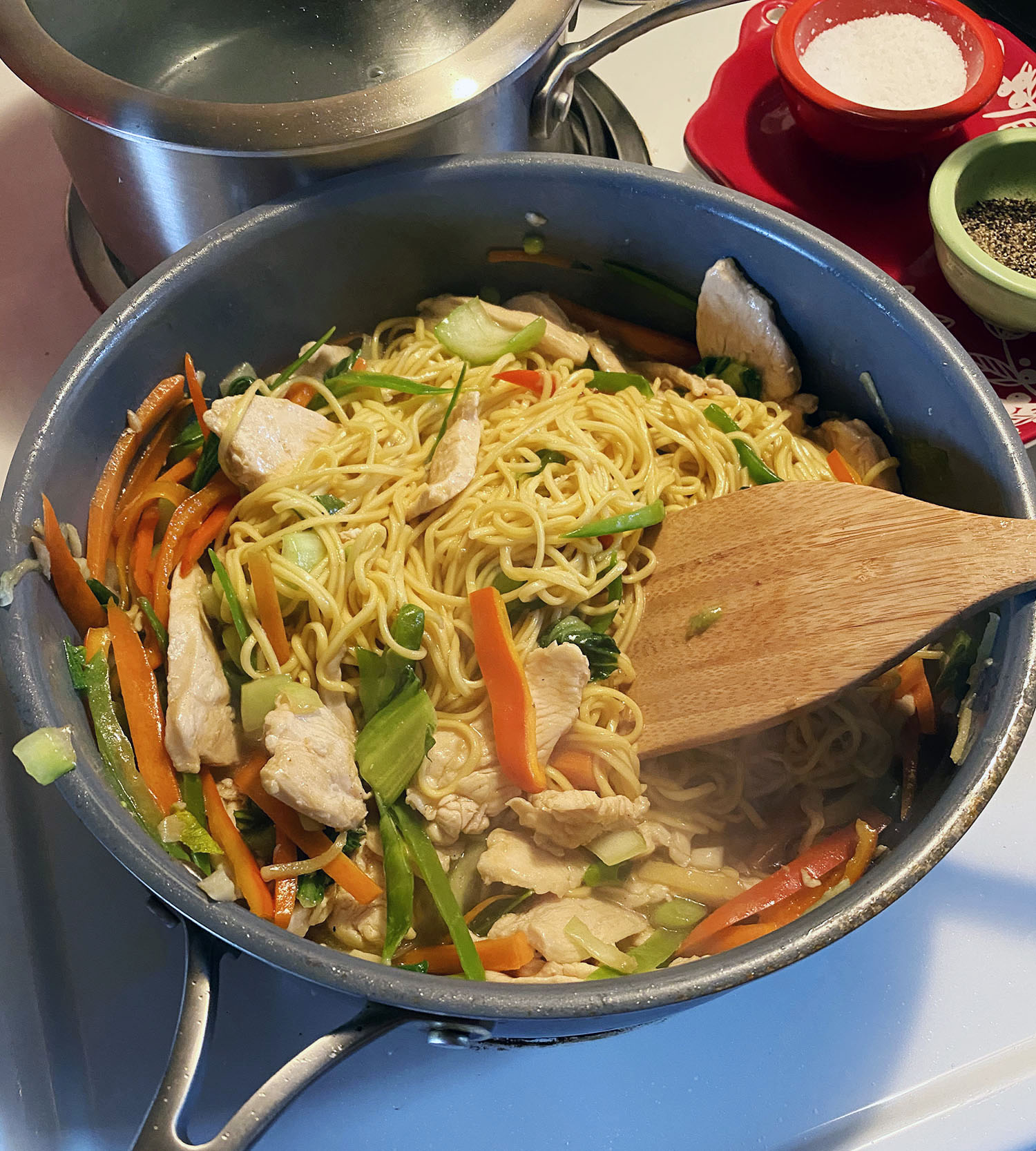 Add sauce and noodles then bring to a boil, tossing all to combine. Serve immediately with chopped green onions and sesame seeds, as garnish.
Meet the Makers
Felix & Greg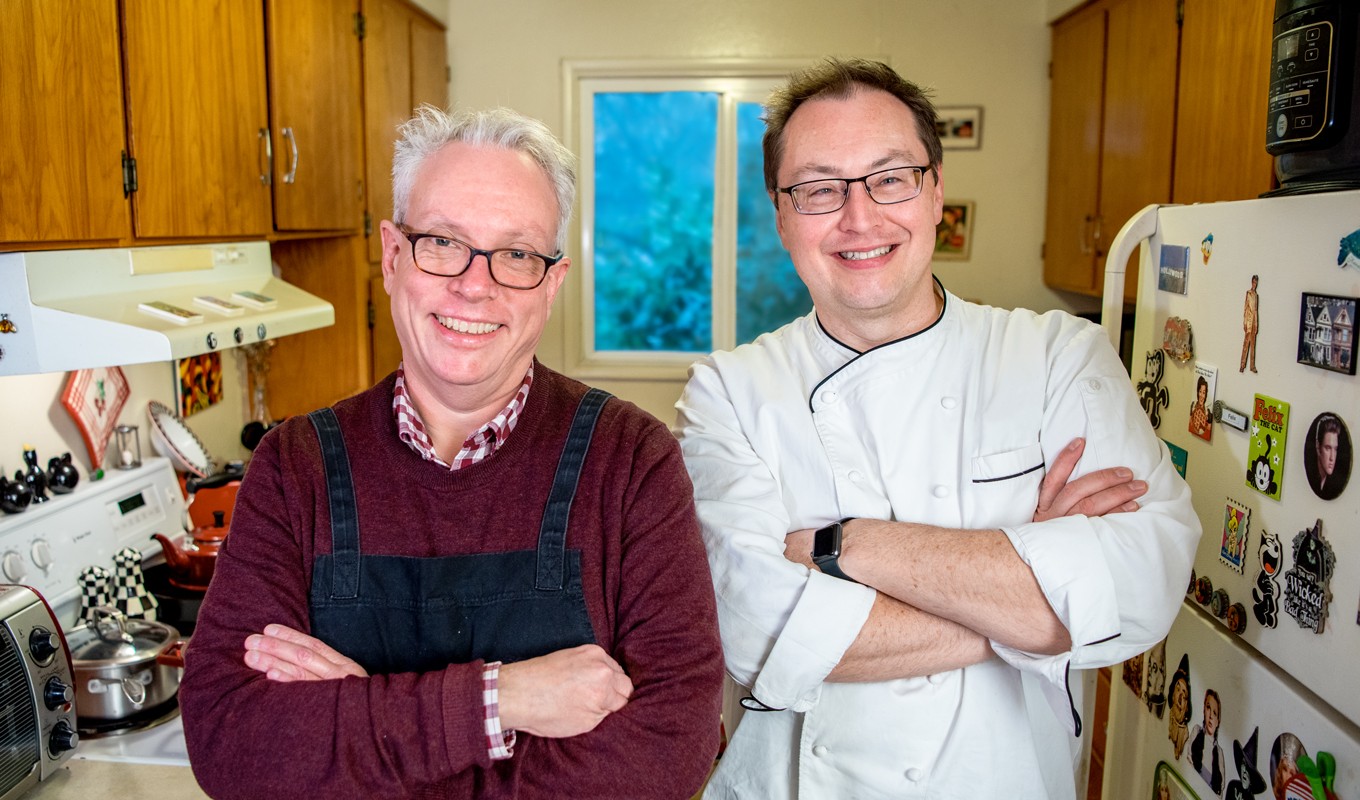 FELIX HUCK
Recipe Creator & Food Photographer
An artist and shutterbug, Felix finds beauty and inspiration in food and nature. He invents and photographs the recipes you'll find here.
GREG CABEZA
Professional Chef & Food Blogger
A food aficionado and lifelong music fan, Greg is an experienced artisan chef. He's also co-recipe creator and food blogger at Felix & Greg.
SUBSCRIBE TO OUR EMAILS
Good ideas could be cooking in your inbox. Sign up for our newsletter.