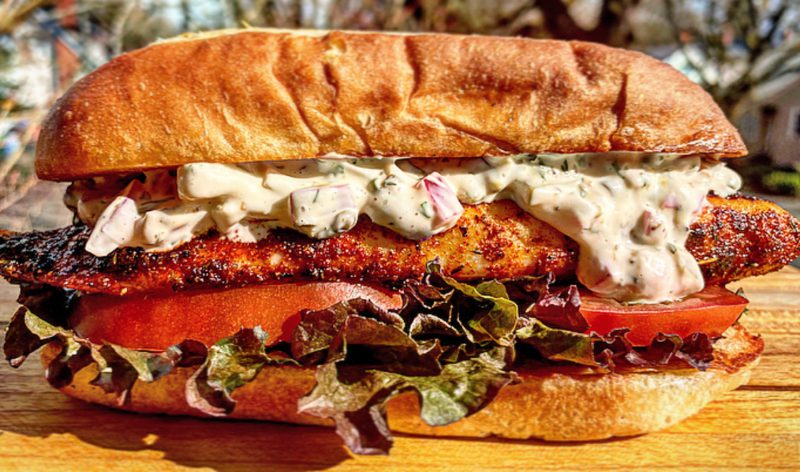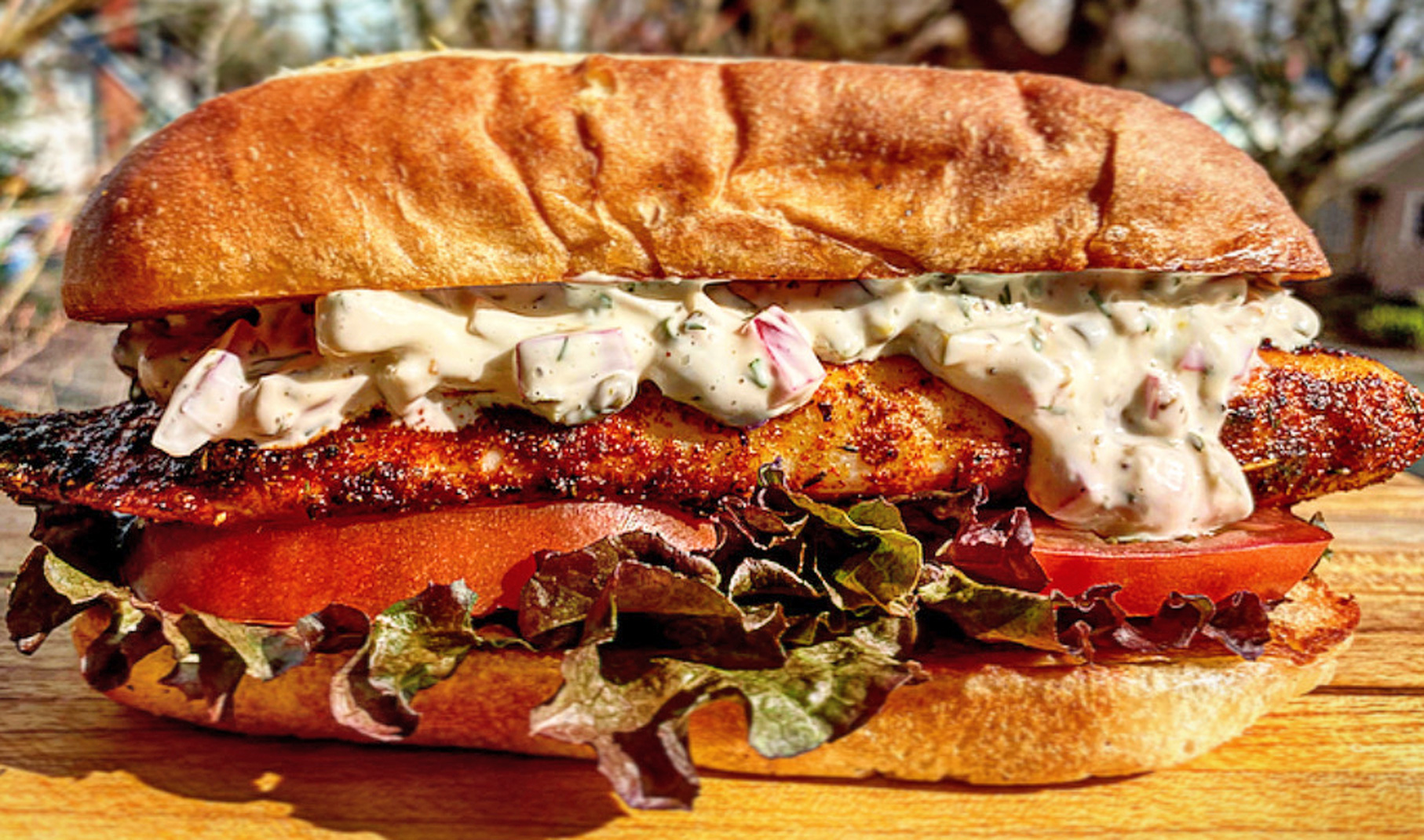 The searing technique of blackening fish may seem a little intimidating at first, but all you really need is a spice mix, butter and a hot skillet. Tilapia cooks super quickly and is a great fish to use when first learning the technique. We suggest you choose a well-ventilated space (open the windows!) because the seasonings will fill the air for a few minutes. We like to make blackened seafood because it cooks in very little time, and it's crazy delicious.
I was listening to Bananarama's "Cruel Summer" when Felix texted me a photo of this Blackened Tilapia Sandwich and said he had some waiting for me. I can easily say this is one of the best fish sandwiches I have ever had in my life — I love a good fish sandwich!
The blackening spice isn't too spicy, adding only some peppery warmth to the tilapia. The juicy tomato and crisp lettuce cool it off. You can sub shrimp — it's super-fast and yummy — or any fresh white fish, such as halibut or rockfish. Add some tasty Felix and Greg's Tartar Sauce to send it over the top. We put it all on a toasty sandwich roll and were in heaven with every bite. Keep some of our Felix and Greg's Tartar Sauce in the fridge.  It really adds something extra special to simple seafood meals. Give this sandwich a go and you'll know the hype is real.
Blackened Tilapia Sandwich Recipe
SERVES
4
DIFFICULTY
Easy
PREP TIME
10 min
COOK TIME
10 min
DIET: GF (if GF bread is used)
SERVES: 4
DIFFICULTY: Easy
PREP TIME: 10 min
COOK TIME: 10 min
DIET: GF (if GF bread is used)
Ingredients
Tip: Sub shrimp or any fresh white fish, such as halibut or rockfish, as desired.
3 T brown sugar
3 T paprika
1 t dried oregano
1 t dried thyme
1 t garlic powder
heavy pinch of cayenne, salt and pepper
4 tilapia fillets (about 1½ lb total)
½c (1 stick) butter, melted
4 sandwich rolls, toasted
8 slices fresh tomato
lettuce leaves (red leaf or green leaf)
½ c Felix and Greg's Tartar Sauce
Instructions
Combine brown sugar, paprika, herbs, garlic powder, cayenne, salt and pepper for blackening spice; set aside. Dip tilapia fillets in melted butter, then cover fish well on both sides with blackening spice mix. Heat a heavy-bottomed skillet over medium high. When hot, add any remaining butter and the fish fillets. Fry on each side for 2 min until flaky in center. Remove from heat. Spread 2 tablespoons of Felix and Greg's Tartar Sauce on the inside of top and bottom of roll, then add lettuce, tomato and fish fillet. Serve immediately with fresh lemon wedges and chips, as desired.
Meet the Makers
Felix & Greg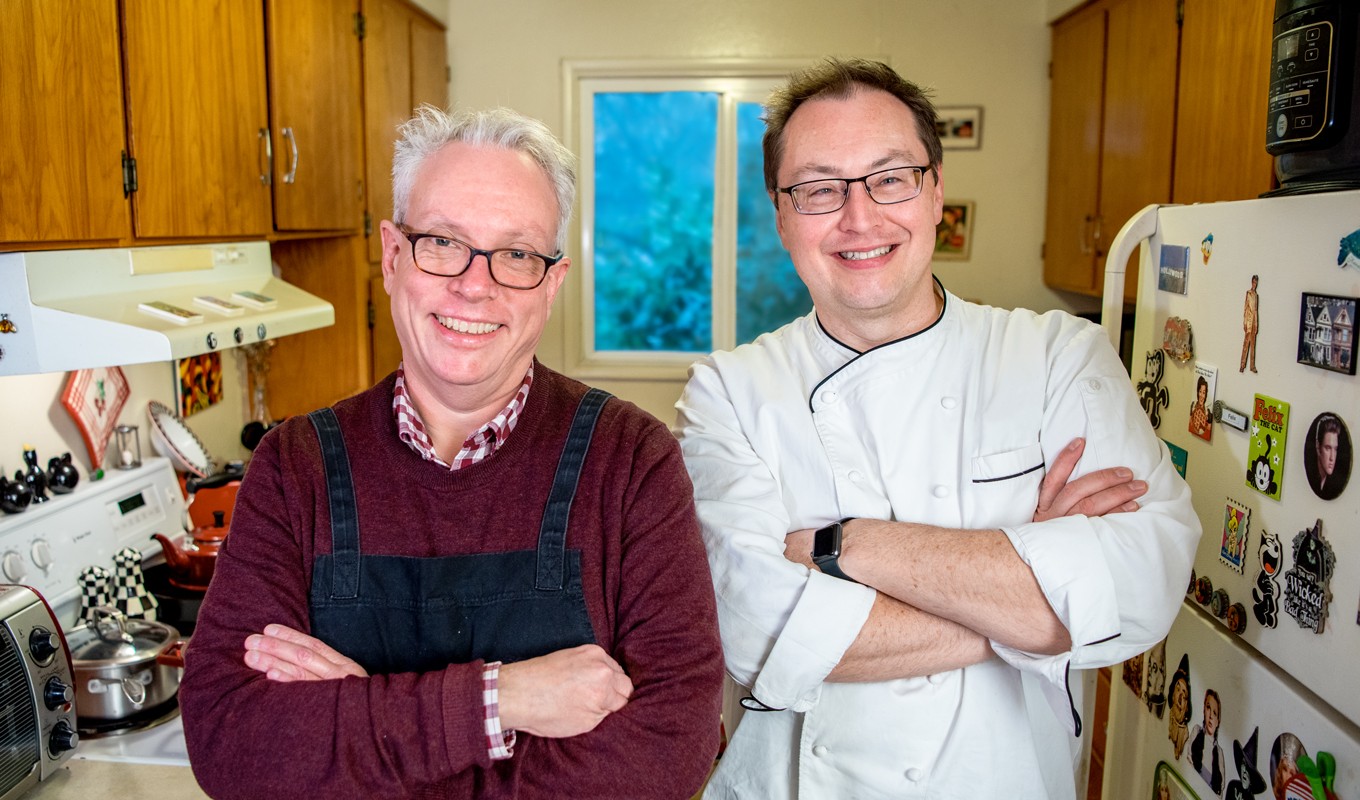 FELIX HUCK
Recipe Creator & Food Photographer
An artist and shutterbug, Felix finds beauty and inspiration in food and nature. He invents and photographs the recipes you'll find here.
GREG CABEZA
Professional Chef & Food Blogger
A food aficionado and lifelong music fan, Greg is an experienced artisan chef. He's also co-recipe creator and food blogger at Felix & Greg.
SUBSCRIBE TO OUR EMAILS
Good ideas could be cooking in your inbox. Sign up for our newsletter.