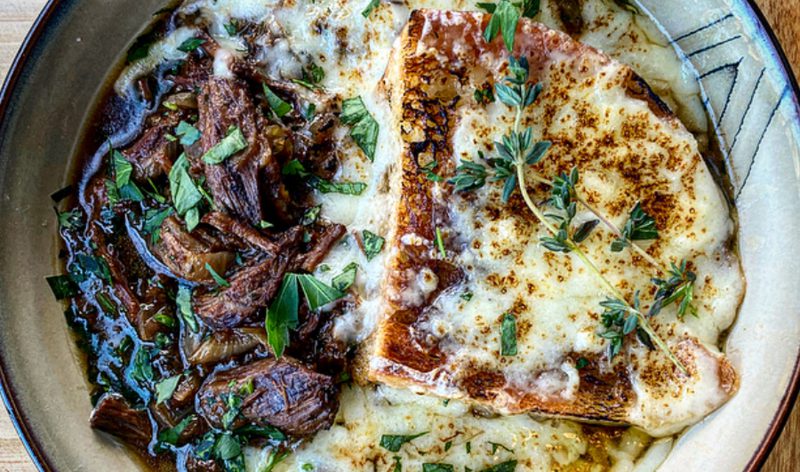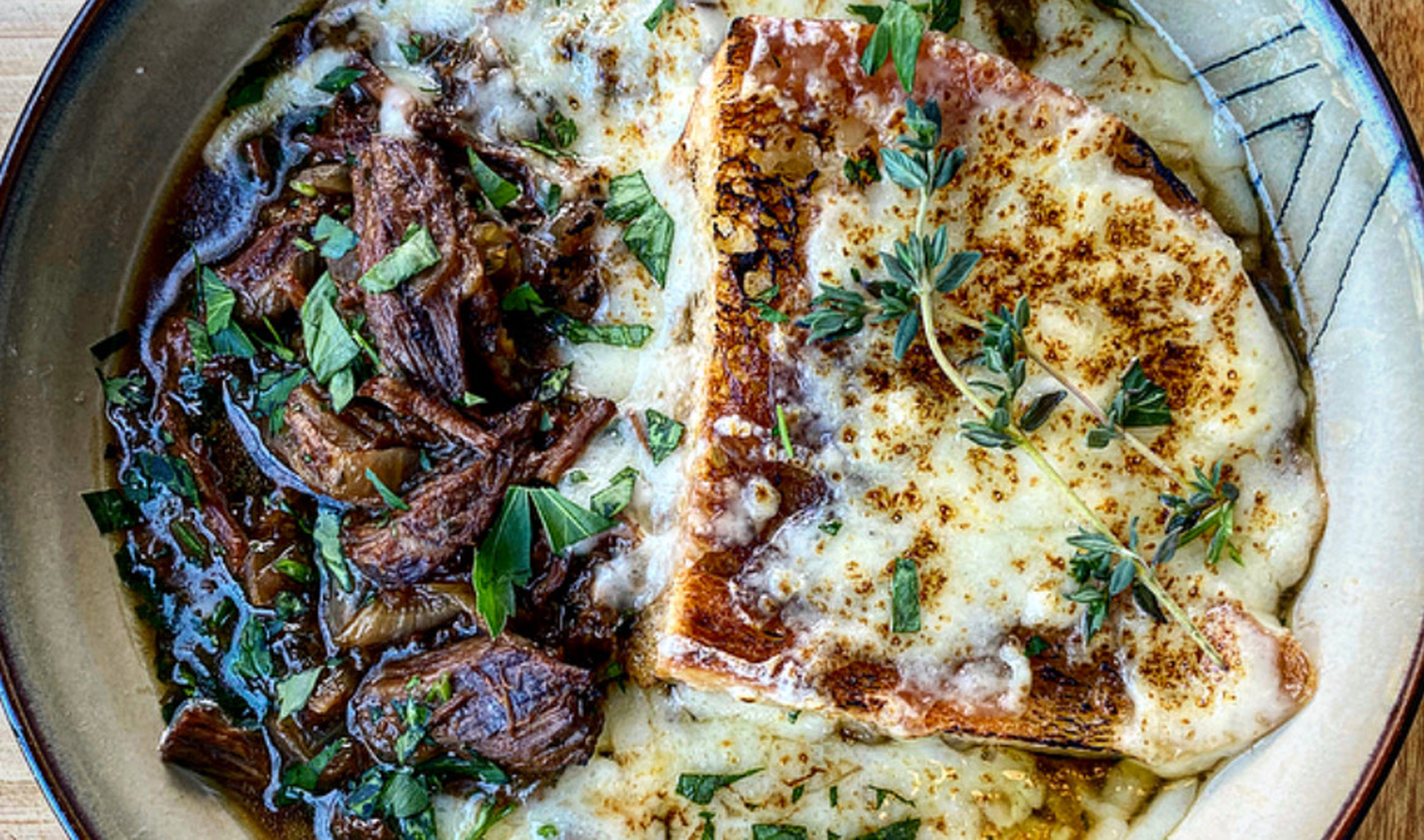 I've been cooking in restaurants and such for a long time, and I've tasted my way through many fine menus, yet I've never seen such a brilliant combination as this! Felix thought this one up, and I'm just blown away by its wonderful simplicity. The recipe calls for three cups or so of our beef pot roast, so you'll want to start there or use a restaurant-made or store-bought, precooked roast. We love making large roasts exactly for this reason – to have some leftovers stashed in the freezer for a rainy day – to put on a sandwich or sizzle in a skillet with hot sauce for tacos. Felix just plunked a chunk of that tasty beef right into this onion soup and I just about fell over!
First of all, it's obviously beautiful. And second, it is so comforting to enjoy, with its oniony bites of beef and Gruyere on toasty bread swimming in soup. Wow! This one will be in our rotation from now on, for sure. We really stress the importance of the first step, caramelizing those onions slowly for a long time to get the deepest, richest base layer of flavor going before adding the rest. It's not a fast recipe, but we know that slow food is great food. Definitely give our Felix and Greg 'The Cure' Pot Roast a try and save some for this recipe later in the week. You'll be thanking yourself repeatedly, trust us.
Beefy French Onion Soup Recipe
SERVES
4-6
DIFFICULTY
Moderate
PREP TIME
30 min
COOK TIME
1 hr 45 min
DIET: GF (if using a GF bread)
Beefy French Onion Soup Recipe
SERVES: 4-6
DIFFICULTY: Moderate
PREP TIME: 30 min
COOK TIME: 1 hr 45 min
SPECIAL TOOLS: Dutch oven with tight-fitting lid
DIET: Keto (if using a keto flour for beef)
Ingredients
5 lg yellow onions, halved and julienned
3 T olive oil
3 T butter
4 cloves garlic, minced
2 sprigs fresh thyme
2 bay leaves
1 T Worcestershire
salt and pepper, to taste
3 c leftover pot roast, chopped bite-size
½ c parsley, fresh, chopped
2 cans (20 oz total) beef consommé or beef bone broth
32 oz beef broth
salt, to taste
toasted artisan bread slices, or sourdough
2 c shredded Gruyere or Swiss cheese
Instructions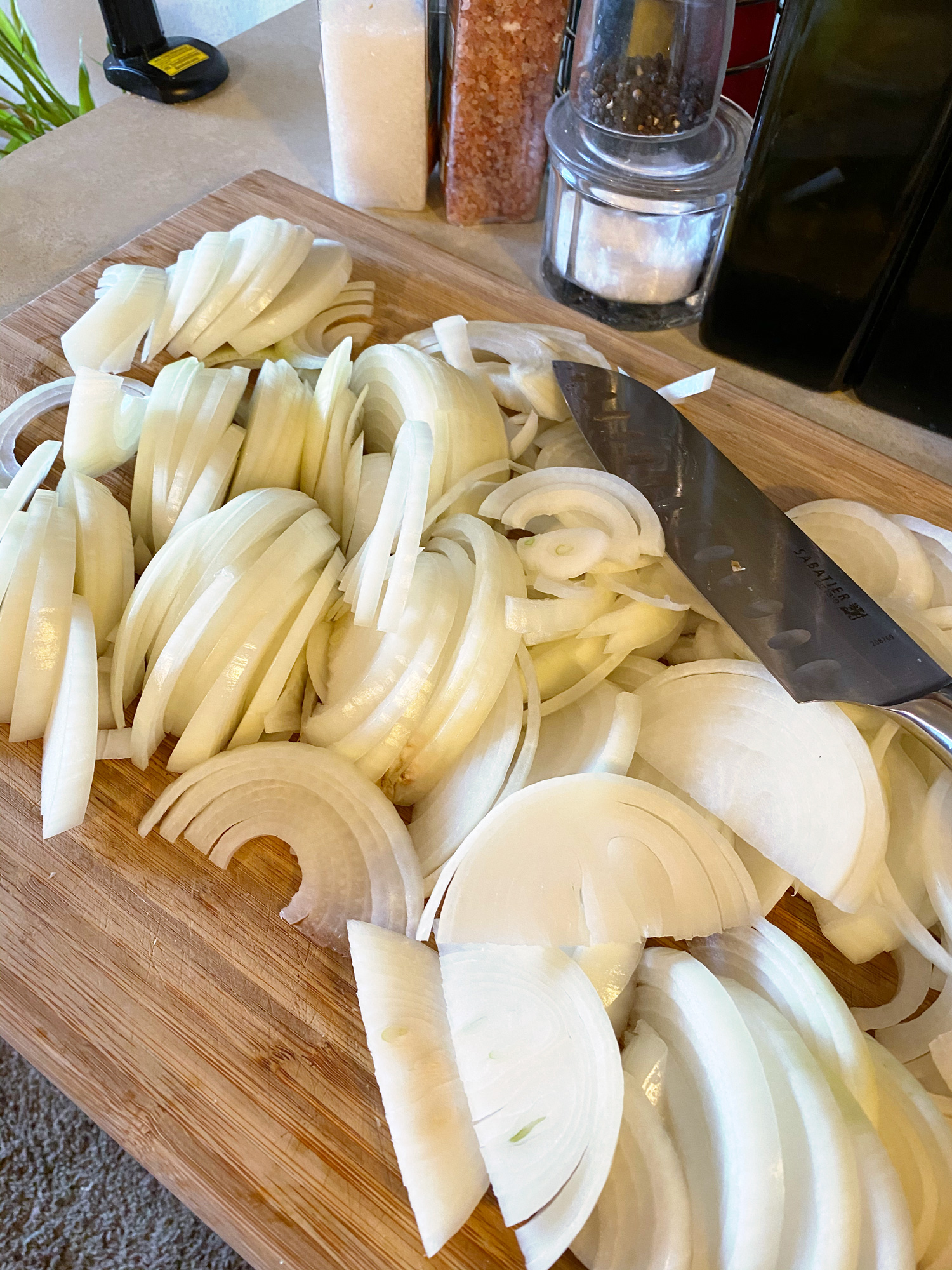 Sauté onions in soup pot with olive oil and butter over medium-high heat for 3 min. Turn heat to low and cook very slowly, stirring occasionally, until deep brown and soft.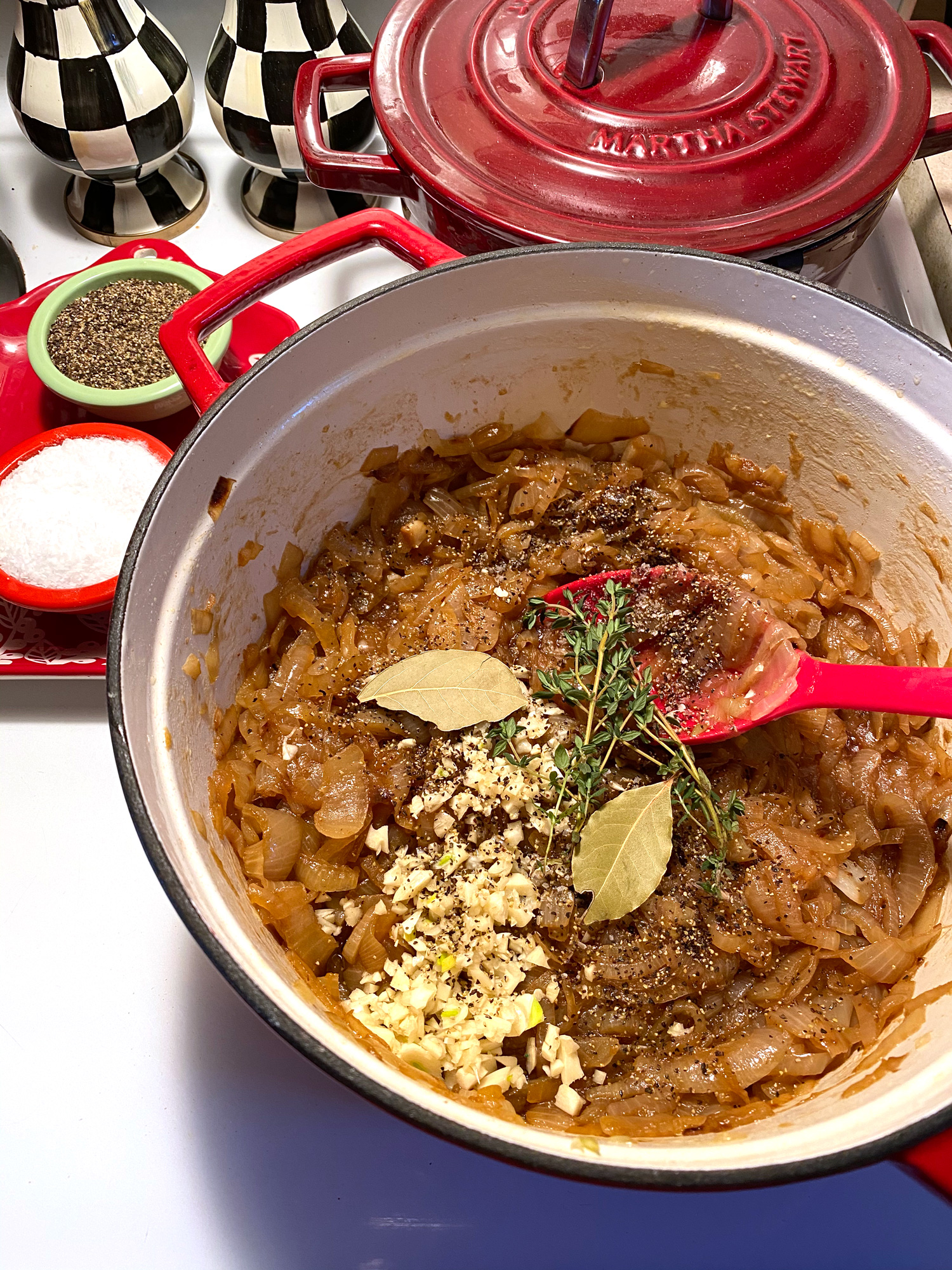 Add garlic, thyme, bay leaves, Worcestershire and a pinch of salt and pepper. Cook 3-4 min over medium heat.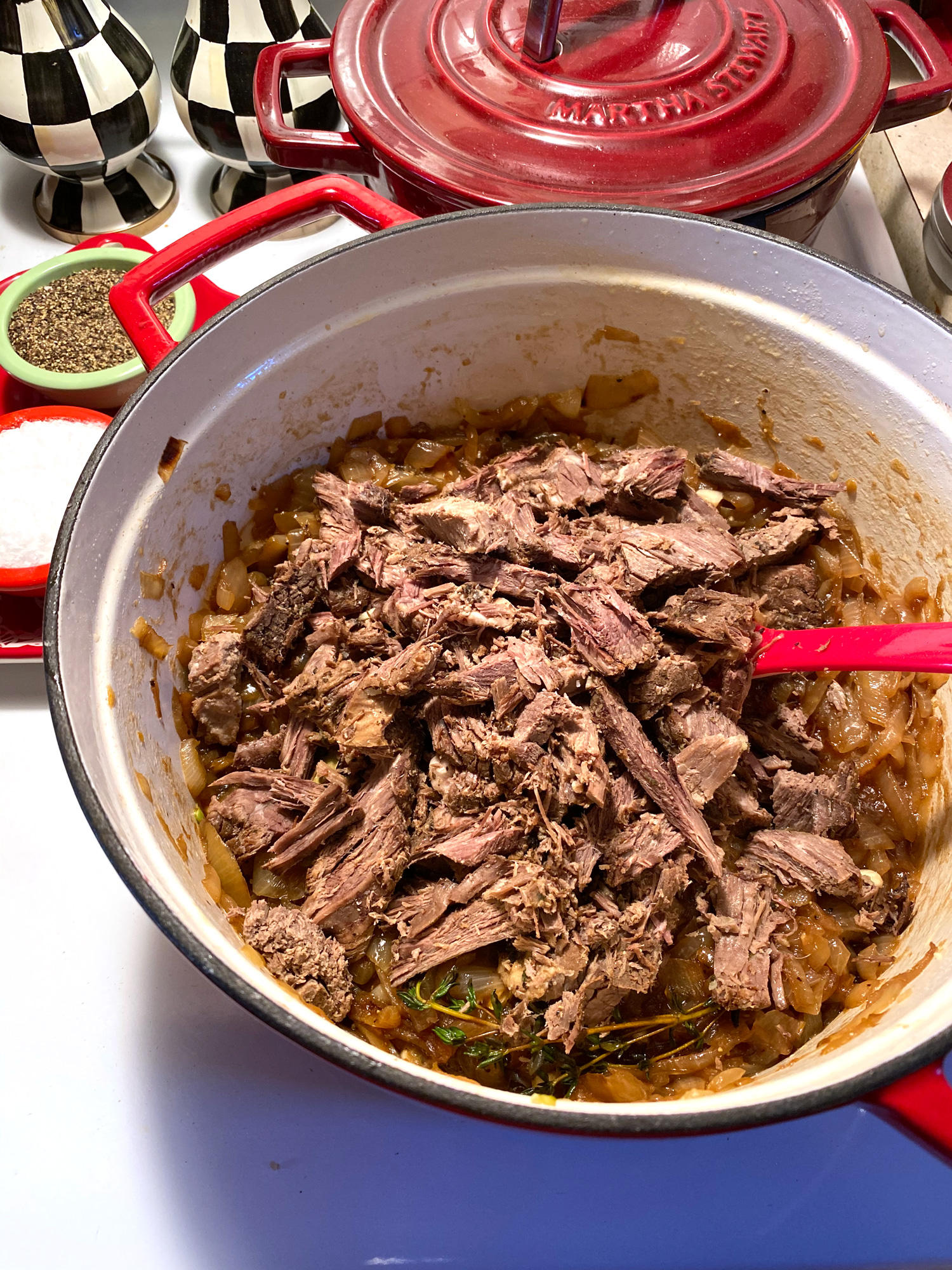 Add pot roast, parsley (reserve some for garnish), consommé and beef broth.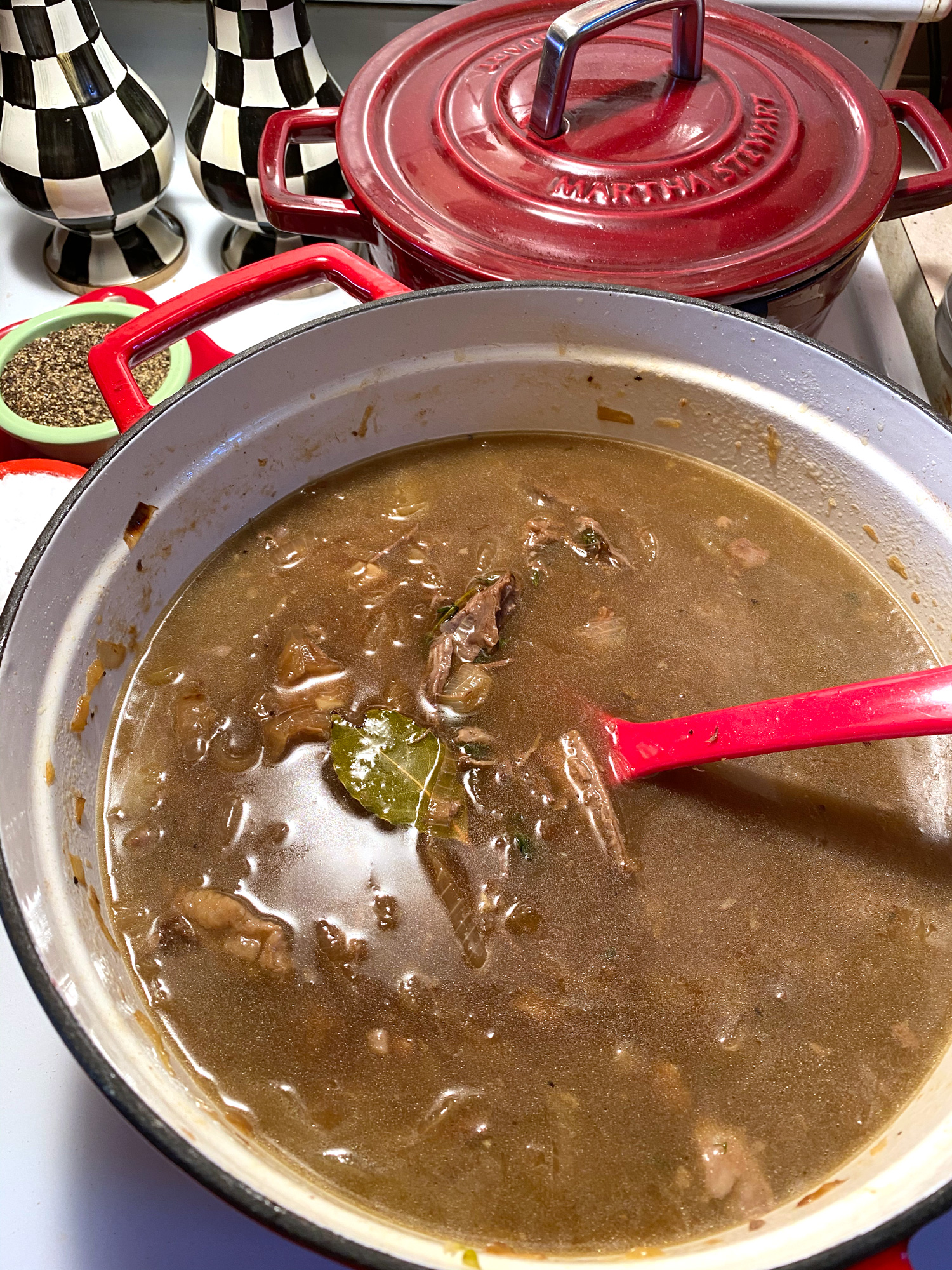 Add salt, to taste, then simmer gently for 30 min. Meanwhile, toast bread slices and add cheese, broiling until melted and bubbly. Pour soup into bowls, top with bread slice, and plenty of fresh chopped parsley.
Meet the Makers
Felix & Greg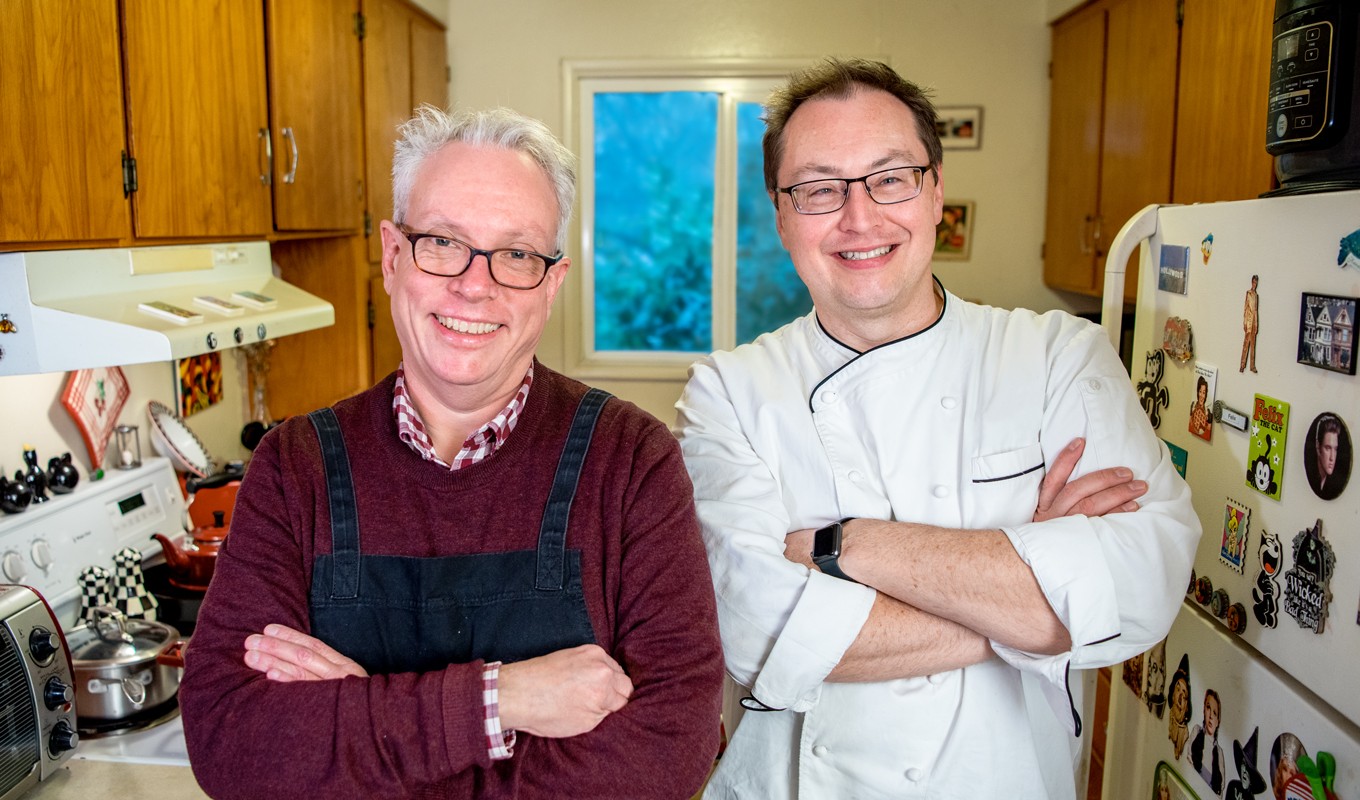 FELIX HUCK
Recipe Creator & Food Photographer
An artist and shutterbug, Felix finds beauty and inspiration in food and nature. He invents and photographs the recipes you'll find here.
GREG CABEZA
Professional Chef & Food Blogger
A food aficionado and lifelong music fan, Greg is an experienced artisan chef. He's also co-recipe creator and food blogger at Felix & Greg.
SUBSCRIBE TO OUR EMAILS
Good ideas could be cooking in your inbox. Sign up for our newsletter.