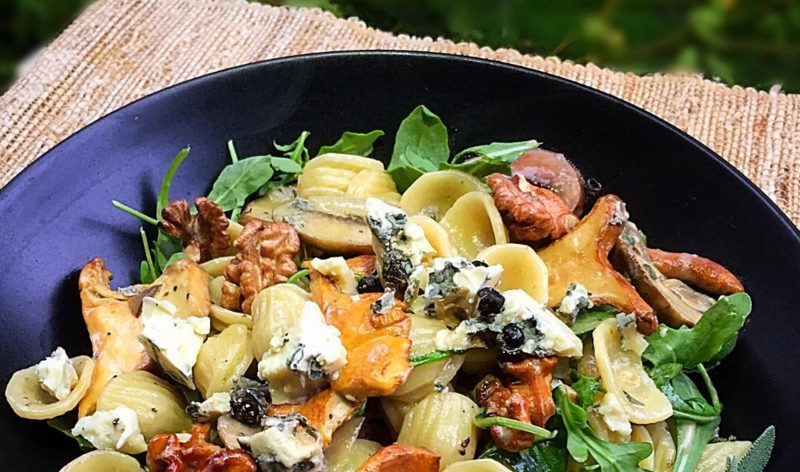 We are so very lucky to live in the Willamette Valley, with its bountiful harvests and fertile forested hills full of wild mushrooms! When chanterelle season arrives in the fall, we patiently wait for the best of the bunch—those firm, earthy treasures literally bursting from the forest floor by the millions. Chanterelles are famous for their unique flavor.
Chefs, like us, love to add them to pizzas, omelets and frittatas, or enjoy them sautéed with pasta, as we've done here. This idea came about one day when I had some juniper berry blue cheese in my hands and an extra pound of chanterelles, so I handed them to Felix and asked him, "What do you think? What sounds good to you?" He immediately replied, "We should make orecchiette!"
In Italian, orecchiette means "little ears." It's the perfect pasta shape for a thin sauce, since they make natural little bowls to hold onto all of that goodness. We added plenty of sage, peppery arugula and garlic, along with some toasty walnuts and "voila!"
This delicious vegetarian pasta is full of flavor. Best of all, it cooks faster than the pasta takes to boil. If you can't find orecchiette, substitute another fun shape, such as penne or rigatoni, or even fusilli. Enjoy with a high-quality Willamette Valley Pinot Gris or Pinot Noir, if desired—either would be excellent!
Wild Mushroom and Blue Cheese Orecchiette Recipe
SERVES
4
DIFFICULTY
Easy
PREP TIME
10 min
COOK TIME
10 min
SPECIAL TOOLS
None
DIET: Vegetarian, can be made GF with gluten-free pasta
Wild Mushroom and Blue Cheese Orecchiette Recipe
SERVES: 4
DIFFICULTY: Easy
PREP TIME: 10 min
COOK TIME: 10 min
SPECIAL TOOLS: None
DIET: Vegetarian, can be made GF with gluten-free pasta
Ingredients
1 lb orecchiette pasta, cooked al dente
½ med yellow onion, diced small
3 cloves garlic, minced
2 T olive oil
1 T butter
¼ t ea salt and pepper, to taste
½ lb ea chanterelles and crimini mushrooms (or sub others, as desired)
2 c chicken stock
2 T fresh sage, chopped
4 oz blue cheese (or other, as desired)
2 c arugula
½ c (4 oz) walnuts, lightly toasted and broken
Instructions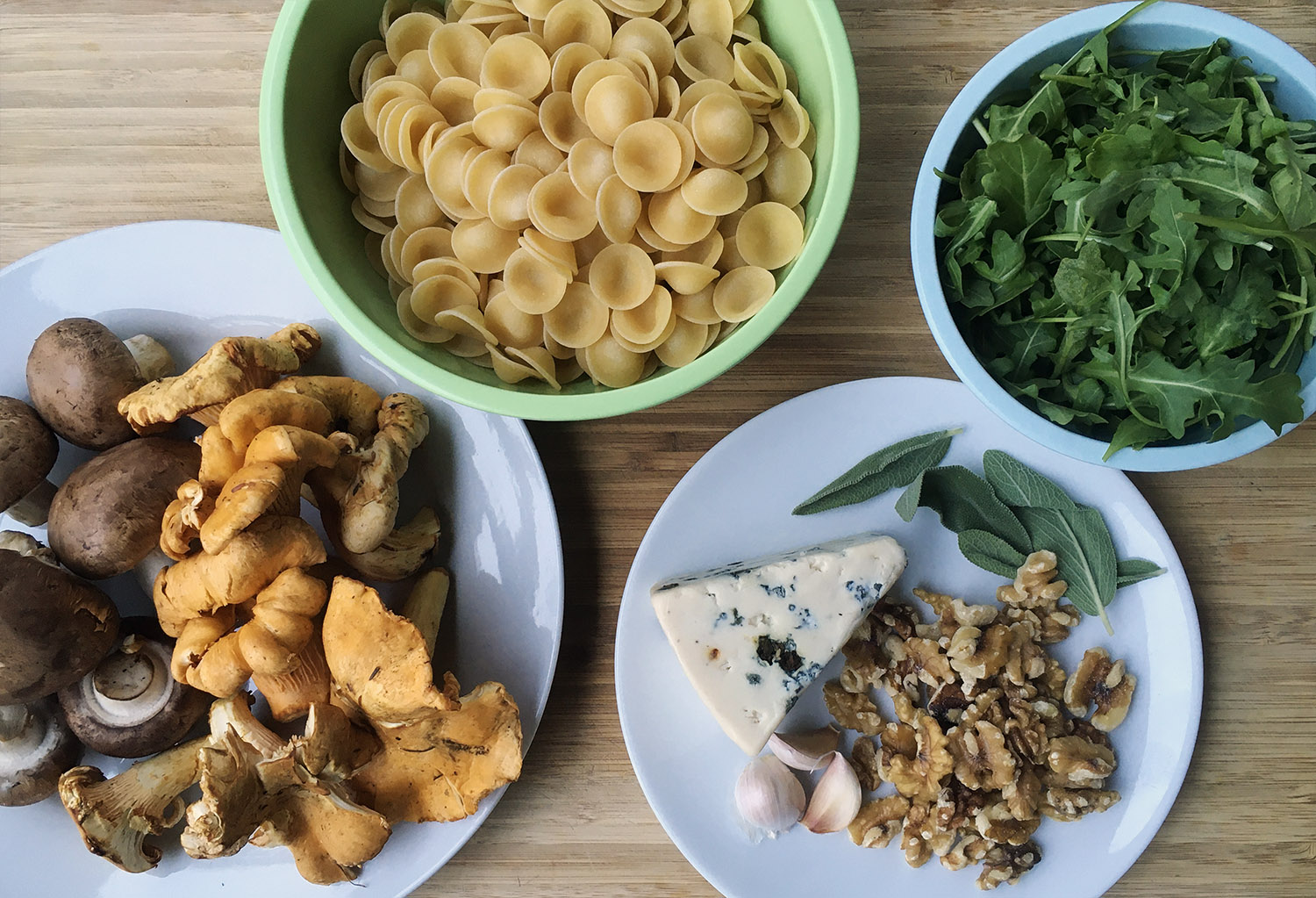 Gather ingredients. Boil orecchiette in salted water until al dente, stirring often, approx. 8 min. Drain and toss with a little olive oil to keep from sticking; reserve and keep warm. Meanwhile, in large skillet over medium-high heat, sauté onion and garlic in olive oil and butter until fragrant and softened, approx. 2 min.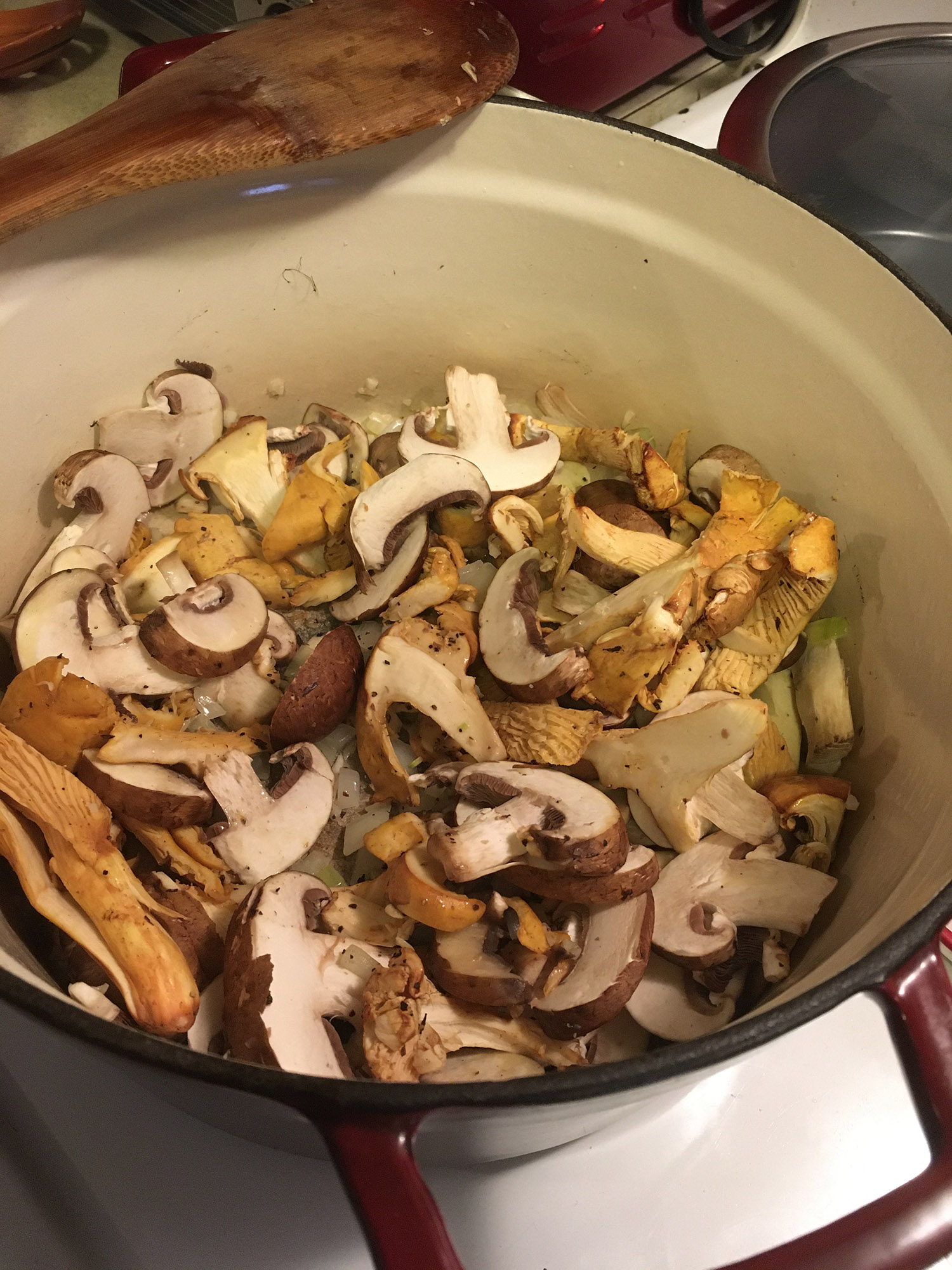 Turn heat to high and add salt, pepper and mushrooms and cook until mushrooms are slightly softened, approx. 2 min more. Add stock and sage and bring to a boil.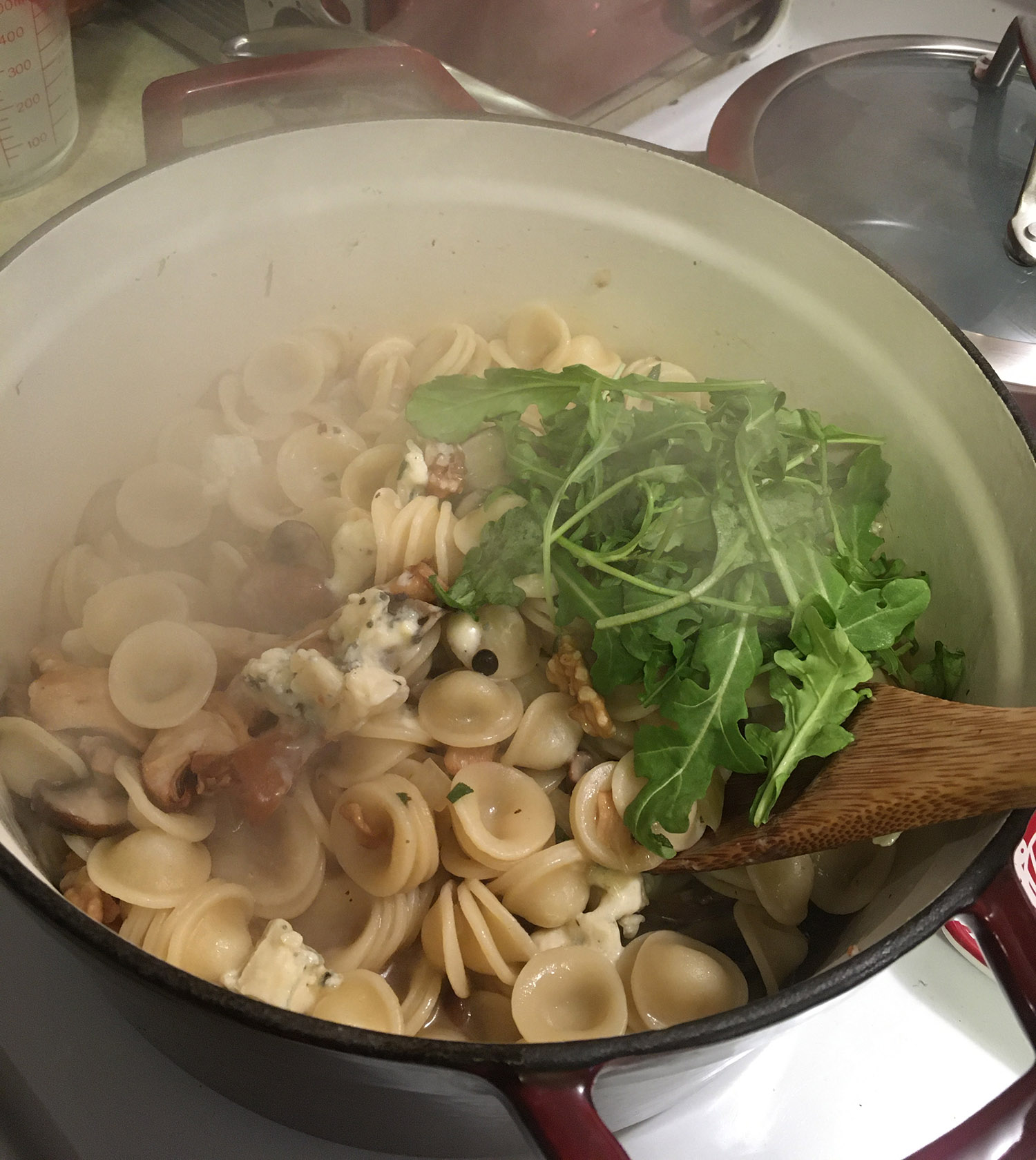 Crumble in blue cheese and toss everything with arugula, walnuts and pasta. Remove from heat and serve immediately with more cheese and nuts as garnish.
Meet the Makers
Felix & Greg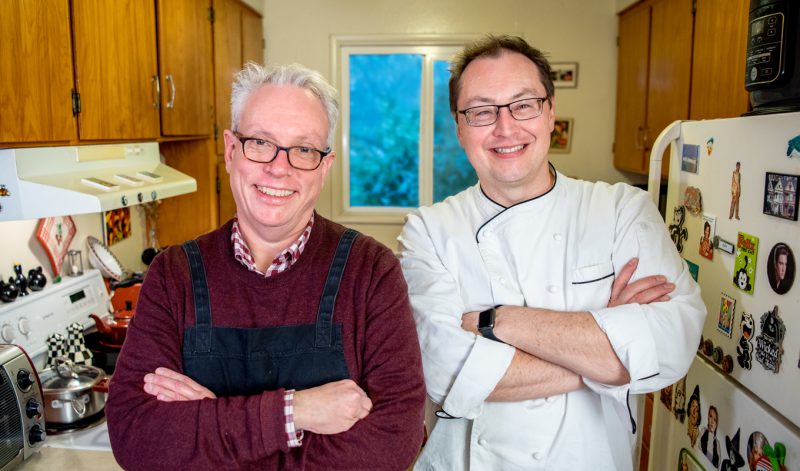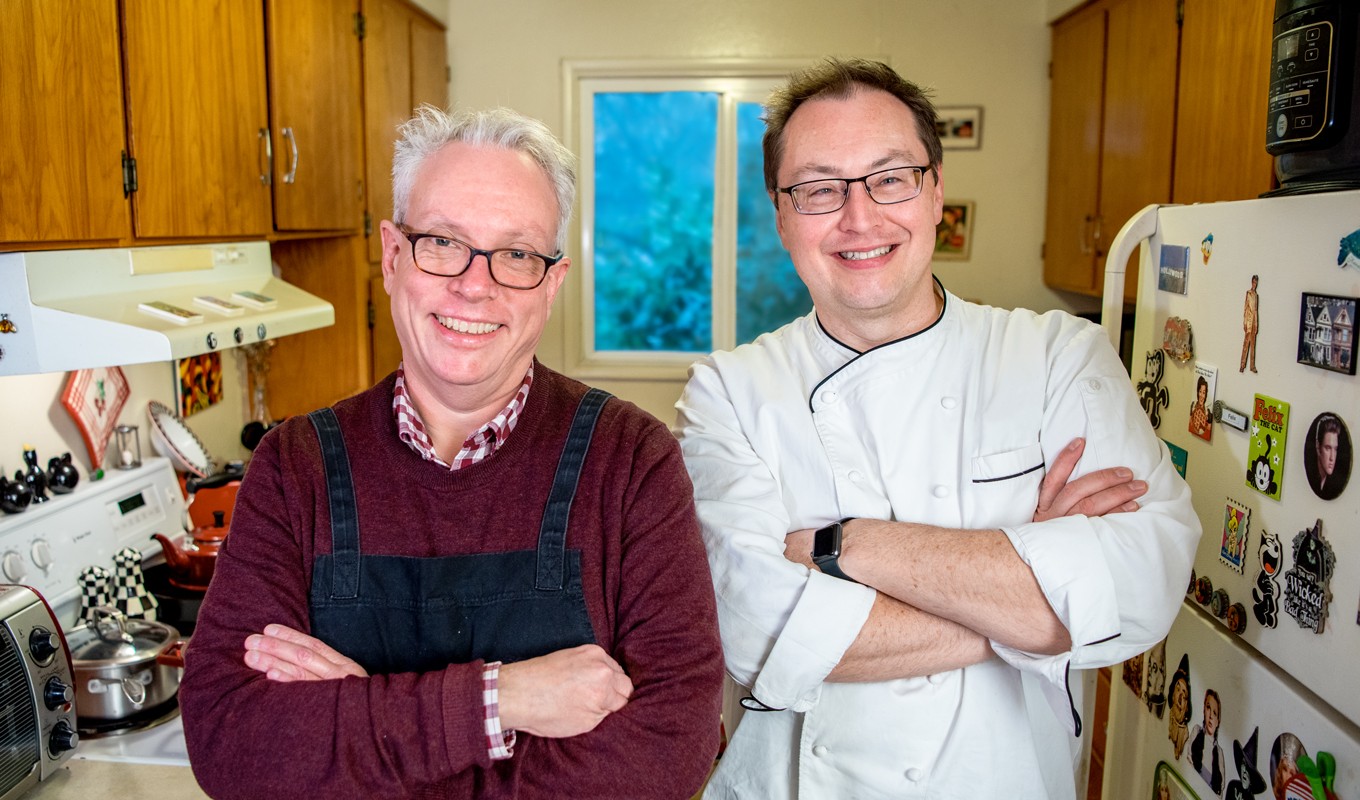 FELIX HUCK
Recipe Creator & Food Photographer
An artist and shutterbug, Felix finds beauty and inspiration in food and nature. He invents and photographs the recipes you'll find here.
GREG CABEZA
Professional Chef & Food Blogger
A food aficionado and lifelong music fan, Greg is an experienced artisan chef. He's also co-recipe creator and food blogger at Felix & Greg.
SUBSCRIBE TO OUR EMAILS
Good ideas could be cooking in your inbox. Sign up for our newsletter.