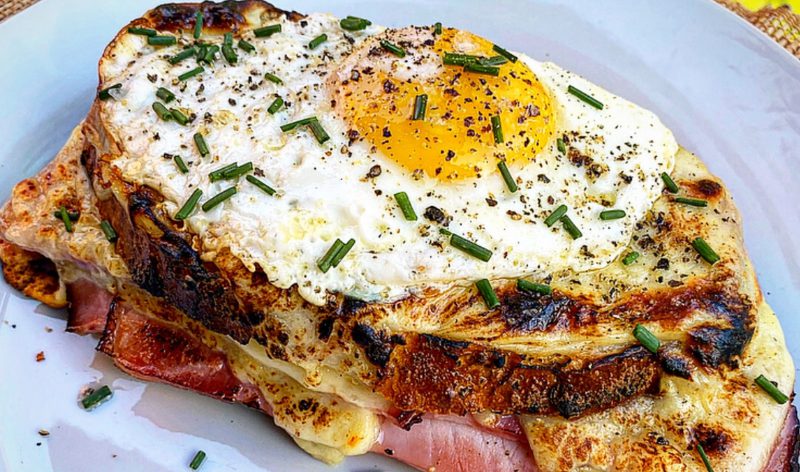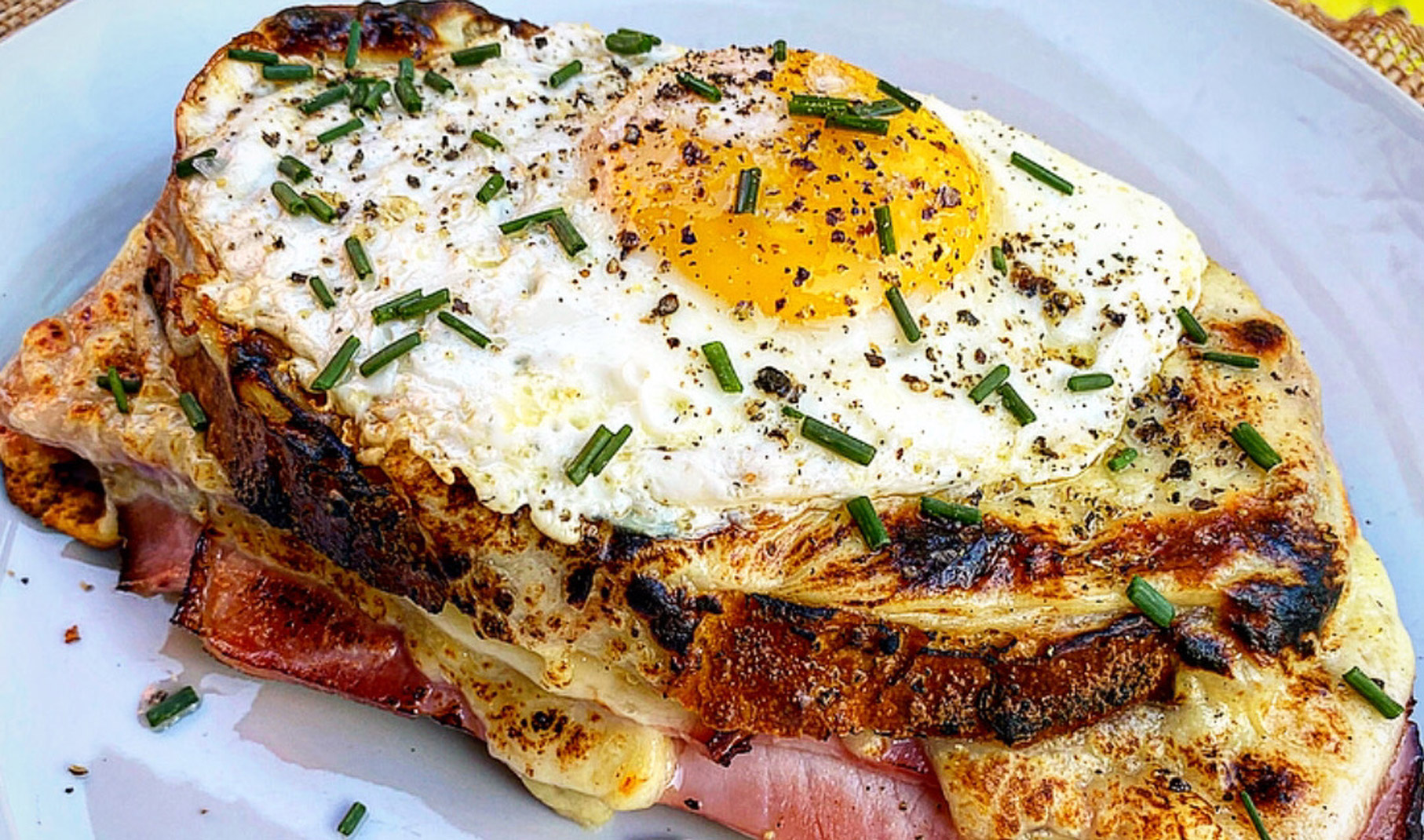 You likely know by now how much Felix and I love pop music, everything from Queen to Lady GaGa, David Bowie to Tears for Fears and Billie Eilish to Post Malone, so it should come as no surprise that most of our cooking happens with a soundtrack playing.
This Croque Madam is no different. We both have much love for George Michael and had such fun dancing to Wham as kids, so when 'Wake Me UP Before You Go Go' popped on while Felix passed along to me this humble ham and egg sandwich, I couldn't help but give a nod to one of our favorite singers of all time. We miss you George, but the music lives on! And this simple sandwich lives on, too, because while it is but bread, egg, ham and cheese, it stands tall and mighty among the best sandwiches ever made.
At its most basic, a croque madam is a toasted ham and cheese sandwich, with a bit of extra goodness added on top. You can simply toast Swiss or Gruyere over the sandwich and add an egg, however we went all out and made a cheesy bechamel (white sauce), which then gets broiled over it all before adding an over-easy fried egg. This truly is a wake-me-up kind of sandwich and will certainly get you dancing when you take a bite and "hit that HIGH!!!"
The bechamel is awesome for other tasty uses, so our recipe makes a bit extra for later – try it broiled over some roasted potatoes, or simply stir in some pasta and enjoy it with some good bread. We suggest a high-quality artisan bread for this recipe. The rest of it falls perfectly into place.
Wham! Croque Madam! Recipe
SERVES
2
DIFFICULTY
Easy
PREP TIME
15 min
COOK TIME
20 min
DIET: GF (if using GF bread)
Wham! Croque Madam! Recipe
SERVES: 2
DIFFICULTY: Easy
PREP TIME: 15 min
COOK TIME: 20 min
DIET: GF (if using GF bread)
Ingredients
Mustard and Cheese Bechamel
2 T butter
2 T flour
3 c whole milk
1 c Swiss cheese, shredded
1/4 c Parmesan, shredded
1 heaping T Dijon mustard
Croque Madam
4 slices artisan bread
1 T Dijon mustard
4 thin slices deli ham
2 thin slices Swiss cheese
2 fried eggs
pinch of black pepper
1 T fresh chives, chopped
Instructions
Mustard and Cheese Bechamel
Melt butter with flour, whisking in saucepan over medium-high heat, until bubbling and fragrant, 1 min. Add milk and whisk until thickened and simmering, 4-5 min. Stir in shredded Swiss, Parmesan and mustard, until smooth. Remove from heat and reserve.
Croque Madam
Lightly toast the bread. Spread Dijon lightly over two slices. Add ham, then cheese, and spread a little bechamel over the inside of the top slice of bread. Place sandwiches on rimmed baking sheet and spoon a generous half cup or so of bechamel over each. Turn oven broiler to high and broil sandwiches until tops are golden and bubbling. Top each with a fried egg, pinch of pepper and chopped chives.
Meet the Makers
Felix & Greg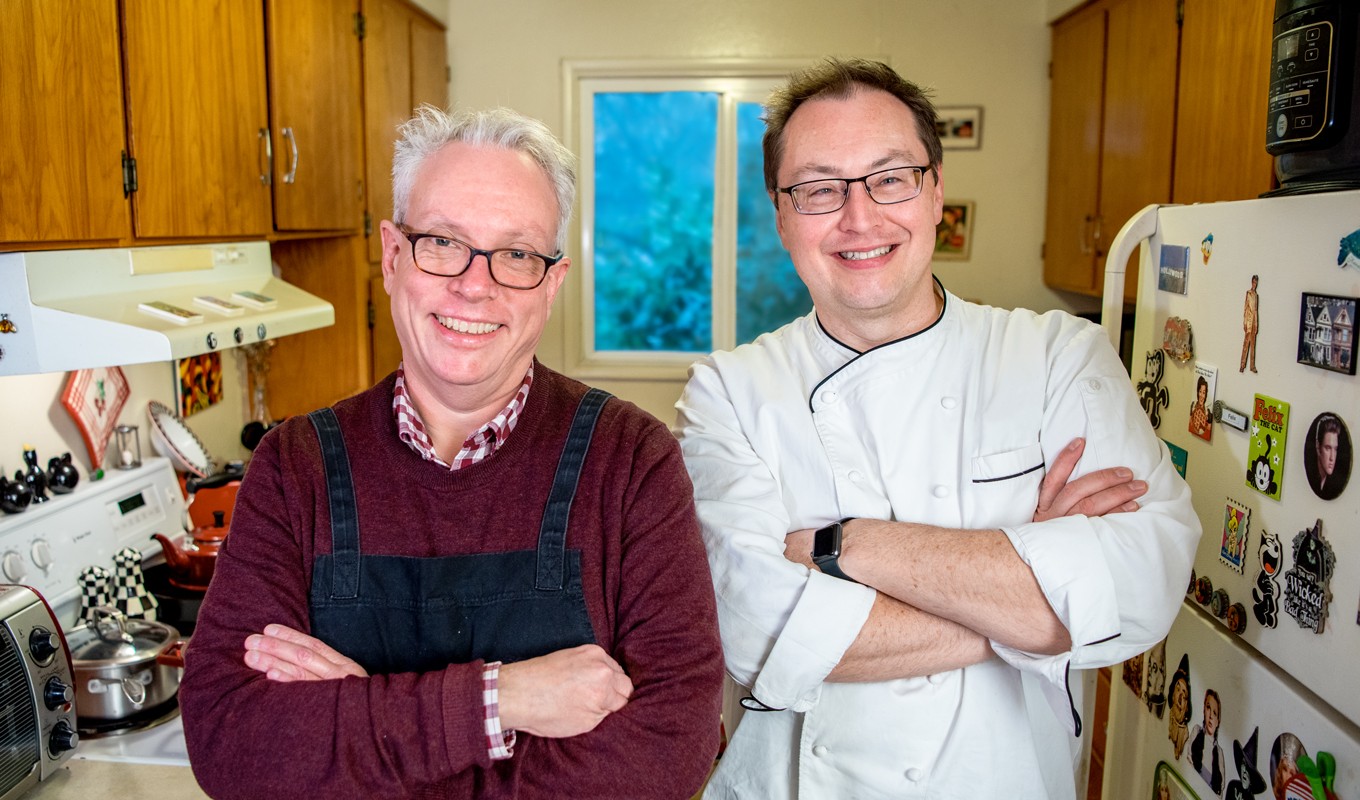 FELIX HUCK
Recipe Creator & Food Photographer
An artist and shutterbug, Felix finds beauty and inspiration in food and nature. He invents and photographs the recipes you'll find here.
GREG CABEZA
Professional Chef & Food Blogger
A food aficionado and lifelong music fan, Greg is an experienced artisan chef. He's also co-recipe creator and food blogger at Felix & Greg.
SUBSCRIBE TO OUR EMAILS
Good ideas could be cooking in your inbox. Sign up for our newsletter.