Straight from our childhoods come these toasty cheese ryes, which are perfect for a cozy winter night by the fireplace to binge-watch some Netflix and hang out with family. These are much more than meets the eye, with a tasty bit of diced green chilies and a dash of Worcestershire added to the delicious mix, plus three kinds of cheese melted on top of, you guessed it, toasted rye bread. Really, you can use just about whatever bread you'd like; however, we love the retro taste of rye for a bit of nostalgia.
Our holidays, as kids, were always filled with simply sublime little nibbles being set out while our families trimmed trees and decorated our homes. There was a palpable anxious electricity in the air as we prepared for everyone to arrive for Christmas music, treats and laughs. These kinds of recipes for holiday mixes and dips were always a must to have on hand for a quick and easy bite to warm up our visitors stepping in from the snowy cold. You can easily adjust this recipe to suit your taste – try adding a little bit of shrimp or crab to the mix or chopped artichoke hearts for a delicious variation. I can already hear "Last Christmas" by Wham playing in the background – it's no secret, we readily admit we're cheesy – or some "Rockin' Around the Christmas Tree" with Brenda Lee.
We love, love, love the holidays and hope you have as much fun as us! I think it's about time for some cheese ryes and our hundredth watching of Elf. Yay and Yummm!
Totally Awesome Old-School Cheese Ryes Recipe
SERVES
6
DIFFICULTY
Easy
PREP TIME
15 min
COOK TIME
3-5 min
DIET: Vegetarian
Totally Awesome Old-School Cheese Ryes Recipe
SERVES: 6
DIFFICULTY: Easy
PREP TIME: 15 min
COOK TIME: 3-5 min
DIET: Vegetarian
Ingredients
2 c sharp cheddar, shredded
2 c Monterey Jack cheese, shredded
1 c Parmesan, grated
7 oz can diced green chilies
½ yellow onion, chopped fine
1 t garlic powder
1 t Worcestershire sauce
2 T mayo (just enough to bind mixture)
1 loaf cocktail rye bread
chives, chopped for garnish
Instructions
Preheat oven to 475°. Combine all ingredients except bread and chives. Toast bread for 2 min on parchment-lined or nonstick sheet pan. Top each toast with 1 scant tablespoon of cheese mixture and return to oven until melted and golden brown, 3 min. Serve immediately with chopped chives sprinkled over for garnish.
Meet the Makers
Felix & Greg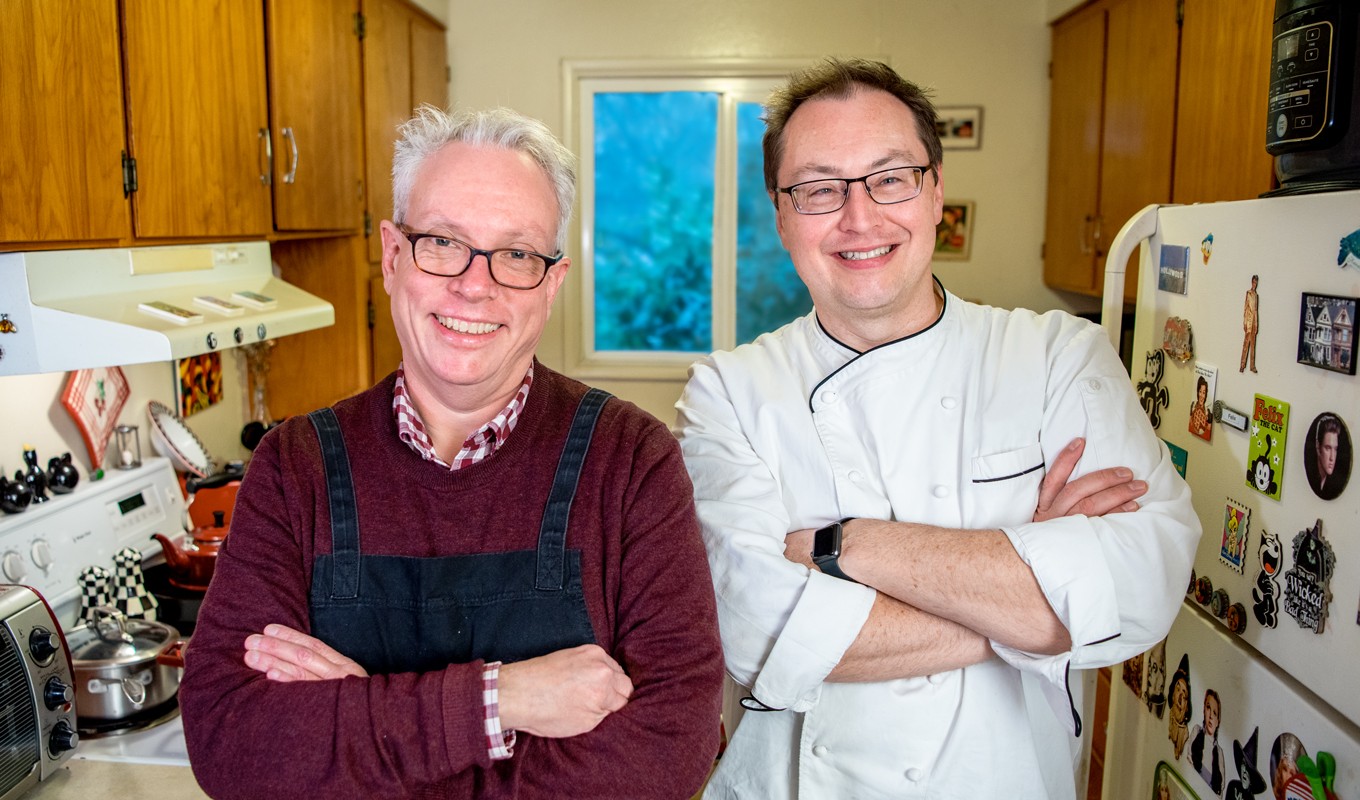 FELIX HUCK
Recipe Creator & Food Photographer
An artist and shutterbug, Felix finds beauty and inspiration in food and nature. He invents and photographs the recipes you'll find here.
GREG CABEZA
Professional Chef & Food Blogger
A food aficionado and lifelong music fan, Greg is an experienced artisan chef. He's also co-recipe creator and food blogger at Felix & Greg.
SUBSCRIBE TO OUR EMAILS
Good ideas could be cooking in your inbox. Sign up for our newsletter.