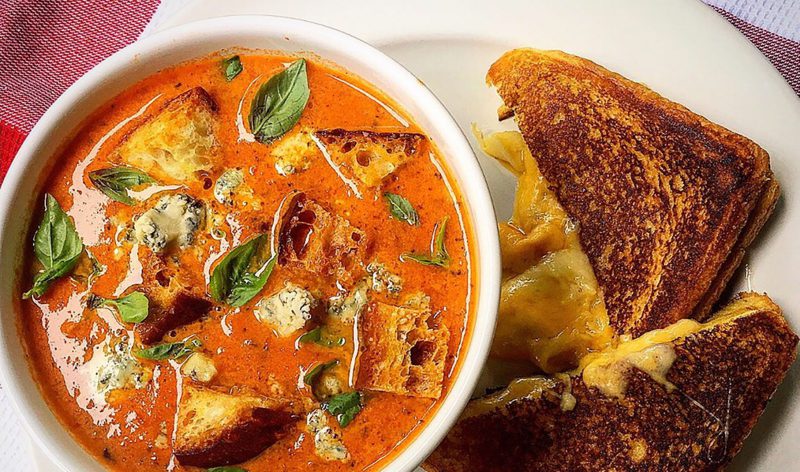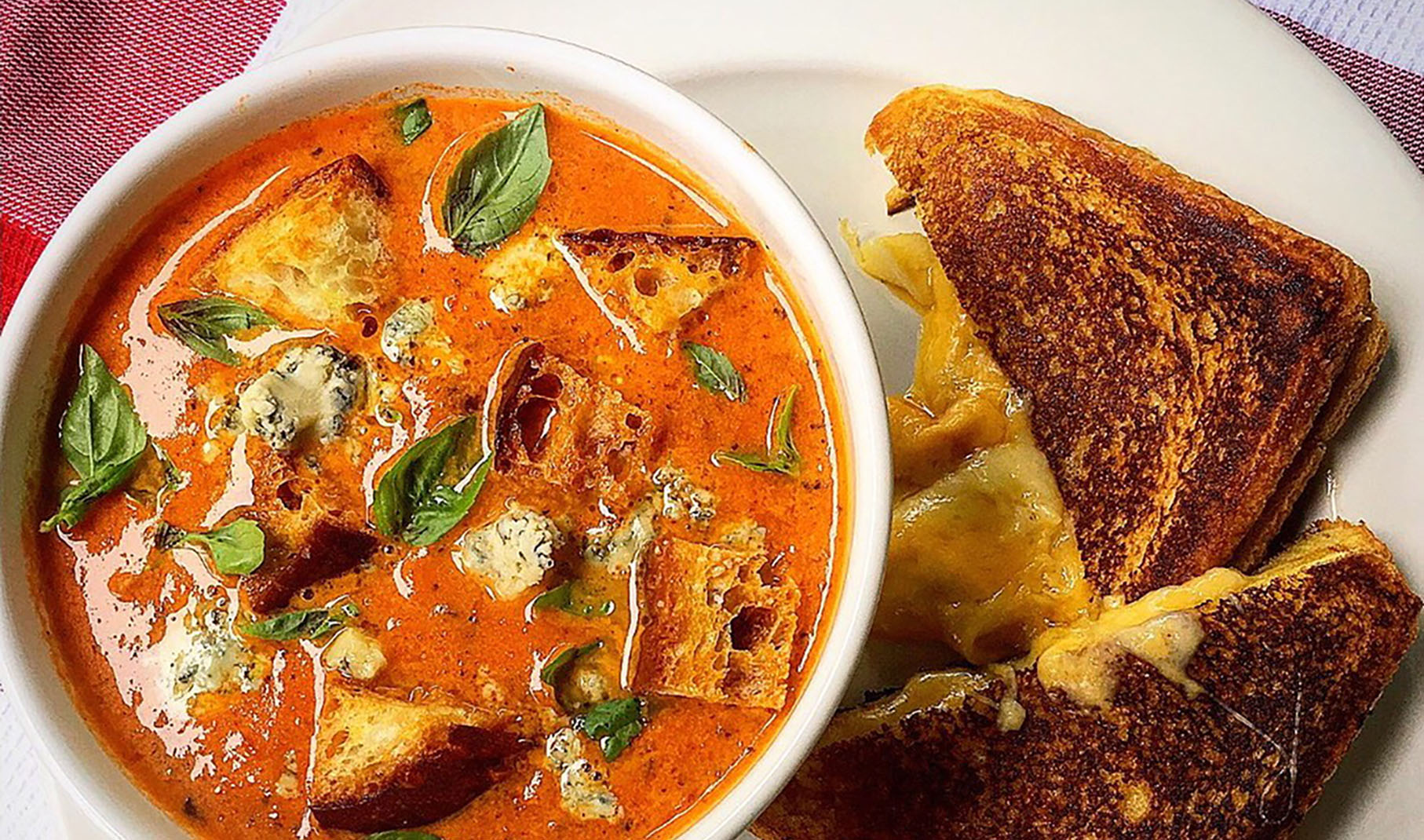 What's better than soup and a sandwich on a crisp, cool day? Felix's Tomato, Basil and Blue Cheese Soup with fresh croutons and ooey-gooey-melty grilled cheese, that's what! I happened to have a large chunk of blue cheese on hand one day (doesn't everyone?), so I gave it to Felix, thinking he'd turn it into a burger topper or toss it into a salad – but no! He surprised me with this incredibly delicious (and super easy) soup! I've made tomato soup with cheddar and basil before, many times, which still gets requested often, but I would have never thought to add blue cheese. Bravo, Felix! This is one of my family's new favorites, thanks to my friend, who blew my mind with this fantastic combo.
Choosing the ingredients
Have some fun with this soup and add your own favorite cheese in place of the blue, such as cheddar, fontina or any semi-firm cheese. It's a versatile soup that cooks quickly, and can be made ahead and frozen, so you can have it on hand year-round. I like making it with my own garden tomatoes at the peak of summer and freezing for the winter months.
Making the grilled cheese
Don't forget to save some cheese for the sandwich! We figured if you've made it this far, we didn't have to include a recipe for a grilled cheese, as well, but here's a little tip: butter the bread well on the outside and add just a bit of olive oil to the pan. This gives it a crispy, crusty exterior with a golden-brown finish and delicious flavor.
Blending the soup
If you have an immersion (stick) blender you can blend this all in the pot, which makes preparation and clean-up a breeze. If you don't have an immersion blender, simply pour the hot soup into a stand blender and puree – I don't mind a few small chunks, but you can make it as smooth as you like. Be very careful using a blender, as they can easily explode from the initial blast of steam being released. Simply leave the vent cap open and cover lightly with a folded-up paper towel, holding a large spoon or spatula over it to keep it in place when turning on the blender.
Tomato Blue Cheese Soup Recipe
SERVES
4
DIFFICULTY
Easy
PREP TIME
10 min
COOK TIME
20 min
SPECIAL TOOLS
Immersion blender or stand blender
DIET: Vegetarian, GF (with omission of croutons)
Tomato Blue Cheese Soup Recipe
SERVES: 4
DIFFICULTY: Easy
PREP TIME: 10 min
COOK TIME: 20 min
SPECIAL TOOLS: Immersion blender or stand blender
DIET: Vegetarian, GF (with omission of croutons)
Ingredients
4 cloves garlic, chopped
1 sm yellow onion, chopped
fresh basil
3 cans (14.5 oz cans) diced tomatoes
1 ½ c chicken or vegetable stock
8 oz pkg cream cheese
¼ c blue cheese
1 c whole milk
salt and pepper, to taste
croutons (freshly made)
Instructions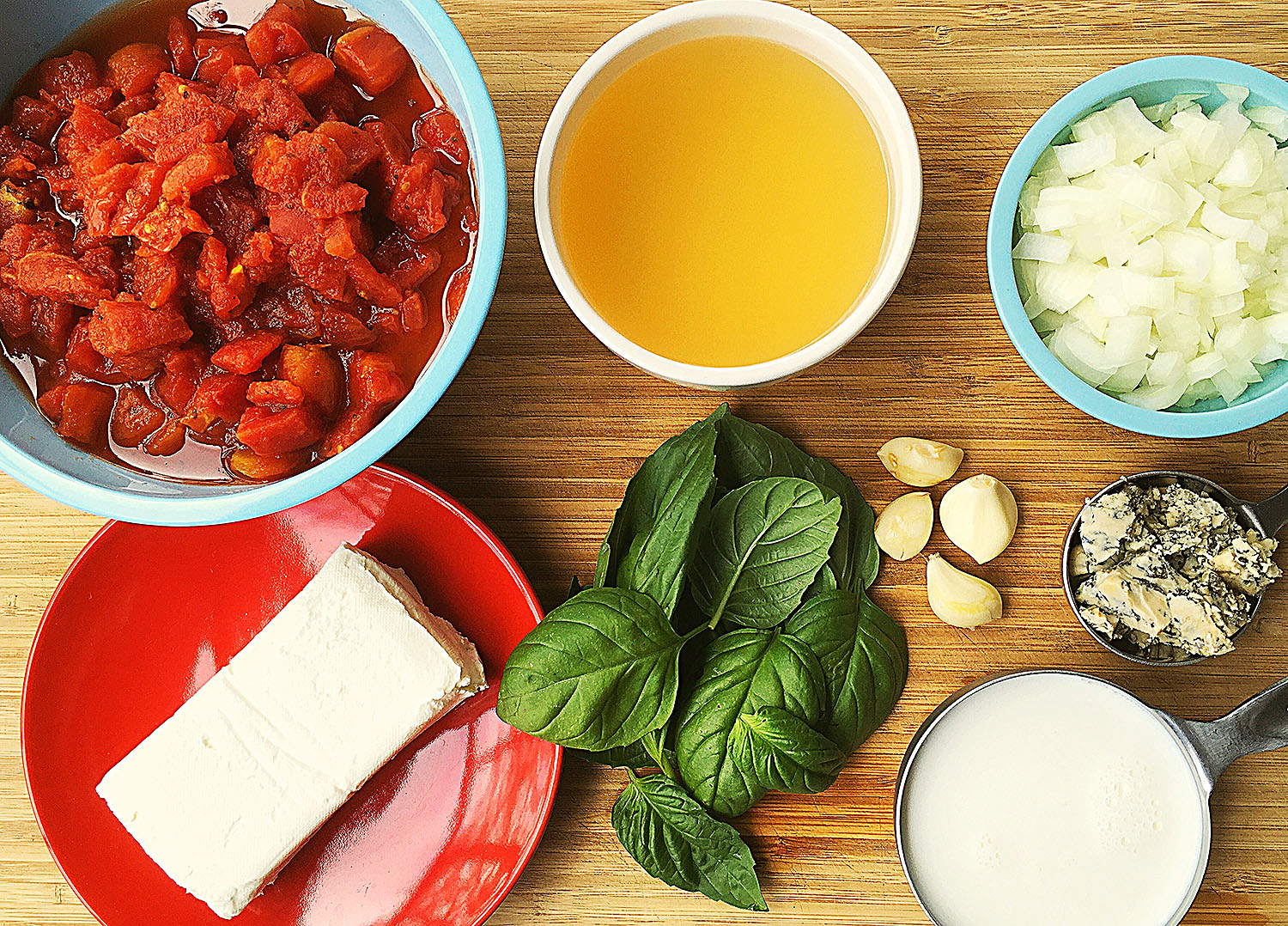 Gather ingredients.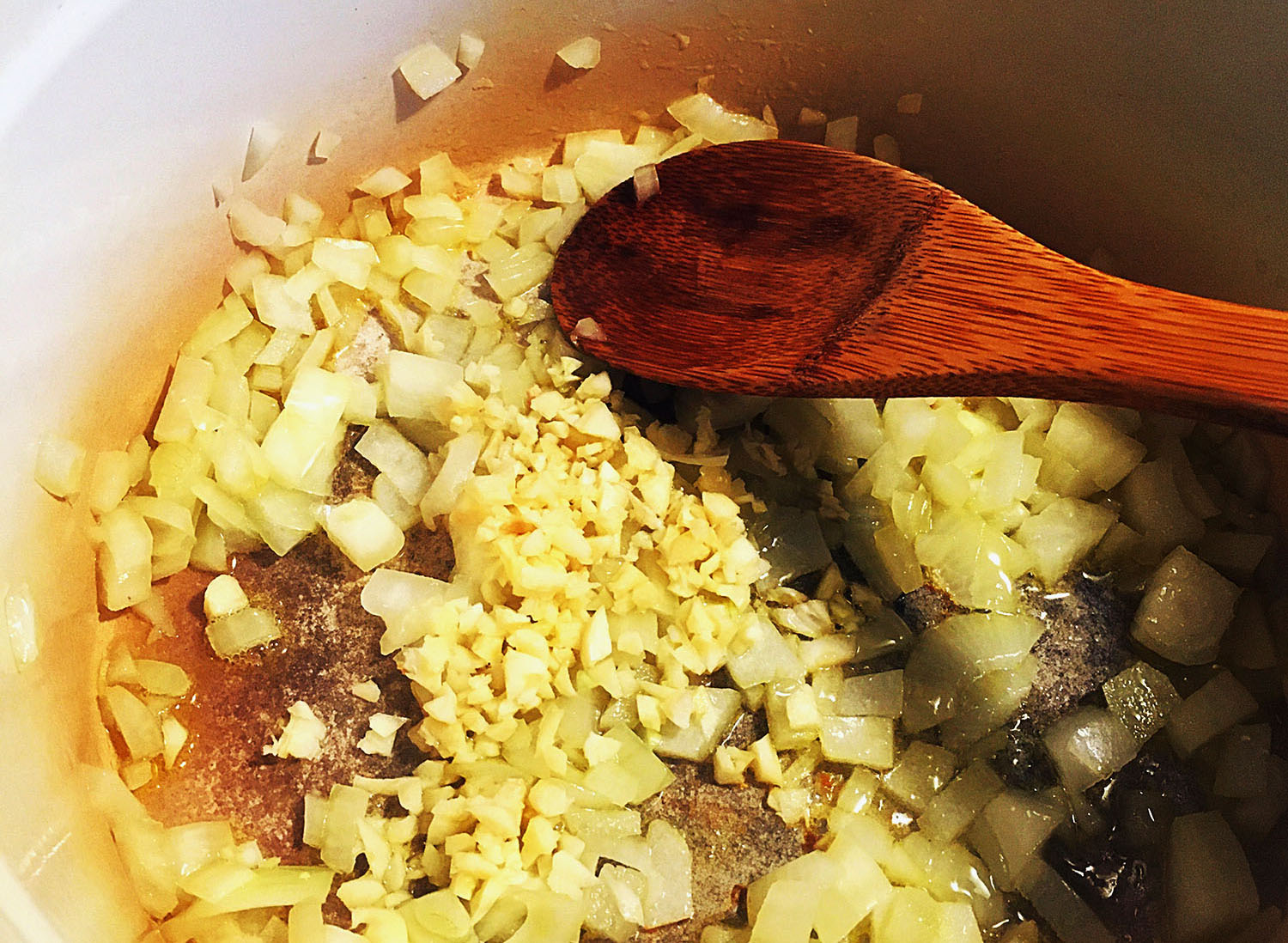 In large pot, sauté onion and garlic in butter or olive oil until softened, approximately 5 min, over medium heat.
Add tomatoes and chopped basil and bring to simmer for 15 min.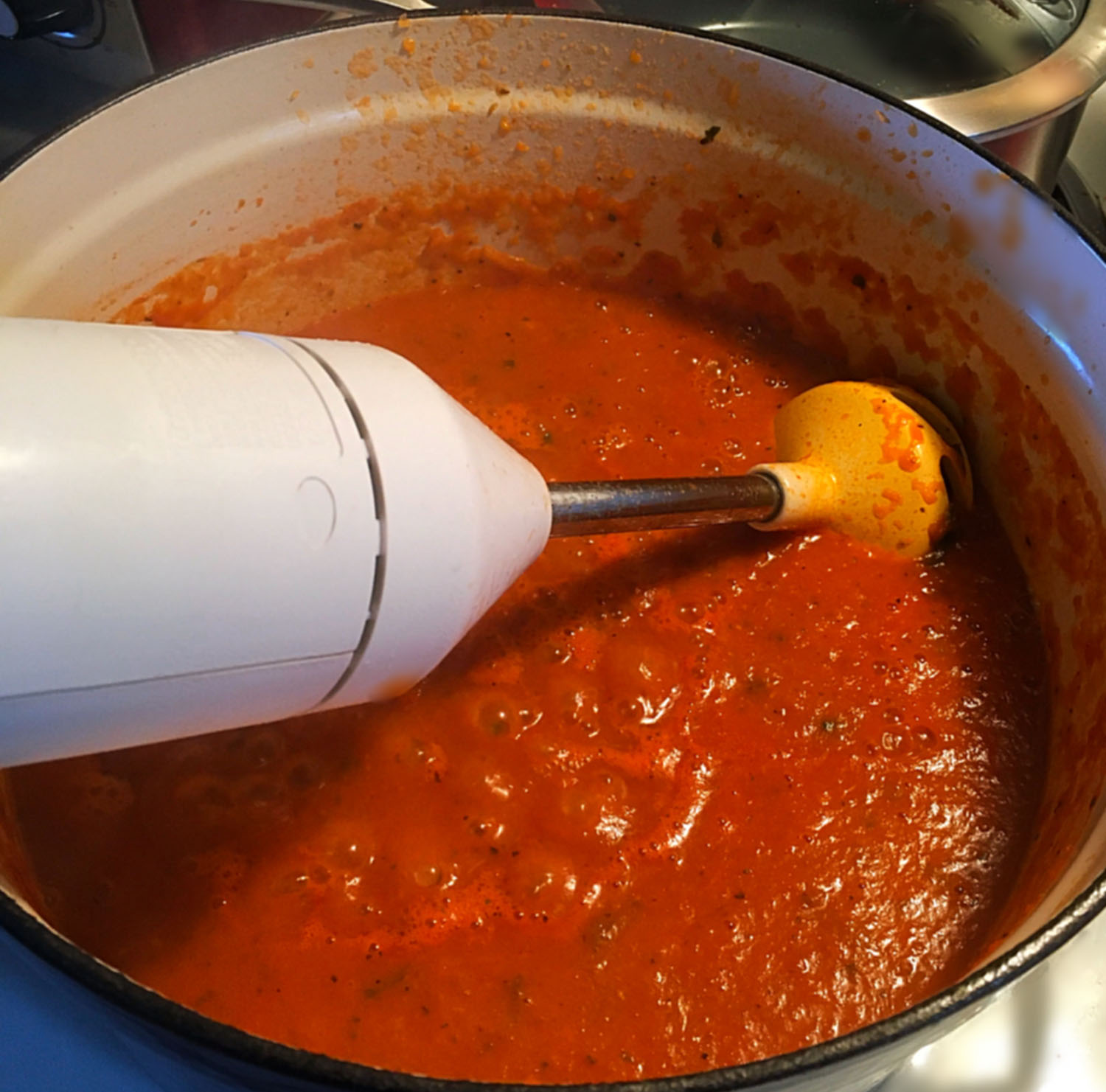 Using an immersion blender, puree until smooth (or use a stand blender, but be careful – hot soup will explode if top is not vented).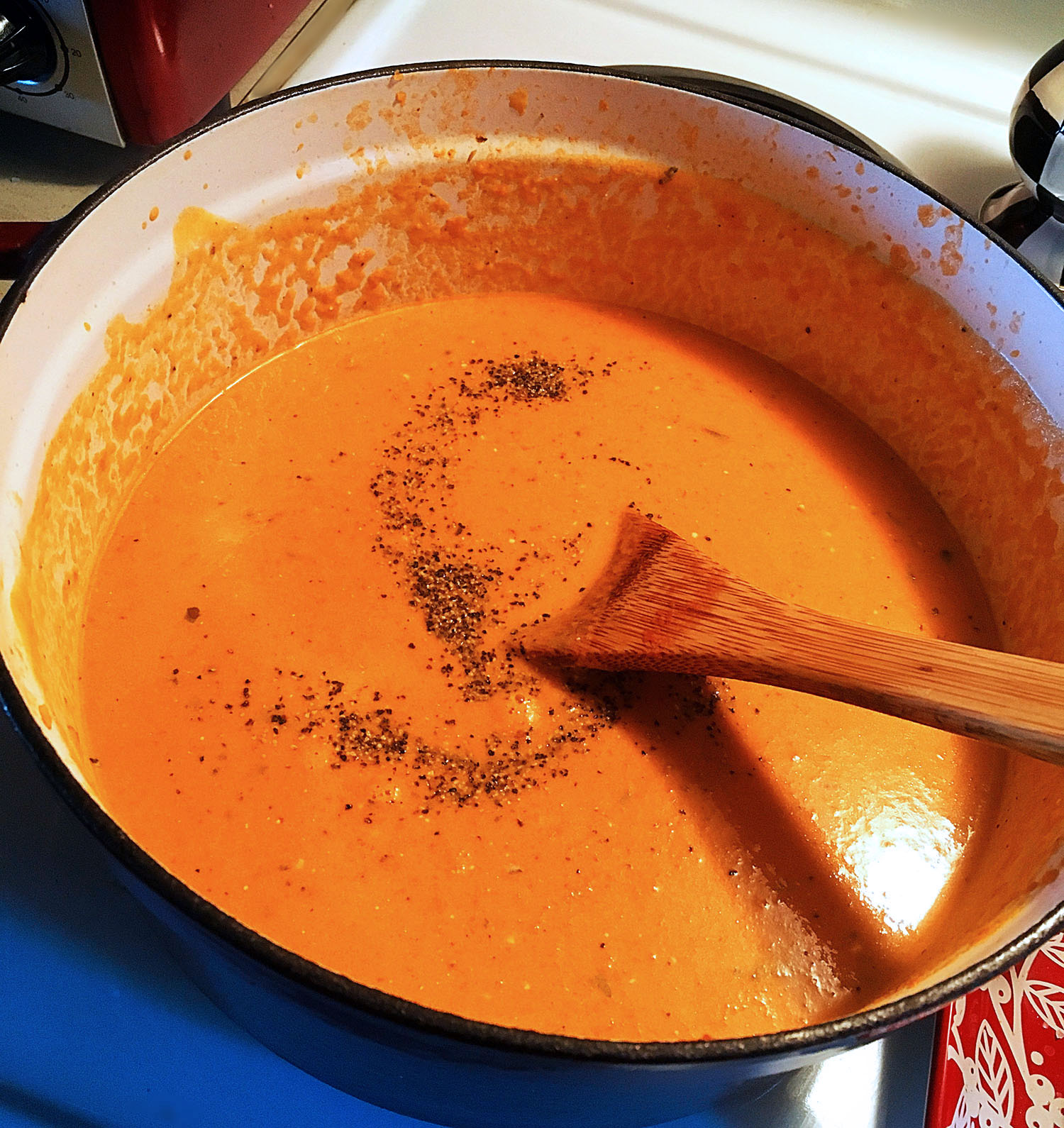 Add cream cheese and stir until blended. Add milk, blue cheese and salt and pepper to taste and bring back to temp/simmer; immediately remove from heat.
Serve with more blue cheese, basil and croutons for garnish. To make croutons, simply sauté small bread cubes in butter or olive oil over medium heat with a pinch of salt and pepper until toasted. Serve immediately.
Meet the Makers
Felix & Greg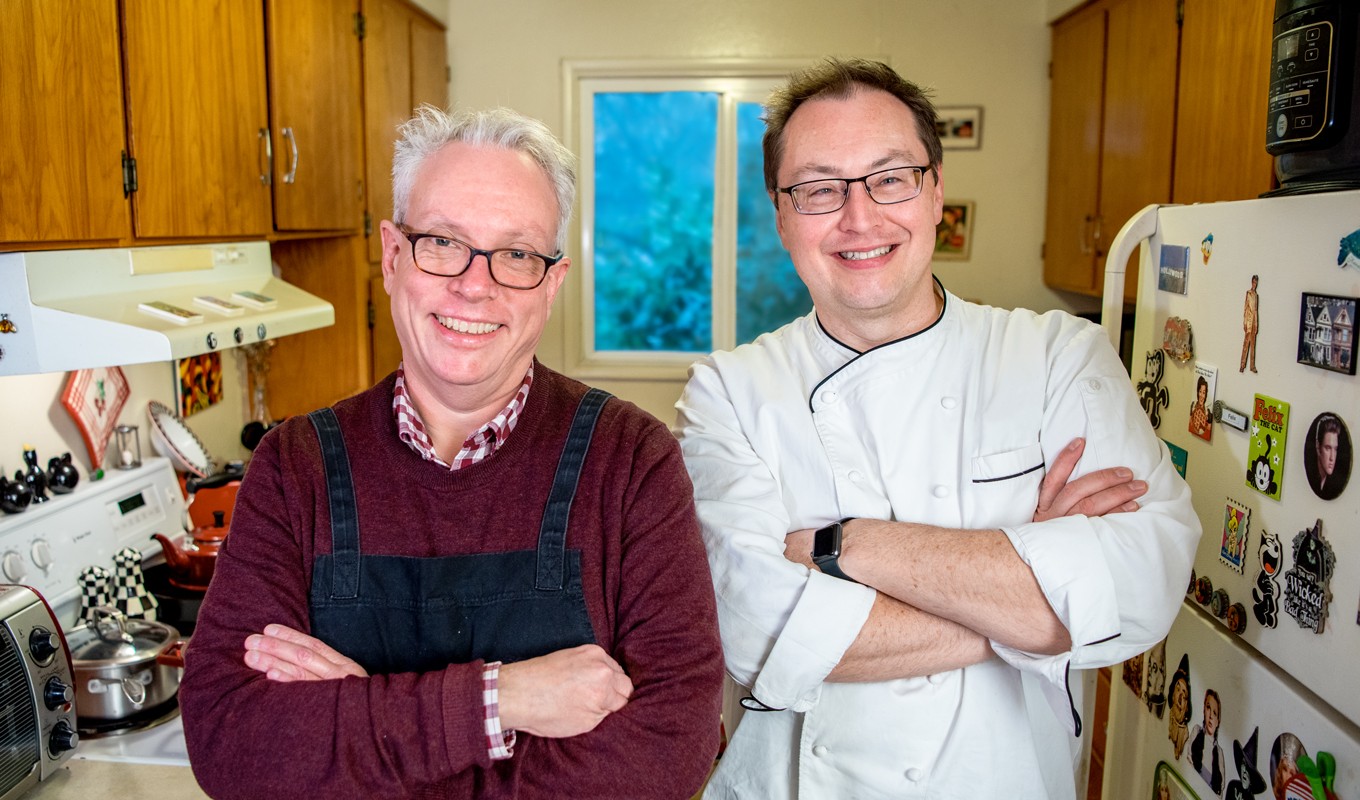 FELIX HUCK
Recipe Creator & Food Photographer
An artist and shutterbug, Felix finds beauty and inspiration in food and nature. He invents and photographs the recipes you'll find here.
GREG CABEZA
Professional Chef & Food Blogger
A food aficionado and lifelong music fan, Greg is an experienced artisan chef. He's also co-recipe creator and food blogger at Felix & Greg.
SUBSCRIBE TO OUR EMAILS
Good ideas could be cooking in your inbox. Sign up for our newsletter.