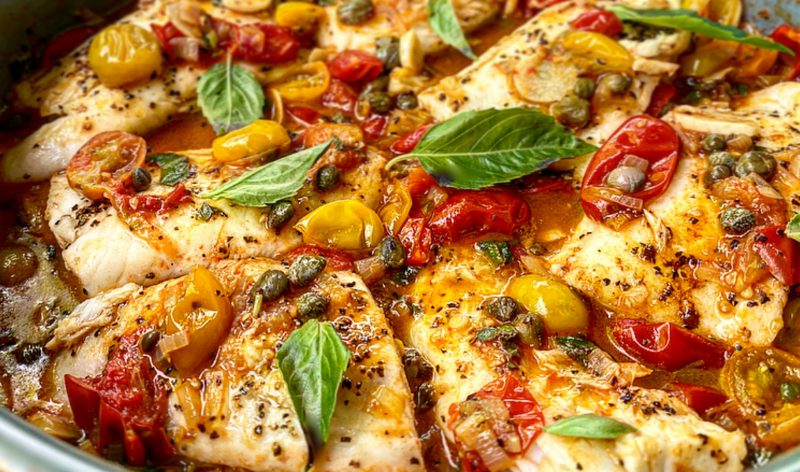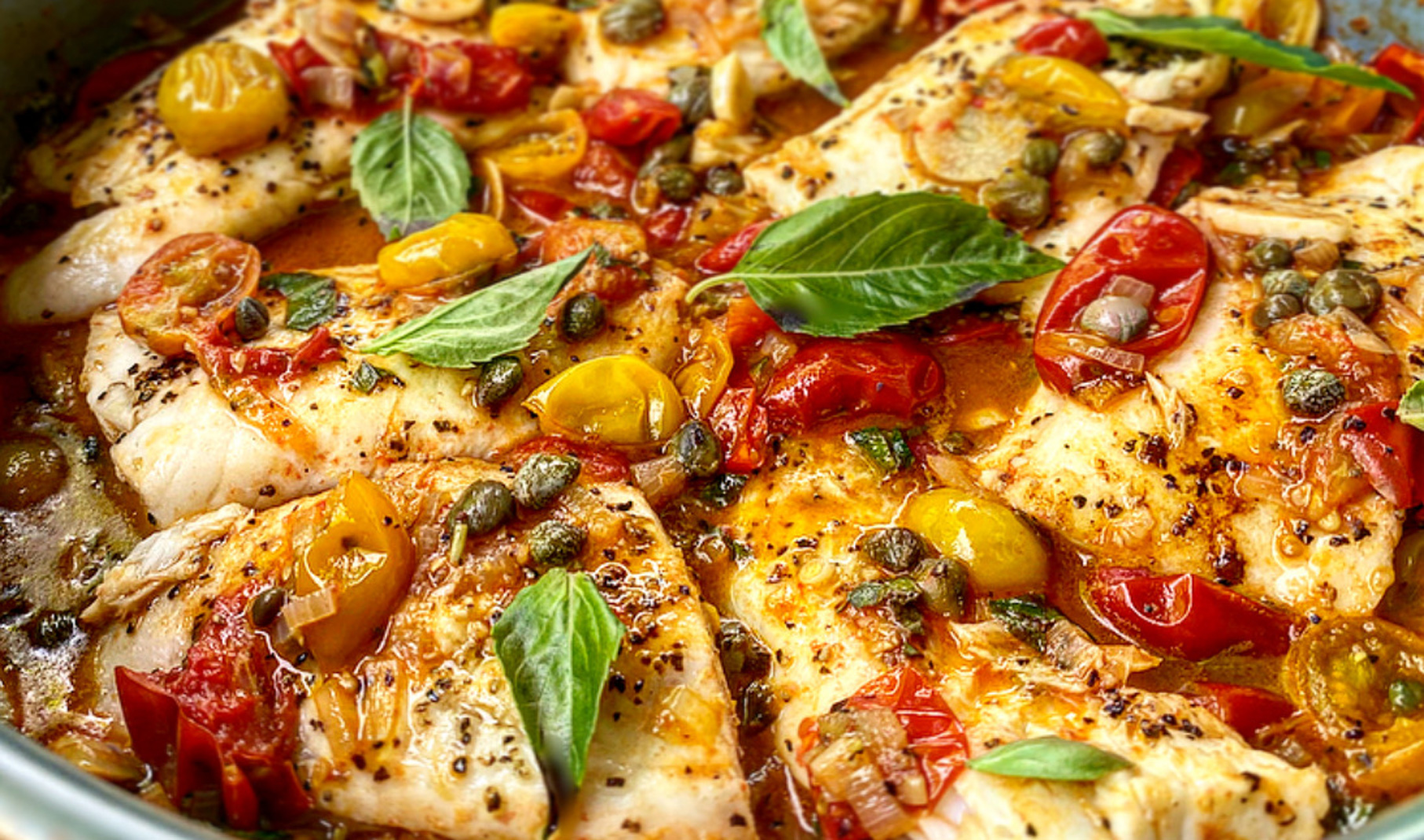 Tilapia makes such an easy, healthy dinner on a busy weeknight. It cooks super-fast, and the mild flavor of this fish is great in many recipes. We make a tasty and quick cherry tomato sauce, then sear the seasoned tilapia and bring the two together. It's done in minutes – cooking the rice or pasta takes longer than making the fish! On its own, it's excellent for keto diets.
The sassy sauce has lots of garlic, lemon, wine and capers, which all blend perfectly with the sweet cherry tomatoes as they release their juices. We like to serve it with pasta and some bread to soak up the delicious goodness.
This recipe works well with other white fish, such as halibut, cod or rockfish; simply adjust the cooking time as tilapia cooks very fast, comparatively. Seared scallops or shrimp would make great additions, too. We suggest you pour a glass of Oregon Pinot Gris or an Italian Pinot Grigio to accompany the fish – and pour a glass for the cook!
Tilapia in Cherry Tomato and Basil Sauce Recipe
SERVES
2
DIFFICULTY
Easy
PREP TIME
15 minutes
COOK TIME
15 minutes
DIET: Keto, GF
SERVES: 2
DIFFICULTY: Easy
PREP TIME: 15 minutes
COOK TIME: 15 minutes
DIET: Keto, GF
Ingredients
1 lg shallot, chopped fine
2 T + 2 T olive oil
3 cloves garlic, sliced thin
3 c cherry tomatoes, halved
5 lg basil leaves, chopped, plus more for garnish
1 lemon, zest and juice of
2 T capers
1 c white wine
½ c chicken stock
salt and pepper, to taste
3 tilapia filets (about 1 ½ lb), cut in half
Instructions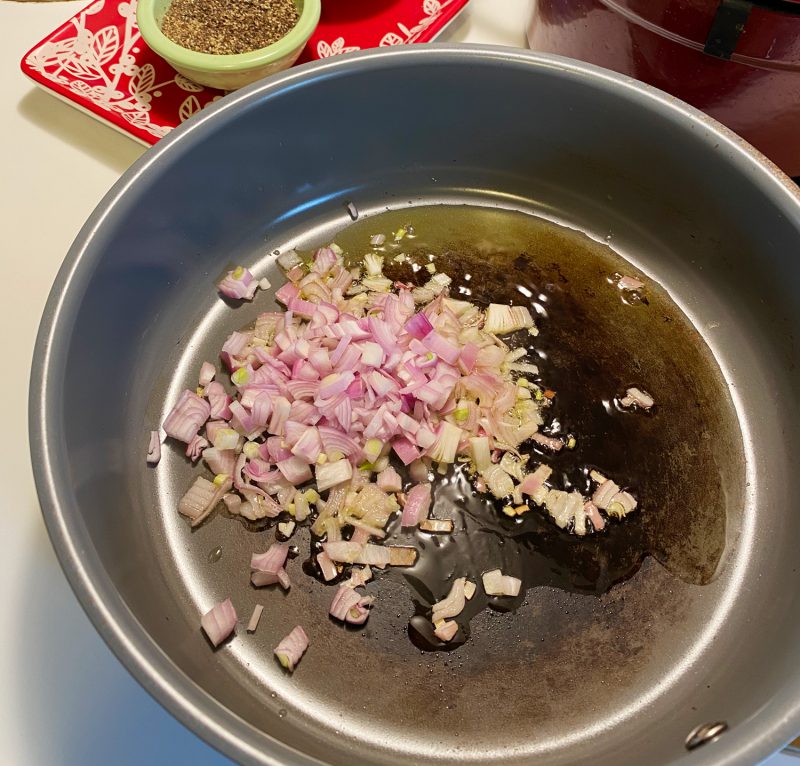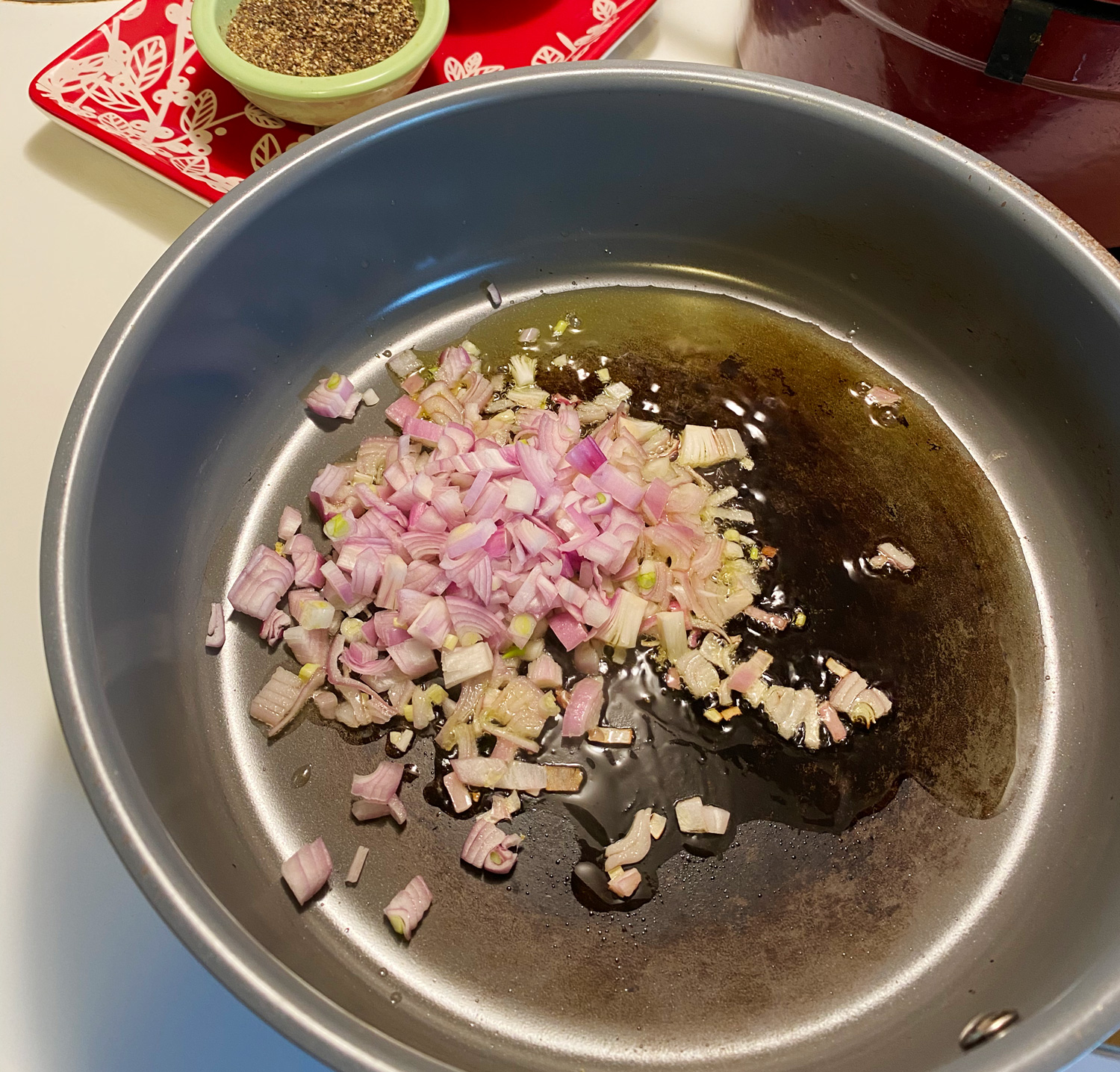 In large skillet, sauté shallot in 2 T olive oil over medium-high heat until softened, 2 min. Add garlic and cook 1 min more.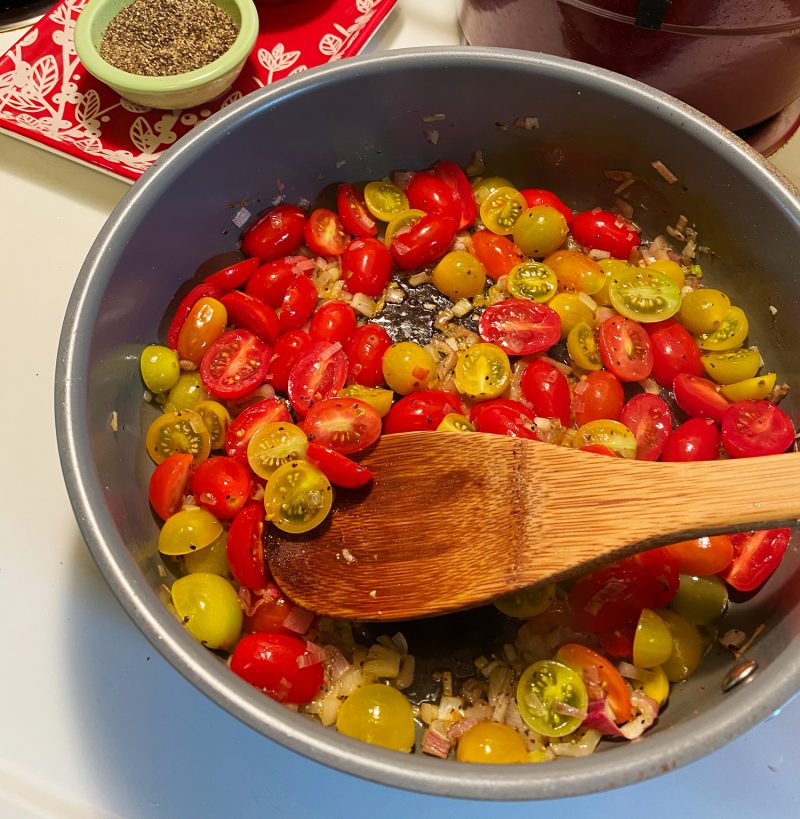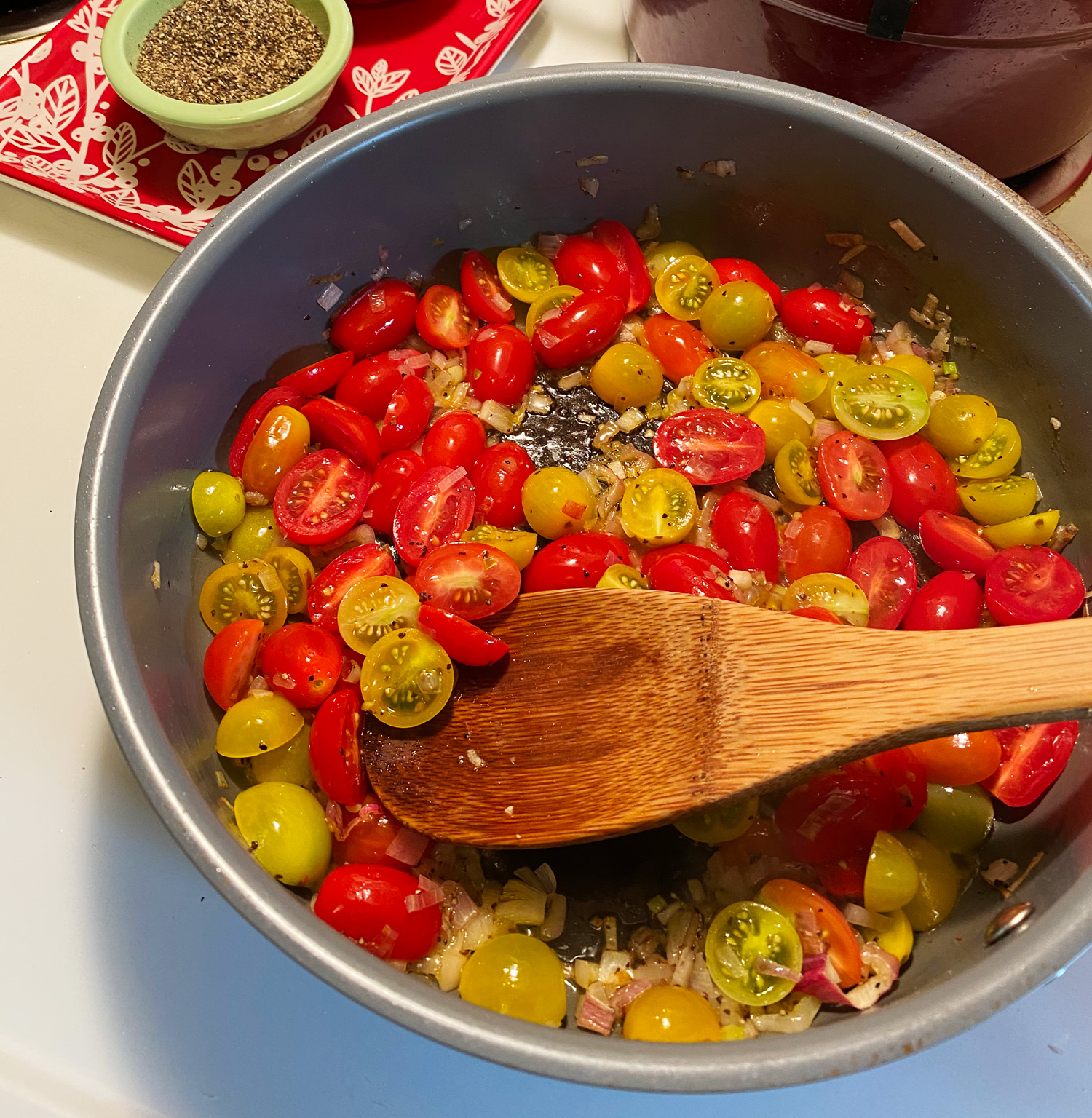 Add tomatoes and cook just until soft, approx. 2-3 minutes.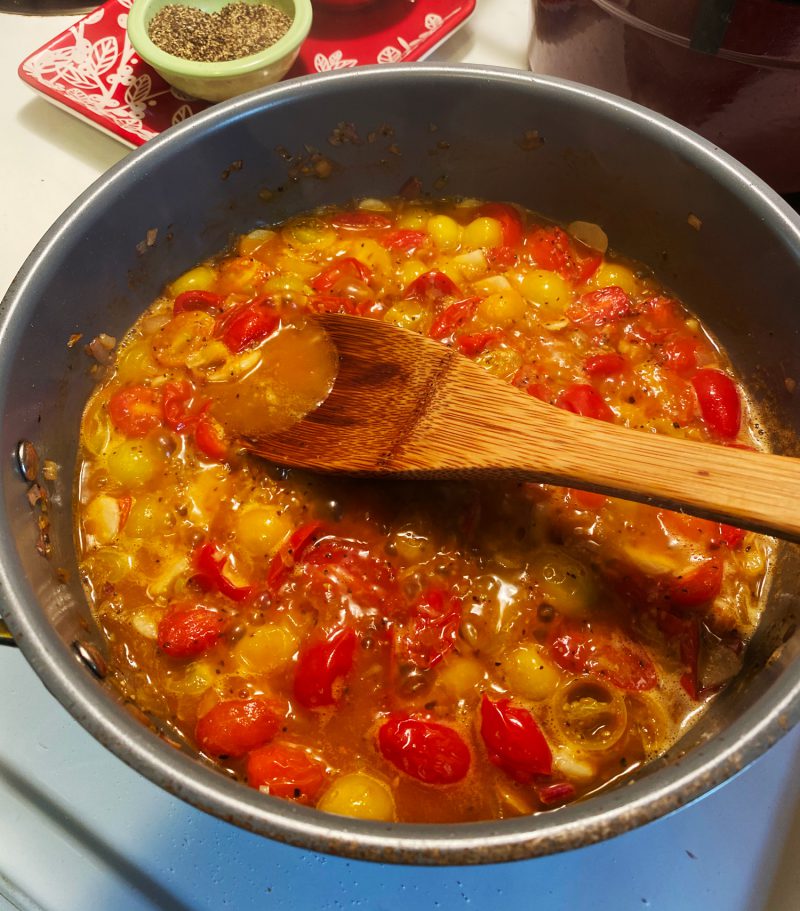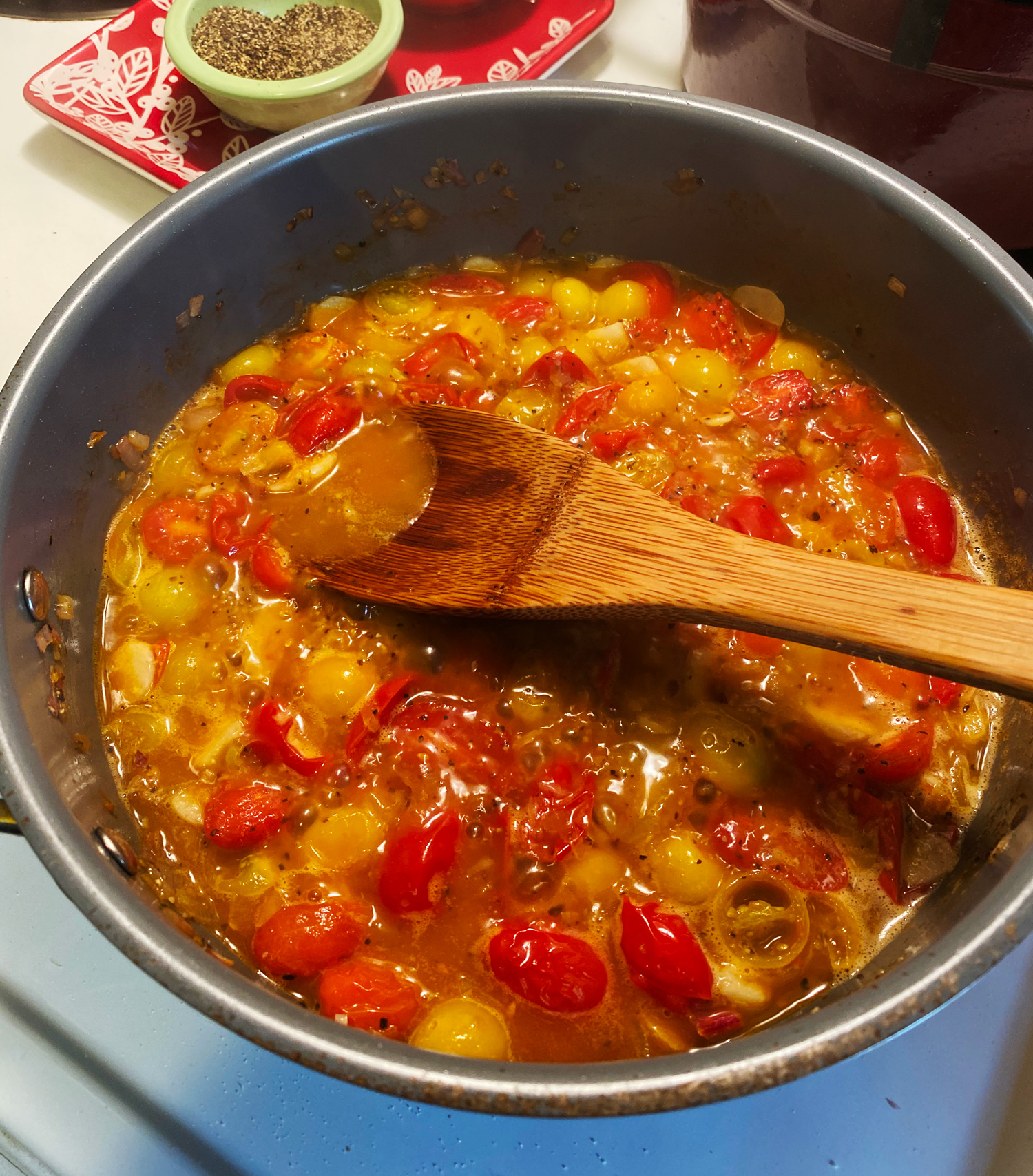 Add basil, lemon juice and zest, capers, wine and stock. Bring to a simmer for 3 min. Taste and adjust with a pinch of salt and pepper. Remove sauce from pan and wipe skillet dry. Return skillet to heat and add 2 T olive oil; heat until shimmering.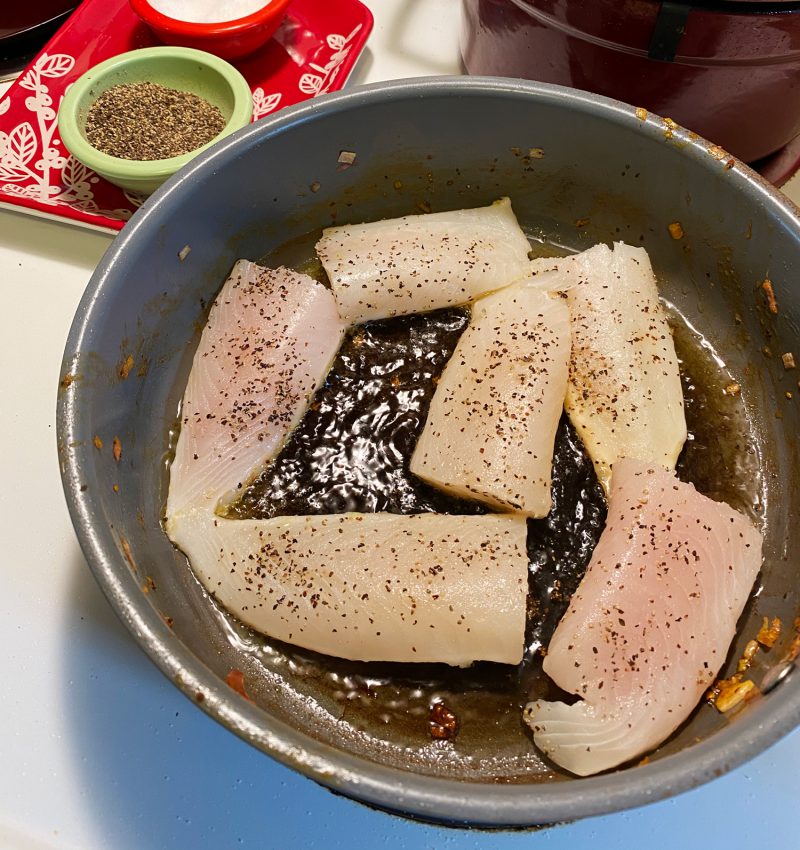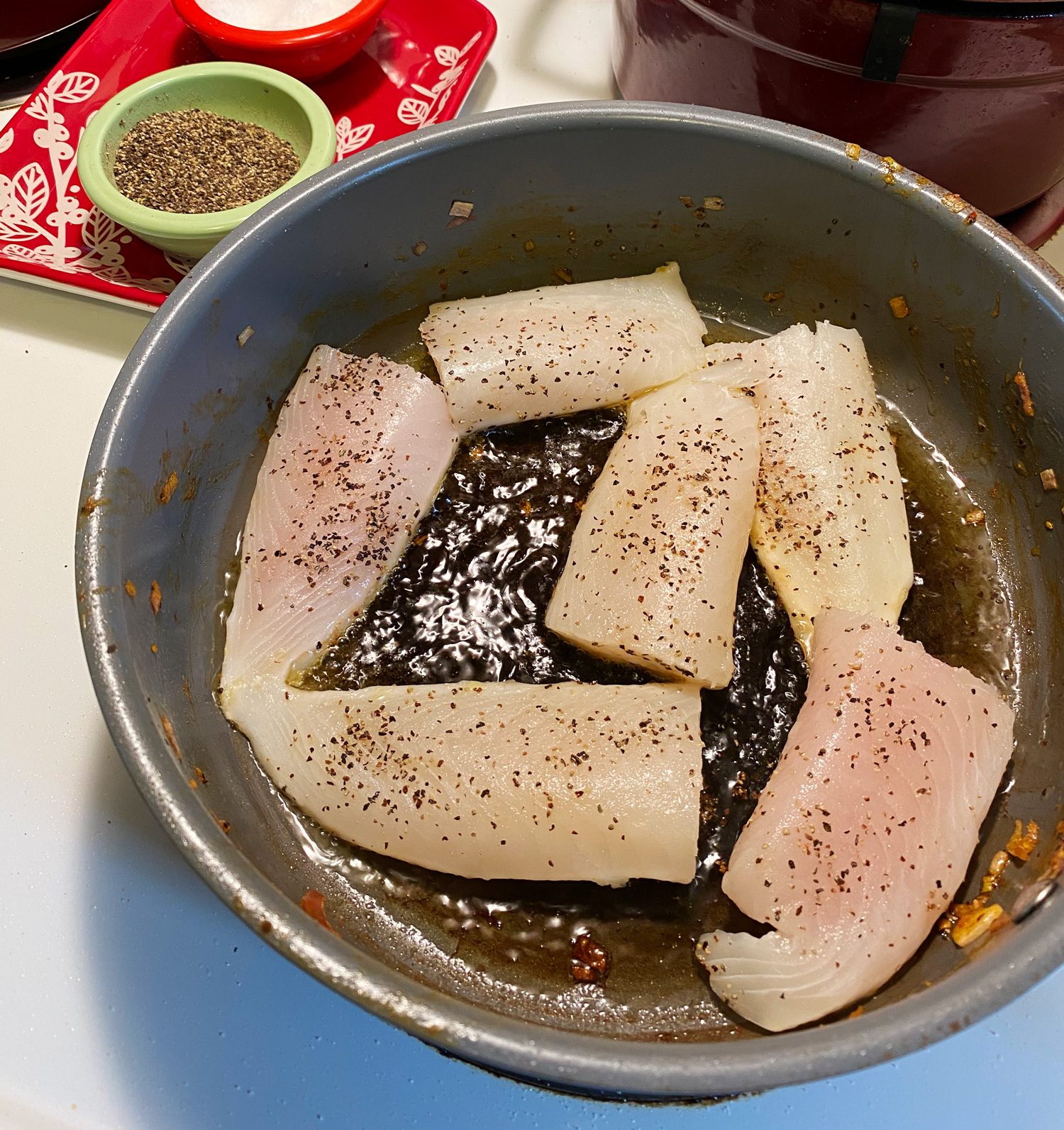 Season fish with a pinch of salt and pepper and add to pan.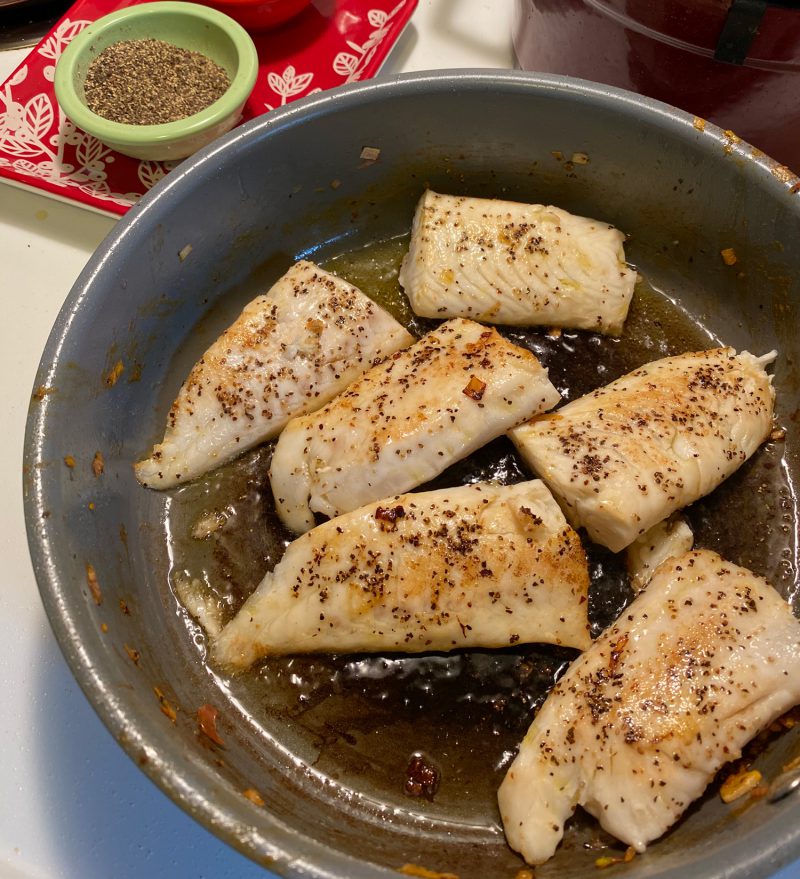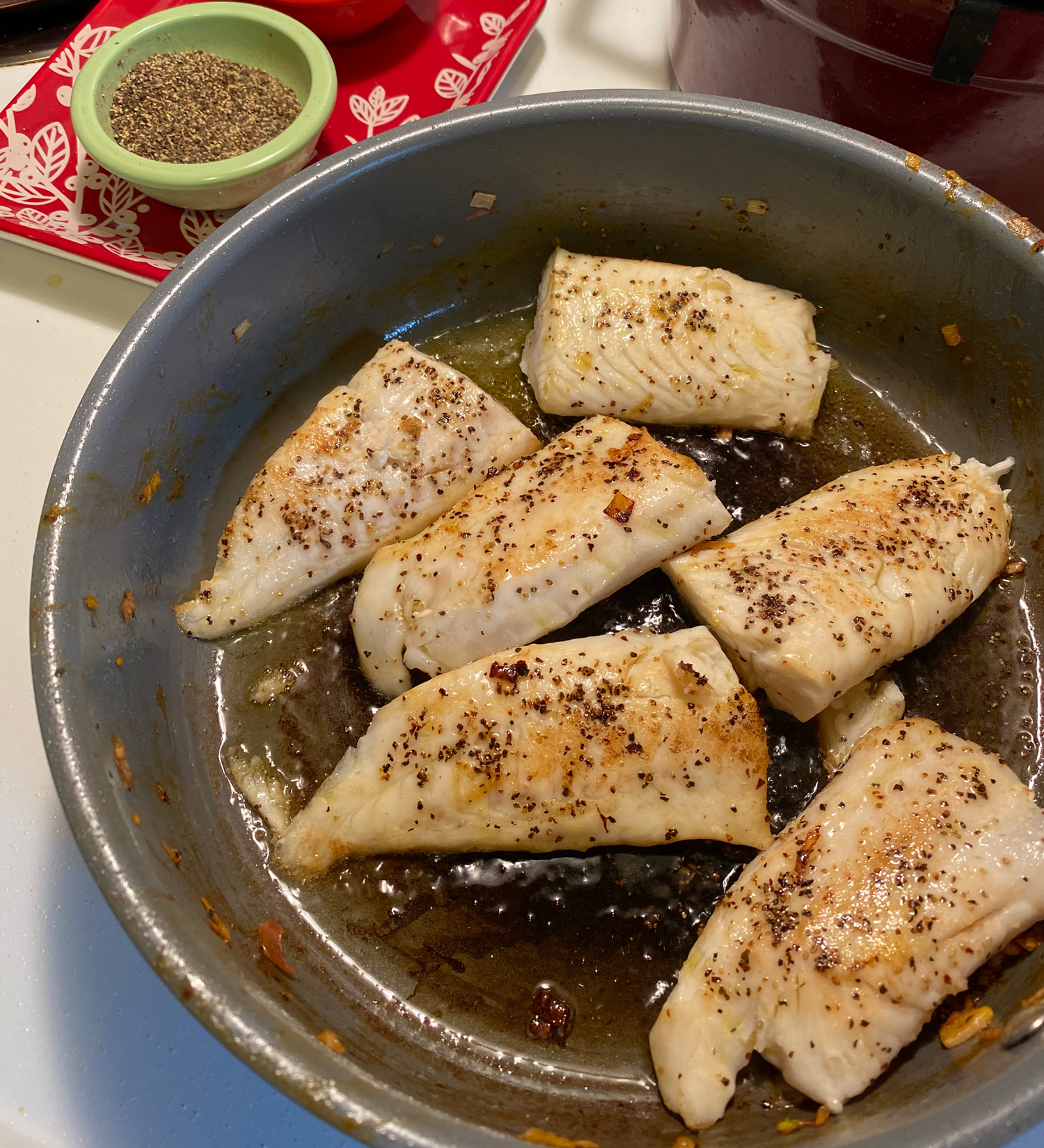 Cook fish 1 min per side (it will cook very quickly). Add sauce back to pan, bring back to a simmer, remove from heat and serve, garnished with basil leaves.
Meet the Makers
Felix & Greg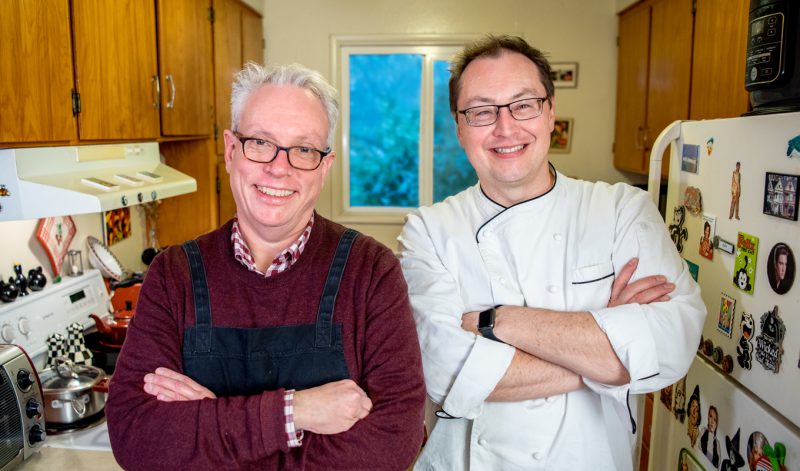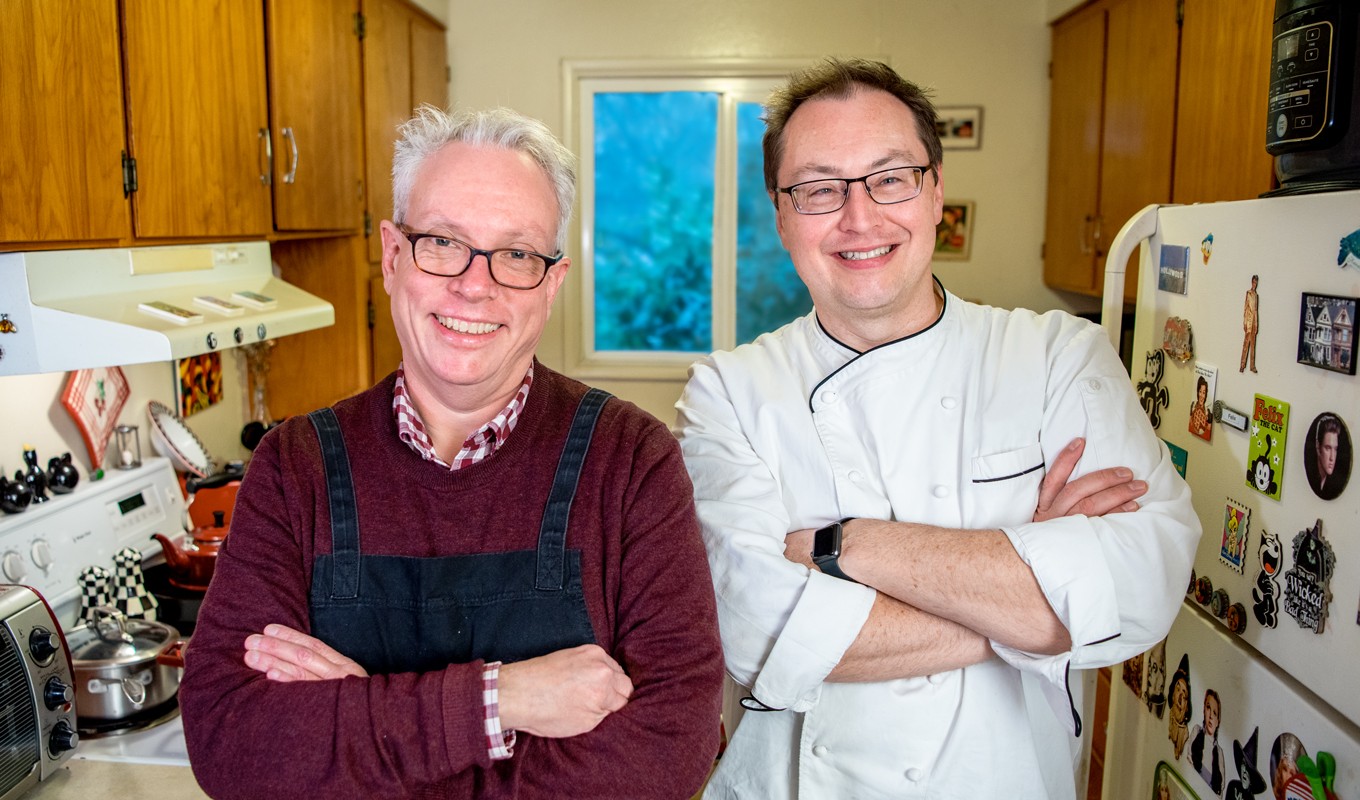 FELIX HUCK
Recipe Creator & Food Photographer
An artist and shutterbug, Felix finds beauty and inspiration in food and nature. He invents and photographs the recipes you'll find here.
GREG CABEZA
Professional Chef & Food Blogger
A food aficionado and lifelong music fan, Greg is an experienced artisan chef. He's also co-recipe creator and food blogger at Felix & Greg.
SUBSCRIBE TO OUR EMAILS
Good ideas could be cooking in your inbox. Sign up for our newsletter.