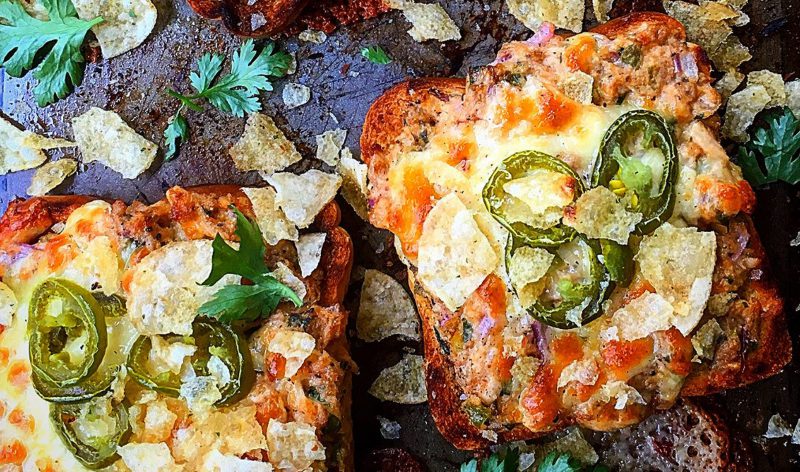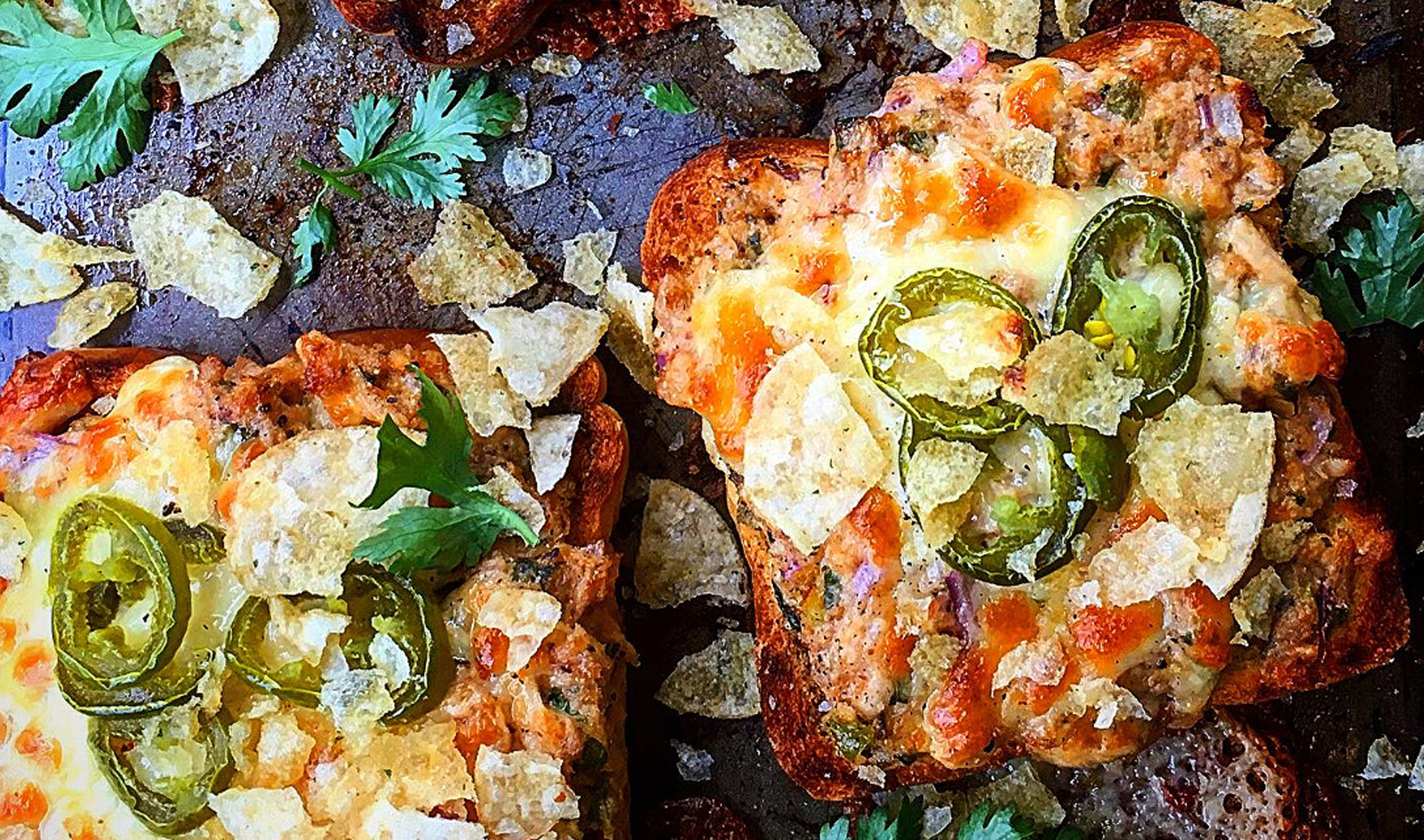 Simple and delicious, tuna melts always take us back to our childhoods. While Felix and I didn't know each other as kids, we've learned from swapping stories that we share similar memories. For instance, both of us made tuna melts alongside our mothers and enjoyed them with lots of chips and lemonade or a soda. We know, it's frowned upon now, but it was the 80's after all, and so many of our lunches were rounded out with chips and soda. They just somehow make a tuna melt extra special, don't they? Which is why Felix decided to add crushed chips to top these off, and wow, these turned out so amazing and tasty!
Felix couldn't help himself as usual, and he decided to take this classic sandwich and twist it to an entirely new level of awesomeness by adding jalapeños, chipotles, pepper jack and spicy chips! I grew up eating chilies and spicy foods, so this recipe immediately became one of my new favorites. I could eat this almost every day forever and be quite content. You can always add more or less heat and use a milder cheese, like cheddar, to suit your desired spice level. Finish this sandwich with lots of fresh cilantro for extra flavor. This spicy makeover of the humble tuna melt will likely be your new hero for quick lunches or tasty weekend movie meals! And I had to have mine with a soda (diet, of course) just for old time's sake.
Tips: Use a thick cut bread for best results, and lightly toast it before adding the tuna mixture. Also, chipotles are packed in a deliciously spicy red sauce (adobo) that we never throw out. It adds a deep level of smokiness and flavor to this recipe, but can be very spicy, so add a little and taste and add a bit more as desired. A hot oven is best for this but watch them closely as they can burn quickly.
The Devil's Tuna Melt Recipe
SERVES
4
DIFFICULTY
Easy
PREP TIME
10 min
COOK TIME
4-5 min
SPECIAL TOOLS
None
DIET: None
The Devil's Tuna Melt Recipe
SERVES: 4
DIFFICULTY: Easy
PREP TIME: 10 min
COOK TIME: 4-5 min
SPECIAL TOOLS: None
DIET: None
Ingredients
2 cans (7 oz ea) albacore tuna, drained well
½ red onion, diced fine
2 T pickled jalapeños, diced
1 chipotle chili, chopped, plus adobo sauce from can to equal 2 T
1 c mayo (or more, as needed)
½ lemon, juiced (or 1 lime)
pinch of salt and pepper, to taste
4 slices Texas Toast or toasted sourdough
6 oz pepper jack cheese, shredded
½ c jalapeño flavored potato chips. crumbled (plus more for serving)
2 T cilantro leaves, fresh, stems removed
Instructions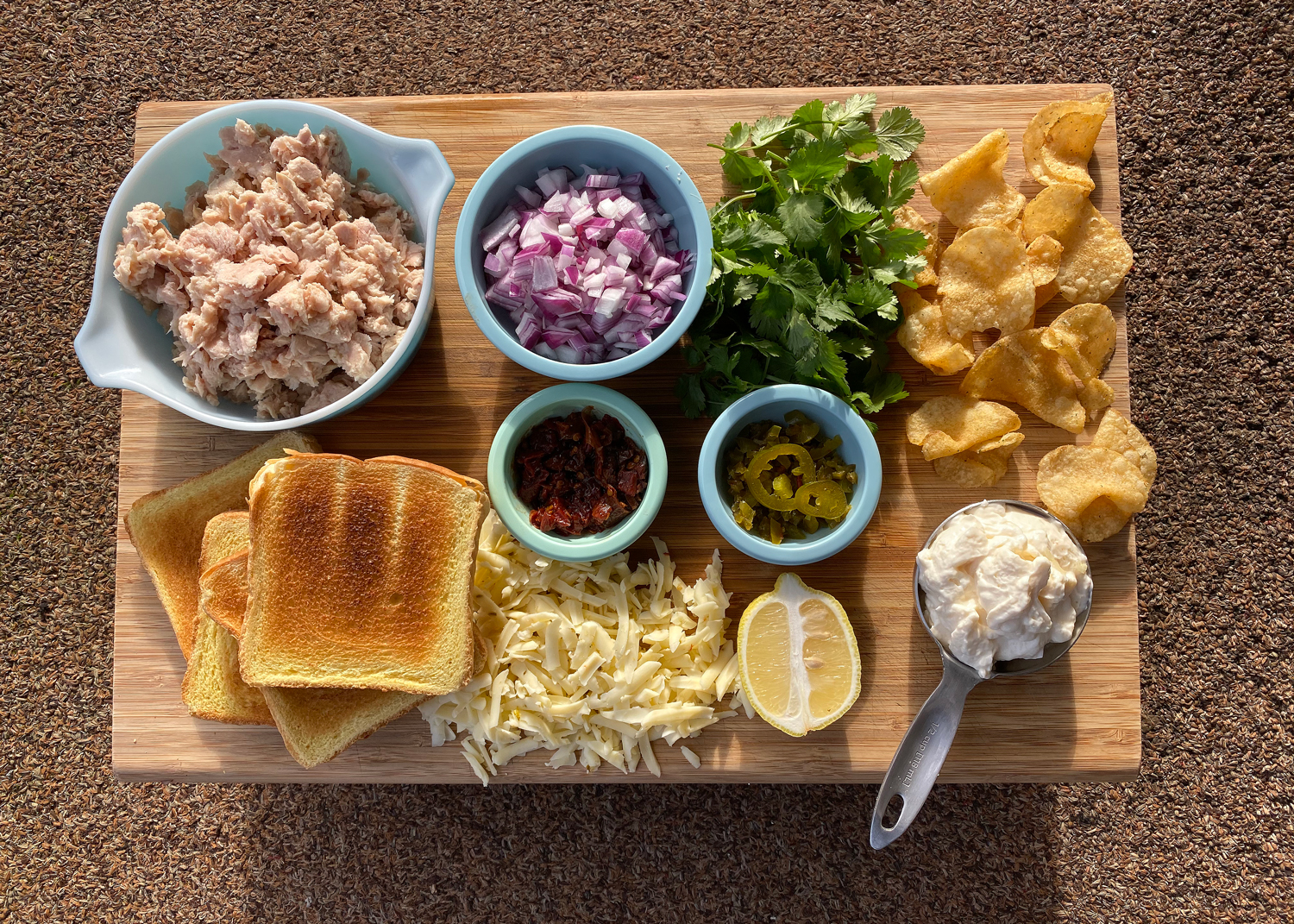 Preheat the oven to 450°. Combine tuna, onion, jalapeños, chipotle chili and adobo sauce, mayo, lemon juice, salt and pepper. Taste and adjust seasonings as desired.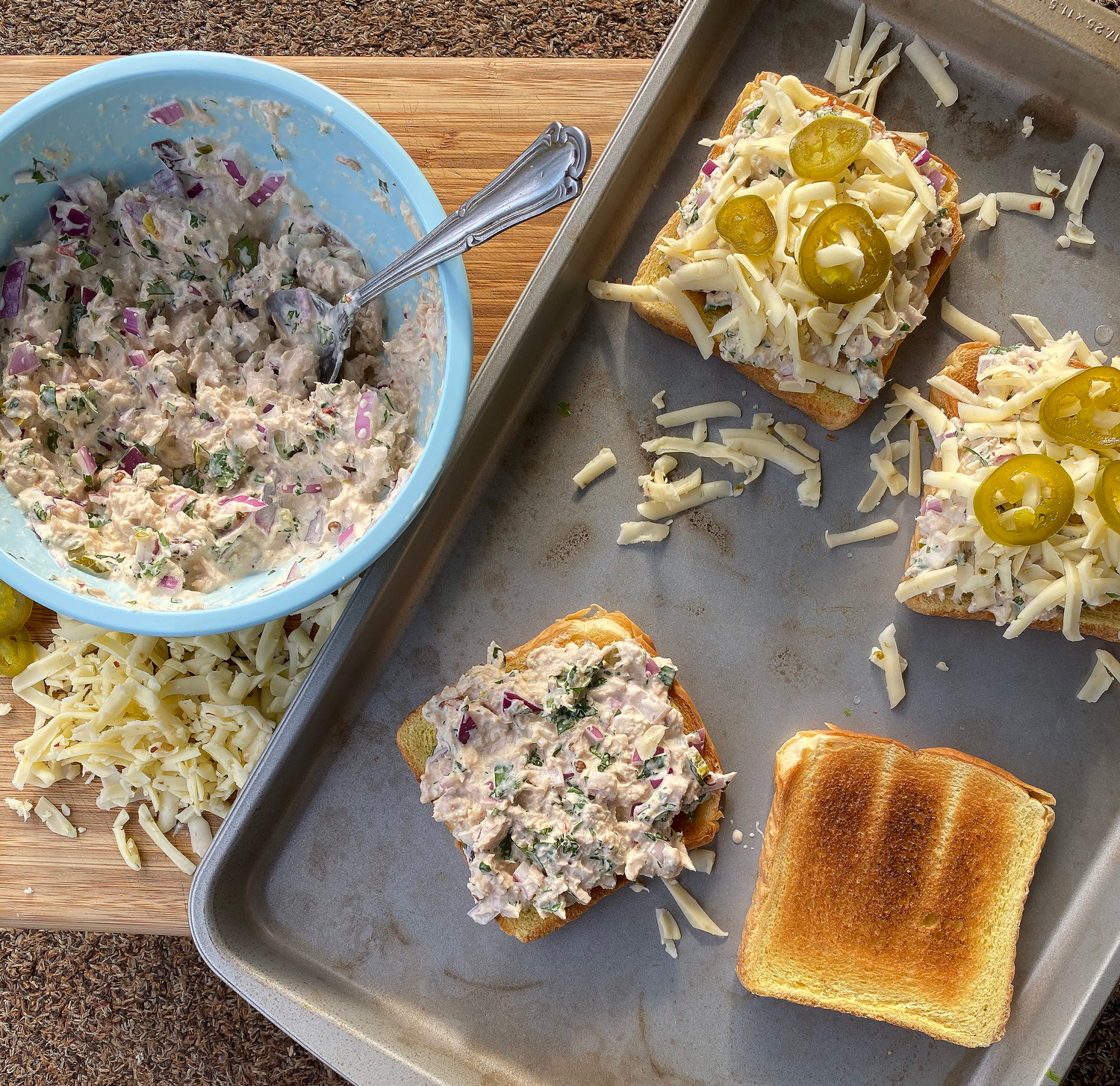 Divide tuna salad on toasted bread slices, top with a slice of cheese and a few slices of jalapeño, as desired. Place on a sheet pan (no paper) and bake for 5 min. Turn broiler to high and cook 1-2 min until heated and lightly browned. Do not walk away from them when broiling as they will scorch very rapidly.
Serve immediately with cilantro and chips (and cold drinks!).
Meet the Makers
Felix & Greg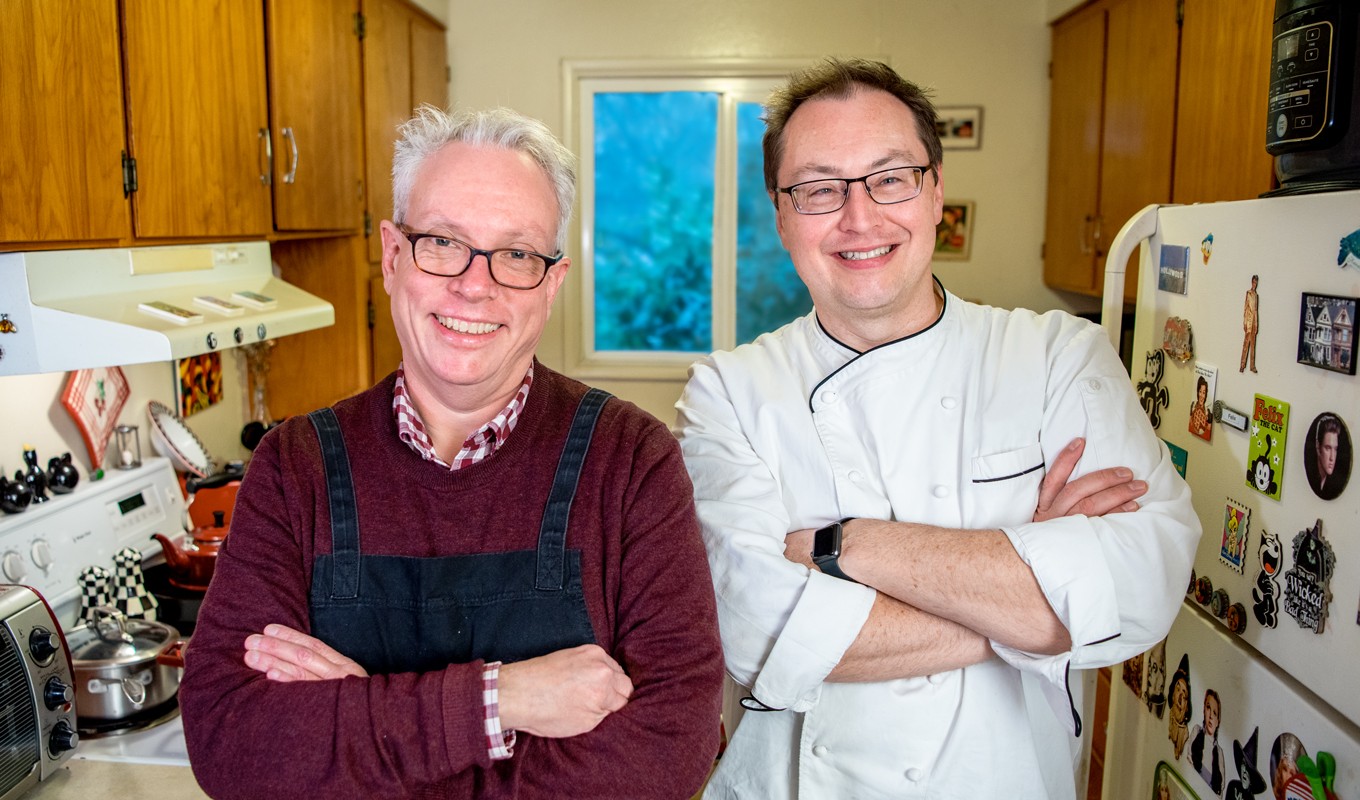 FELIX HUCK
Recipe Creator & Food Photographer
An artist and shutterbug, Felix finds beauty and inspiration in food and nature. He invents and photographs the recipes you'll find here.
GREG CABEZA
Professional Chef & Food Blogger
A food aficionado and lifelong music fan, Greg is an experienced artisan chef. He's also co-recipe creator and food blogger at Felix & Greg.
SUBSCRIBE TO OUR EMAILS
Good ideas could be cooking in your inbox. Sign up for our newsletter.