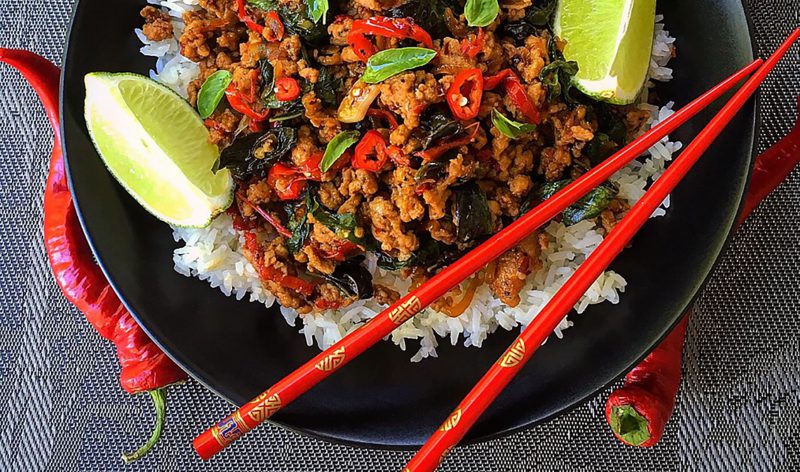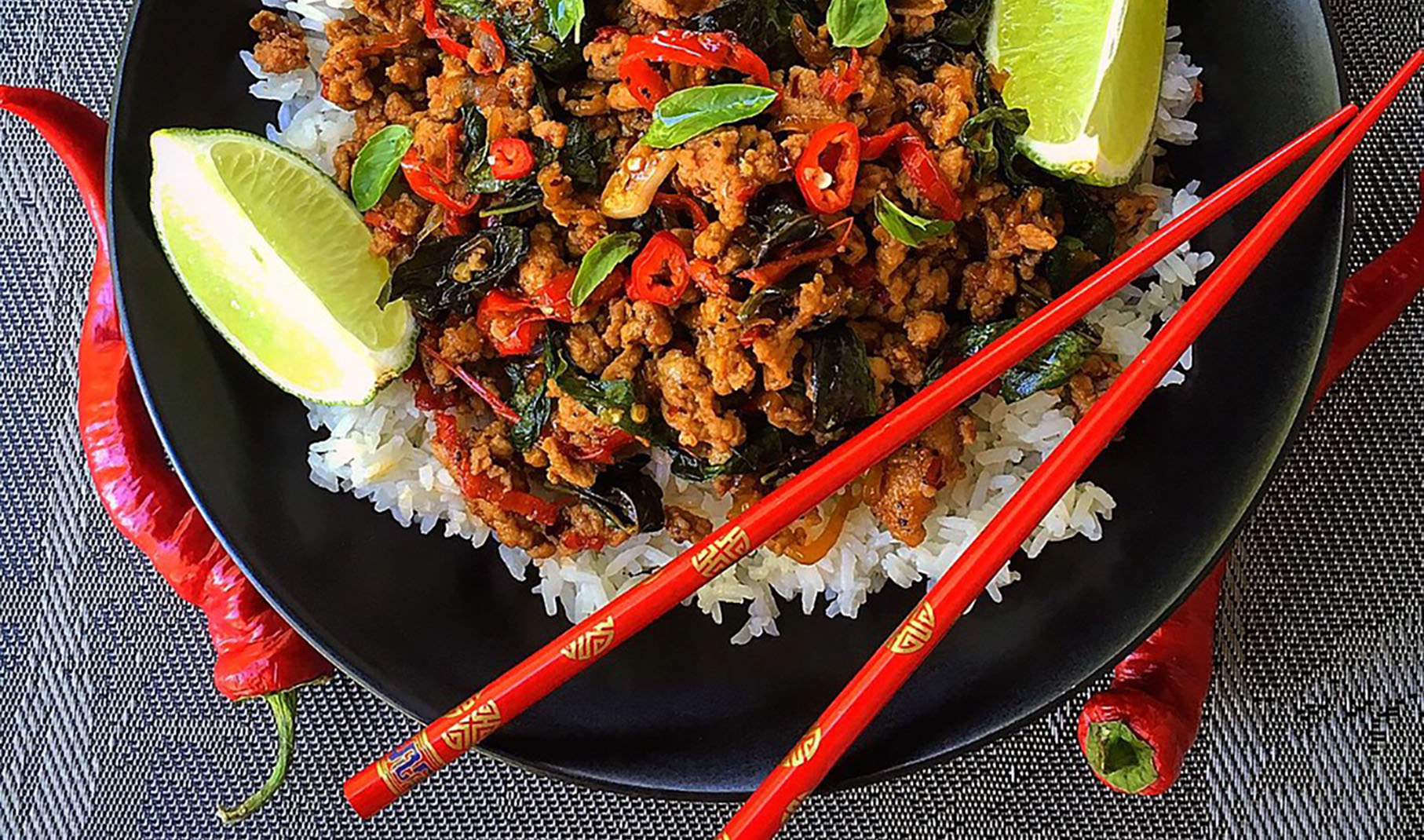 Felix and I love Thai food! Luckily, we have many excellent Thai restaurants in Eugene. But, we do, of course, enjoy making our own versions of our favorite Thai dishes at our homes. This is probably because most of our favorite Thai recipes are full of fresh vegetables, healthy doses of ginger, chilies and garlic, and can be made quickly with readily available ingredients. This versatile, simple recipe for Thai Basil Chicken can be made with tofu, ground pork, shrimp or simply loaded with veggies like, bell peppers.
Picking the right sauce
A key ingredient is the fish sauce, which is pungent and strong yet provides the depth and umami found in many Thai recipes. Don't skip or skimp on this key ingredient. Look for a high-quality brand (we recommend Red Boat Fish Sauce for its smoothness and quality). The heat level is at your discretion (we like medium heat). To us, mild never means no heat, instead it notes a small amount of spiciness similar to a mild hot sauce, so we added one tablespoon of red chili paste. You can, of course, add as much as you like, or serve with sriracha or garlic chili paste (Sambal) on the side to add, as desired.
We serve this Thai Basil Chicken with lots of warm jasmine rice and a hot pot of green tea, and we are in heaven. You really can make this quicker than take out. It is also ideal for many diets – make it gluten-free by using a gluten-free tamari sauce, or easily make it pescatarian (It's not vegetarian if you use the necessary fish sauce).
Thai Basil Chicken Recipe
SERVES
4
DIFFICULTY
Easy
PREP TIME
10 min
COOK TIME
12 min
SPECIAL TOOLS
None
DIET: GF (if using gluten-free tamari sauce), Pescatarian (if using tofu instead of chicken)
Thai Basil Chicken Recipe
SERVES: 4
DIFFICULTY: Easy
PREP TIME: 10 min
COOK TIME: 12 min
SPECIAL TOOLS: None
DIET: GF (if using gluten-free tamari sauce), Pescatarian (if using tofu instead of chicken)
Ingredients
2 T vegetable or safflower oil
1 lb ground chicken (or ground pork, cubed firm tofu or shelled shrimp)
3 lg shallots, peeled and sliced into strips
2 cloves garlic
1 T ginger, minced
1 T Thai red chili paste
⅓ c rice wine vinegar
¼ c chicken broth
1 T fish sauce
3 T GF soy sauce/tamari
1 lime, juice and zest
1 T sugar
1 c Thai basil leaves, loose
1 c small cherry or grape tomatoes
Additional:
1 red chili (optional)
lime wedges
8 c cooked jasmine rice, fresh, hot
Instructions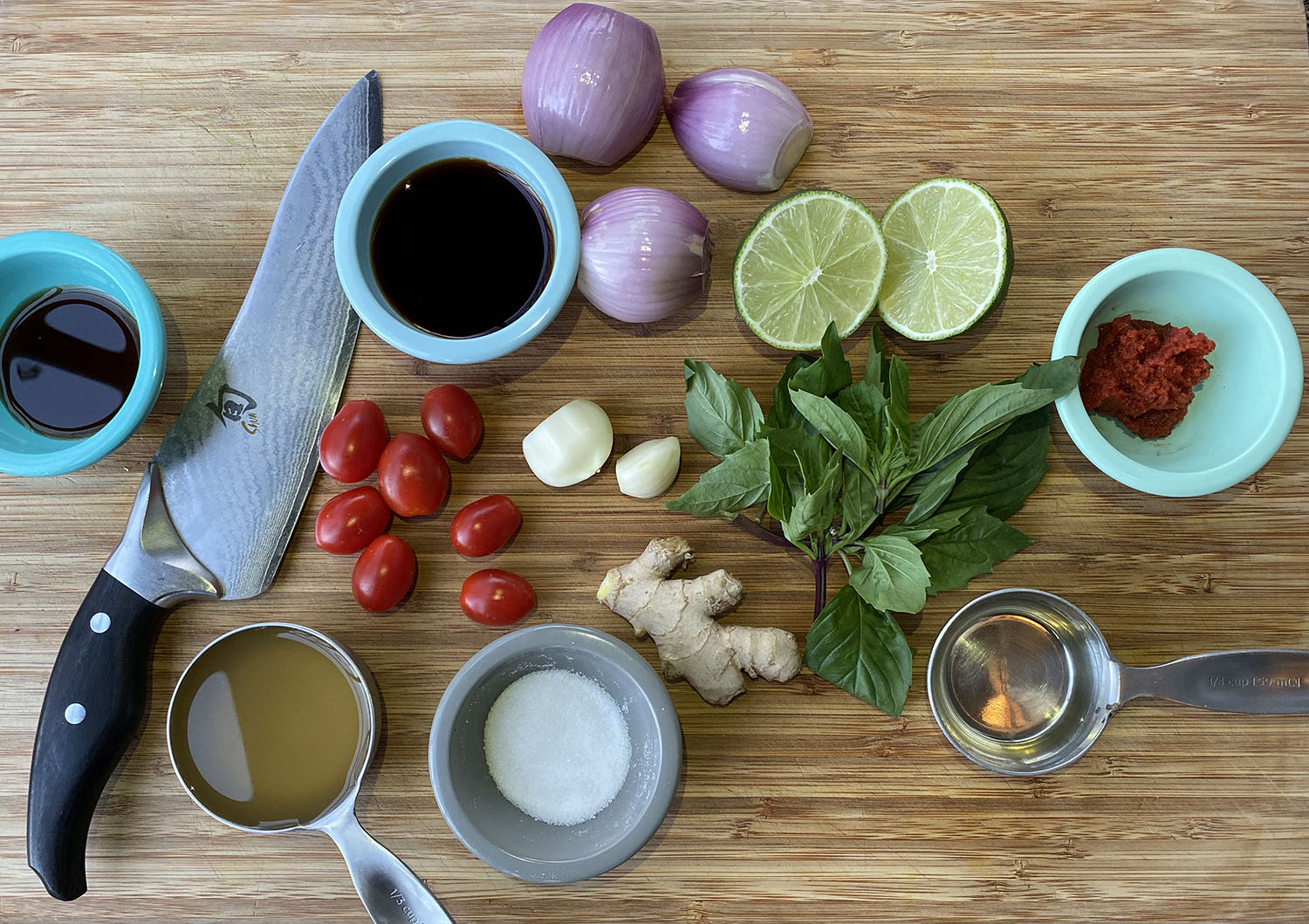 Have all ingredients ready and nearby in 'mise en place' style – meaning be prepared, as this dish cooks quickly and needs everything measured and ready to add to the pan.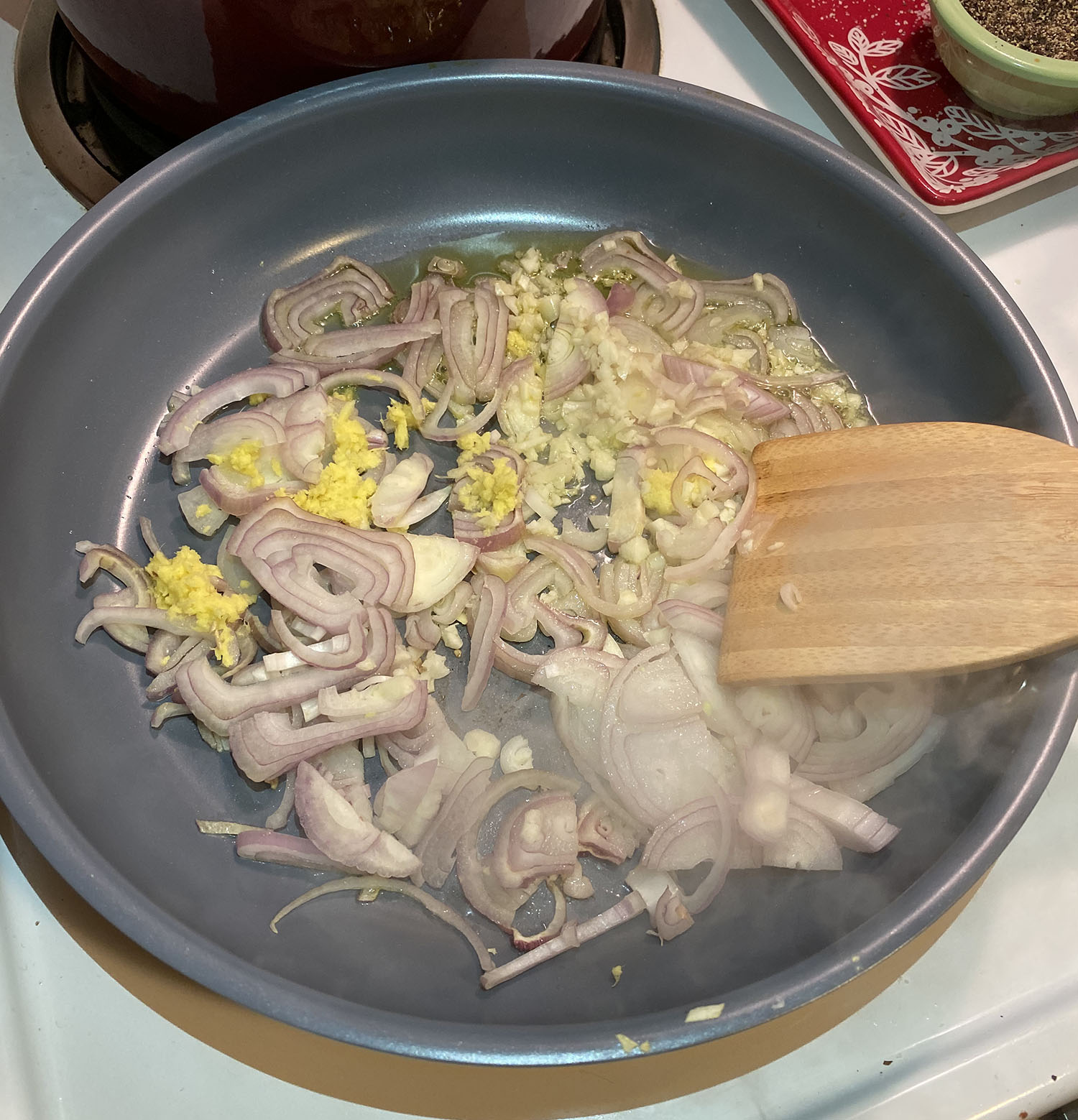 Warm oil in a large skillet until shimmering over medium-high heat. Immediately add shallots, cooking 1 min until slightly colored. Add garlic and ginger and cook 1 min more. Remove shallot/garlic mixture and set aside.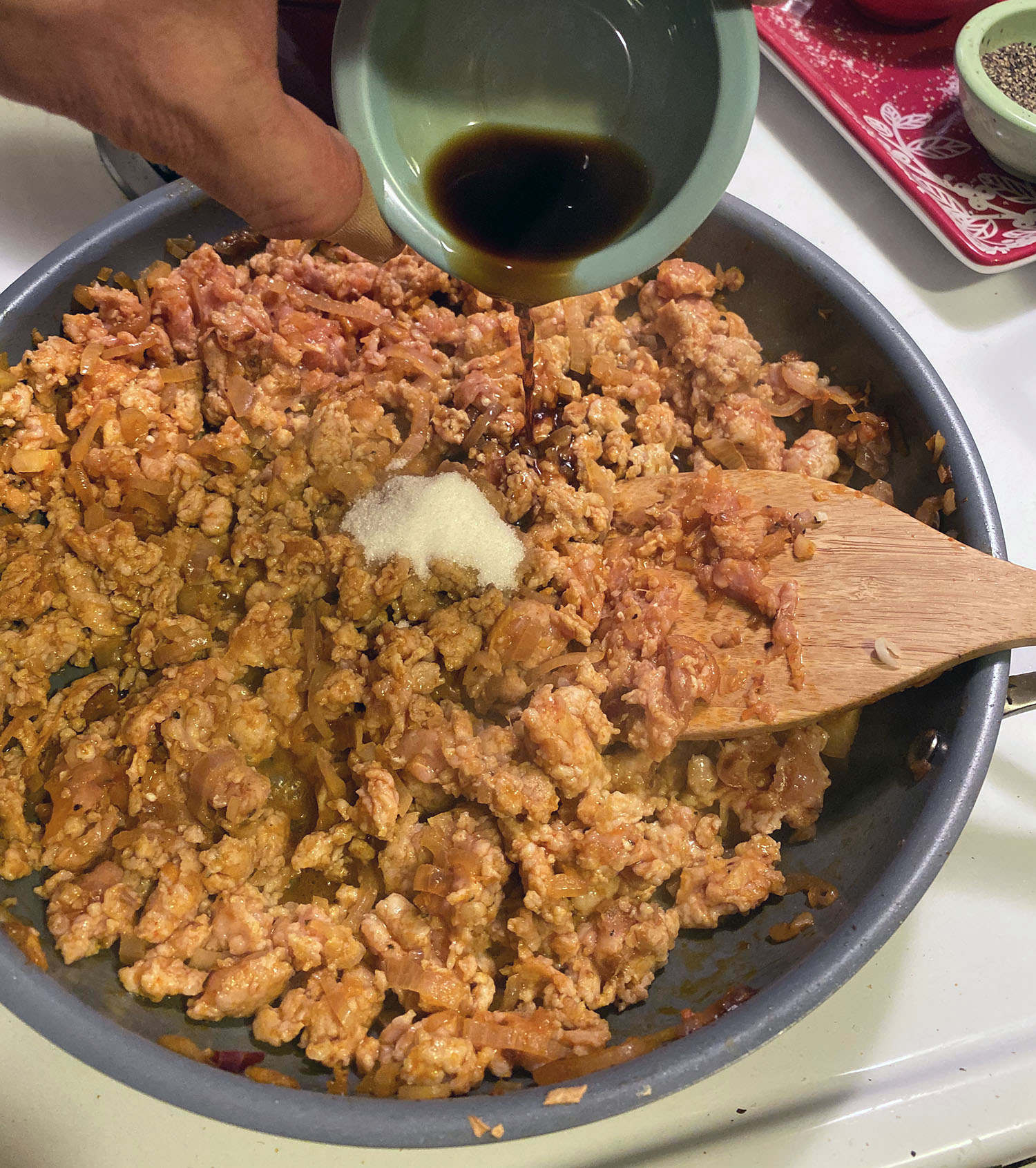 Add chicken (or other desired protein) to the pan and cook until crumbled (it does not need to be completely cooked at this point).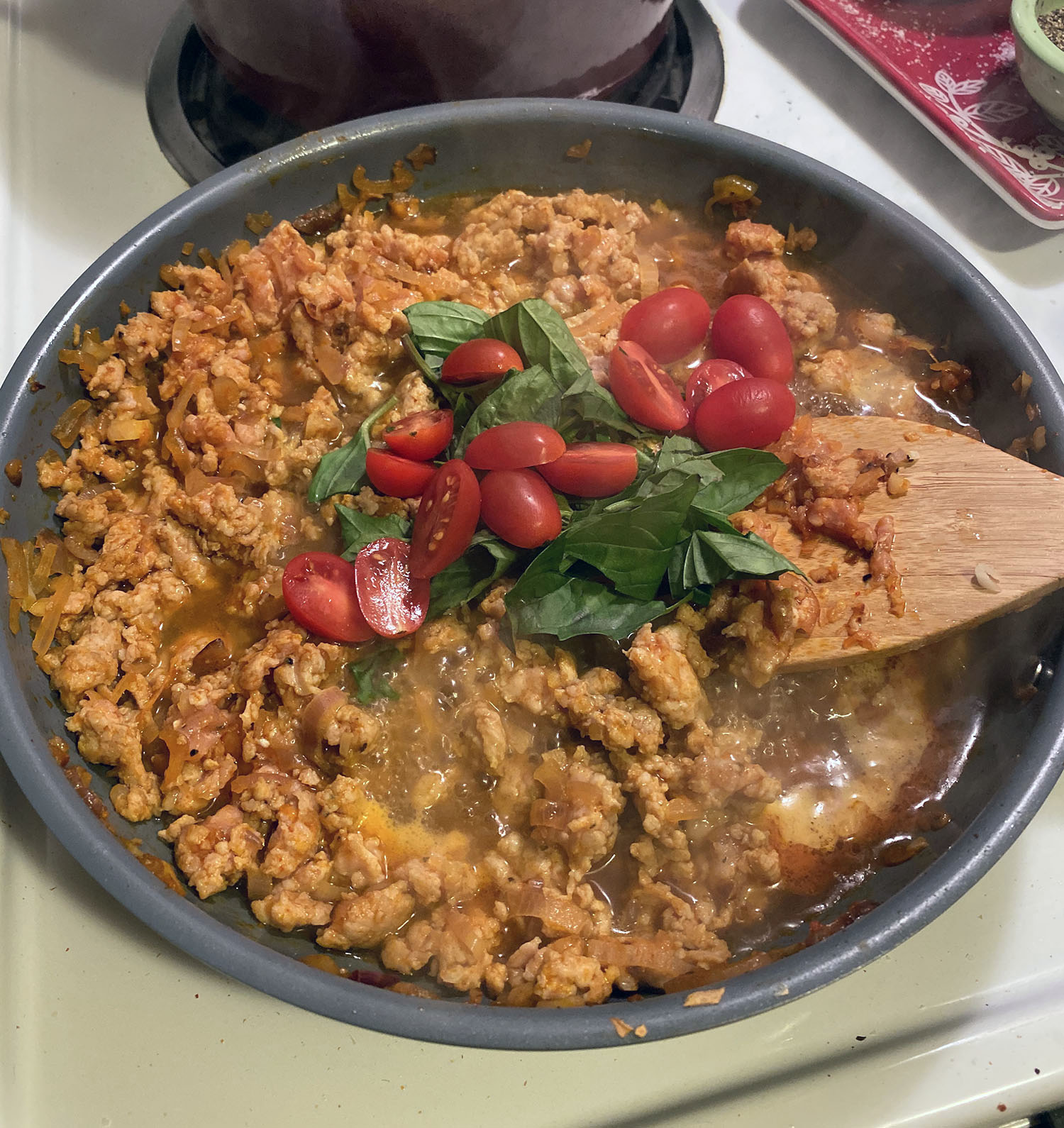 Add red chili paste, sauces, broth, vinegar, juice, zest, sugar and tomatoes. Bring to a simmer and reduce slightly, cooking until tomatoes begin to wilt and pop.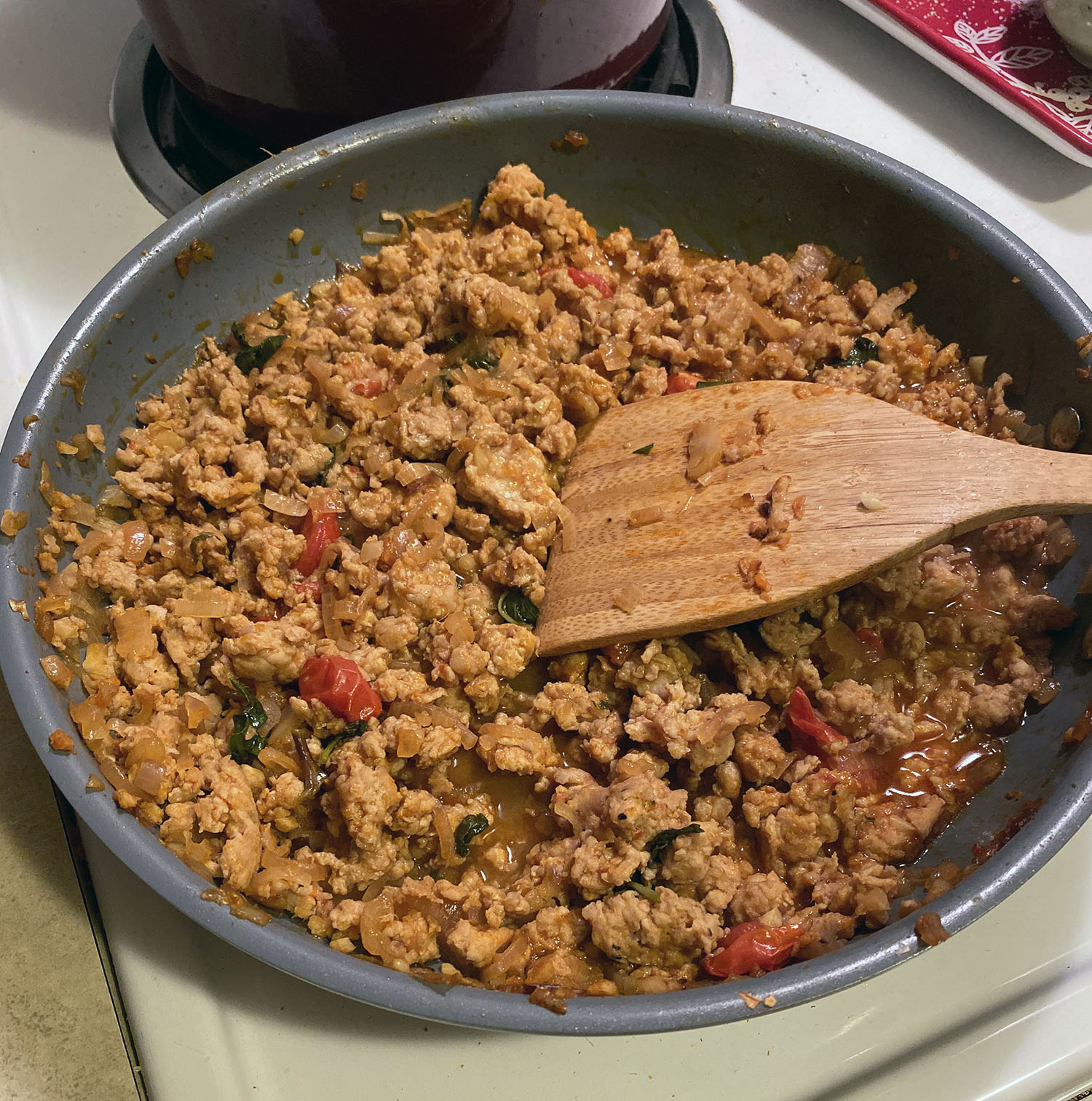 Add shallot/garlic mixture back to pan, stirring in basil leaves (reserve some for garnish), then remove from heat. Serve immediately with plenty of hot jasmine rice, sliced red chilies, more Thai basil leaves and sides of sriracha or sambal, as desired.
Meet the Makers
Felix & Greg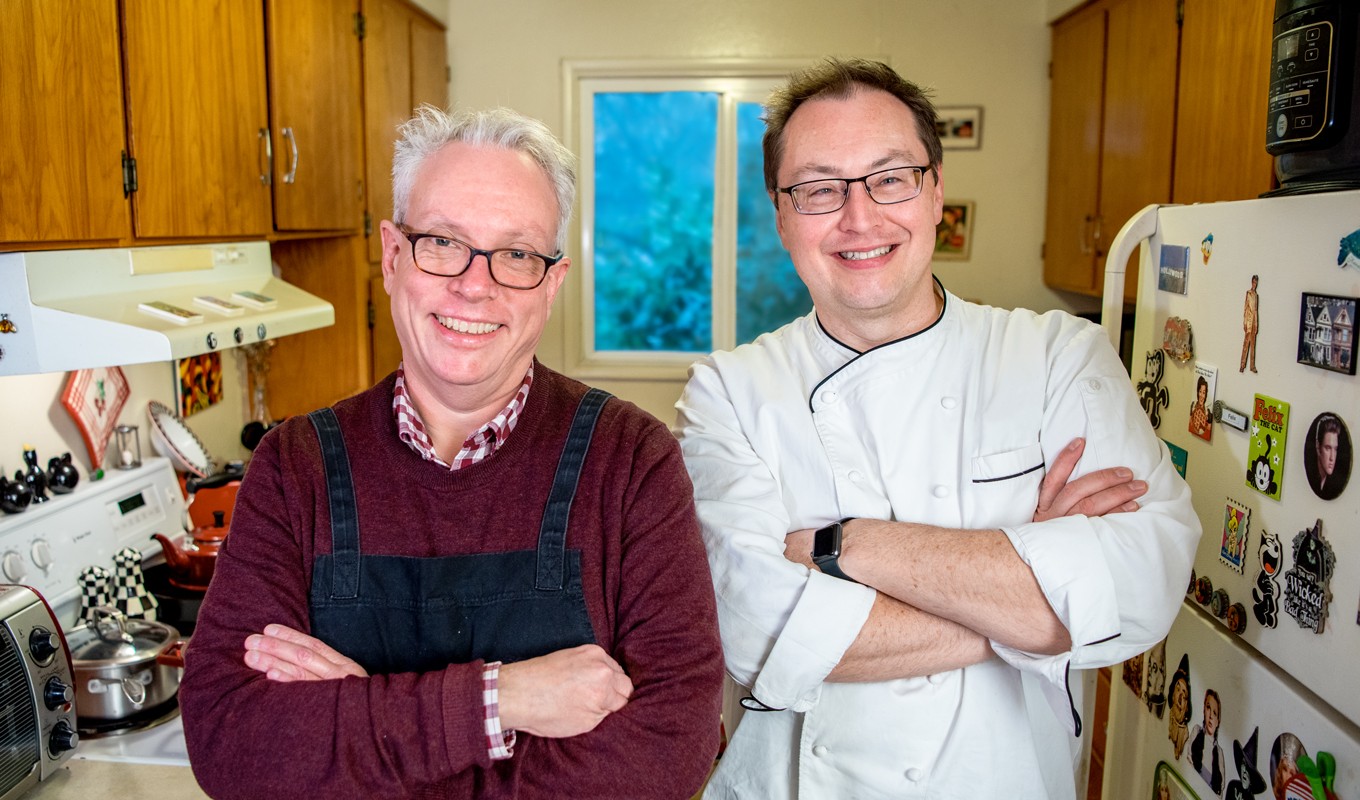 FELIX HUCK
Recipe Creator & Food Photographer
An artist and shutterbug, Felix finds beauty and inspiration in food and nature. He invents and photographs the recipes you'll find here.
GREG CABEZA
Professional Chef & Food Blogger
A food aficionado and lifelong music fan, Greg is an experienced artisan chef. He's also co-recipe creator and food blogger at Felix & Greg.
SUBSCRIBE TO OUR EMAILS
Good ideas could be cooking in your inbox. Sign up for our newsletter.