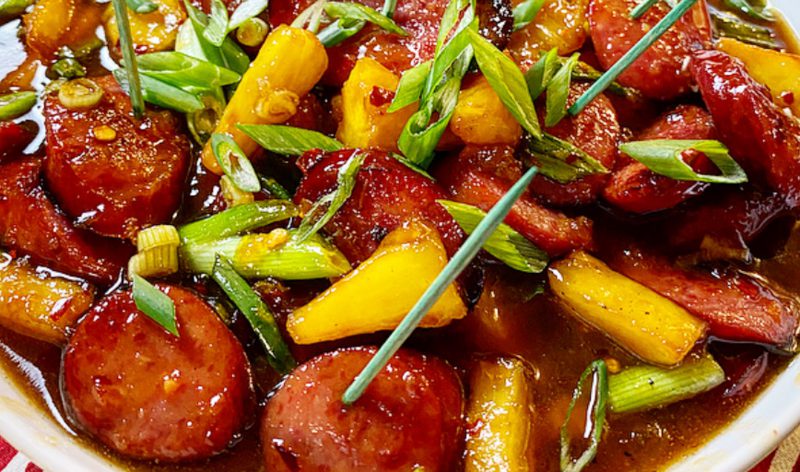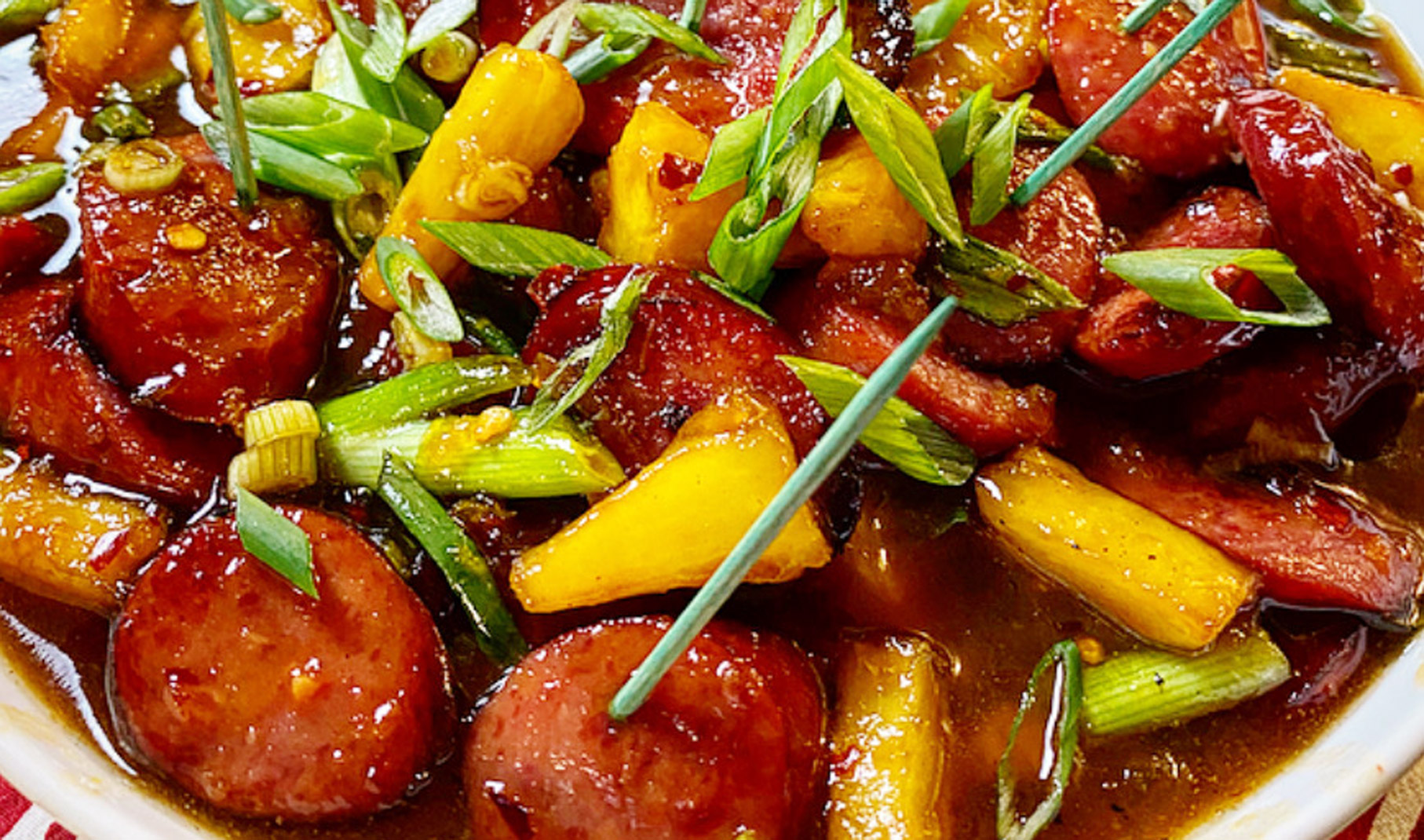 A huge hit for parties, game days and movie nights, our sausage bites offer a little something for everyone, so don't be surprised if they disappear in flash! The best part is how simple they are to make. Our recipe serves about four people as an appetizer, so adjust accordingly if you have some hearty appetites at your table. This is also fantastic when served over rice with some crunchy fresh cucumber slices and sliced sweet bell peppers alongside.
Sweet & Sour (and Spicy!) Kielbasa Bites Recipe
SERVES
4
DIFFICULTY
Easy
PREP TIME
10 min
COOK TIME
10 min
DIET: Gluten-Free
SERVES: 4
DIFFICULTY: Easy
PREP TIME: 10 min
COOK TIME: 10 min
DIET: Gluten-Free
Ingredients
2 lb Kielbasa (all-beef), sliced into bite size chunks
2 c fresh pineapple, chopped, reserving juice
6 oz pineapple juice
6 oz (about half a jar) apricot preserves
2 T Dijon mustard
2 T soy sauce, GF
2 t crushed red chili flakes (or less, to taste)
1 bunch green onions, chopped
Instructions
In a large skillet over medium heat, sauté the sausage chunks until lightly browned. Set aside. Add pineapple to the pan and brown lightly, then add pineapple to the sausage and set aside. Finally, add to the pan pineapple juice, preserves, mustard, soy sauce and chili flakes, then bring to a simmer. Add sausage and pineapple back to the pan, warm and remove from heat. Serve on picks, garnished with chopped green onions.
Meet the Makers
Felix & Greg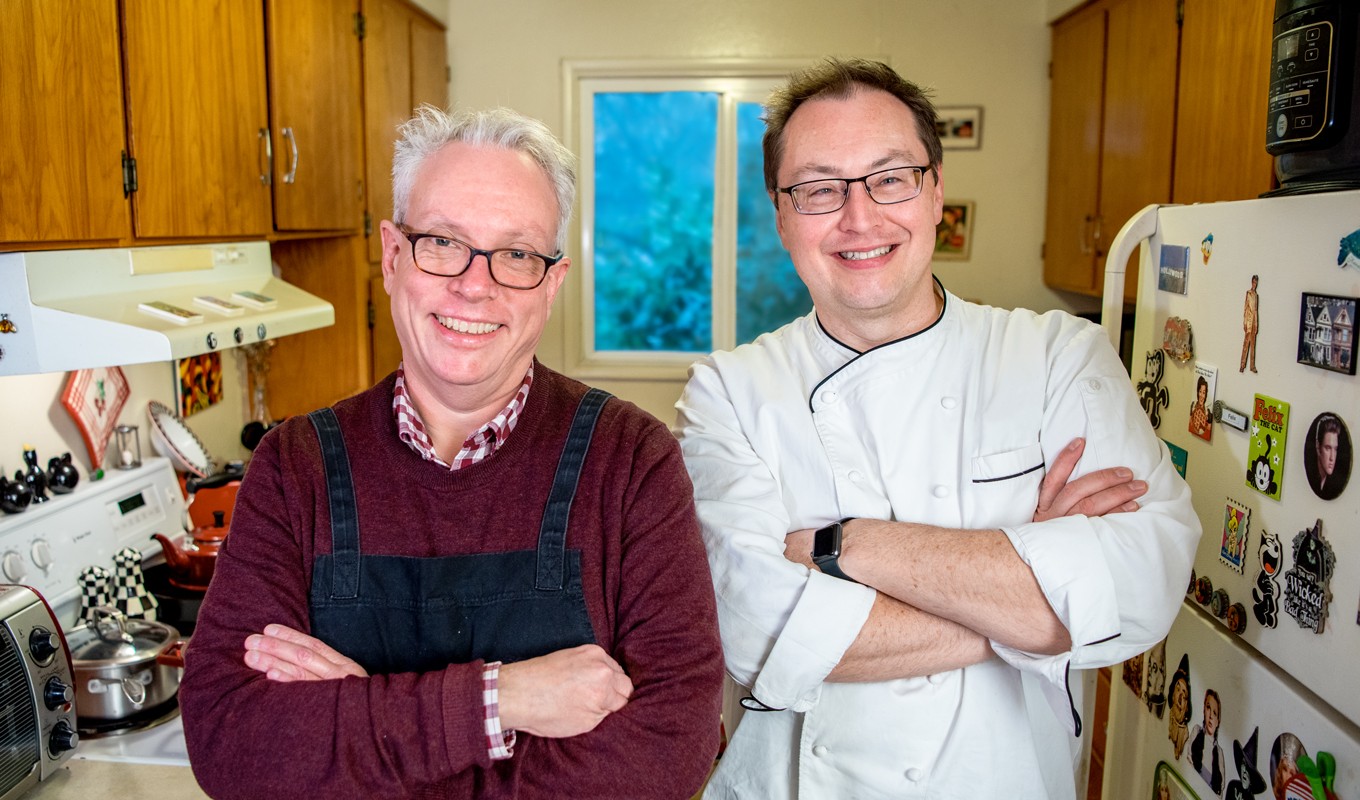 FELIX HUCK
Recipe Creator & Food Photographer
An artist and shutterbug, Felix finds beauty and inspiration in food and nature. He invents and photographs the recipes you'll find here.
GREG CABEZA
Professional Chef & Food Blogger
A food aficionado and lifelong music fan, Greg is an experienced artisan chef. He's also co-recipe creator and food blogger at Felix & Greg.
SUBSCRIBE TO OUR EMAILS
Good ideas could be cooking in your inbox. Sign up for our newsletter.