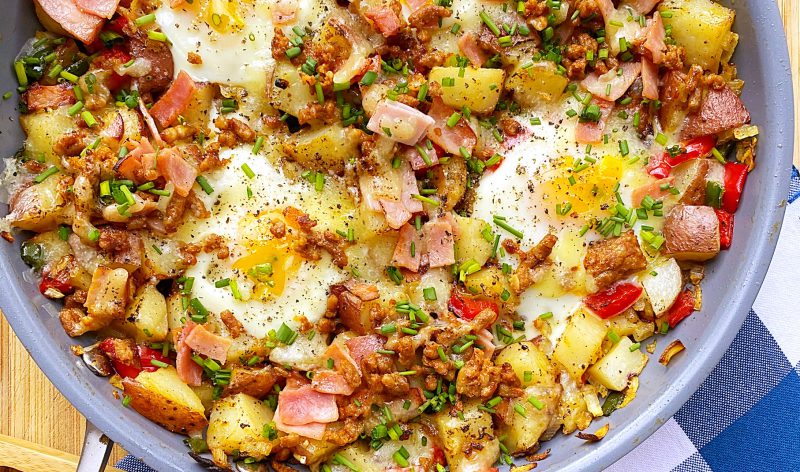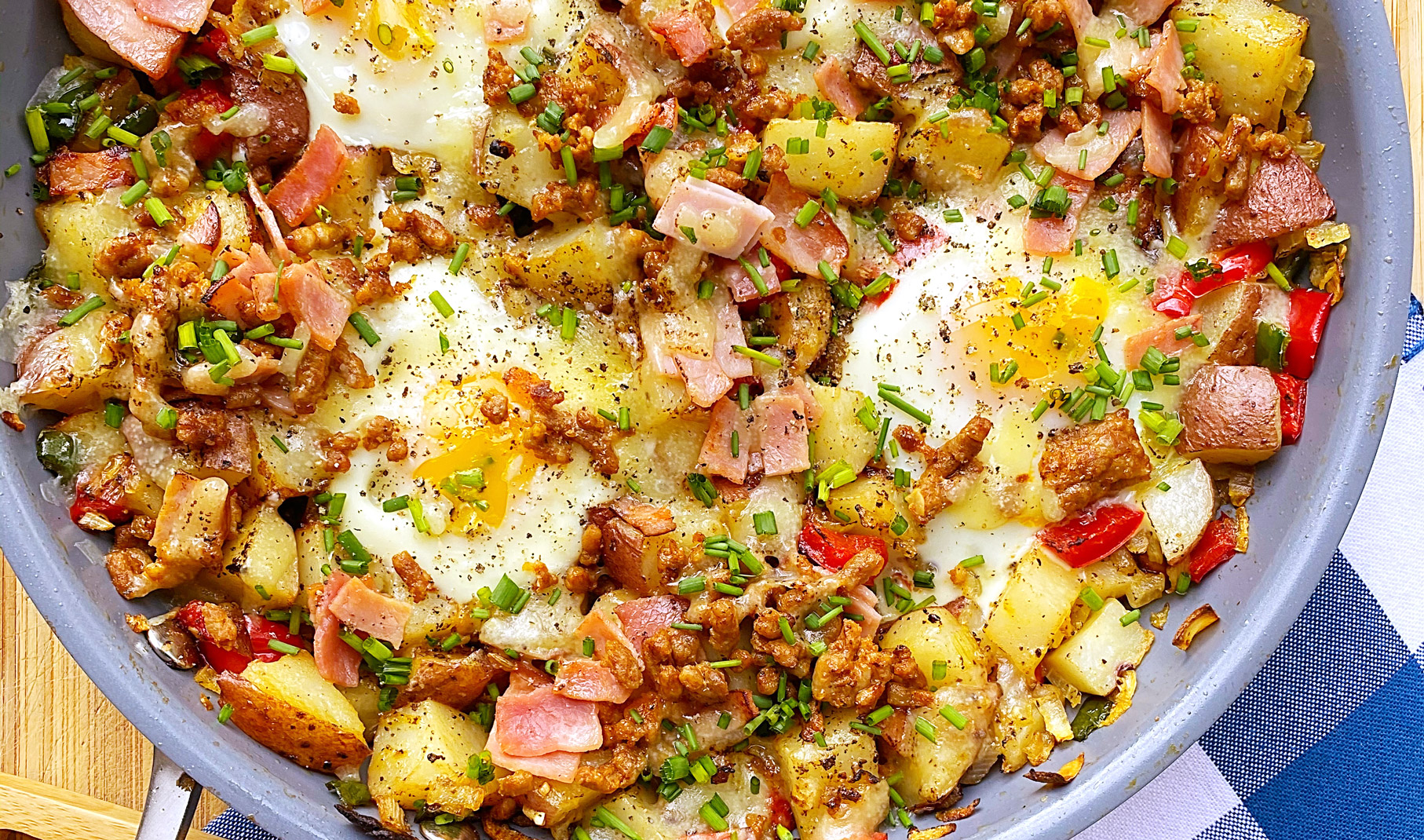 Breakfast needs to happen fast (it's in the name, right?) so our Sunrise Skillet comes together really quickly, in about the same time it would take to make pancakes or waffles. You could shave some time off by chopping the veggies the night before, so everything can be sizzling in seconds when you need it first thing in the morning. This recipe rocks if you're serving it to your family and/or hungry guests because it's all made at once, in one pan, so everyone can serve and share straight away – and cleanup is simple! We like to have lots of salsa or ketchup, and toasted sourdough on hand for dipping into the soft, warm egg yolks. And of course, throw on some coffee, fire up The Breakfast Club, and sing along to some Simple Minds to get that fist-pumping in the air as you walk out the door to start the day.
Sunrise Skillet Recipe
SERVES
4
DIFFICULTY
Easy
PREP TIME
15 min
COOK TIME
15 min
DIET: GF
Sunrise Skillet Recipe
SERVES: 4
DIFFICULTY: Easy
PREP TIME: 15 min
COOK TIME: 15 min
DIET: GF
Ingredients
½ lb breakfast sausage, bulk
¼ lb deli ham, cubed small
4 med red potatoes, cubed small ½"
½ yellow onion, diced
½ red bell pepper, diced
1 jalapeño, seeded and minced
2 cloves garlic, minced
pinch ea salt and pepper
dash hot sauce (Cholula or Tapatio, as desired)
4 eggs
1 ½ c jack cheese, shredded (or other)
1 bunch chives, chopped
Instructions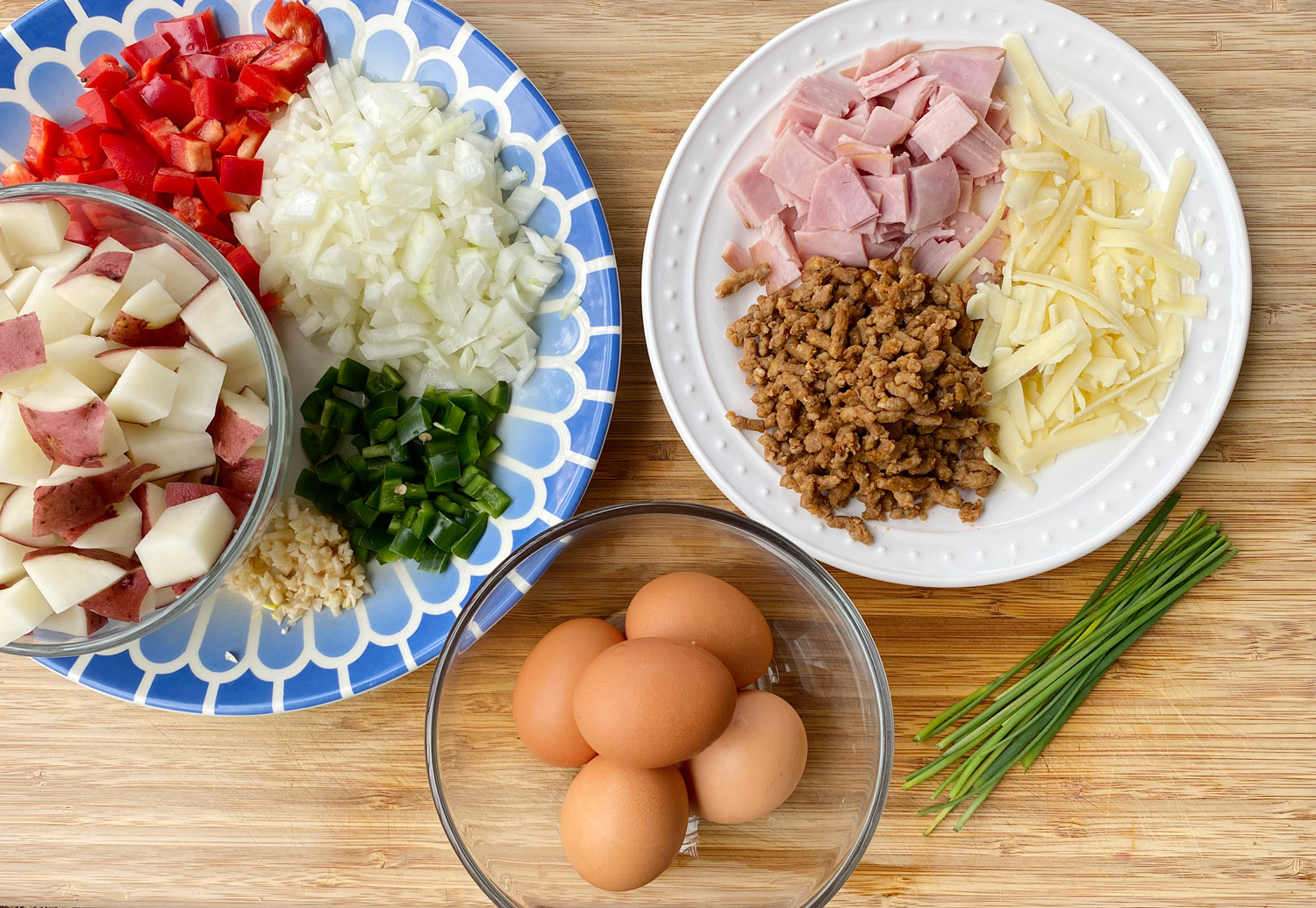 Gather ingredients. Preheat oven to 350°. In a large oven-proof skillet (cast iron preferably), brown sausage over med heat, 3 min. Add ham and cook just until heated through, 1 min. Remove meat from pan and keep warm.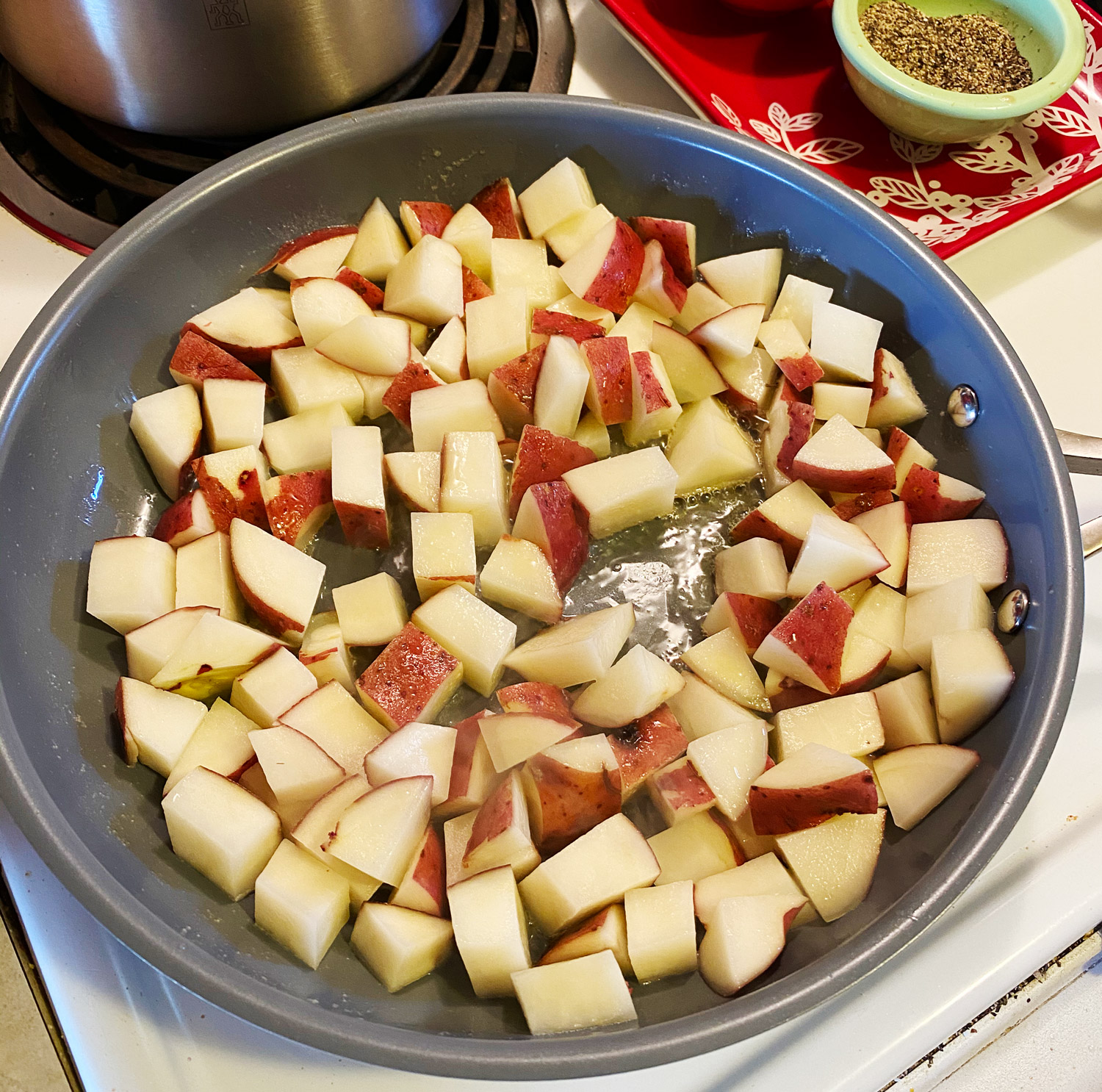 Add potatoes to skillet and cook 5 min over medium-high heat, stirring often.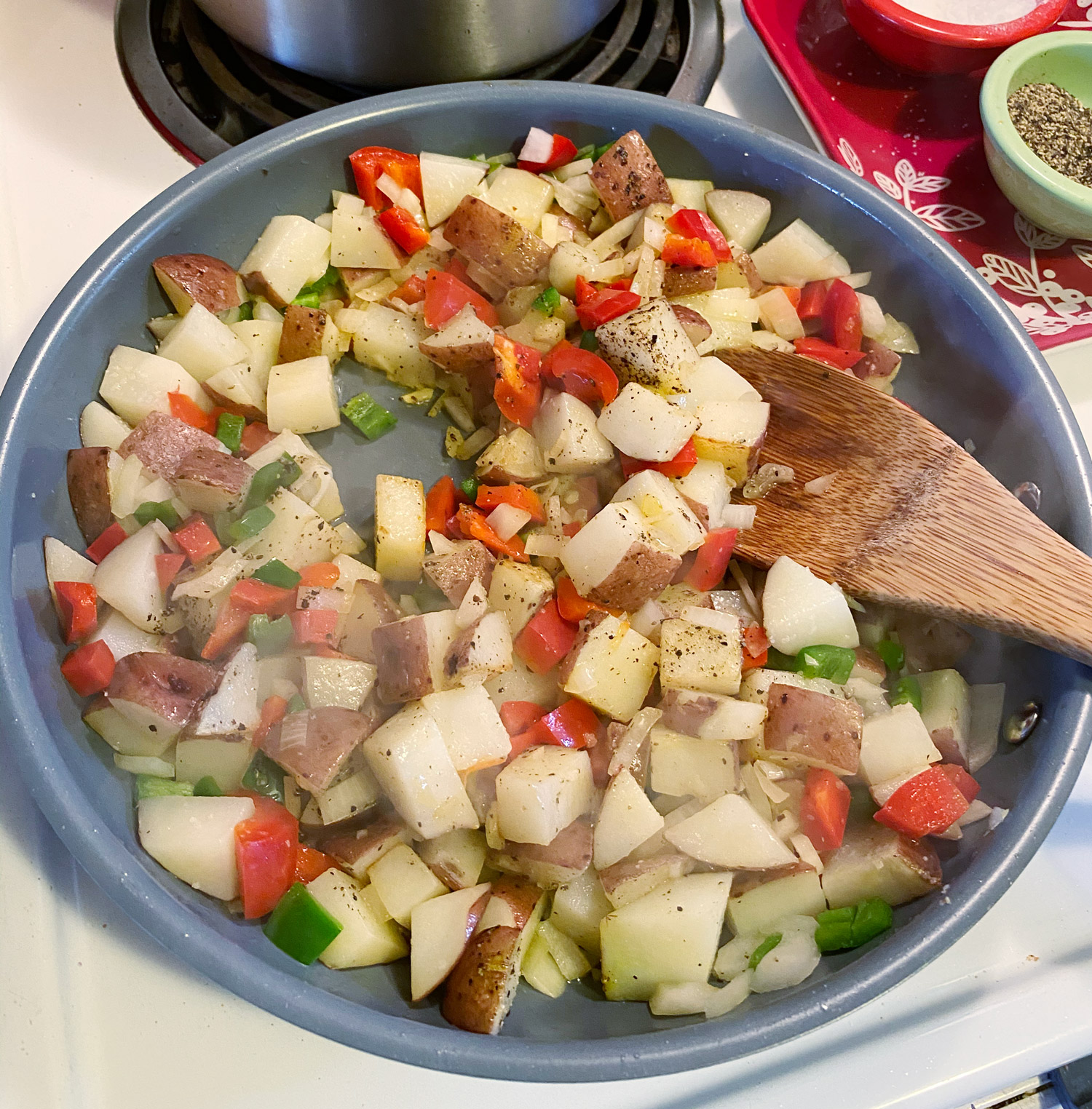 Add onion, bell pepper, jalapeño and garlic and cook 1 min more. Season with salt, pepper, and hot sauce; taste and adjust.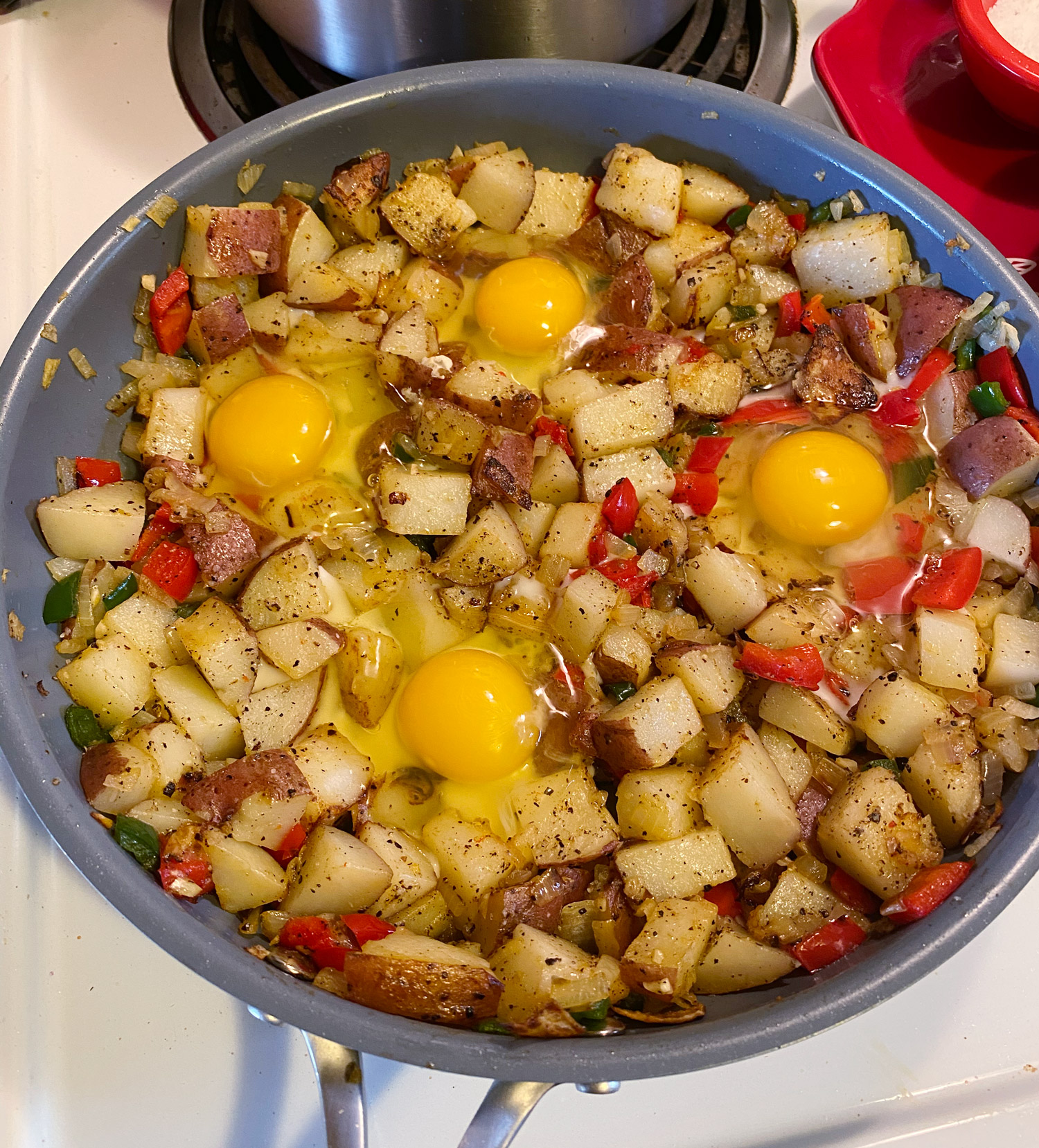 Make four holes in the potato mixture and break eggs into each cavity. Add pinch of salt and pepper to each egg; top entire skillet with shredded cheese.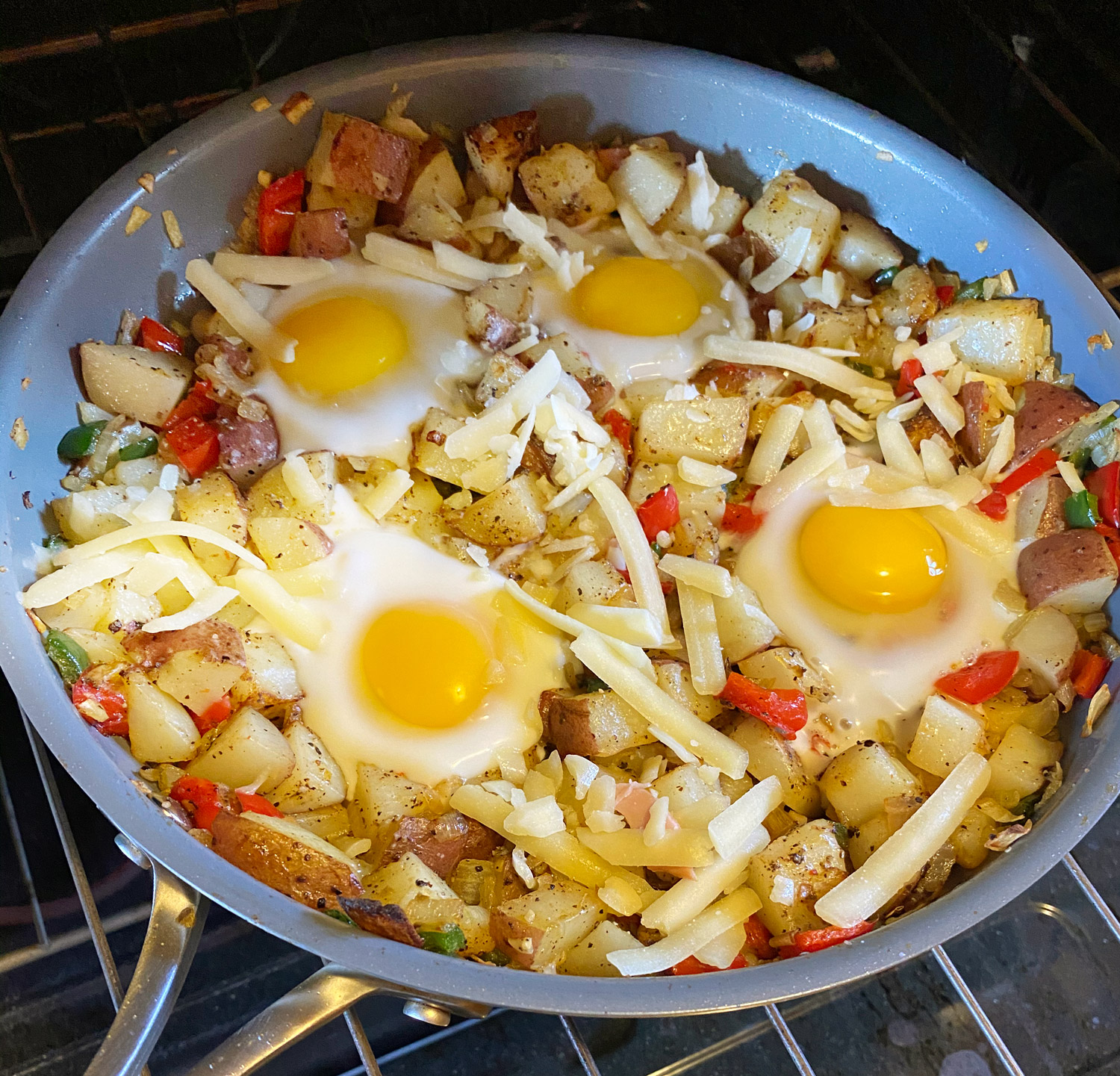 Bake uncovered 7-10 min, until eggs are set as desired (we like them on the runny side). Remove from oven and add warm sausage, ham and chopped chives. Serve immediately with plenty of toast, salsa and ketchup.
Meet the Makers
Felix & Greg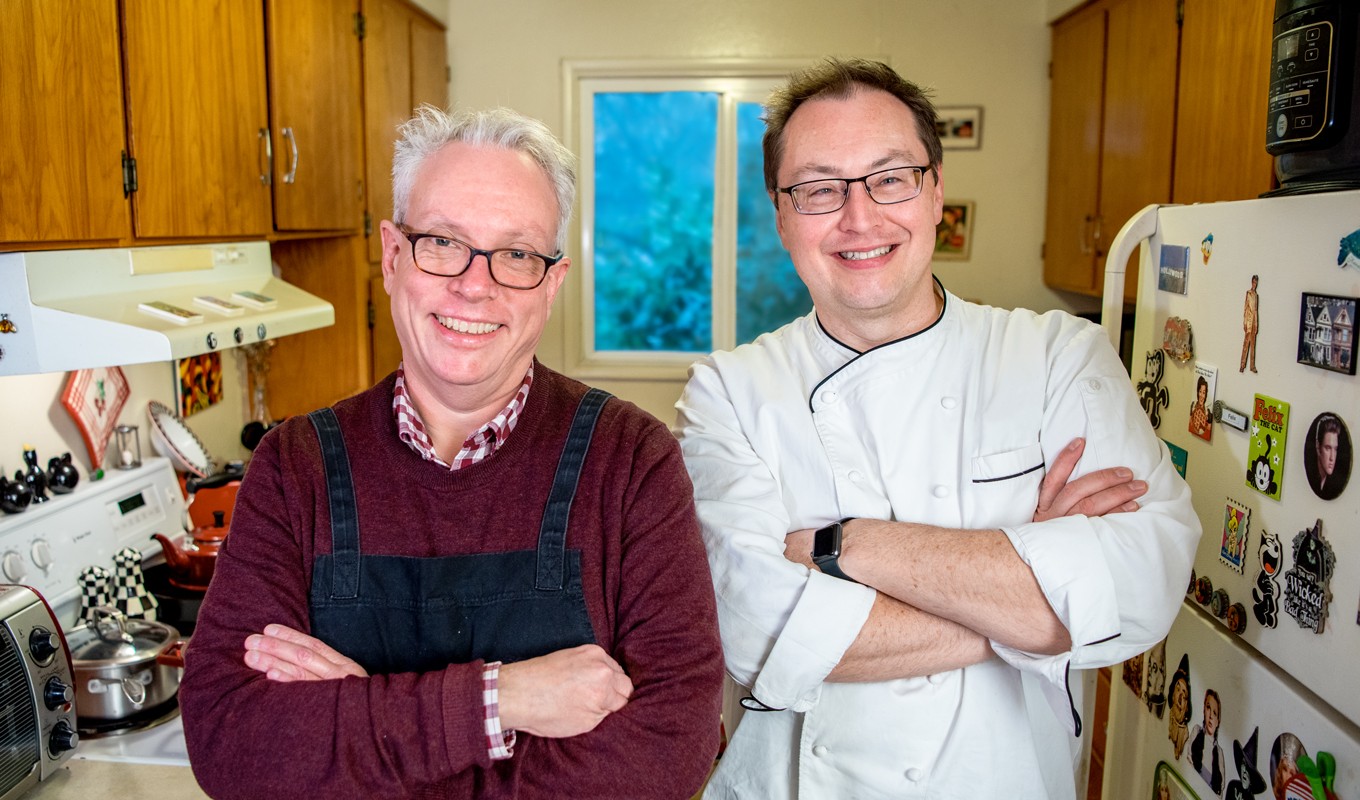 FELIX HUCK
Recipe Creator & Food Photographer
An artist and shutterbug, Felix finds beauty and inspiration in food and nature. He invents and photographs the recipes you'll find here.
GREG CABEZA
Professional Chef & Food Blogger
A food aficionado and lifelong music fan, Greg is an experienced artisan chef. He's also co-recipe creator and food blogger at Felix & Greg.
SUBSCRIBE TO OUR EMAILS
Good ideas could be cooking in your inbox. Sign up for our newsletter.