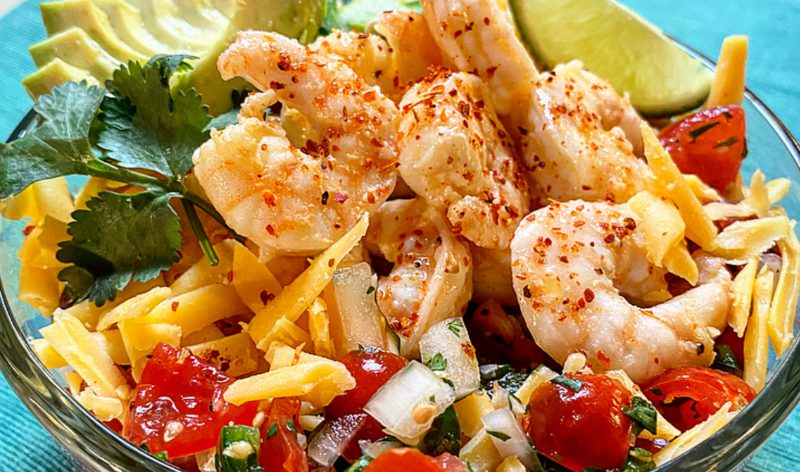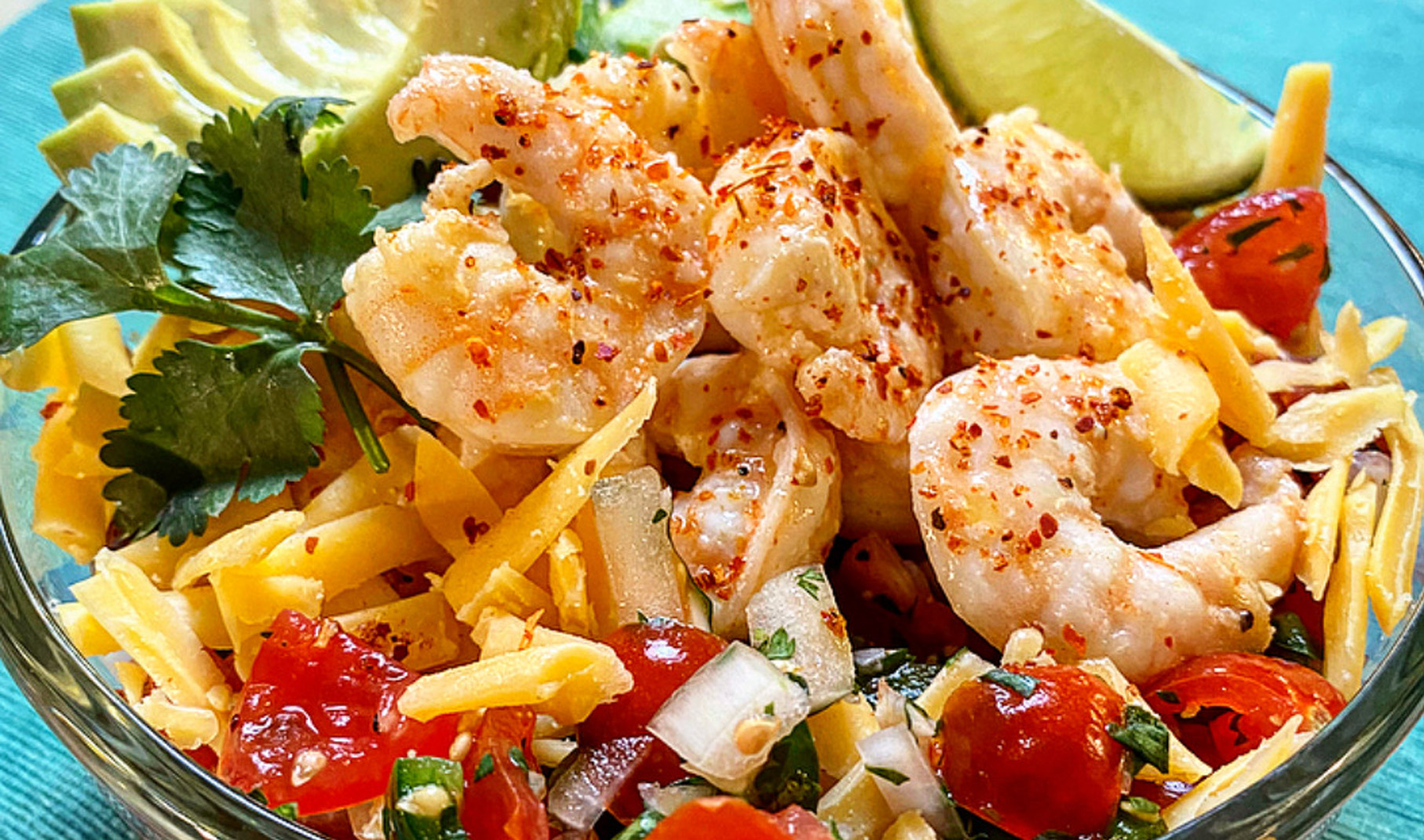 I winged this recipe one day when I wanted something fast and fresh with lots of flavor for a simple, just-got-home-what's-for-dinner kind of night. I showed it to Felix, and he loved it Though. to be fair, he loves just about anything with shrimp, which is just one of the many reasons we are BFFs. A tasty restaurant near us is famous for their saucy rice and bean combos; however, they have an almost entirely vegetarian menu. I decided some quickly sautéed shrimp would fix that issue for us. Thus, our spicy shrimp and rice bowl was born.
Shrimp is one of the fastest things to make in a pinch, only taking about 2-3 minutes to cook, and it's delicious to boot, which makes it the perfect partner here. I cooked it in a bit of olive oil, splash of lime juice, a dash of Tapatio, a pat of butter, minced garlic, and some Tajin to finish for a tasty topper for black beans and jasmine rice. We added some freshly made pico de gallo, sliced avocado, cilantro and a bit of shredded cheddar and plopped down on the couch to eat up this bowl while watching some of our favorite YouTube cooking channels.
One of the really nice things about making this is that you can easily make extra and reheat it another night when you just need something good and quick. It's also a huge hit with my family because I serve each ingredient individually and everyone gets to serve themselves and pick and choose what. It's gluten-free and can easily be adjusted for vegetarian or vegan diets, as well; consider frying up some tofu the same way as the shrimp, minus the butter.
Have some fun with this recipe and add your own favorite touches. My wife likes sour cream, I love hot sauce, and the kids like theirs with plenty of tortilla chips—however you make it, everyone will be happy and that's a weekday win!
Spicy Shrimp and Rice Bowl Recipe
SERVES
4
DIFFICULTY
Easy
PREP TIME
10 min
COOK TIME
20 min (mostly because of the rice)
DIET: GF, Vegetarian (omit shrimp), Vegan (omit cheese, shrimp, butter)
SERVES: 4
DIFFICULTY: Easy
PREP TIME: 10 min
COOK TIME: 20 min (mostly because of the rice)
DIET: GF, Vegetarian (omit shrimp), Vegan (omit cheese, shrimp, butter)
Ingredients
2 T olive oil
1 T garlic, minced
1 T butter (optional)
1 lb prawns (31/40) peeled and tail-off
1 t Tapatio hot sauce, or to taste
1 T lime juice, fresh
pinch of salt
2 c jasmine rice, cooked, warm
1 c Cafe Yumm Sauce (optional) or queso sauce
2 c black beans or kidney beans, heated
1 c cheddar cheese, grated, as desired
1 c pico de gallo, fresh
1 lg avocado, sliced
lime wedges and cilantro, for garnish
½ t Tajin seasoning
Instructions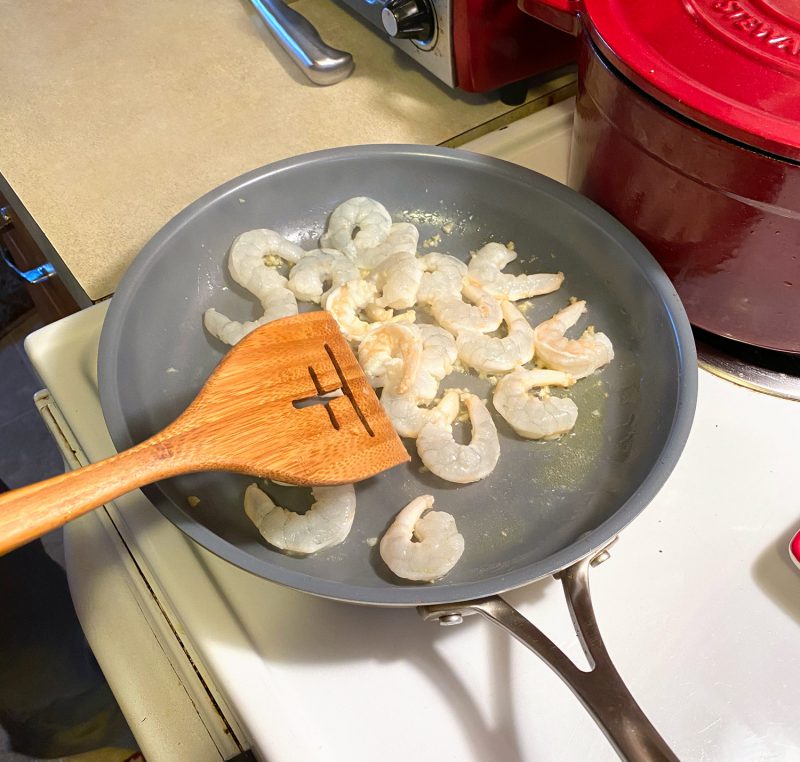 In large skillet over medium-high heat, warm oil. Add butter and garlic and cook 20 seconds.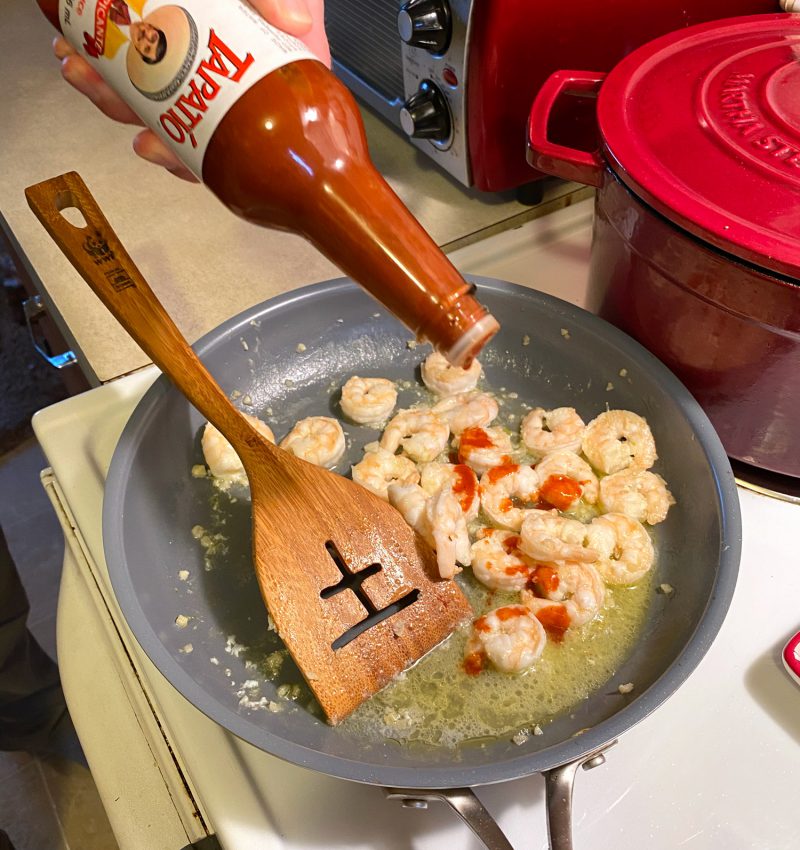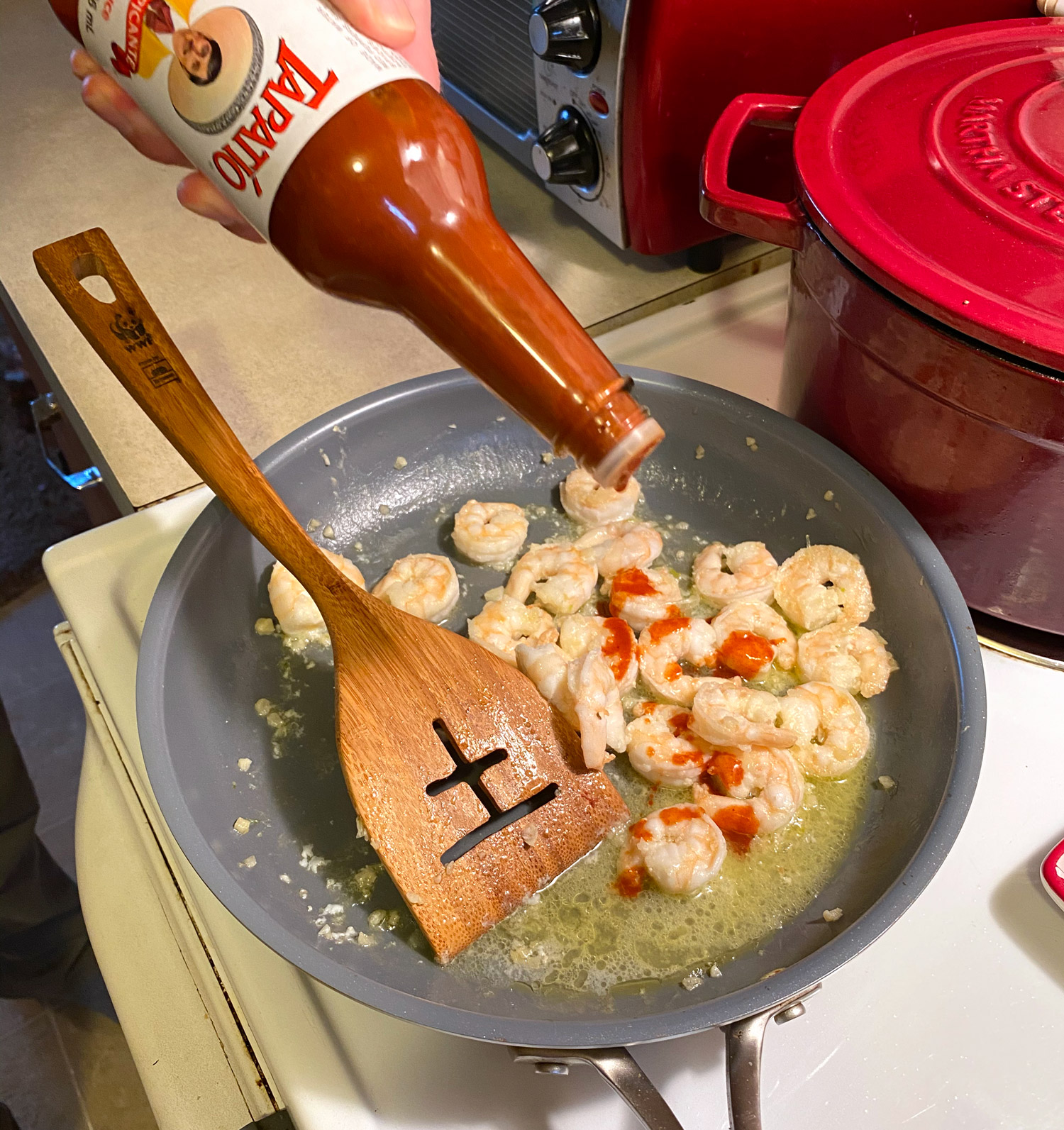 Add shrimp and stir/toss every few seconds until cooked through. Add hot sauce, lime juice and pinch of salt. Remove from pan.
Assemble bowls with rice on bottom, then Yumm Sauce or queso, beans, cheese, and top with salsa, shrimp, avocado, cilantro and lime wedges, sprinkling with Tajin.
Meet the Makers
Felix & Greg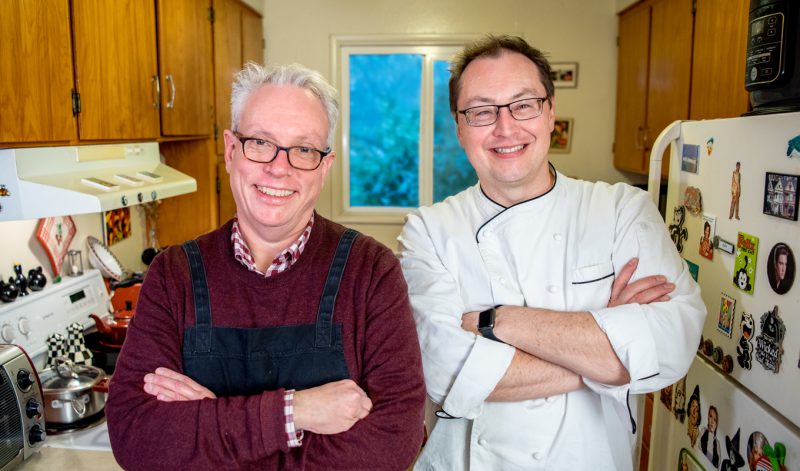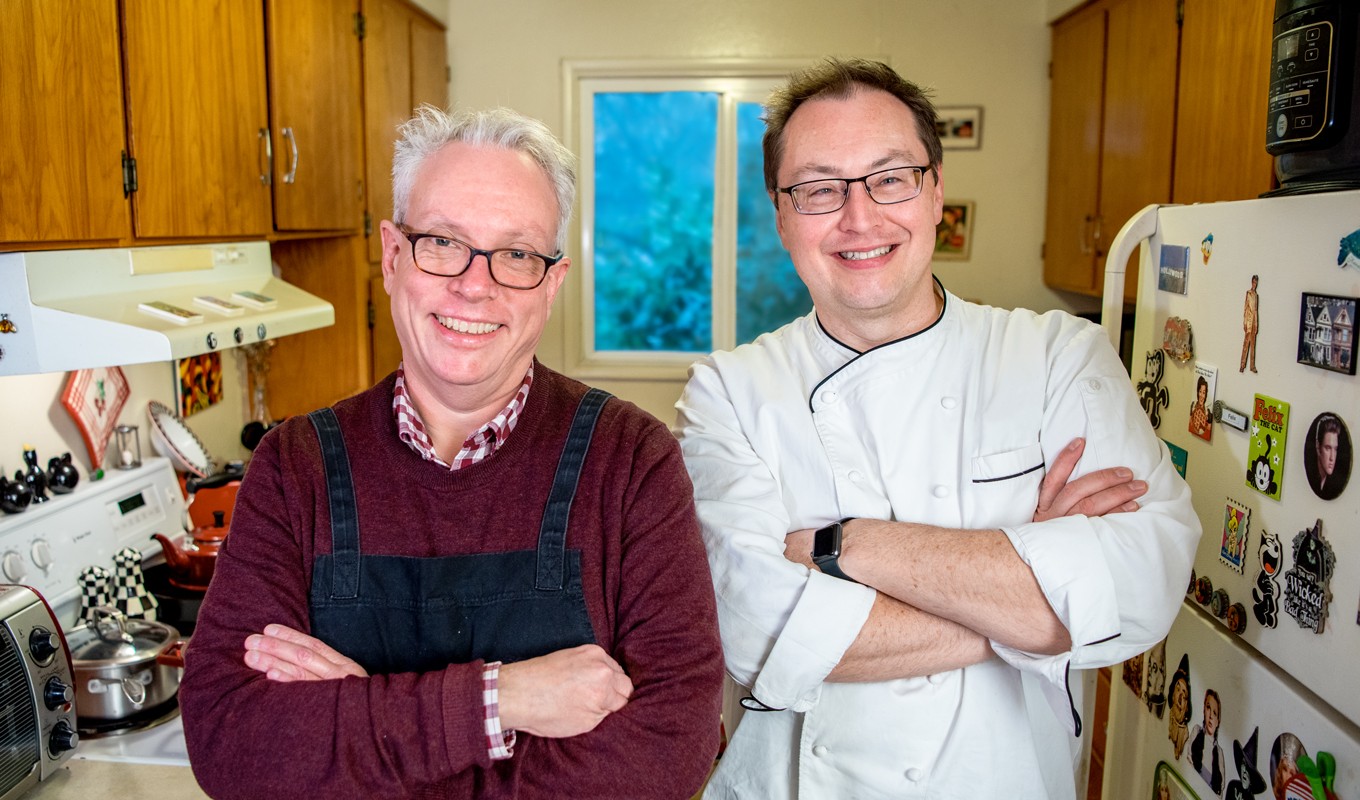 FELIX HUCK
Recipe Creator & Food Photographer
An artist and shutterbug, Felix finds beauty and inspiration in food and nature. He invents and photographs the recipes you'll find here.
GREG CABEZA
Professional Chef & Food Blogger
A food aficionado and lifelong music fan, Greg is an experienced artisan chef. He's also co-recipe creator and food blogger at Felix & Greg.
SUBSCRIBE TO OUR EMAILS
Good ideas could be cooking in your inbox. Sign up for our newsletter.