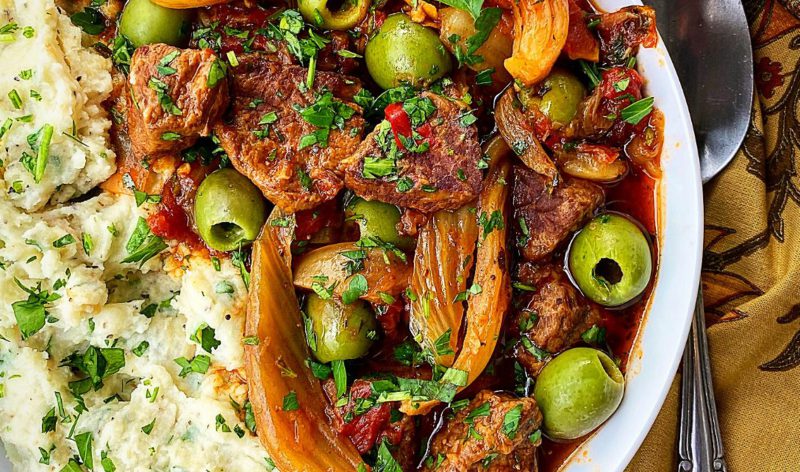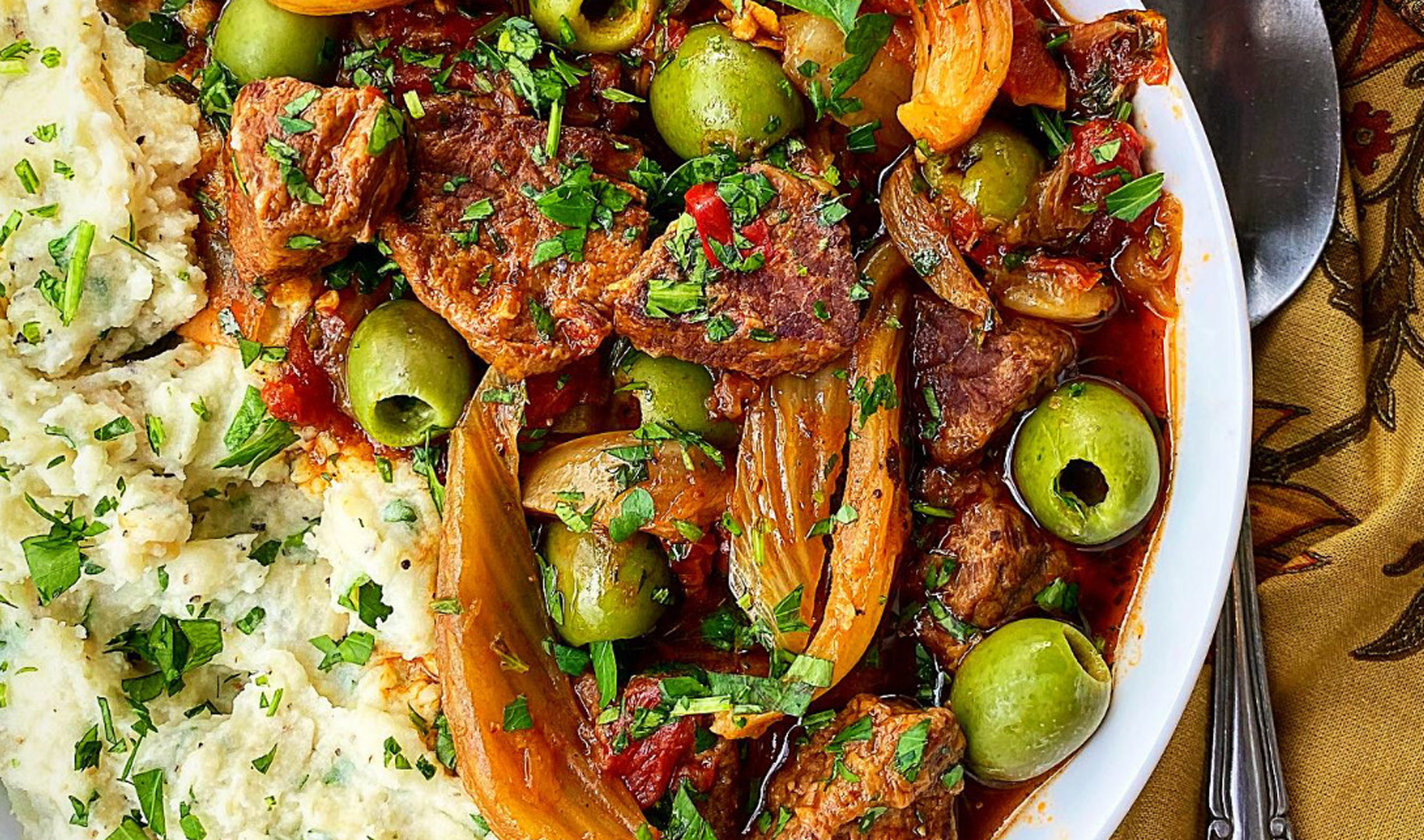 Felix and I love, love, love Calabrian chilies, and they are the secret special ingredient in this dish. Well, that and letting everything slow-cook and meld together for a couple of hours until tasty and tender. The end result is spectacular, like no other beef stew you've likely ever tasted, with deeply soul satisfying flavors from a bit of citrus, rosemary, those secret chilies, salty olives and seared beef. We serve ours with a delicious side of garlic mashed potatoes; however, it's perfectly fine served with some simple toasty bread or creamy Parmesan polenta. If you're looking for a delicious keto (low-carb) twist on this, simply use a keto flour to dust the beef with before browning and serve the stew with roasted vegetables.
Calabrian Chilies
Let's talk about those Calabrian chilies for a moment. We highly recommend you seek them out for this recipe. They have a distinctly unique flavor, somewhat fruity like a red bell pepper, with a moderate level of salt and heat. We love them when a recipe needs something other than the face-melting spiciness of Asian chilies or the super-heated Latin American peppers. If our recommended half cup of chopped chilies intimidates you, simply add a little less until you get used to them. Any extra chilies are simply fantastic in pastas, on pizza, added to sandwich spreads, or as a condiment for roasted meats. They are usually available at most specialty grocers or even your neighborhood supermarket. You won't regret having a jar of these on hand when the craving for something hot hits.
Choosing the right ingredients
Now back to the stew and the rest of the goodies! We have some fragrant fennel bulb– the same flavor used for Italian sausage – which becomes a subtle and sublime background as it slowly breaks down into the broth. Next is the orange peel – don't skip or skimp on this one. Use a potato peeler and drag it around the orange to get mostly peel with very little of the bitter white pith. The rest on the list should be no surprise for an Italian meal: red wine, sun-dried or oven-dried tomatoes, plenty of garlic and onion, and lots of pitted Castelvetrano green olives. Yummm!
Cooking the stew
This is one of those Sunday supper dishes you dream of, with a flame in the fireplace and a glass of vino in hand, shaking off the cold of winter. If you have a slow-pressure cooker (Instant Pot or the like) then give it a go in that to cut the cooking time from two hours to about 45 minutes. We also recommend making a good-sized batch of this, so you can have extras for later. It reheats very well and is even better a day or two later, as the flavors will strengthen and the sauce takes on a thicker, deeper richness.
Spicy Citrus Sicilian Beef Stew Recipe
SERVES
4
DIFFICULTY
Moderate
PREP TIME
30 min
COOK TIME
2.5 hr
SPECIAL TOOLS
Dutch oven with tight-fitting lid
DIET: Keto (if using a keto flour for beef)
Spicy Citrus Sicilian Beef Stew Recipe
SERVES: 4
DIFFICULTY: Moderate
PREP TIME: 30 min
COOK TIME: 2.5 hr
SPECIAL TOOLS: Dutch oven with tight-fitting lid
DIET: Keto (if using a keto flour for beef)
Ingredients
3 T olive oil
1 t ea salt and pepper
2 lb beef stew meat (cut into bite-size chunks)
2 T flour
2 T butter
2 fennel bulbs
2 yellow onions, rough-chopped, bite-size
5-6 cloves garlic, sliced or crushed
1 med sprig rosemary
3 orange peels (strips)
1 c Italian red table wine (chianti)
2 c beef broth
1 15 oz can tomato puree
1 c sun-dried tomatoes or oven-dried tomatoes
½ c Calabrian chilies, chopped or paste
1 c Castelvetrano green olives, pitted
1 c fresh parsley, rough-chopped
Instructions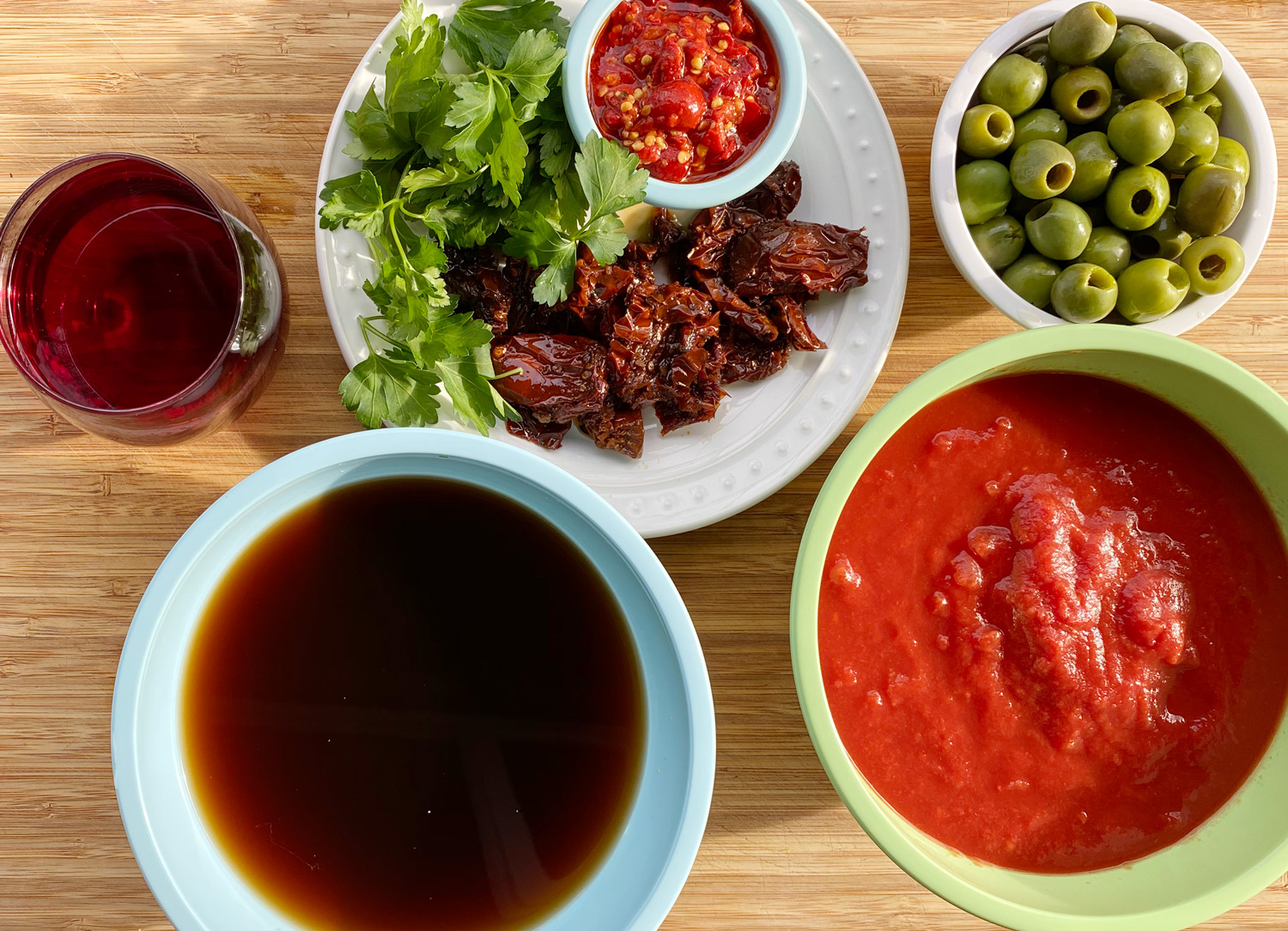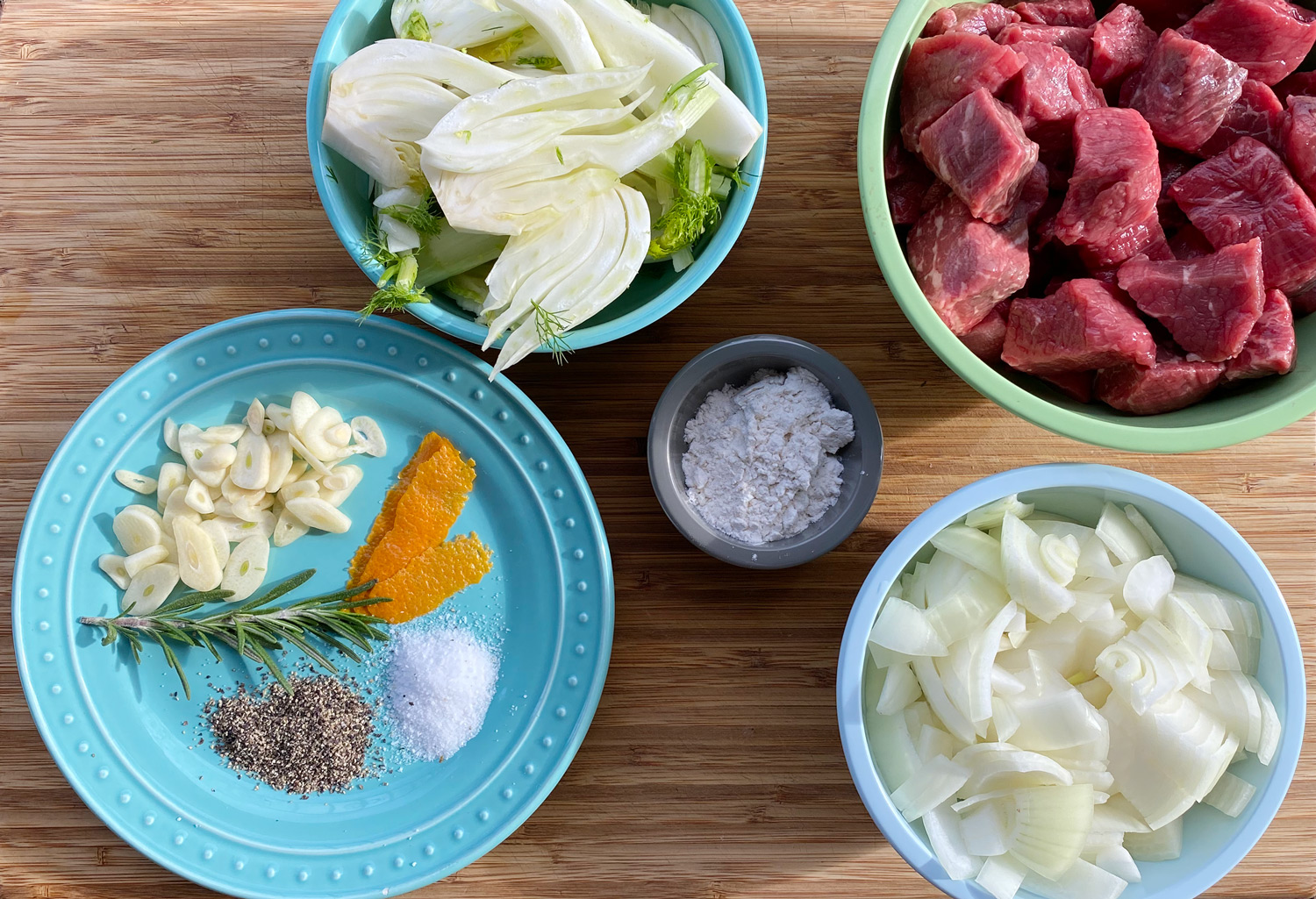 Gather ingredients. Preheat oven to 300°.
In a large Dutch oven, warm olive oil over medium-high heat. Season beef generously with salt and pepper and dust with flour.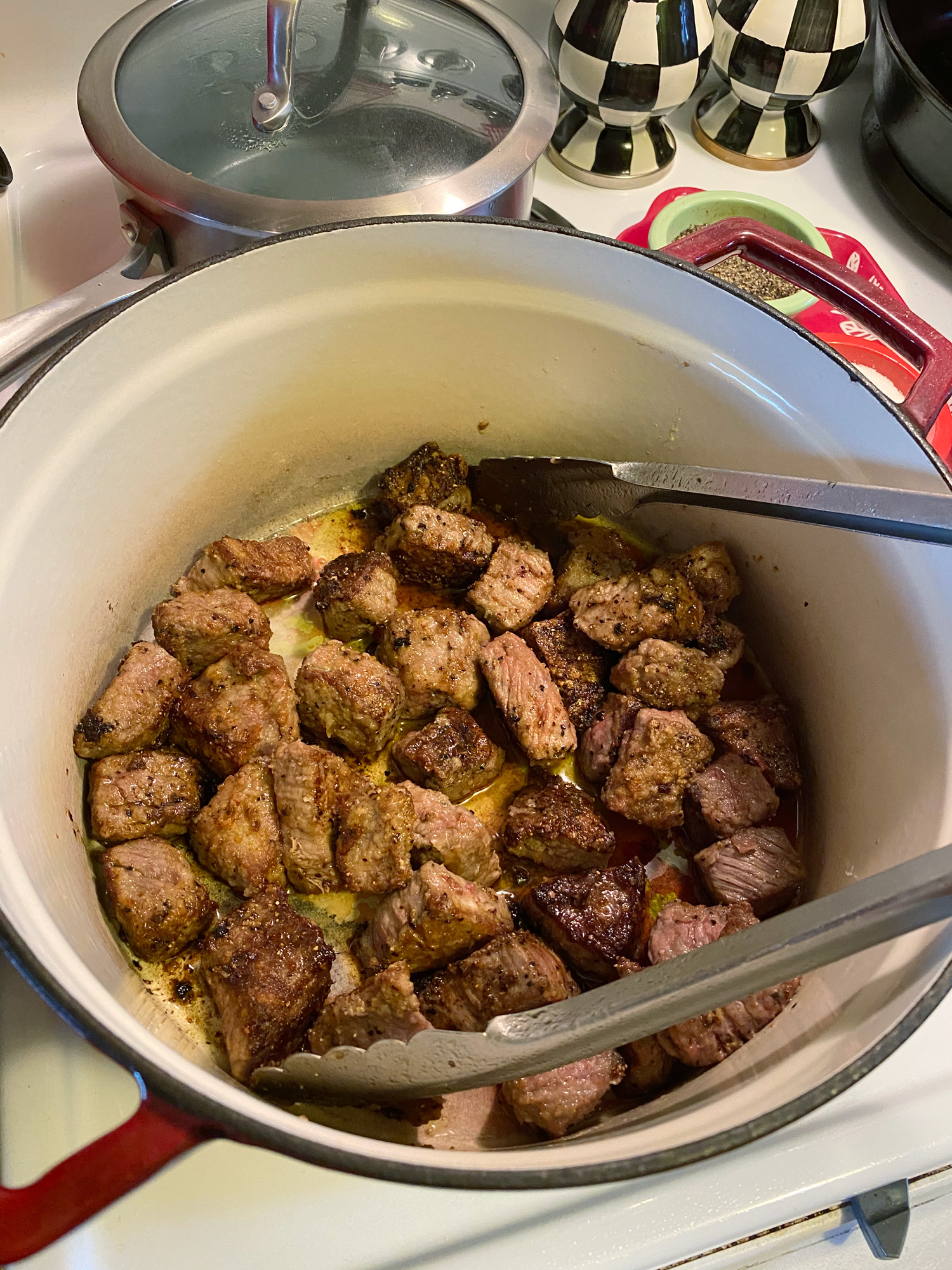 Drop into hot oil and sear on all sides. Remove beef from pan when browned and reserve.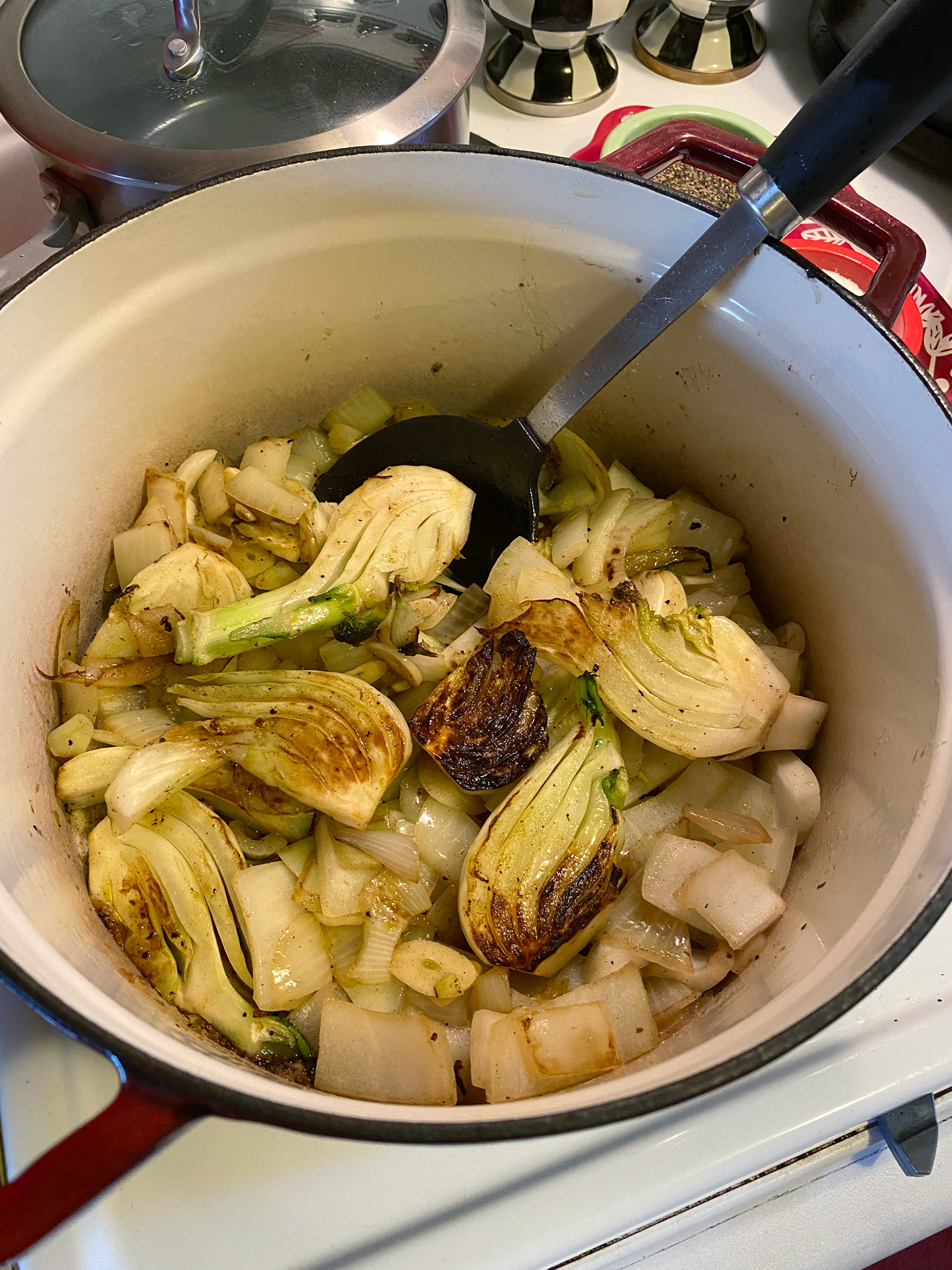 Immediately add butter, fennel and onions, cooking 2 min. Add garlic, rosemary and orange peel, cooking 1 min more.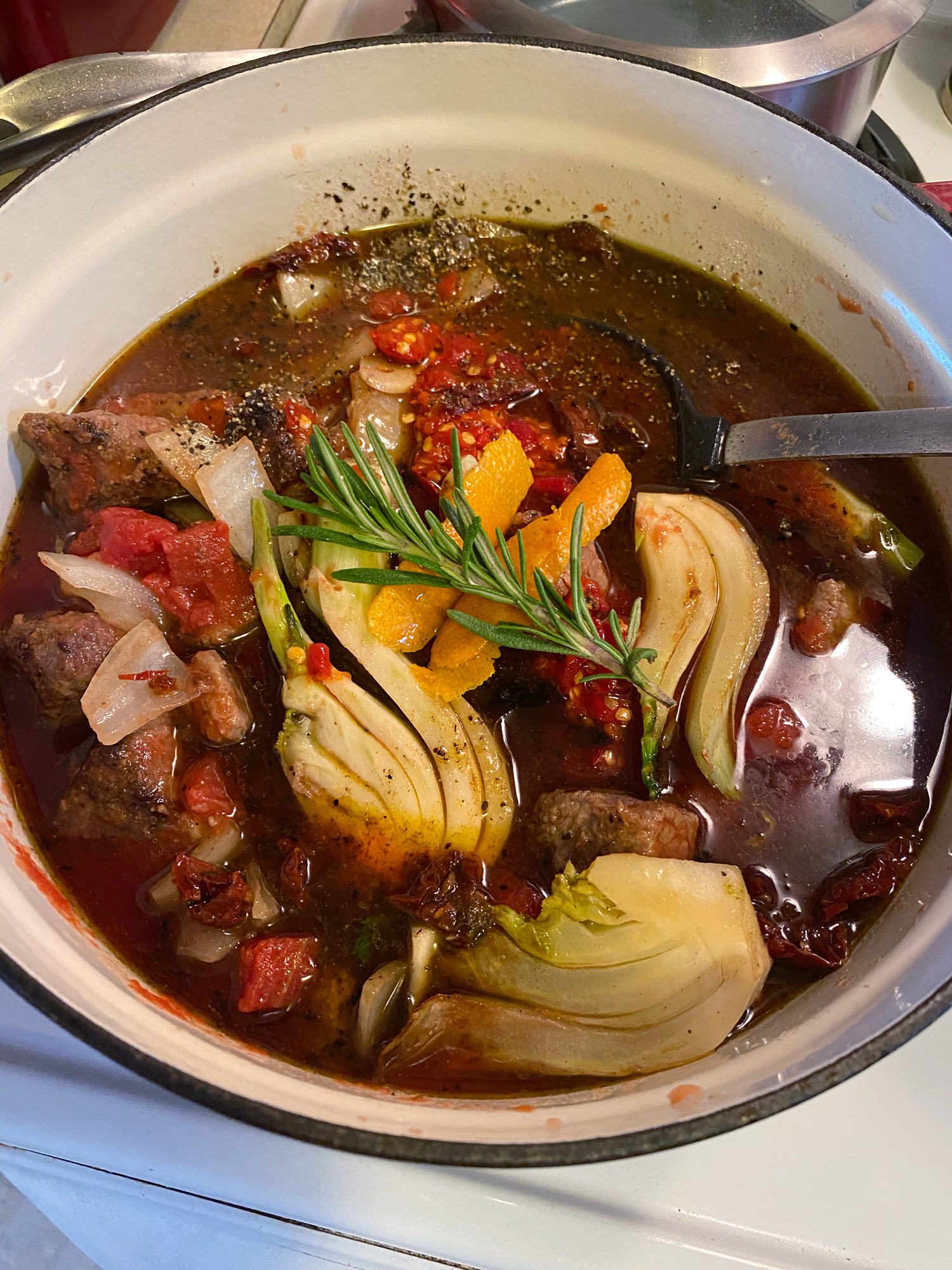 Add red wine, beef broth, tomatoes and chilies, then bring to a simmer. Add beef back to pot and cover tightly. Transfer to oven and slow-cook until very tender, approx. 2 hr. Remove from oven and discard orange peel and rosemary stem. Add olives and serve with garlic mashed potatoes or Parmesan polenta, garnished with parsley.
Meet the Makers
Felix & Greg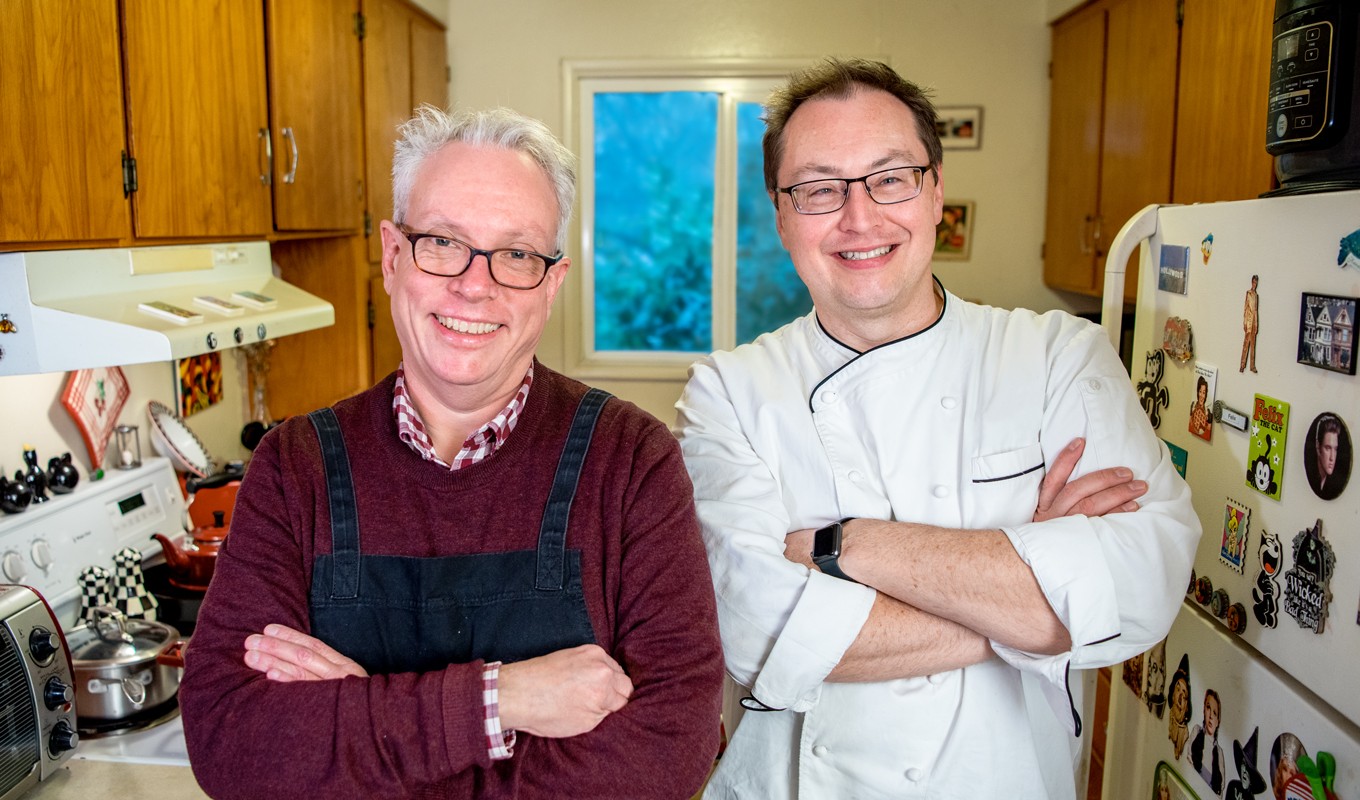 FELIX HUCK
Recipe Creator & Food Photographer
An artist and shutterbug, Felix finds beauty and inspiration in food and nature. He invents and photographs the recipes you'll find here.
GREG CABEZA
Professional Chef & Food Blogger
A food aficionado and lifelong music fan, Greg is an experienced artisan chef. He's also co-recipe creator and food blogger at Felix & Greg.
SUBSCRIBE TO OUR EMAILS
Good ideas could be cooking in your inbox. Sign up for our newsletter.