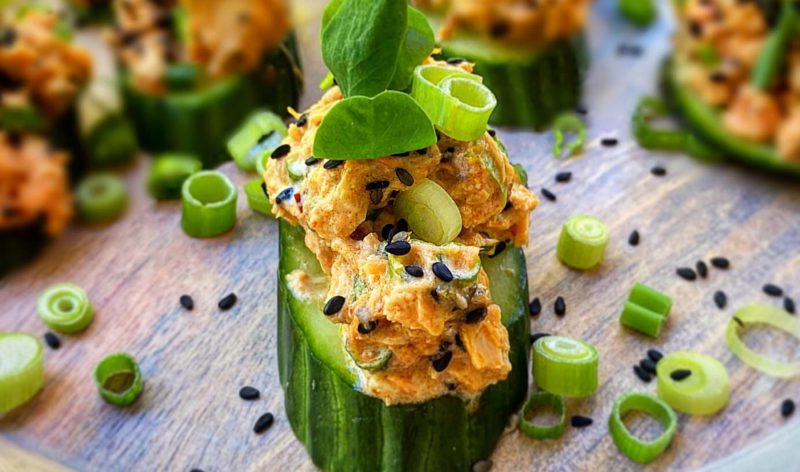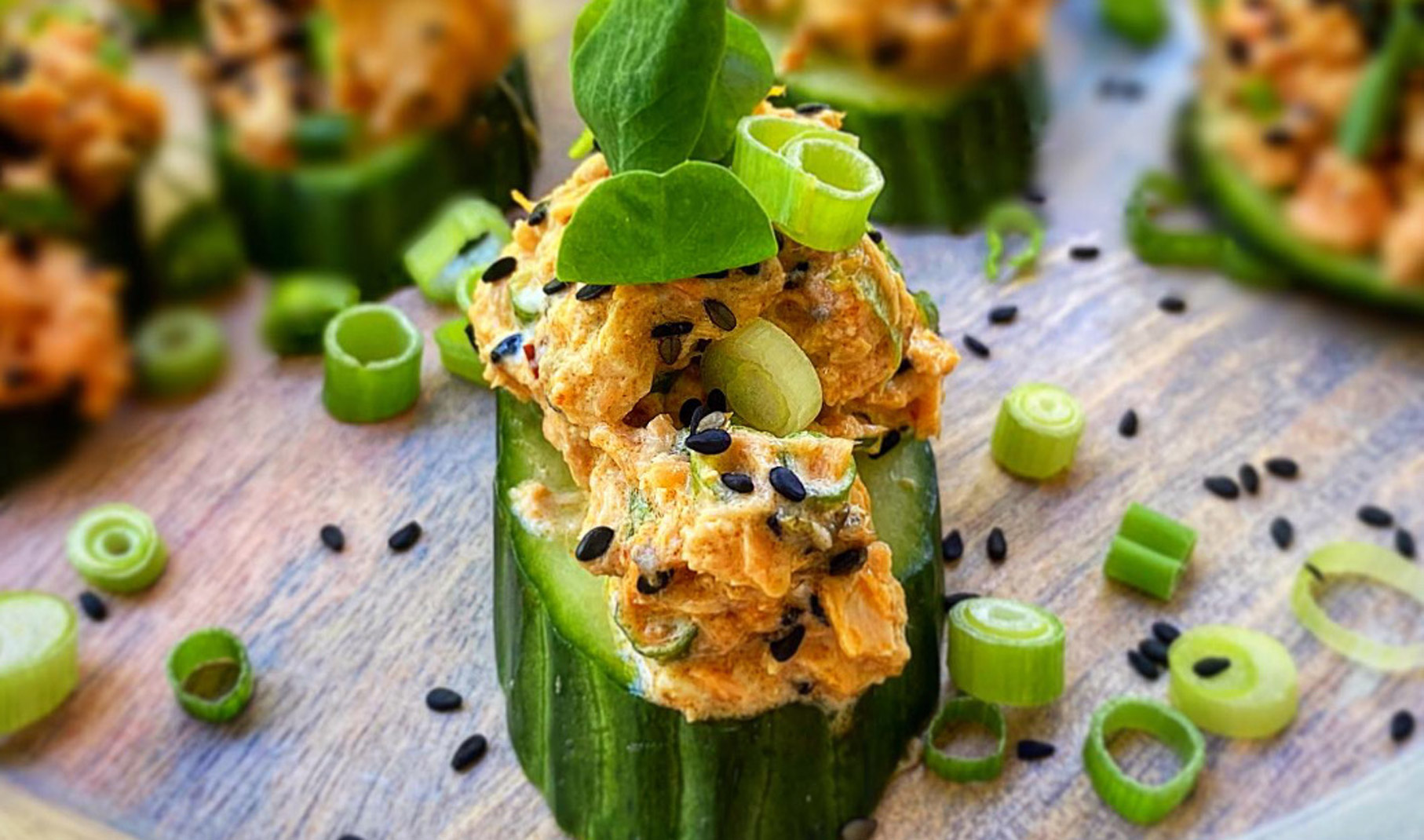 We love tasty little bites like these cool cucumber appetizers. Think about all the flavors in a salmon sushi roll minus the rice and you'll understand why we just can't get enough – I hope you caught the honestly accidental Depeche Mode reference there. This recipe is truly easy, no cooking involved. If you can make a tuna salad, you can make this beautiful app. Here are a few tips and tweaks. We prefer to use an English cucumber, as they're generally thinner and have fewer seeds; however, a regular cucumber works just fine. Scoop out a bit of the seeds on the top of each slice to keep the salmon salad from sliding off, and don't skimp on the garnishes! The green onions, black sesame seeds and fresh pea shoots take this from pretty to gorgeous and add fresh flavor, too. Felix and I also have a thing for Kewpie mayo. With its distinctly lighter, sweet and umami flavors, it's perfect for an Asian-inspired dish like this. Try it – we think you'll be hooked, as well! This recipe is gluten-free and keto; however, you're welcome to enjoy them on little toasts, if you prefer. To enjoy it on little toasts instead, just chop a bit of cucumber and add to the salad for a delicious twist. And if you're really feeling like going all out, use some fresh sashimi-grade tuna, diced fine, in place of the salmon for a poke-style treat.
Sesame Salmon Cucumber Bites Recipe
SERVES
4 (makes about 12 bites)
DIFFICULTY
Easy
PREP TIME
15 min
DIET: Gluten-Free, Keto
SERVES: 4 (makes about 12 bites)
DIFFICULTY: Easy
PREP TIME: 15 min
DIET: Gluten-Free, Keto
Ingredients
5 oz canned salmon
¼ c Kewpie mayo
1 lime, juiced
½ c green onions, chopped
1 T toasted sesame oil
1½ T Sriracha
¼ t crushed red pepper flakes
1 T black sesame seeds
1 English cucumber, sliced (see directions)
Pea shoots for garnish
Instructions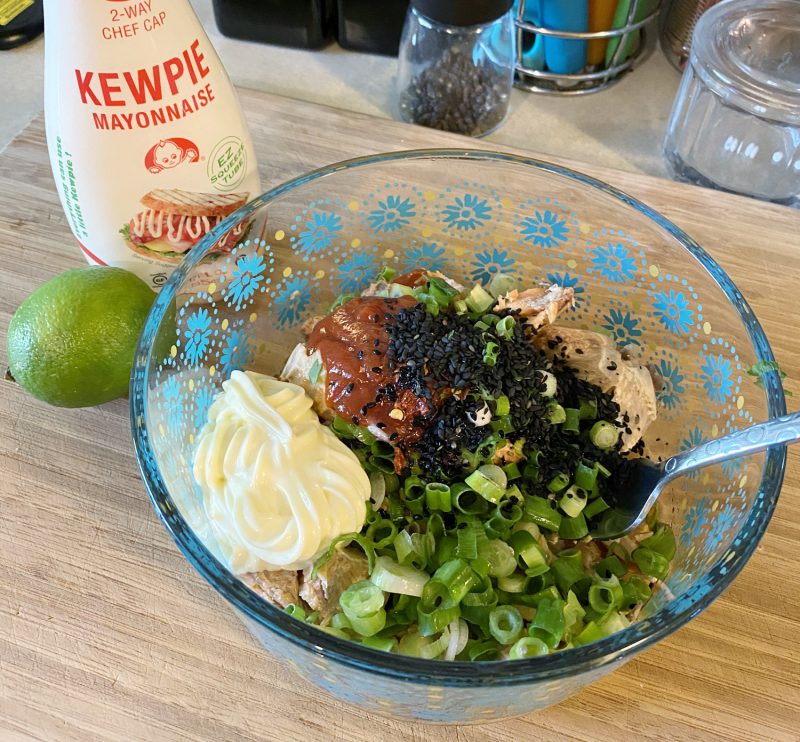 Combine salmon, mayo, lime juice, green onions (reserve a few for garnish), sesame oil, Sriracha, red pepper flakes and sesame seeds (again, save a few pinches for garnish). Mix gently so salmon flakes are still visible. Chill mixture 1-2 hours. Cut cucumber into bite size rounds, making a small hollow in center of each without going all the way through, so salad can be placed on top without sliding off. Spoon salad into cucumber cups and garnish with green onions, sesame seeds and pea shoots. Serve immediately.
Meet the Makers
Felix & Greg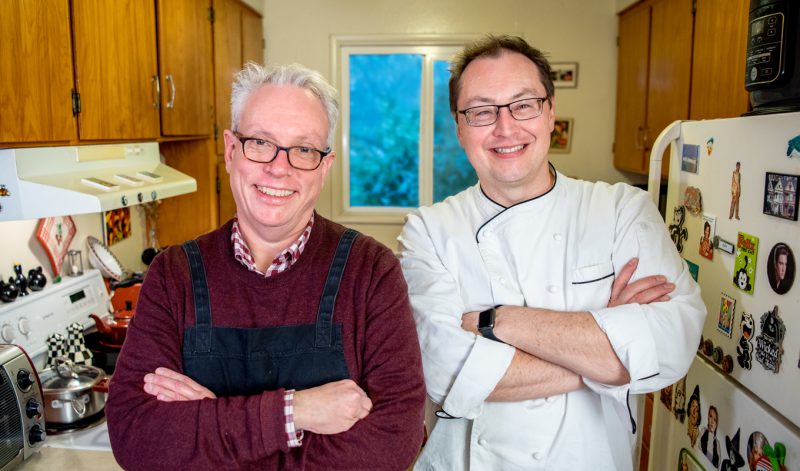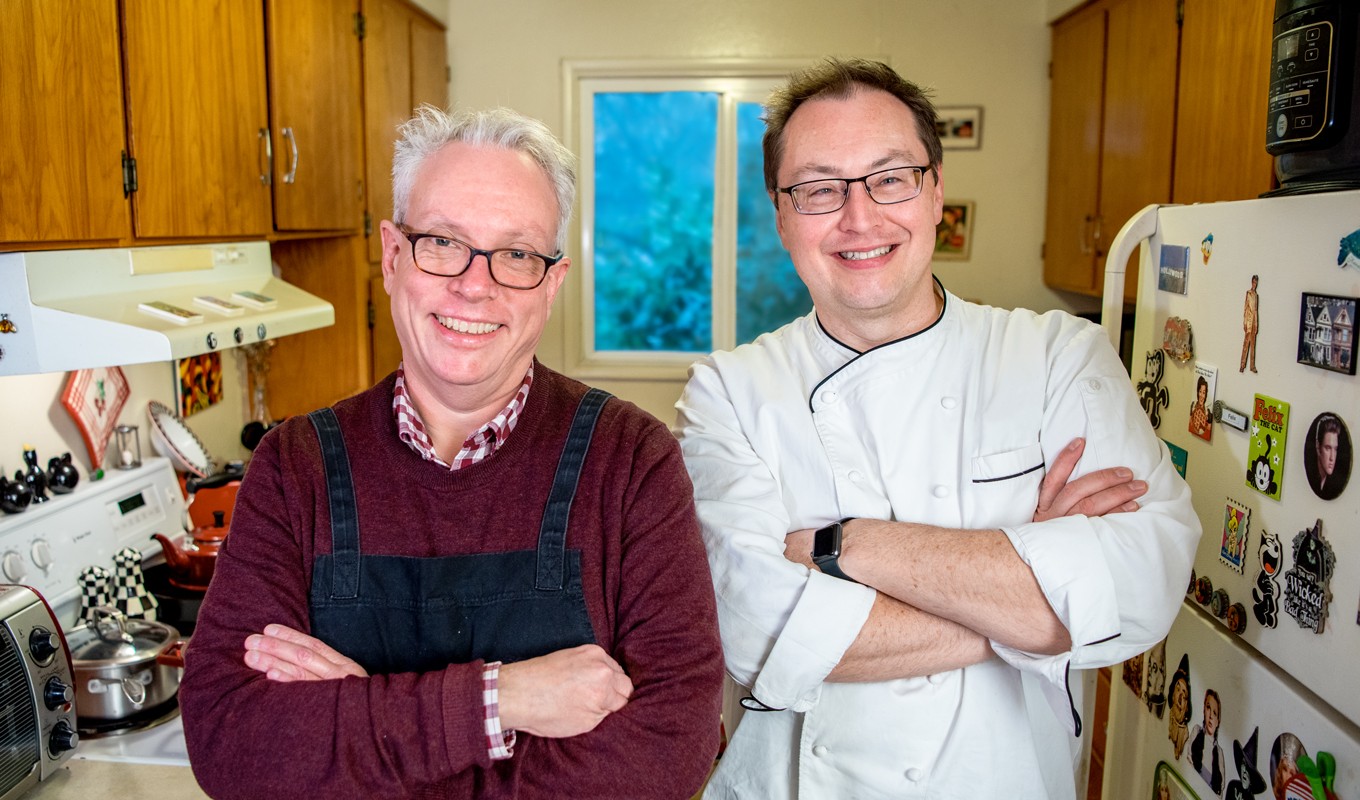 FELIX HUCK
Recipe Creator & Food Photographer
An artist and shutterbug, Felix finds beauty and inspiration in food and nature. He invents and photographs the recipes you'll find here.
GREG CABEZA
Professional Chef & Food Blogger
A food aficionado and lifelong music fan, Greg is an experienced artisan chef. He's also co-recipe creator and food blogger at Felix & Greg.
SUBSCRIBE TO OUR EMAILS
Good ideas could be cooking in your inbox. Sign up for our newsletter.