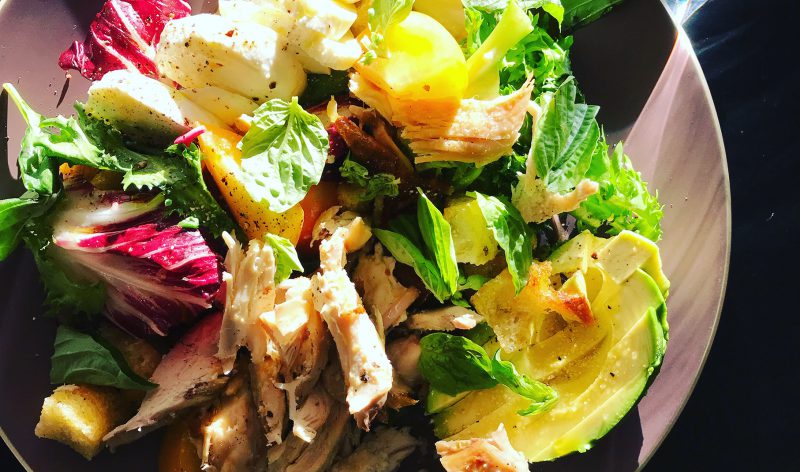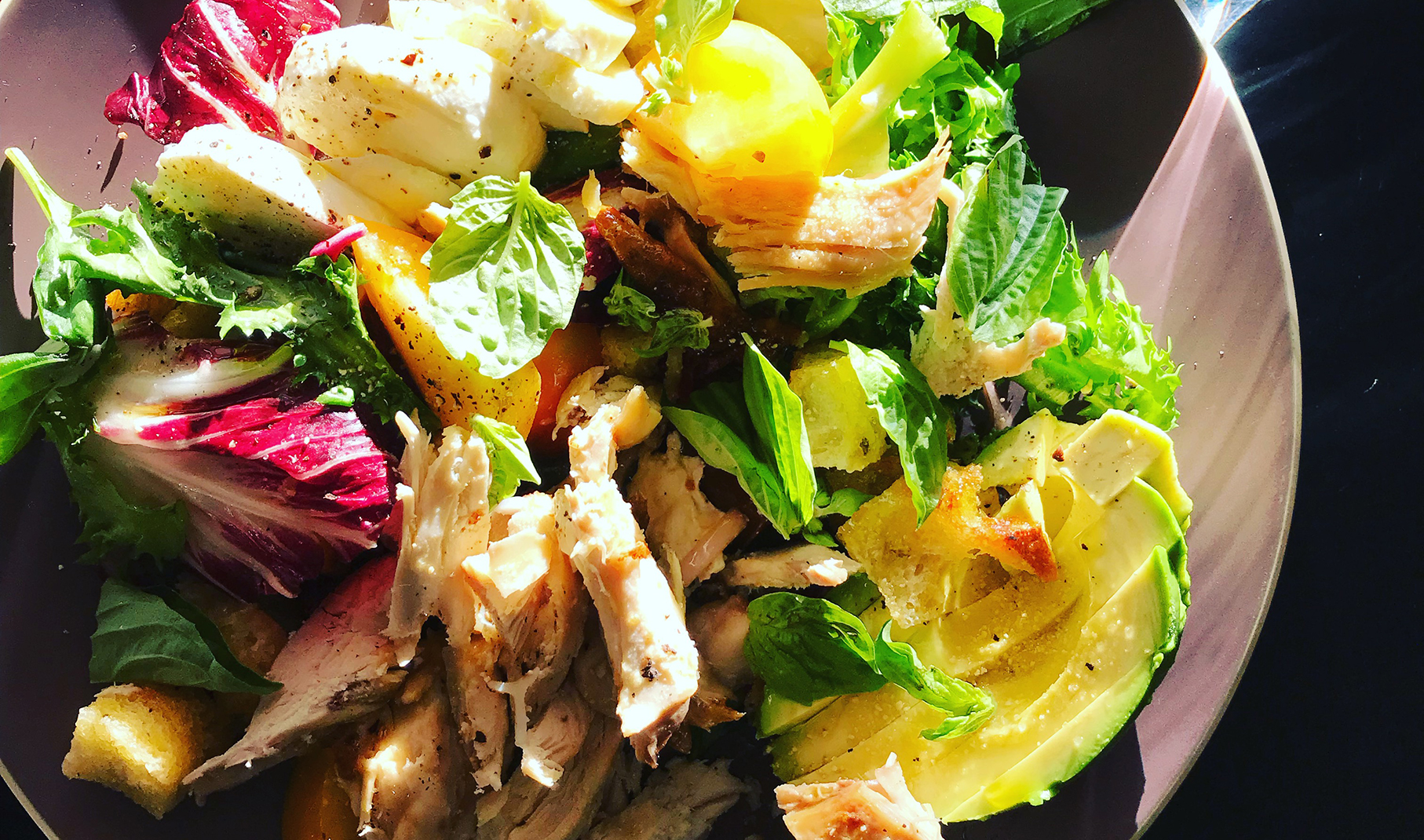 We love a beautiful salad, and this one has all of the components to make it worthy of a meal: hearty roasted chicken, fresh mozzarella, creamy avocado, toasty freshly made croutons, and bright lemon and herb vinaigrette. It's the exact thing you wish for on those nights where you just want something simple.
Making the vinaigrette
I like to mix up simple vinaigrettes at home, so that I can adjust the flavors, salt and sugar to suit my taste. Plus, it's pretty easy to make a super tasty dressing with a touch of high-quality olive oil and fresh lemon juice! I start with a handful of chopped fresh herbs and whisk them into a vibrant combo of citrus, champagne vinegar and olive oil. I prefer champagne vinegar because the flavor is very interesting: mild, slightly sweet and pleasantly tart and sour – without the sharp bite of red wine vinegar. You can also substitute a white balsamic vinegar and still get excellent results. Or, try using a fruit, citrus or honey vinegar, instead.
Varying the salad to your taste
I really like a little radicchio in this salad, as it adds a peppery bitter element to the salad (arugula works as a great substitute). If desired, try a different soft cheese, such as French feta or goat cheese. Felix loves boiled eggs in his salads, but I literally couldn't fit anything else on the board – so, sorry my friend, but no eggs this time! You can add one if you wish; it would fit very well into this mix. Both Felix and I love the ease of buying a store-made roasted whole chicken and shredding it off the bone for this salad. This is totally up to you, though!
Craving grilled salmon instead of chicken? Do it! Need it to be gluten-free? Omit the croutons or use gluten-free bread, instead. Need a vegetarian version? Roast or grill some peppers and onion (or even potatoes) and add them to the greens. This salad and dressing formula makes a great base recipe for you to modify to suit your mood, the season and occasion. Take it and make it your own!
Roasted Chicken and Avocado Salad Recipe
SERVES
4
DIFFICULTY
Easy
PREP TIME
15 min
SPECIAL TOOLS
None
DIET: Can be modified for GF and vegetarian
Roasted Chicken and Avocado Salad Recipe
SERVES: 4
DIFFICULTY: Easy
PREP TIME: 15 min
SPECIAL TOOLS: None
DIET: Can be modified for GF and vegetarian
Ingredients
Lemon-Herb Vinaigrette
¼ c champagne vinegar
1 T fresh basil, chopped (or oregano or chervil)
2 T fresh parsley, chopped
½ t salt
½ t black pepper
2 T fresh lemon juice
½ c extra virgin olive oil
1 T wholegrain or Dijon mustard (optional)
Salad
8 oz mixed salad greens
1 head radicchio, cored and quartered
2 c shredded rotisserie chicken
1 avocado, cored and sliced
½ c cherry or grape tomatoes, halved
6 oz fresh mozzarella, sliced
1 c fresh croutons
Additional
basil leaves, as desired
fresh ground black pepper, as desired
Instructions
Lemon-Herb Vinaigrette
In small mixing bowl, combine all dressing ingredients, except olive oil. Whisk olive oil into dressing in a slow stream until emulsified. Taste and adjust seasonings, as needed. If desired, add a tablespoon of wholegrain or Dijon mustard, and try other herbs in place of the basil, such as oregano or chervil. Set dressing aside until ready to use. If chilled, it will separate and congeal; simply bring back to room temp and shake/whisk together.
Salad
To make croutons, cut day-old bread into cubes and sauté in olive oil until slightly crispy. Add a pinch of salt and pepper and serve warm with salad.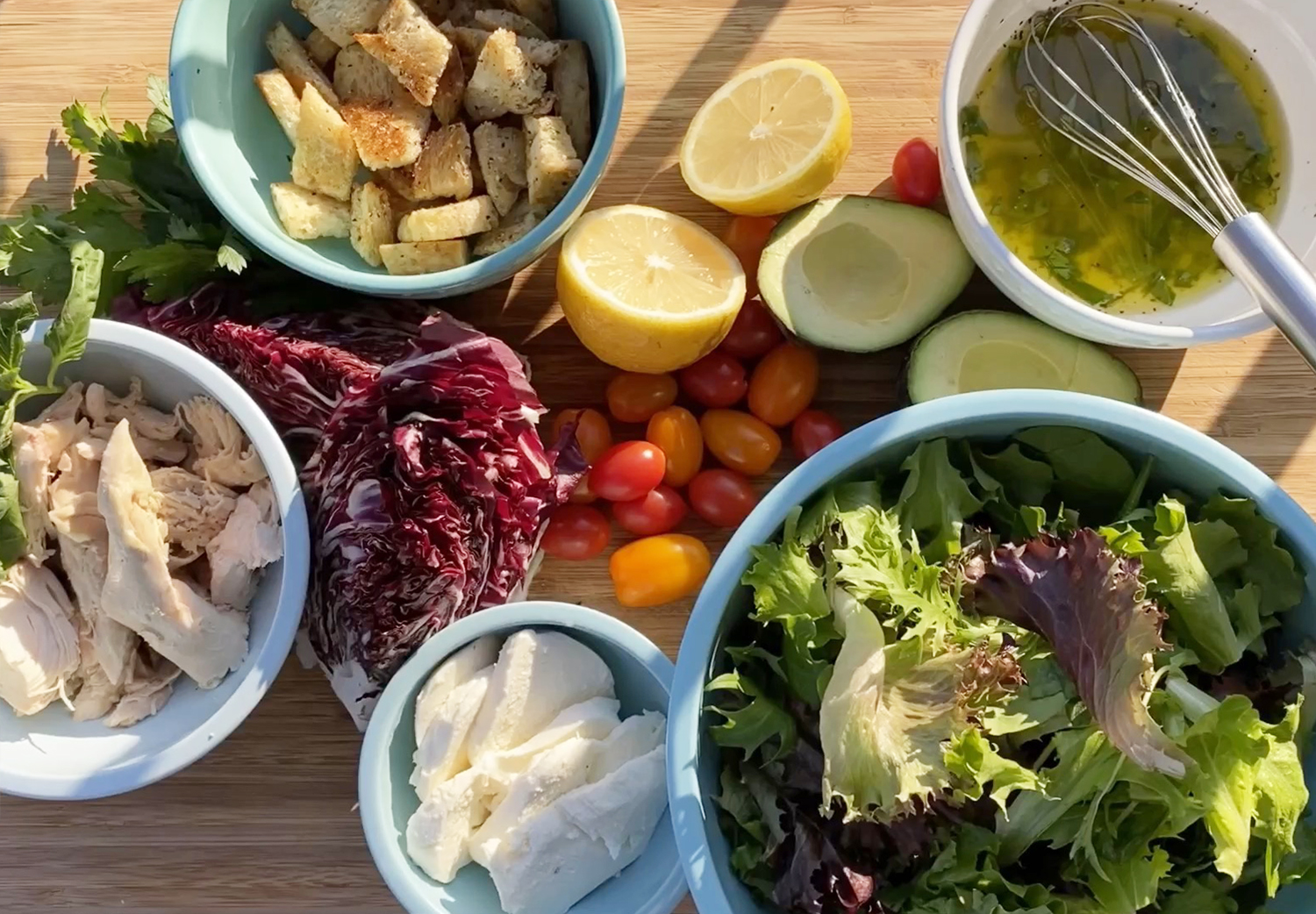 To assemble salad, divide greens among four plates and top each with torn radicchio, ½ c of chicken, ¼ of avocado slices, 8 or so tomato halves, 1 ½ oz mozzarella (or other cheese) and a ¼ c of fresh croutons.
Drizzle with Lemon-Herb Vinaigrette and serve immediately. Top each salad with a few fresh basil leaves and a pinch of fresh ground black pepper, as desired.
Meet the Makers
Felix & Greg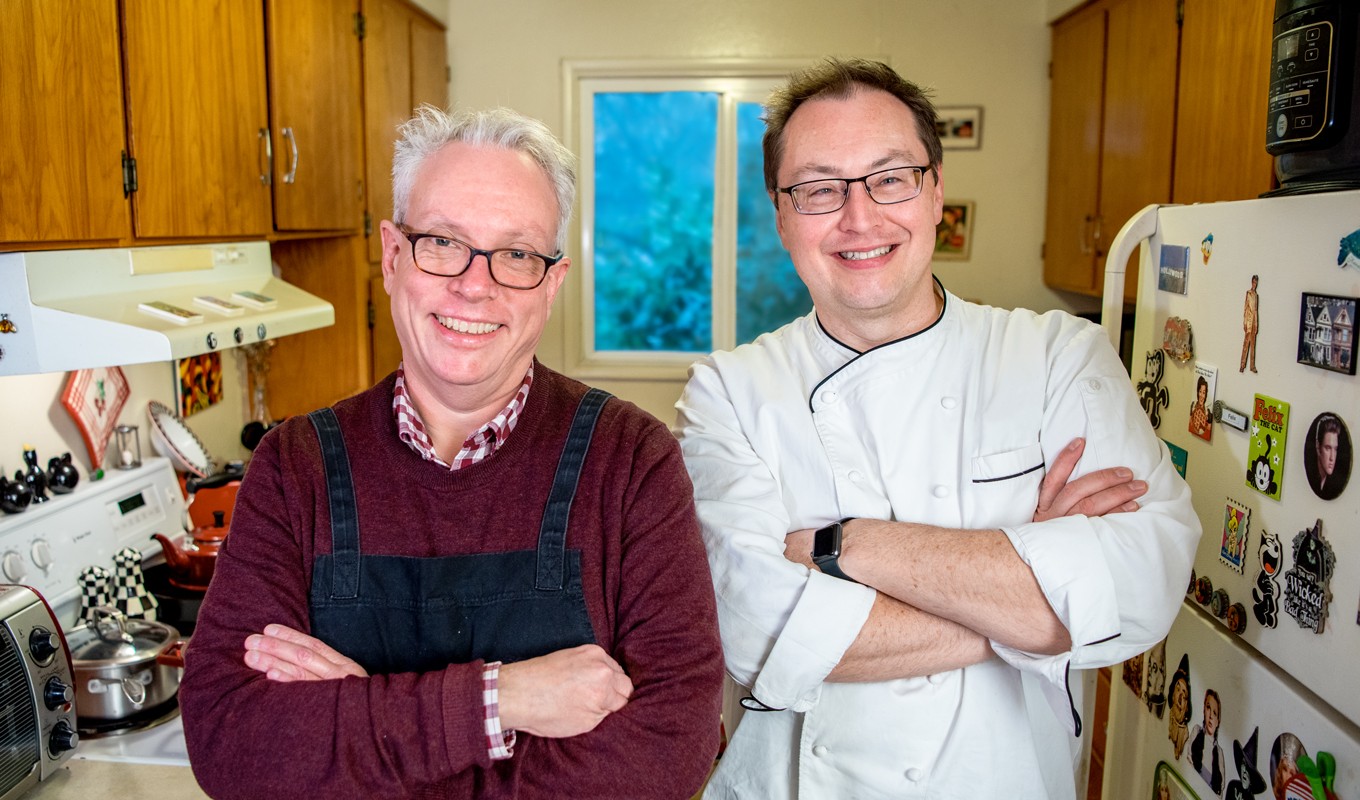 FELIX HUCK
Recipe Creator & Food Photographer
An artist and shutterbug, Felix finds beauty and inspiration in food and nature. He invents and photographs the recipes you'll find here.
GREG CABEZA
Professional Chef & Food Blogger
A food aficionado and lifelong music fan, Greg is an experienced artisan chef. He's also co-recipe creator and food blogger at Felix & Greg.
SUBSCRIBE TO OUR EMAILS
Good ideas could be cooking in your inbox. Sign up for our newsletter.