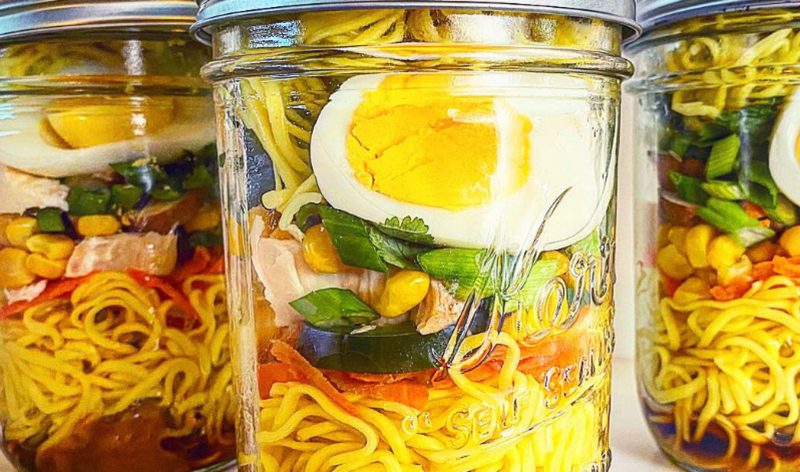 Do we love ramen? YES! Do we want it now? YES! Well, these Right Now Ramen Jars will save the day. All you need is boiling water, a bit of a shake, and you'll have tasty, hot ramen in a flash. These ramen jars are perfect to pack for camping, a trip to the beach or for when you just want to play all day. Or maybe you've worked up an appetite and don't want to wait for a warm meal – these delicious ramen jars are the ticket.
Make Them Your Way
You can make these jars a few days ahead and adjust them to suit your tastes. If you want more heat, go for it. Vegetarian? Simply use a vegetarian bouillon. Felix and I like our ramen spicy, so we've added a bit of sambal here and jalapeños. Sriracha works well, too, or dial back the heat a bit and add some sesame oil for a deeper layer of flavor. If you really want to go all out, add pork loin or pork belly, garlic, ginger and a splash of mirin (Japanese cooking wine). This recipe is a very fun to make with kids. Let everyone build their own jar, and then stash them in the fridge for that time when you feel the need – the need to feed on hot noodles!
Right Now Ramen Jars Recipe
SERVES
3
DIFFICULTY
Easy
PREP TIME
20 minutes
COOK TIME
5 minutes
DIET: Vegetarian (omit chicken, sub vegetarian bouillon)
SERVES: 3
DIFFICULTY: Easy
PREP TIME: 20 minutes
COOK TIME: 5 minutes
DIET: Vegetarian (omit chicken, sub vegetarian bouillon)
Ingredients
3, 12 oz jars with tight-fitting lids
1 T white miso
1 T chicken bouillon
3 T soy sauce or tamari
½ T sambal (chili garlic sauce, or Sriracha, as desired)
1 lb yakisoba noodles
½ c carrots, shredded
1 c frozen corn kernels
1 c shredded chicken
few slices jalapeño
3 sliced mushrooms
2 green onions, chopped
several sprigs cilantro
2-3 hard boiled eggs, peeled, halved
3 c boiling water (when ready to serve)
Instructions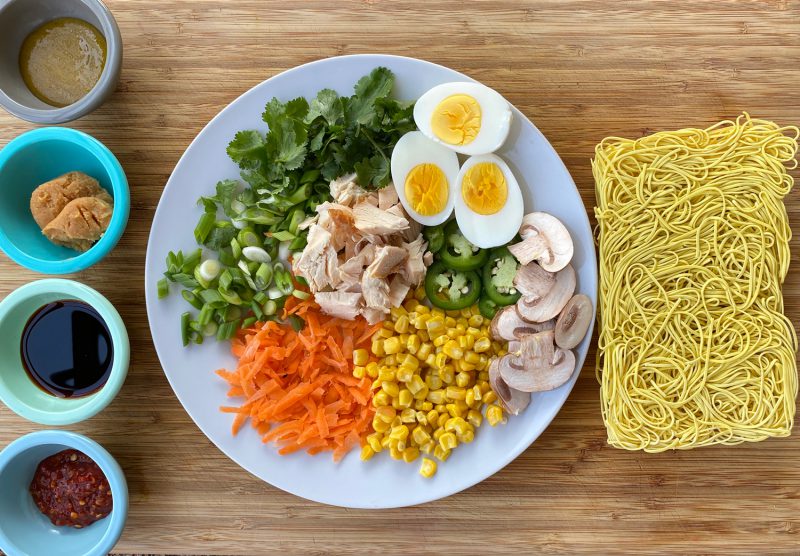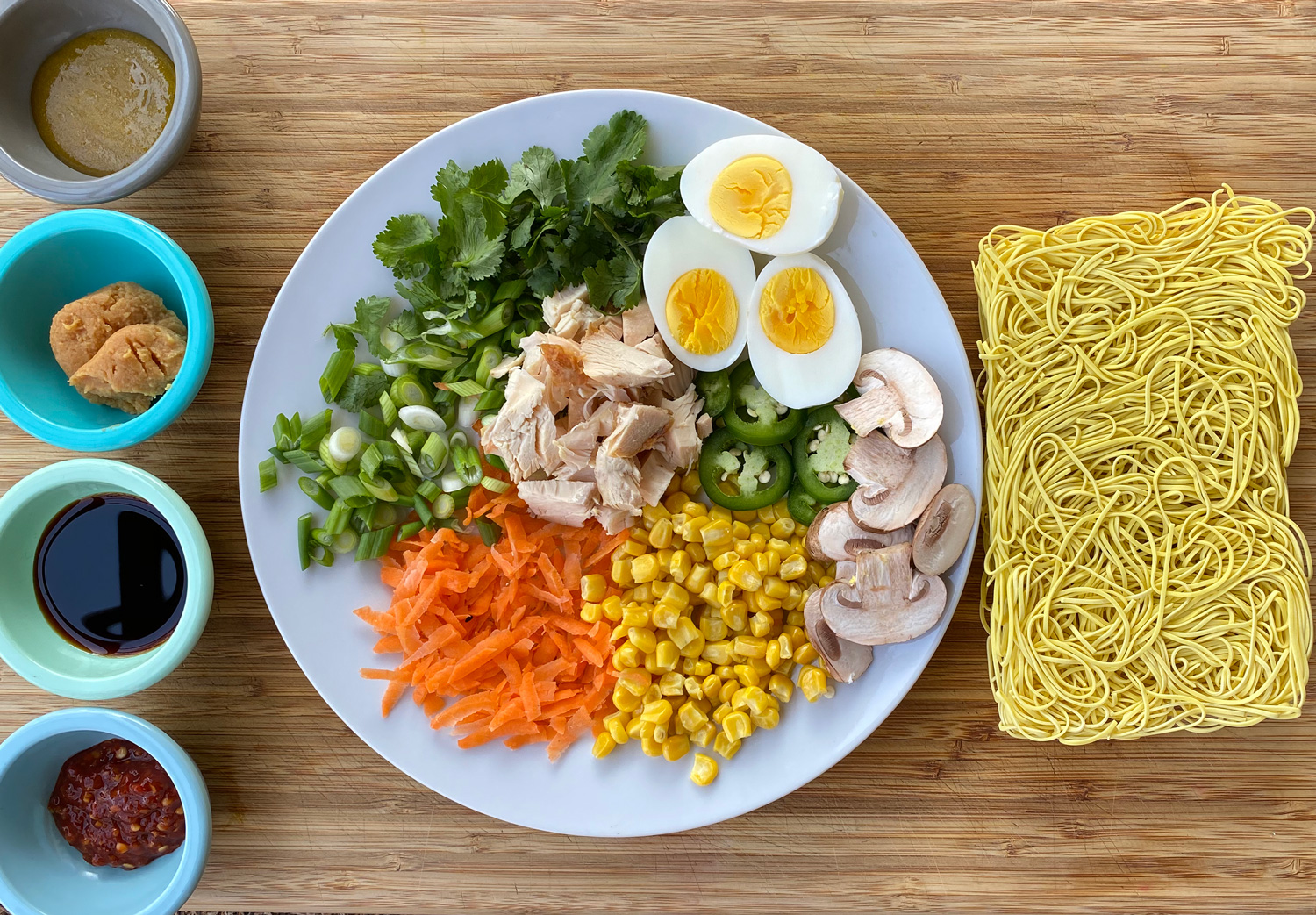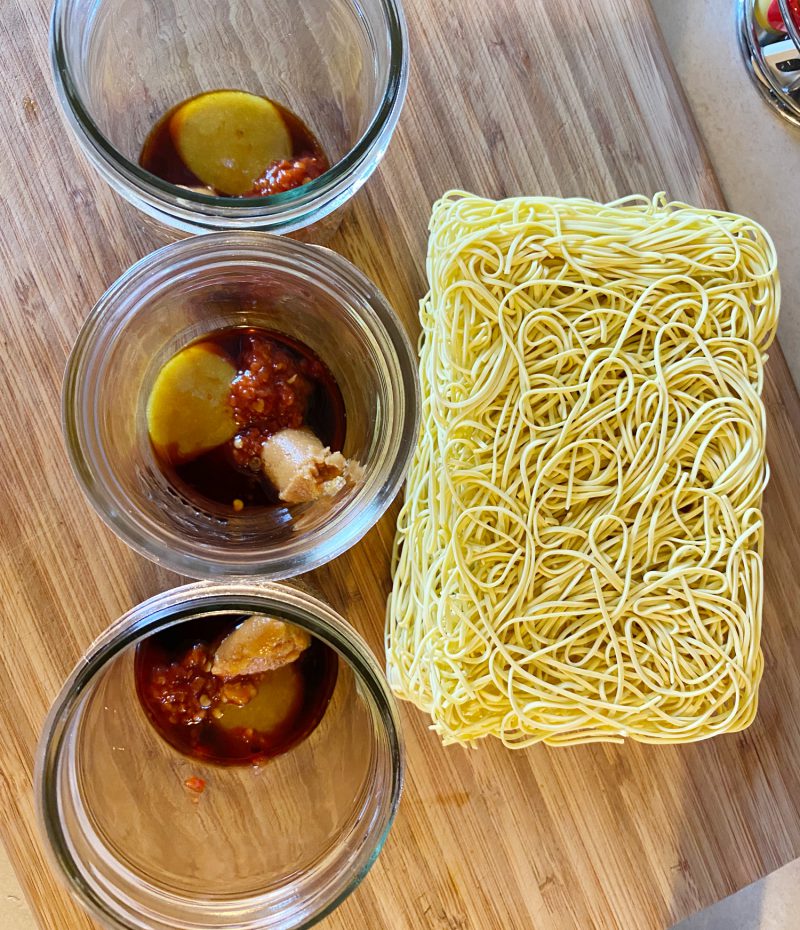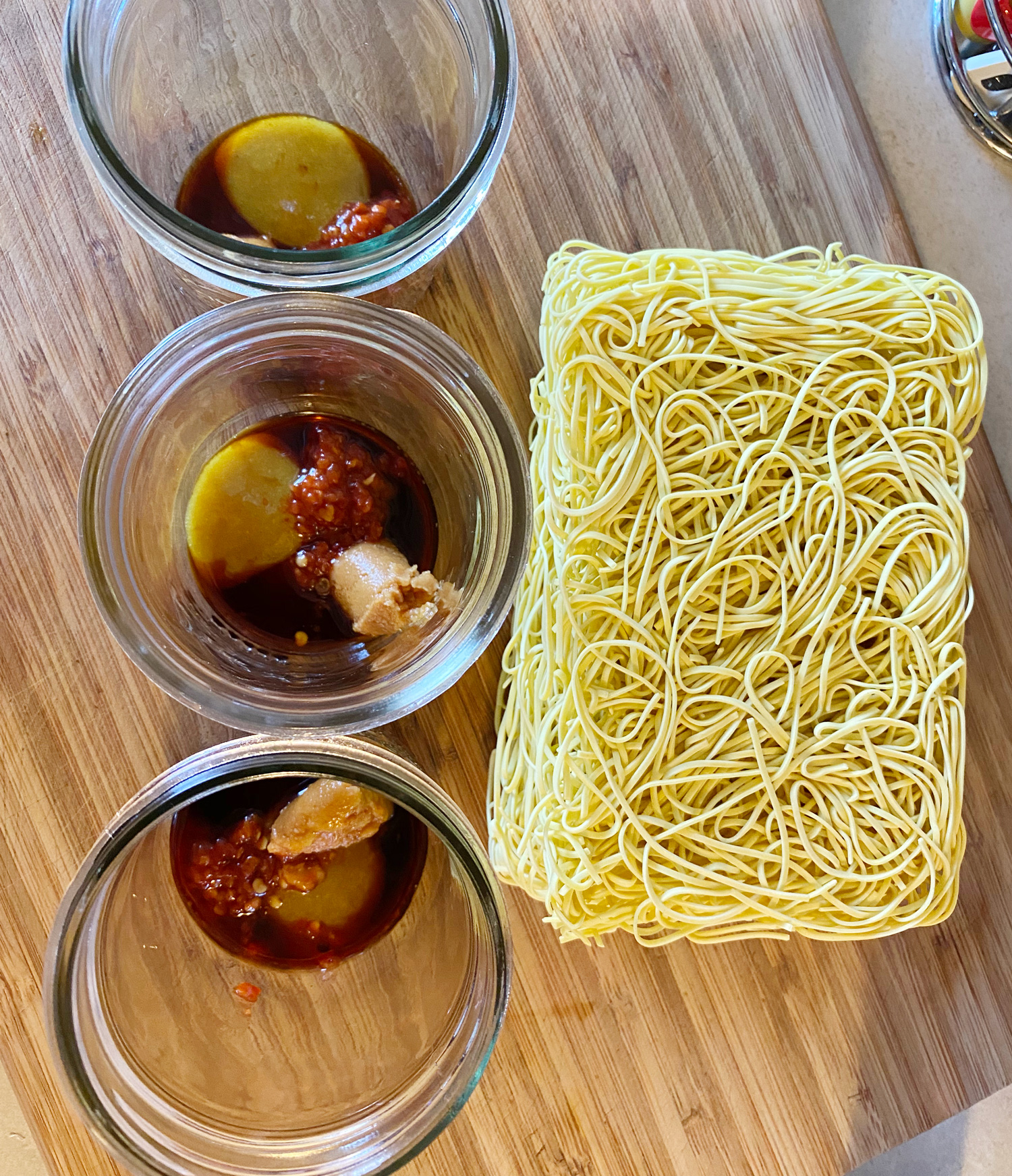 For each jar, add a teaspoon of white miso and bouillon to bottom of jar. Add a tablespoon of soy sauce or tamari. Add chili sauce to taste (¼ to ½ teaspoon as desired). Top with noodles to about half full. Layer with carrots, corn, chicken, jalapeños, mushrooms, onions, cilantro and 1-2 halves of boiled egg. Top with noodles loosely to rim of jar. Seal tightly and chill until ready to use. When ready to eat, add 1 cup of boiling water (approximate) leaving a small gap at top of jar, seal very tightly and shake well to dissolve seasoning on bottom (use a towel to hold jar as it will be hot). Carefully remove cover and enjoy!
Meet the Makers
Felix & Greg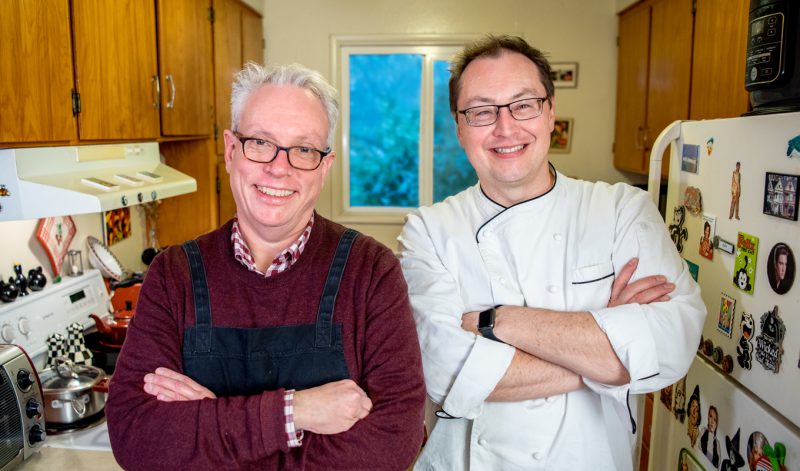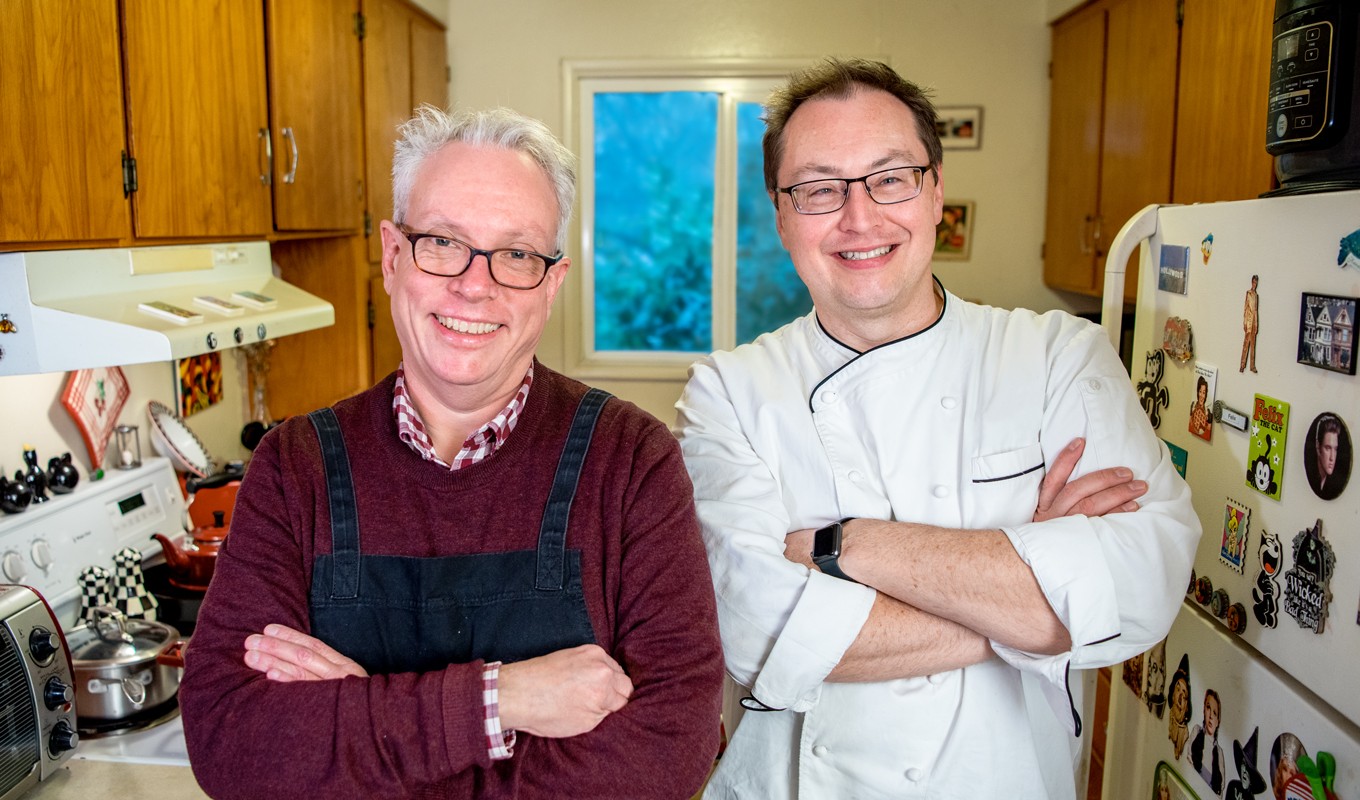 FELIX HUCK
Recipe Creator & Food Photographer
An artist and shutterbug, Felix finds beauty and inspiration in food and nature. He invents and photographs the recipes you'll find here.
GREG CABEZA
Professional Chef & Food Blogger
A food aficionado and lifelong music fan, Greg is an experienced artisan chef. He's also co-recipe creator and food blogger at Felix & Greg.
SUBSCRIBE TO OUR EMAILS
Good ideas could be cooking in your inbox. Sign up for our newsletter.