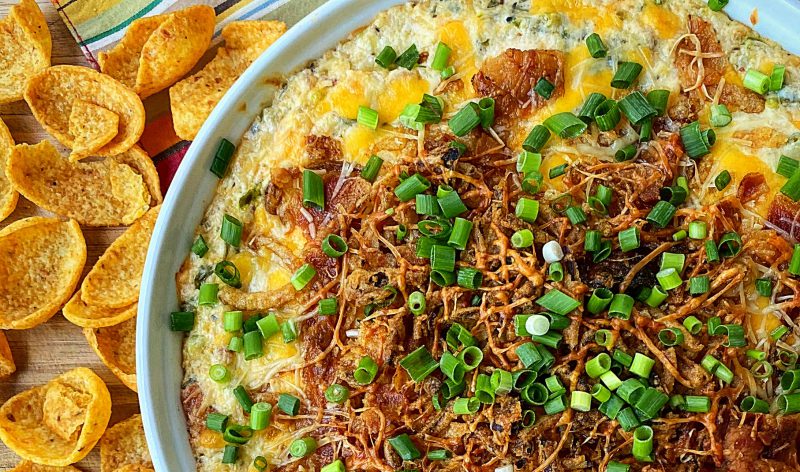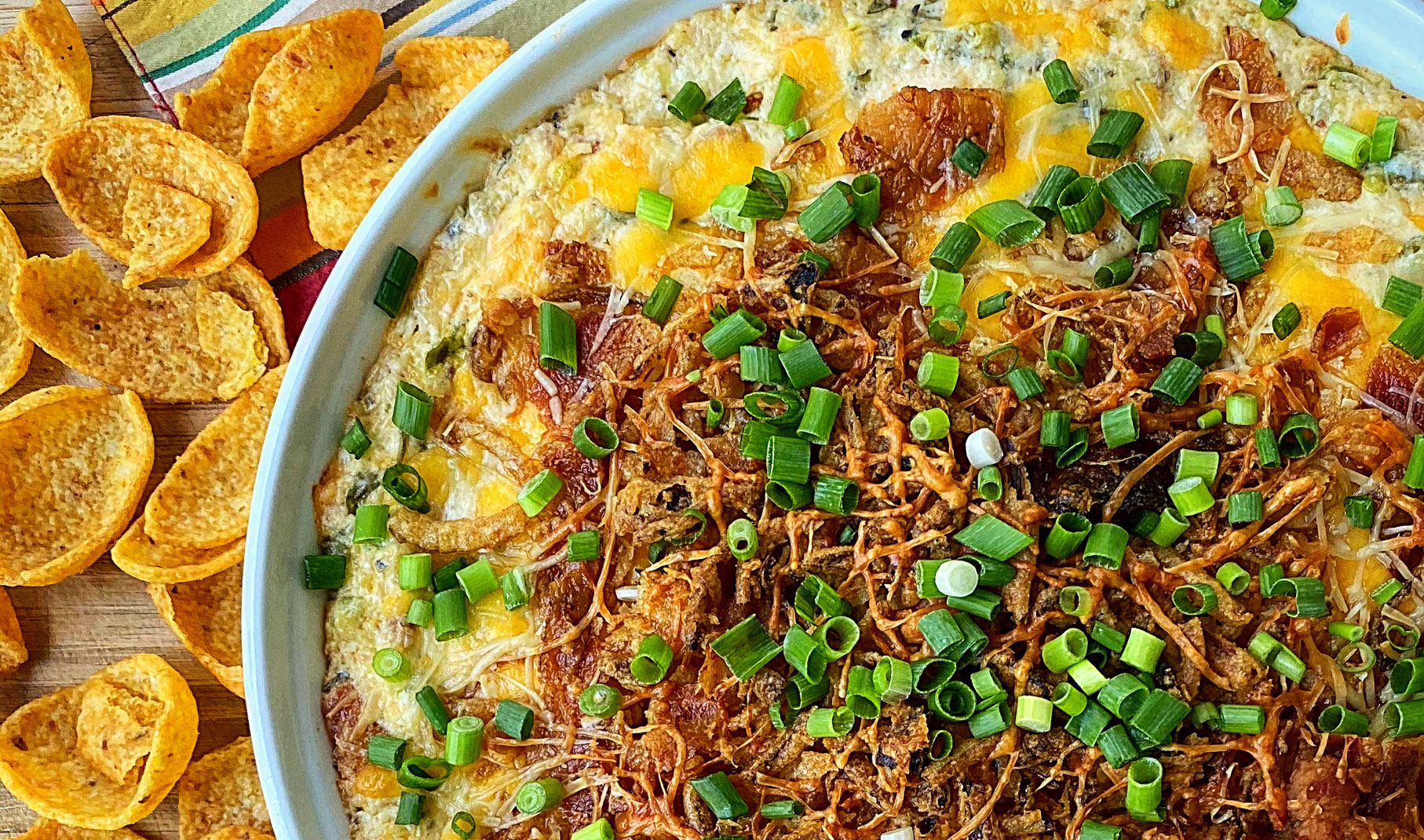 We love jalapeño poppers! And fried onions and hot sauce and sharp cheddar and BACON! Mmmmmmm … And you know what we love even more? All of those things together! We put them together, pop it all into the oven and bake until bubbling and golden brown, then we scoop it up with a pile of chips!
This dip is so much more than the simple title suggests, and it will easily become one of your favorite go-to recipes for any get-together. This recipe makes enough for about eight people and can be easily doubled. It's perfect for football season or holiday gatherings. And you can mix it a few days ahead, then bake it when ready. Be ready for the crowd to go wild and be sure to make enough for yourself. You'll be the hero when they get a taste of it.
We would suggest throwing on some spicy funk rock from The Red Hot Chili Peppers when whipping it up – Felix often used to bump into the band's singer, Anthony Kiedis, when he lived in L.A. and worked at the Beverly Center! Make sure to shake and give a kick when adding that hot sauce, and "Give it away, give it away, give it away, now!
Red Hot Chili Popper Dip Recipe
SERVES
8
DIFFICULTY
Easy
PREP TIME
15 min
COOK TIME
30 min
DIET: GF, Keto
Red Hot Chili Popper Dip Recipe
SERVES: 8
DIFFICULTY: Easy
PREP TIME: 10 min
COOK TIME: 30 min
DIET: GF, Keto
Ingredients
16 oz cream cheese, room temp
1 c mayo
1 c sour cream
7 oz can diced green chilies
1 c pickled jalapeños, diced
1 c crispy bacon, chopped
5 green onions, chopped
1 c sharp cheddar, grated
½ c cilantro, chopped
¼ t hot sauce, or more to taste
1 can fried onions
1 c shredded Parmesan
Instructions
Using a mixer, combine cream cheese, mayo and sour cream. Stir in green chilies, jalapenos, and bacon, reserving a bit for garnish. Add green onions, cheddar, cilantro and hot sauce (again, reserve a bit of each for garnish). Taste and adjust the spice level – we like it a bit hot! Scoop into a baking dish, topping with reserved bacon, cheddar, fried onions and Parmesan. Bake at 350° for 30 min, until bubbling and golden brown. Top with reserved bacon, cheddar, green onions, cilantro and a few dashes of hot sauce (or Tajin seasoning!), if desired. Serve with plenty of chips and cold drinks.
Meet the Makers
Felix & Greg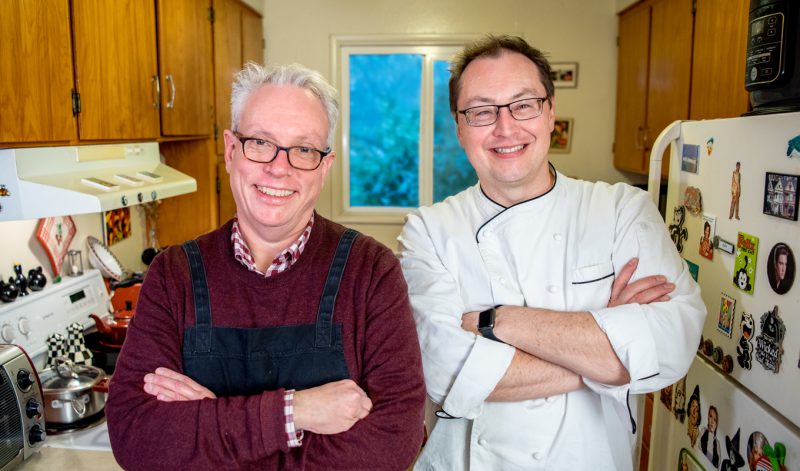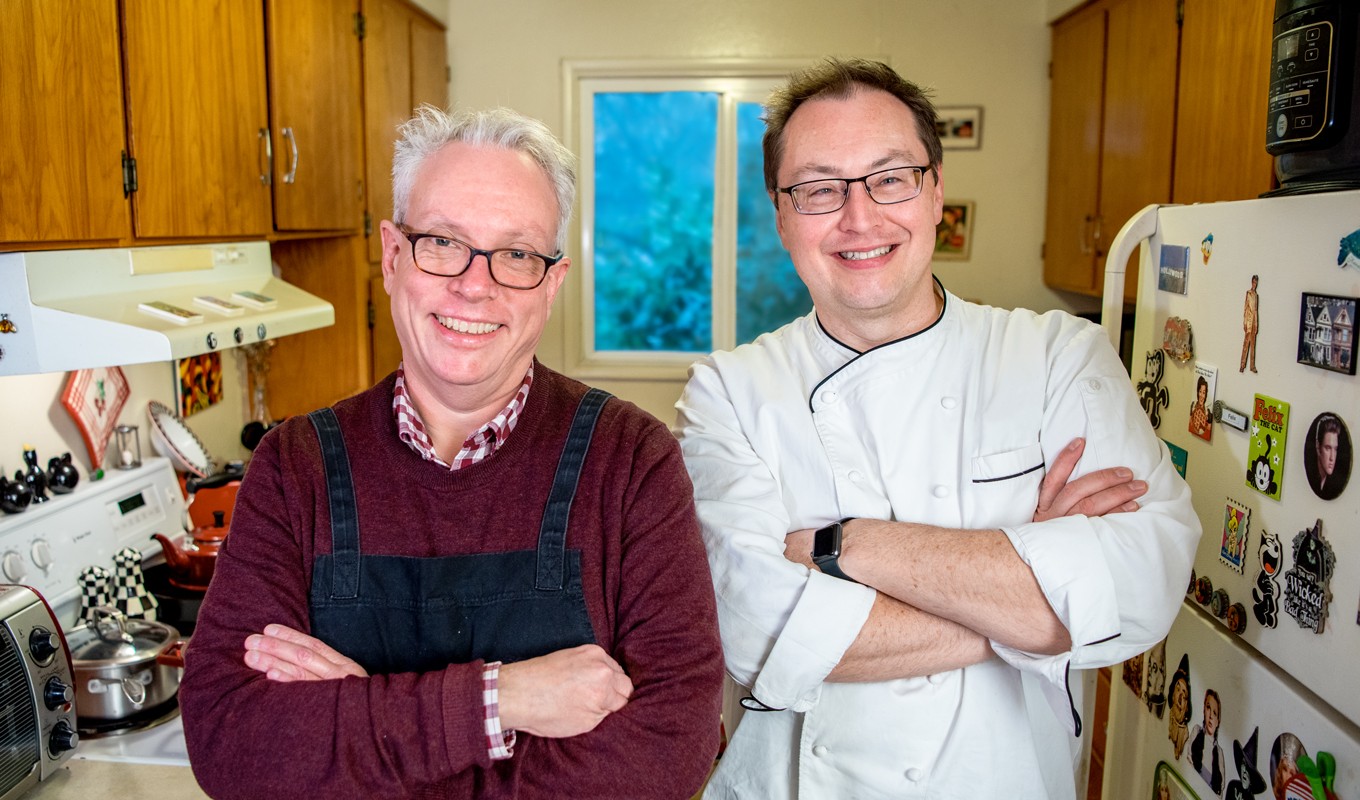 FELIX HUCK
Recipe Creator & Food Photographer
An artist and shutterbug, Felix finds beauty and inspiration in food and nature. He invents and photographs the recipes you'll find here.
GREG CABEZA
Professional Chef & Food Blogger
A food aficionado and lifelong music fan, Greg is an experienced artisan chef. He's also co-recipe creator and food blogger at Felix & Greg.
SUBSCRIBE TO OUR EMAILS
Good ideas could be cooking in your inbox. Sign up for our newsletter.