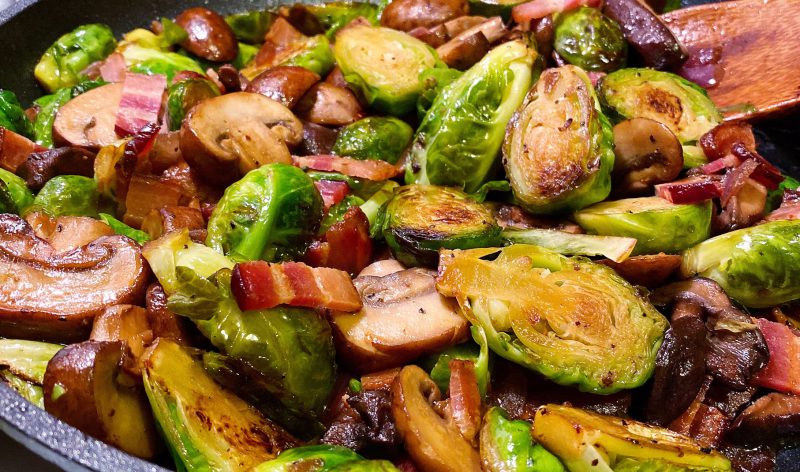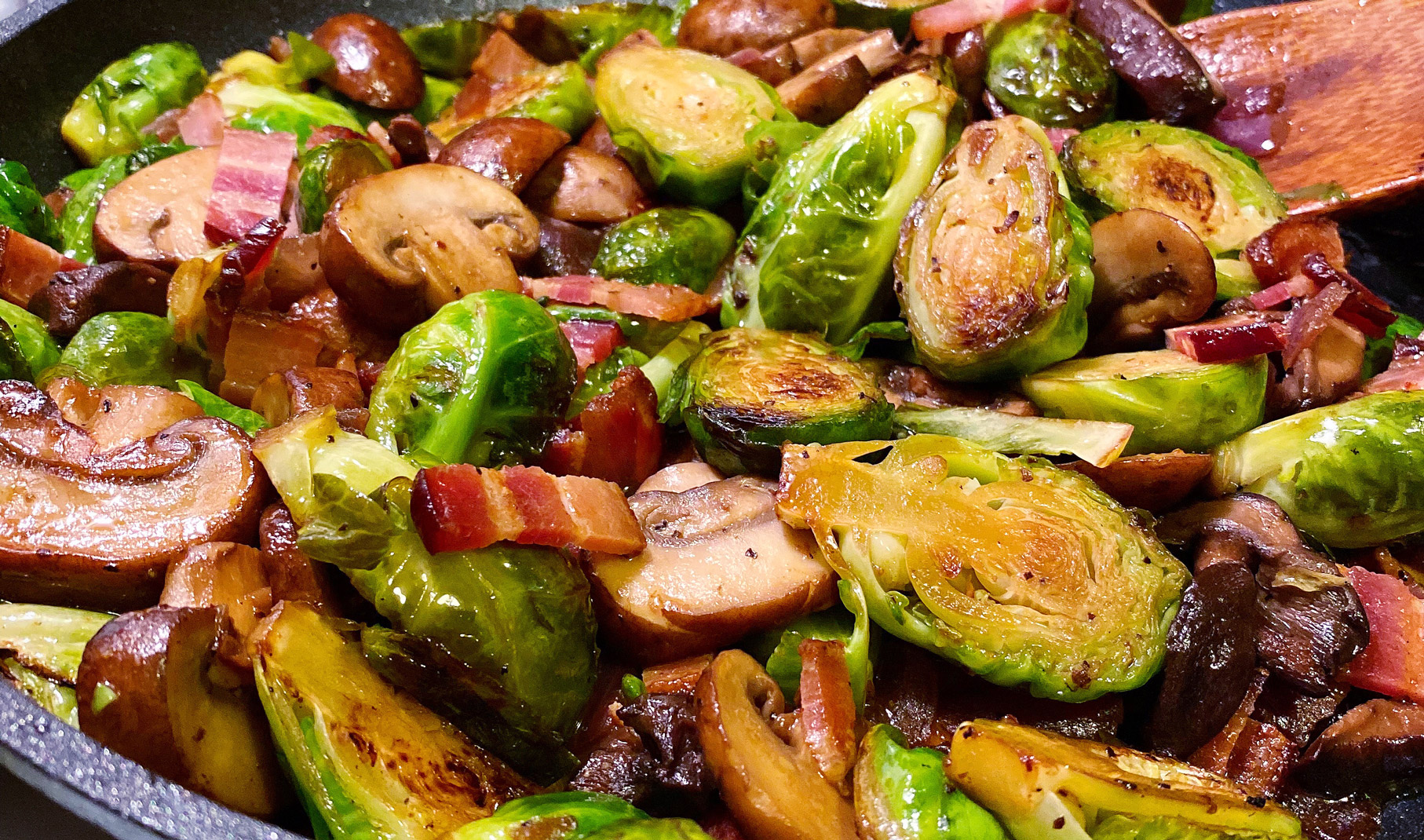 Back when we were kids, Brussels sprouts were not our favorite vegetable on the menu. However, we have grown to love them, especially during the holidays. This recipe is so easy to prepare with just a few simple ingredients. It tastes so amazing that you'll be falling for Brussels sprouts, too. They are loaded with bacon, mushrooms, onions, garlic and butter, so we wouldn't exactly call this a "vegetable side." It's more of a delicious partner to turkey, ham or prime rib. Just serve alongside some piping hot mashed potatoes, and the crowd will go bonkers for more. When they ask where you got the recipe, tell them Felix and Greg! We hope you all have a happy and tasty holiday season!
Pan-Roasted Brussels Sprouts with Mushrooms and Bacon Recipe
SERVES
6
DIFFICULTY
Easy
PREP TIME
20 min
COOK TIME
30 min
DIET: Keto
SERVES: 6
DIFFICULTY: Easy
PREP TIME: 20 min
COOK TIME: 30 min
DIET: Keto
Ingredients
½ lb bacon, chopped
1 med red onion, chopped
¼ c butter
2 T olive oil
2 cloves garlic, minced
½ lb cremini mushrooms, sliced thick
1 lb Brussels sprouts, halved
1 T soy sauce
1 T Worcestershire sauce
Pinch each salt and pepper, to taste
Instructions
Sauté bacon pieces in a hot skillet until mostly crisp. Remove from pan and reserve. Add onion, butter and olive oil to skillet, cooking until tender, 3 min. Add garlic and mushrooms and cook 3 min more. Remove onion mixture from pan, leaving oil, and reserve. Add Brussels sprouts to hot pan and sauté until slightly charred and softened in center, 8 min or so. Add sauces, pinch salt and pepper, onion mixture and bacon, and stir to combine. Serve immediately.
Meet the Makers
Felix & Greg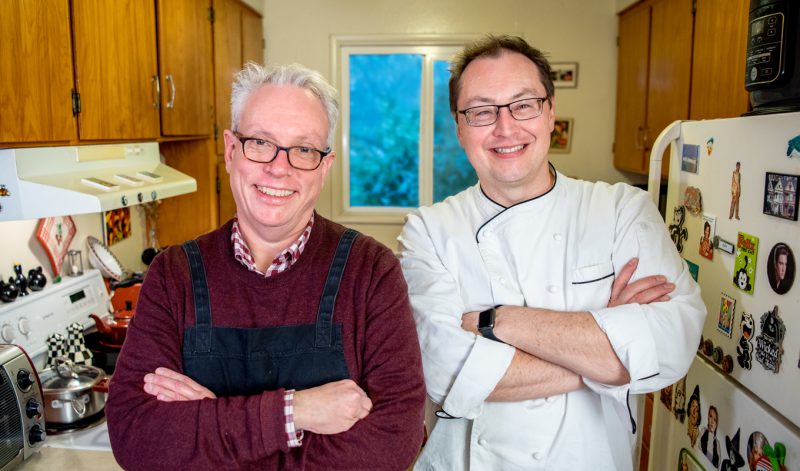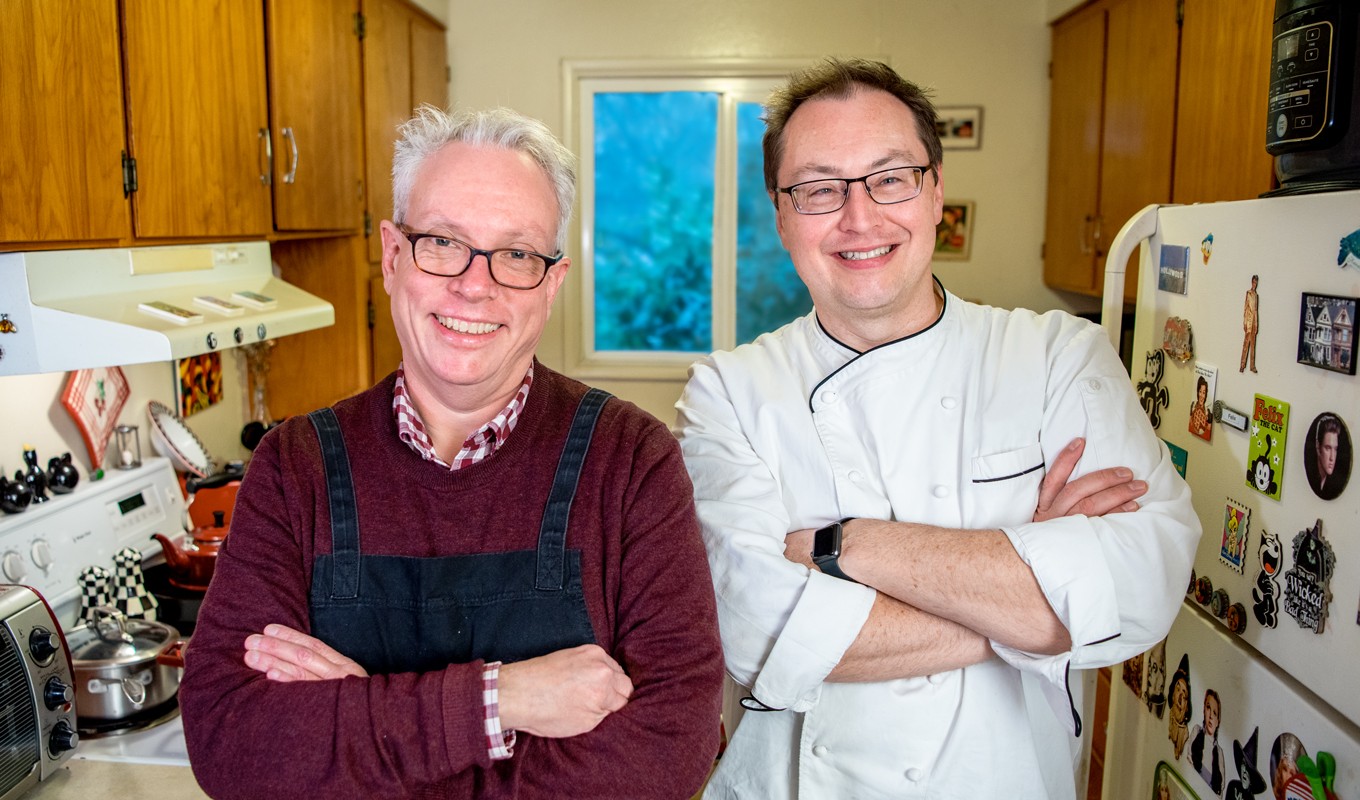 FELIX HUCK
Recipe Creator & Food Photographer
An artist and shutterbug, Felix finds beauty and inspiration in food and nature. He invents and photographs the recipes you'll find here.
GREG CABEZA
Professional Chef & Food Blogger
A food aficionado and lifelong music fan, Greg is an experienced artisan chef. He's also co-recipe creator and food blogger at Felix & Greg.
SUBSCRIBE TO OUR EMAILS
Good ideas could be cooking in your inbox. Sign up for our newsletter.