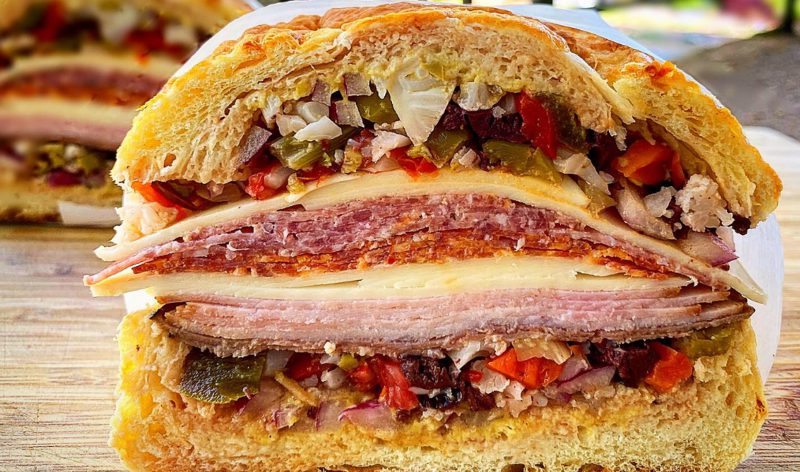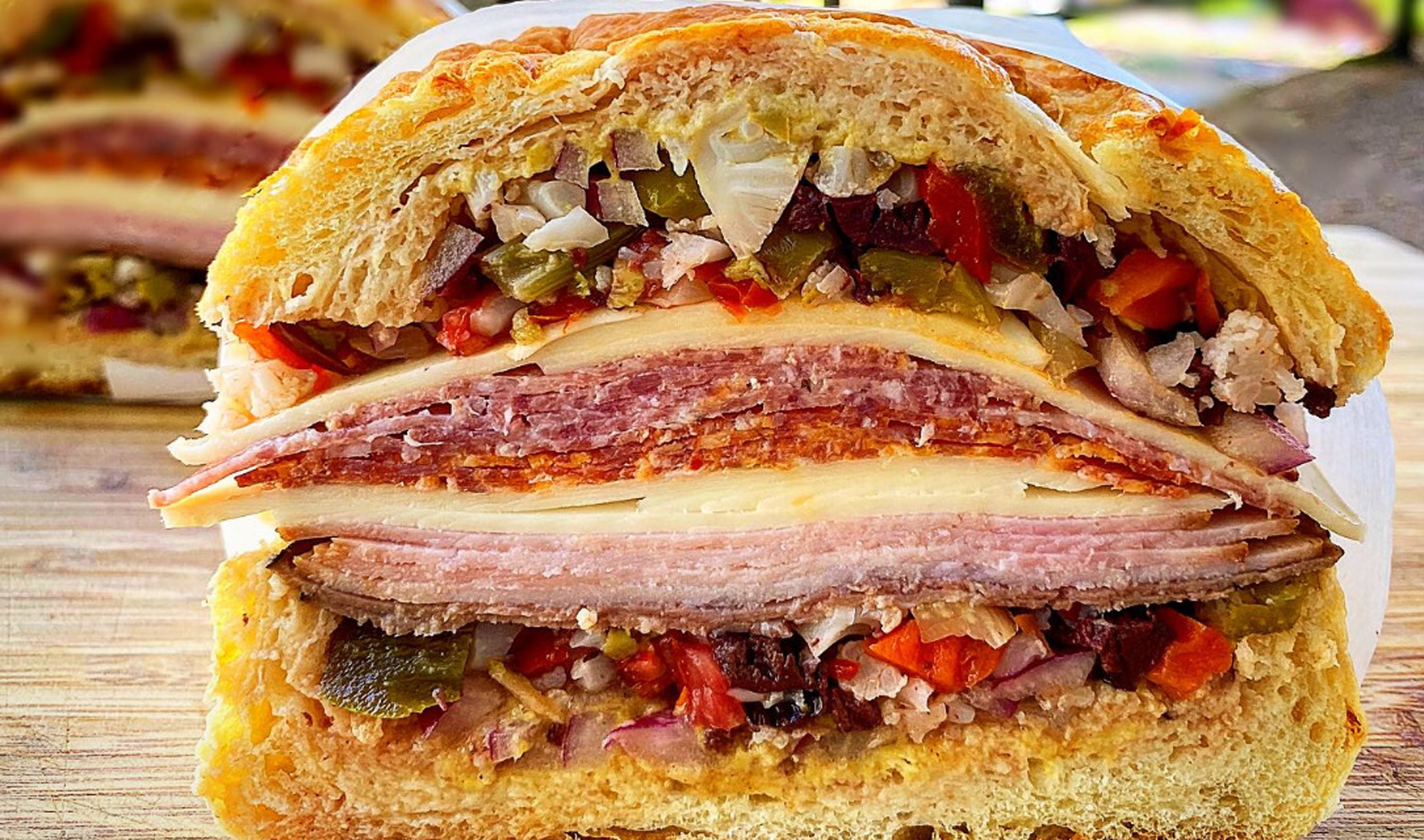 "What's a muffuletta?" is a question we often hear. Well, it's a sandwich, but oh-oh-oh whatasandwich it is! Muffulettas have become legendary, stemming from their New Orleans roots, where an Italian-style grinder got mixed up with some jazz, Delta blues and soul, and now here we are, in Sandwich Heaven.
For those who have never tasted such perfection, we insist you try one as soon as you are done reading this. A muffuletta is a work of art, a dreamy amalgamation of great artisan bread layered with Italian meats, sliced cheeses, high-quality mustard, Old World olives and giardiniera vegetables, which all sounds so simple when broken down as such, however, this is definitely one of those equations that defies logic and becomes something much greater than the sum total of its parts. This sandwich has become iconic as a New Orleans staple since its inception in 1906 — and for good reason. Start with a killer loaf of round Italian bread from a local bakery (don't skimp on this!). Cut it in half, hollow a bit out of the center, and fill it with the best mustard, meats, vegetables and cheeses you can find!
Felix made this one day, after we shot a big charcuterie board and had lots of capicola, salami, and cheese leftover. He texted the photo of his creation and asked, "Would you like some…?" I think I was knocking down the door before he put his phone down. I made it there in minutes, knowing how incredible this treat was going to be, and I was right!
Our recipe takes only minutes to assemble and can be shared at get-togethers, or better yet, serve half and save half in the fridge — it actually gets better as the crusty bread softens and soaks up all of the vinegar and the meats and cheese marry in all of that glorious olive oil and seasonings overnight. One thing to note, this ain't no small thing, so don't expect a dainty tea sandwich! A muffuletta should be held high and feasted upon with glory and a grin while banging on a big old drum and dancing down the street, for real. Get yours and you'll understand. This is a divine sandwich, and the gospel of the muffuletta must be shared. Hallelujah! Mmmmmhmmm.
Muffuletta Sandwich Recipe
SERVES
4
DIFFICULTY
Easy
PREP TIME
15 min
CHILL TIME
3 hr
DIET: None
Muffuletta Sandwich Recipe
SERVES: 4
DIFFICULTY: Easy
PREP TIME: 15 min
CHILL TIME: 3 hr
Ingredients
1 lg loaf artisan, Italian bread
16 oz jar Italian giardiniera vegetables (pickled mix)
½ c Kalamata olives or other, pitted, halved
¼ c extra virgin olive oil
¼ c Dijon mustard
¼ lb Genoa Salami or Dry Italian, sliced very thin
¼ lb deli ham, sliced very thin
¼ lb capicola, sliced very thin (or sub pepperoni)
¼ lb provolone, sliced thin (or sub mozzarella)
Instructions
Slice bread loaf in half, horizontally. Hollow out a bit of the center, leaving about 1" of bread all around. Chop vegetables and olives to a mince. Toss with olive oil and reserve. Spread mustard on top and bottom halves of bread, then divide vegetable mixture between each half. Layer with meats and cheeses. Bring halves together, wrap tightly in plastic wrap and refrigerate, weighted with a heavy plate, for 3 hours or more; this allows bread to absorb juices and oil and soften. This sandwich can be made a day ahead for gatherings, road trips, picnics or hot summer nights when cooking is out of the question. Serve with cold drinks, chips and Italian sodas.
Meet the Makers
Felix & Greg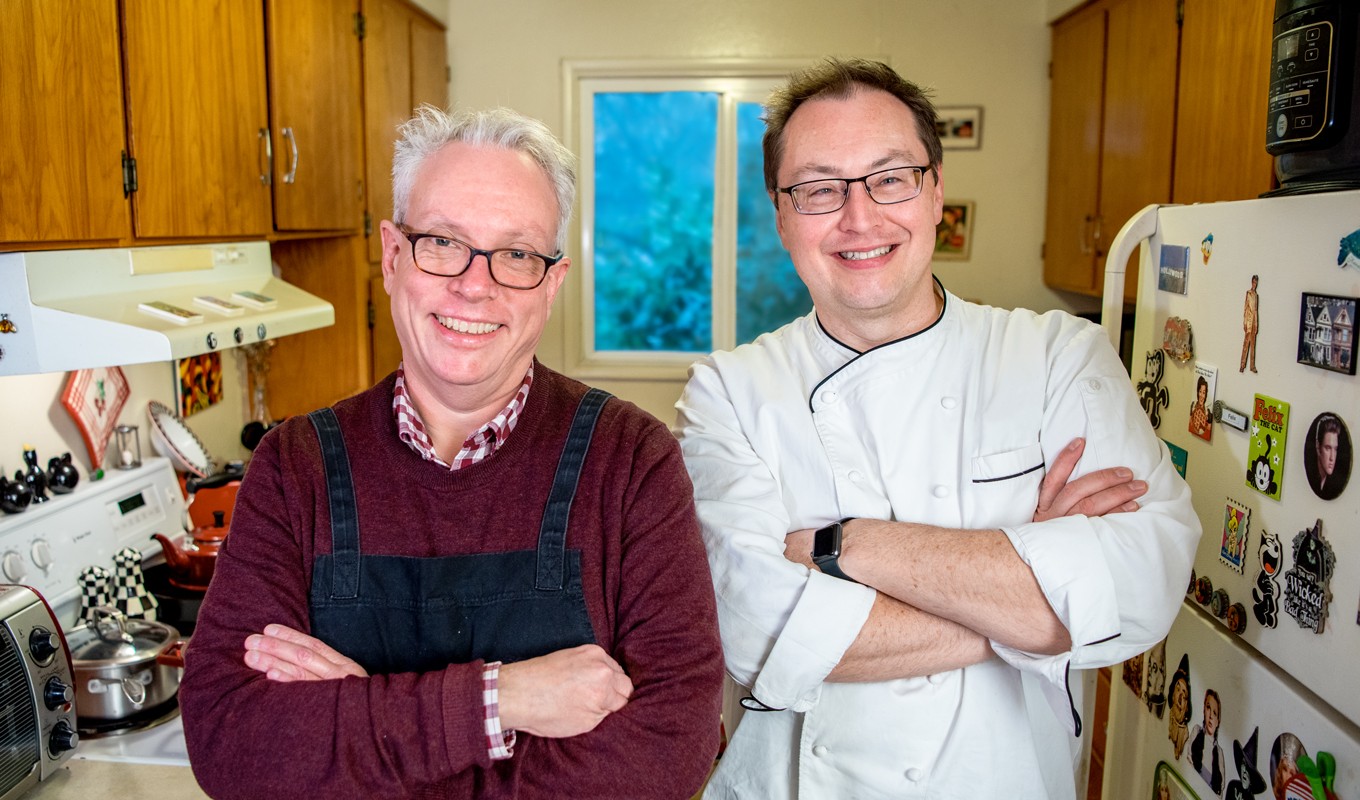 FELIX HUCK
Recipe Creator & Food Photographer
An artist and shutterbug, Felix finds beauty and inspiration in food and nature. He invents and photographs the recipes you'll find here.
GREG CABEZA
Professional Chef & Food Blogger
A food aficionado and lifelong music fan, Greg is an experienced artisan chef. He's also co-recipe creator and food blogger at Felix & Greg.
SUBSCRIBE TO OUR EMAILS
Good ideas could be cooking in your inbox. Sign up for our newsletter.