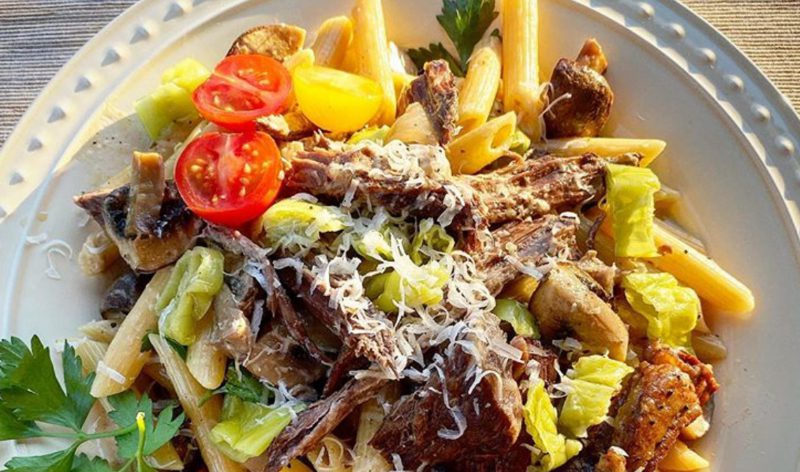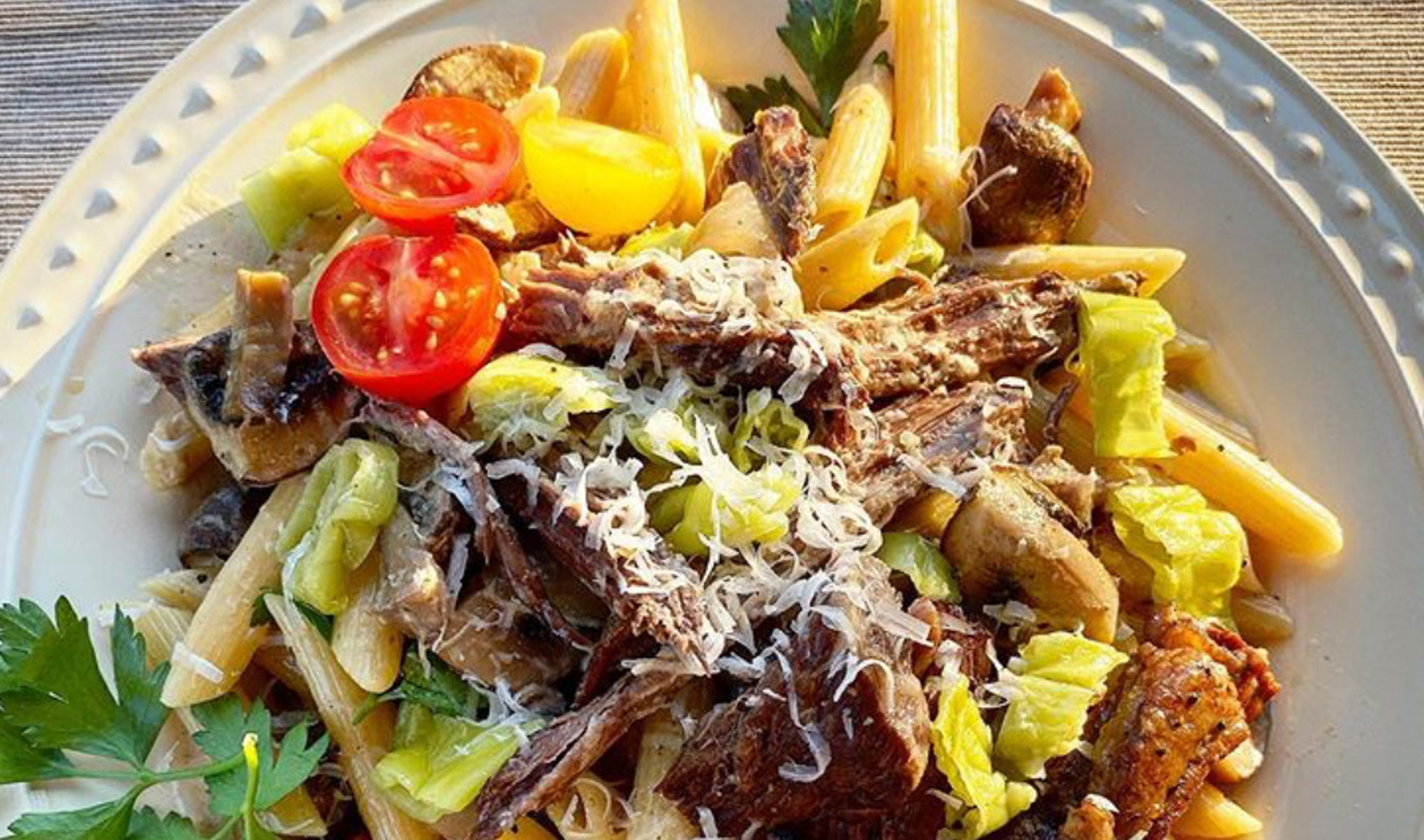 Mmmmmm…Mississippi Pot Roast! What? You've never heard of Mississippi Pot Roast ? Well, you are in for a real treat, my friend. Let Felix and me share with you this delicious way of making a beef roast—it will change the way you crave roast forever, seriously! What makes this recipe so unique is the generous number of pepperoncini and the juice that they are packed in, along with a good glug of vodka and a hefty spoonful of ranch seasoning. This trio gives the roast deep flavor and makes it perfect for serving over pasta, especially a large cut, like rigatoni, which is how it is usually enjoyed. Use the leftovers for a toasty sub sandwich with peppers, onions and provolone. Leftover pot roast sandwiches are really, really good! So, consider doubling the recipe to allow for several servings, lunch the next day, and plenty to make those sammies—if it lasts that long.
Choosing a roast
Three pounds of raw roast turns into only about half as much cooked (approx. 4 servings), so using a larger chuck roast with a high fat content is ideal because it results in a tender, juicy melt-in-your-mouth meal. Rump roast is a good substitute, but it has less fat—add a bit of butter if you go that route (1 T per pound should do it). Cut your roast into 2-3 pieces, season all over with salt and pepper, and sear the heck out of it.
Tip: The browning step for the meat is important. Don't worry about the pot starting to get browned bits stuck to it. Those deeply flavorful magic nuggets season the roast later when you add vodka and broth.
What ingredients to use
If you like garlic, add more—it's good for the body and soul! Don't forget to add bay leaves. We always buy bay leaves from the bulk department of the supermarket, so they are as fresh as possible and aren't sitting around in our cupboard for a year or more and losing their flavor. Traditionally, a larger pasta serves as the base for this recipe, but it's just as good with some mashed potatoes, peas and carrots. It really is our favorite pot roast recipe, especially when we want something different, but easy. We think you're going to love it!
Mississippi Pot Roast Recipe
SERVES
4
DIFFICULTY
Easy
PREP TIME
15 min
COOK TIME
approx. 3 hr
SPECIAL TOOLS
Heavy roasting pan with lid
DIET: GF (if substituting a gluten-free pasta)
Mississippi Pot Roast Recipe
SERVES: 4
DIFFICULTY: Easy
PREP TIME: 15 min
COOK TIME: approx. 3 hr
SPECIAL TOOLS: Heavy roasting pan with lid
DIET: GF (if substituting a gluten-free pasta)
Ingredients
3 lb pot roast (chuck roast or rump roast), seasoned generously with salt and pepper on all sides (approx. 1 T ea)
1 T ea salt and pepper, to season roast
3 T olive oil
1 lg onion, chopped
3 T garlic cloves, crushed (or more, as desired)
1 pkg (1 oz) ranch dressing mix
½ t ea salt and pepper
⅓ c brown sugar
2 bay leaves
⅓ c vodka
2 c beef broth
10 pepperoncini, whole
½ c pepperoncini juice
8 oz crimini mushrooms, quartered
1 lb (raw weight) penne or rigatoni pasta, cooked al dente in salted, boiling water according to package directions
fresh parmesan, for garnish
cherry or grape tomatoes, for garnish
fresh parsley, for garnish
Instructions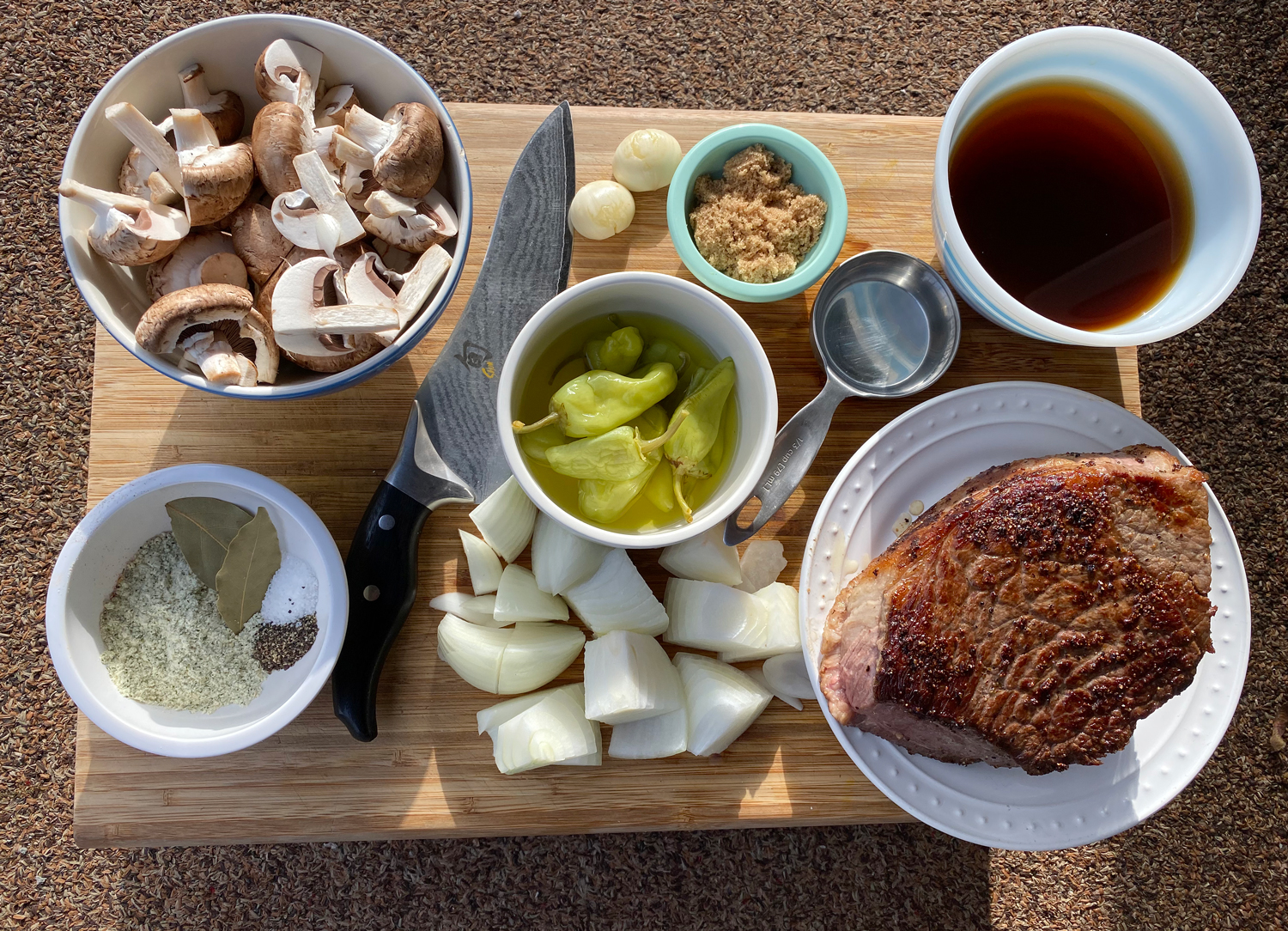 Gather ingredients. Preheat oven to 325°. Season beef generously on all sides with salt and pepper.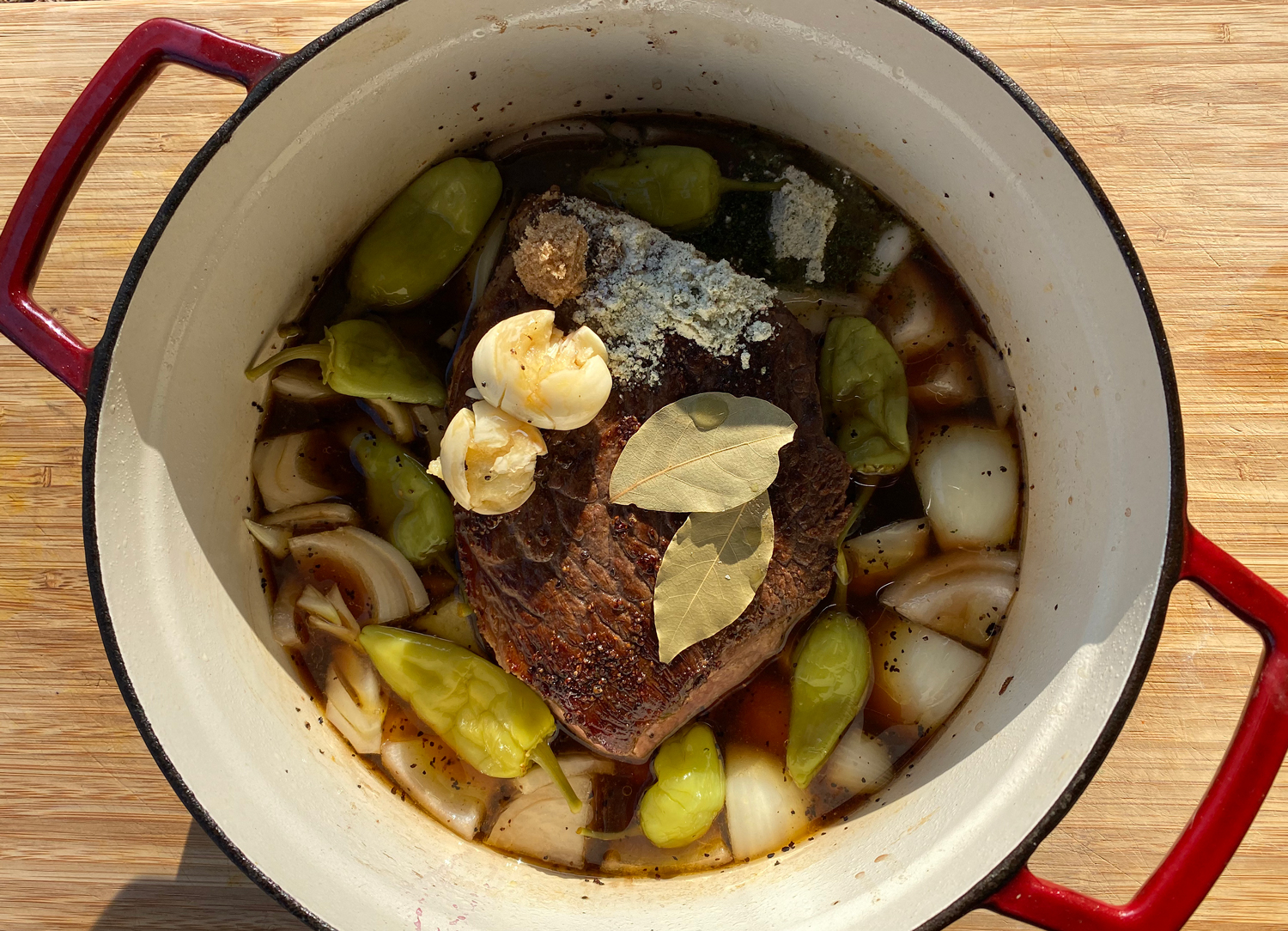 In a large, heavy-bottomed pot with a tight-fitting lid (we love enameled pots!), heat the olive oil until shimmering. Sear seasoned beef on all sides (cut beef in half, if necessary). Remove roast from the pot and set aside.
Immediately add onions and garlic and sauté for 2 min. Add vodka and reduce by half. Add all remaining ingredients, except mushrooms. Add roast back to the pot. Cover tightly and place in preheated oven. After 2 hr, add mushrooms. Cook covered at least one more hr, until beef is so tender a fork will easily push through center of roast.
Transfer beef and all solids to a holding dish or bowl with slotted spoon, reserving juicing in pot. Add cooked pasta to the pot and toss with juices. Transfer pasta to a serving plate, then add beef, onions and pepperoncini. Garnish generously with grated parmesan, parsley and tomatoes. Serve with warm bread and wine, if desired.
Meet the Makers
Felix & Greg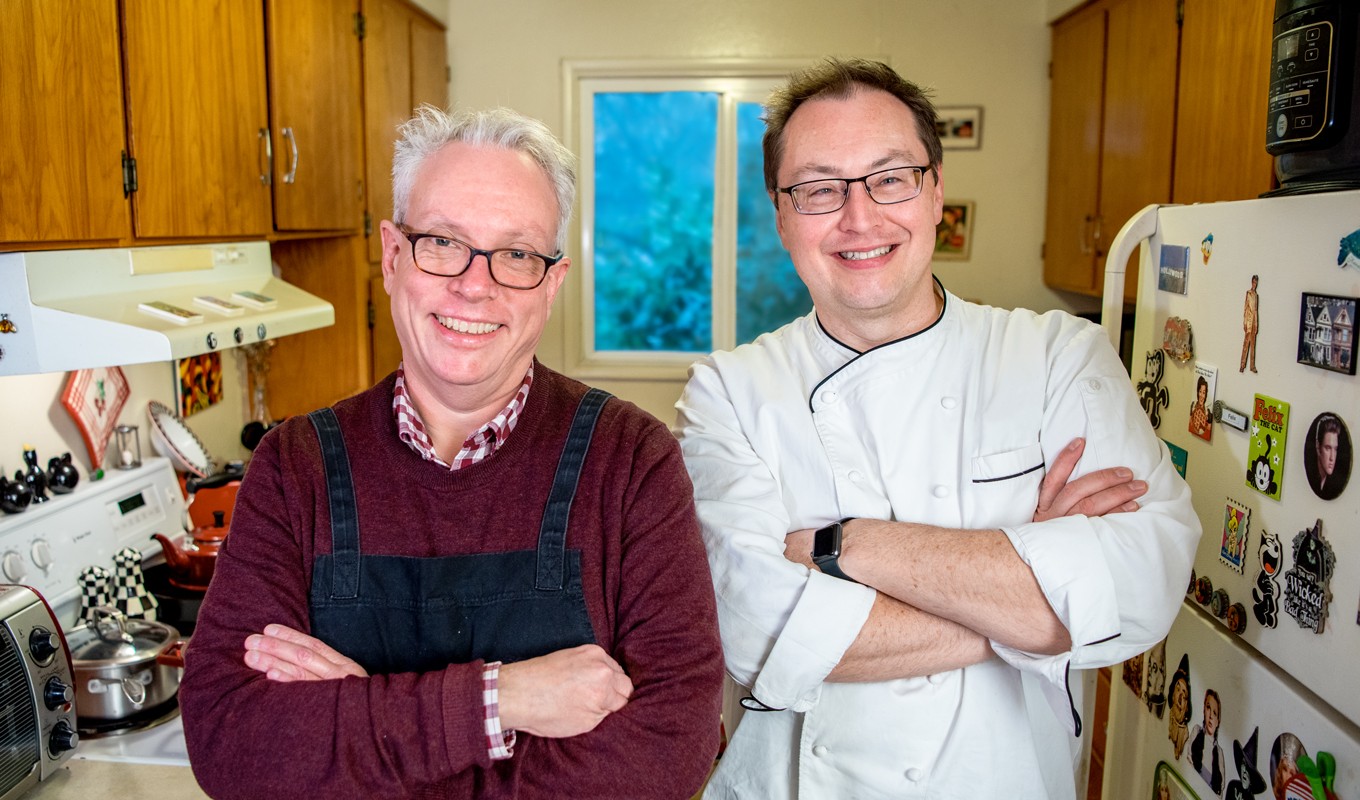 FELIX HUCK
Recipe Creator & Food Photographer
An artist and shutterbug, Felix finds beauty and inspiration in food and nature. He invents and photographs the recipes you'll find here.
GREG CABEZA
Professional Chef & Food Blogger
A food aficionado and lifelong music fan, Greg is an experienced artisan chef. He's also co-recipe creator and food blogger at Felix & Greg.
SUBSCRIBE TO OUR EMAILS
Good ideas could be cooking in your inbox. Sign up for our newsletter.