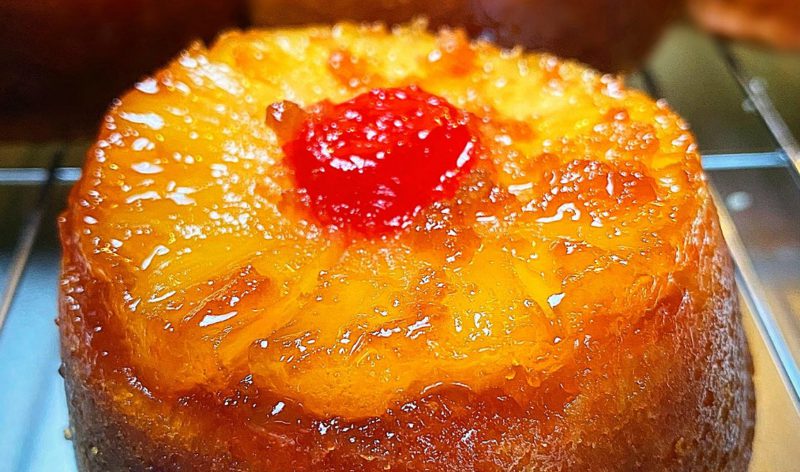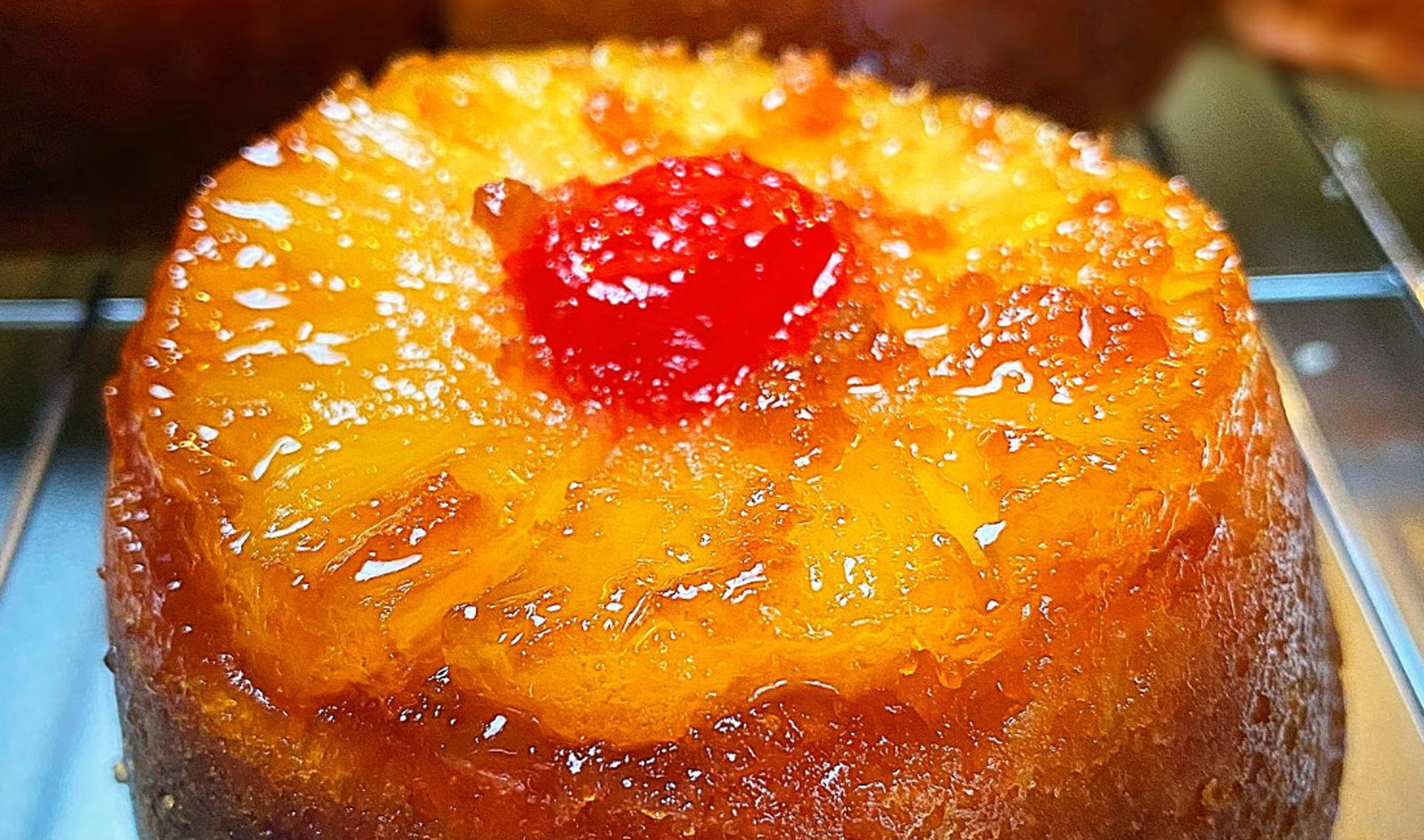 Pineapple upside-down cake will always hold a place of honor in our hearts. It was such a simple yet special treat when we were kids, and today is no different. We love the sticky caramelized brown sugar and butter layer around the pineapple and how it soaks into the delicious cake. And, of course, it isn't complete without a maraschino cherry or two, so plop one in the middle with aplomb and feast! We chose to make these in a muffin pan to give us six individual cakes, however you could pour this into a regular round cake pan (9×9) for great results.
What type of pineapple should I use?
We've tried this with fresh pineapple and thought that it would be better somehow ('fresh is best' right?), but it honestly is just not the same as using pineapple from a can. The fresh fruit was more fibrous, and when baked was definitely not as candied as the old-school canned pineapple rings. So, we suggest not trying to fancy this up, just accept it as a great performer who will forever be loved just the way it is. If it ain't broke, don't fix it.
The best foods are simple foods. And this cake is one of the simplest around, with its own garnishes and finishes all baked right in – no fuss, no muss.
Tip: When you pull the mini cakes out of the oven, make sure to leave them in the muffin pan to cool enough to trim the tops flat (otherwise they will not sit up straight on a plate). This little bit of trimming is also a good excuse to give yourself a little taste before serving the cakes to your guests!
Mini Pineapple Upside-Down Cakes Recipe
SERVES
6
DIFFICULTY
Easy
PREP TIME
15 min
COOK TIME
40 min
SPECIAL TOOLS
Muffin pan, mixer
DIET: None
Mini Pineapple Upside-Down Cakes Recipe
SERVES: 6
DIFFICULTY: Easy
PREP TIME: 15 min
COOK TIME: 40 min
SPECIAL TOOLS: Muffin pan, mixer
DIET: None
Ingredients
Topping
3 T butter, melted
½ c brown sugar
6 pineapple rings, canned
6 maraschino cherries
Cakes
1 ½ c all-purpose flour, sifted
2 t baking powder
¼ t salt
⅓ c shortening or butter, room temp (soft)
⅔ c sugar
1 large egg
¾ t vanilla extract
⅓ c whole milk
⅓ c sour cream
¼ c pineapple juice (from canned pineapple rings)
Instructions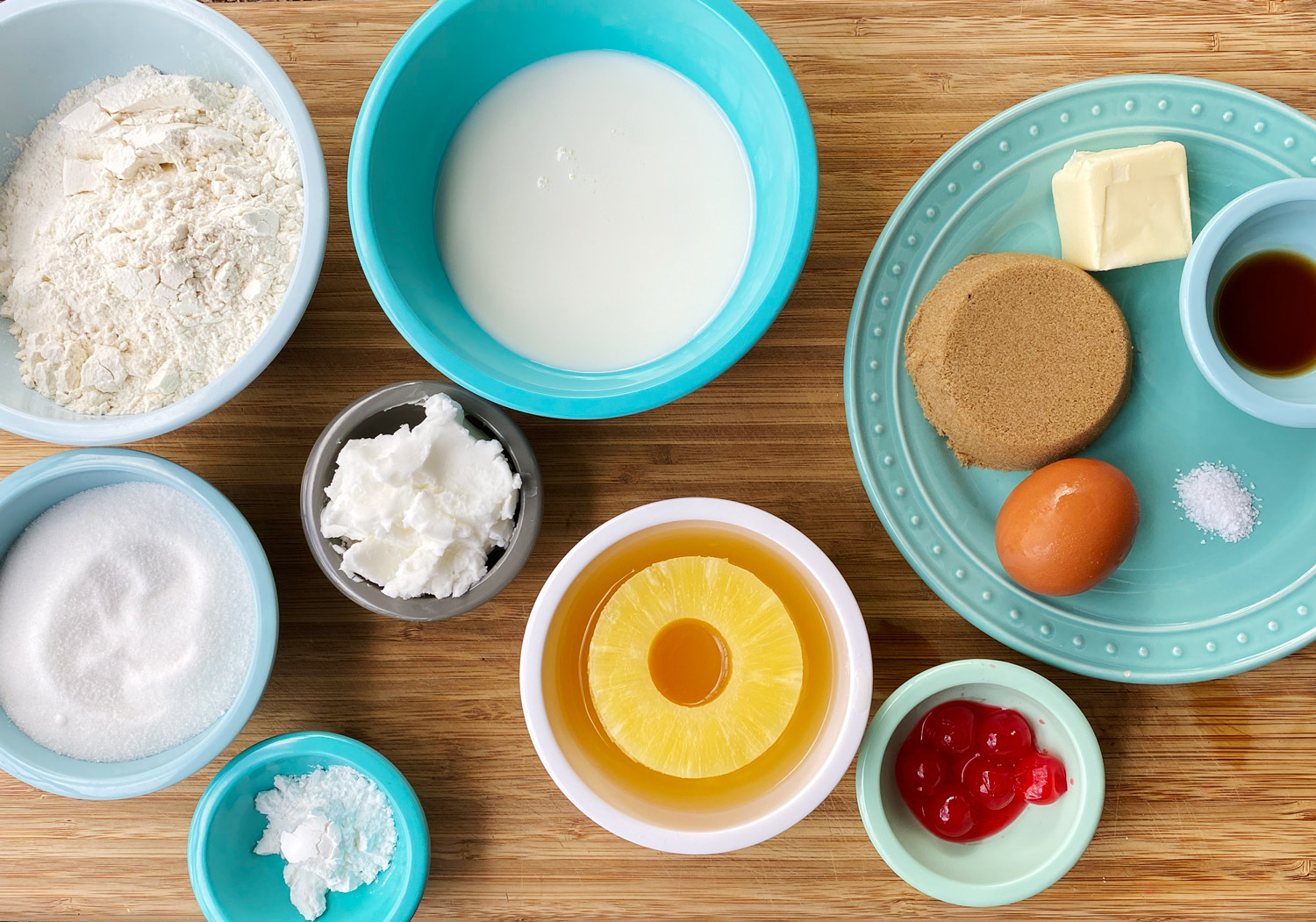 Gather ingredients. Preheat oven to 350°.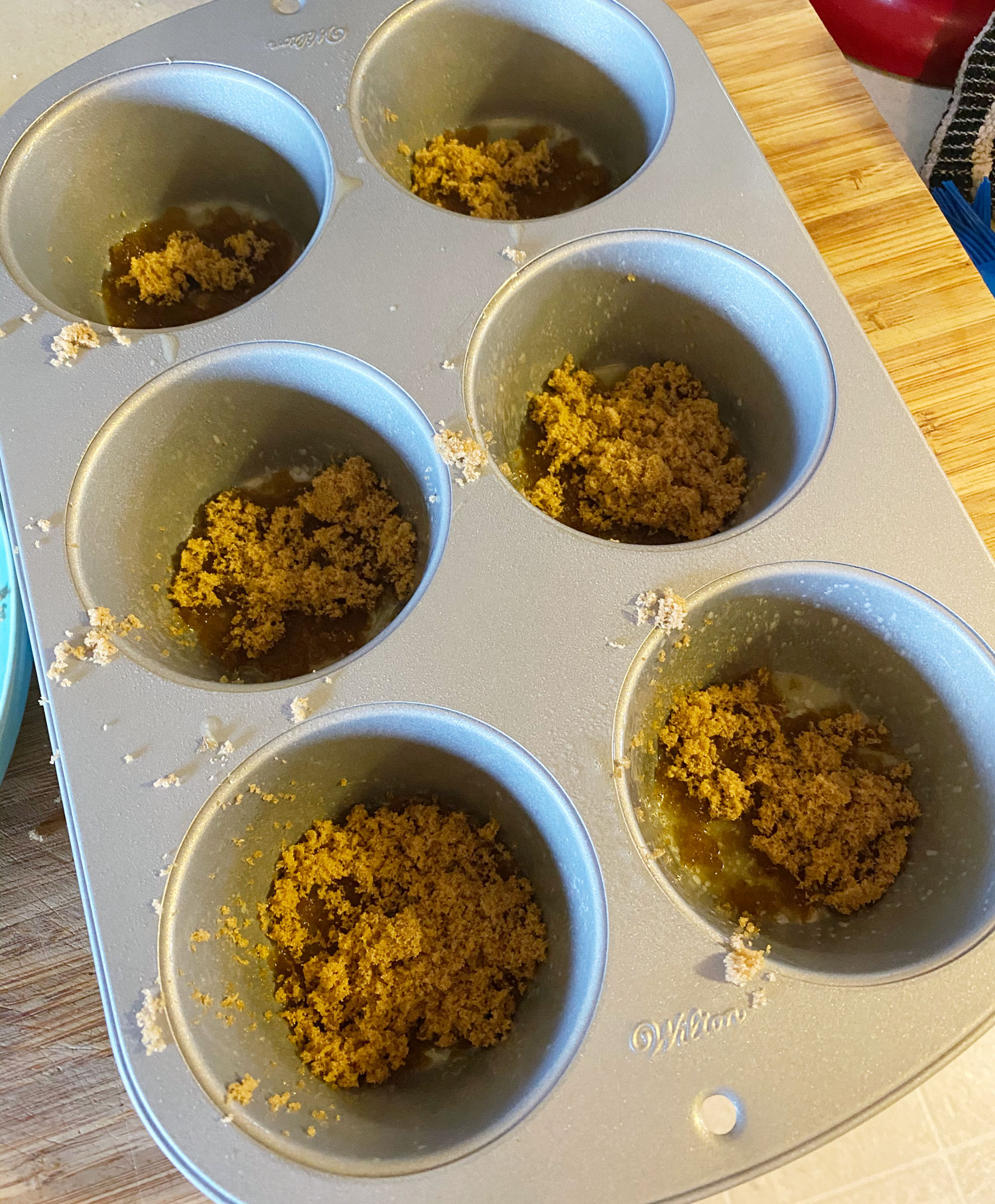 Divide melted butter among muffin cups for six cakes. Sprinkle brown sugar over melted butter and place a pineapple ring on top of the butter and sugar.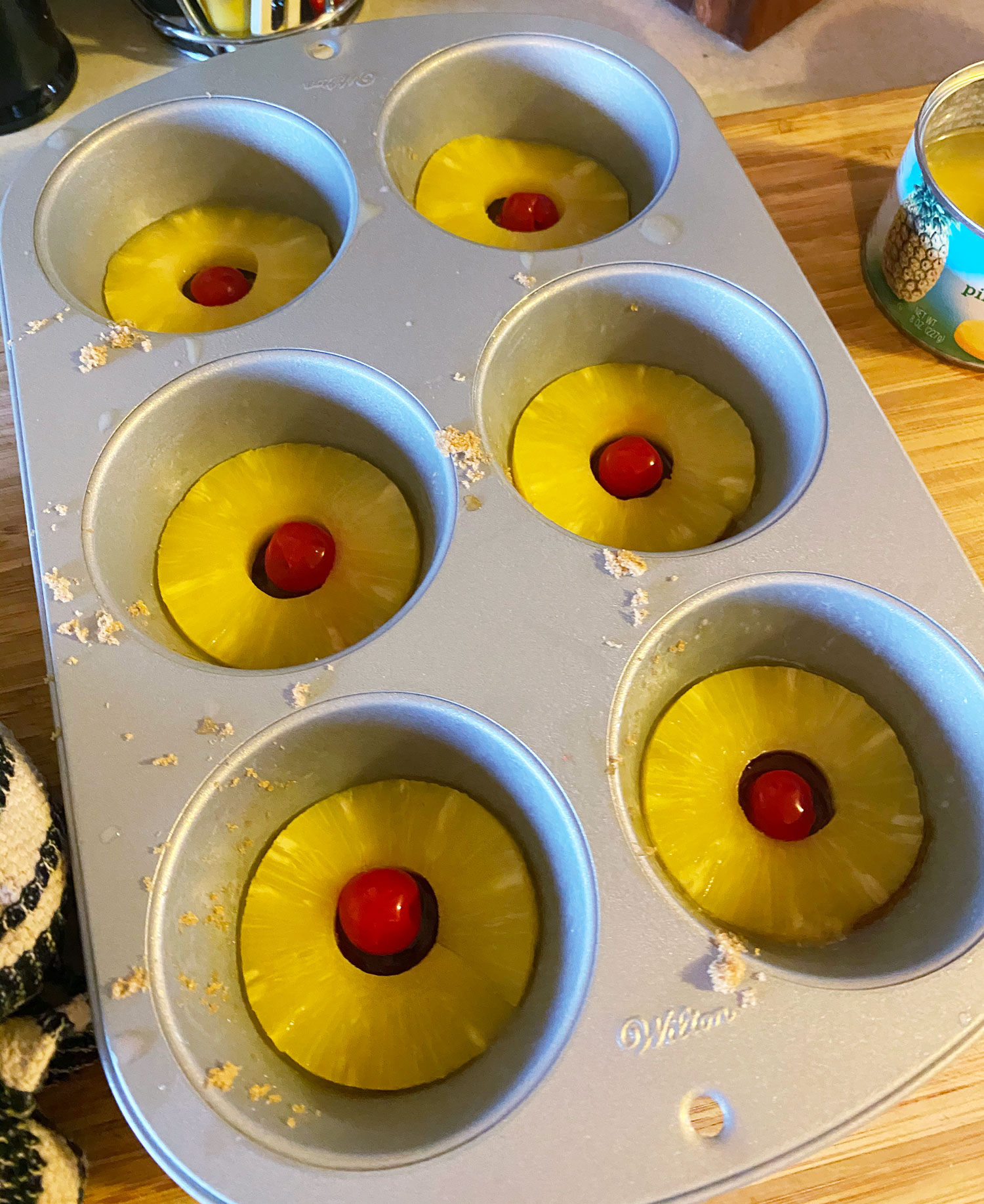 Place a cherry into center of each ring. Sift together dry ingredients (flour, baking powder, salt) and sift again. Set aside.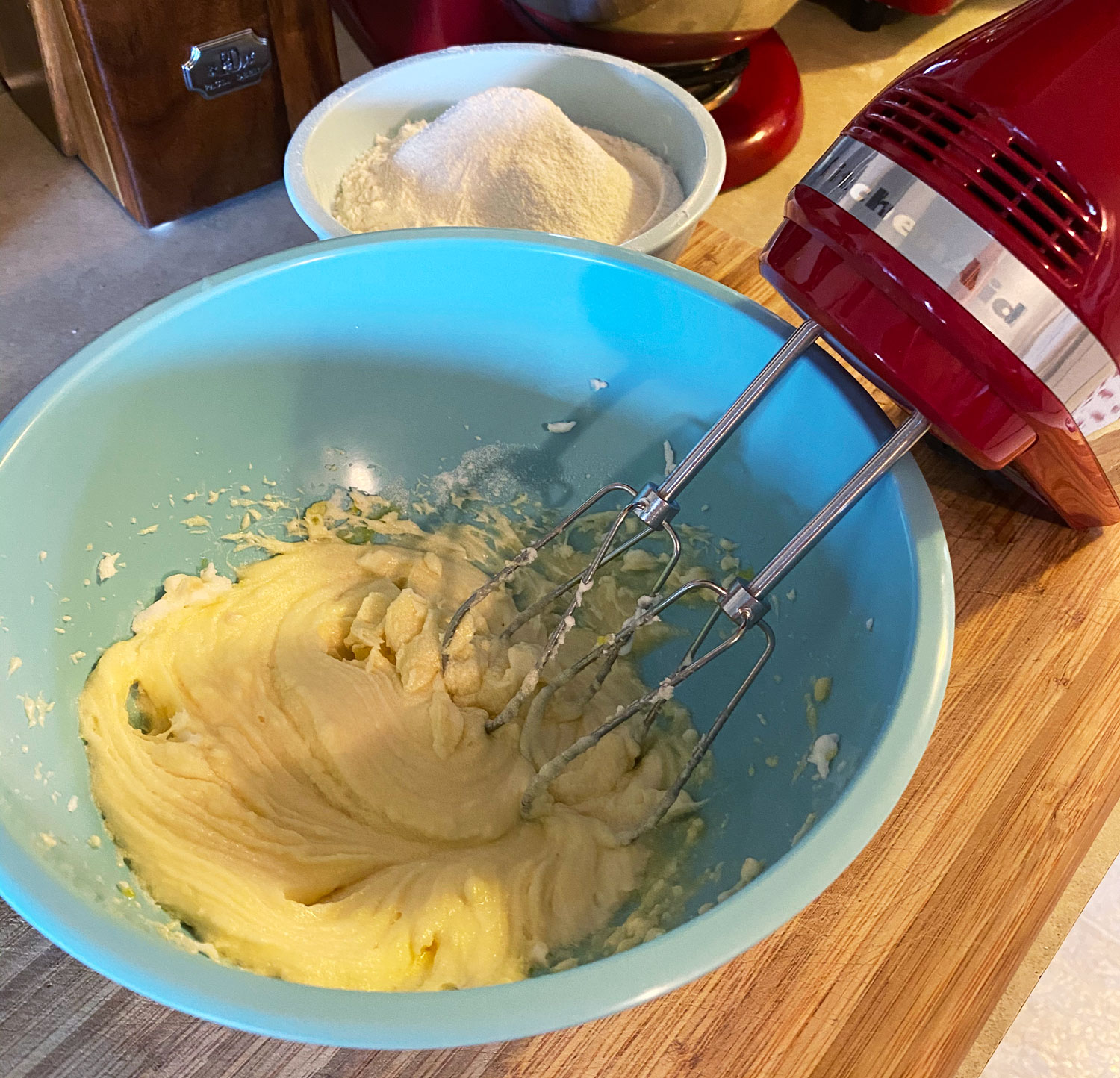 In mixing bowl, cream shortening and sugar together; add egg and vanilla and combine well.

Blend in flour mixture, scraping down sides, without over mixing. Immediately add milk, sour cream and pineapple juice, blending well. Pour batter into each prepared muffin cup. Bake until toothpick inserted in center comes out with few crumbs, 35-40 min.
Cool at room temp for 20 min. Trim any excess cake from the top of the cakes before inverting the pan to remove them. Don't refrigerate, as the cakes are best served the same day they are made. Serve cakes upside down with pineapple facing up, and more cherries added, as desired, for garnish. Enjoy every delicious bite!
Meet the Makers
Felix & Greg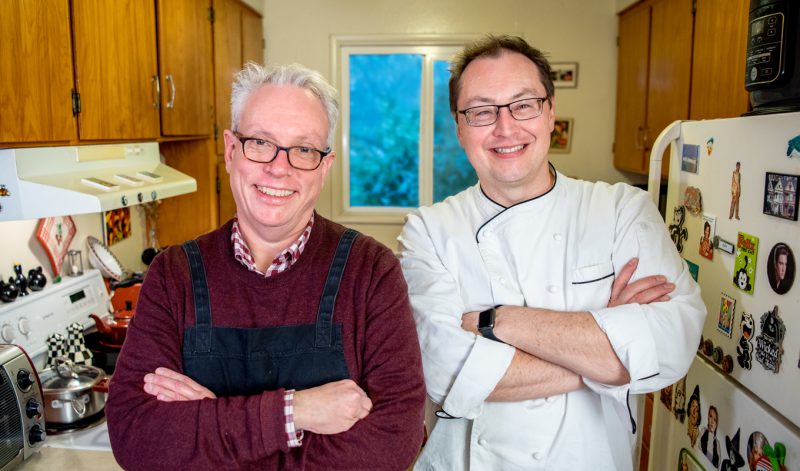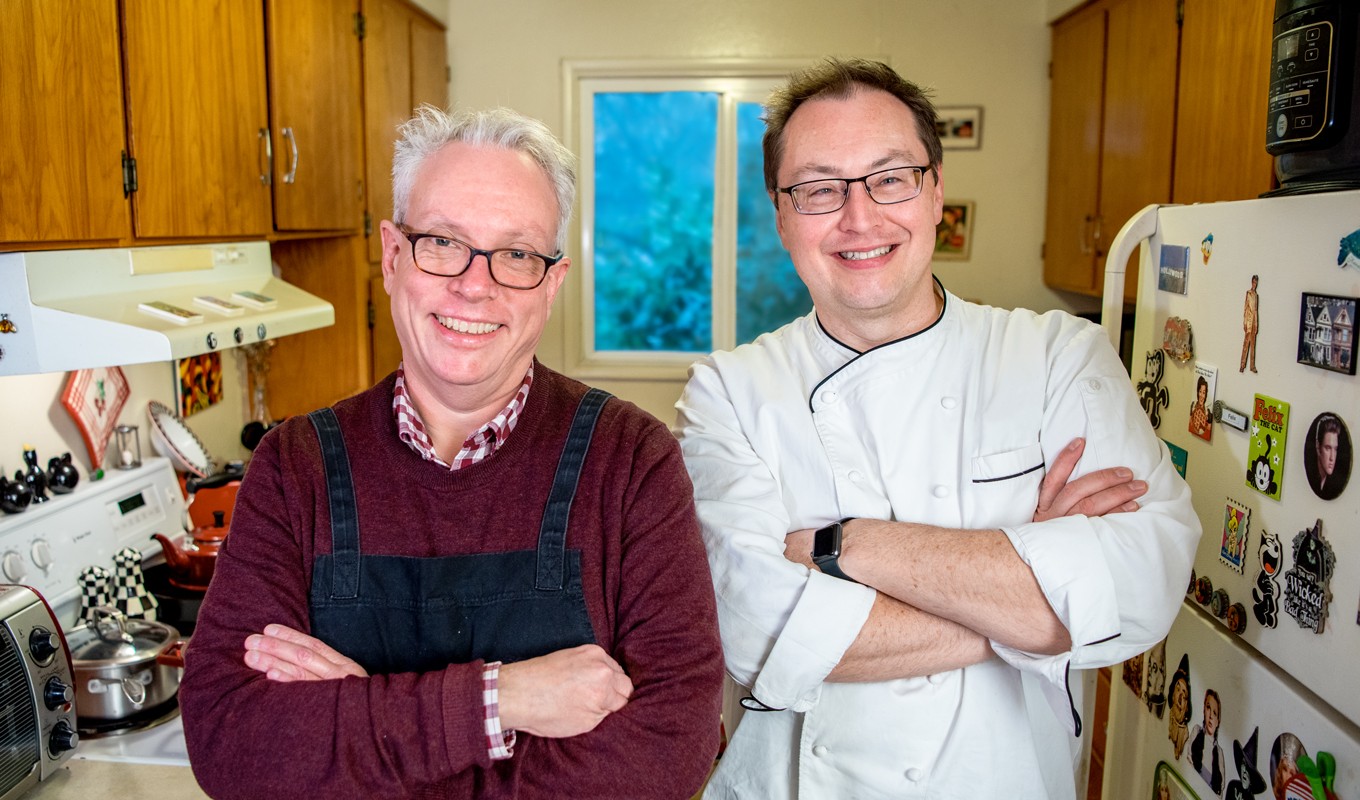 FELIX HUCK
Recipe Creator & Food Photographer
An artist and shutterbug, Felix finds beauty and inspiration in food and nature. He invents and photographs the recipes you'll find here.
GREG CABEZA
Professional Chef & Food Blogger
A food aficionado and lifelong music fan, Greg is an experienced artisan chef. He's also co-recipe creator and food blogger at Felix & Greg.
SUBSCRIBE TO OUR EMAILS
Good ideas could be cooking in your inbox. Sign up for our newsletter.