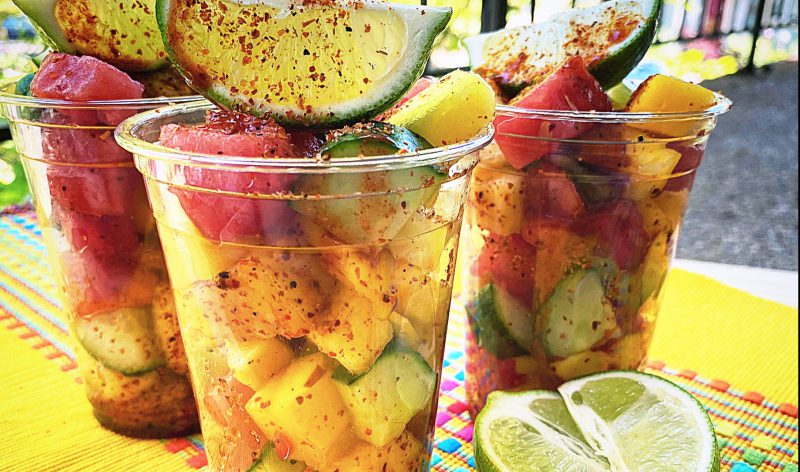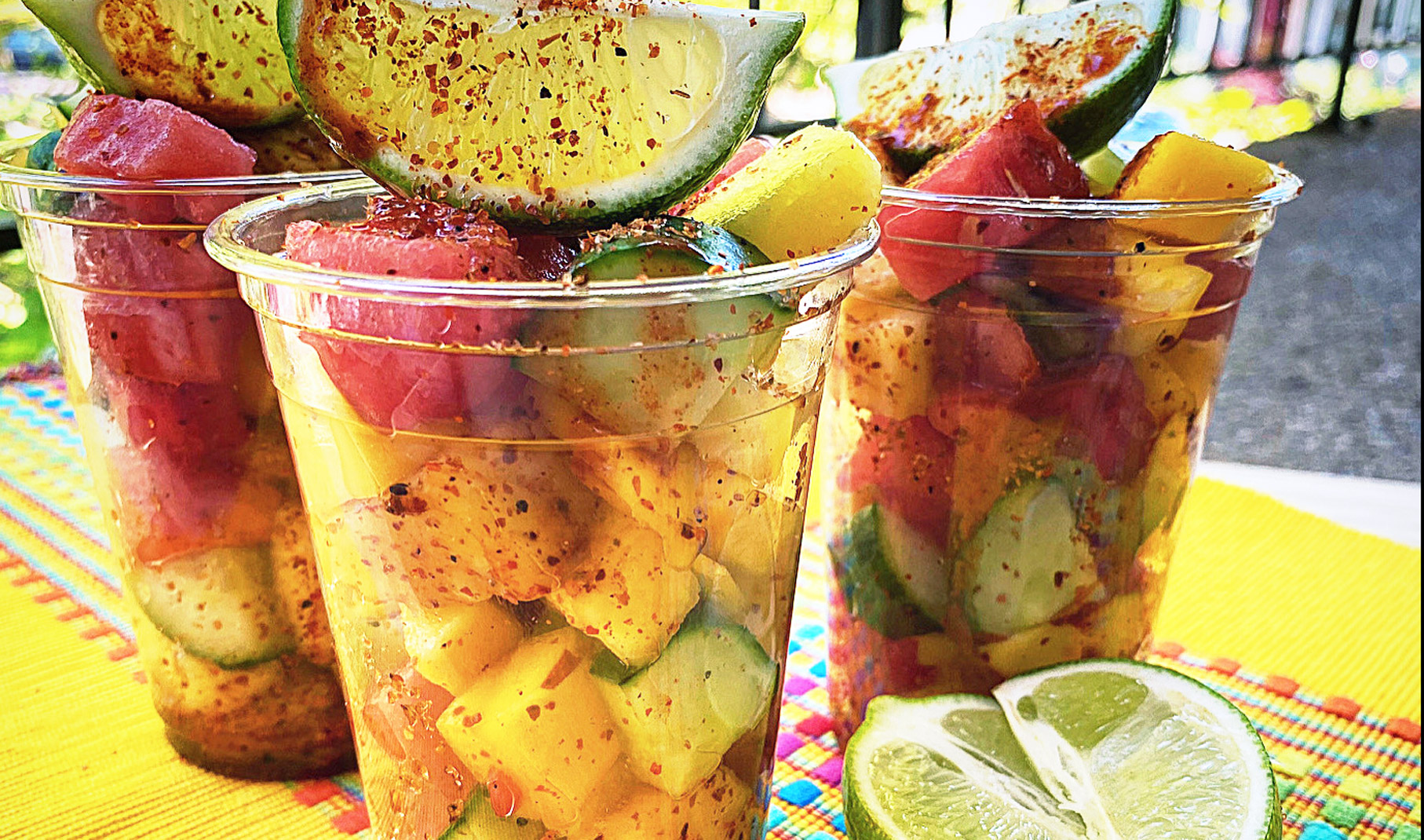 You have probably noticed that Felix and I absolutely love Tajin! We really love sprinkling it on juicy mangoes, ripe watermelon and sweet pineapple in this delicious Mexican Fruit Salad. Tajin has such a delicious tart and unique flavor. It adds a wonderful twist to many of our favorite foods. We've also added cucumber to the mix to balance the sweetness of the fruit. Honestly, any of your own favorite fruits, such as cantaloupe or honeydew, citrus wedges, papaya chunks, even bananas will work here. Felix and I think you should mix the salad while sitting by your pool, whatever size it might be – kiddie pools count, too, right?! Put on some of your/our favorite tunes, starting with Duran Duran's "Rio," of course. Perhaps enjoy a fruity drink with your cool salad. Grab your sunglasses and swimsuit, and a best friend or two. This fruity recipe is just so fun to share, share, share!
Mexican Fruit Salad Recipe
SERVES
4
DIFFICULTY
Easy
PREP TIME
15 min
COOK TIME
1 hour
DIET: Vegan, GF
SERVES: 4
DIFFICULTY: Easy
PREP TIME: 15 min
COOK TIME: 1 hour
DIET: Vegan, GF
Ingredients
2 mangoes, skin removed, cut into bite-size chunks
3 c seedless watermelon, cut into bite-size chunks
2 c pineapple, cut into bite size chunks
1 English cucumber, cut into bite-size chunks
2 limes, juice of
1 lemon, juice of
3 T Tajin
Dash of hot sauce
Instructions
Gently mix all fruit and cucumber together. Add lime and lemon juice and chill at least one hour. When ready to serve, add Tajin and divide among serving dishes. Wet the rim of the dishes and sprinkle generously with Tajin, then add a dash of hot sauce to each, as desired.
Meet the Makers
Felix & Greg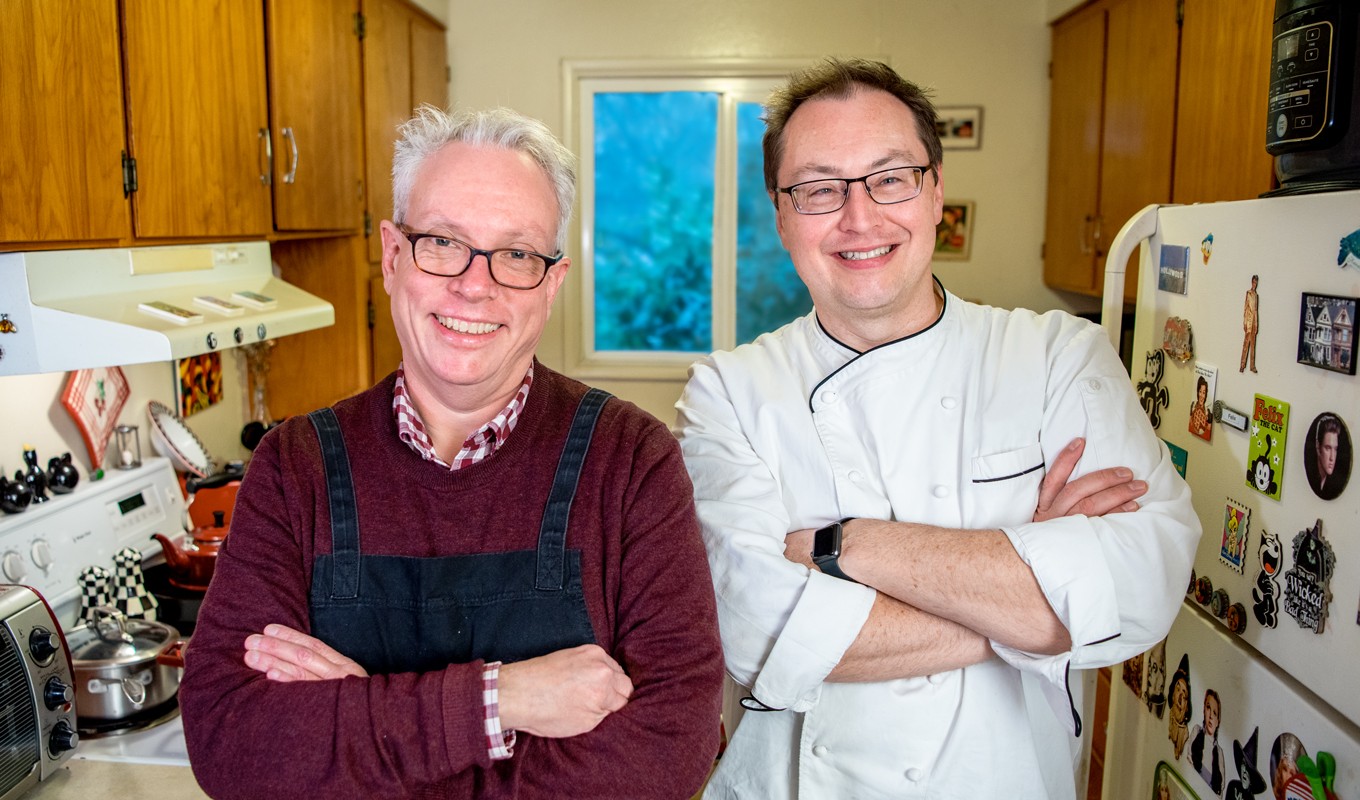 FELIX HUCK
Recipe Creator & Food Photographer
An artist and shutterbug, Felix finds beauty and inspiration in food and nature. He invents and photographs the recipes you'll find here.
GREG CABEZA
Professional Chef & Food Blogger
A food aficionado and lifelong music fan, Greg is an experienced artisan chef. He's also co-recipe creator and food blogger at Felix & Greg.
SUBSCRIBE TO OUR EMAILS
Good ideas could be cooking in your inbox. Sign up for our newsletter.