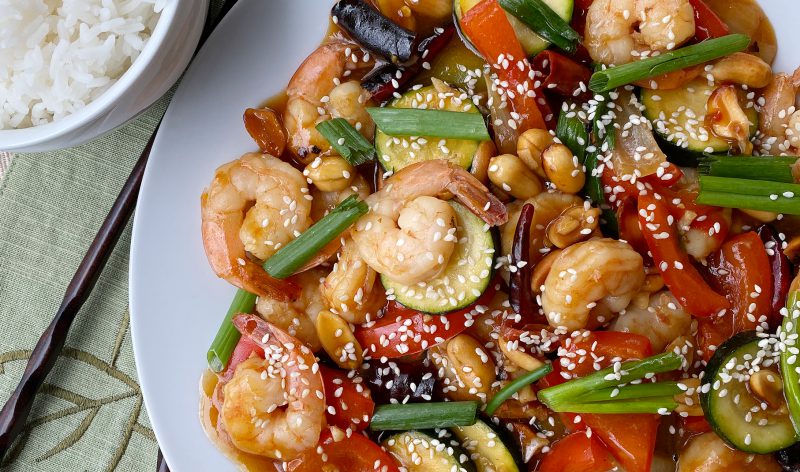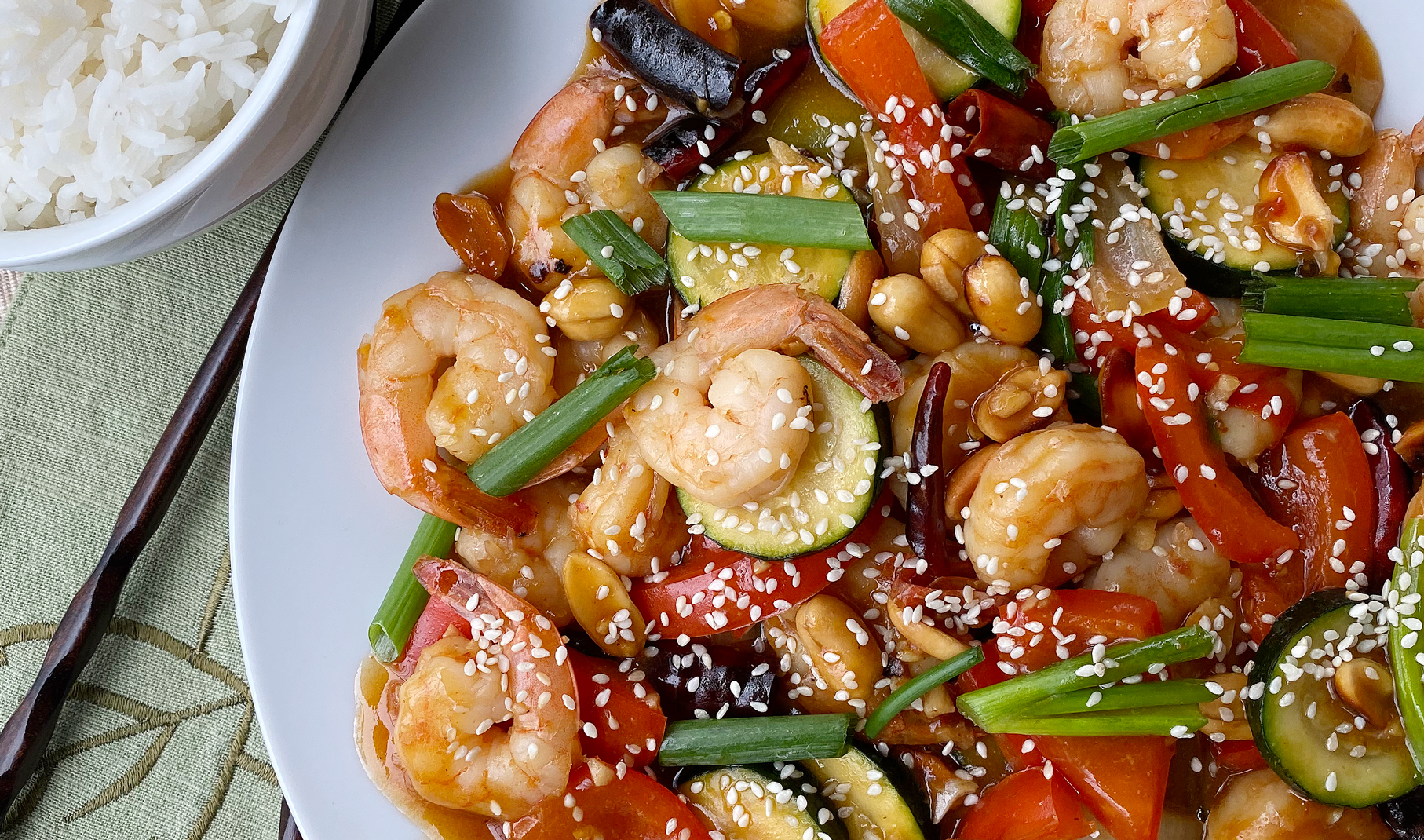 Take-out Chinese food is always a welcomed treat, but neither of us can justify splurging on it all the time. And why would we when we can easily make our favorites at home just as fast and for less money?
Kung Pao anything is delicious, but we happen to really enjoy shrimp, so our version of Kung Pao is loaded with prawns and veggies. If you prefer, use tofu, chicken or vegetables, such as eggplant. We like this dish a bit spicy, so we've used small Mexican dried red chilies. If you're lucky enough to find small Szechuan chilis, by all means use those instead, but at your own risk—they are very hot! Finish the shrimp with sesame seeds and green onions, if you so choose. Round out this dish by serving it with potstickers and fortune cookies, too!
Tips and tricks
The real trick to this dish is having all the ingredients prepped and ready before beginning to cook ('mise en place' is the professional kitchen term for this, meaning 'put in place' or simply, be prepared—it is our philosophy for cooking and for life, in general). It is best to combine all wet ingredients beforehand, and to have the stock and cornstarch combined and ready, too. Keep all prepped veggies next to the stove so it can all go into the pan rapidly. It all happens in about 5 minutes of cook time, so have the rice cooked and ready to serve, as well.
Kung Pao Shrimp Recipe
SERVES
4
DIFFICULTY
Moderate
PREP TIME
10 min
COOK TIME
5 min
SPECIAL TOOLS
None
DIET: GF (if using GF sauces), can be Vegetarian
Kung Pao Shrimp Recipe
SERVES: 4
DIFFICULTY: Moderate
PREP TIME: 10 min
COOK TIME: 5 min
SPECIAL TOOLS: None
DIET: GF (if using GF sauces), can be Vegetarian
Ingredients
2 T safflower oil or peanut oil
4 dried chilies (Szechuan or sub other small red chilies)
1 c peanuts, roasted and salted
1 med yellow onion, chunked
4 cloves garlic, minced
1 red bell pepper, chopped
1 lb large (approx. 26-30) shrimp, shelled and cleaned
1 zucchini, halved and sliced
4 green onions, cut into 1" chunks
1 T garlic chili paste (sambal)
2 T oyster sauce
2 T hoisin sauce
2 T tamari
½ c chicken stock, mixed with 1 T corn starch
Additional:
steamed rice
sesame seeds (for garnish)
green onions (for garnish)
Instructions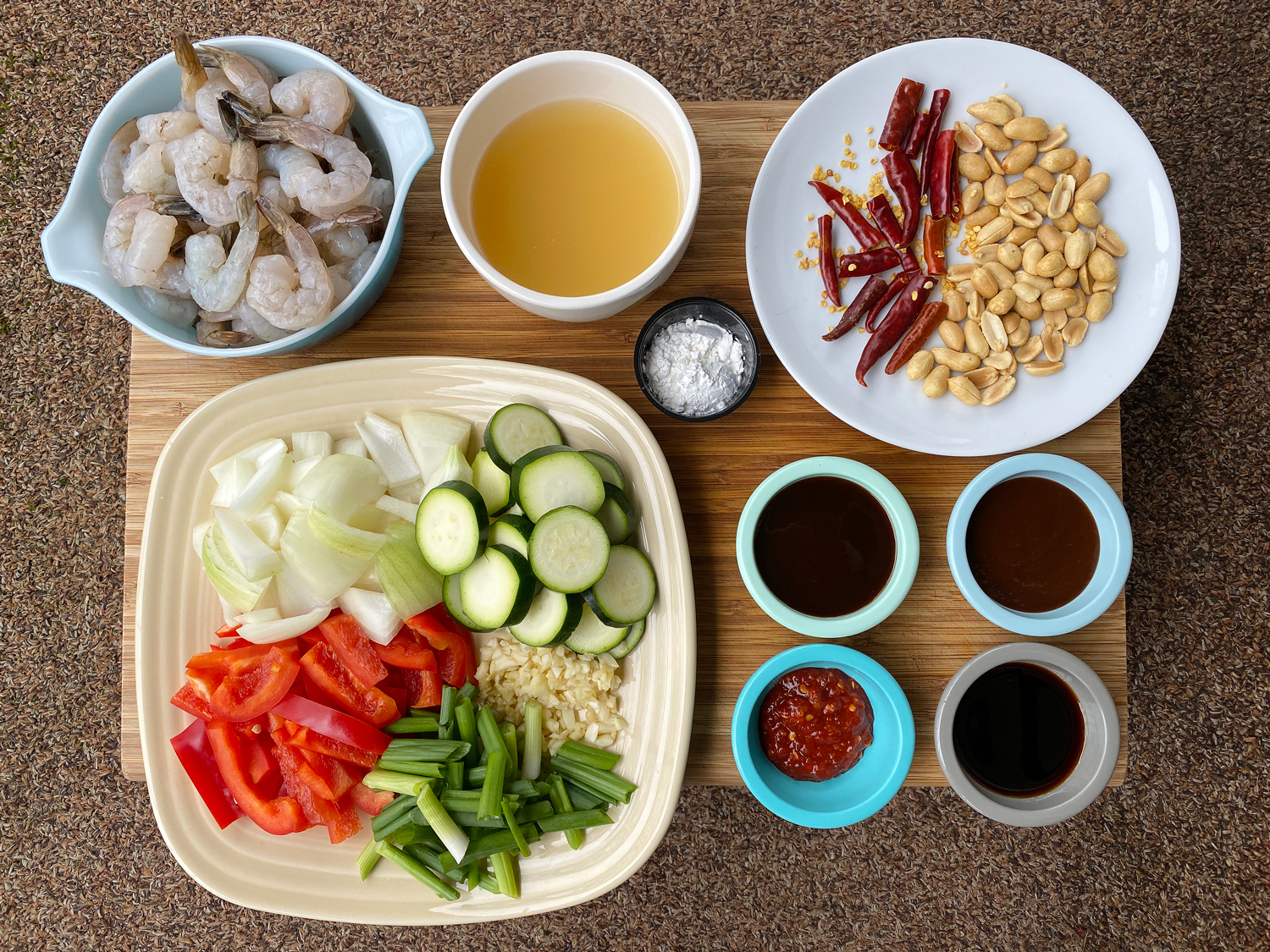 Set out ingredients "mis en place" style.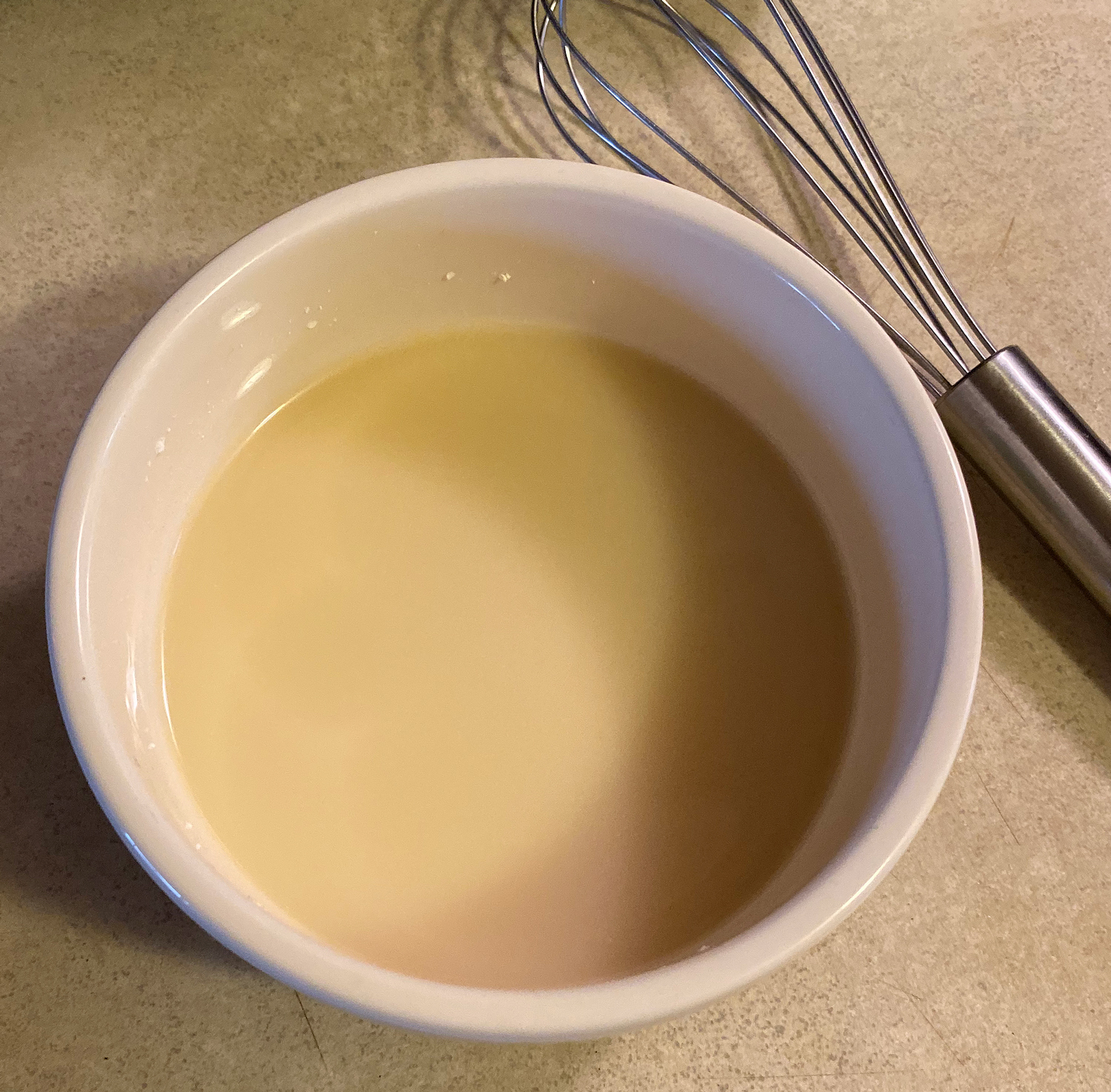 Prepare chicken stock and corn starch mixture.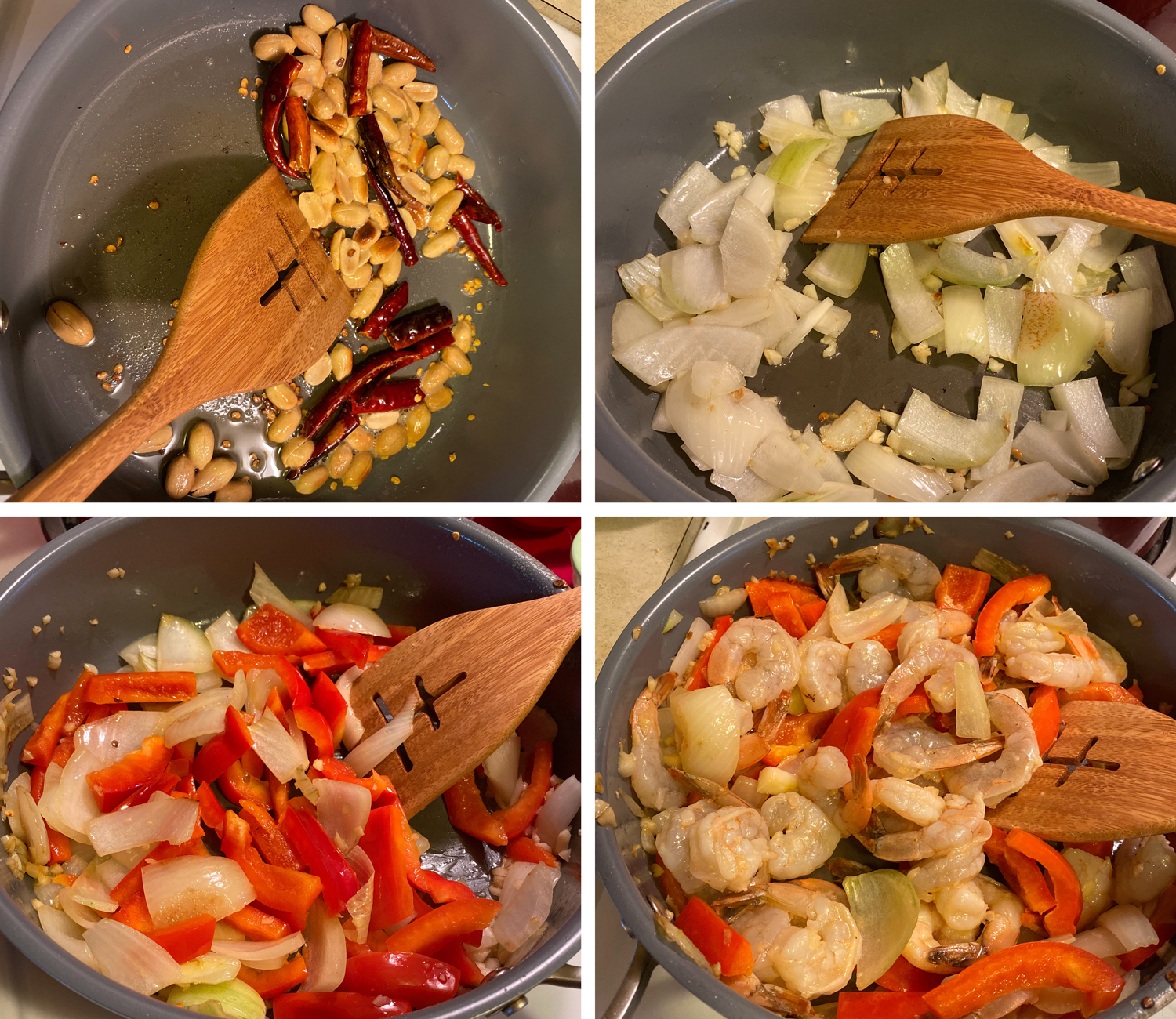 Add oil to a large skillet over medium-high heat, sautéing chilies and peanuts briefly, approx. 1 min. Be cautious not to cook chilies for too long, as they can release spicy oil into the air. Remove from pan and set aside.
Add onion and garlic and cook quickly, approx. 1 min. Add bell pepper and cook 1 min more. Add shrimp and cook 2 min, until pink but not fully cooked.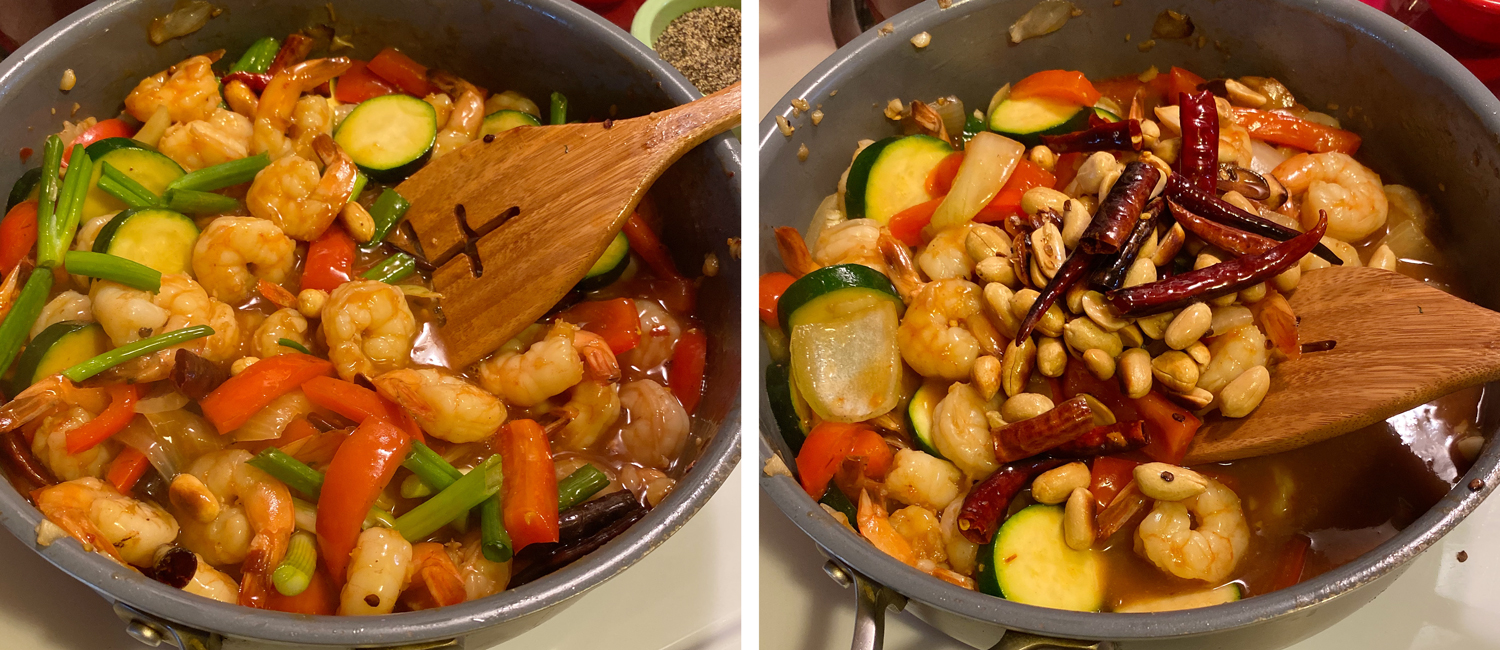 Add zucchini and cook 30 sec. Add remainder of ingredients, except chicken stock and bring to a simmer. Stir in peanuts and chilies, then add stock at the end, bringing just to a simmer.
Remove from heat and serve immediately with steamed rice. Garnish with sesame seeds and green onions.
Meet the Makers
Felix & Greg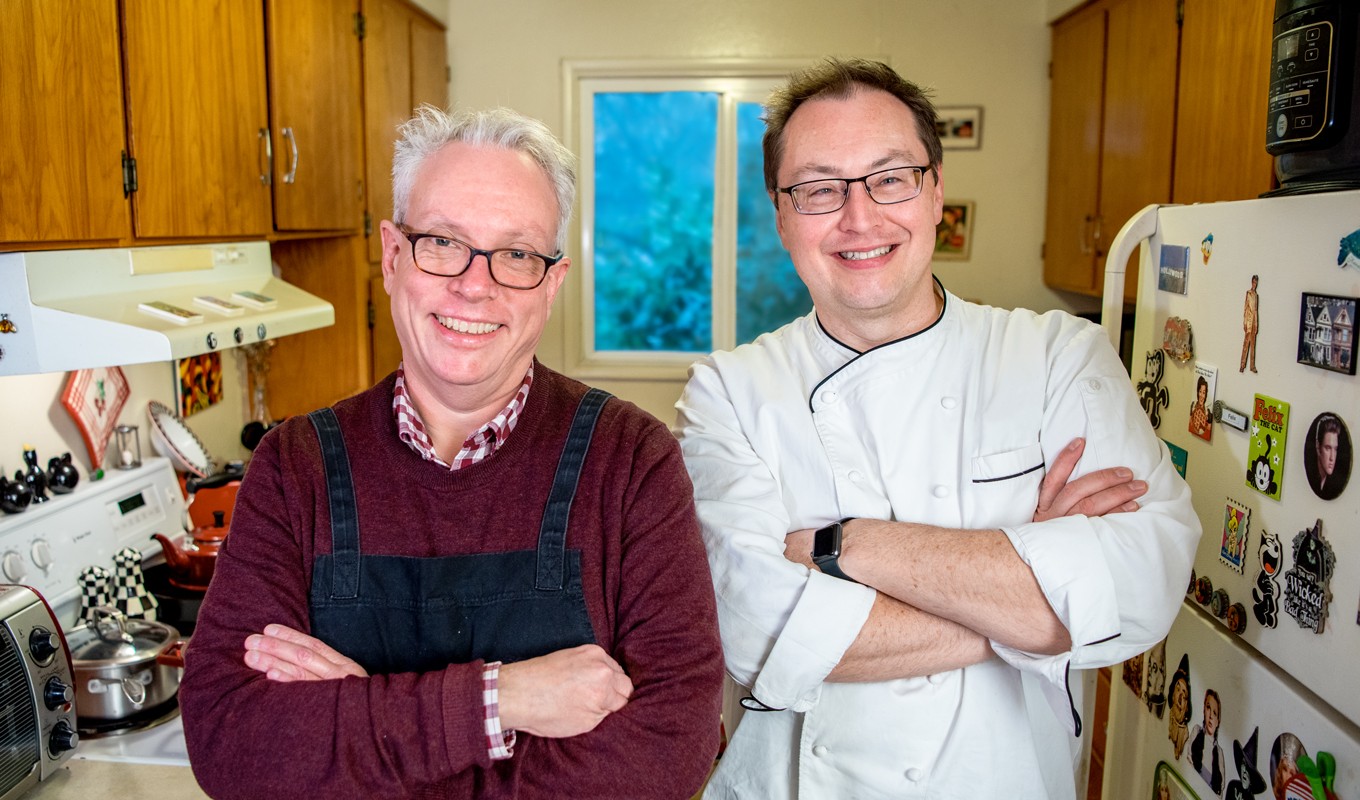 FELIX HUCK
Recipe Creator & Food Photographer
An artist and shutterbug, Felix finds beauty and inspiration in food and nature. He invents and photographs the recipes you'll find here.
GREG CABEZA
Professional Chef & Food Blogger
A food aficionado and lifelong music fan, Greg is an experienced artisan chef. He's also co-recipe creator and food blogger at Felix & Greg.
SUBSCRIBE TO OUR EMAILS
Good ideas could be cooking in your inbox. Sign up for our newsletter.