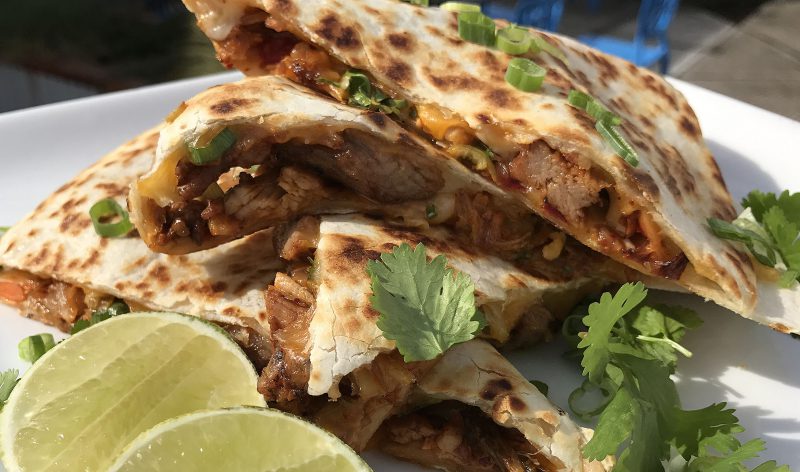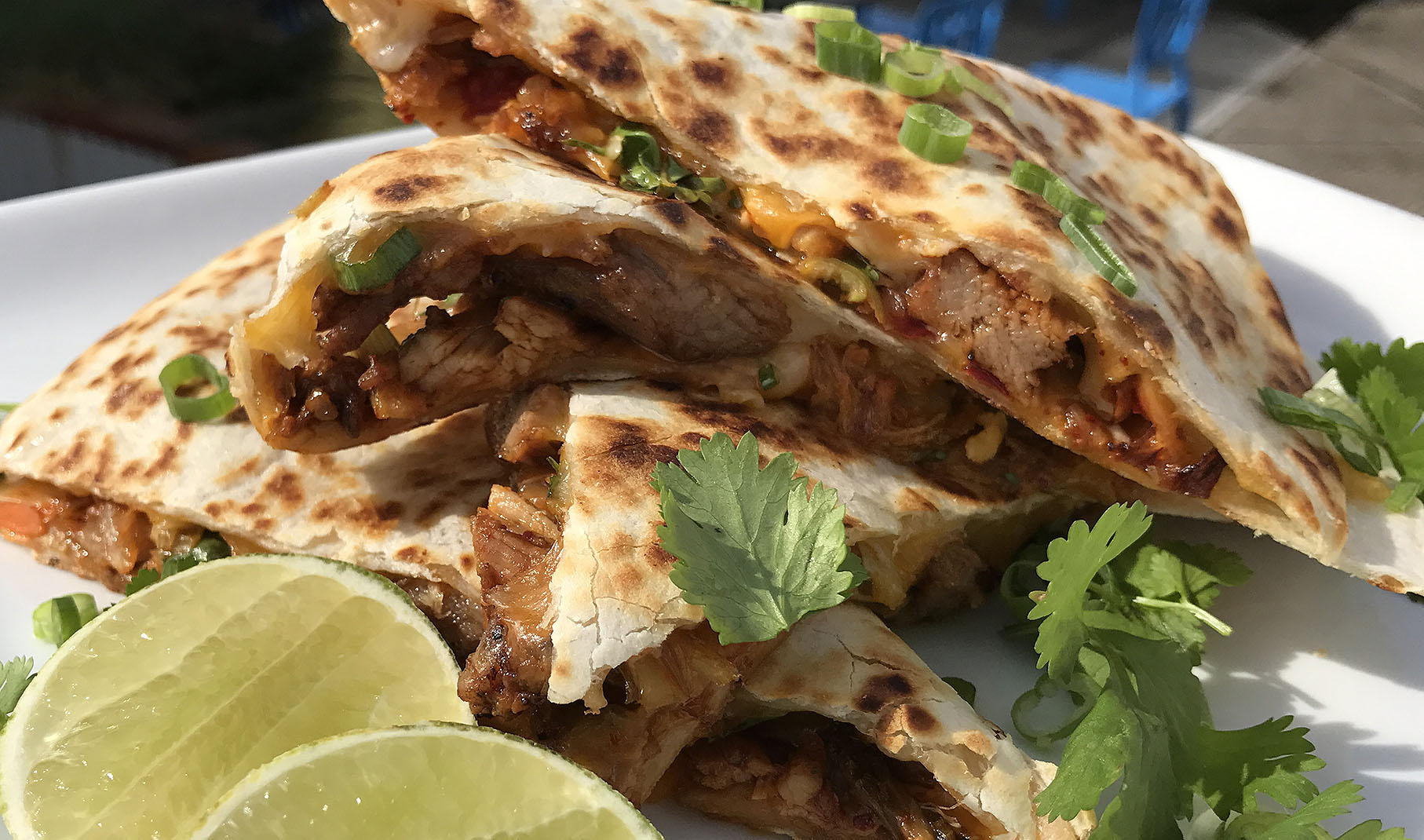 We love fusion foods, especially when we discovered the delicious combination of traditional cheese quesadillas, Korean kimchi and gojuchang (a red slightly sweet fermented chili paste). This unique combo also makes terrific tacos. If you've never had a beef bulgogi taco, wow, you must, trust us—they are so good! We have always loved tacos, and after trying them Korean-style, we decided to try our hand at making kimchi quesadillas. I'm happy to report—it tasted flat out fantastic! The spicy kimchi paired perfectly with the lime juice, cilantro and cheese. We took it even further and bought some ready-made smoked and pulled pork and added a bit of gochujang. The mashup blew our minds! We handed out samples to friends and family and they immediately loved it. Their comments were along the lines of: "That's the best quesadilla I have ever tasted in my life!"
How to prepare it
What's even better is just how easy it is to make! It's easier than making a grilled cheese sandwich. Simplify by buying some store-made pulled pork and most of the work is already done. Make them for game days, parties or as a simple lunch. It's easy to alter this however you like, by using cooked, shredded chicken instead of pork, for instance. Or, add some grilled onions and chopped radish in place of the meat for a vegetarian twist. Any way you make it, it's going to be delicious. We love this twist on a humble quesadilla and are sure you will too!
Korean Pork and Kimchi Quesadilla Recipe
SERVES
1
DIFFICULTY
Easy
PREP TIME
5 min
COOK TIME
4 min
SPECIAL TOOLS
Cast-iron pan or pizza stone
DIET: GF
Korean Pork and Kimchi Quesadilla Recipe
SERVES: 1
DIFFICULTY: Easy
PREP TIME: 5 min
COOK TIME: 4 min
SPECIAL TOOLS: Cast-iron pan or pizza stone
DIET: GF
Ingredients
Korean Pork
1 lb pulled pork, chopped into ½" pieces
3 T gochujang
pinch salt, as desired
Quesadilla
1 lg 12" tortilla or larger
⅔ c cheddar/jack cheese blend, spread on half
pinch ea cilantro, lime wedge
½ c heated and chopped pulled pork with gochujang (see below)
½ c kimchi, roughly chopped
olive oil
Instructions
Korean Pork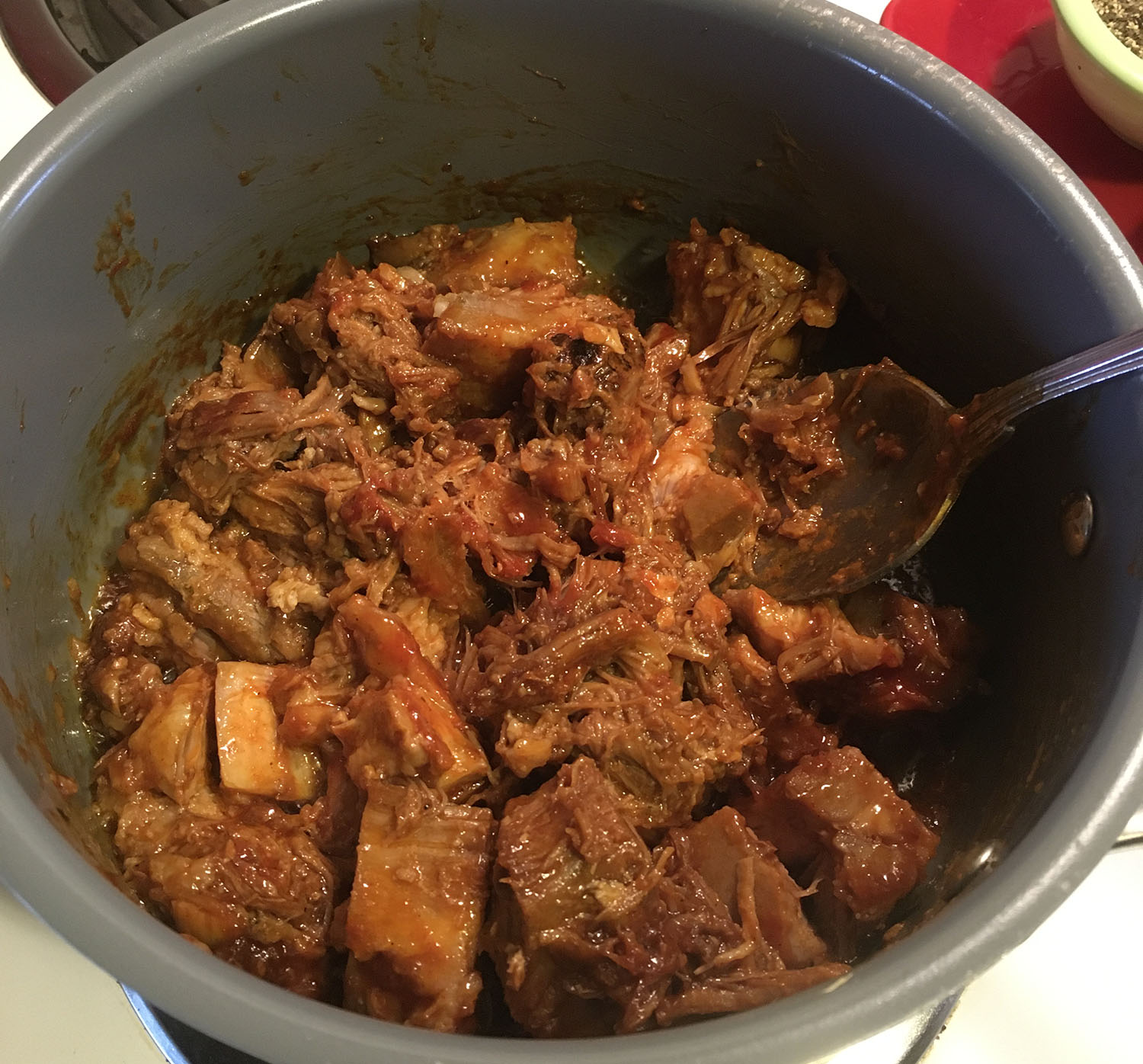 For easy assembly, purchase store- or restaurant-made pulled pork and add gochujang sauce to taste and combine well. Heat through for 4-5 min before adding to quesadilla for best results.
Quesadilla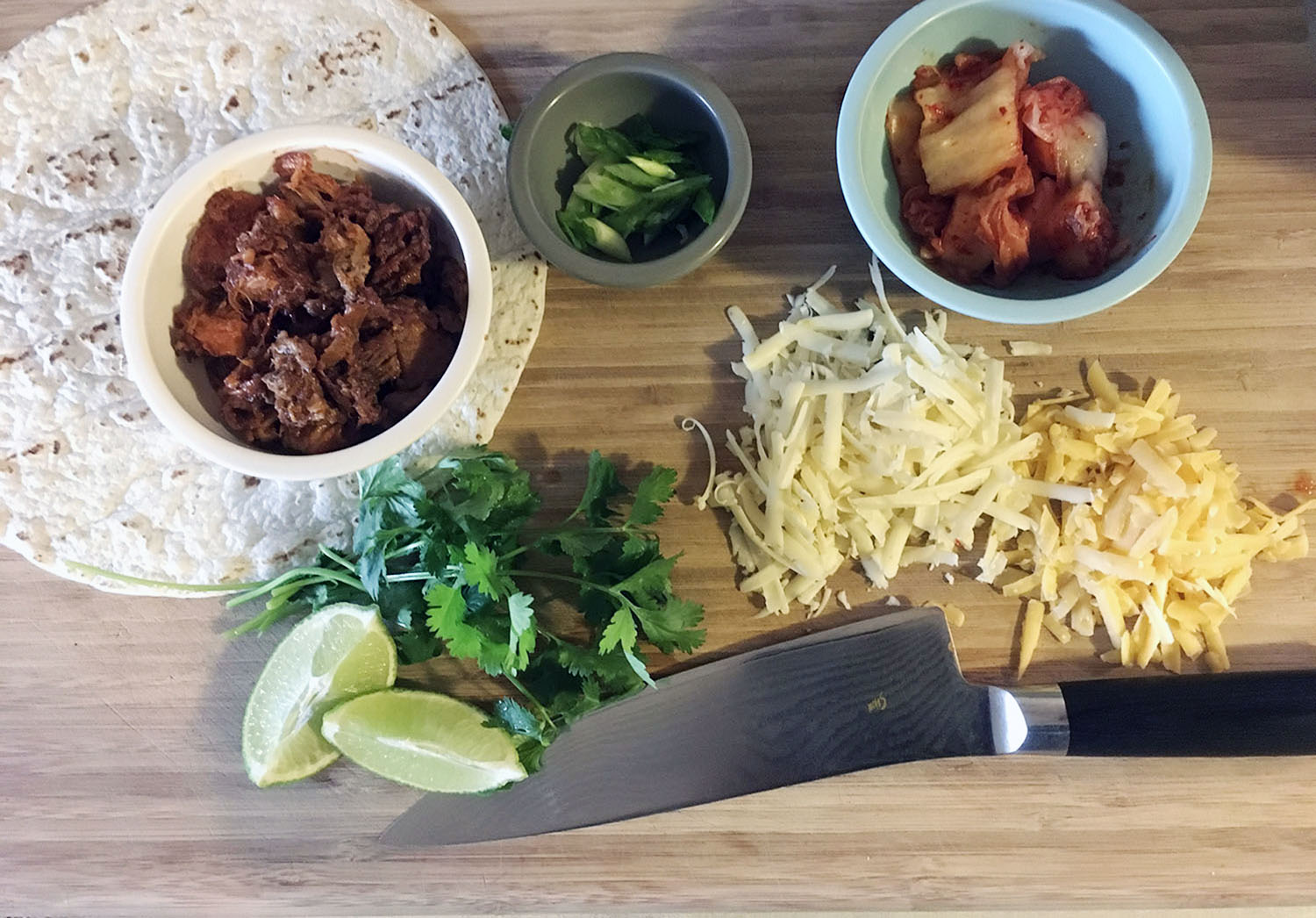 Lay a single tortilla flat on a work surface.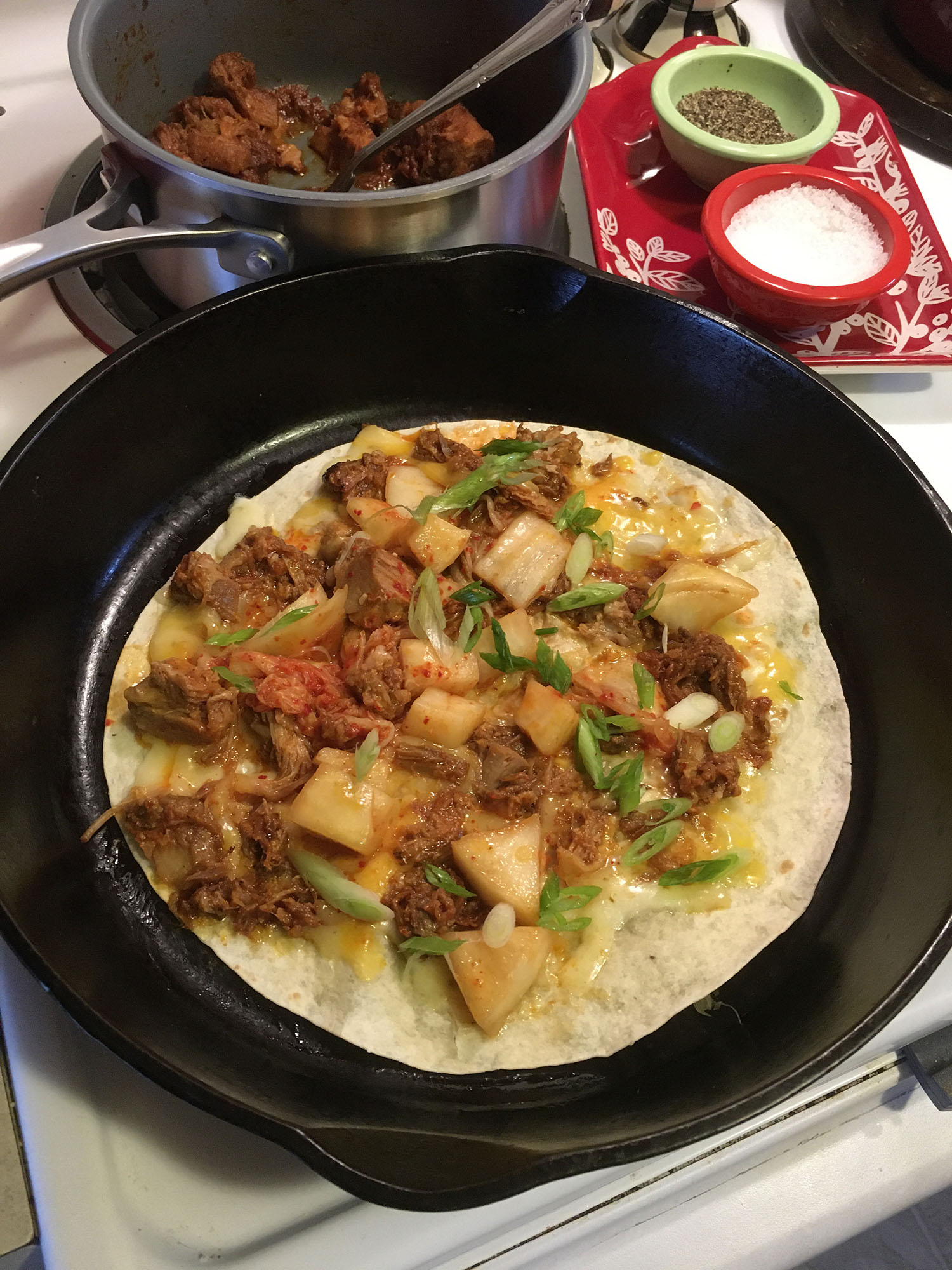 Spread all ingredients over the open tortilla, squeezing lime over all and sprinkling with cilantro.

Fold tortilla over and lightly oil outside. Heat large skillet over medium-high heat and cook quesadilla until lightly browned on each side, approx. 2 min per side.
Alternatively, heat a pizza stone or sheet pan in 400° oven and place the quesadilla on top when surface is heated. Cook as above, turning once until golden brown, cooking each side, approx. 6 min total.
Cut quesadilla into 3-4 equal slices and serve with sour cream and salsa, if desired.
Meet the Makers
Felix & Greg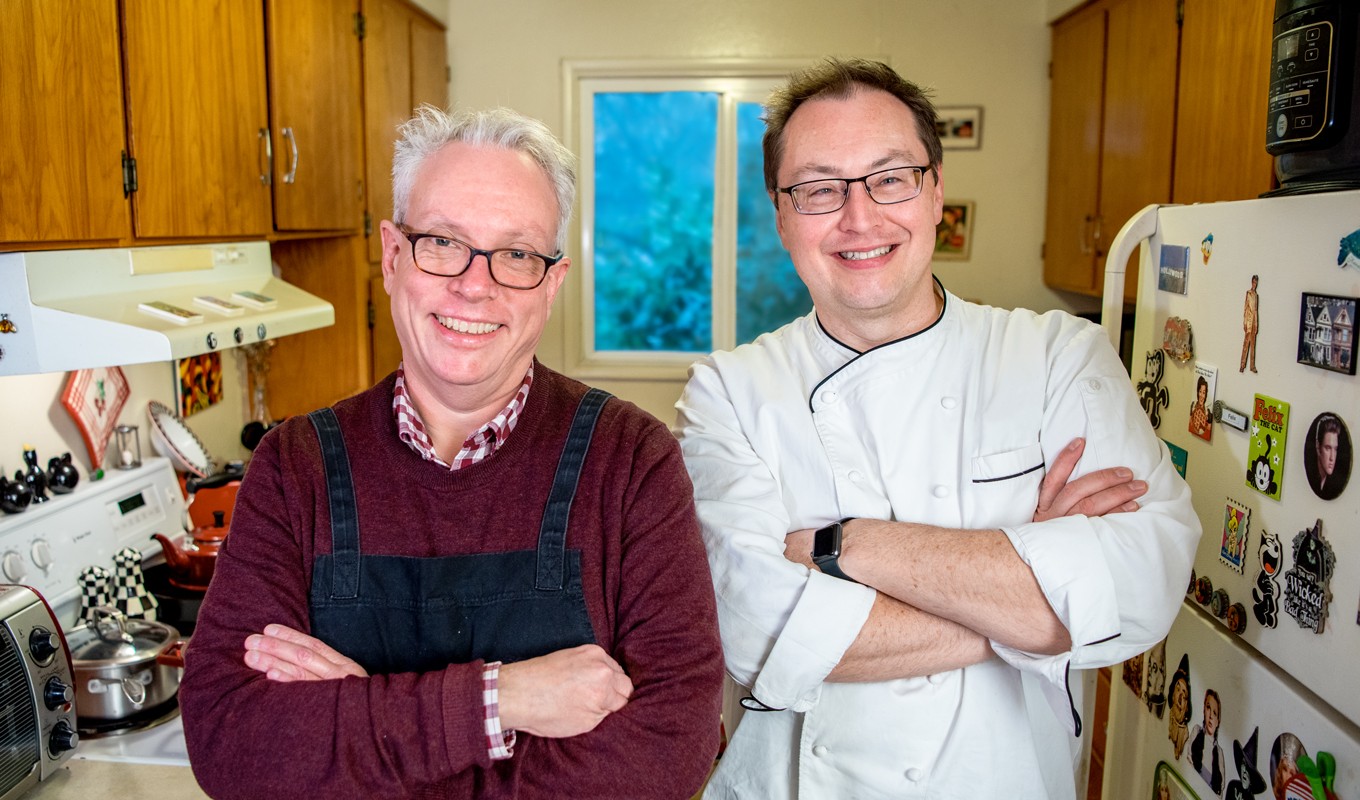 FELIX HUCK
Recipe Creator & Food Photographer
An artist and shutterbug, Felix finds beauty and inspiration in food and nature. He invents and photographs the recipes you'll find here.
GREG CABEZA
Professional Chef & Food Blogger
A food aficionado and lifelong music fan, Greg is an experienced artisan chef. He's also co-recipe creator and food blogger at Felix & Greg.
SUBSCRIBE TO OUR EMAILS
Good ideas could be cooking in your inbox. Sign up for our newsletter.