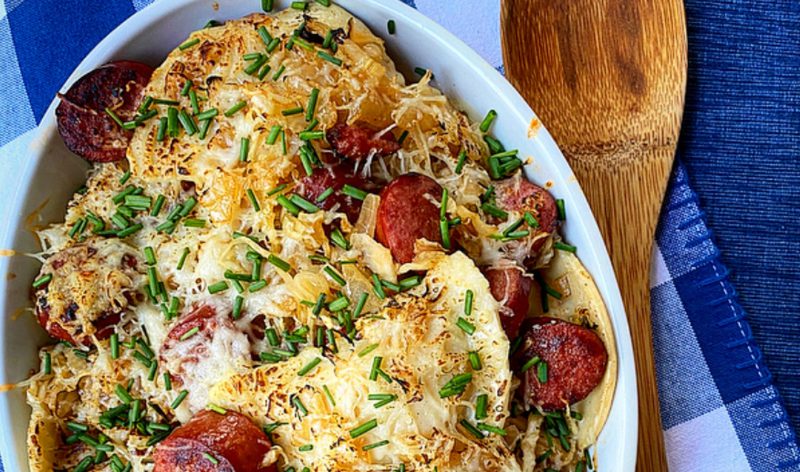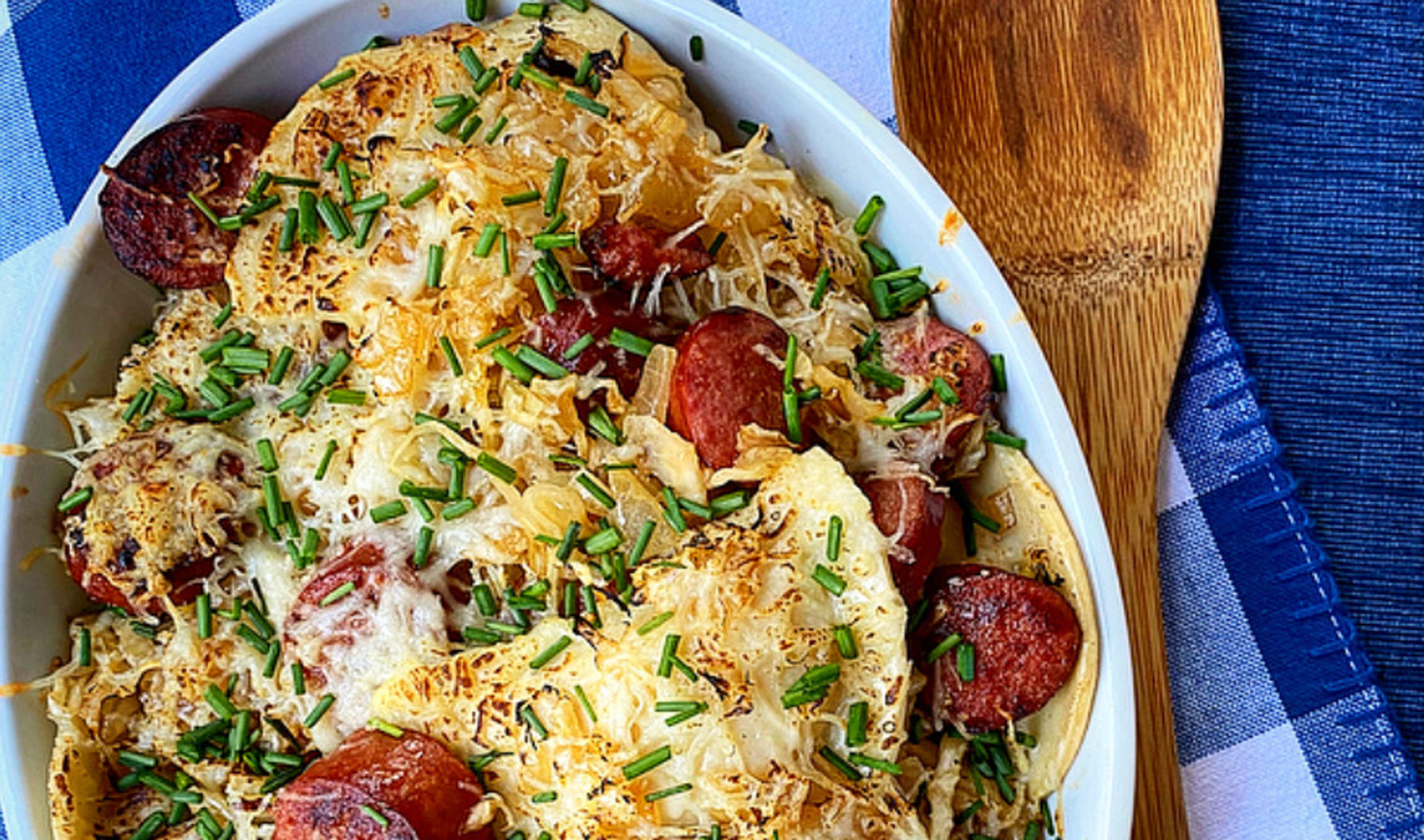 So, I'm sitting here on a rainy fall evening listening and dancing to some Big Country, New Order, and Depeche Mode – you know, like you do, and I'm about ready to watch Better Off Dead (I will never get tired of this movie as long as I live) and then Felix messages me: "I made an extra Pierogi and Kielbasa Bake for you, if you want it." Well, somewhere near the middle of that sentence I was already running to my car and screeching out of the driveway. I slid sideways into a parking spot in front of his apartment (the neighbors are kind of used to it by now) and launched myself to his front door. "Ummm, duh, you had me at pierogis!" Felix laughed and said he saw a pic somewhere that gave him the idea to add some sauerkraut and mustard to it, and then just popped it all into the oven for a few minutes. Oh, my! Oh, my! I'm not gonna lie, it was torture driving home with my (Felix's) casserole dish filled with such love on the seat next to me, wafting incredible aromas of smoky sausage and baked goodness begging me to pull over and dig in. I fought through it and made it home, just barely, and shared it with my family. My wife, Ellen, and our boys loved every bite, just as much as I did. I've said it before, Felix is the best friend you could ever ask for; however, if you don' t have a Felix, you can make this yourself in no time at all. Just buy some of your favorite pierogis from the freezer section. Or grab fresh if you can find them. Or better yet, make some yourself—although it is a bit of an undertaking. Cook the onion and sausage for a few minutes, then toss with the pierogis and remaining ingredients. Bake 15 min or so, then crack open a good beer to enjoy with this wonderful meal. And be sure to make an extra one for your favorite BFF. They'll love you forever for it, trust me.
Killer Kielbasa and Pierogi Bake Recipe
SERVES
4
DIFFICULTY
Easy
PREP TIME
10 min
COOK TIME
20 min
DIET: None
Killer Kielbasa and Pierogi Bake Recipe
SERVES: 4
DIFFICULTY: Easy
PREP TIME: 10 min
COOK TIME: 20 min
DIET: None
Ingredients
1 lg kielbasa sausage (about 1 lb), cut into bite-size chunks
1 T olive oil
½ yellow onion, chopped
1 lb sauerkraut
1 ½ c chicken stock
1-2 T Dijon mustard
1 lb frozen pierogis
2 c Swiss cheese, shredded
2 T chives, chopped
Instructions
In a skillet over medium heat, add olive oil and briefly brown kielbasa 1-2 min, then transfer to a 9×13" baking dish. Sauté onion in same skillet for 2 min. Add sauerkraut, chicken stock and mustard. Add all to baking dish, tucking pierogis in and top with cheese. Bake 15 min until cheese is bubbling and browned. Top with chives and serve immediately.
Meet the Makers
Felix & Greg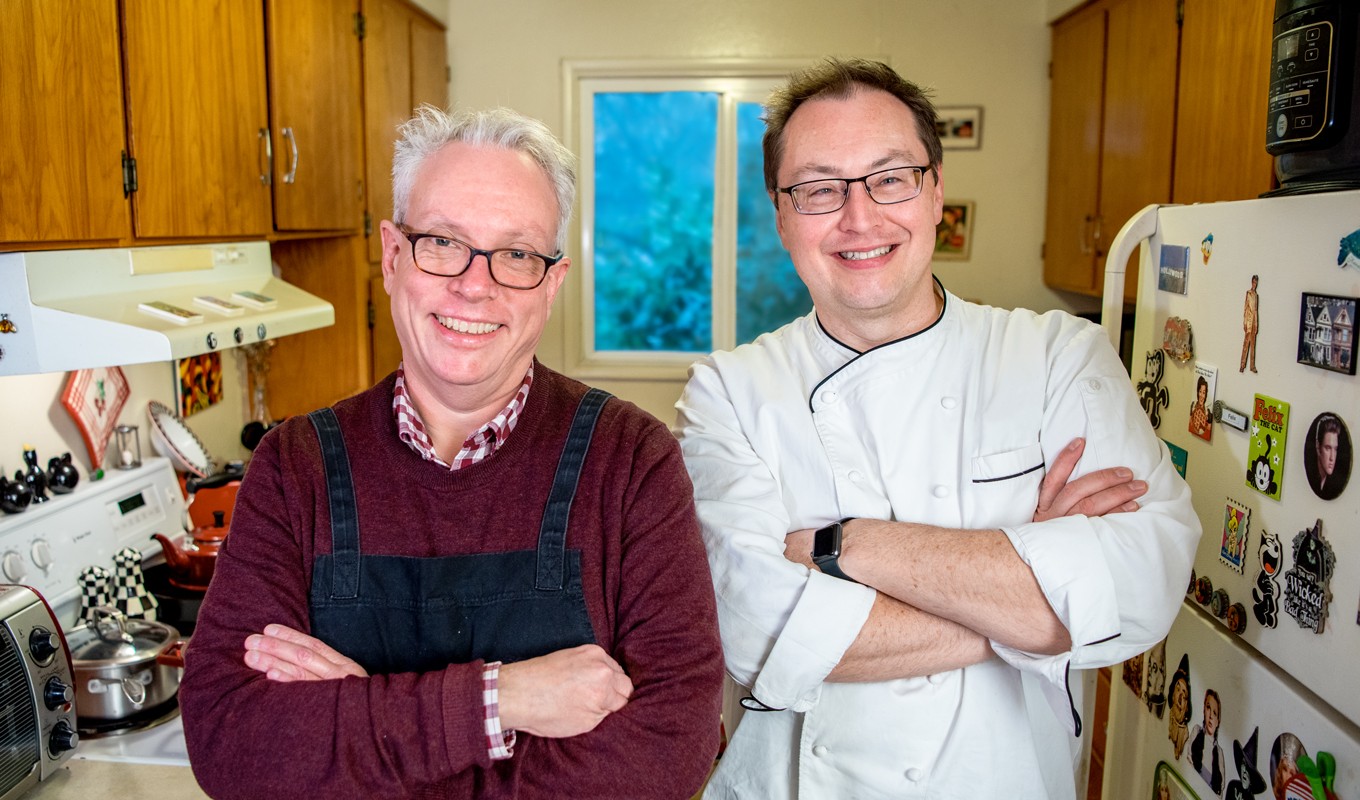 FELIX HUCK
Recipe Creator & Food Photographer
An artist and shutterbug, Felix finds beauty and inspiration in food and nature. He invents and photographs the recipes you'll find here.
GREG CABEZA
Professional Chef & Food Blogger
A food aficionado and lifelong music fan, Greg is an experienced artisan chef. He's also co-recipe creator and food blogger at Felix & Greg.
SUBSCRIBE TO OUR EMAILS
Good ideas could be cooking in your inbox. Sign up for our newsletter.