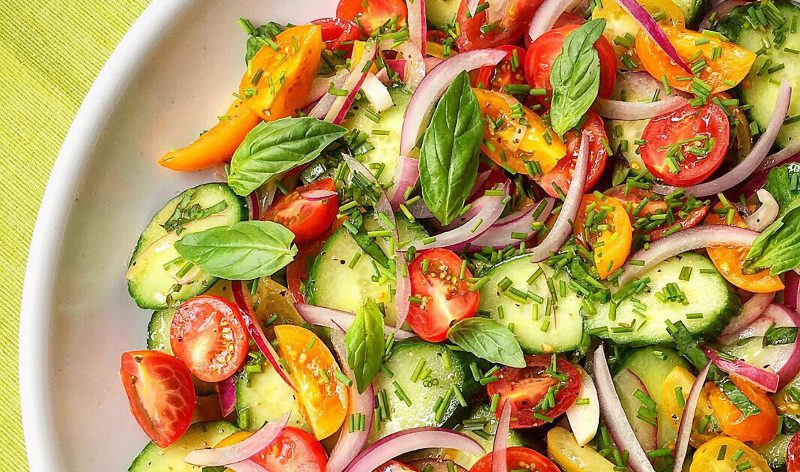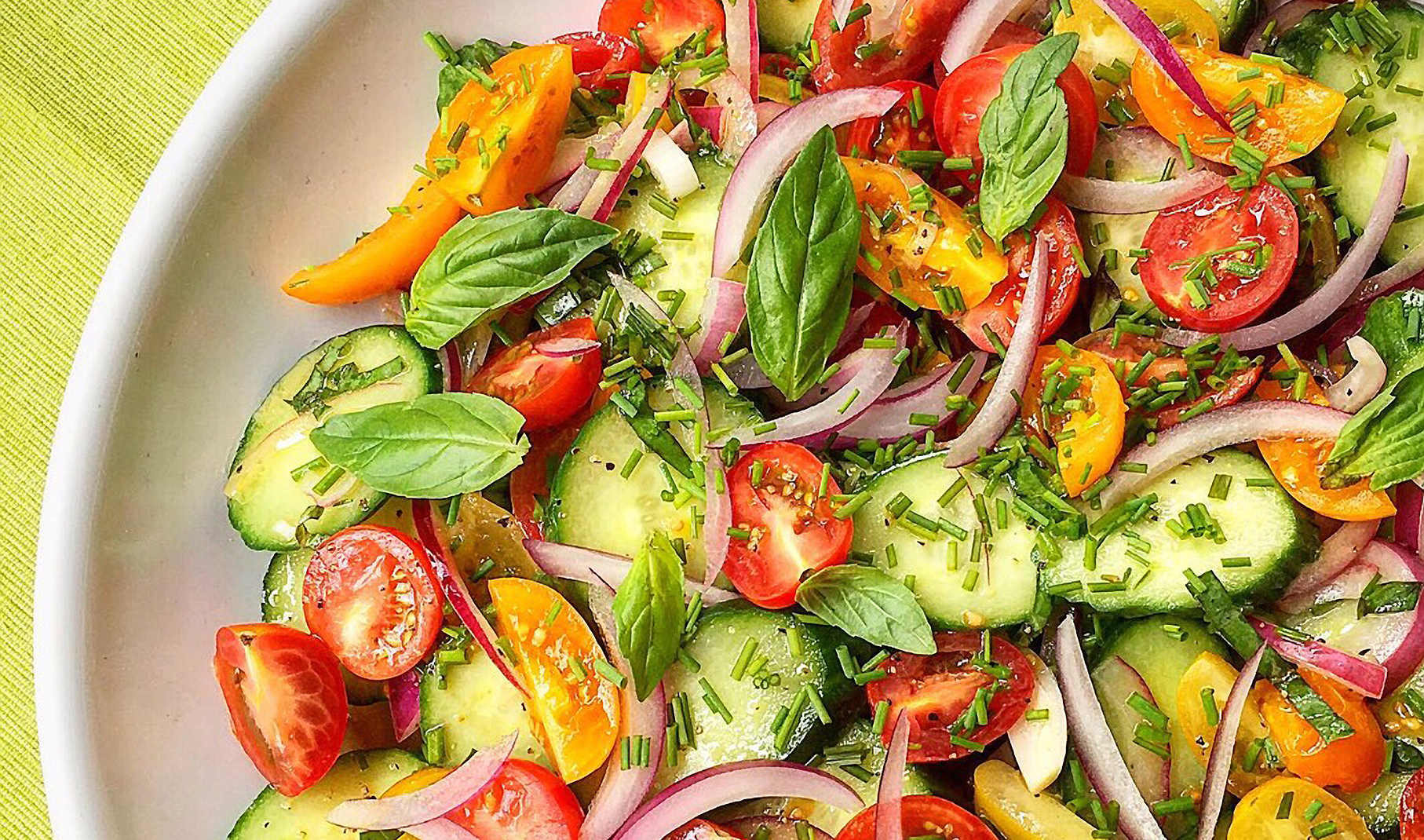 If you're lucky enough to be making this in mid-summer with peak cherry tomatoes, fresh local cucumbers and fragrant herbs, well, you've hit the jackpot, my friend! When made with in-season ingredients, this salad is taken to a new blissful level, yet it still sings year-round with some careful selections from the grocery store. We prefer cherry or grape tomatoes in winter, as larger tomatoes become less flavorful. If you don't have summer cucumbers, use English cucumbers instead. Chill the salad with the dressing for an hour or two before serving, so all of the flavors can meld together. If you'd like more garlic, knock yourself out! We love garlic, but sometimes get carried away and overdo it in a delicate salad like this, so starting with two cloves is a good beginning point. We also like to mix up the herbs in this, such as adding fresh dill and parsley, and tossing in a handful of kalamata olives for a Greek twist.
Serve this vegan and gluten-free salad mezze style with some toasty bread or pitas. Or, make it a fast and healthy weeknight meal to pair with lemon and herb fish, prawns or chicken. An excellent side salad to serve at BBQs or summer get-togethers, enjoy it often when the summer harvest is rolling in!
Juicy Tomato and Cucumber Salad Recipe
SERVES
4
DIFFICULTY
Easy
PREP TIME
10 min
COOK TIME
None
SPECIAL TOOLS
None
DIET: GF, Vegan, omit sugar for Keto
Juicy Tomato and Cucumber Salad Recipe
SERVES: 4
DIFFICULTY: Easy
PREP TIME: 10 min
COOK TIME: None
SPECIAL TOOLS: None
DIET: GF, Vegan, omit sugar for Keto
Ingredients
2 cloves garlic, minced
2 T red wine vinegar
2 T lemon juice
⅓ c extra-virgin olive oil
pinch salt and pepper
pinch sugar
1 English cucumber, halved and sliced
1 red onion, halved and sliced
2 pints cherry or grape tomatoes, differing colors
2 T ea chives and fresh basil, chopped (plus more for garnish)
Instructions
For dressing: combine garlic, red wine vinegar, lemon juice, olive oil, salt, pepper and sugar. Toss dressing with vegetables and herbs. Chill 1-2 hr before serving.
Meet the Makers
Felix & Greg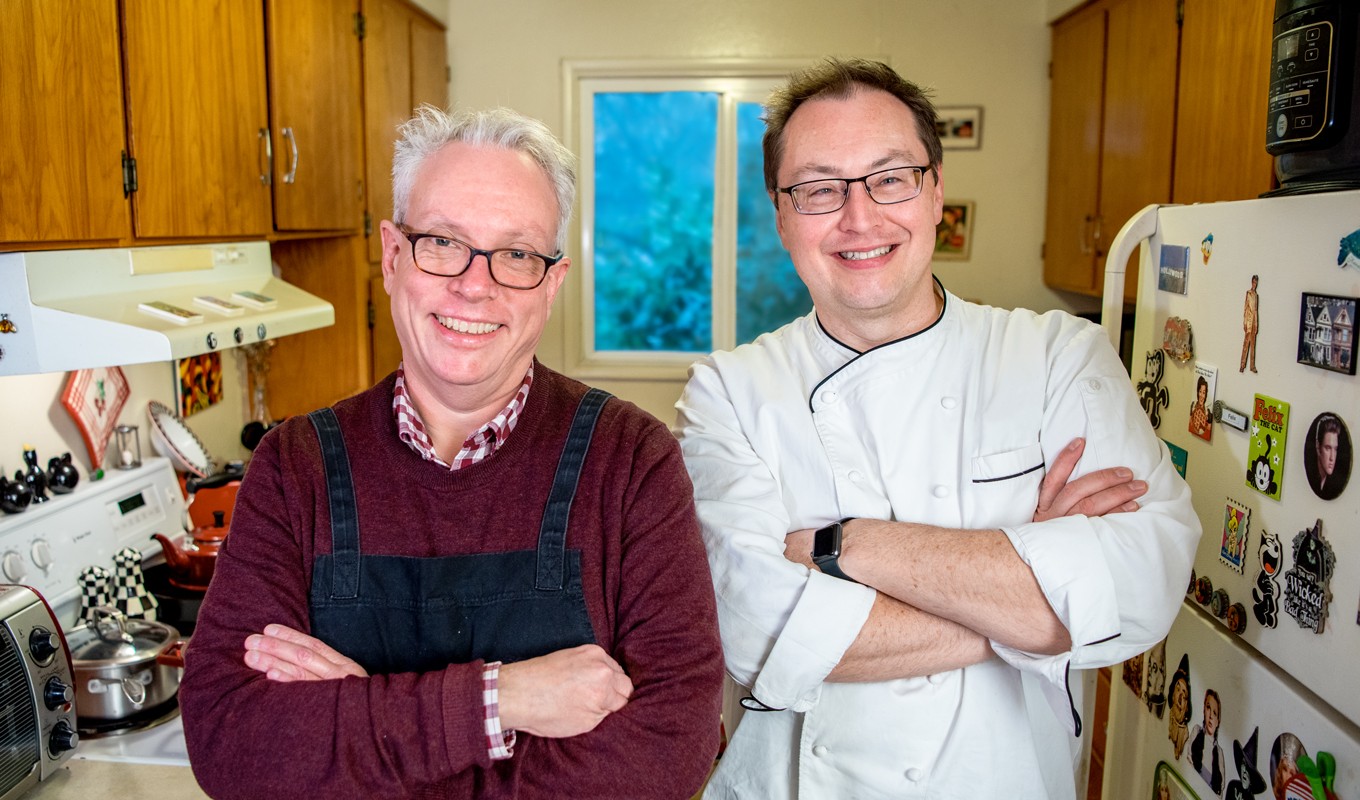 FELIX HUCK
Recipe Creator & Food Photographer
An artist and shutterbug, Felix finds beauty and inspiration in food and nature. He invents and photographs the recipes you'll find here.
GREG CABEZA
Professional Chef & Food Blogger
A food aficionado and lifelong music fan, Greg is an experienced artisan chef. He's also co-recipe creator and food blogger at Felix & Greg.
SUBSCRIBE TO OUR EMAILS
Good ideas could be cooking in your inbox. Sign up for our newsletter.