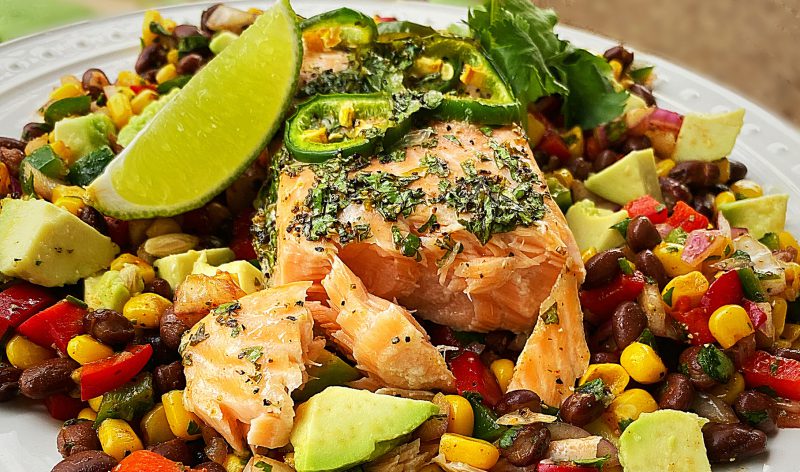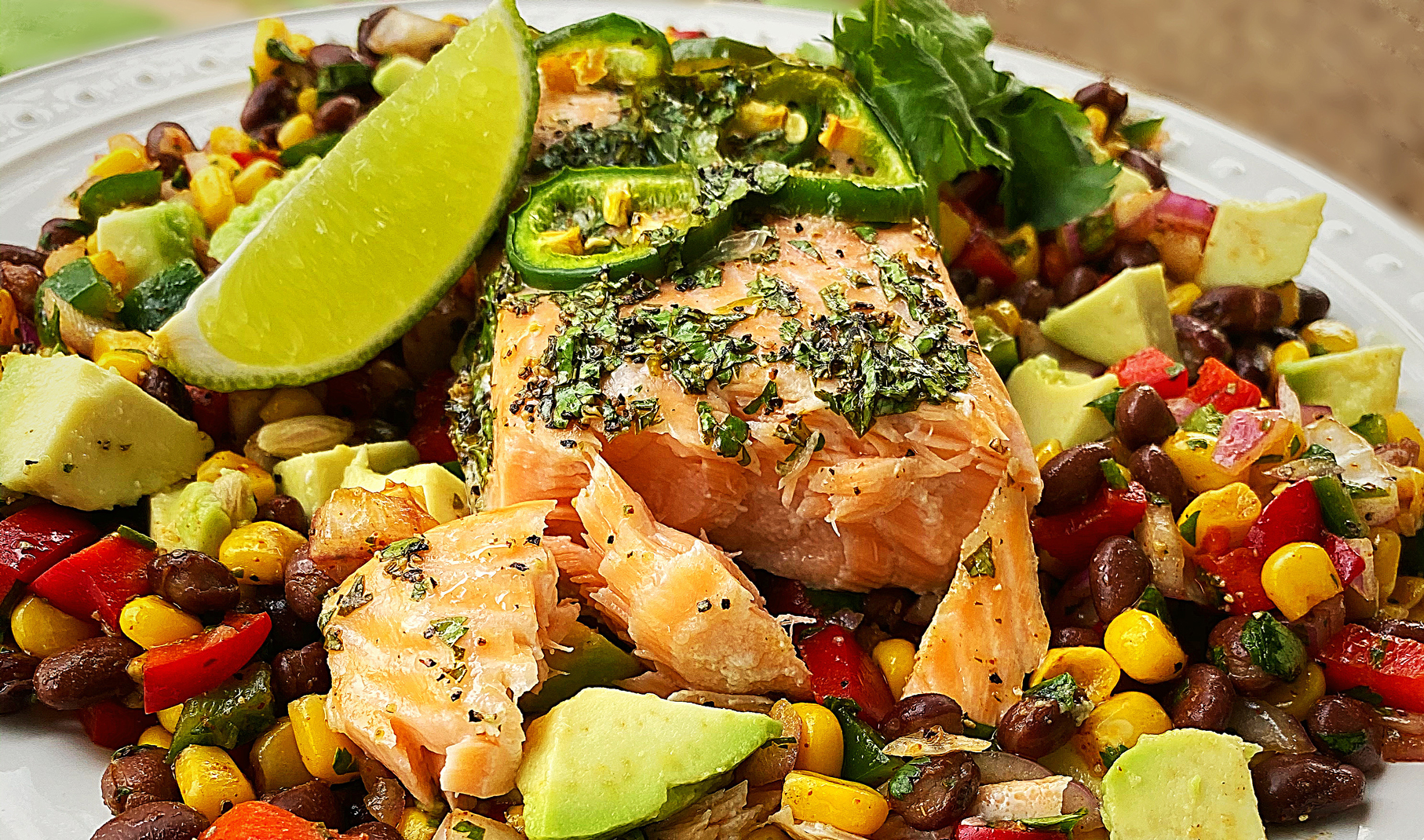 We both love salmon. We could eat it multiple times a week, and often do especially when it's as simple to make as this recipe. The black bean and corn salsa is an array of beautiful colors and flavors, and we love the fresh bites of veggies and avocado with each forkful of warm salmon. We are big fans of the trio of flavors that really make up the backbone of this marinade: sweet honey, citrusy lime and spicy jalapeño. This combo works wonders when poured over salmon!
Suit to your taste
You could use other fish filets such as cod or halibut for this if you wish. It would also be delicious on prawns (try them on the grill and make tacos!). We would say the heat level lands somewhere between mild and medium spiciness. It's hard to say just how hot the jalapeño might be, and they can vary slightly in size as well, however in our experience, one fresh jalapeño, medium size, is the perfect amount of warmth in this marinade and salsa. Another favorite thing about this sweet-meets-spicy recipe is that you can easily vary it to suit your taste and serve it multiple ways. If you'd like it a little less spicy, simply reduce the amount of jalapeño in each by half and add more as desired.
How to serve it
Start with our delicious bean and corn salsa, and then serve it with rice, chips and a favorite hot sauce. It's also excellent served over grilled peppers and onions, fresh salad greens or eaten with fresh tortillas and cold beer. The key is to prepare the salsa and sides before you cook the salmon, so that everything is ready to serve when the salmon is hot and fresh out of the oven. This easy, crowd-pleasing recipe can be multiplied to serve a group. It also happens to be gluten-free and is a tasty way to get more salmon and veggies into your weeknight meals!
Honey Jalapeño Salmon with Black Bean and Corn Salsa Recipe
SERVES
2
DIFFICULTY
Easy
PREP TIME
15 min
COOK TIME
15 min
SPECIAL TOOLS
Parchment paper
DIET: GF
Honey Jalapeño Salmon with Black Bean and Corn Salsa Recipe
SERVES: 2
DIFFICULTY: Easy
PREP TIME: 15 min
COOK TIME: 15 min
SPECIAL TOOLS: Parchment paper
DIET: GF
Ingredients
Honey Jalapeño Salmon
3 T extra virgin olive oil
3 T honey
1 lime, juice of
½ bunch cilantro, chopped
1 jalapeño, sliced, seeds removed
pinch each, salt and pepper
12 oz salmon, cut into 2, 6 oz fillets
Black Bean and Corn Salsa
1 ½ c canned black beans, rinsed and drained
1 ½ c frozen corn, rinsed to thaw
½ sm red onion, diced fine
1 red bell pepper, diced fine
1 jalapeño, diced fine, seeds removed
1 lime, juice of
½ bunch cilantro, chopped
1 avocado, diced
1 t each cumin and chili powder
3 T olive oil
salt and pepper to taste
Instructions
Honey Jalapeño Salmon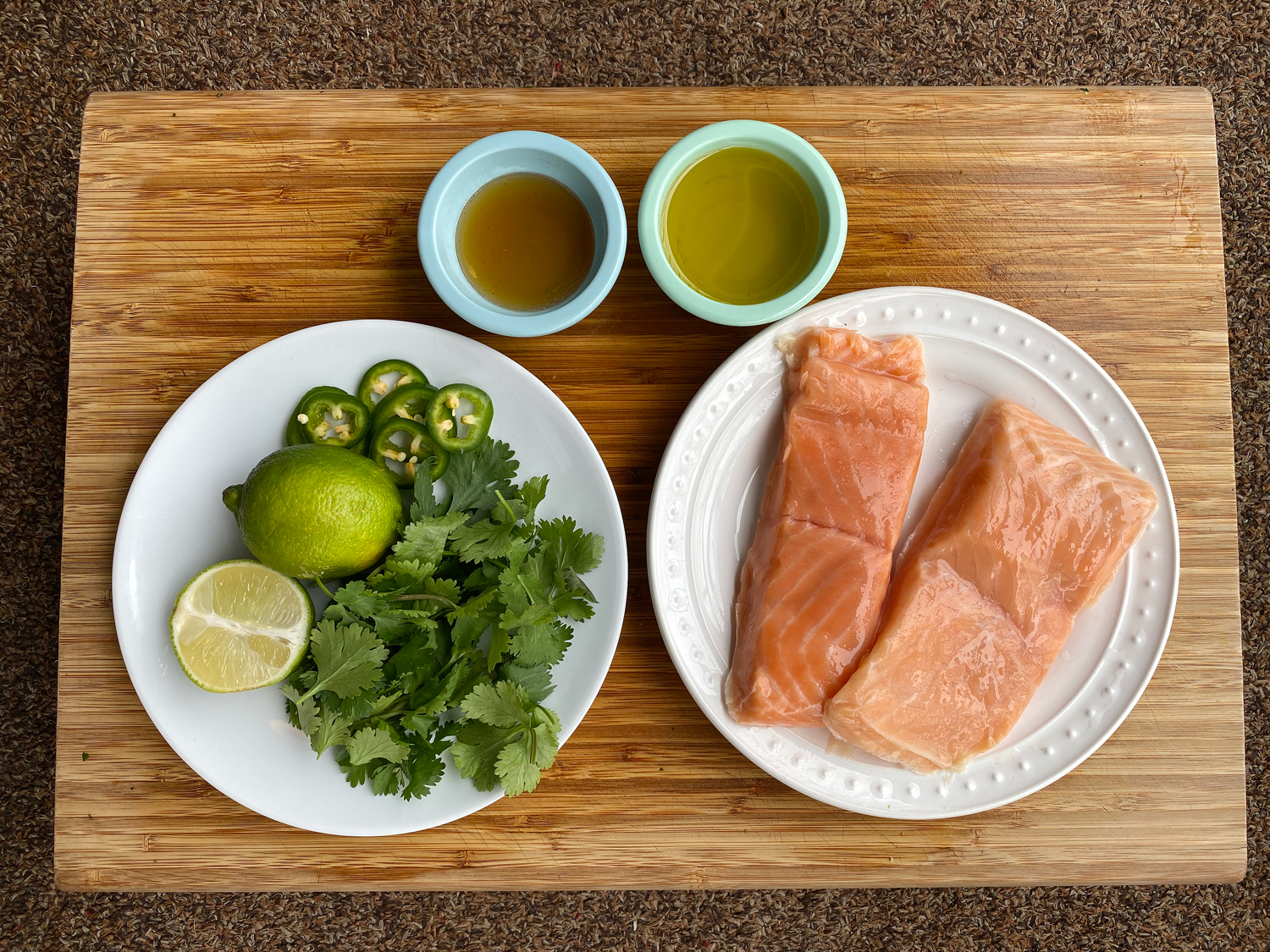 Preheat the oven to 375°. Gather ingredients.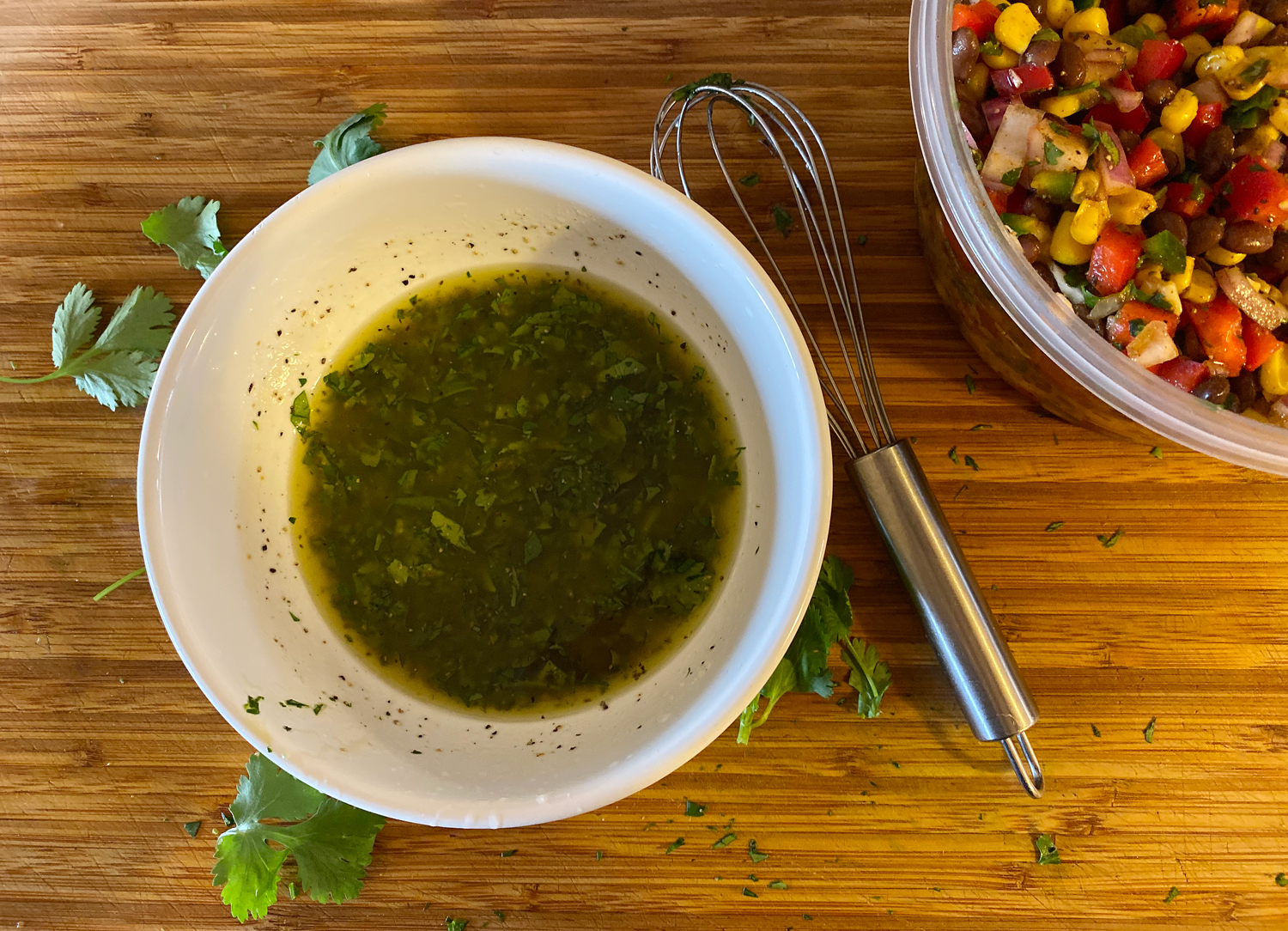 Combine all ingredients, except for salmon.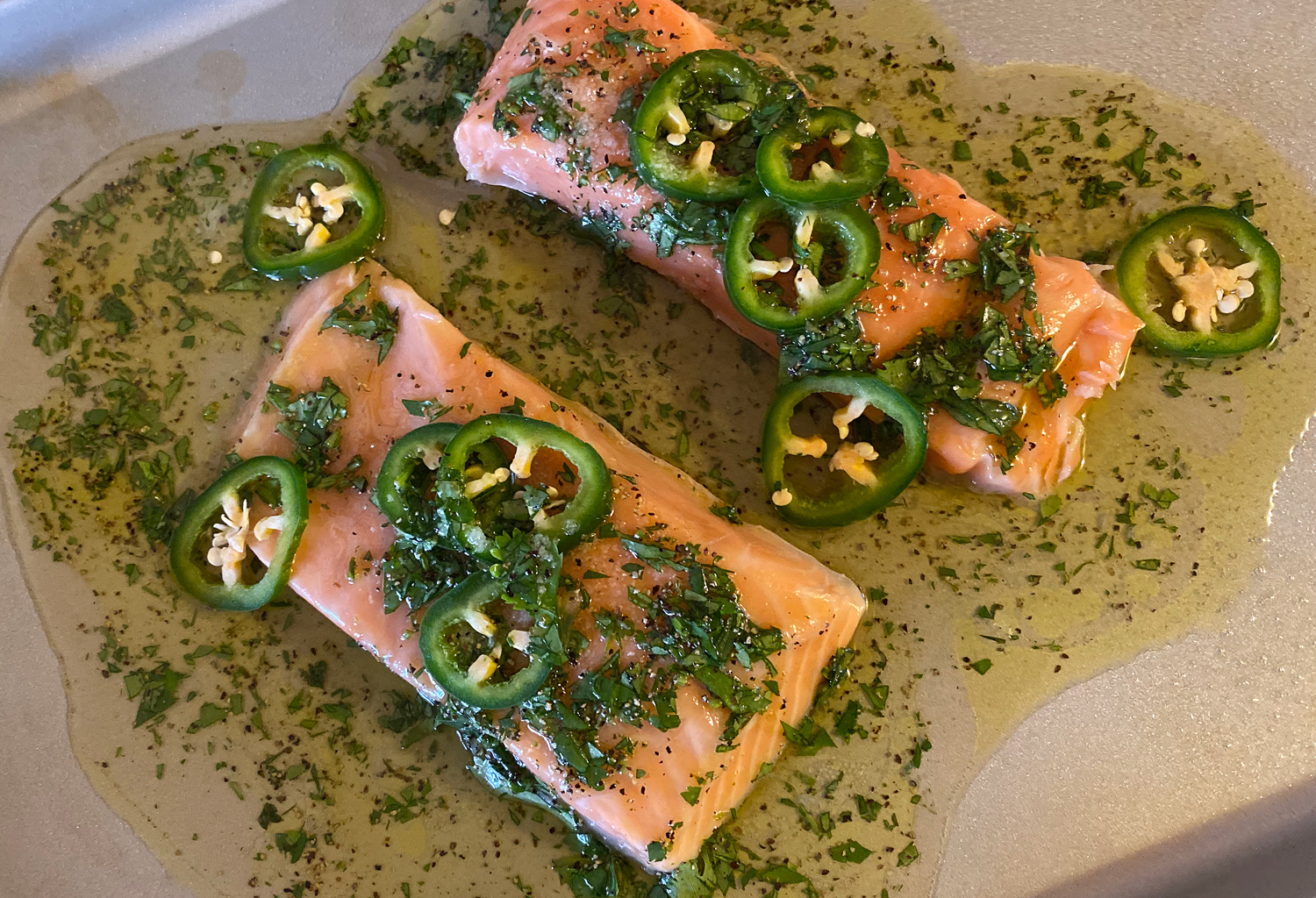 Place fish on parchment-lined or non-stick sheet pan and pour mixture over each fillet. Bake 12-15 min, until the center flakes easily.
Remove from the oven and serve warm with black bean and corn salsa, rice if desired, warm tortillas or chips, and cold beer.
Black Bean and Corn Salsa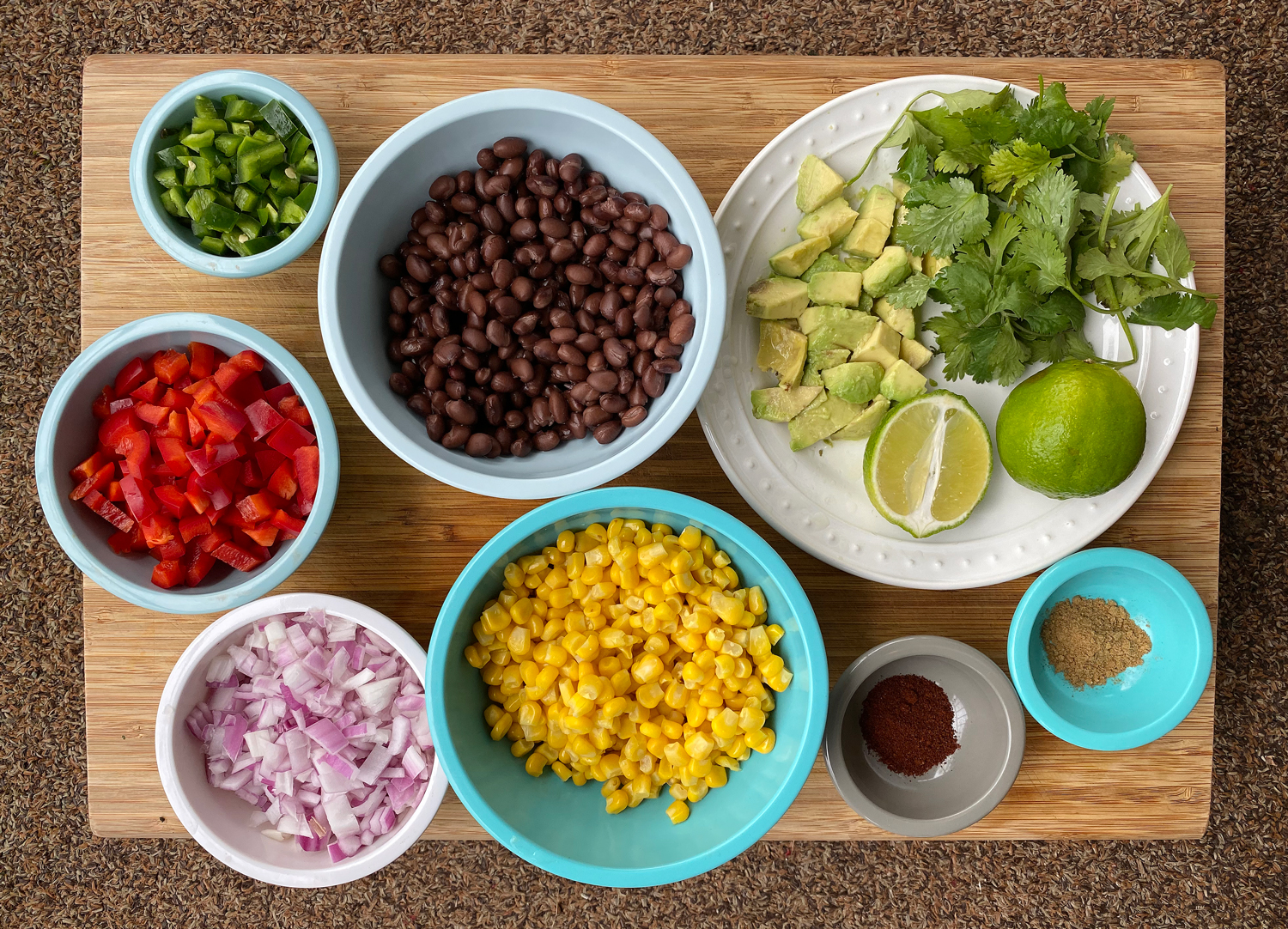 Combine all ingredients, tossing gently. Taste and adjust with salt and pepper; add more lime juice, if needed.
Spoon onto plates and serve salmon atop salsa, with chips and/or rice, as desired. Garnish with lime wedges and more cilantro.
Meet the Makers
Felix & Greg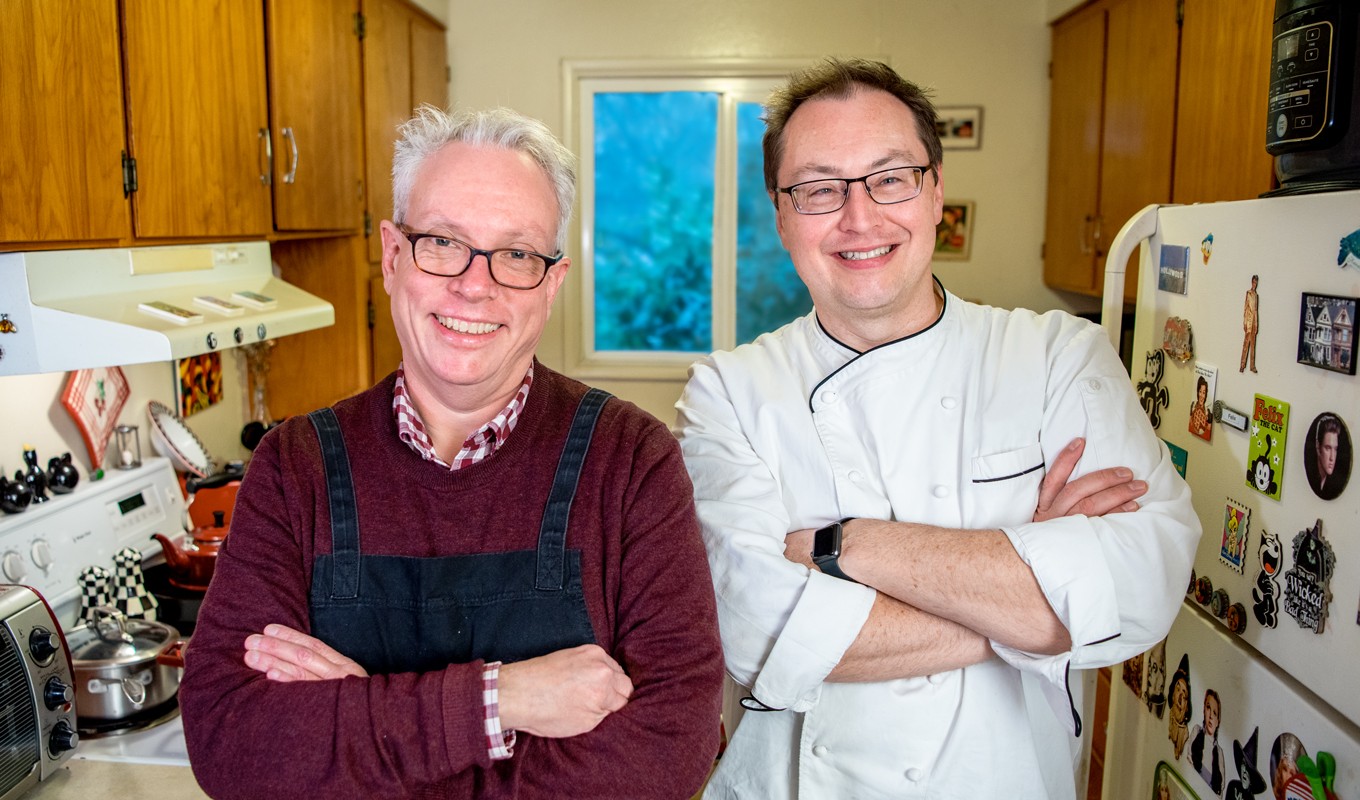 FELIX HUCK
Recipe Creator & Food Photographer
An artist and shutterbug, Felix finds beauty and inspiration in food and nature. He invents and photographs the recipes you'll find here.
GREG CABEZA
Professional Chef & Food Blogger
A food aficionado and lifelong music fan, Greg is an experienced artisan chef. He's also co-recipe creator and food blogger at Felix & Greg.
SUBSCRIBE TO OUR EMAILS
Good ideas could be cooking in your inbox. Sign up for our newsletter.