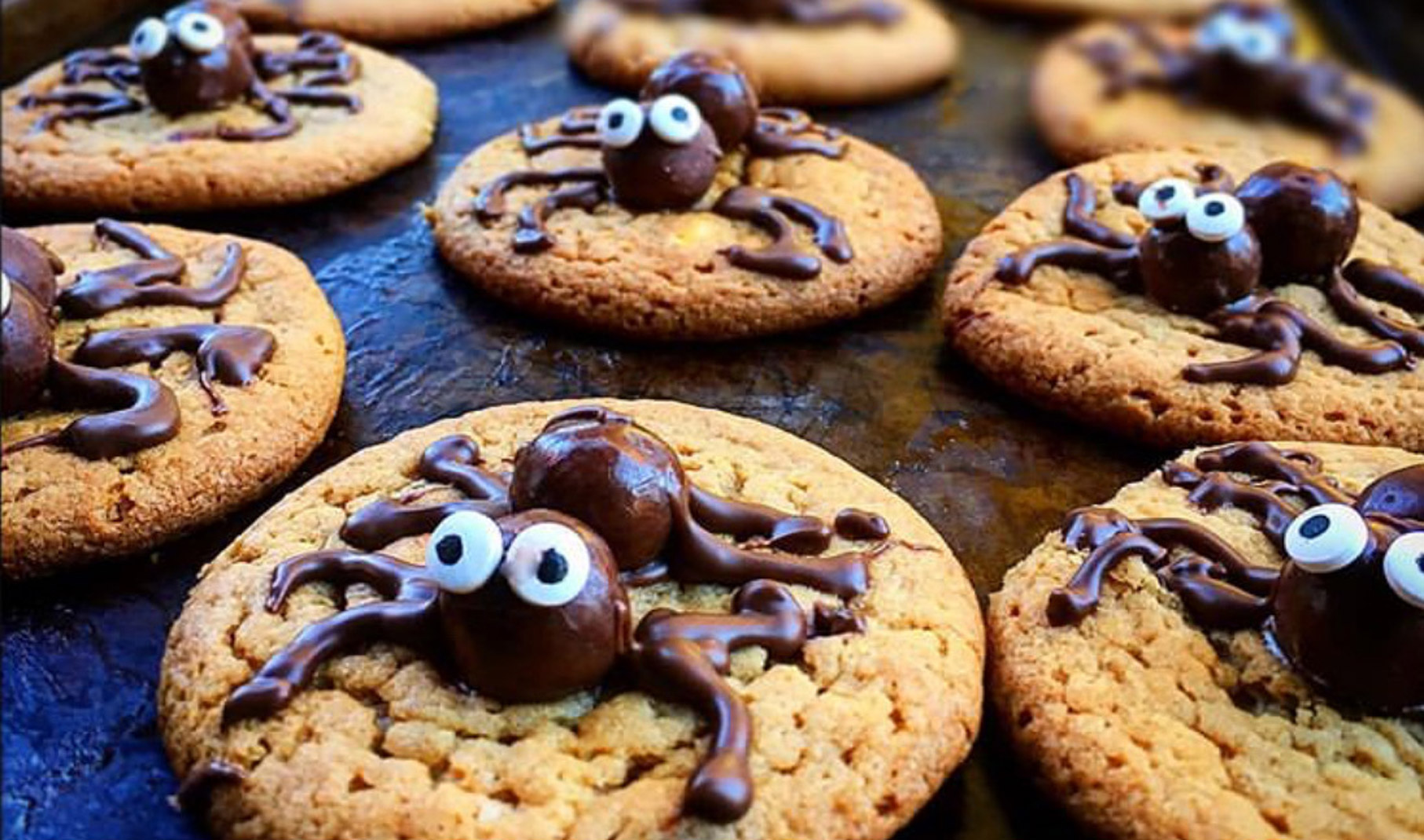 We go a little bit—Eehrm, a lot—crazy for Halloween around here! We just can't help ourselves. Felix and I love campy horror films, cheesy Halloween TV specials, allllllll of the spooky decorations and, of course, delicious treats. If you're anything like us, you will fall in love with our spider cookies, with their cute little eyes, candy bodies and chocolate legs. These are a tradition for us. Little ones can't keep their hands off of these, and the recipe is super easy to make—it's basically our chocolate chip cookie recipe with peanut butter candies instead of chips. This makes about 30 cookies, but you can easily double it and freeze the dough until you're ready to make more (highly recommended!). So, put on a favorite Halloween movie—Arachnophobia? Ghostbusters? Both are favorites here!—and grab a plate of these tasty cookies to nibble on while scaring the daylights out of the little trick or treaters at your door! Happy Halloween!
Halloween Spider Cookies Recipe
MAKES
2 dozen+ cookies
DIFFICULTY
Easy
PREP TIME
20 min
COOK TIME
45 min
DIET: None
Halloween Spider Cookies Recipe
MAKES: 2 dozen+ cookies
DIFFICULTY: Easy
PREP TIME: 20 min
COOK TIME: 45 min
DIET: None
Ingredients
½ c granulated sugar
¾ c brown sugar, packed
pinch salt
½ c butter, room temp
1 egg
1 t vanilla
1 ¼ c flour
½ t baking soda
2 c peanut butter candies (Reese's Pieces)
For decorating:
malted milk balls (Whoppers)
candy eyes
1 c chocolate chips
Instructions
Preheat oven to 350°. Mix sugars, salt and butter until creamed together well, 2-3 min. Add egg and vanilla and blend well, 1 min more. Combine flour and baking soda, adding to wet mixture, mixing just until combined (scrape down sides and bottom of bowl). Stir in peanut butter candies with spatula or spoon. Chill dough 30 min before dropping in 2 T balls on parchment-lined sheet pan. Slightly press down centers of each ball. Bake 12 minutes or until centers are golden brown. Transfer cookies to a wire rack to cool to room temp before decorating. Melt chocolate chips in a heat-proof bowl in microwave in 10 sec bursts until easily stirred and smooth. Place a malted chocolate candy on top of each cookie for the spider bodies and one for each head (cut away a little off of the bottom of the candy to keep it in place). Pour melted chocolate into a Ziploc bag and cut off a tiny bit of one bottom corner. Gently push chocolate through the bag and decorate each spider with eight legs (put a little chocolate around each spider body to keep it in place as well). Add dots of chocolate to backs of candy eyes and press into place. Chill briefly to set, and store in airtight container in cool place until ready to serve.
Meet the Makers
Felix & Greg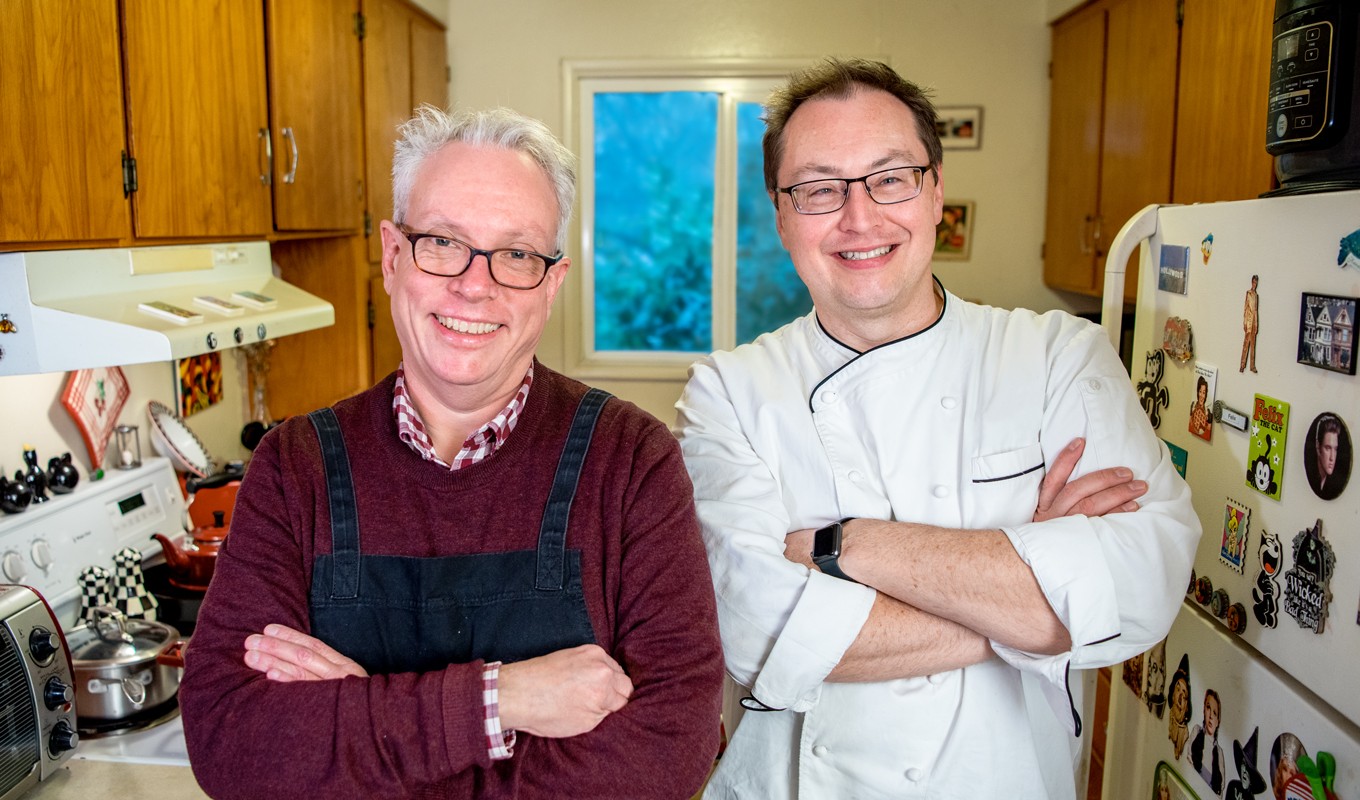 FELIX HUCK
Recipe Creator & Food Photographer
An artist and shutterbug, Felix finds beauty and inspiration in food and nature. He invents and photographs the recipes you'll find here.
GREG CABEZA
Professional Chef & Food Blogger
A food aficionado and lifelong music fan, Greg is an experienced artisan chef. He's also co-recipe creator and food blogger at Felix & Greg.
SUBSCRIBE TO OUR EMAILS
Good ideas could be cooking in your inbox. Sign up for our newsletter.