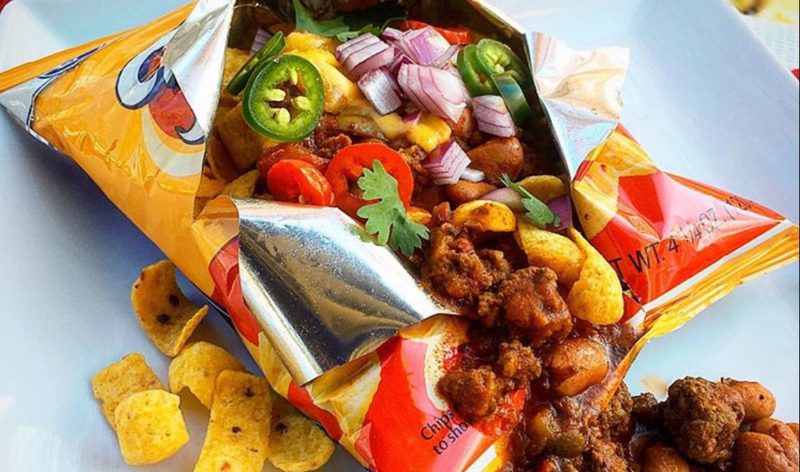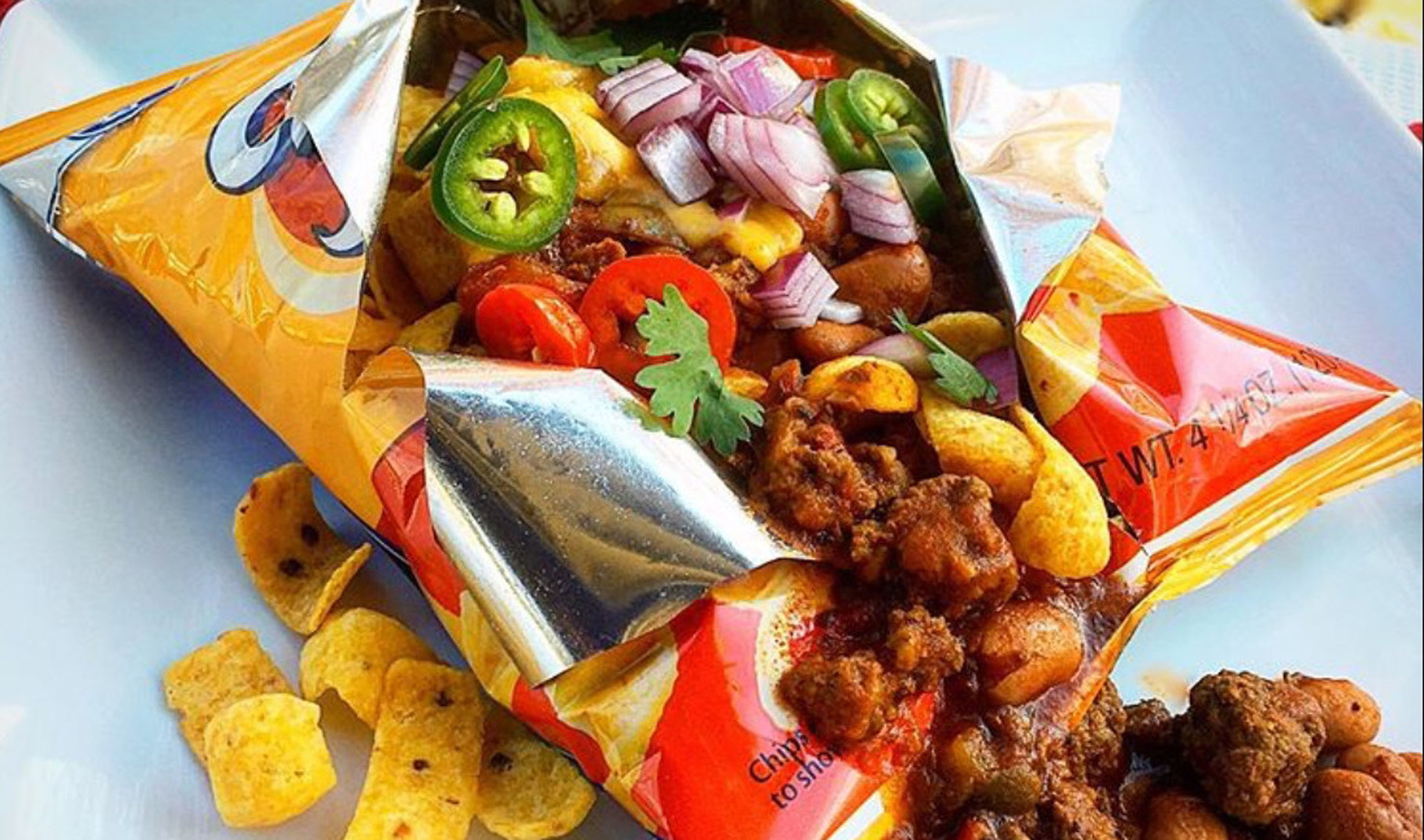 You might be looking at this recipe a bit quizzically, wondering what the heck Felix and I were thinking. Well, let me tell ya, if you've never had Frito Pie, you're missing out. And if you've never had Felix's chili, then you just haven't really lived yet. See, Frito Pie takes us back – back to ball games, street fairs and summertime carnivals. We have always loved how simple and tasty it is. The classic way it was served was from a food truck, right in the Frito bag, along with plenty of onions and cheese on top of crispy, crunchy corn chips. You can, of course, serve this without the bag, but we grew up at a time when food like this was great fun, and we've never forgotten that.
Felix's Chili
Now then, let's talk about Felix's chili. It's meaty, as it should be, with a good bit of beans, and it's full of jalapeños and garlic, of course. Then he adds beer, nothing fancy, no bitter hoppy IPA here, just a good clean lager works great, and finally a strong dose of smoky chipotles in adobo sauce for a big, delicious finish. This killer chili shows up often around these parts, for topping chili dogs, baked potatoes, or on its own with some cheddar and onions on a cold day. But today, we are throwing down with a big ol' scoop of it on top of those Fritos, and don't forget to add a fistful of onions and more jalapeños before you dig in!
If you want to make this recipe really quick, just buy your favorite supermarket or restaurant chili and the rest of it falls into place in minutes, It's always better, however, with Felix's homemade goodness.
I'd like to mention that we're both Patsy Cline and Elvis fans, so now would be a perfect time to turn on some tunes and have a little of that playing in the background. Then go grab an ice-cold Dr. Pepper or root beer and call a few friends over to eat this all up. Y'all have fun now, ya hear?
Frito Pie Recipe
SERVES (chili)
10-12
SERVES (Frito pie)
4
DIFFICULTY
Easy
PREP TIME (chili)
10 min
COOK TIME (chili)
1 hr
DIET: None
Frito Pie Recipe
SERVES (chili): 10-12
SERVES (Frito pie): 4
DIFFICULTY: Easy
PREP TIME (chili): 10 min
CHILL TIME (chili): 1 hr
DIET: None
Ingredients
Felix's Chili
2 lb ground beef
1 lg yellow onion, chopped
3 lg jalapeños, seeded and chopped fine
5 garlic cloves, mined
1 red bell pepper, chopped
28 oz can diced tomatoes
28 oz can tomato sauce
3 T tomato paste
2 c lager beer (or beef stock)
15 oz black beans, drained
15 oz chili beans, drained
15 oz kidney beans, drained
3 T chili powder
1 T cumin, ground
1 t dried oregano
3 T chipotle peppers in adobo sauce
½ t salt and pepper, to taste
dash of hot sauce, to taste
Frito Pie
4 individual, small bags of Fritos
½ med red onion, chopped
½ c pickled jalapeños
1 c shredded cheddar
¼ c cilantro leaves (optional)
Instructions
Felix's Chili
Brown ground beef in large soup pot over medium-high heat. Drain off excess fat, remove and reserve beef. Add to pot: onion, jalapeños, garlic and bell pepper; cook 3 min. Add spices, tomatoes, sauce and tomato paste and beer, cooking just until simmering. Add beef, beans, chipotles, salt and pepper. Simmer on low for 1 hour. Taste and adjust salt/pepper and add a dash of hot sauce, if desired.
Frito Pie
Slit bags of Fritos down the front with scissors or a sharp knife. Add a heaping spoonful of chili, top with cheese, onions, jalapeños and cilantro. Serve immediately.
Meet the Makers
Felix & Greg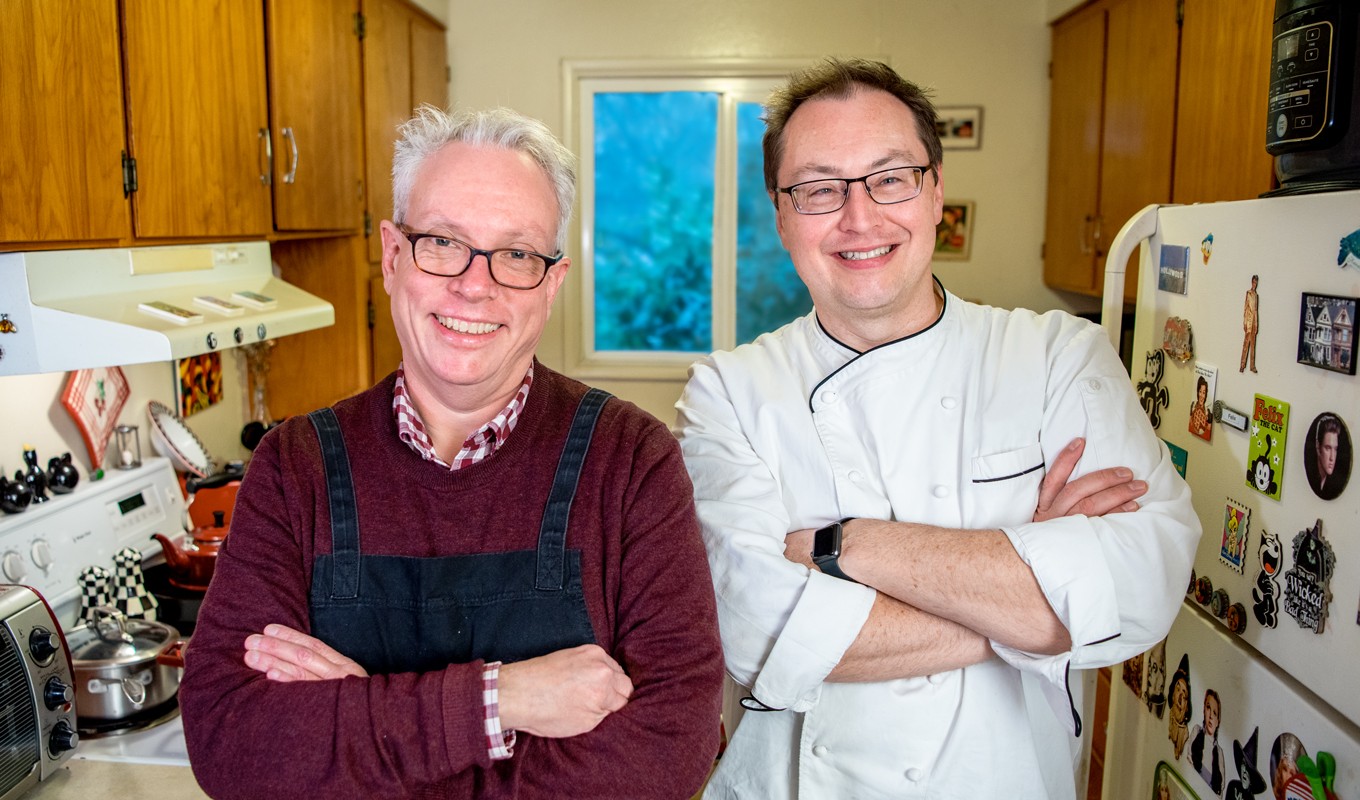 FELIX HUCK
Recipe Creator & Food Photographer
An artist and shutterbug, Felix finds beauty and inspiration in food and nature. He invents and photographs the recipes you'll find here.
GREG CABEZA
Professional Chef & Food Blogger
A food aficionado and lifelong music fan, Greg is an experienced artisan chef. He's also co-recipe creator and food blogger at Felix & Greg.
SUBSCRIBE TO OUR EMAILS
Good ideas could be cooking in your inbox. Sign up for our newsletter.