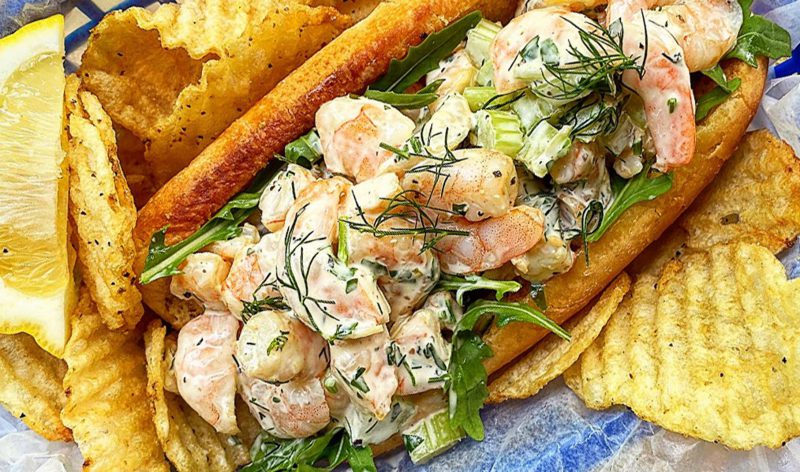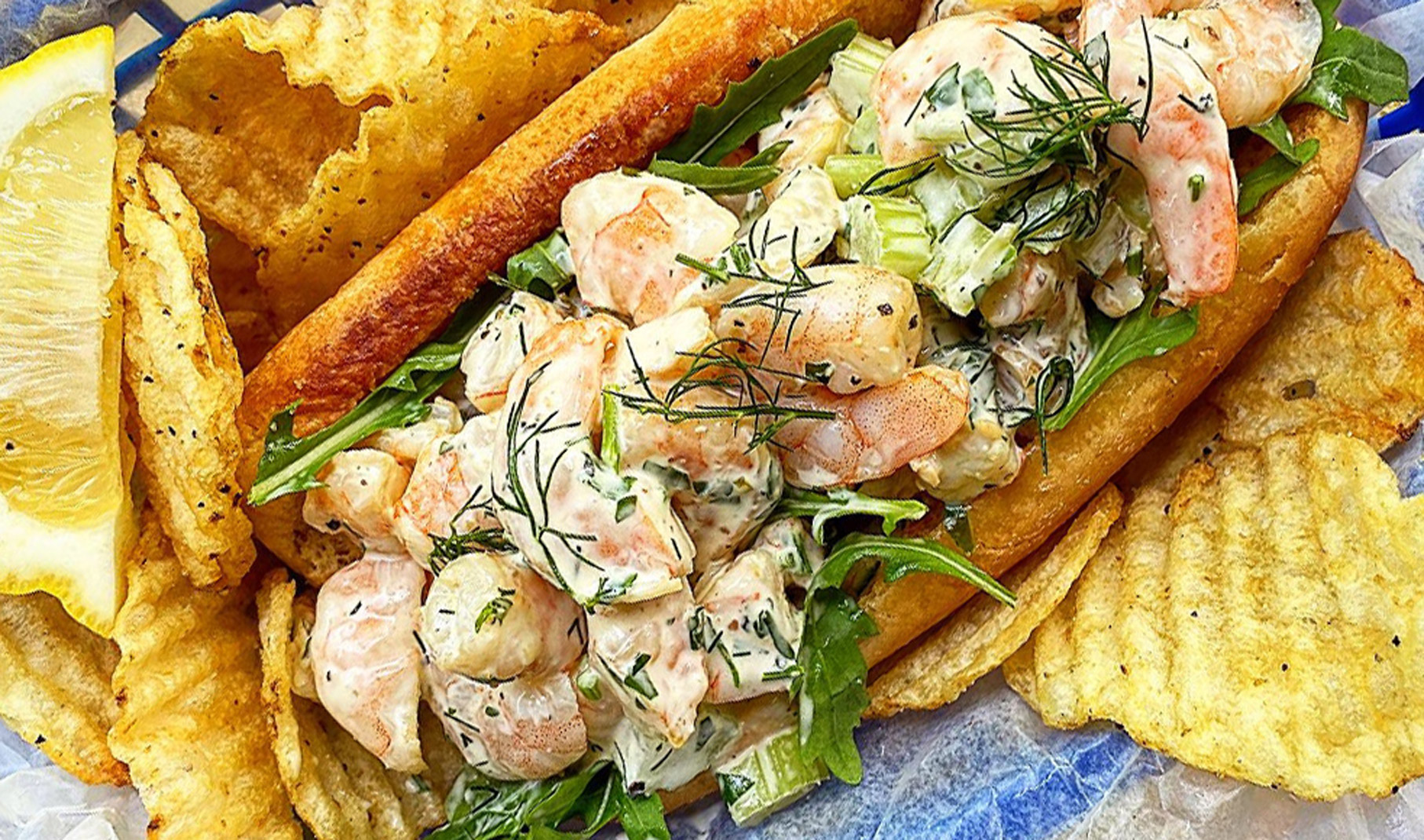 If you can't already tell, Felix and I truly love seafood. When I say "love," I mean it in the most emphatic way. We have a serious crush on seafood. We spend our time dreaming up new dishes as we longingly wait for our favorite seafood to come into season each year.
We will jump at any opportunity to have some gorgeous buttered lobster, fresh shucked shellfish, perfectly baked salmon, outstanding halibut – we even love wiggly things, like fried calamari. Oh, and we're crazy for sushi! But if there is one kind of seafood that reigns supreme for us, it's shrimp. Plump, juicy shrimp is king, and this shrimp roll sandwich is perfect for getting our shrimp fix in a flash. We can't wait for you to try it, too!
Felix likes to roast the lightly seasoned shrimp quickly, chill them for a bit, then toss them with the other ingredients. Don't feel like you have to do exactly what we have done here, though. For example, you could start with just a touch of lemon pepper and onion powder, then taste and adjust the seasonings at the end to suit your taste. Felix really loves lemon (and lemon pepper) so this might be a bit much for some people.
On the other hand, if you want more lemon or a pinch of heat, go for it! A dash of hot sauce would be nice, or a touch of chili flakes would do the trick. I'm a sucker for a decadent lobster roll, but shrimp makes a fine substitute.
This shrimp roll excellent served fish shack-style with some salt and vinegar potato chips and a cold beer. And you know what else is nice to have with it? Some Duran Duran (Rio!) and a great friend like Felix.
Fresh Shrimp Roll Sandwich Recipe
SERVES
2
DIFFICULTY
Easy
PREP TIME
10 min
COOK TIME
10 min
SPECIAL TOOLS
None
DIET: None
Fresh Shrimp Roll Sandwich Recipe
SERVES: 2
DIFFICULTY: Easy
PREP TIME: 10 min
COOK TIME: 8 min
SPECIAL TOOLS: None
DIET: None
Ingredients
1 lb shrimp, 26/30 ct or smaller, rinsed and peeled
¼ c celery, diced fine
½ c mayonnaise
½ T dijon mustard
½ t lemon pepper, to taste
¼ t onion powder, to taste
1 t lemon zest and juice of ½ lemon
1 t ea chives, parsley and dill, chopped
2 hot dog buns or fresh hoagie rolls
olive oil, for brushing
Instructions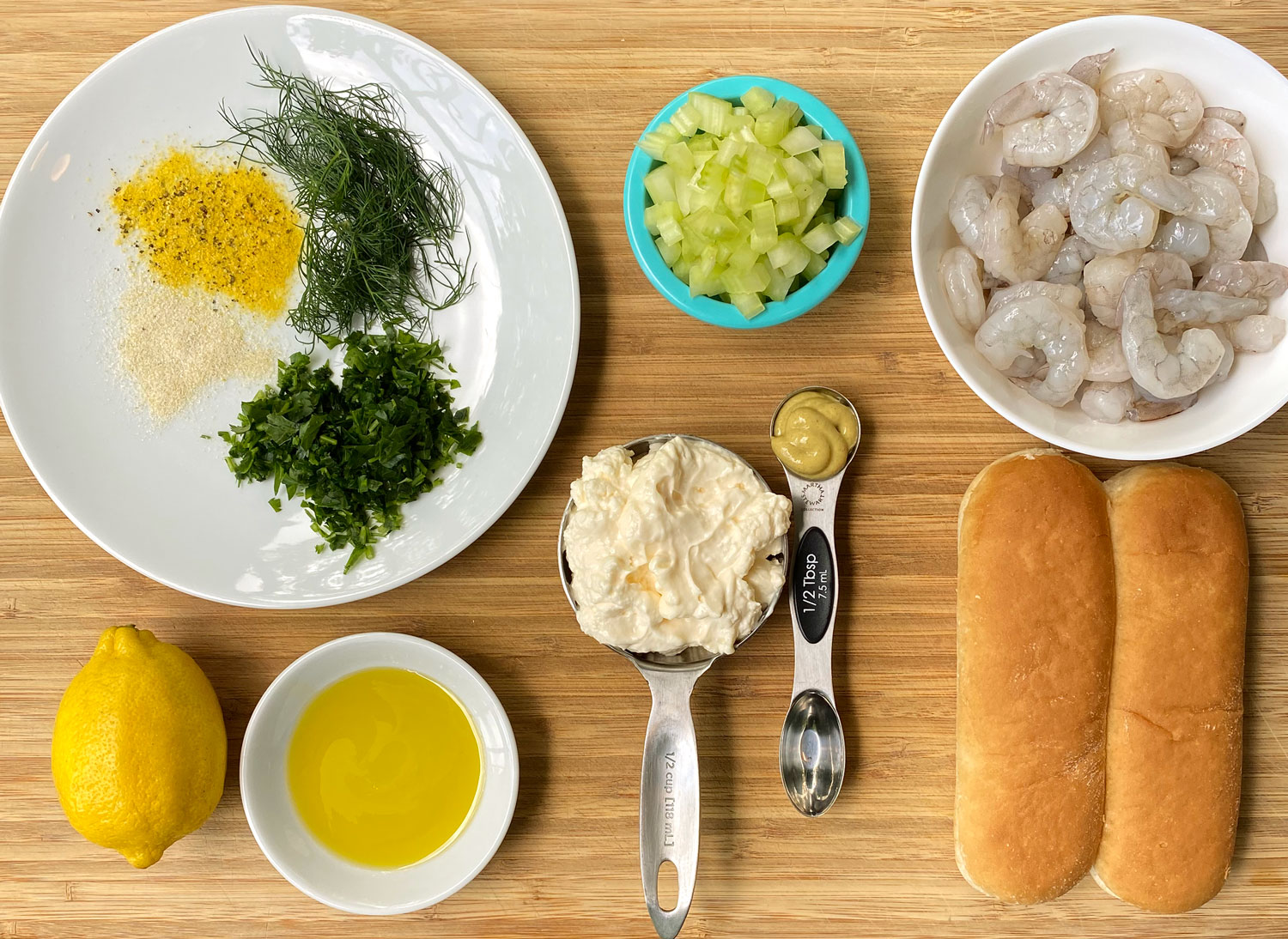 Gather ingredients. Preheat oven to 400°.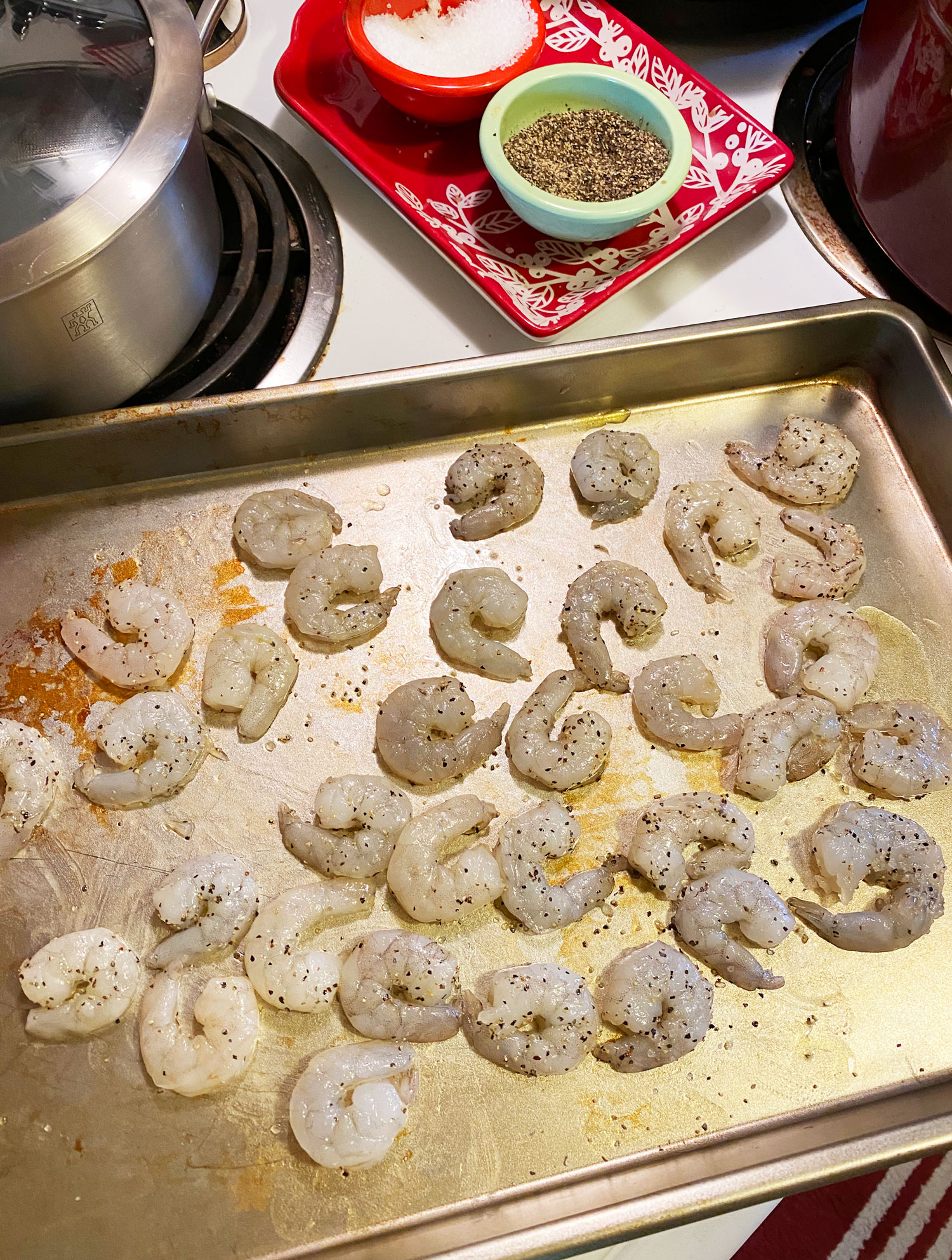 Toss shrimp with a bit of olive oil and roast until cooked through in center (break one open) approx. 8 min. Smaller shrimp will cook very quickly, so watch them closely and start checking for doneness after 4 min.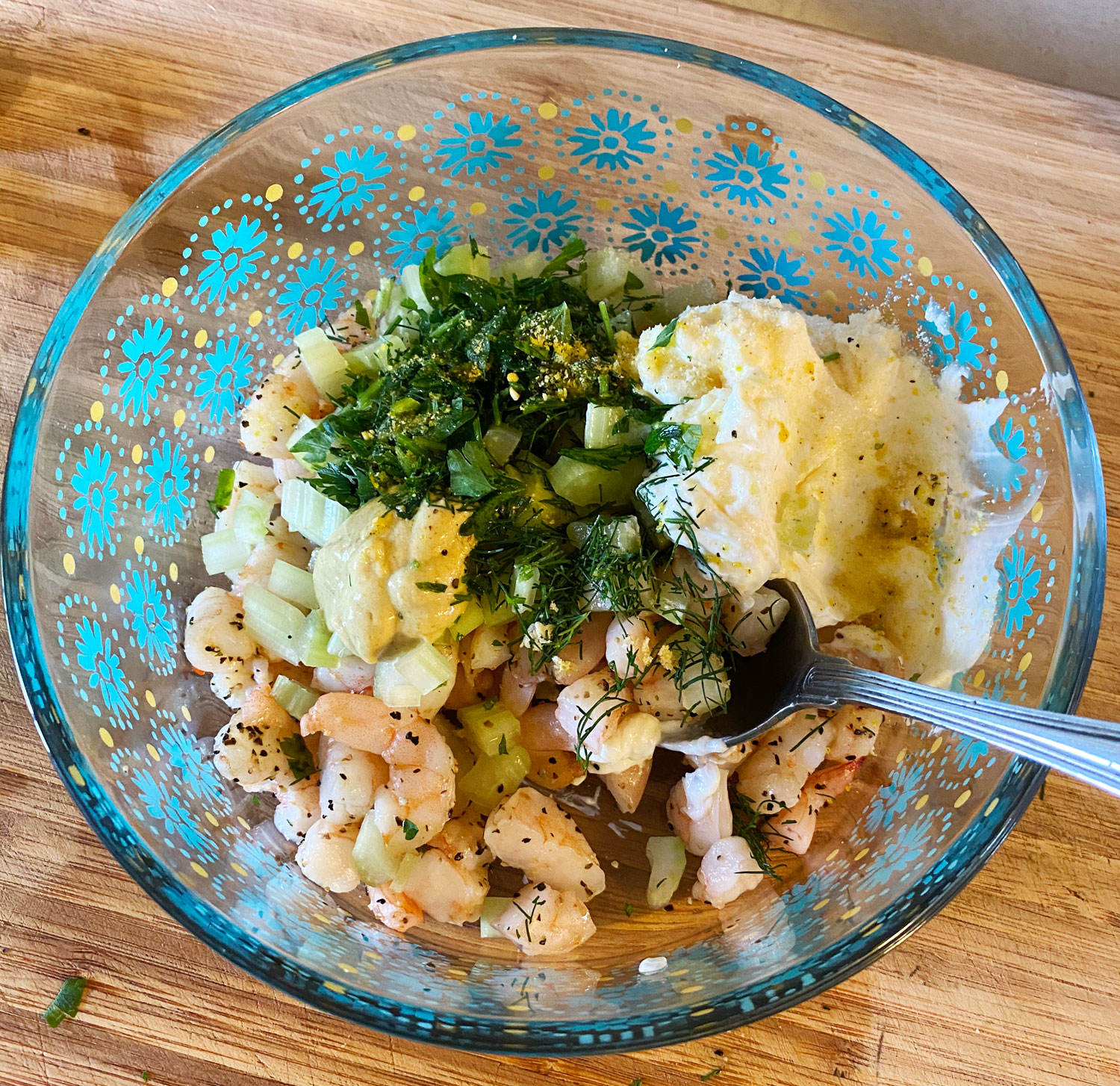 Chill shrimp when cooked, then toss with remaining ingredients. Taste and adjust seasonings with a pinch of salt, and add other options, if desired, such as hot sauce, capers, a bit of tartar sauce, etc. We really like it to be clean and simple with lots of lemon and herbs, but if you want to add your own twist, do it!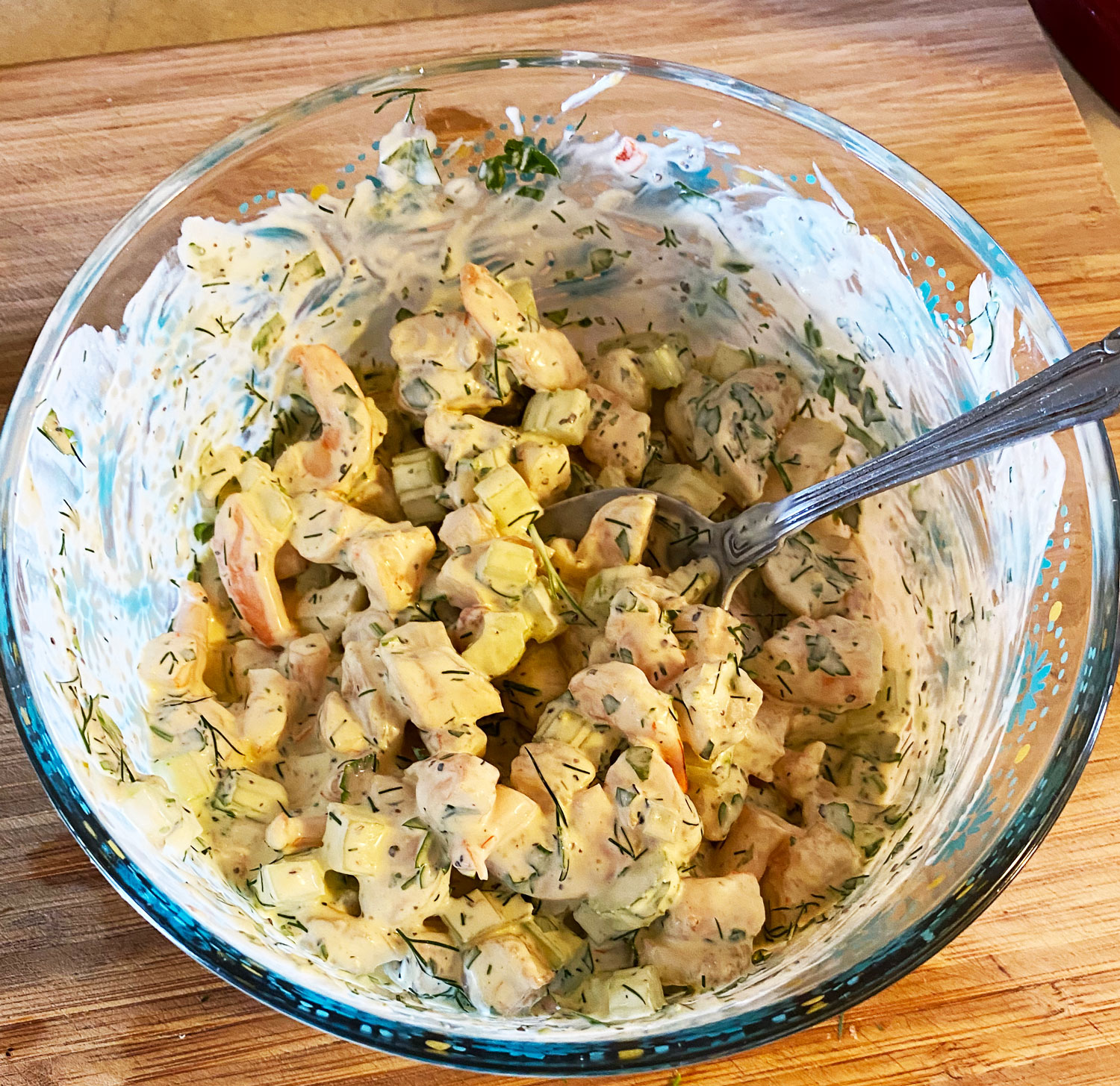 Toast the buns after brushing them with a bit of olive oil and serve the shrimp salad heaped onto each roll. Have lots of potato chips and cold drinks ready, as these disappear really fast.
Meet the Makers
Felix & Greg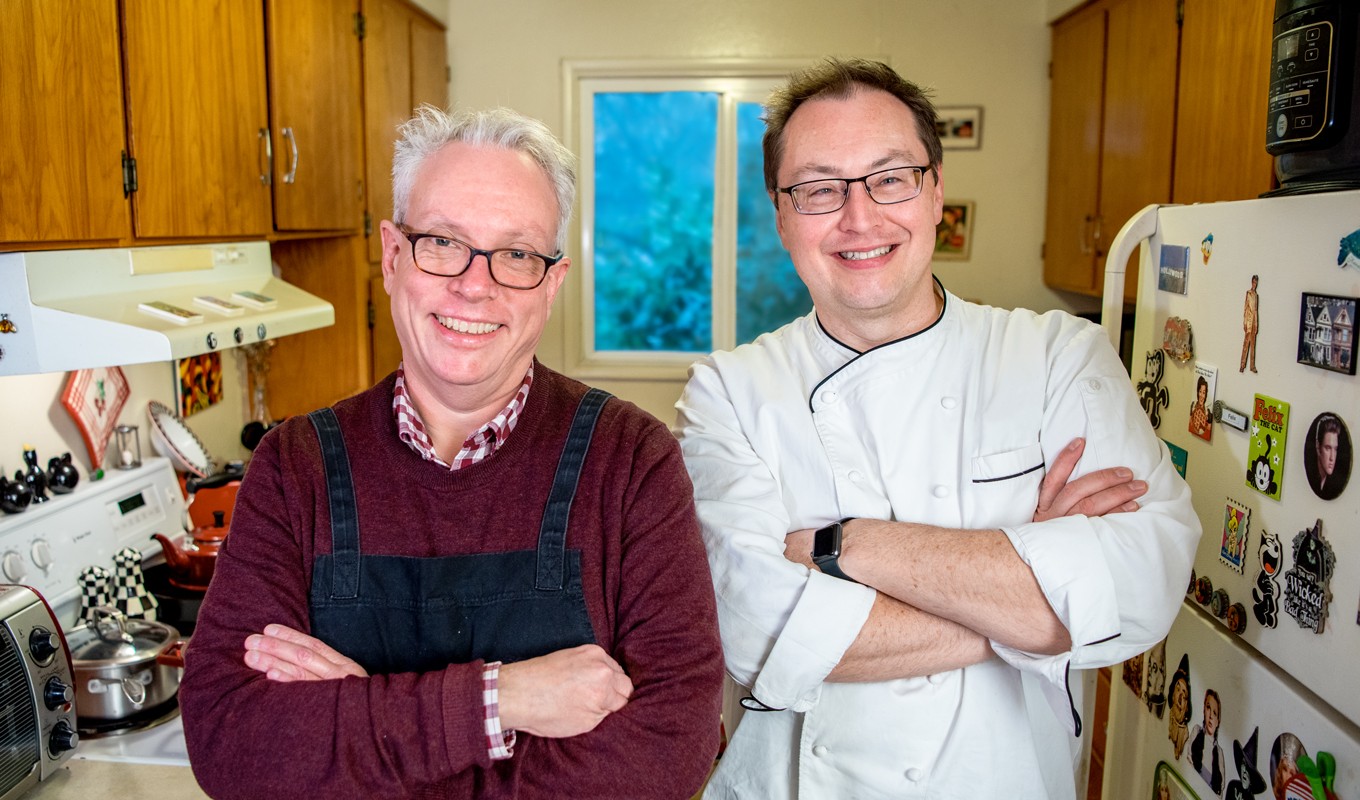 FELIX HUCK
Recipe Creator & Food Photographer
An artist and shutterbug, Felix finds beauty and inspiration in food and nature. He invents and photographs the recipes you'll find here.
GREG CABEZA
Professional Chef & Food Blogger
A food aficionado and lifelong music fan, Greg is an experienced artisan chef. He's also co-recipe creator and food blogger at Felix & Greg.
SUBSCRIBE TO OUR EMAILS
Good ideas could be cooking in your inbox. Sign up for our newsletter.