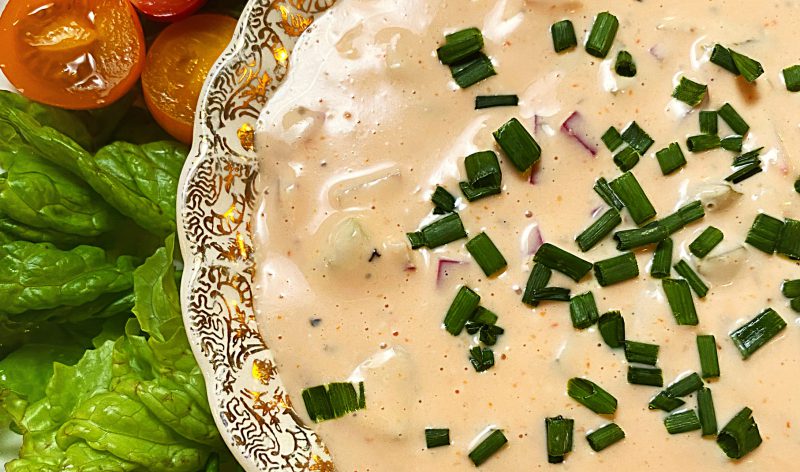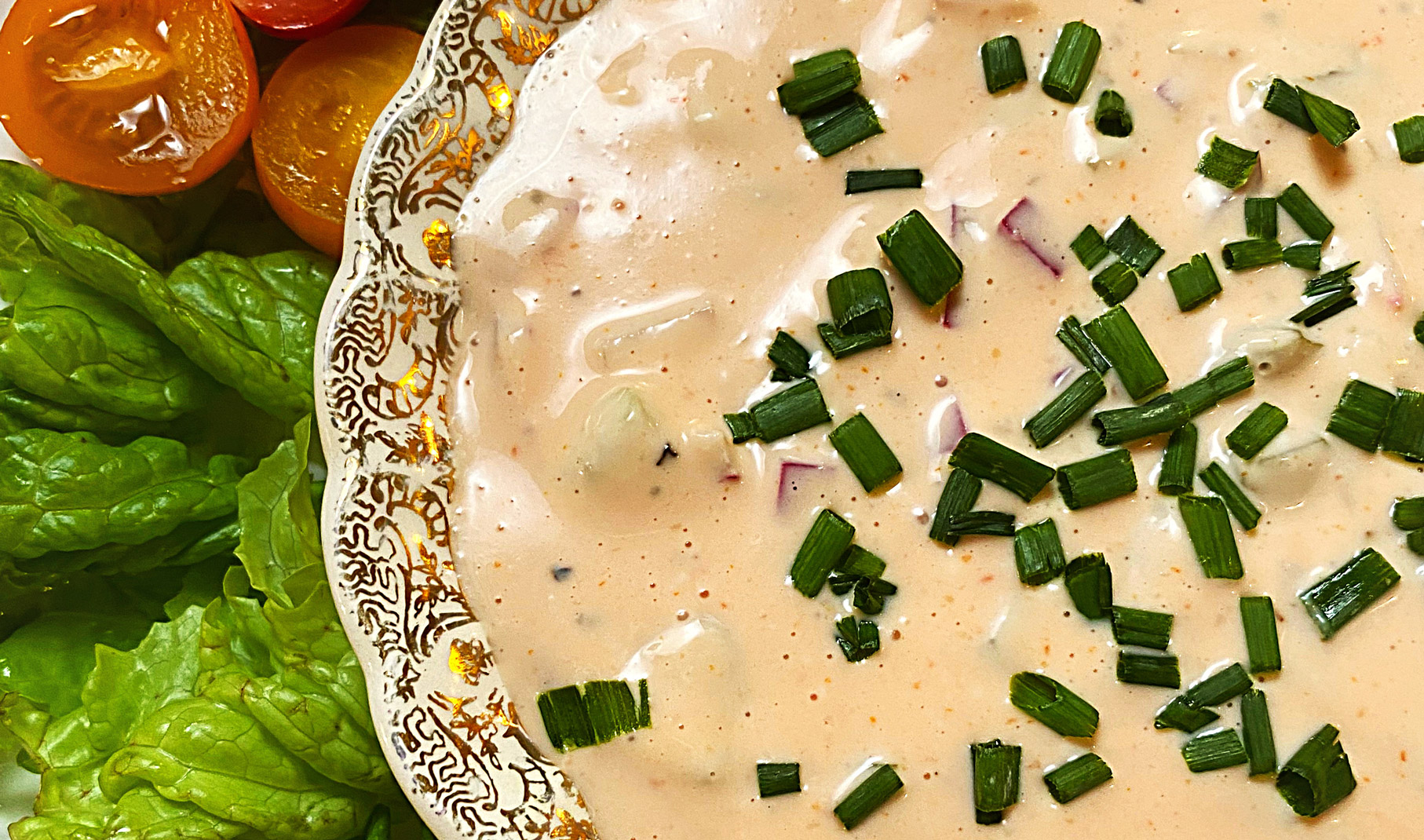 We don't need a thousand islands for a dressing inspiration, we only need one—our favorite, Fantasy Island. As you know, we are '70s and '80s kids who watched more than our share of Fantasy Island, and our dressing is a little homage to that kitschy, crazy show. Felix and I always whip up dressings from scratch because they're soooooo easy to make, and this little bit of extra work makes everything amazingly better.
We use dill pickles instead of sweet relish (it makes a big difference), as well as minced red onion for deep flavor. If you want, add a dash of hot sauce for a bit more zing. This is perfect on salads—shrimp especially!—and fantastic on sandwiches, like Reubens or patty melts, which we just adore, and it makes a deliciously easy dip for veggies and appetizers. Whatever you can dream up, it could come true with our treat from Fantasy Island!
Fantasy Island Dressing Recipe
MAKES
4 cups
DIFFICULTY
Easy
PREP TIME
15 min
COOK TIME
None
DIET: Vegetarian, GF
MAKES: 4 cups
DIFFICULTY: Easy
PREP TIME: 15 min
COOK TIME: None
DIET: Vegetarian, GF
Ingredients
2 c mayo
1 c ketchup
½ c dill pickle, chopped (or relish)
½ c red onion, finely chopped
½ lemon, juice of
1 t garlic powder
pinch ea of salt and pepper, to taste
dash of hot sauce (optional)
Instructions
Combine all well. Store chilled in an airtight container. Will keep for two weeks or more.
Meet the Makers
Felix & Greg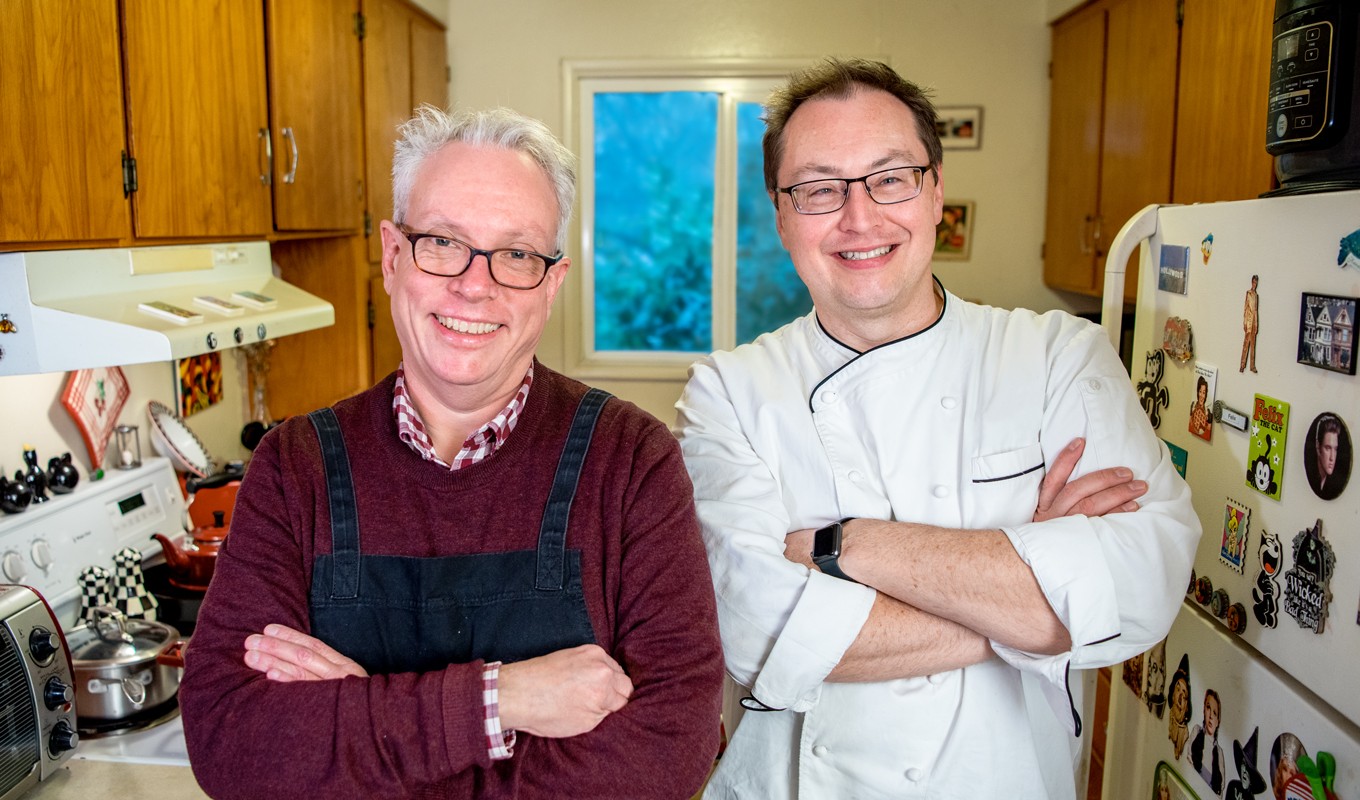 FELIX HUCK
Recipe Creator & Food Photographer
An artist and shutterbug, Felix finds beauty and inspiration in food and nature. He invents and photographs the recipes you'll find here.
GREG CABEZA
Professional Chef & Food Blogger
A food aficionado and lifelong music fan, Greg is an experienced artisan chef. He's also co-recipe creator and food blogger at Felix & Greg.
SUBSCRIBE TO OUR EMAILS
Good ideas could be cooking in your inbox. Sign up for our newsletter.