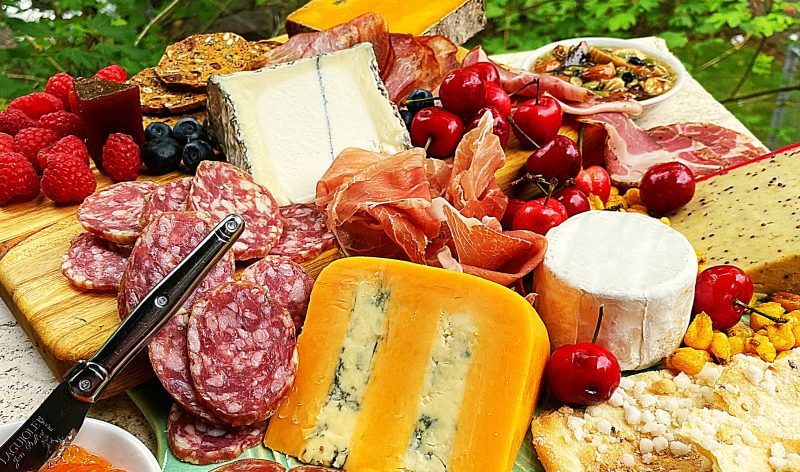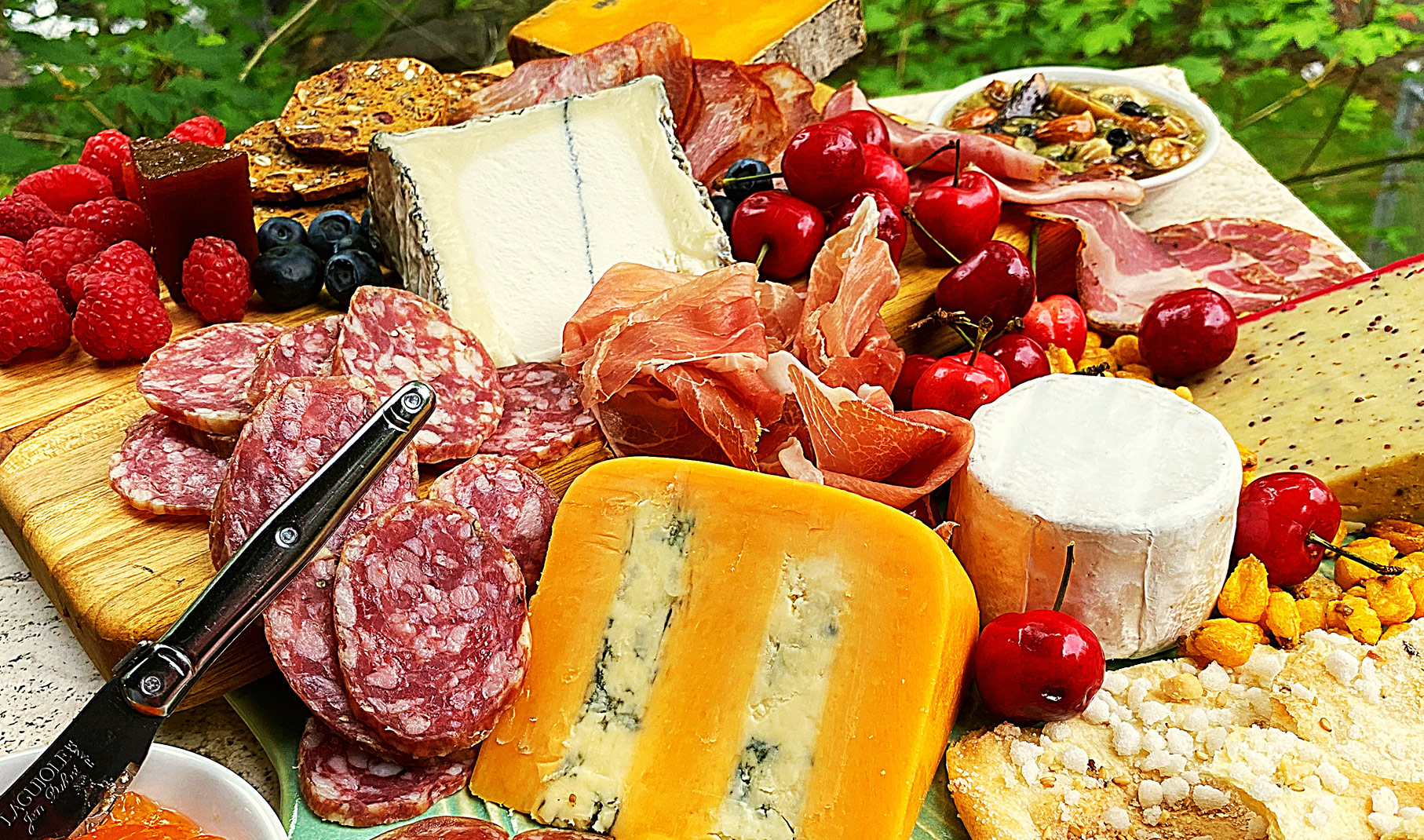 We did something delicious! We love a beautiful grazing board, one that's easy on the eyes and even easier to eat, so Felix and I assembled a board with some of our very favorite bits and nibbles! Simple, gorgeous and so tasty, we know you will love all of the amazing items we chose for this board. We went for lots of color, shapes and textures, however, our most important criteria, as always, was flavor.
Creating the grazing board
When building a cheese and charcuterie board, it's best to work in odd numbers. For example, we chose five cheeses, but three is a perfect number for smaller boards. We specifically picked these cheeses for their dramatic and differing flavors. The Roelli Red Rock at the top of the board make a striking addition with its cheddar look, natural rind, and stripes of blue veining. It has an amazing subtle sharpness to it that's elegant and refined, without being overpowering.
The Roelli Red Rock pairs very well with the Fermin Lomo Iberico next to it. Fermin makes fine charcuterie from Spanish Iberico pork; the Lomo Iberico de Bellota is one of the rarest of delicacies in their line. It is made from pork that forages and feasts on acorns, producing a loin that, when cured simply with salt, smoked paprika and mountain air, becomes something blissfully special. This was a bit of a splurge for us, but I wanted Felix to taste it, and a little goes a long way. Ask to have it sliced so thin that you can see through it because it is best held on your tongue to warm slightly which allows you a moment to savor it.
Next to it is A Boring Life Honey from Boring, Oregon, which is jarred with nuts and dried fruit, such as figs and dates, because a bit of something sweet is always welcome with good cheese. We simply had to have some Olympia Provisions Capicola, as well, plus some Albina City Corn Nuts (truly worthy). We chose the wedge of quince paste because it tastes great and beckons to be plopped atop of a bite of glorious Humboldt Fog chèvre. This Cypress Grove creation has a lovely mellow tart flavor and has earned its place of honor in the center of the plate, with its beautiful ash layer running through snow-white cheese. Just below it, we added another California treat, Marin French Cheese's Petite Truffle Triple Cream. This cute little guy is buttery and blissful and is perfect on Mitica Marcona Almond Sweet Flatbread (oh, yes!) topped with a bit of Rose City Pepperheads Apricot with Attitude Pepper Jelly.
Finally, we included a gorgeous layered Huntsman Stilton and Double Gloucester, an English delight that's especially sensational when sampled with Salumi San Gennaro Salami from Seattle. Oh, my! How could I forget the Red Dragon? This fantastic Welsh ale cheese has mustard seeds throughout and is a must-have alongside cured meats, like the Prosciutto di Parma.
We always round things out with plenty of fresh or dried fruits, depending on the season. And, of course, a fine beverage and finer company to for which to enjoy it all. Felix and I loved putting this together, and it really only took a few minutes. We put on some music (Depeche Mode "I Just Can't Get Enough" and some Duran Duran and Tears for Fears – our faves!) while each of us placed a bit here and there, sprinkled some fruit over everything, carried it to the patio in the sunshine and enjoyed. And, yes, it was all incredible!
Easy Cheesy Grazing Recipe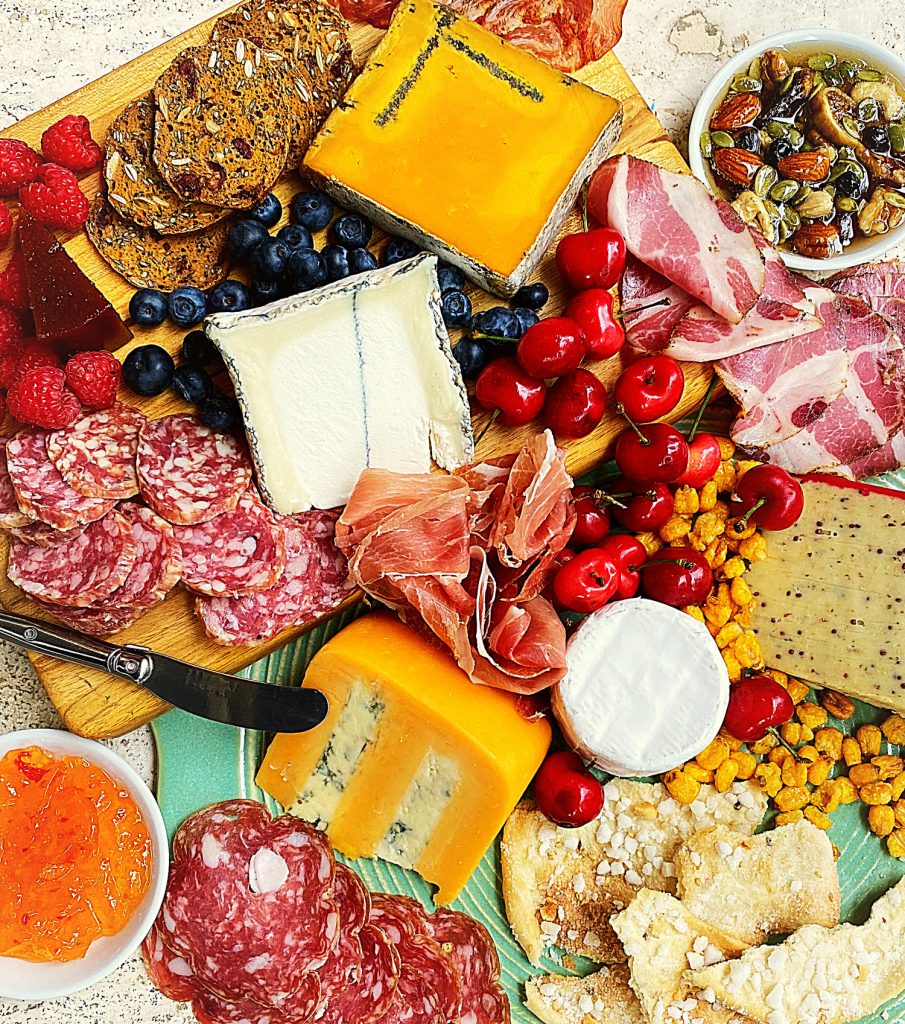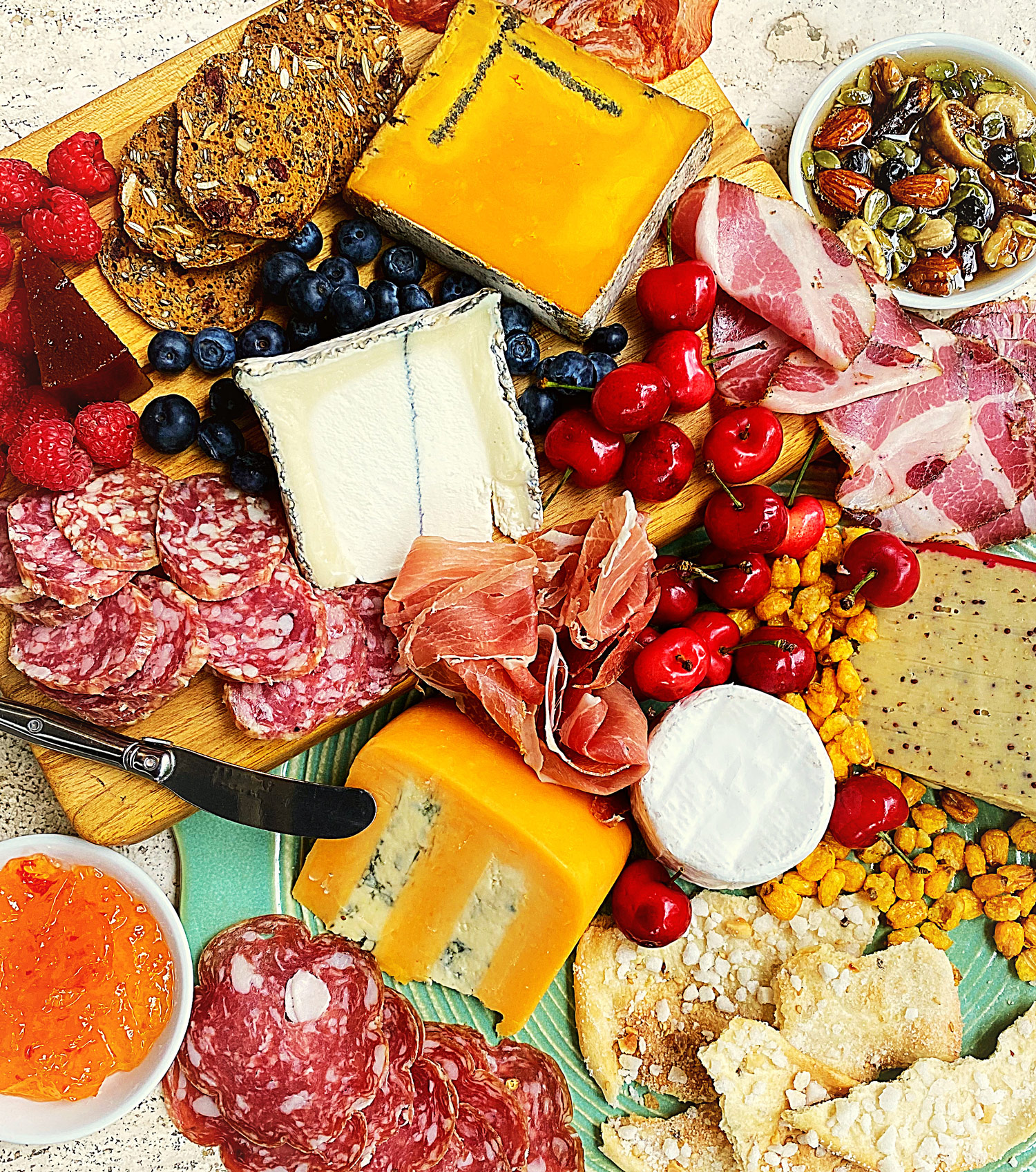 The cheeses, from top to bottom:
Roelli Red Rock (cheddarish with blue veining)
Humboldt Fog from Cypress Grove (chèvre with ash layer)
Red Dragon (on the right with red wax and mustard seeds, wow!)
Petite Truffle Triple Cream from Marin French Cheese Company (little round)
Huntsman Stilton and Double Gloucester layered from Long Clawson (England)
All of these are so delicious, and beautiful. The other items are:
Rose City Pepperheads Apricot with Attitude Pepper Jelly
Lomo Iberico pork (very top) (from Fermin, Spain)
A Boring Life Honey, with fruits and nuts (Boring, Oregon)
Rosetti Prosciutto (Italy)
Mitica Marcona Almond Sweet Flatbread (Yum!)
Albina City Corn Nuts (Portland, Oregon)
Olympia Provisions (Portland, Oregon)
Quince paste (little jammy wedge from Spain)
San Gennaro Salumi (Seattle, Washington)
Meet the Makers
Felix & Greg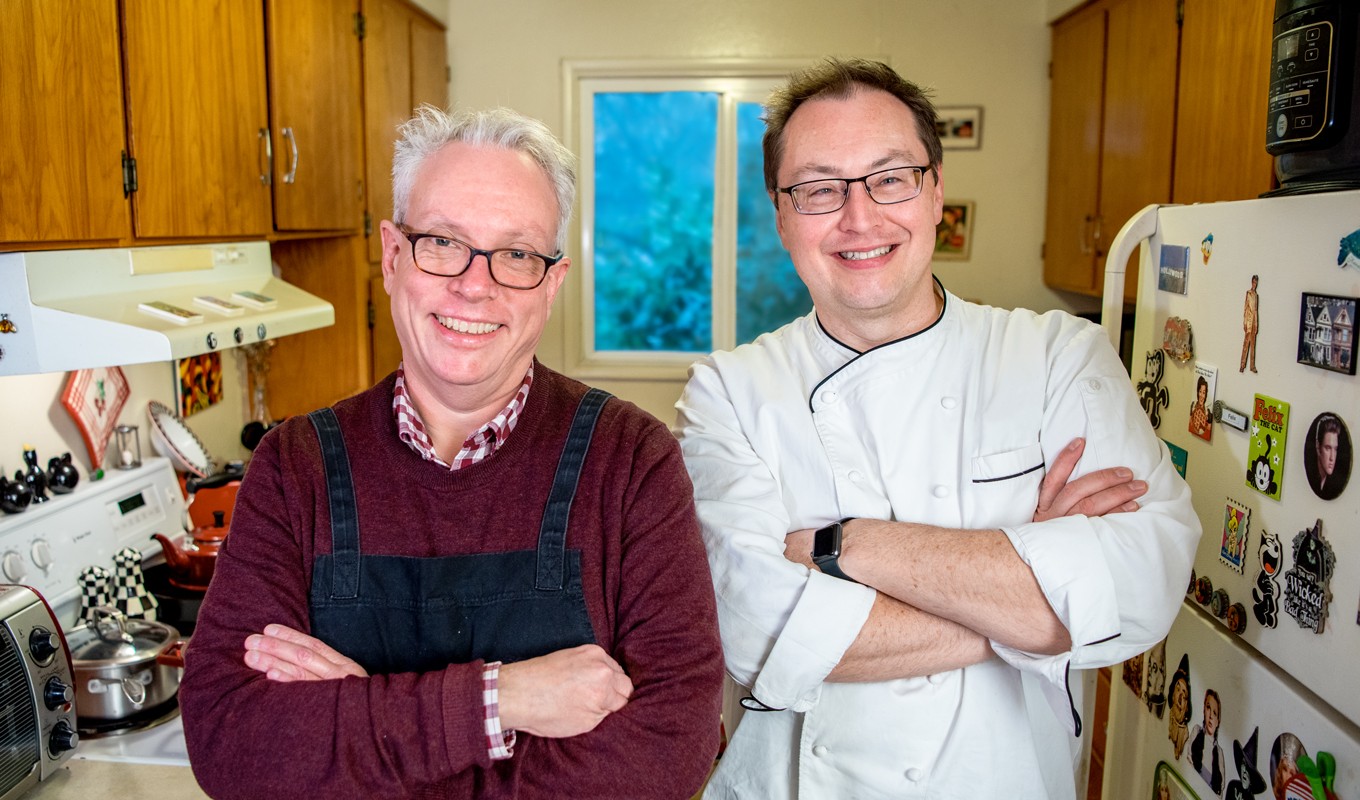 FELIX HUCK
Recipe Creator & Food Photographer
An artist and shutterbug, Felix finds beauty and inspiration in food and nature. He invents and photographs the recipes you'll find here.
GREG CABEZA
Professional Chef & Food Blogger
A food aficionado and lifelong music fan, Greg is an experienced artisan chef. He's also co-recipe creator and food blogger at Felix & Greg.
SUBSCRIBE TO OUR EMAILS
Good ideas could be cooking in your inbox. Sign up for our newsletter.