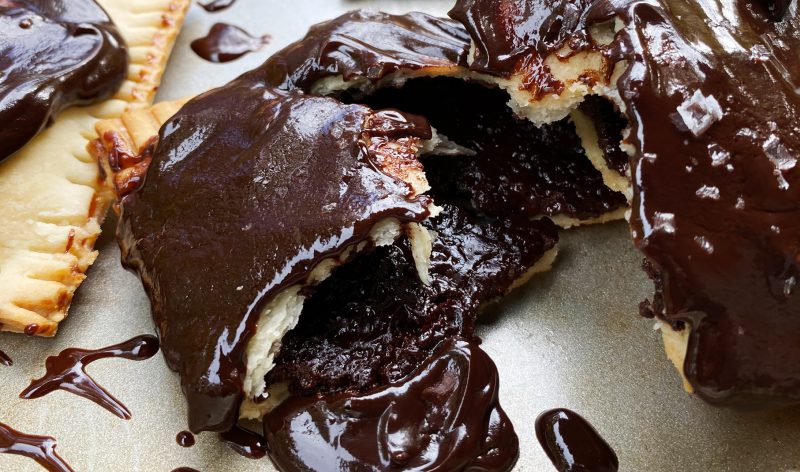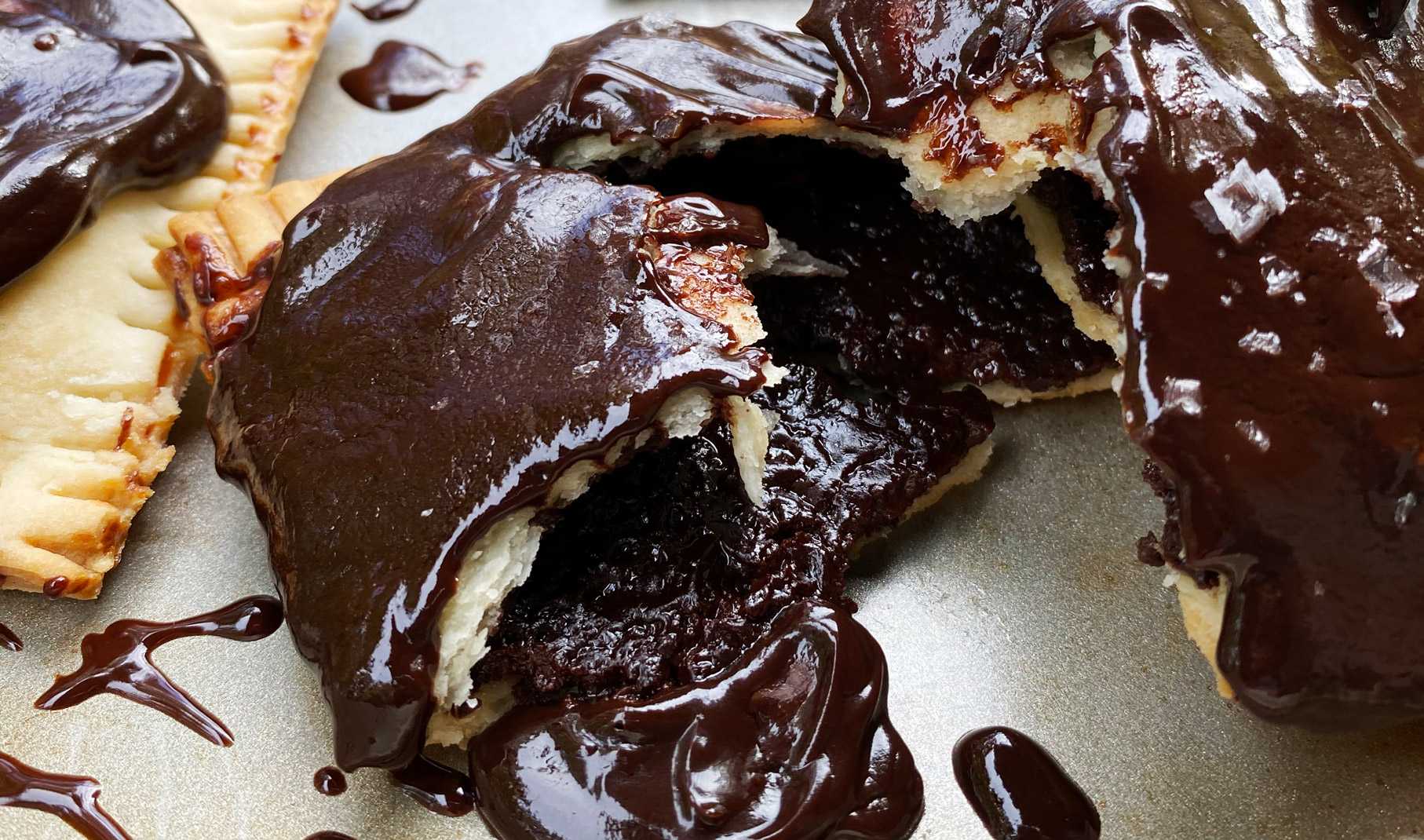 Felix and I love Euphoria Chocolate Company's delicious Ultra Chocolate Sauce, available at Euphoria locations. We've used it in traditional ways, like drizzled over ice cream or cookies – it makes incredible hot chocolate! – but we decided we had try chocolate pop tarts this time.
We took pie dough, filled with chocolate sauce, then topped them with even more Euphoria dark chocolate (we made a ganache), because we don't believe that there can ever be too much chocolate in our lives.
I took one luscious bite of these warm-from-the-oven double chocolate pop tarts, looked at Felix and BOOM, I was suddenly a teenager in the '80s again, standing in my best friend's kitchen, door open to the yard, the neighborhood buzzing with kids jumping on a trampoline. Somewhere, I could hear the Go-Gos playing on the radio, and here I was holding a warm chocolate pop tart in my hand. "Felix, that is soooo good! Like, it-took-me-back-in-time good!" I told him about my little memory blast from the past and how fun and wonderful that moment was for me. He smiled and said, "That's super sweet; it's perfect!"
I'm serious, these pop tarts are that good. Maybe it's because they are better than any pop tart I've ever had, or maybe it's because pop tarts were such a very rare treat for us as kids – only birthdays or special occasions called for such an indulgence. Whatever the reason, I was momentarily swept away with pure bouncy teenage bliss.
Felix and I had been listening to lots of poppy New Order and The Psychedelic Furs, while cooking all afternoon, and retelling some of our chocolate stories from years ago. It really was a perfect day – kitchen BFFs baking away in his kitchen, the neighborhood buzzing with kids outside laughing and talking about what to do for Halloween, and me holding a warm double chocolate pop tart in my hand. Bliss. Joy. Love. All wrapped up in one fun, easy and delicious pastry. We hope you'll find the same magic when you make them, and we're pretty sure you will.
A few tips: we took a short cut and bought pie dough from the grocery store; however, you can make these even better by making your own. Also, we made our own ganache for the topping (super easy) with dark chocolate buttons, but you can sub more of the Ultra Chocolate Sauce with great results. We must stress how important it is to cool the pop tarts completely before finishing them. And, make sure to sprinkle them with a tiny pinch of flake sea salt to give it a bit of balance. We cut out a little paperboard template to make each dough rectangle match up easily, as this saves you from having to measure each one. Any trimmed/cut away dough was saved for later for another use – we always try to have some kind of dough in the freezer for rainy days.
This is a great recipe for kids to help with, too, as they can fill the pop tarts with their favorite flavors, such as peanut butter and jelly, or brown sugar and cinnamon, or just strawberry jam –yum! Have some fun with these and hold on to something when you take that first bite!
Double Chocolate Pop Tarts Recipe
SERVES
8
DIFFICULTY
Medium
PREP TIME
20 min
COOK TIME
18 min
DIET: None
Double Chocolate Pop Tarts Recipe
SERVES: 8
DIFFICULTY: Medium
PREP TIME: 20 min
COOK TIME: 18 min
DIET: None
Ingredients
Ganache
1 c heavy whipping cream
2 c 55% chocolate buttons (or semi-sweet chocolate chips)
Pop Tarts
2 boxes (30 oz. total) pie dough (4 full rounds)
1 c Euphoria Chocolate Ultra Chocolate Sauce (or ganache)
1 egg, beaten
1 cup chocolate ganache, for topping
pinch of flake salt
Instructions
Ganache
Heat whipping cream in microwave until very hot, 45-60 sec. Warm in short bursts and watch closely so it doesn't boil over.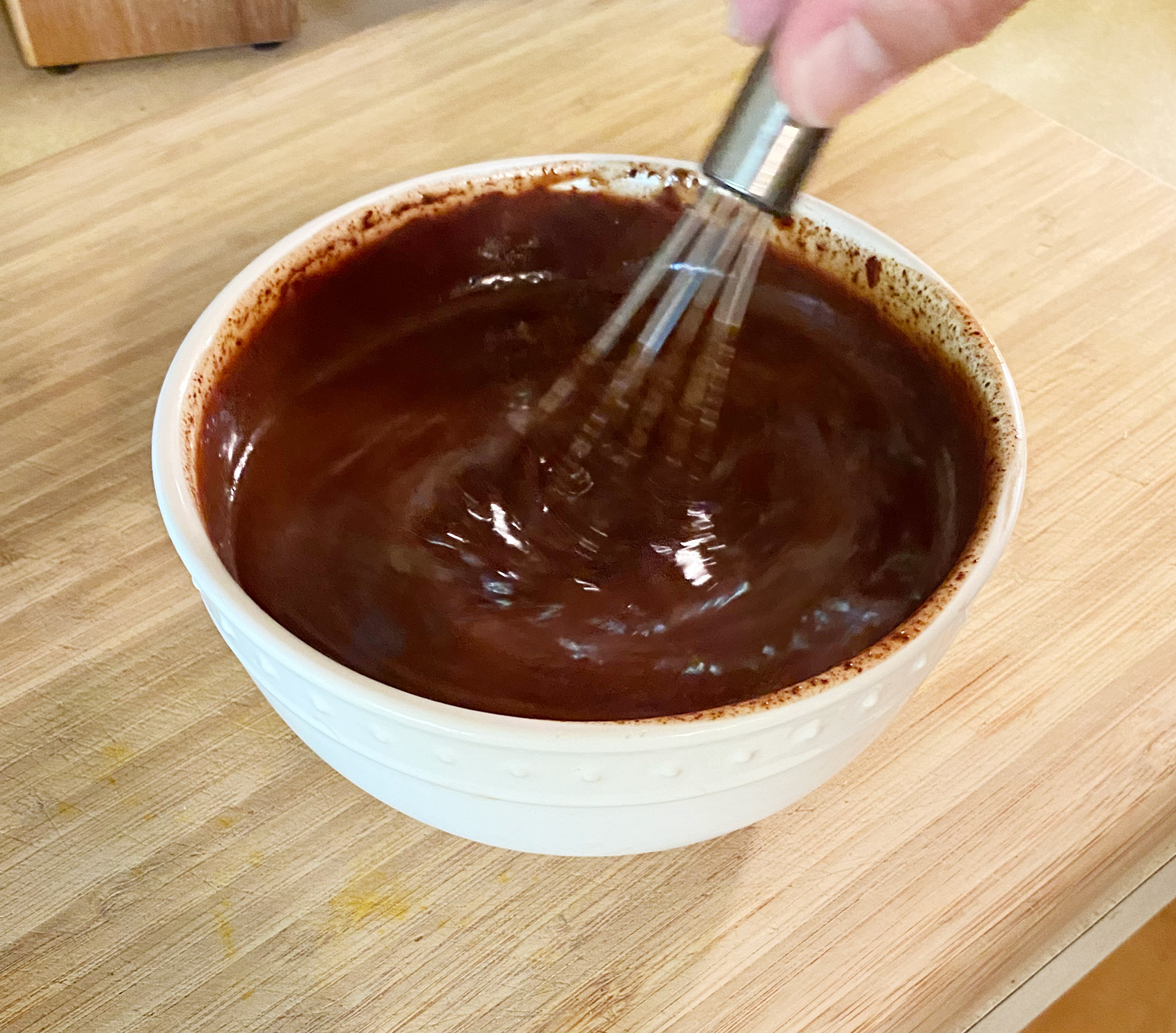 Place chocolate in a mixing bowl. Pour hot cream over and stir until completely melted. Heat 10 sec in microwave, if necessary, until smooth. Set aside to cool.
Pop Tarts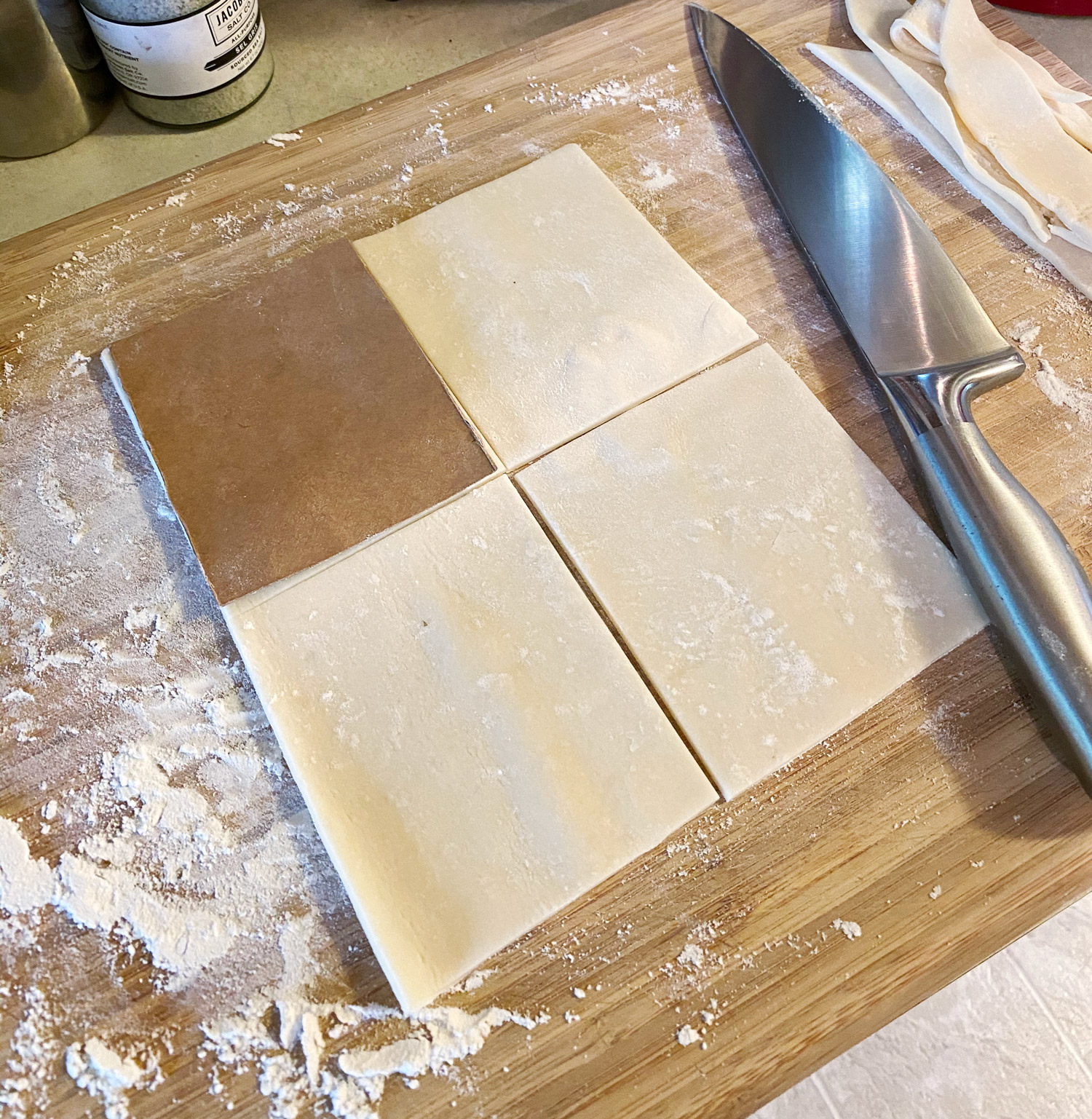 Preheat oven to 400°. Cut edges from each round of dough, working with one at a time on a floured surface. Cut pie dough into 4 equal rectangles, using a paper template to measure each as you go.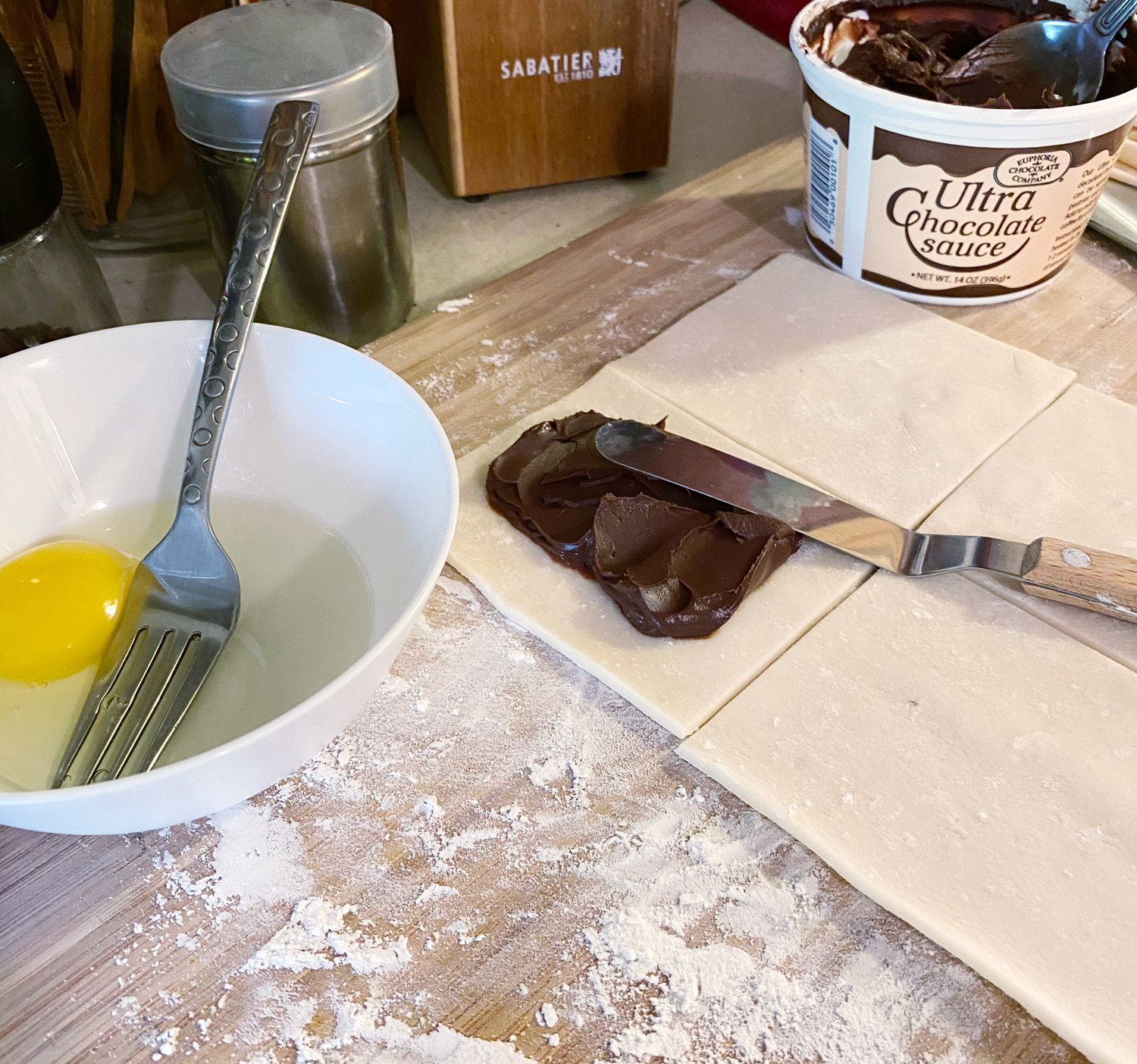 Fill center with 2 oz Ultra Chocolate Sauce or ganache (approx. 3T, heaping). Spread gently, leaving plenty of border/edge. Brush border with beaten egg and top with pie dough rectangle, crimping edges gently with tines of a fork. Transfer to a parchment- or baking mat-lined sheet pan. Poke a few holes in top of tarts.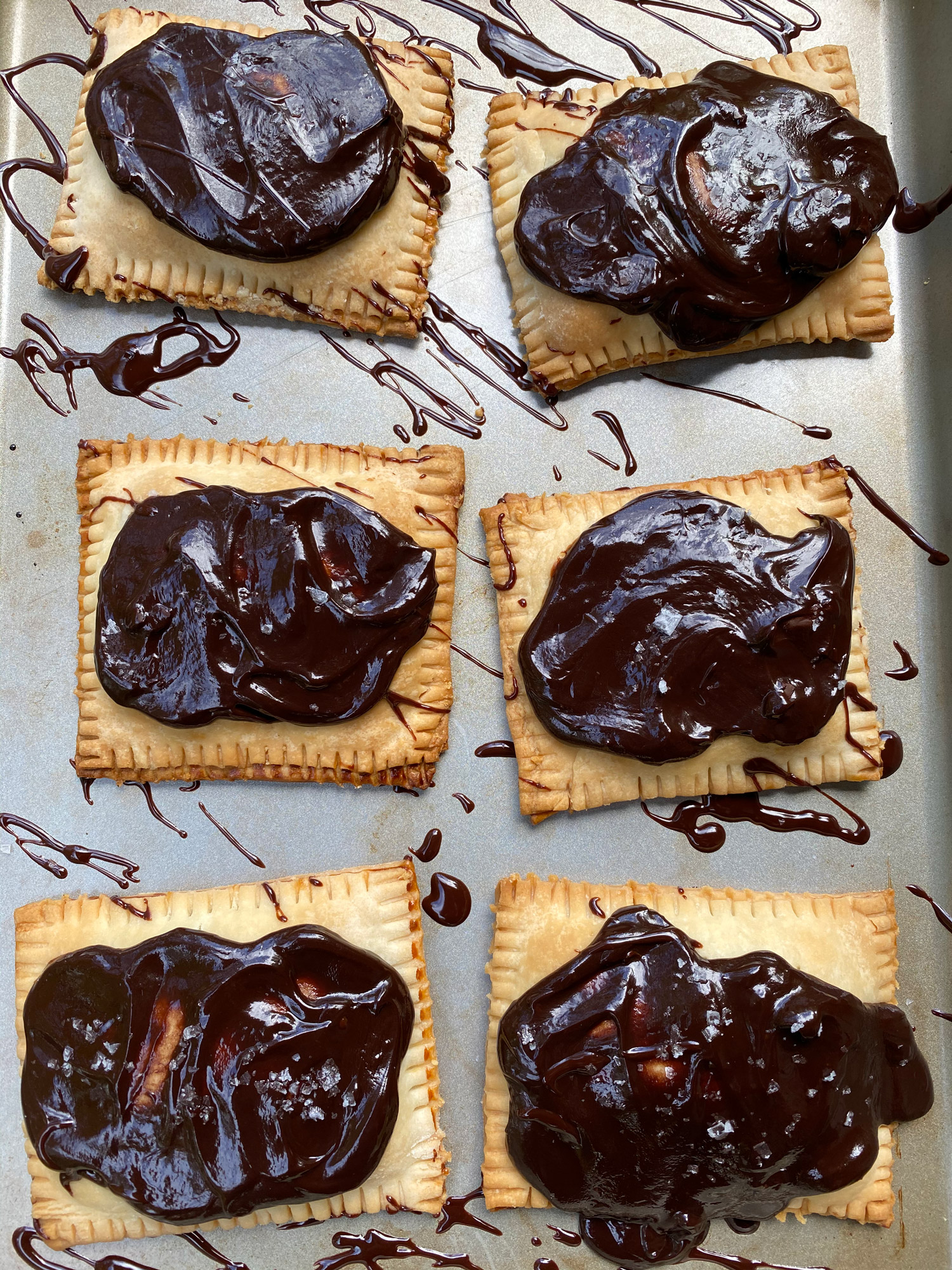 Bake 15-18 min until golden on top and bottom. We didn't brush the tops of ours with egg wash; however, you can before baking if you'd like a shinier finish. Let cool to room temp and top with a generous tablespoon or two of ganache, spreading gently. Give each tart a tiny pinch of flake salt, if desired. Keep in airtight container until ready to serve.
Meet the Makers
Felix & Greg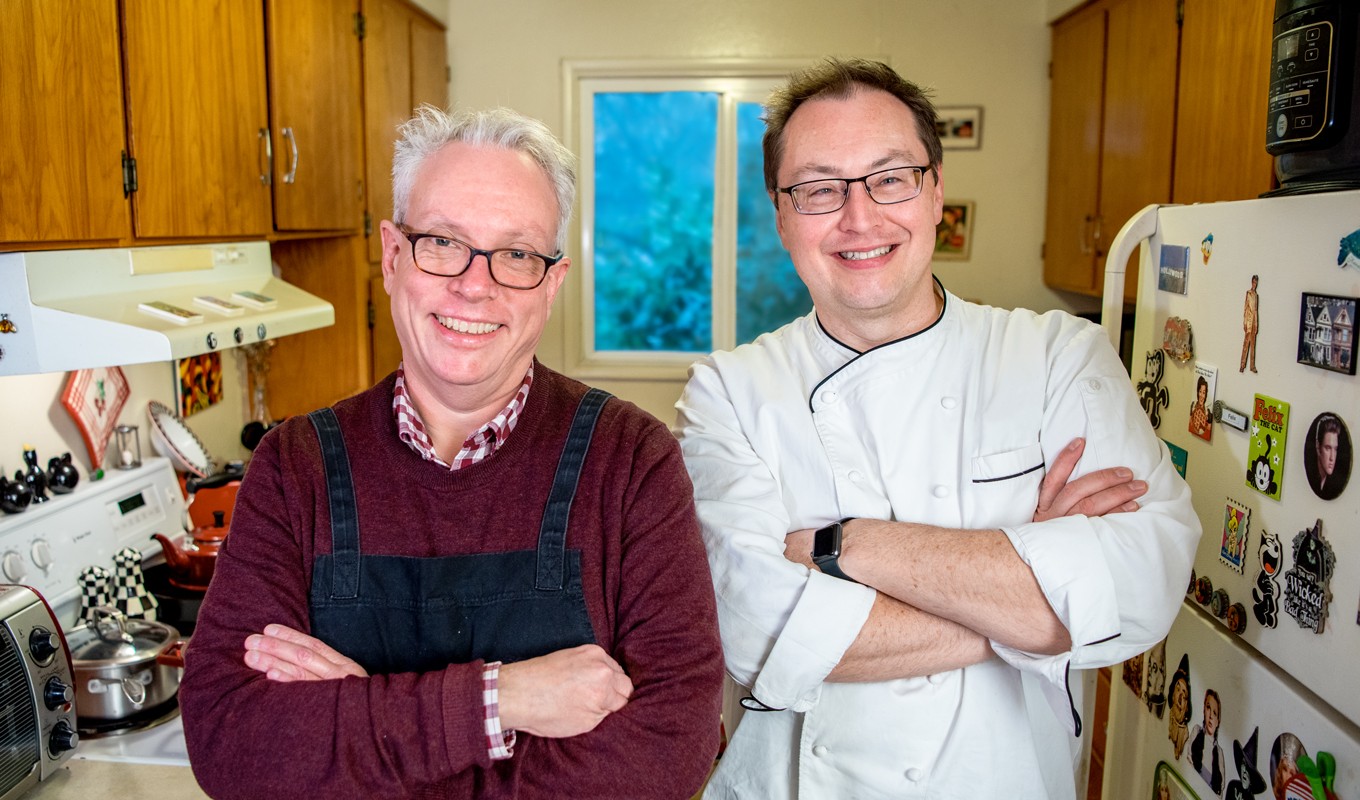 FELIX HUCK
Recipe Creator & Food Photographer
An artist and shutterbug, Felix finds beauty and inspiration in food and nature. He invents and photographs the recipes you'll find here.
GREG CABEZA
Professional Chef & Food Blogger
A food aficionado and lifelong music fan, Greg is an experienced artisan chef. He's also co-recipe creator and food blogger at Felix & Greg.
SUBSCRIBE TO OUR EMAILS
Good ideas could be cooking in your inbox. Sign up for our newsletter.