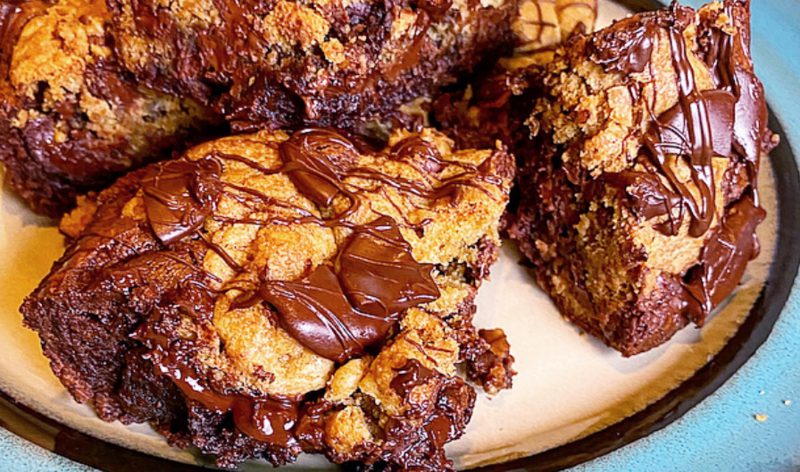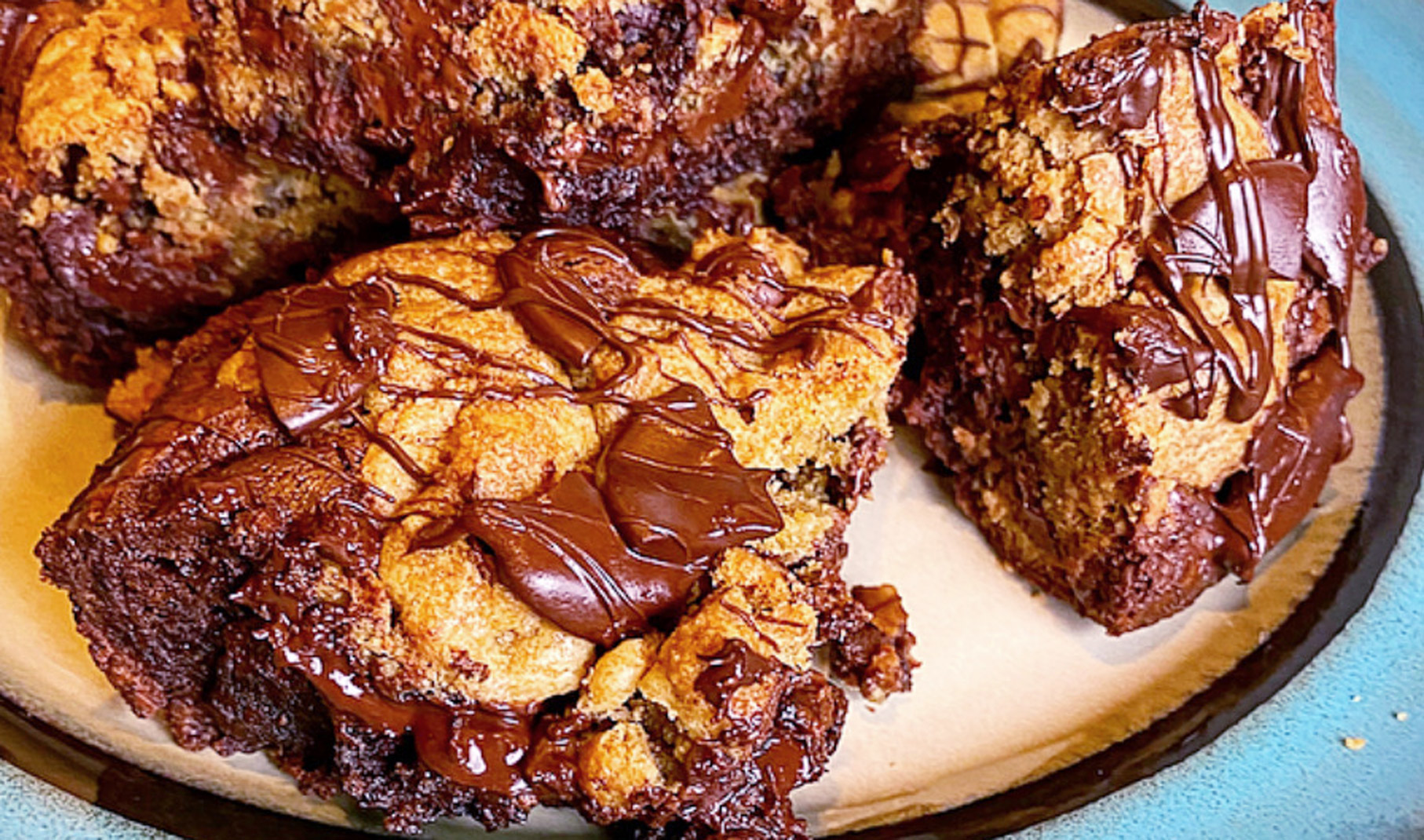 If you can believe it, we had never tried 'brookies' before, however, when we realized we could mix our favorite chocolate chip cookies and brownies together, we of course had to do it! Our chocolate chip cookie recipe is pretty amazing on its own and adding it to brownies made for some irresistible treats. But wait! Here's the best part! We loaded it with handfuls of Euphoria Chocolate Company dark chocolate buttons, then melted more on top!
Felix and I love a good time-saving cheat every now and again, so we used a boxed brownie mix here (Ghirardelli double chocolate). If you want to make scratch brownies using your favorite recipe, go right ahead. Whatever you decide, we definitely suggest making the cookies from scratch. That seemed like enough work to us. Make sure to give yourself enough time to bake these for 45 minutes and let them cool for at least that long before cutting them (they're super chocolatey and gooey).
These are great with a scoop of vanilla ice cream, if you really want to go all out. The first night we made these, my young boys were having a friend sleep over and they all loved these amazing treats! It was a perfect mix of movies, pizza and chocolate smiles. Have some fun with these and make them your own, adding nuts or caramel to top things off. I know Felix and I are going to be making these often! And we want to say "thank you" to our favorite hometown chocolate maker, Euphoria Chocolate Company, for the delicious inspiration!
Dark Chocolate Brookies Recipe
SERVES
8
DIFFICULTY
Easy
PREP TIME
20 min
COOK TIME
45 min
DIET: None
Dark Chocolate Brookies Recipe
SERVES: 8
DIFFICULTY: Easy
PREP TIME: 20 min
COOK TIME: 45 min
DIET: None
Ingredients
Cookie Dough
½ c granulated sugar
¾ c brown sugar, packed
½ c butter, room temp
1 egg
1 t vanilla
1 ¼ c flour
½ t baking soda
2 c chocolate chips
Additional
1 box brownie mix (plus egg and oil according to box)
2 c 70% dark chocolate buttons
Instructions
Cookie Dough
Mix sugars, salt and butter until creamed together, 2-3 minutes. Add egg and vanilla and blend well, 1 min more. In a separate bowl, combine flour and baking soda then add them to the wet mixture, mixing just until combined (scrape down sides and bottom of bowl). Stir in chocolate chips with spatula or spoon. Set aside.
Brookies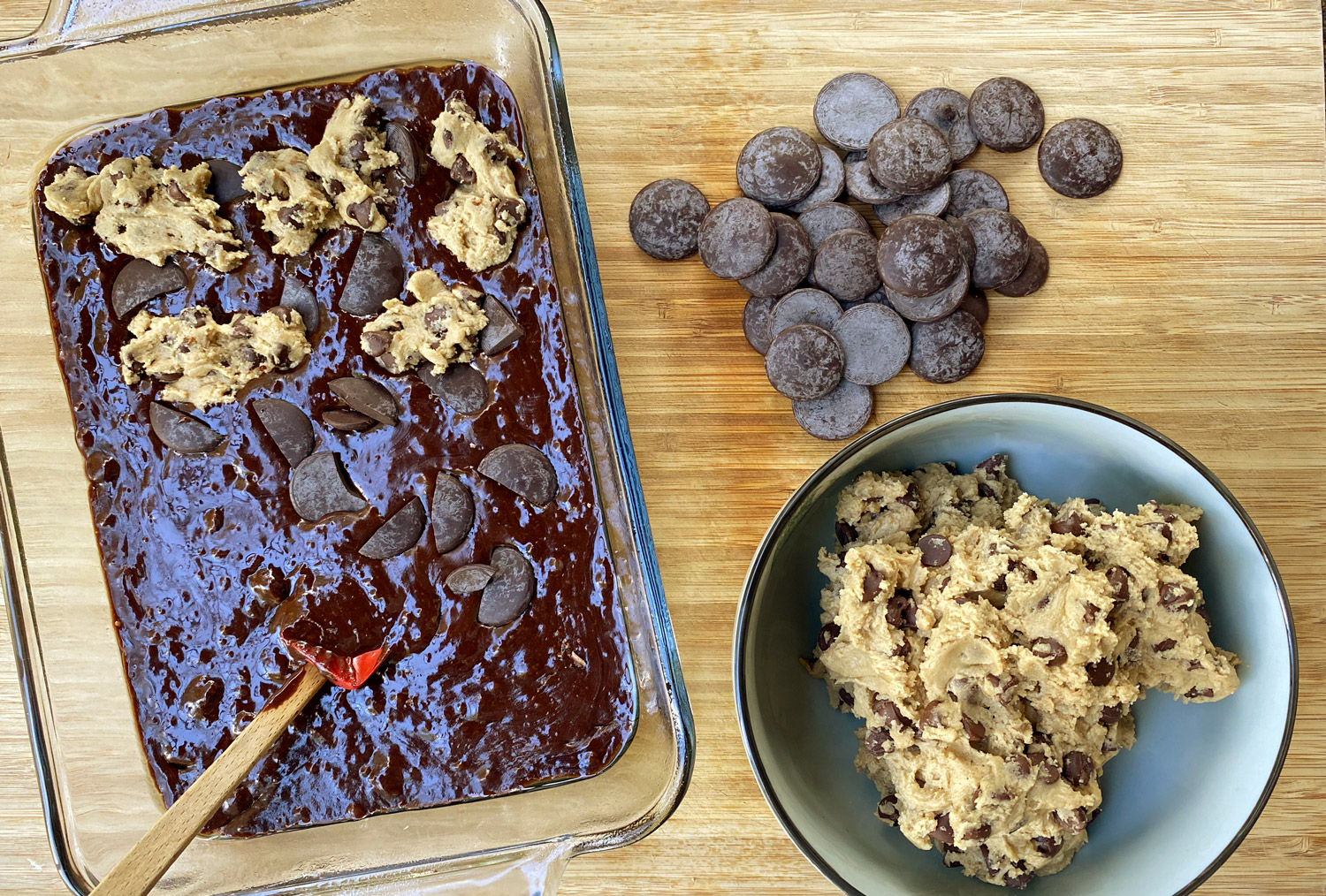 Make brownies according to directions on box. Pour batter into a prepared baking dish. Drop chocolate chip cookie dough over the top of the brownies, covering almost completely (may have some cookie dough left over; simply chill or freeze to use later).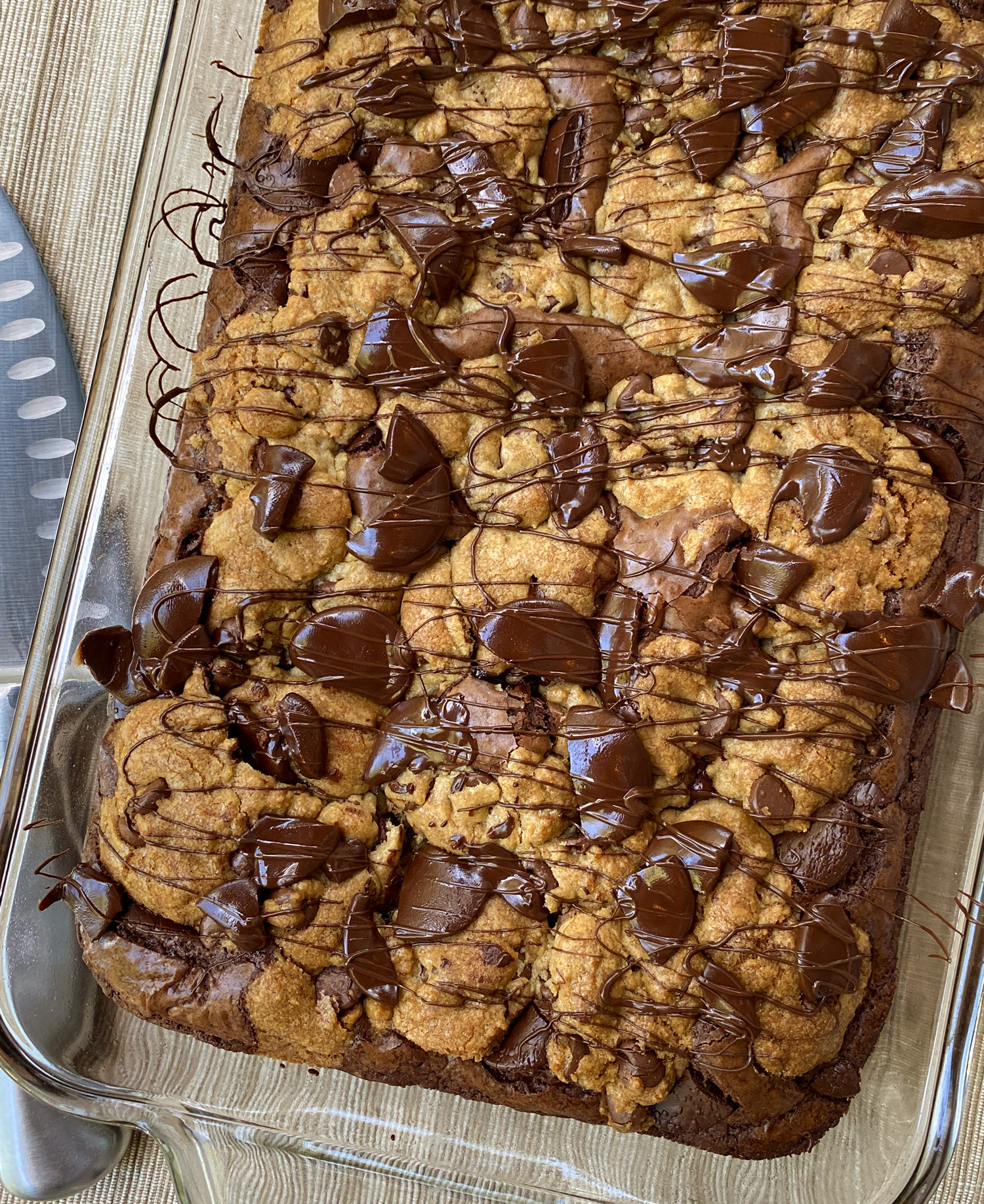 Break 1 cup of chocolate buttons into large pieces and push into brownies/cookies. Bake at 375° for 45 min until cookie dough is golden brown in center. Allow brookies to cool completely in pan. Melt remaining chocolate in microwavable glass dish in short 10 second bursts, until soft. Drizzle over brookies with a knife or tines of a fork. Cut and serve.
Meet the Makers
Felix & Greg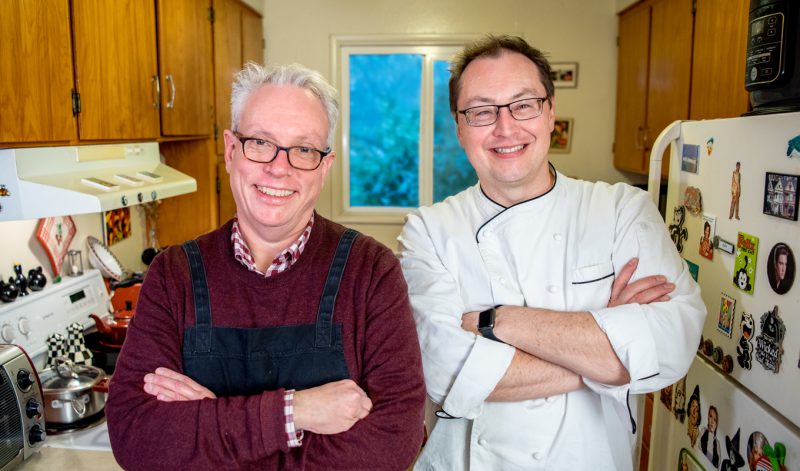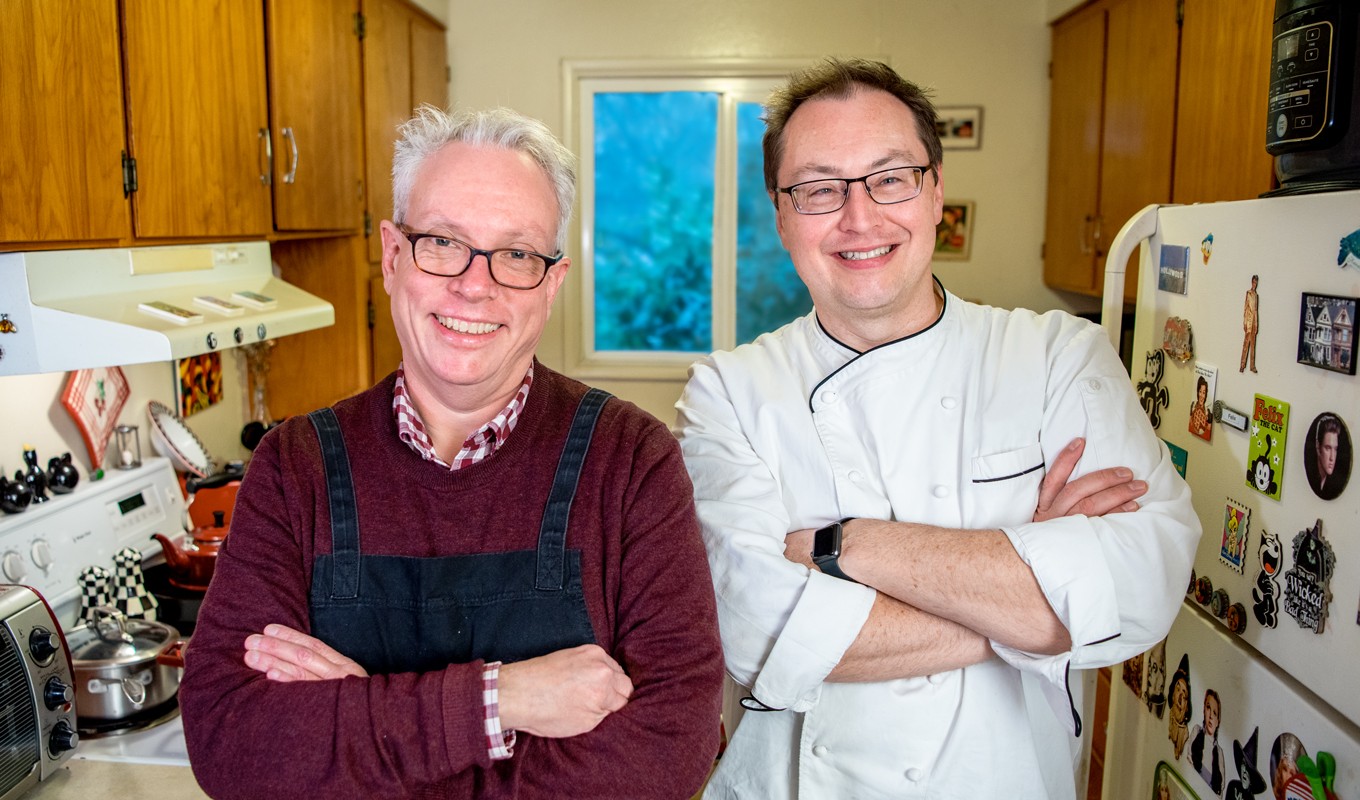 FELIX HUCK
Recipe Creator & Food Photographer
An artist and shutterbug, Felix finds beauty and inspiration in food and nature. He invents and photographs the recipes you'll find here.
GREG CABEZA
Professional Chef & Food Blogger
A food aficionado and lifelong music fan, Greg is an experienced artisan chef. He's also co-recipe creator and food blogger at Felix & Greg.
SUBSCRIBE TO OUR EMAILS
Good ideas could be cooking in your inbox. Sign up for our newsletter.