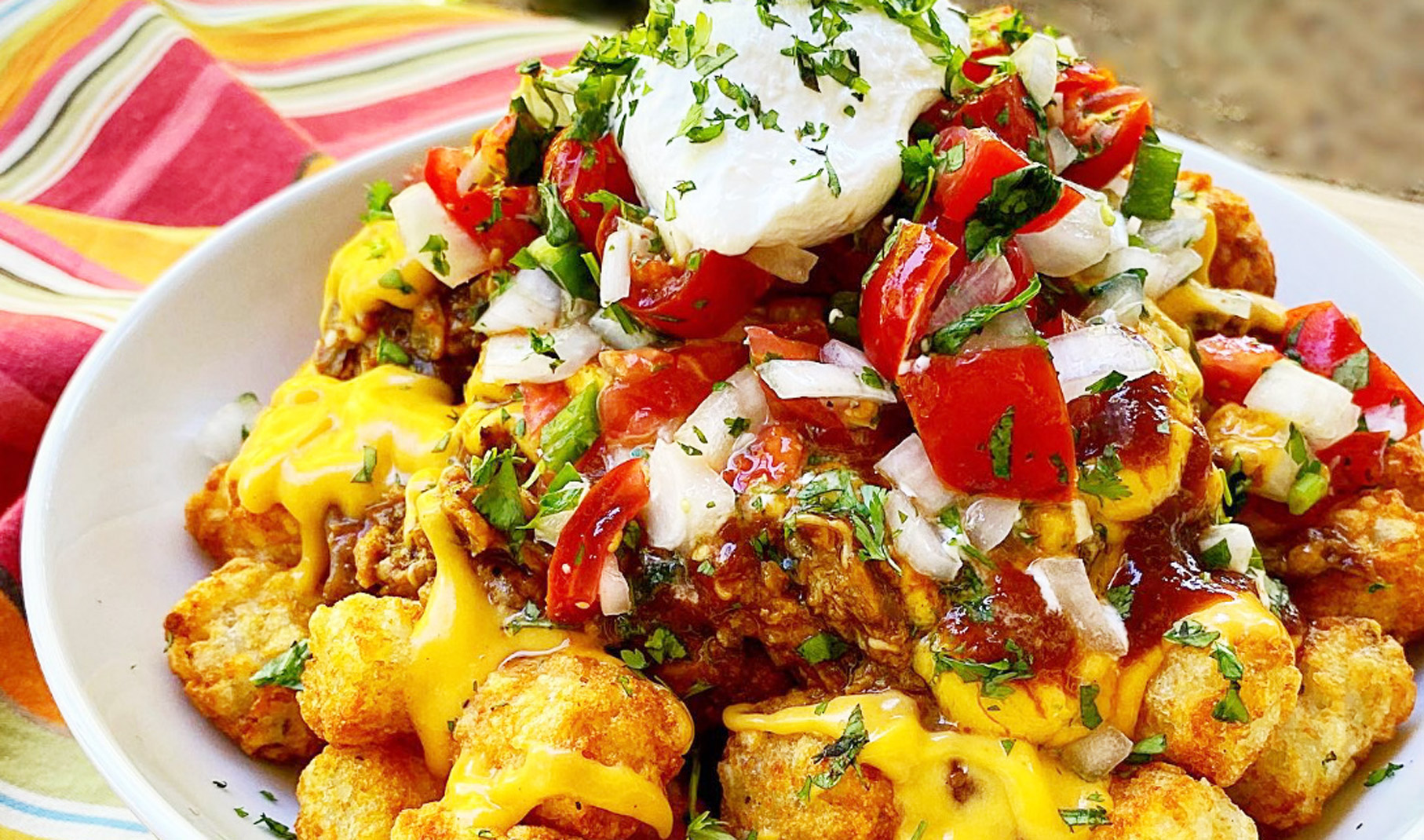 Totchos?! What?! You might think we're joking here, but that would be a serious mistake. This quirky recipe is super fun, easy and delicious! These are half tater tots, half nachos, topped with insane quantities of our Instant Pot Pulled Pork, and so much more. This recipe really takes a team to eat, and we have a feeling you and your favorite people are up for the challenge!
Felix and I recommend making Dr. Felix's BBQ Sauce for this because it's amazing, however, you could use your favorite off-the-shelf variety. Heck, you could even grab some take-out pulled pork from your local BBQ joint or supermarket to really make these quickly. We like making pulled pork though, since it's cheap, tasty and super easy. Just use a pork butt (shoulder), not a lean cut because the fat is super important for good flavor. We haven't found anyone yet who didn't completely lose their minds when they had these totchos, so make enough for everyone and have plenty of salsa and beer on hand. We like lots of jalapeños, but you can adjust that however you like. Feel free to enjoy these with other topping favorites, like fajita steak strips or shredded chicken—bacon is also a favorite!—or omit the meat and add roasted chilies.
Whatever you decide, it's going to be good, trust us. This is a huge crowd-pleaser, so make a pan for your next party and feel the love as the crowd goes wild.
Crazy-Good Pulled-Pork Totchos Recipe
SERVES
6
DIFFICULTY
Easy
PREP TIME
20 min
COOK TIME
1 hr (pork), 35 min (totchos)
DIET: None
Crazy-Good Pulled-Pork Totchos Recipe
SERVES: 6
DIFFICULTY: Easy
PREP TIME: 20 min
COOK TIME: 1 hr (pork), 35 min (totchos)
DIET: None
Ingredients
Pulled Pork
3 lb pork roast (shoulder/butt)
2 T brown sugar
1 T onion powder
1 T garlic powder
1 T paprika
1 T cumin
1 t black pepper
1 t salt
1 t dry mustard
1 yellow onion, chopped
1 can Dr. Pepper
1 ½ Dr. Felix's BBQ Sauce
Pico de Gallo
2 ripe tomatoes, diced fine
2 cloves garlic, minced
1 lg jalapeño, seeded and minced
½ white onion, chopped fine
2 limes, juice of
½ c cilantro, rough-chopped
1 t salt and pepper, to taste
Totchos
2 lb tater tots, cooked according to package directions
1 c shredded cheddar cheese
15 oz can nacho cheese sauce, warmed
½ c sour cream
hot sauce, if desired (Cholula or Tapatio)
Instructions
Pulled Pork
Combine all seasonings and rub pork well. Set aside. In the Instant Pot, place onions on bottom, pour soda over and add pork. Cook on high 1 hr. Let it naturally release for 15 min, then open carefully to release steam. Shred pork with forks and Dr. Felix's BBQ Sauce. Set aside until ready to assemble totchos.
Pico de Gallo
Mix all salsa ingredients and reserve.
Totchos
Place cooked hot tater tots in a casserole dish. Top with enough warm pulled pork to cover (use all or some, as desired). Top with shredded cheese and bake at 350F until cheese is melted, about 5 min. Remove from oven and top with warmed nacho cheese sauce, sour cream, pico de gallo, and more chopped cilantro. Drizzle with hot sauce, as desired.
Meet the Makers
Felix & Greg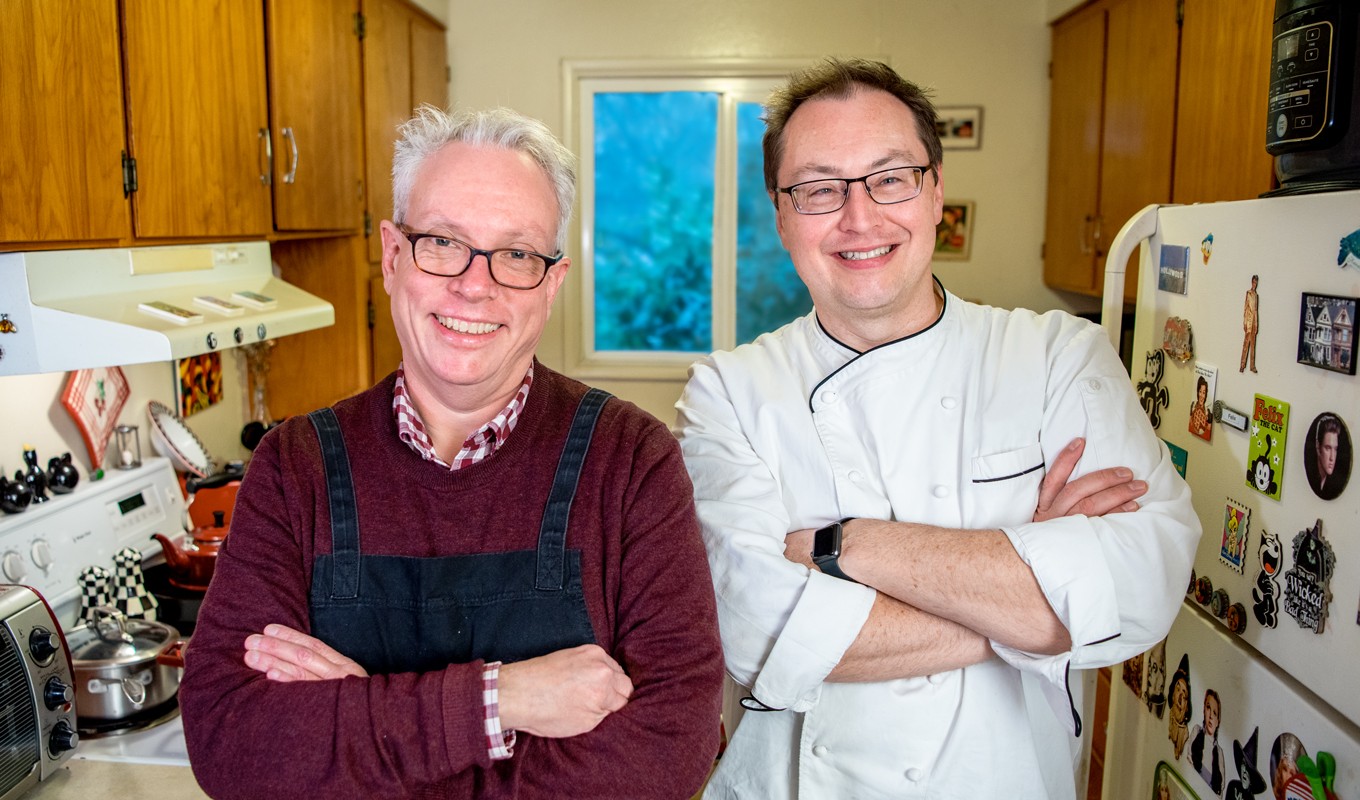 FELIX HUCK
Recipe Creator & Food Photographer
An artist and shutterbug, Felix finds beauty and inspiration in food and nature. He invents and photographs the recipes you'll find here.
GREG CABEZA
Professional Chef & Food Blogger
A food aficionado and lifelong music fan, Greg is an experienced artisan chef. He's also co-recipe creator and food blogger at Felix & Greg.
SUBSCRIBE TO OUR EMAILS
Good ideas could be cooking in your inbox. Sign up for our newsletter.