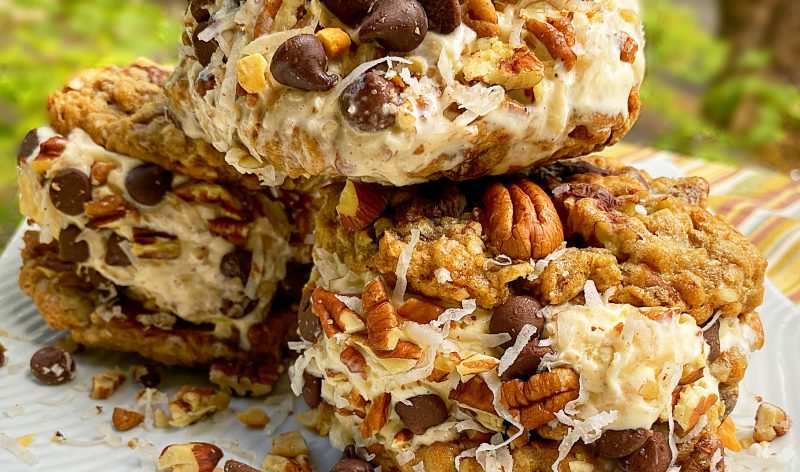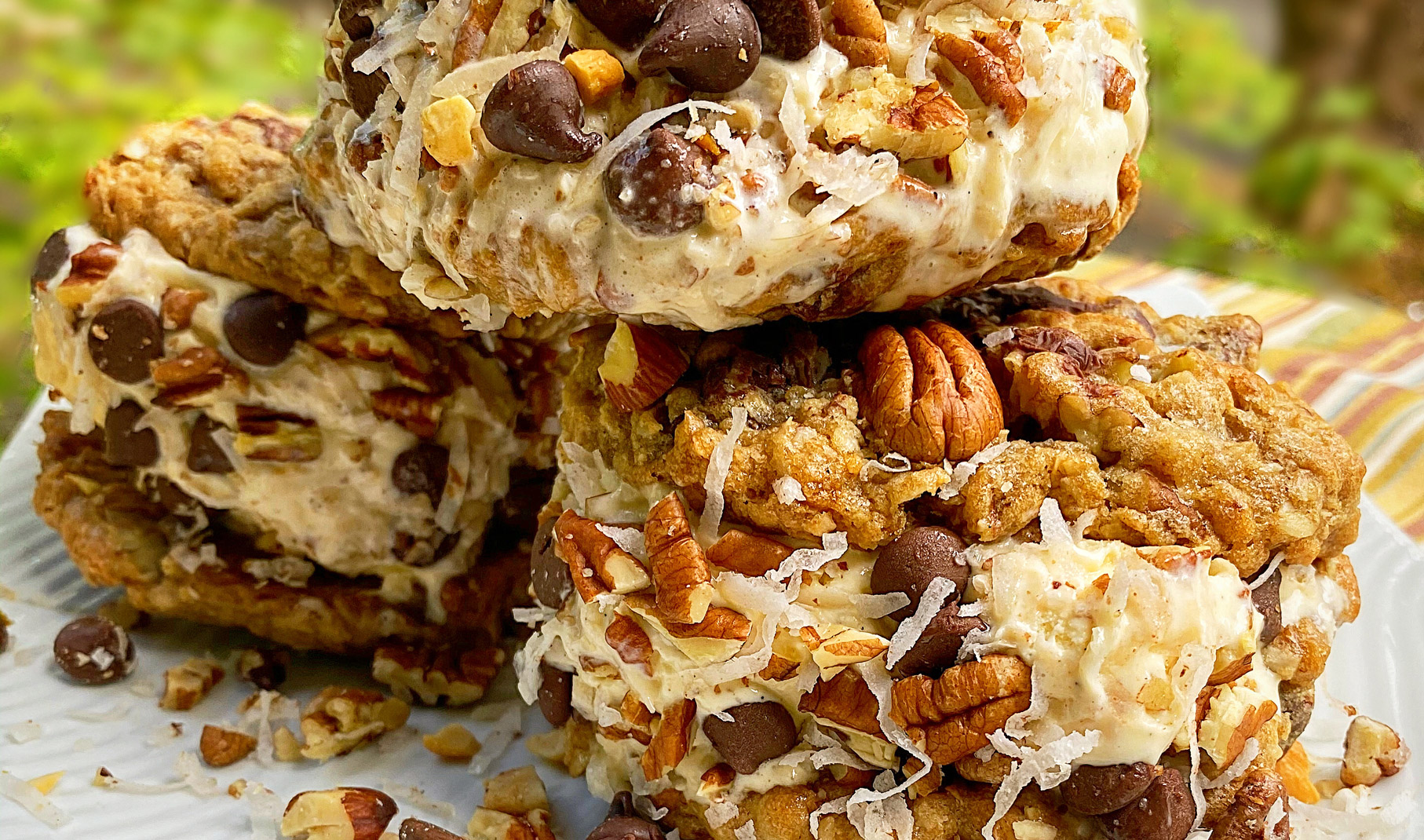 Whoa there, pull up a chair for a bit and let's talk about these delicious ice cream sandwiches! Now, Felix and I aren't anywhere near being cowboys, though we both laughed along to that '80s classic from the very non-cowboy British group Boys Don't Cry: "I wanna be a cowboy, and you can be my cowgirl…"
We, however, love the California cowboy style, and these cookies are along those lines, filled with butter and brown sugar, toasted coconut, tasty pecans and loads of chocolate chips. They're crazy good when still warm from the oven, but you'll have to leave them be before the next step – we know how hard that is, so rest assured that this recipe makes plenty for sampling to ensure they're good enough to eat.
Once they've cooled to room temp, we smash a big scoop of vanilla ice cream in between two of these ranch-sized cookies and suddenly everything's a party! You could also use a favorite caramel-swirl ice cream or a butter pecan – either would be ridiculously good. Whatever you choose, trust us when we tell you that the cookies are the big star of the show, so there's no need to go and get too fancy with the ice cream. Just make these cookies, ring the dinner bell to call the crew back home, and they'll come kicking up dust from far and wide to fight over these fist-sized treats!
One trick to note: You want to work quickly with the ice cream and make sure the cookies have cooled completely or else the ice cream will melt faster than you can eat (we tried). If you want to go all out, roll the ice cream edges in more chocolate chips, coconut and pecans and/or mixed nuts, if desired (We desired, and it was the right choice – hint hint). Freeze well before serving or the ice cream has a tendency to smoosh out the sides, which is not a bad thing really, so long as you're ready with a hose to spray everyone off. Make sure to keep extra cookie dough handy in the freezer for the next round, which will likely be not long after the first batch disappears.
Cowboy Cookie Ice Cream Sandwiches Recipe
SERVES
8
DIFFICULTY
Easy
PREP TIME
15 min
COOK TIME
15 min per batch
SPECIAL TOOLS
Ice cream scoop
DIET: None
Cowboy Cookie Ice Cream Sandwiches Recipe
SERVES: 8
DIFFICULTY: Easy
PREP TIME: 15 min
CHILL TIME: 15 min per batch
SPECIAL TOOLS: Ice cream scoop
DIET: None
Ingredients
2 c sweetened shredded coconut
¾ c chopped pecans
1 c butter, room temp (soft)
1 ½ c brown sugar, packed
½ c granulated sugar
2 lg eggs, room temp
1 ½ t vanilla extract
2 c flour
1 t baking soda
½ t salt
2 c old-fashioned oats
2 ½ c chocolate chips
2 oz mixed nuts for garnish (optional)
½ gallon vanilla ice cream or other flavor
Instructions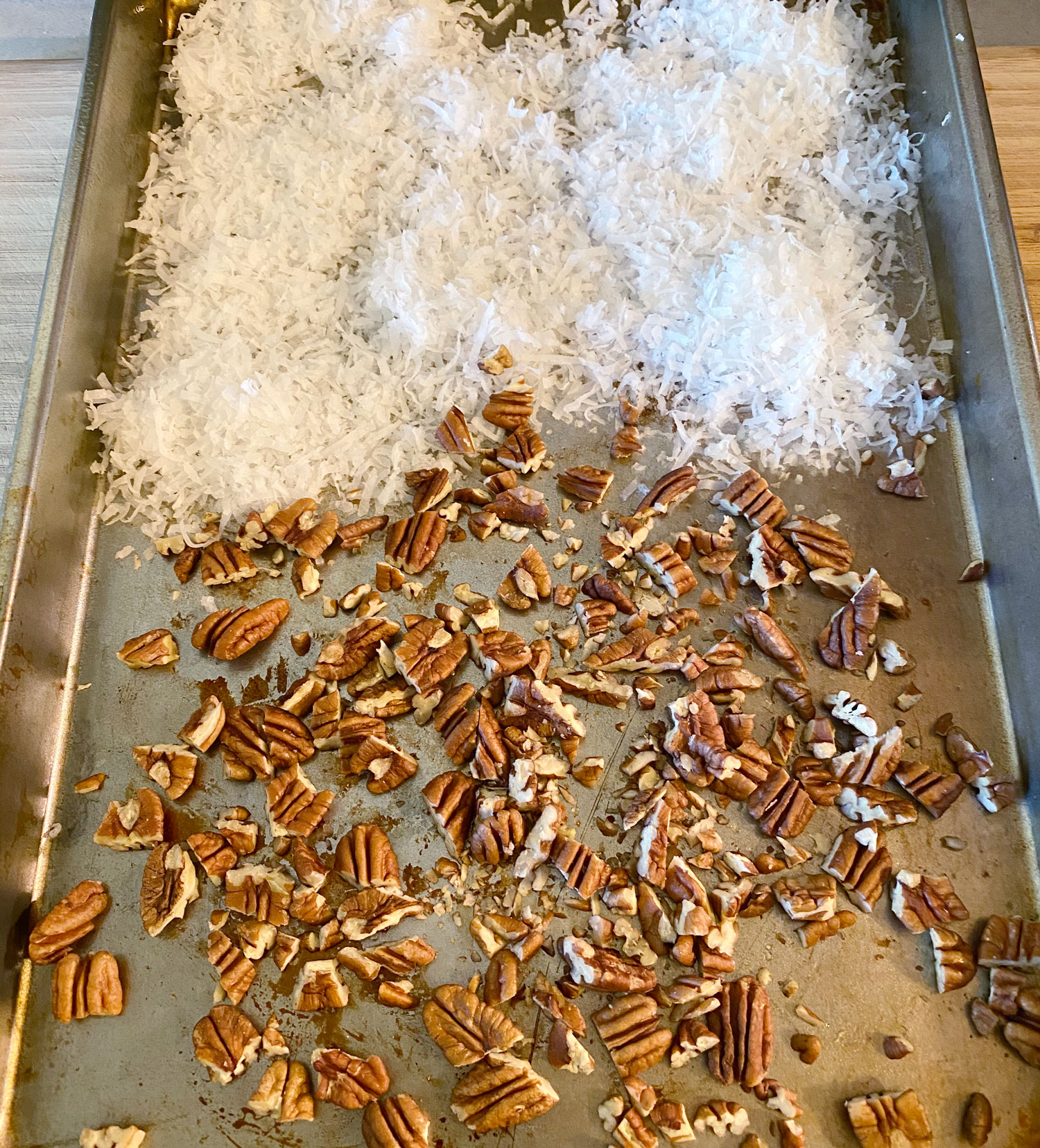 Preheat oven to 350°. Spread coconut and pecans on sheet pan and bake 6 min until lightly browned, stirring once halfway through. Remove from pan and cool to room temp.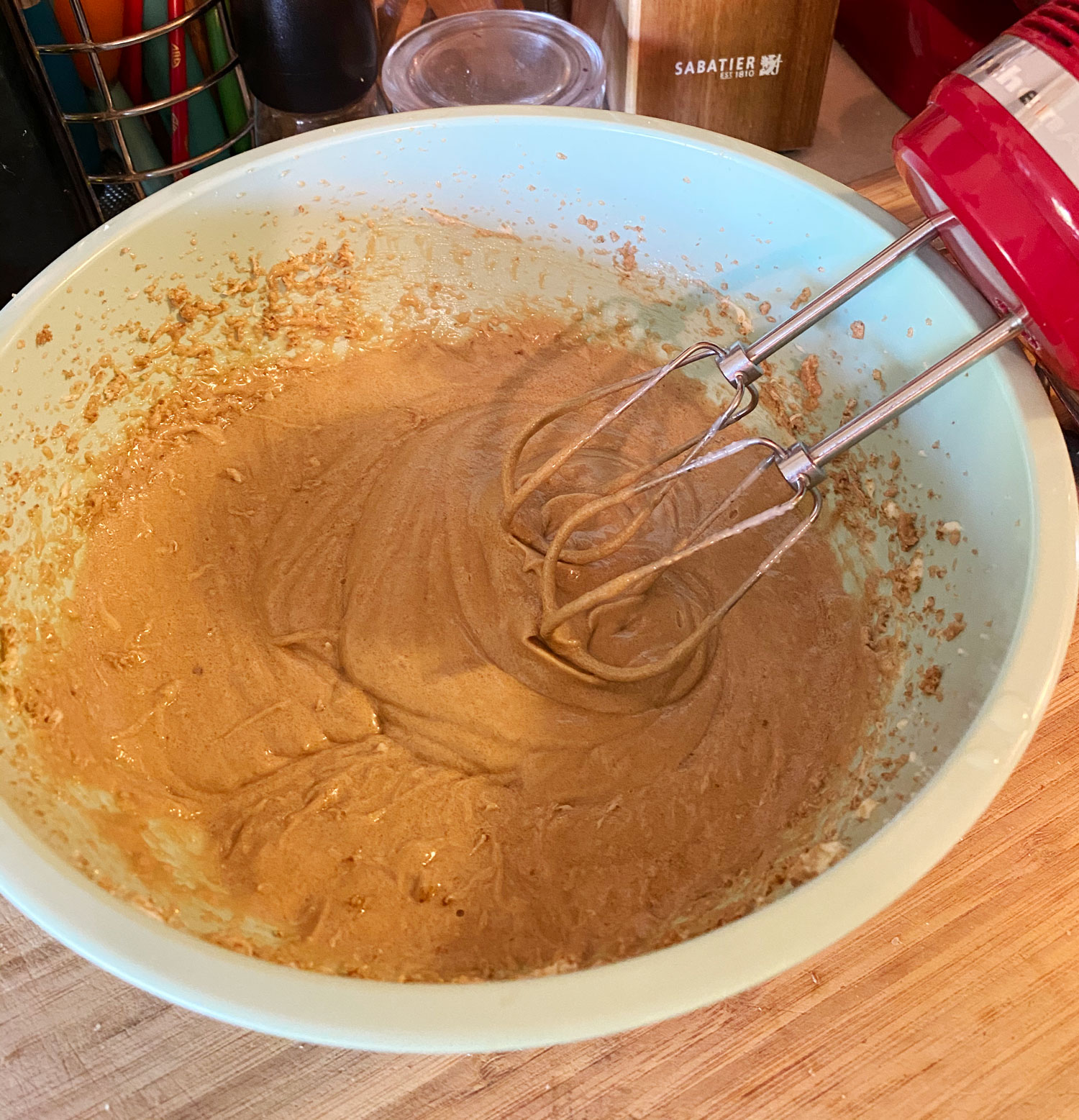 Meanwhile, cream butter and sugars on medium speed with mixer, 2 min.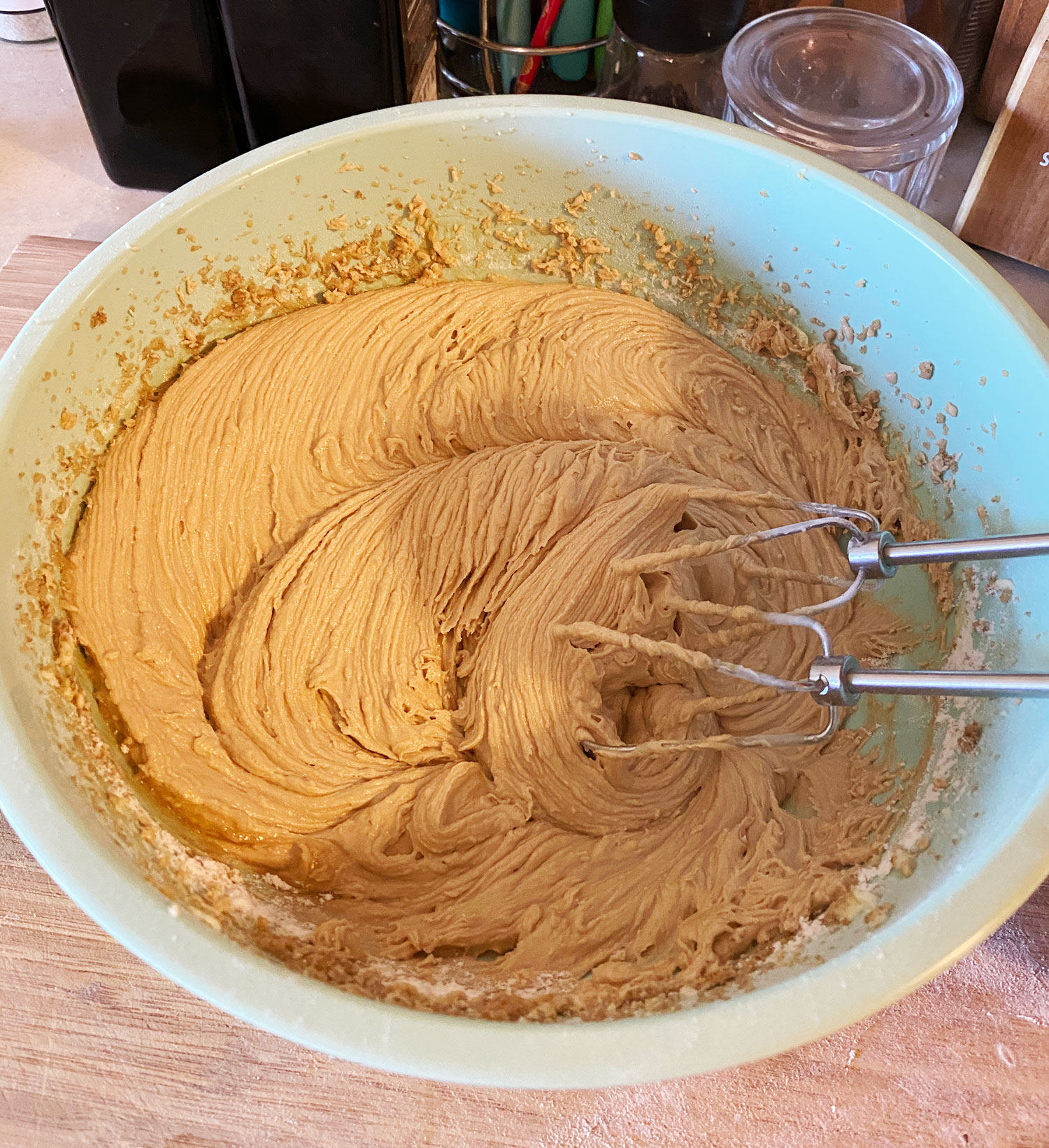 Add eggs and vanilla and mix well, 1 min more.
Combine all dry ingredients except oatmeal and combine with wet mixture until completely mixed, approx. 20 sec. Stir in oatmeal, then chocolate chips, coconut and pecans (reserve a bit of chocolate chips, coconut and nuts for garnishing).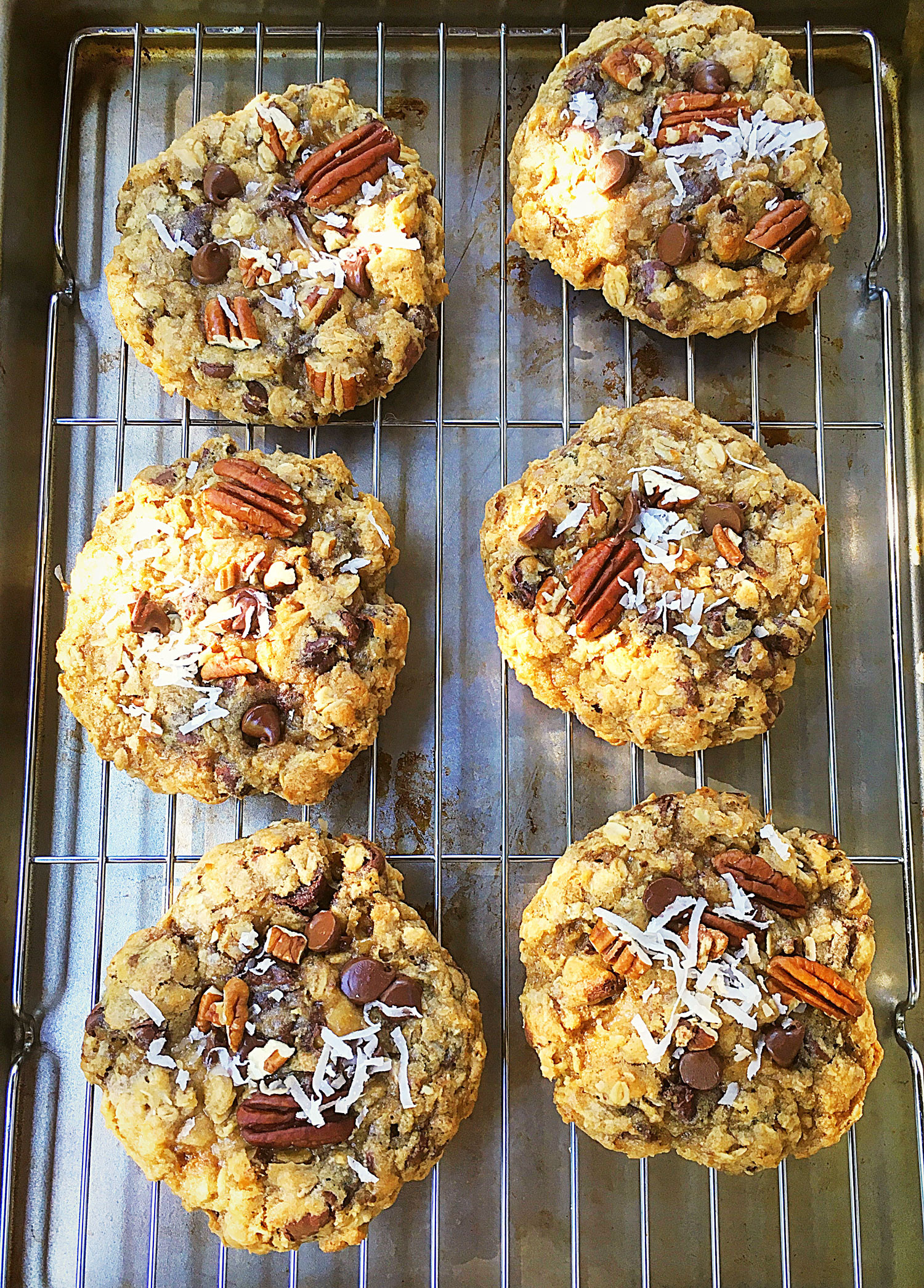 Using an ice cream scoop, place mounds of cookie dough onto a parchment-lined sheet pan, pushing down in the centers slightly – the cookies don't spread much when baking, so shape into preferred size for sandwiches. Bake 13-15 min, until golden brown in center.
Remove from pan and place onto a cooling rack and let rest until room temp. Place 1 standard scoop of ice cream between two cookies, then roll edges in garnishes, if desired (pecans, mixed nuts, coconut and chocolate chips). Wrap each in plastic wrap or place on sheet pan and freeze at least one hour until center is set.
Meet the Makers
Felix & Greg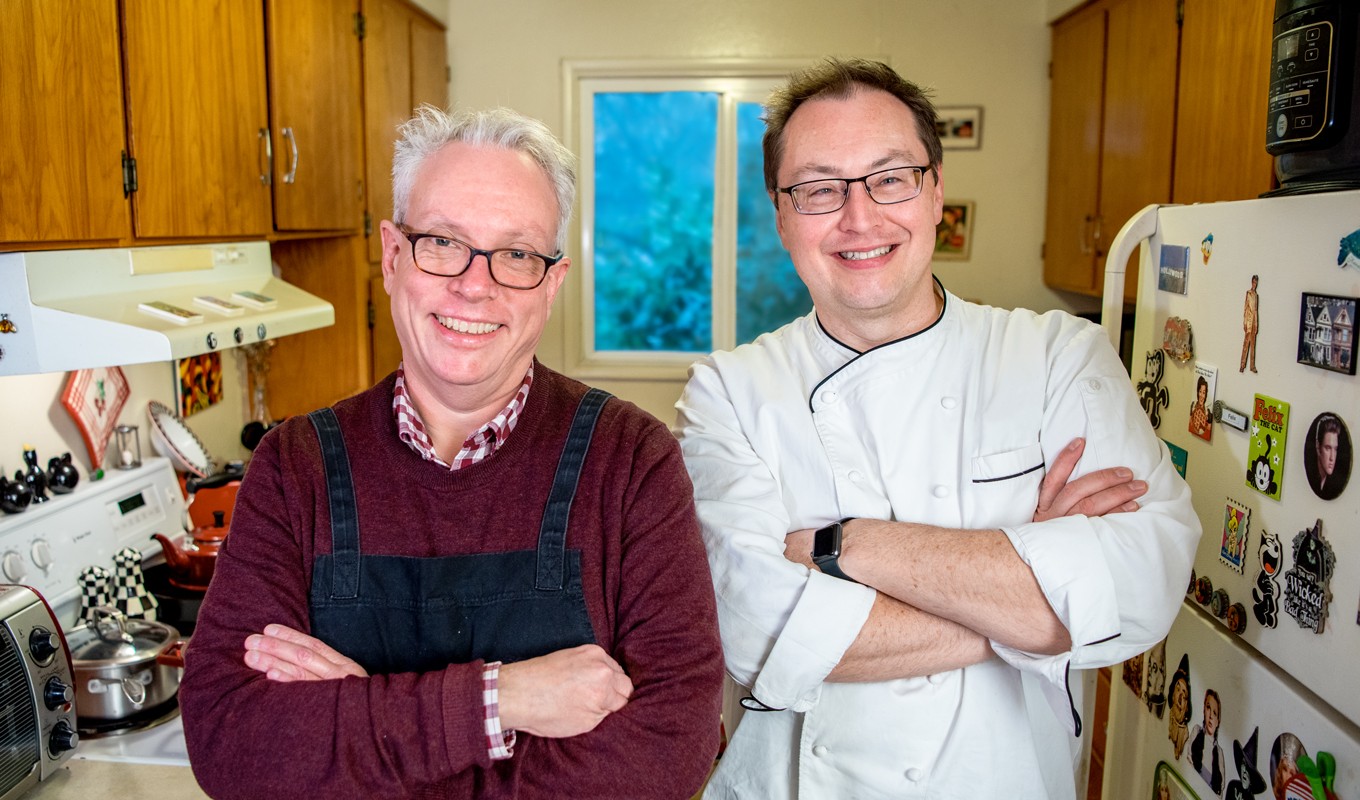 FELIX HUCK
Recipe Creator & Food Photographer
An artist and shutterbug, Felix finds beauty and inspiration in food and nature. He invents and photographs the recipes you'll find here.
GREG CABEZA
Professional Chef & Food Blogger
A food aficionado and lifelong music fan, Greg is an experienced artisan chef. He's also co-recipe creator and food blogger at Felix & Greg.
SUBSCRIBE TO OUR EMAILS
Good ideas could be cooking in your inbox. Sign up for our newsletter.