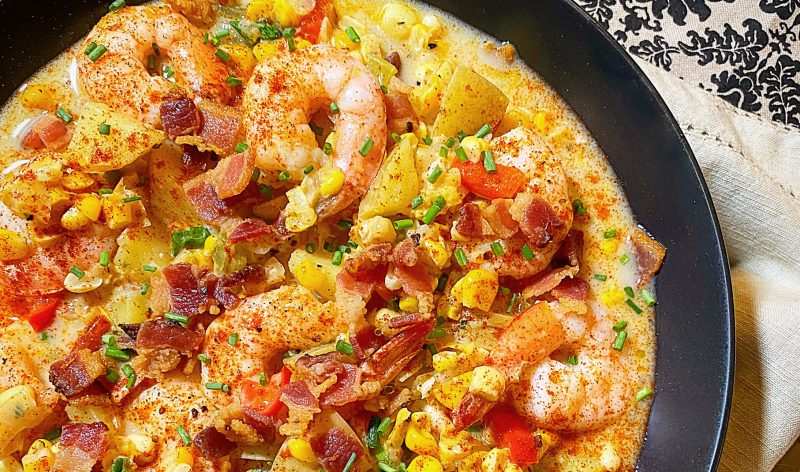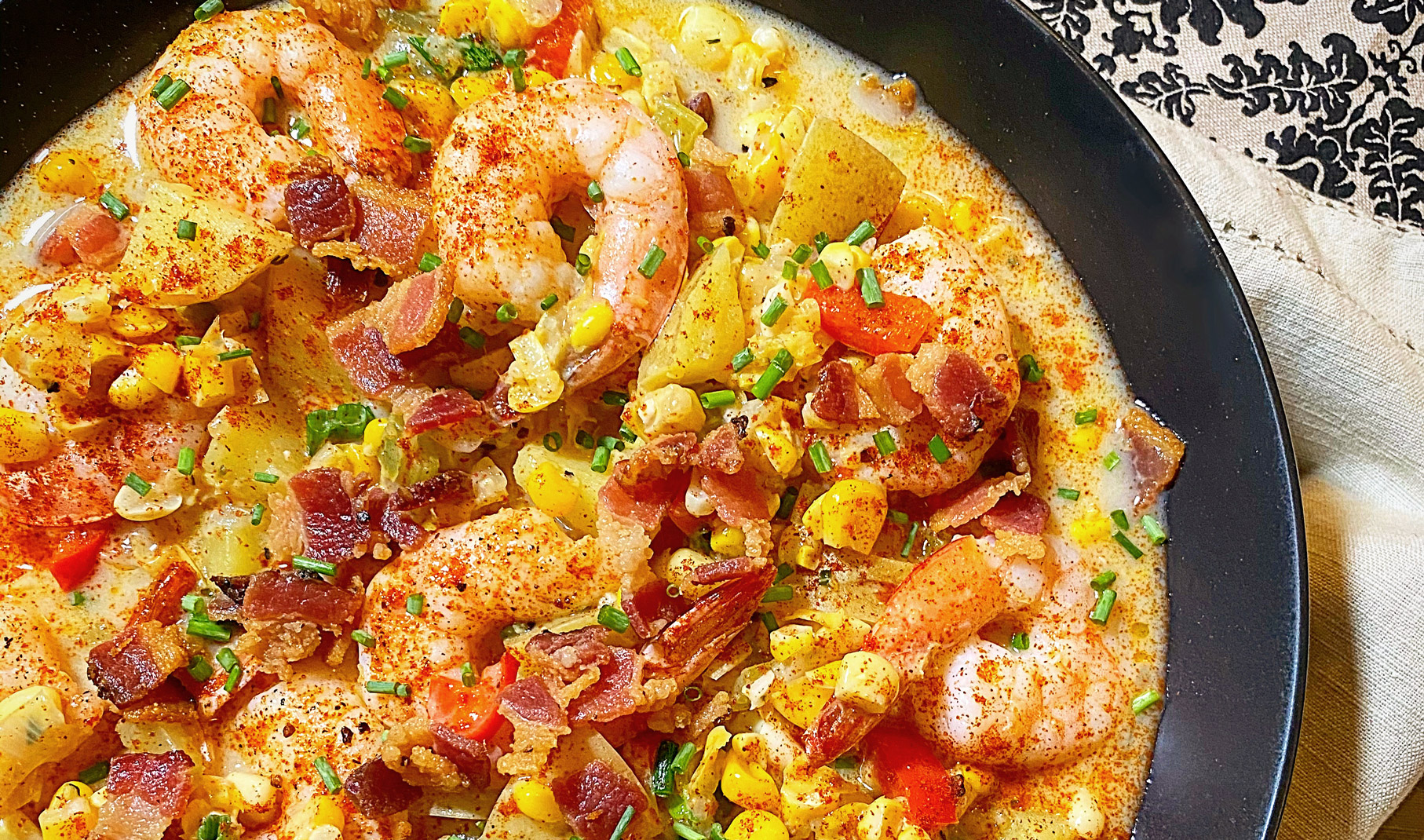 Felix and I have lived in Oregon most of our lives, and we know how lucky we are that the Pacific Northwest coast provides amazing fresh seafood year-round. We've said many times before how much we love fresh crab, halibut, salmon and clams, and every trip to the fishing towns along the coast wouldn't be complete without a hot bowl of chowder. To us, chowder is part of who we are, a shared beach experience as universal as collecting agates and sand dollars as the tide rolls out.
We've made many kinds of chowder over the years, from classic clam to deeply satisfying smoked salmon, however, this corn chowder with shrimp earns a place of honor at the top of our list. It packs some seriously Southern touches, like Cajun seasoning, a bit of hot sauce, a splash of Zatarain's Shrimp and Crab Boil, grilled corn, and an entire jalapeño to boot. Never fear though, as there is plenty of cream and potatoes to mellow and mix with the spices. If you love Cajun shrimp as much as we do, you're going to be jumping around this pot begging for it to pour itself into your bowl quicker than quick. The soup actually cooks pretty fast, and can be made ahead, then reheated and finished with the bacon and shrimp, when ready to serve.
You're going to have almost a gallon when it's all said and done, so don't be shy about sharing! We think you'll find plenty of willing tasters. Enjoy with a good loaf of crusty bread and a tasty craft beer or two. In our minds, this chowder begs for a fun Oingo Boingo beat playing in the background when you make it, but maybe that's just us.
Corn and Potato Chowder with Shrimp Recipe
SERVES
8
DIFFICULTY
Medium
PREP TIME
30 min
COOK TIME
30 min
DIET: GF (if using GF flour)
Corn and Potato Chowder with Shrimp Recipe
SERVES: 8
DIFFICULTY: Medium
PREP TIME: 30 min
COOK TIME: 30 min
DIET: GF (if using GF flour)
Ingredients
1 yellow onion, diced
5 cloves garlic, minced
1 red bell pepper, diced
3 stalks celery, diced (leafy ends also)
1 jalapeño, seeded and chopped fine
4 T butter
3 T flour (use GF, if desired)
2 qt chicken stock
8 sm yellow potatoes, diced
1 T Cajun seasoning
dashes hot sauce (Cholula or Tapatio)
1 ½ t Zatarain's Shrimp and Crab Boil seasoning
3 sprigs fresh thyme, leaves only, chopped
heavy pinch salt and pepper, to taste
15 oz can cream corn
4 ears corn, roasted or grilled, kernels cut from cob
2 c pepper jack cheese, grated
2 c milk
1 c heavy cream
1 bunch green onions, chopped
½ lb bacon, chopped
1 lb med shrimp
Instructions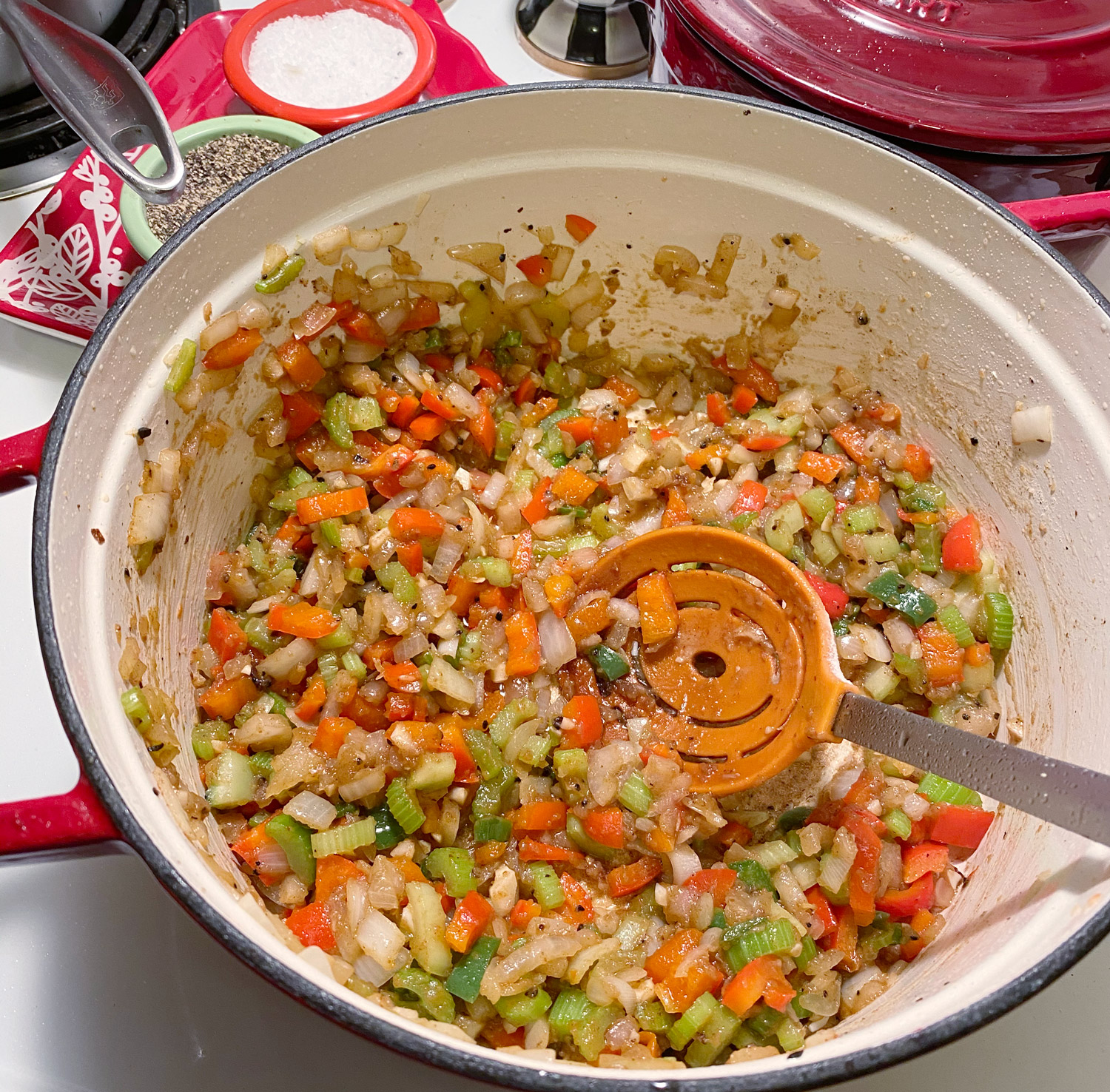 In large heavy-bottomed soup pot, cook onion, garlic, bell pepper, celery and jalapeño in butter until tender, 3 min. Add flour, cooking 2 min more.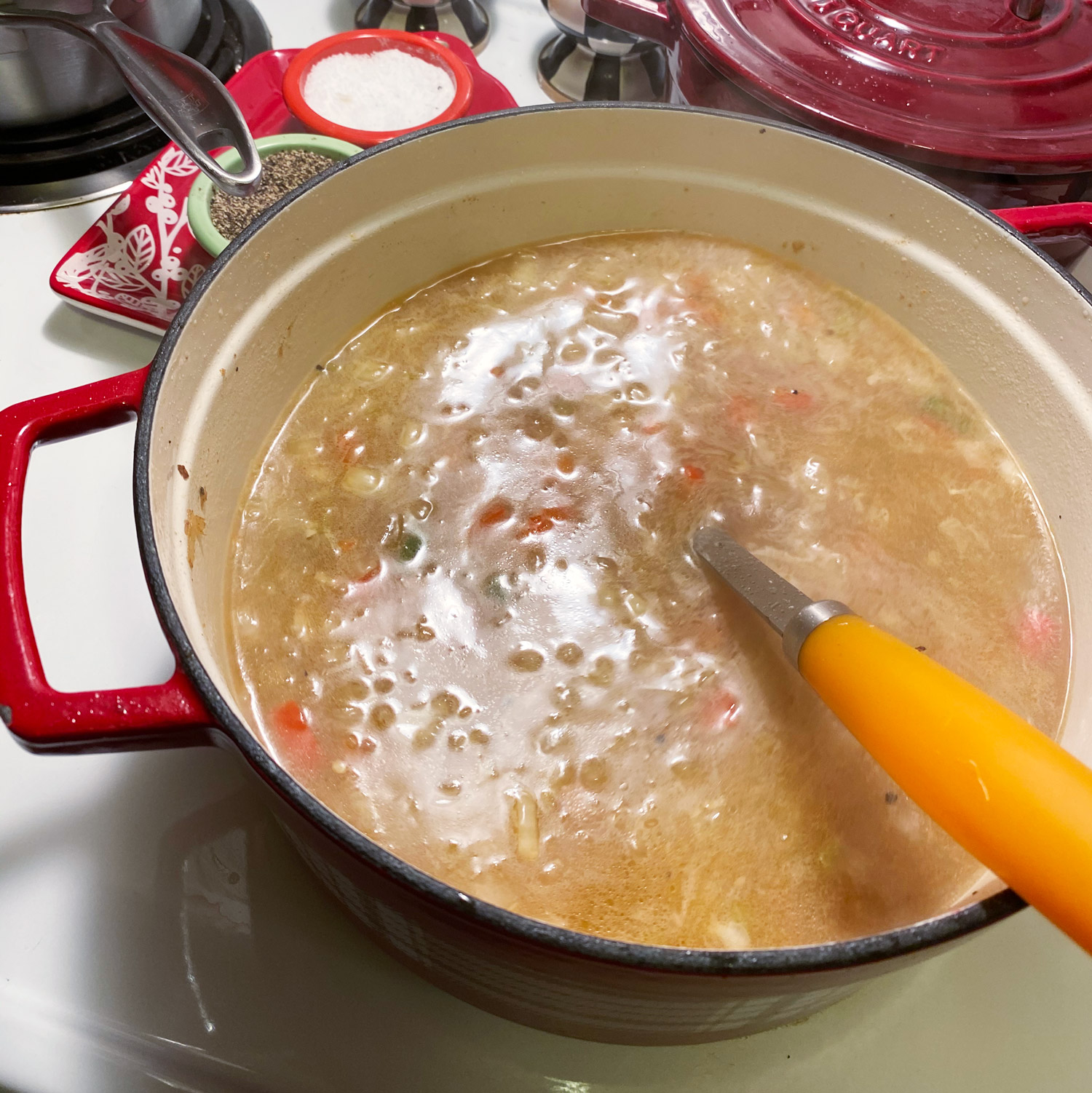 Add stock and potatoes and bring to a boil. Add Cajun seasoning, hot sauce, Zatarain's seasoning, thyme, salt and pepper and simmer until potatoes are tender, approx. 8 min.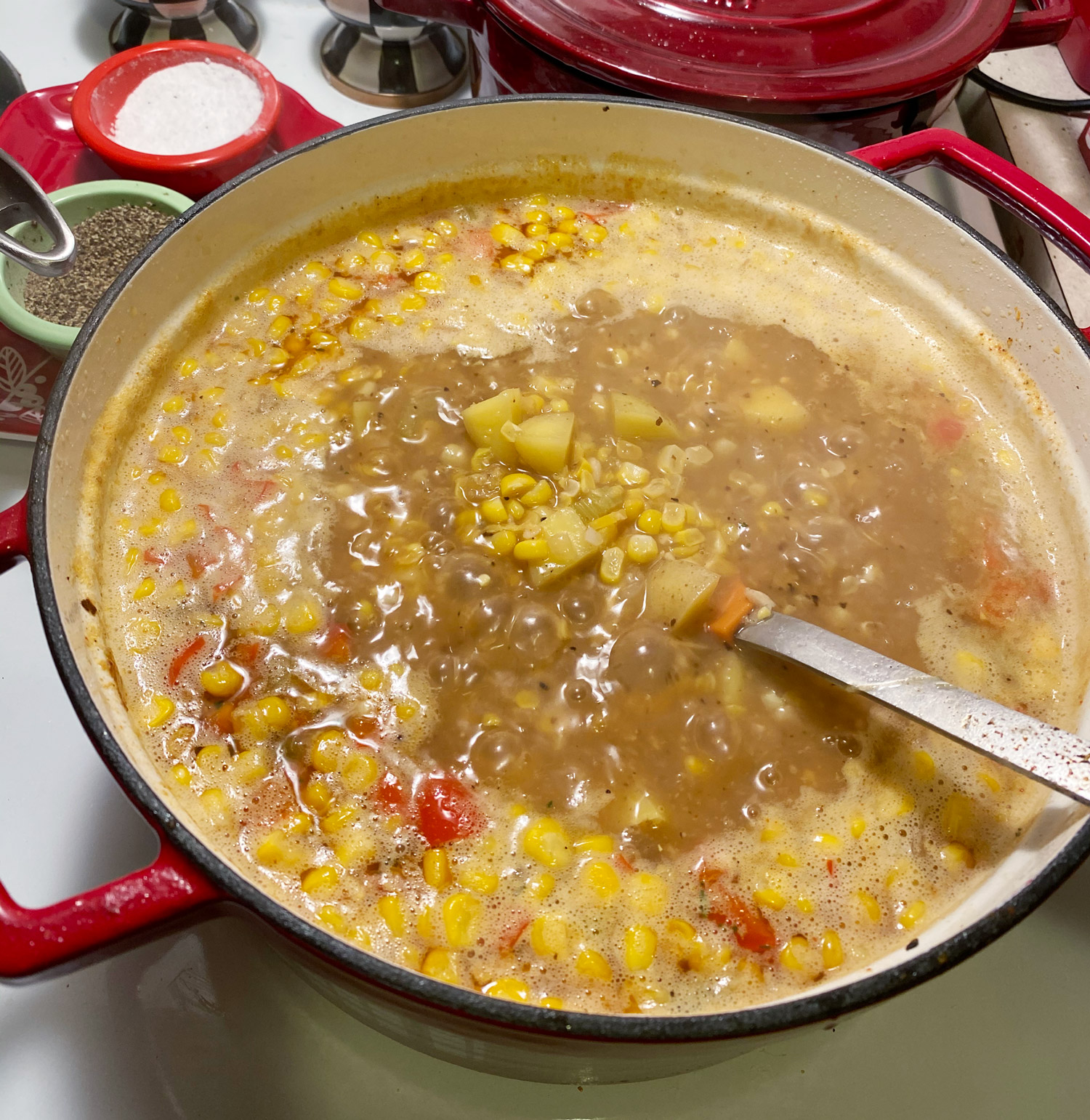 Add cream corn and corn kernels, stirring in cheese until melted. Add milk and cream, bringing back to a simmer. Turn off heat and add green onions. Season to taste with more salt and pepper and more hot sauce, as desired. For the bacon, simply cook until crisp and drain on paper towels. Roast the shrimp with a bit of olive oil, salt and pepper at 400° for 6 min, or until done (or sauté in the same fashion). Top bowls of hot chowder with shrimp and bacon crumbles and more green onions for garnish.
Meet the Makers
Felix & Greg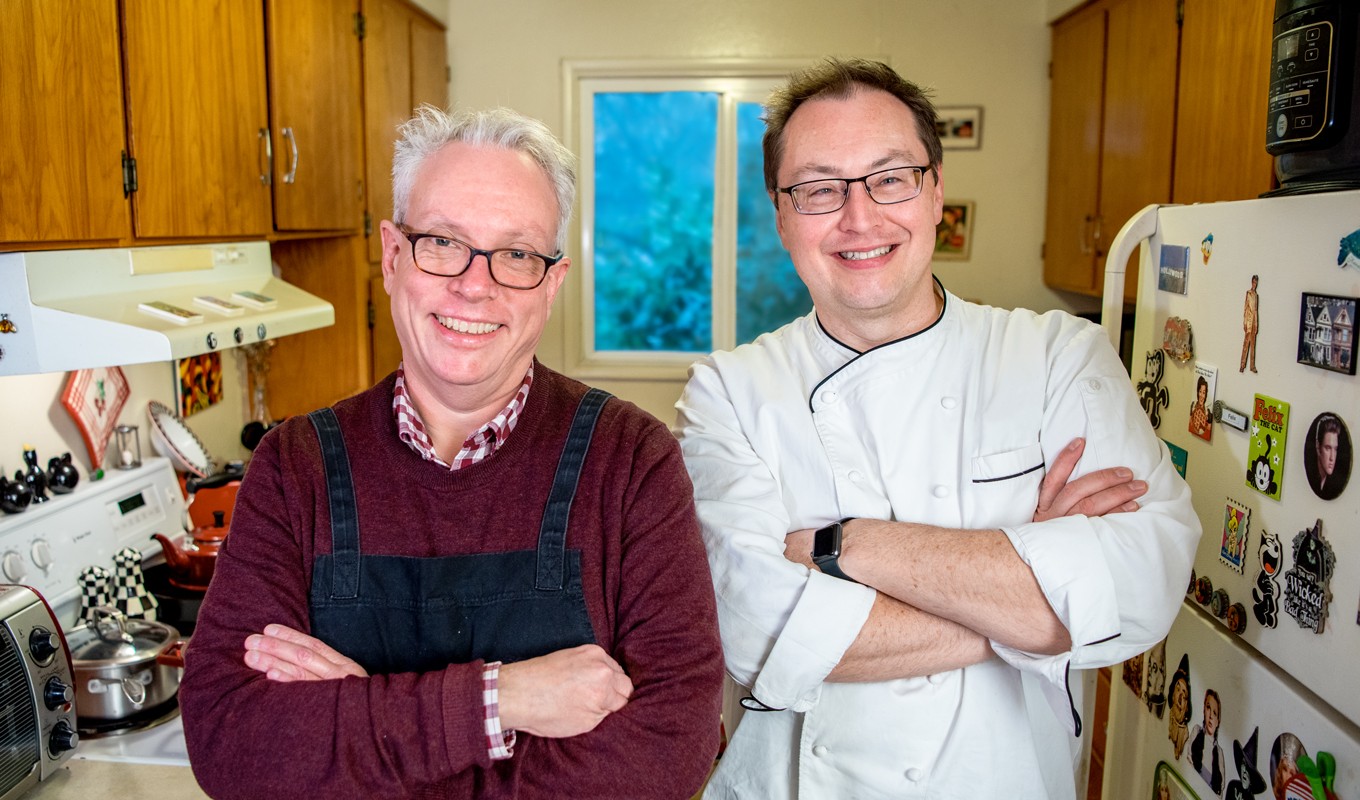 FELIX HUCK
Recipe Creator & Food Photographer
An artist and shutterbug, Felix finds beauty and inspiration in food and nature. He invents and photographs the recipes you'll find here.
GREG CABEZA
Professional Chef & Food Blogger
A food aficionado and lifelong music fan, Greg is an experienced artisan chef. He's also co-recipe creator and food blogger at Felix & Greg.
SUBSCRIBE TO OUR EMAILS
Good ideas could be cooking in your inbox. Sign up for our newsletter.