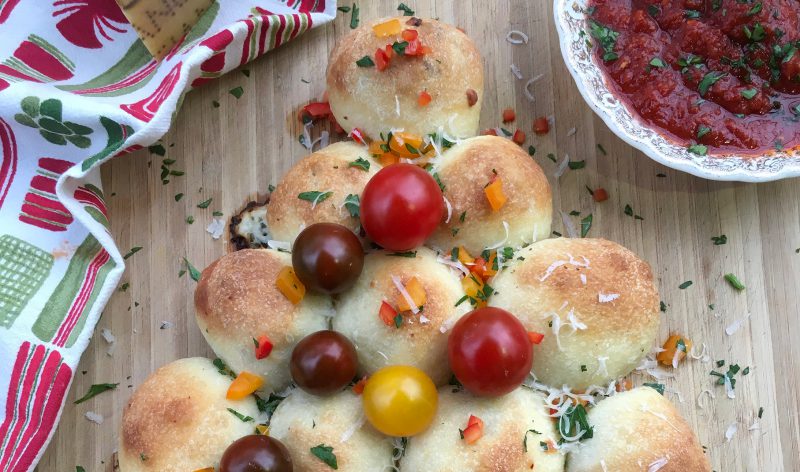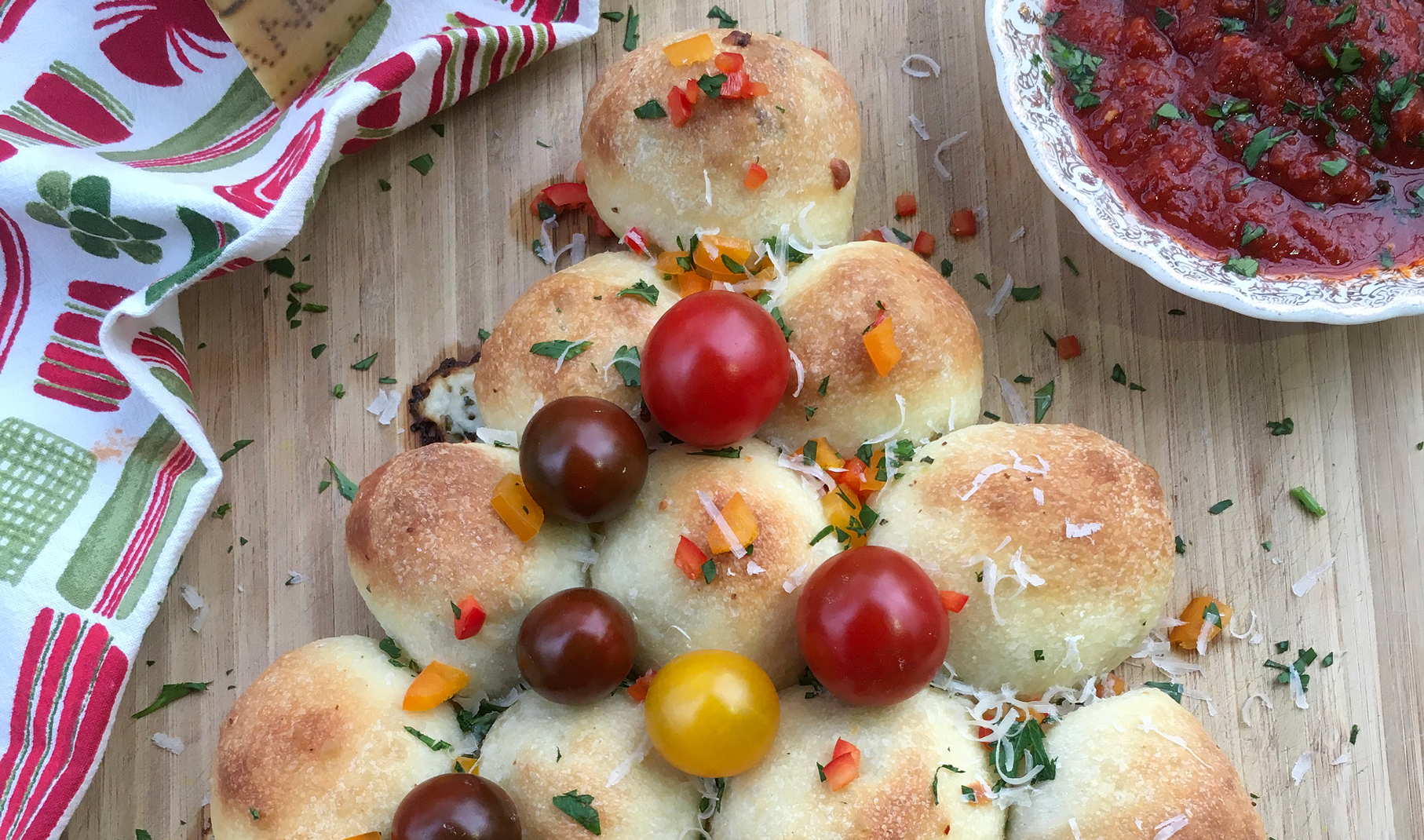 Each bite of this Christmas tree pull-apart hides a little secret inside – warm, melty cheesy goodness and whatever surprise flavors you've chosen to add! A hit at parties and oh-so-easy to make, kids and teens will love helping with this recipe—and adults won't be able to get enough of it. Stick with the classic Christmas tree shape or try a reindeer or a snowy mountain (with lots of freshly grated parmesan!) Using store-made pizza dough makes this recipe even easier. Just cut it into 20 or more pieces, the smaller you cut, the more bites you get! This fun appetizer travels well, too. Prep it ahead of time, then bake it when you arrive! It's delicious served with warm marinara or pizza sauce, and we really like to play with the garnishes, using finely grated parmesan for snow, cherry tomatoes for ornaments, and a sprinkle of fresh herbs such as rosemary and parsley along with minced red bell pepper for a festive touch.
Make it with your favorite ingredients
We stuffed ours with sausage, garlic and mozzarella, but you can vary this recipe any way you like. Try it with sautéed mushrooms and onions, or pepperoni or fancy meats and cheeses, such as fontina and a little bit of prosciutto. We've made this recipe with the top rows of the tree filled with meats and cheeses and the bottom rows filled with veggies and cheese to please different tastes and diets. Simply make the cheese filling and divide in half, then toss in your desired additions. Whichever way you decide to prepare it, we're sure you're going to love it and make it again and again!
Christmas Tree Pull Apart Recipe
SERVES
4
DIFFICULTY
Easy
PREP TIME
15 min
COOK TIME
17 min
SPECIAL TOOLS
None
DIET: None
Christmas Tree Pull Apart Recipe
SERVES: 4
DIFFICULTY: Easy
PREP TIME: 15 min
COOK TIME: 17 min
SPECIAL TOOLS: None
DIET: None
Ingredients
2 c shredded mozzarella
4 oz cream cheese, softened slightly (do not use whipped)
4 oz parmesan, grated
2 cloves garlic, minced
pinch red chili flakes
4 oz Italian sausage, cooked and crumbled (or other filling)
1 lb store-bought pizza dough, cut into 20 pieces
2 T butter, melted
2 T parsley and basil, roughly chopped
6 cherry tomatoes, red and yellow, halved for garnish (or red bell peppers)
2 c pizza sauce, warmed for serving
Instructions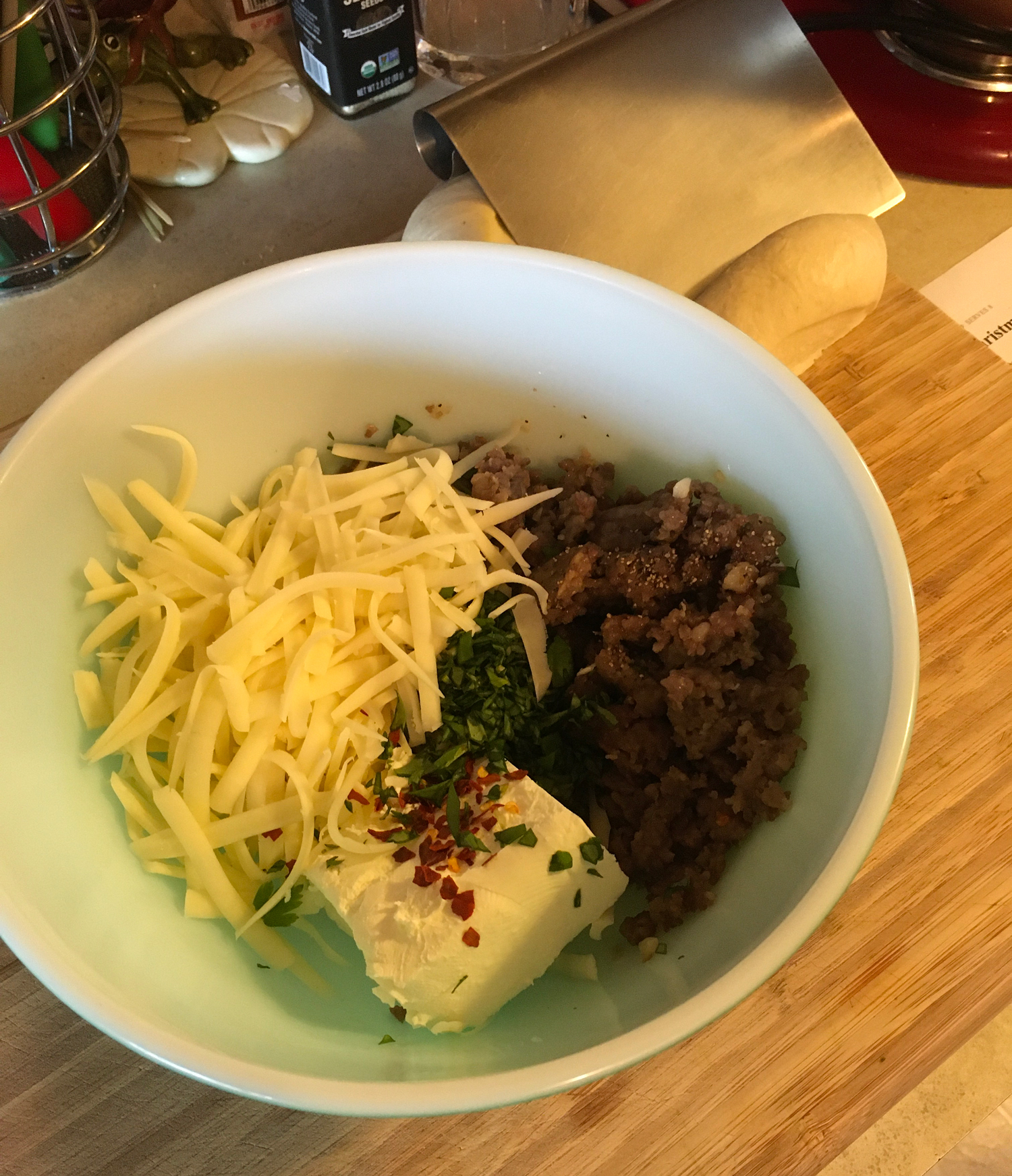 Preheat the oven to 400°. In a medium mixing bowl, combine mozzarella, cream cheese, and half of parmesan (reserve remainder for garnish). Add half of minced garlic, pinch of chili flakes, and sausage.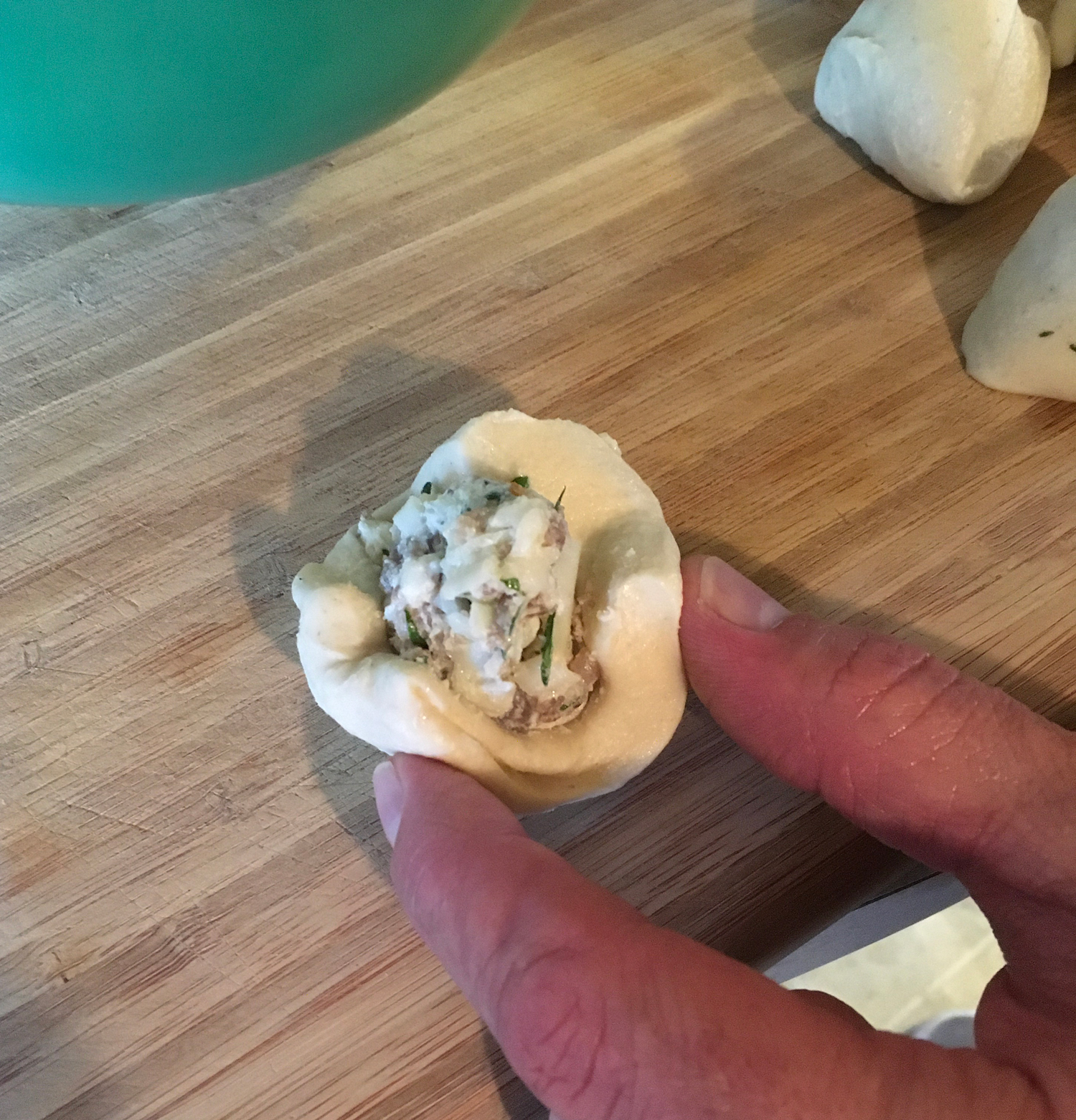 Cut pizza dough with a sharp knife into 20 similar pieces (halve dough ball, then halve again lengthwise, then cut each length of dough into 5 or more equal pieces). Gently pull and stretch each piece of dough until roughly doubled in size, and fill the center with a half tablespoon of cheese mixture.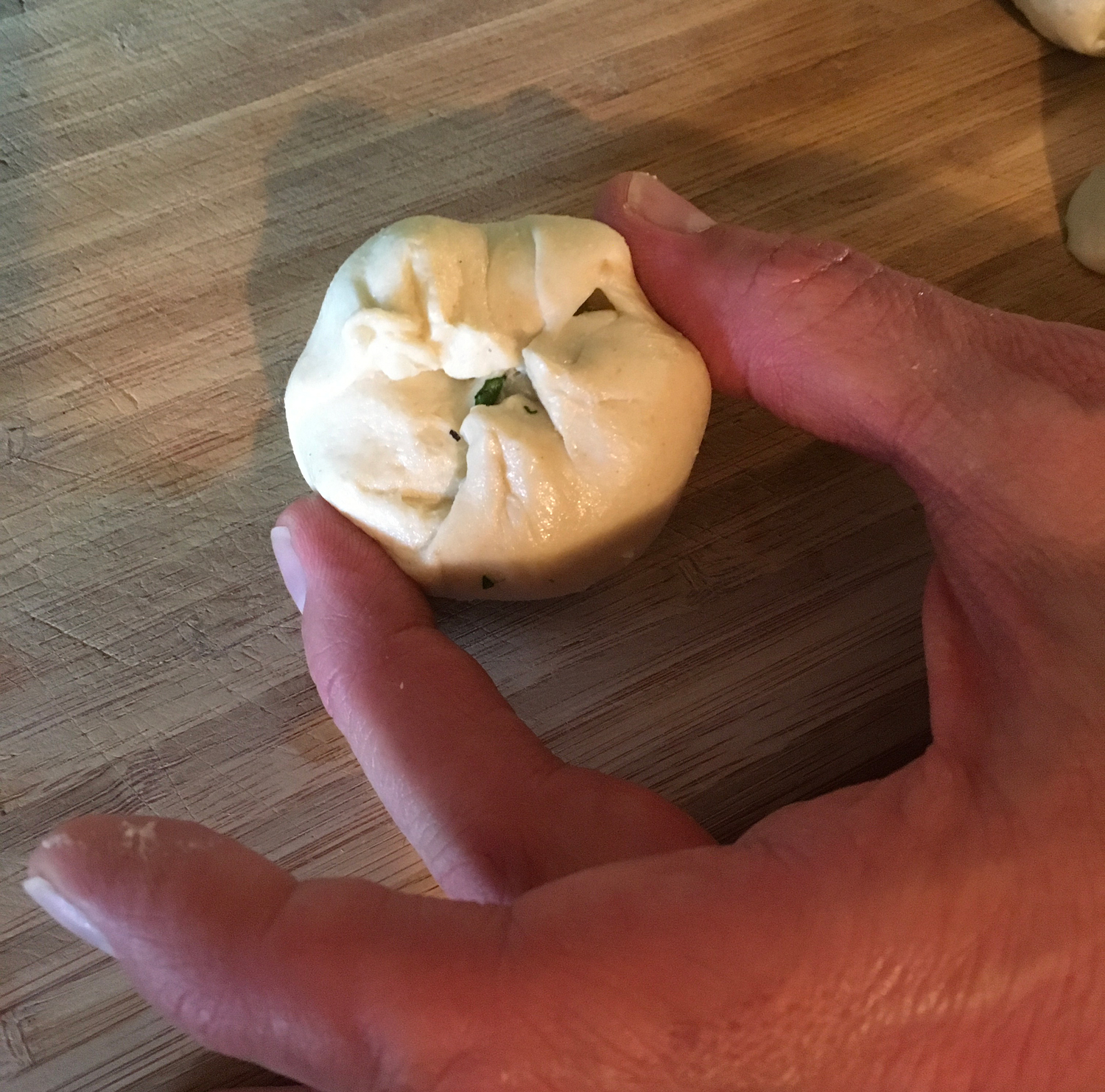 Bring edges of dough up and over filling, pinching edges closed.
Place on a lightly oiled parchment-lined sheet pan. Repeat with all dough pieces and place seam-side down, arranging in desired shape. Combine the remaining half of minced garlic and melted butter. Brush dough with butter mixture and bake 15-17 min until golden brown.
Meet the Makers
Felix & Greg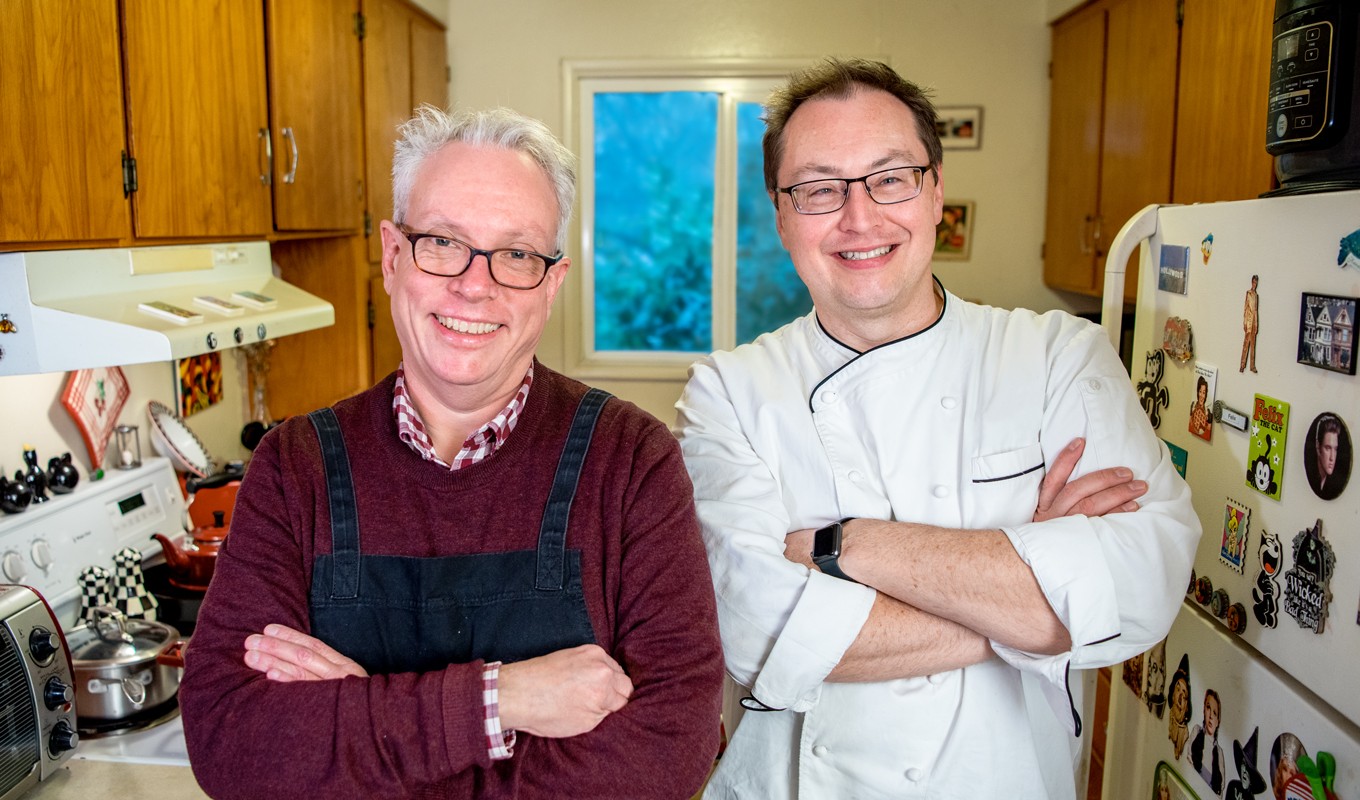 FELIX HUCK
Recipe Creator & Food Photographer
An artist and shutterbug, Felix finds beauty and inspiration in food and nature. He invents and photographs the recipes you'll find here.
GREG CABEZA
Professional Chef & Food Blogger
A food aficionado and lifelong music fan, Greg is an experienced artisan chef. He's also co-recipe creator and food blogger at Felix & Greg.
SUBSCRIBE TO OUR EMAILS
Good ideas could be cooking in your inbox. Sign up for our newsletter.