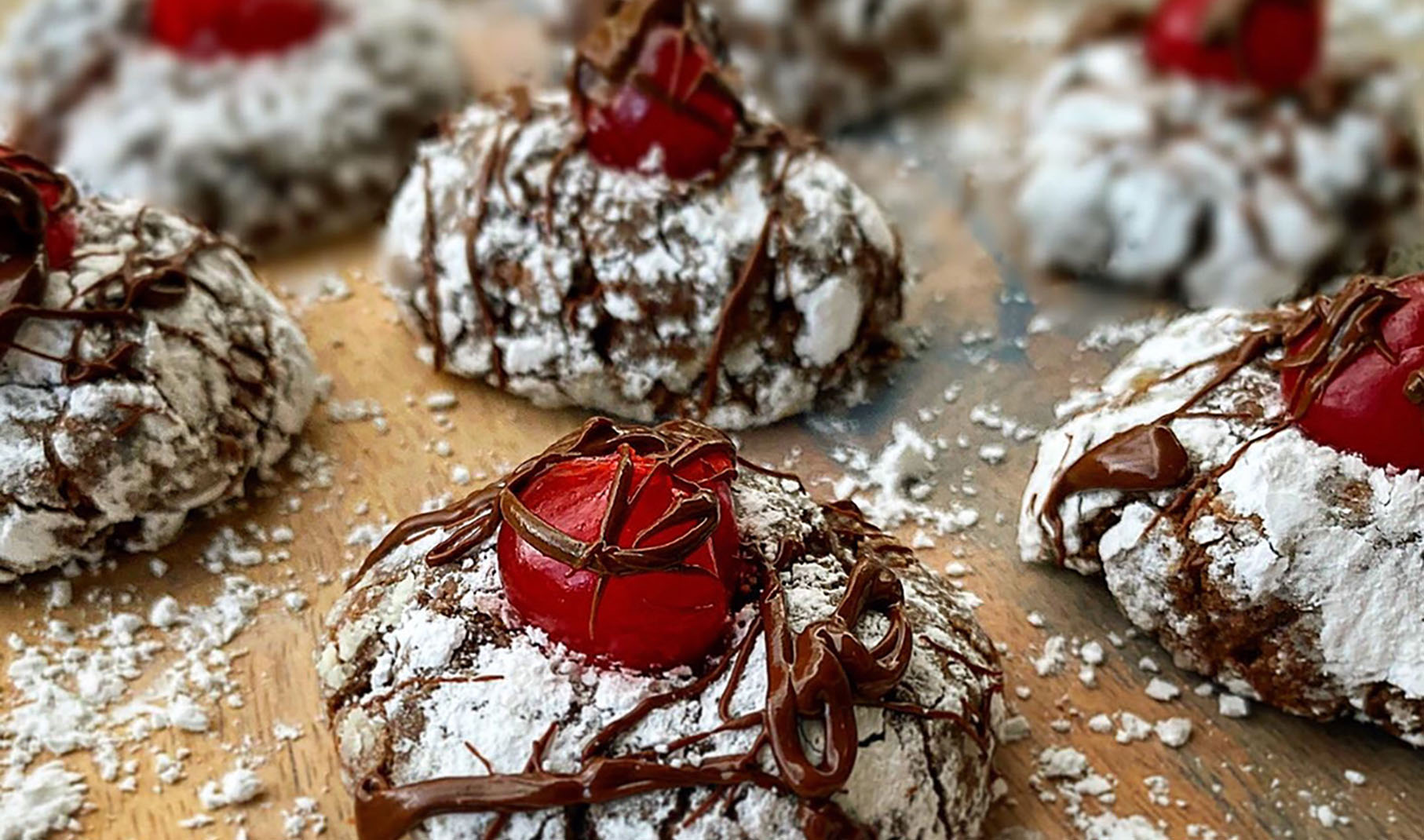 Ka-BOOM! These fudgy truffle-like cookies are going to blow your mind! Easy, addictive and delicious, they are ridiculously good and great for sharing (or not!). When Felix made these the other day, he sighed and said, "I messed up somehow, these aren't what I was going for. They are too soft!" I tried one and nearly fell over. "Felix! You've struck gold!" He didn't know it yet, but everyone we know was about to fall in love with these explosive little treats! They have a creamy, rich chocolate interior, almost like a truffle cheesecake, with a cracked exterior, a sweet cherry cratered on top, drizzled with chocolate and powdered sugar.
Pointers and suggestions
The recipe calls for a box of brownie mix (a gluten-free one would work well), combined with cream cheese for a decadent, soft brownie interior. If you would rather make your own dry mix, feel free, however we love taking some liberties and making our lives a bit easier with a few fun cheats like this, once in a while. Simply cream the butter and cheese and blend with brownie mix, vanilla and egg, then chill the dough to make it easier to shape. We topped them with maraschino cherries, but you could easily tuck them inside, if you prefer. And be sure to play some Joan Jett at full volume while making these!
Chocolate Covered Ch-Ch-Ch-Cherry Bombs Recipe
YIELD
24 cookies
DIFFICULTY
Easy
PREP TIME
10 min
INACTIVE TIME
2 hrs
COOK TIME
12 min
SPECIAL TOOLS
Mixer
DIET: GF (if using gluten-free brownie mix)
Chocolate Covered Ch-Ch-Ch-Cherry Bombs Recipe
YIELD: 24 cookies
DIFFICULTY: Easy
PREP TIME: 10 min
INACTIVE TIME: 2 hrs
COOK TIME: 12 min
SPECIAL TOOLS: Mixer
DIET: GF (if using gluten-free brownie mix)
Ingredients
½ c (1 stick) butter, room temp
1 brick (8 oz) cream cheese, room temp
1 box brownie mix
1 T vanilla extract
1 egg
2 c powdered sugar
1 small jar maraschino cherries, drained
1 c chocolate chips
Instructions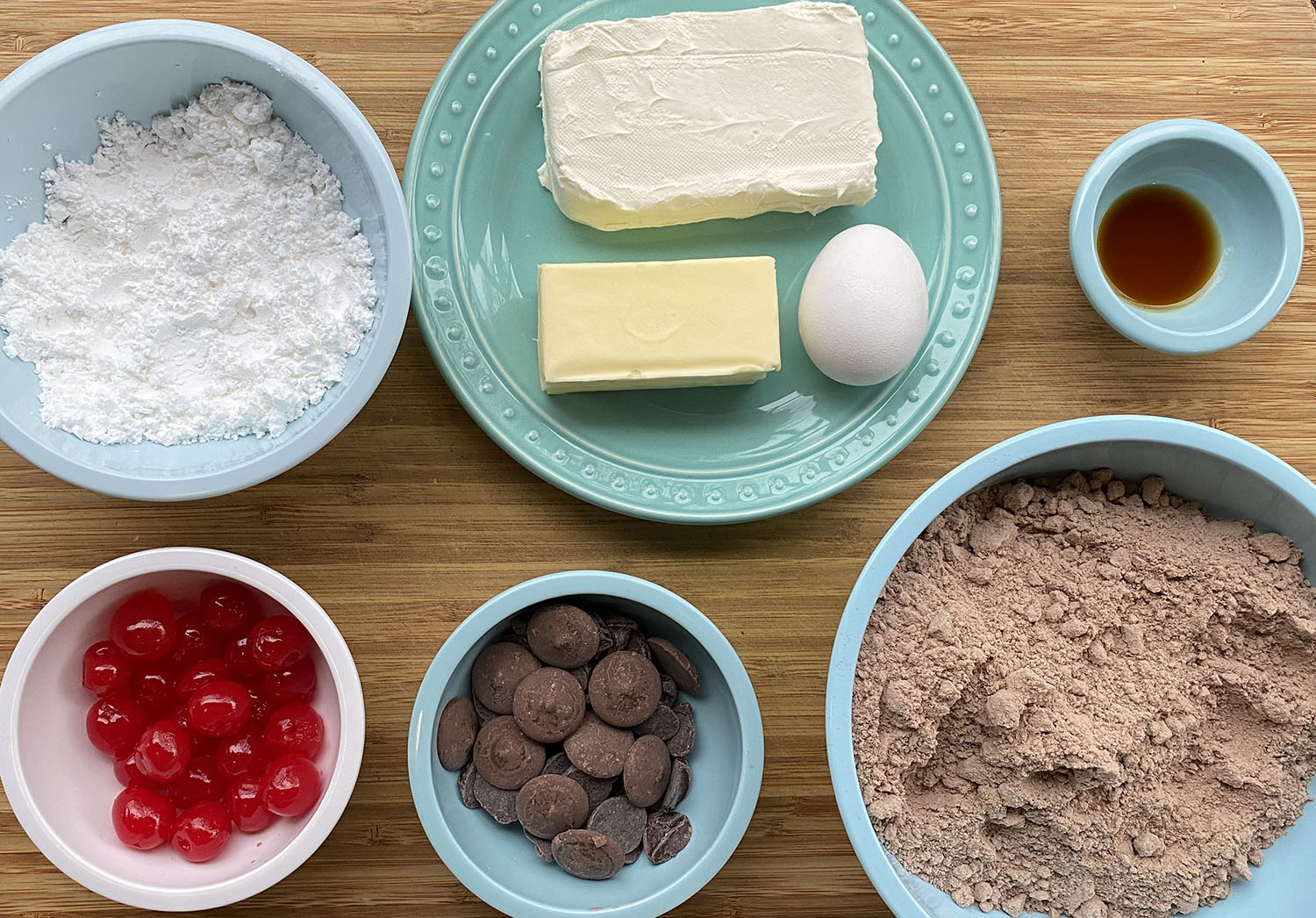 Gather ingredients.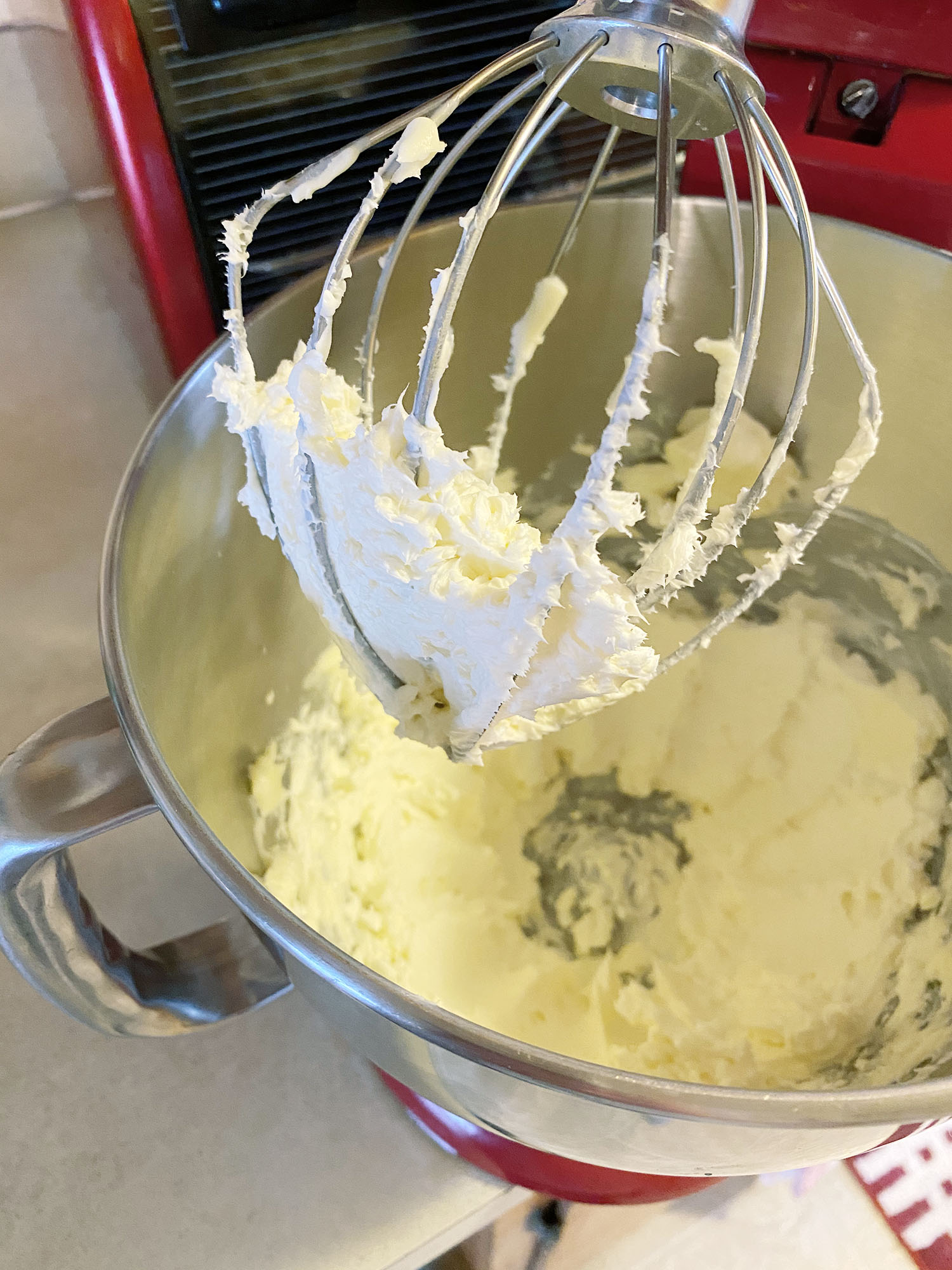 Combine butter and cream cheese in mixer until smooth and completely mixed together.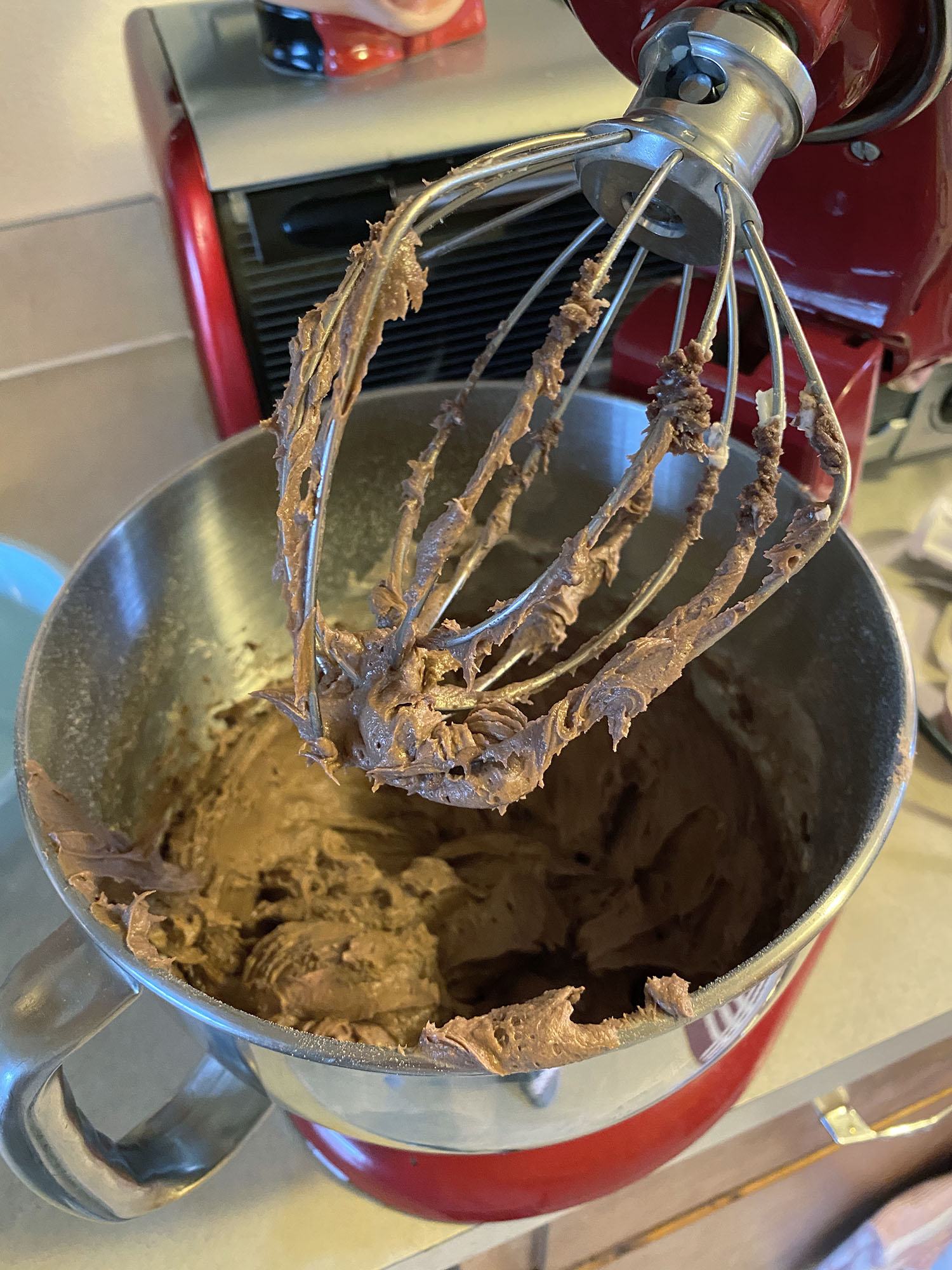 Add egg, vanilla and brownie mix and combine well, mixing just until creamed together.
Chill for 2 hr, until semi firm. Roll cookie dough into balls, about walnut-sized. Drop into a bowl of powdered sugar, covering all sides. Transfer to a parchment-lined or non-stick sheet pan and press a cherry into the top of each one. Bake at 350° for 12 min. Cool to room temp. Melt chocolate chips in microwave, warming in short bursts until warmed through. Drizzle chocolate over cookies and chill to set. Cookies can be stored in an airtight container, chilled, for up to 1 week.
Meet the Makers
Felix & Greg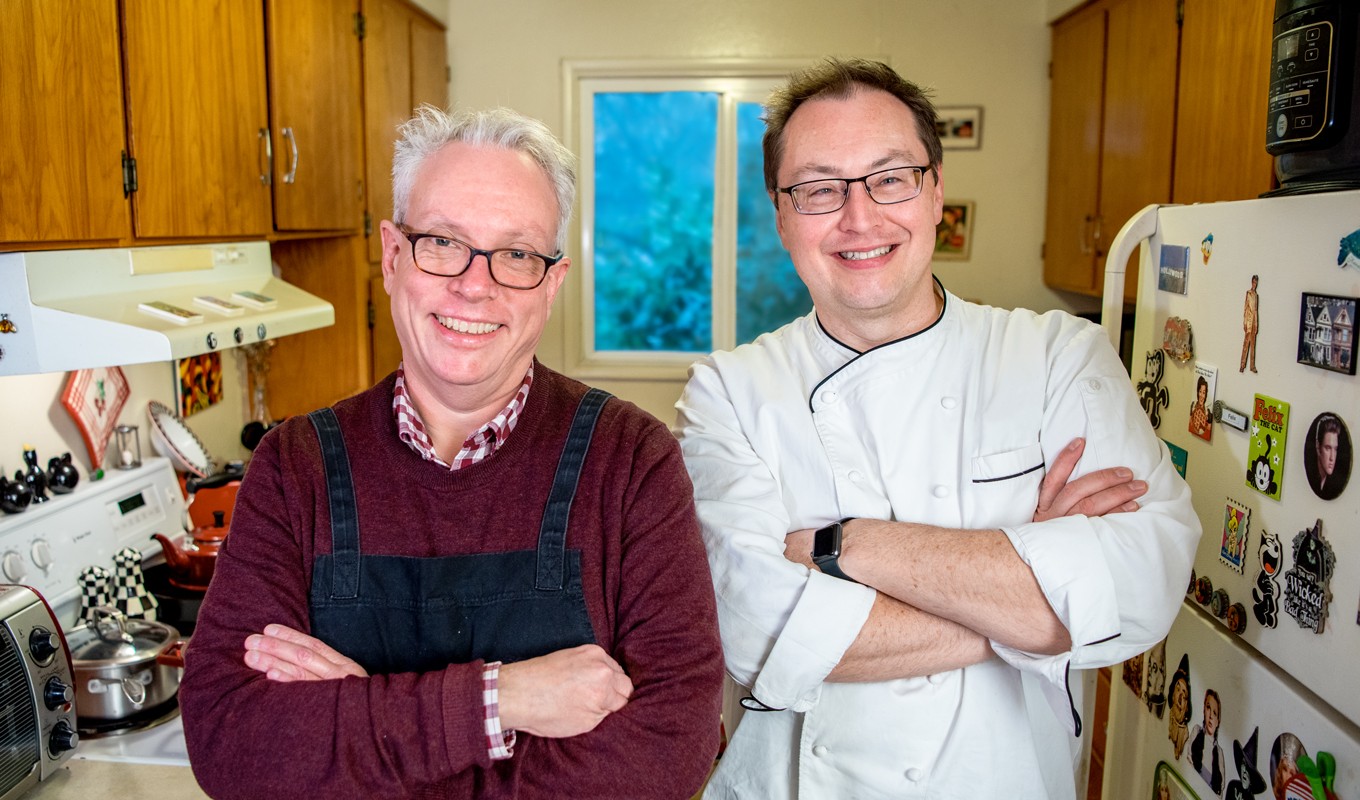 FELIX HUCK
Recipe Creator & Food Photographer
An artist and shutterbug, Felix finds beauty and inspiration in food and nature. He invents and photographs the recipes you'll find here.
GREG CABEZA
Professional Chef & Food Blogger
A food aficionado and lifelong music fan, Greg is an experienced artisan chef. He's also co-recipe creator and food blogger at Felix & Greg.
SUBSCRIBE TO OUR EMAILS
Good ideas could be cooking in your inbox. Sign up for our newsletter.