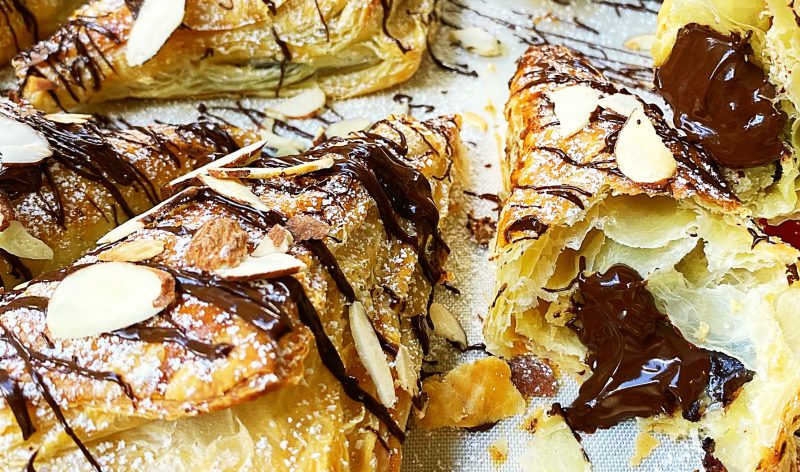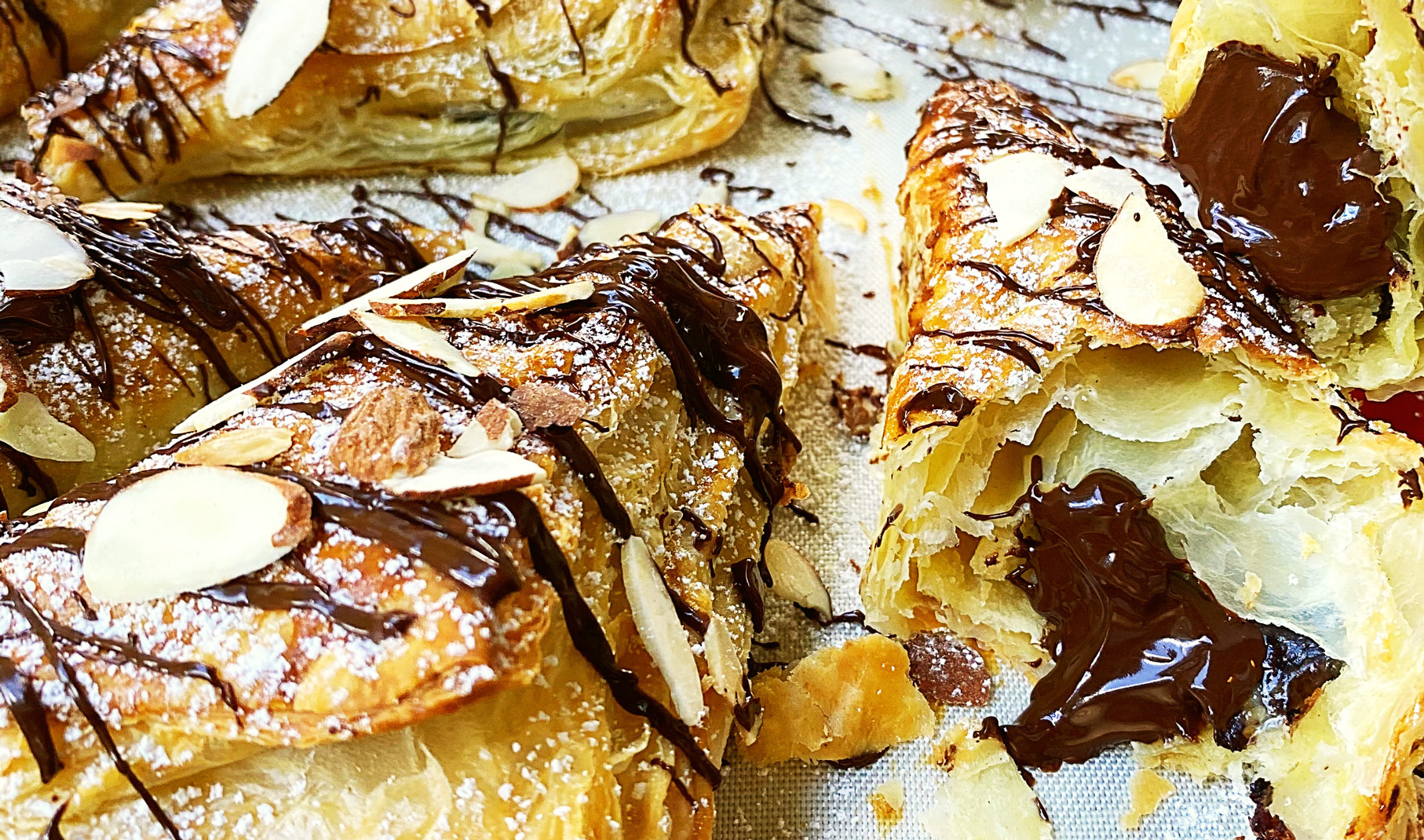 Felix and I have never understood why people don't use puff pastry more often. It's so easy to work with and it bakes up beautifully in just a few minutes. It can be used for savory recipes or super sweet, chocolaty treats like this one!
If you've read some of our previous recipes, you know that Felix worked at a French bistro in Beverly Hills, where they made delicious, flaky chocolate-almond croissants every day. His stories of those days are peppered with sightings of famous faces like, Cher, Barbara Streisand, Elizabeth Taylor, Bruce Willis and so many more TV and music stars that I don't even have time to list them all. He loved it when Olivia Newton John would say "hello" to him when she dropped in – "It just always made my day!" he says. I enjoy hearing about each and every one of his star encounters, but what I really love most is his fantastic food tales.
When the two of us get together, we put on some Depeche Mode or Tears for Fears to get us into a baking mood. That's exactly how this day came about, along with some inspiration from our friend Bonnie at Euphoria Chocolate Company. We wanted to fill these Chocolate Almond Turnovers with lots of Euphoria Chocolate – 55% chocolate buttons and a bit of almond paste –then top it with more chocolate and toasted almonds, so that is exactly what we did! These are simple to make – the hardest part is waiting for them to puff completely and cool enough to garnish them.
Using Puff Pastry
Here are a few little tips about working with puff pastry sheets: Let them thaw according to the directions on the box, then carefully unfold each sheet. Do not force it open, instead allow the sheet to rest and warm up naturally until it unfolds easily. Also, don't allow it to sit unattended too long because it is difficult to work with if it gets too warm. If this happens, just put it back in the freezer for a few minutes. Don't be deterred though, it really is simple to tell when it is ready. Keep it cold until you have everything in place, then unfold, cut into squares, fill and close the turnovers. Easy! Make sure to bake them until deep golden brown and thoroughly puffed; if in doubt, go a few minutes longer, as underdone puff pastry will be doughy in the middle.
These turnovers are perfect for small gatherings, as a dessert or with coffee or tea. Try filling them with other fun things instead of almonds and chocolate, like brie and jam, or fruit with nuts and honey. Spanakopita or cheesy mushroom fillings are favorites, too! Once you've used puff pastry, you're going to love all of the ideas that will come to you. We can't wait to hear about your creations!
Chocolate Almond Turnovers Recipe
SERVES
8
DIFFICULTY
Easy
PREP TIME
15 min
COOK TIME
20 min
DIET: None
Chocolate Almond Turnovers Recipe
SERVES: 8
DIFFICULTY: Easy
PREP TIME: 15 min
COOK TIME: 20 min
DIET: None
Ingredients
1 pkg puff pastry dough (two sheets), about 1 lb total, thawed
4 oz almond paste
3 c 55% dark chocolate buttons
1 egg, beaten
½ c toasted almonds
powdered sugar, for garnish
Instructions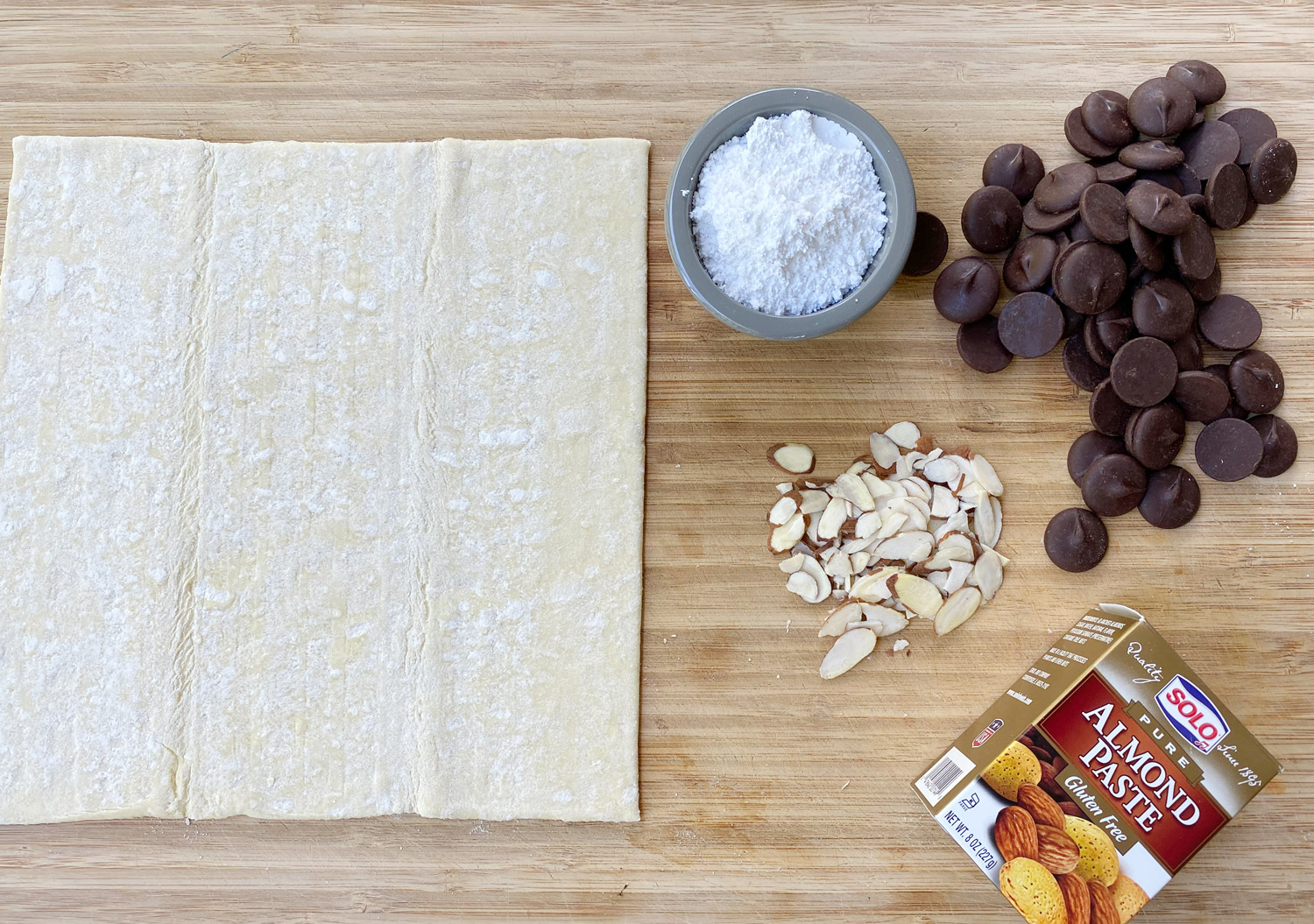 Preheat oven to 400°. Thaw puff pastry according to package directions. Have a parchment-lined sheet pan ready and all ingredients in place and at hand (mise en place).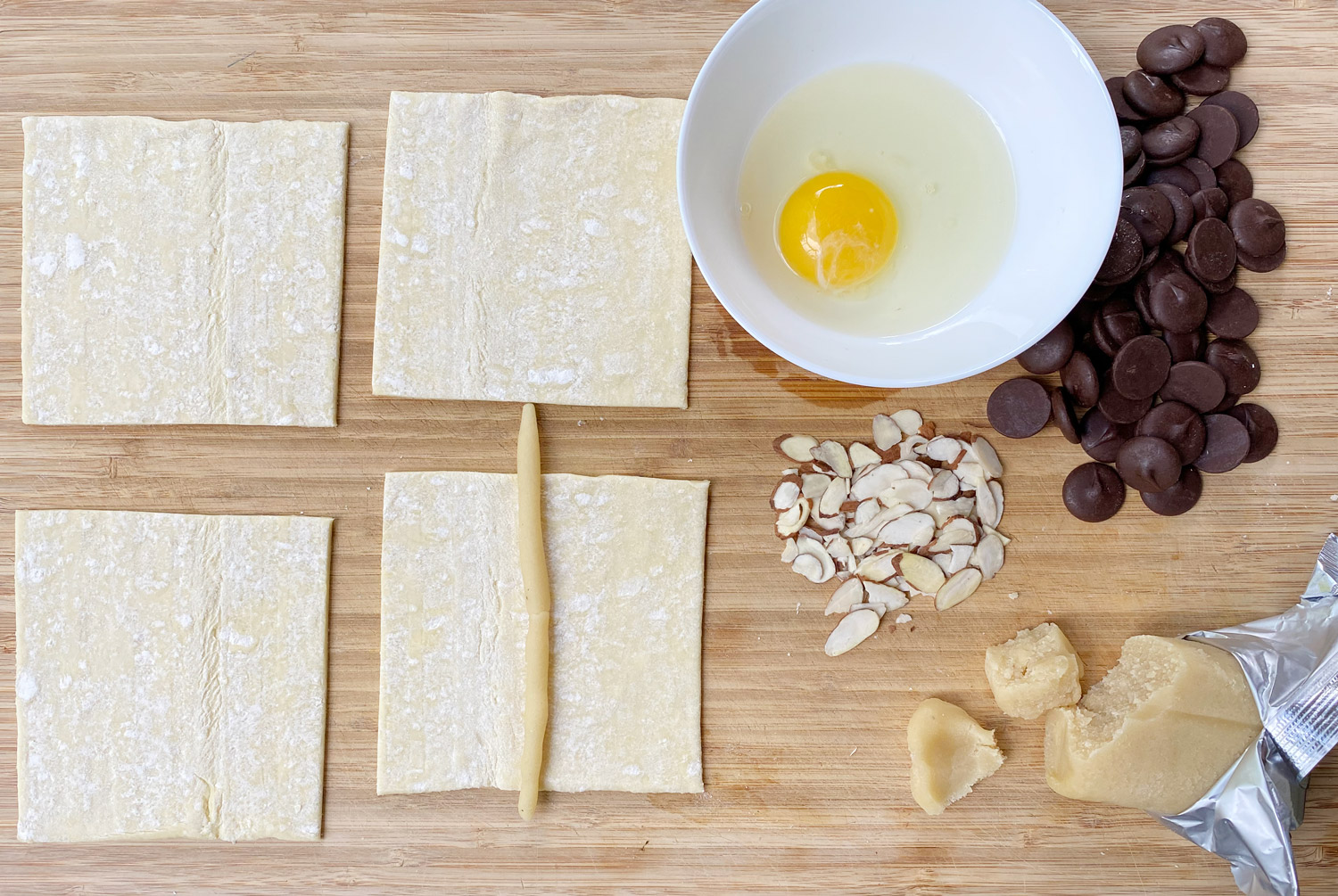 Cut pastry into squares, roll approx. ½ ounce of almond paste between your fingers briefly and place on one half of each square.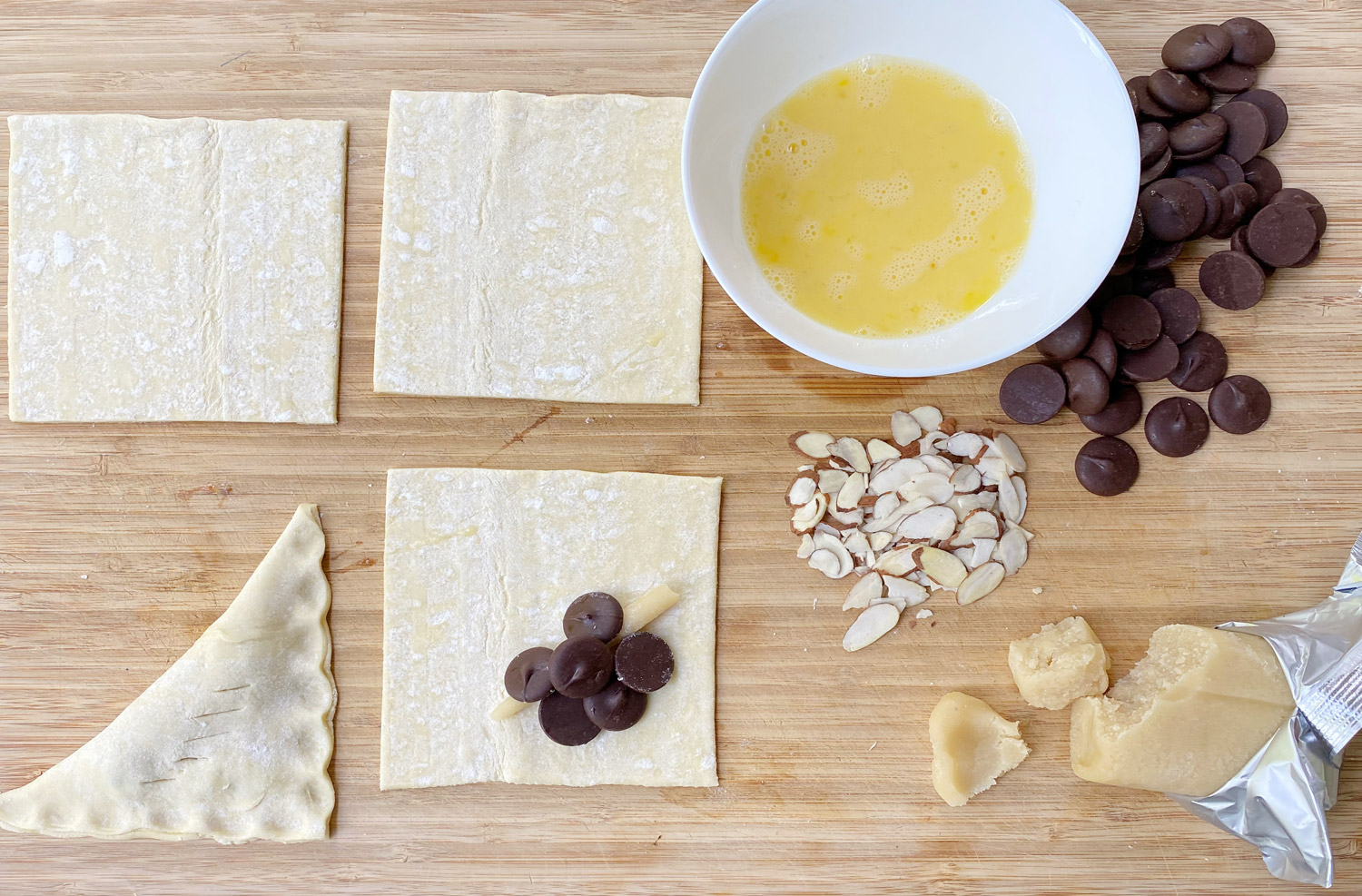 Top almond paste with 5-6 chocolate buttons. Lightly brush edges of pastry with egg. Fold pastry over itself to from a triangle, pushing gently along border to seal. Make a few small cuts along the top to vent pastry.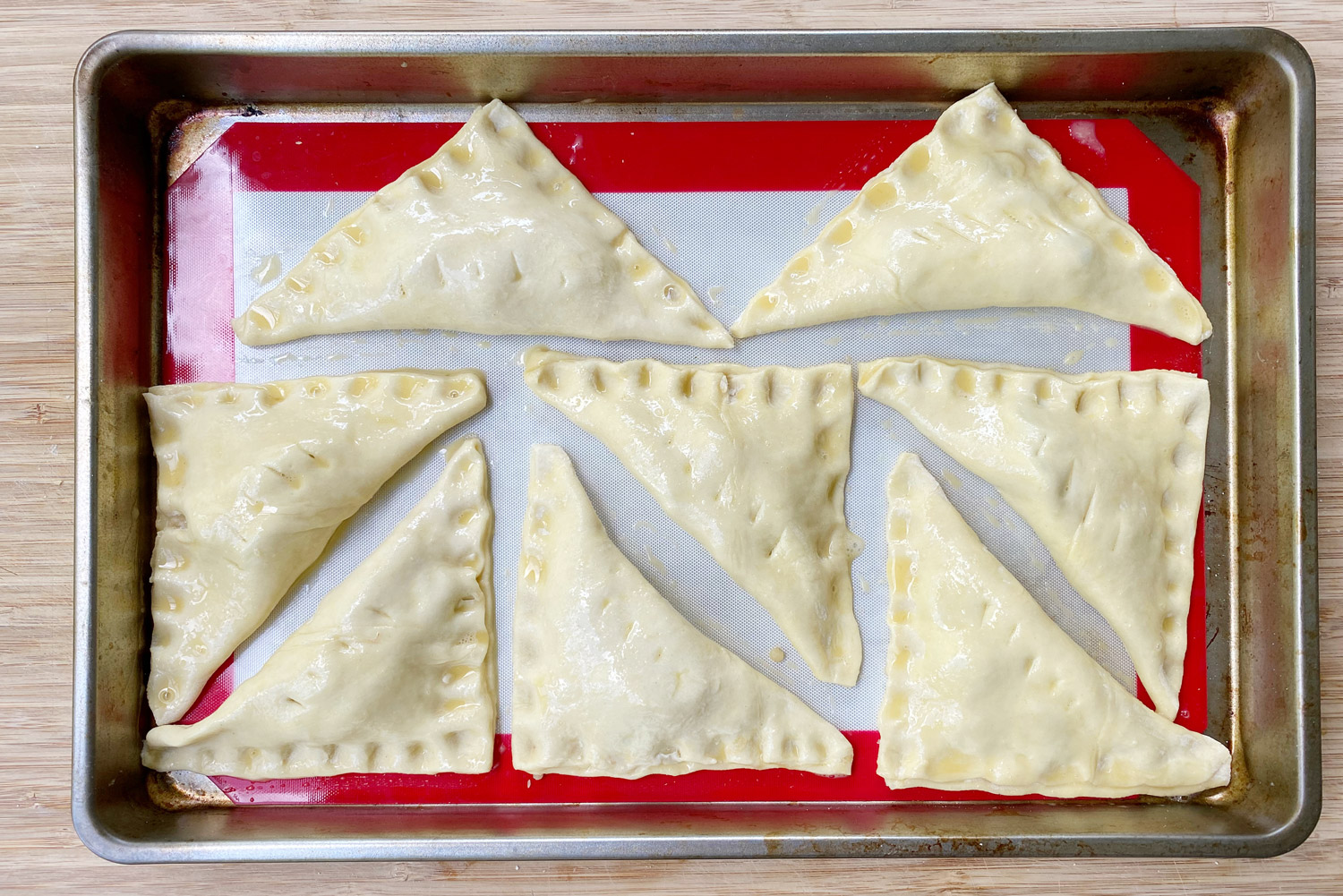 Place on parchment or baking mat on sheet pan. Brush tops of all turnovers with egg wash. Bake 15 min, rotate pan and bake another 5-8 minutes until deep golden brown and pastry edges are fully puffed. Let cool on pan until room temp.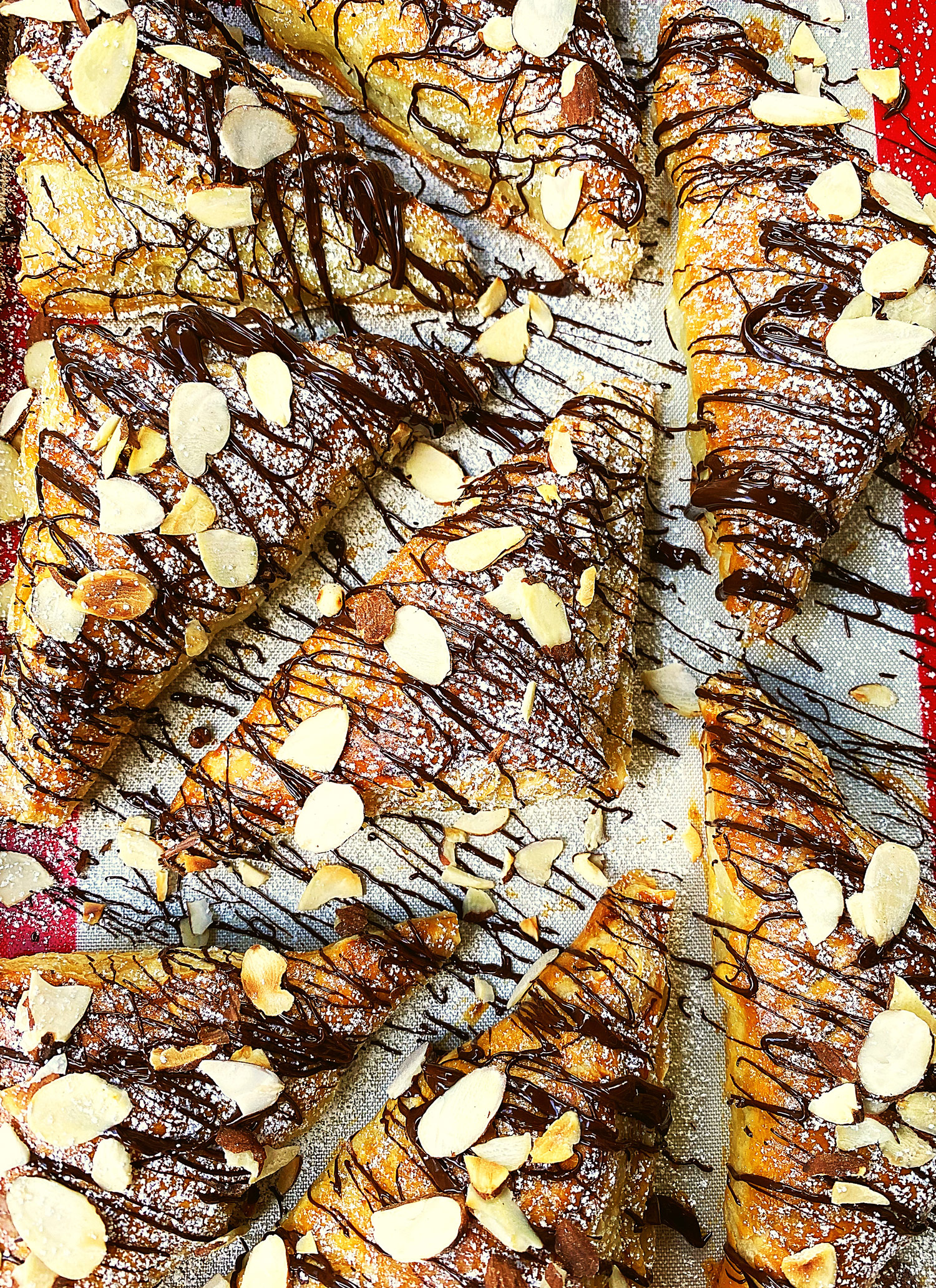 Melt 1/2 cup of chocolate buttons in microwave in short 10 second bursts, then drizzle over turnovers. Top with almonds, and dust lightly with powdered sugar. Serve immediately or within a few hours from baking (puff pastry is best when fresh).
Meet the Makers
Felix & Greg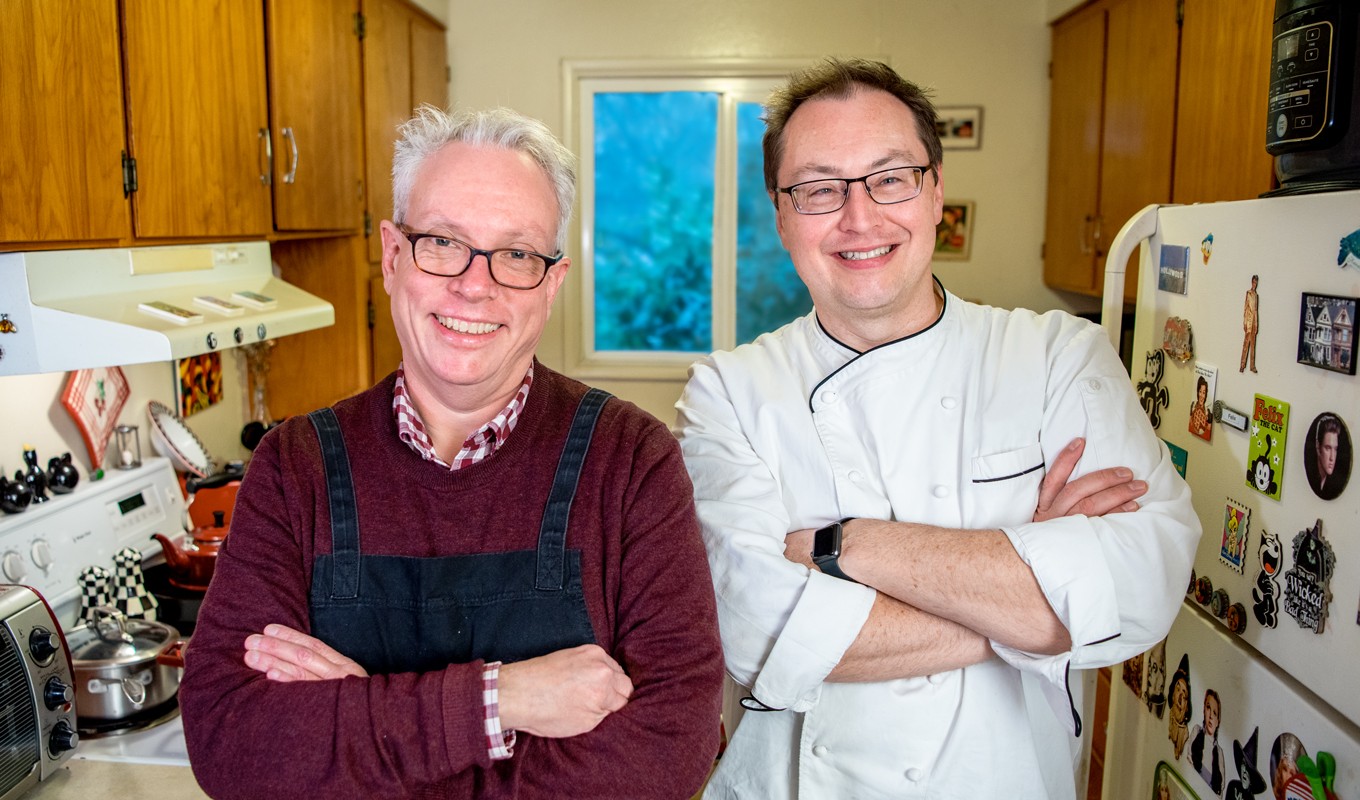 FELIX HUCK
Recipe Creator & Food Photographer
An artist and shutterbug, Felix finds beauty and inspiration in food and nature. He invents and photographs the recipes you'll find here.
GREG CABEZA
Professional Chef & Food Blogger
A food aficionado and lifelong music fan, Greg is an experienced artisan chef. He's also co-recipe creator and food blogger at Felix & Greg.
SUBSCRIBE TO OUR EMAILS
Good ideas could be cooking in your inbox. Sign up for our newsletter.