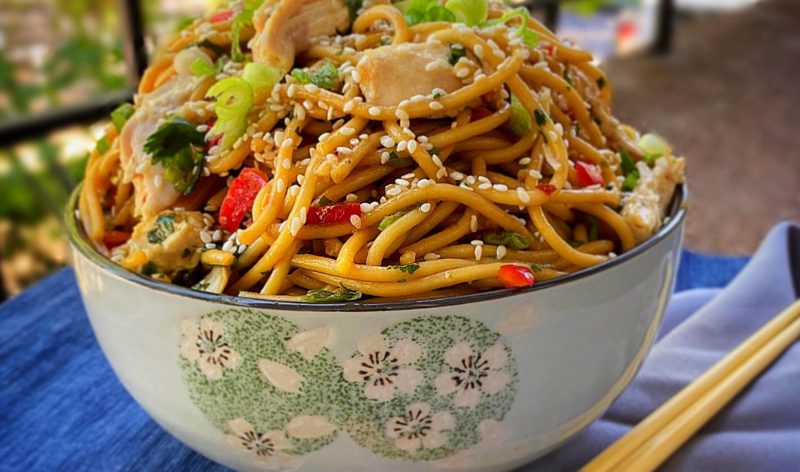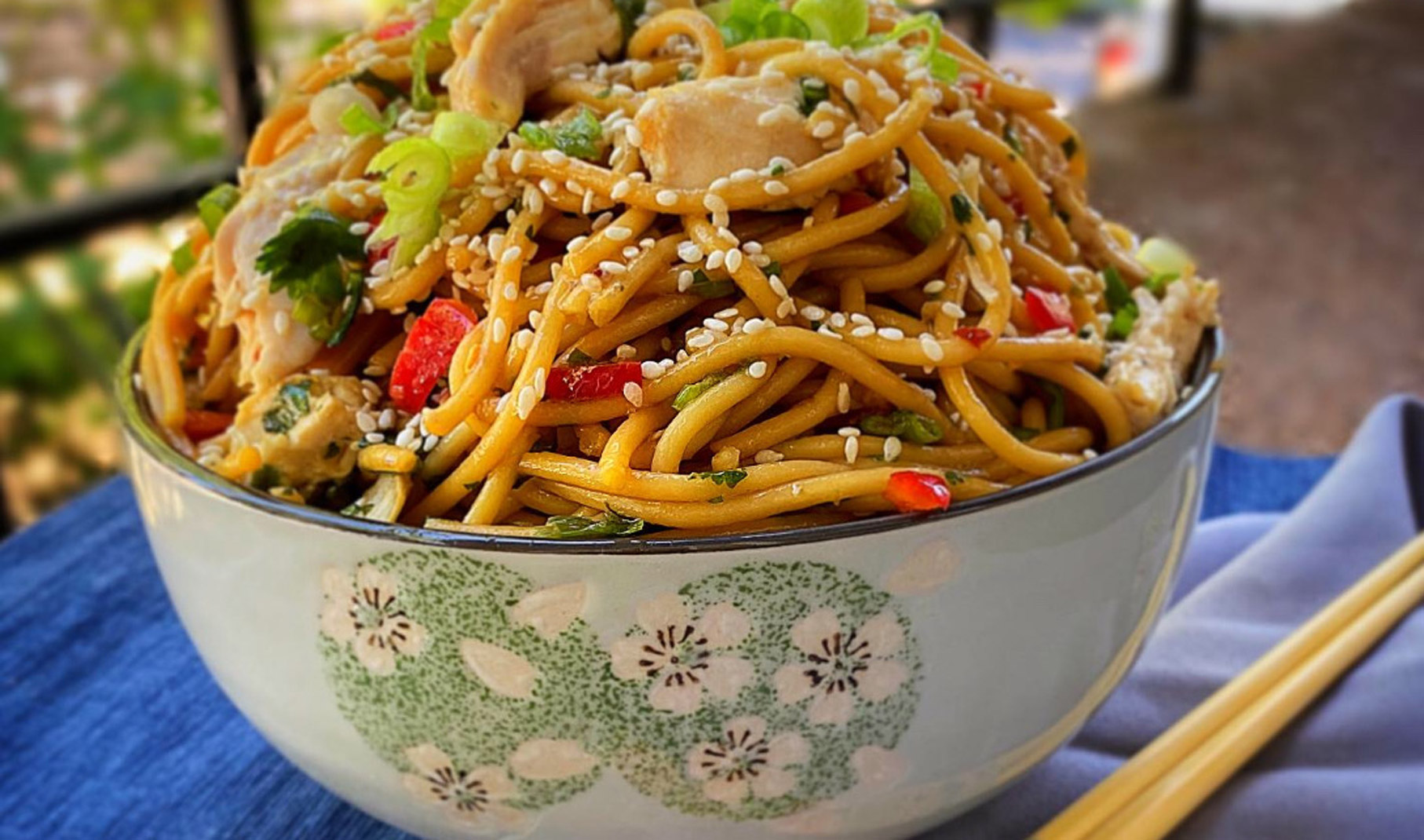 Amazing. That's the first word that escaped my mouth when I got a taste of this salad after Felix whipped it together. Then he told me the story behind this recipe, and it starts with a loss.
Felix's lifelong partner, Jay, suddenly passed away four years ago. At his celebration of life, Jay's cousin Heather made this salad for everyone. It was so delicious and comforting, Felix says, that he's made it many times since for gatherings of all kinds.
The flavors are classic Chinese favorites, like toasted sesame oil, garlic, green onions and soy sauce – yet, somehow, when they are combined and chill for a few hours, they transform into this addictive, soul-satisfying salad.
This salad is one of those magic combos. We call it a salad, but let's be real here, it's a meal. And it reminds us of how much we love eating leftover Chinese takeout – cold and straight from the fridge – and that makes it even better. When you chill it for a few hours or even overnight, time allows the flavorful layers to marry and mellow together, mixing and supporting each other, becoming something simple and sublime, like the love story of Felix and Jay. Many of our favorite recipes are much more than a few ingredients in a bowl. They speak to us, of our lives, our friends and family, and those special times, past and present. We love this little bowl of noodles with everything in us and we believe you will, too.
Jay would want you to add your own story to this recipe, play whatever music your heart desires, and make it your own. Sometimes Felix likes to add chilled prawns to this instead of chicken, or more chilies, maybe some cooked mushrooms, a healthy bit of chopped ginger, or a big squirt of Sriracha. You can easily make it to suit your own taste and mood, and it just works.
A few little tips : You can speed things up by using a store-bought roasted chicken to shred into the salad, and yakisoba noodles can be a great substitute for the spaghetti (just run them under warm water for a few seconds to get them to loosen up before adding to the salad). You might think we are kind of nuts about sesame oil and soy sauce, but this recipe needs all of what we have written here, and maybe a bit more when you're serving it the next day. We hope you enjoy it as much as we do. Please share your personal stories with us in the comments!
Chinese Sesame Noodle Chicken Salad Recipe
SERVES
4
DIFFICULTY
Easy
PREP TIME
15 min
COOK TIME
20 min
SPECIAL TOOLS
None
DIET: Can be made with GF pasta and GF soy sauce
Chinese Sesame Noodle Chicken Salad Recipe
SERVES: 4
DIFFICULTY: Easy
PREP TIME: 15 min
CHILL TIME: 20 min
SPECIAL TOOLS: None
DIET: Can be made with GF pasta and GF soy sauce
Ingredients
1 lb spaghetti, dry weight, cooked al dente (or 3 lb yakisoba noodles)
1 bunch cilantro, chopped rough
1 bunch green onions, chopped
1 red bell pepper, diced small
2 chicken breasts, cooked and shredded
Dressing
½ c toasted sesame oil
¼ c vegetable oil
¾ c soy sauce
1 T red pepper flakes
2-3 T garlic, chopped fine
2 T toasted sesame seeds
Instructions
Whisk all dressing ingredients together. In large mixing bowl, combine remaining ingredients except sesame seeds, then chill at least one hour or overnight. Garnish with sesame seeds and more green onions when serving. Enjoy!
Meet the Makers
Felix & Greg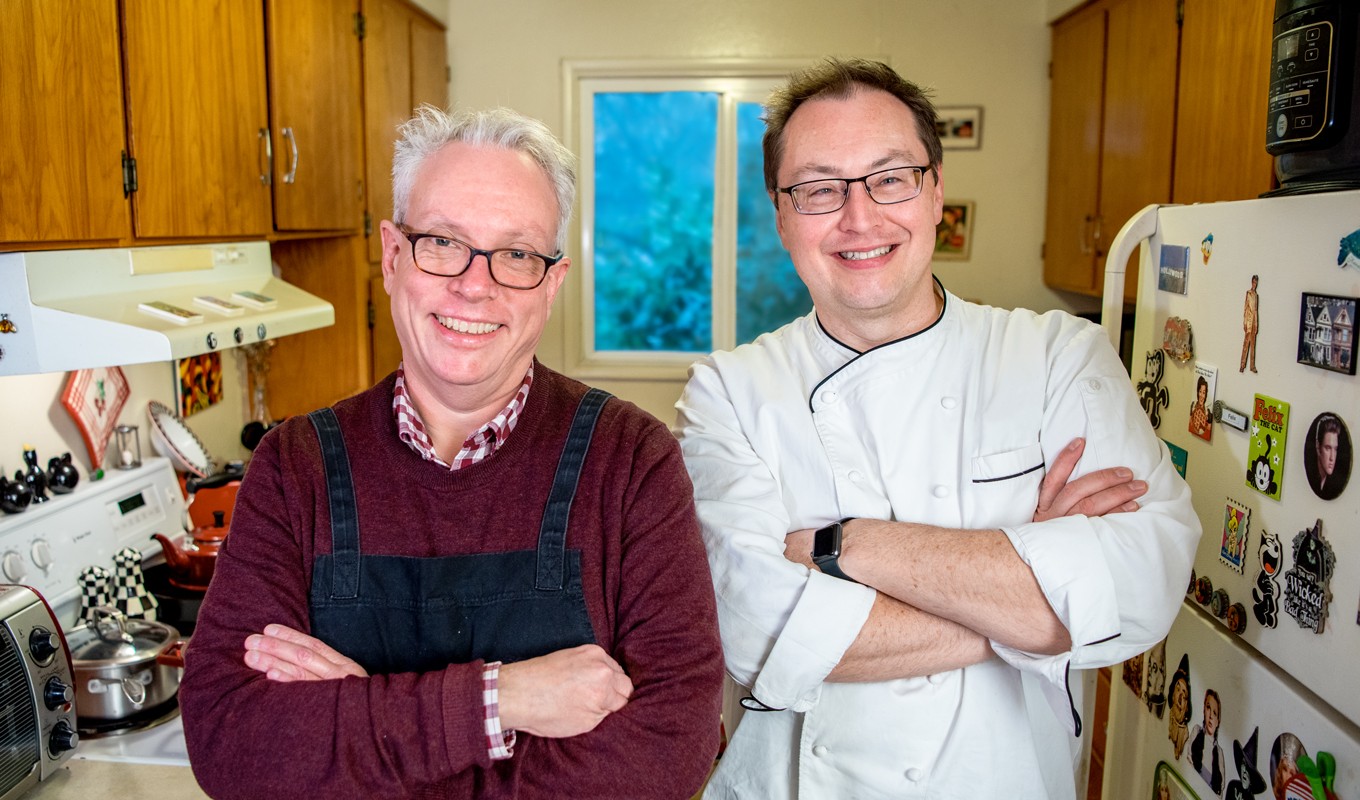 FELIX HUCK
Recipe Creator & Food Photographer
An artist and shutterbug, Felix finds beauty and inspiration in food and nature. He invents and photographs the recipes you'll find here.
GREG CABEZA
Professional Chef & Food Blogger
A food aficionado and lifelong music fan, Greg is an experienced artisan chef. He's also co-recipe creator and food blogger at Felix & Greg.
SUBSCRIBE TO OUR EMAILS
Good ideas could be cooking in your inbox. Sign up for our newsletter.