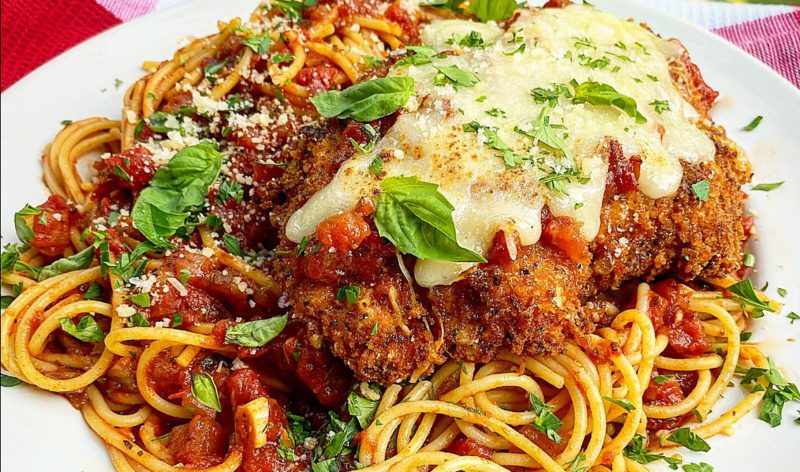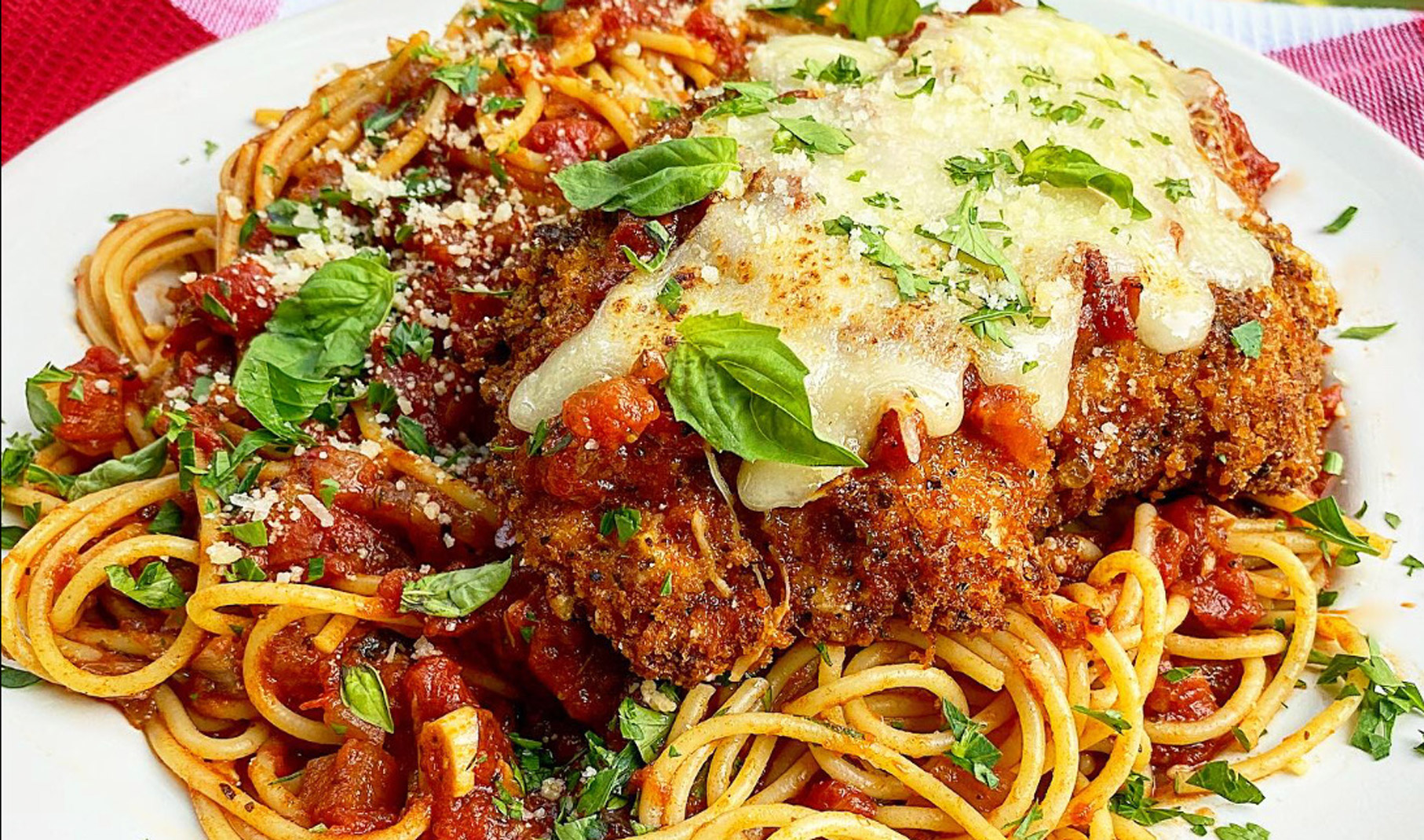 Felix and I have enjoyed Chicken Parmesan many times over the years, usually in restaurants, served the tasty traditional way, with pasta and marinara alongside. For this recipe, however, Felix decided to dial up the flavor factor with a hefty dose of crushed red pepper flakes tossed into his fabulous red wine marinara. The sauce takes the entire experience to a whole new level. I've worked in a handful of Italian restaurants and have always loved fresh well-made Chicken Parmesan, but this just blew me away! I absolutely love the spicy marinara over the juicy chicken with its melted golden cheese and a simple spaghetti side, which gets some serious pop and pizzazz from the fantastic sauce. Also consider serving some toasty buttered Italian bread on the side. It's a deliriously delicious and romantic dish, yet altogether simple. It's perfect for dinner date and a movie night, enjoyed with one of our favorites flicks, like Moonstruck or The Princess Bride. Go round-up the ingredients and get started!
Make a Gluten-Free Version
It's a magnificent meal if there ever was one, and it's even possible to make it gluten-free. Many stores carry gluten-free pastas, and gluten-free breading can be used for the chicken breast. If you don't want to deal with cooking a whole breast, like we have here, simply cut the breast into cutlets, bread as directed, and reduce the cooking time by about half.
Create the Perfect Sauce
We highly recommend making the sauce from scratch. You can make it days in advance, and it can be frozen for months. You'll have plenty of extra sauce for other uses, and you can thank us later. If you really must use a store-bought sauce—we get it, sometimes we all have to make shortcuts—choose one with low sugar and lots of chunky tomatoes, then add a bit of crushed red chili flakes to taste, starting with about a half teaspoon per quart, and let them simmer in the sauce for a few minutes before tasting and adding a touch more, if desired. The chilies really make a huge difference in this dish, but they shouldn't overpower the other flavors.
Once you've got the table set and the bottle of chianti opened, you're ready for a night you'll never forget. We think you'll love this dish as much as we do. Our recipe says it serves 2; however, the sauce makes several servings. We also decided to make three chicken breasts, so we'd have extra (trust us, you'll want extra) to make an incredible toasted Chicken Parmesan sandwich the next day! Wow, just wow, but that story is for another day.
Chicken Parmesan with Spicy Marinara Recipe
SERVES
2 (chicken)
YIELDS
2 quarts (sauce)
DIFFICULTY
Medium
PREP TIME
30 min
COOK TIME
1 hr (sauce) 12 min (chicken)
DIET: GF (if using GF pasta, GF flour and GF breadcrumbs)
Chicken Parmesan with Spicy Marinara Recipe
SERVES: 2 (chicken)
YIELDS: 2 quarts (sauce)
DIFFICULTY: medium
PREP TIME: 30 min
COOK TIME: 1 hr (sauce) 12 min (chicken)
DIET: GF (if using GF pasta, GF flour and GF breadcrumbs)
Ingredients
Felix and Greg's Spicy Marinara
2 T olive oil
1 yellow onion, chopped fine
5 cloves garlic, minced
½ c red wine
2 cans (14.5 oz ea) diced tomatoes
1 can (28 oz) crushed tomatoes
2 T sugar
1 T dried basil
½ T onion powder
1 T Italian seasoning
2 bay leaves
½ t dried oregano
½ T crushed red pepper flakes
pinch of salt and pepper to taste
Chicken Parmesan
3 chicken breasts, about 2 lb total
3 c flour
pinch of salt and pepper
1 T+ ½ t onion powder
3 lg eggs
2 c shredded Parmesan
3 c panko breadcrumbs
½ T garlic powder
2 T dried parsley (optional)
3 c vegetable oil
⅓ c mozzarella, shredded
fresh basil and fresh parsley, chopped for garnish
spaghetti, cooked, for side
Instructions
Felix and Greg's Spicy Marinara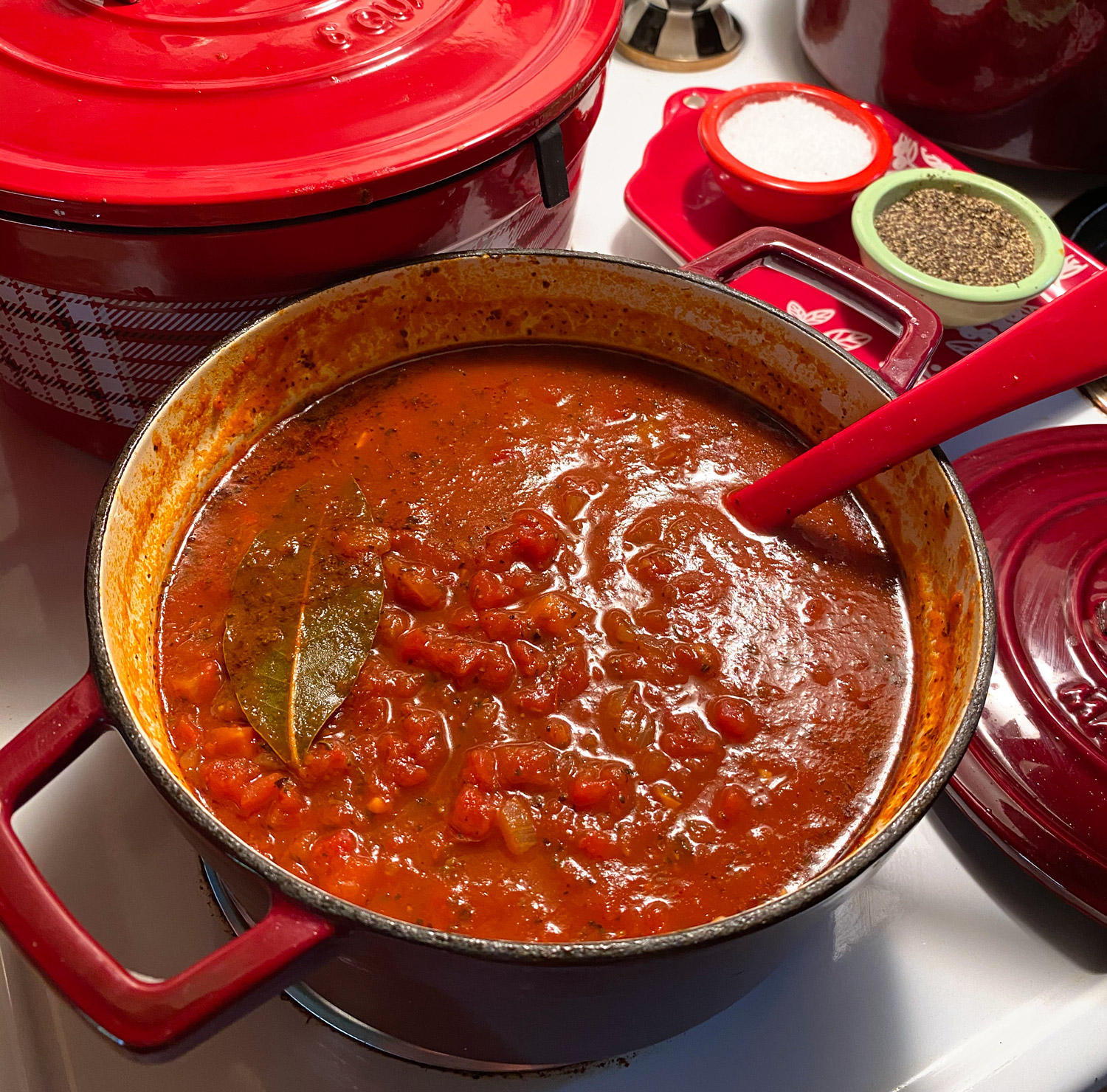 In large soup or sauce pot, sauté onion in olive oil over medium heat until softened, approx. 5 min. Add garlic and cook 1 min more. Deglaze with red wine, adding all remaining ingredients. Bring to a simmer and cook gently for 1 hr, stirring occasionally. Remove bay leaves and keep sauce warm, if using immediately. Reserve remainder for other uses.
Chicken Parmesan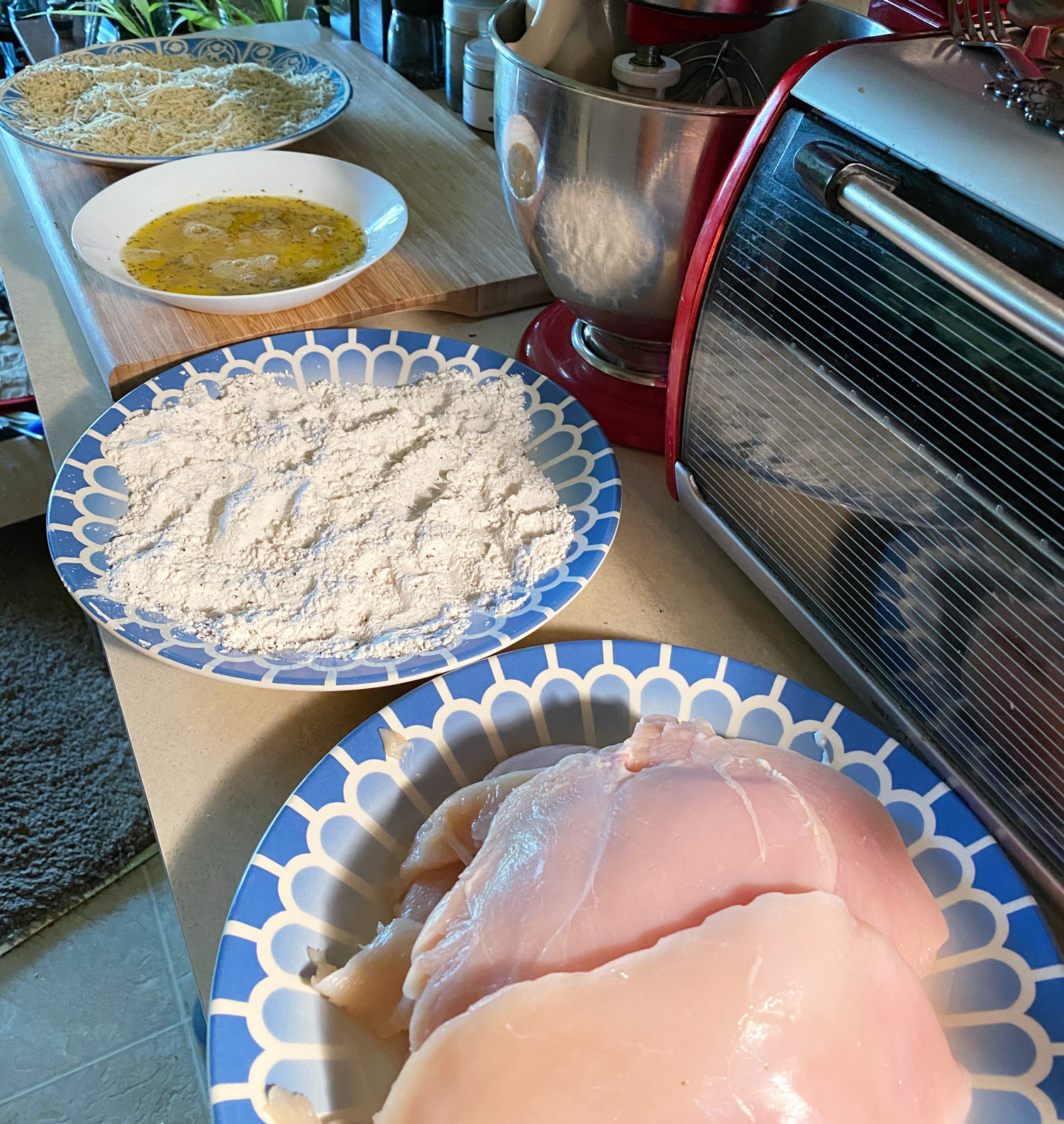 Preheat oven to 350°. Place chicken breasts into a resealable plastic bag, pounding them to ¼" thickness with a meat mallet, one at a time. Set up a breading station with three bowls. In the first bowl, add flour, pinch of salt, pepper and onion powder. In the second bowl, beat eggs with a pinch of salt and pepper. In the third bowl, toss Parmesan with panko breadcrumbs and add onion powder, garlic powder and dried parsley, if using.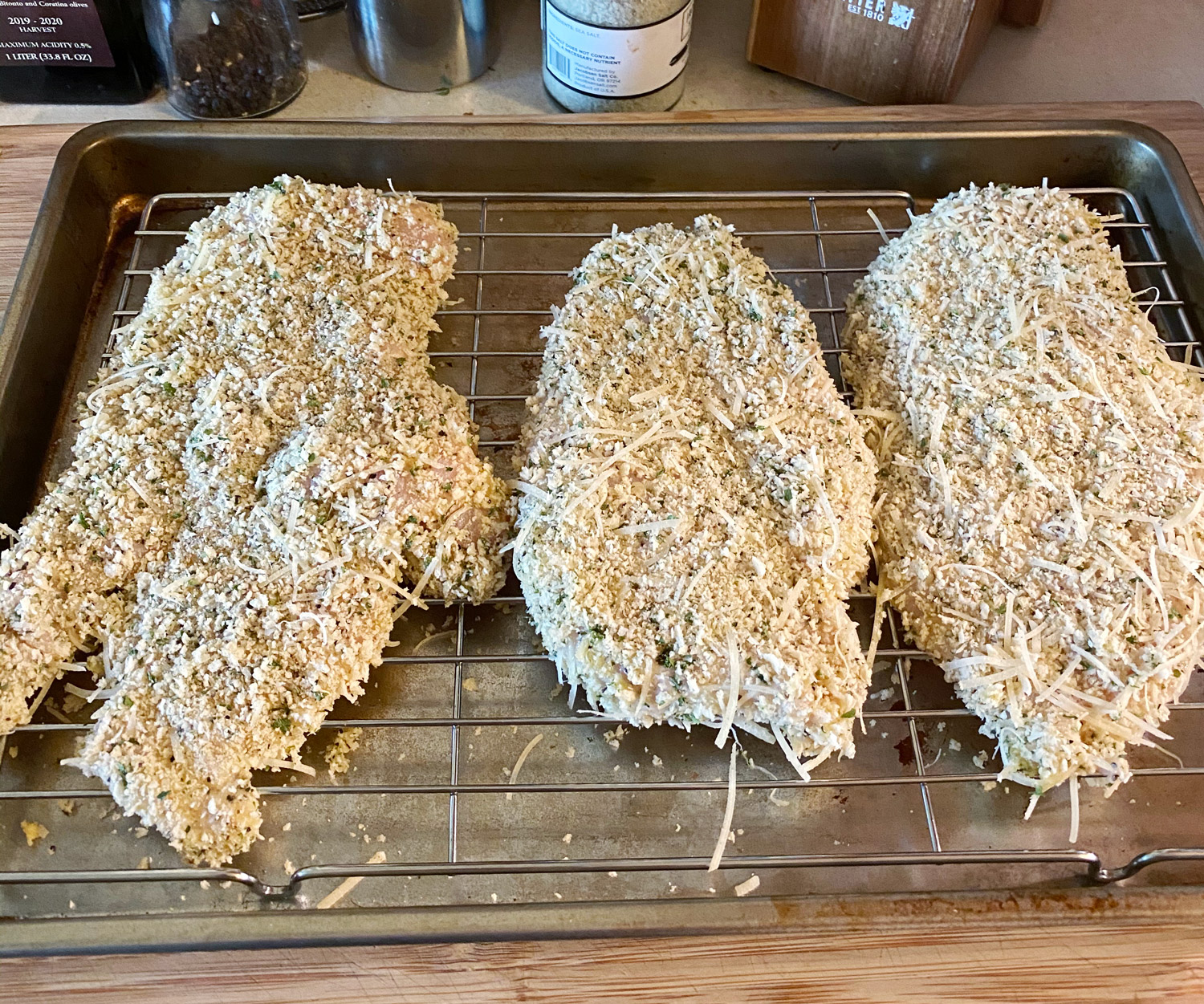 Dredge chicken breasts in flour, then into egg, and finally coat well in Parmesan mixture.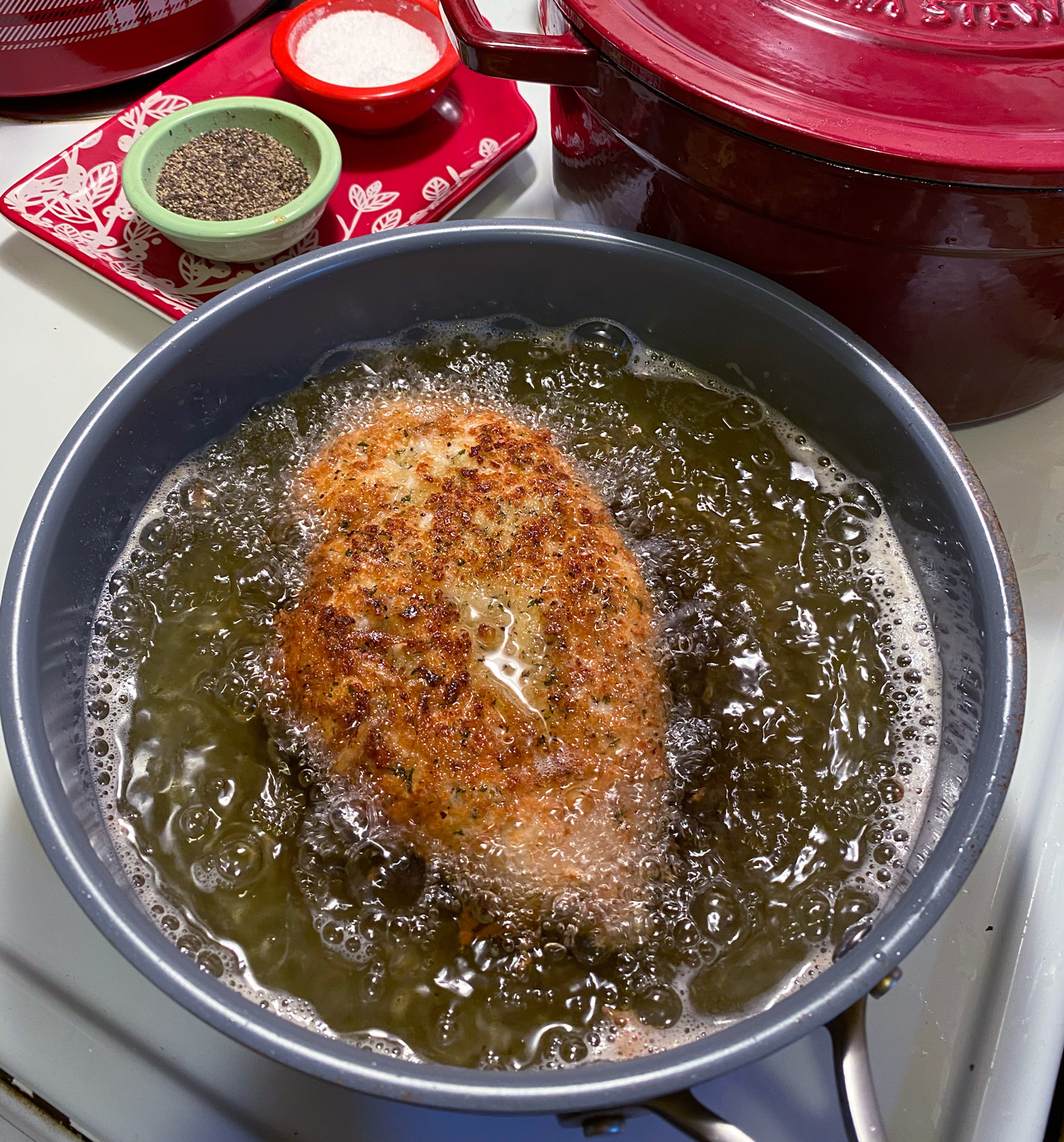 Heat oil to shimmering in skillet on stovetop and fry each breast 3 min per side, without crowding pan.
Transfer to a sheet pan fitted with a roasting rack. Top each breast with ¼ c spicy marinara and 2 T mozzarella. Bake approx. 6 min more until golden and internal temp reaches 165°. Toss warm cooked spaghetti with enough marinara to coat and divide among plates. Top pasta with hot Chicken Parmesan, garnishing with chopped basil and parsley. Serve immediately with Italian wine and toasty bread.
Meet the Makers
Felix & Greg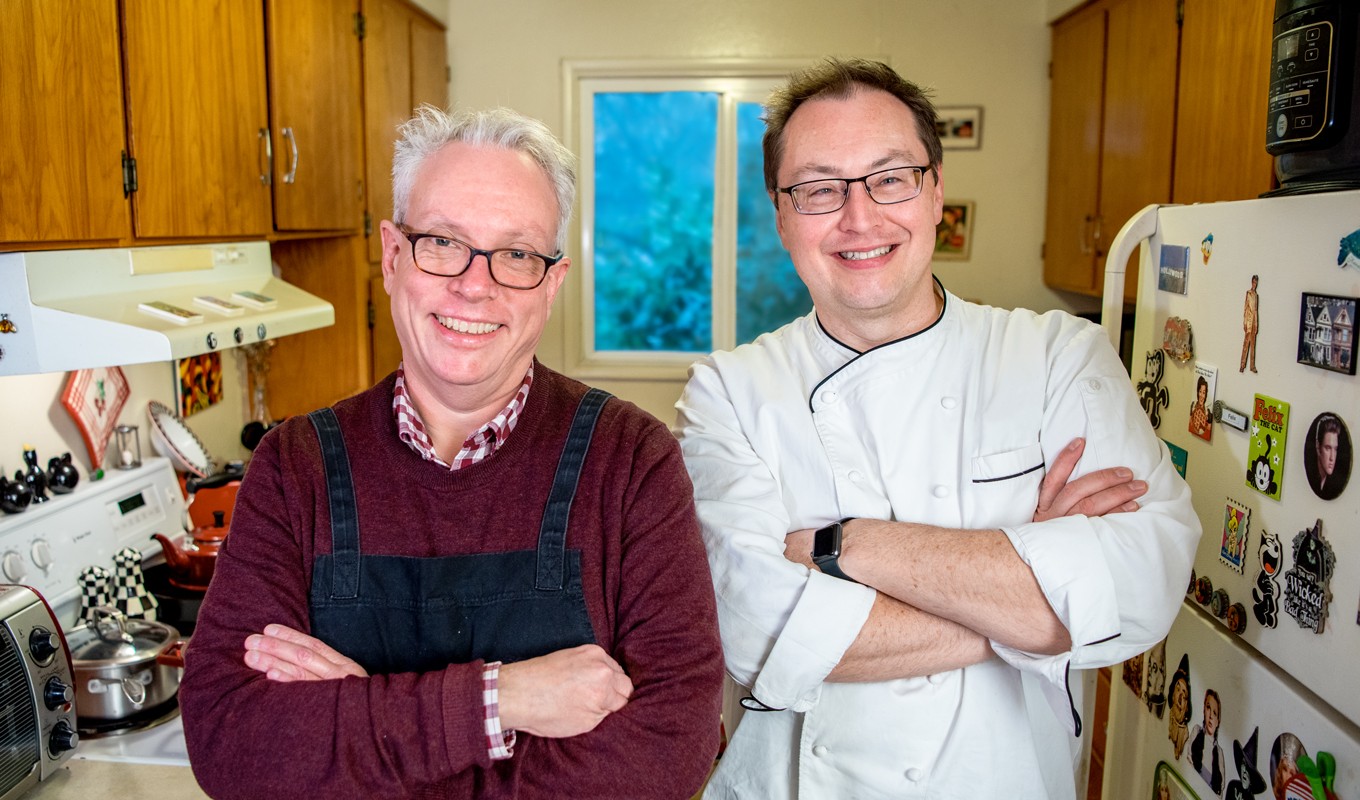 FELIX HUCK
Recipe Creator & Food Photographer
An artist and shutterbug, Felix finds beauty and inspiration in food and nature. He invents and photographs the recipes you'll find here.
GREG CABEZA
Professional Chef & Food Blogger
A food aficionado and lifelong music fan, Greg is an experienced artisan chef. He's also co-recipe creator and food blogger at Felix & Greg.
SUBSCRIBE TO OUR EMAILS
Good ideas could be cooking in your inbox. Sign up for our newsletter.