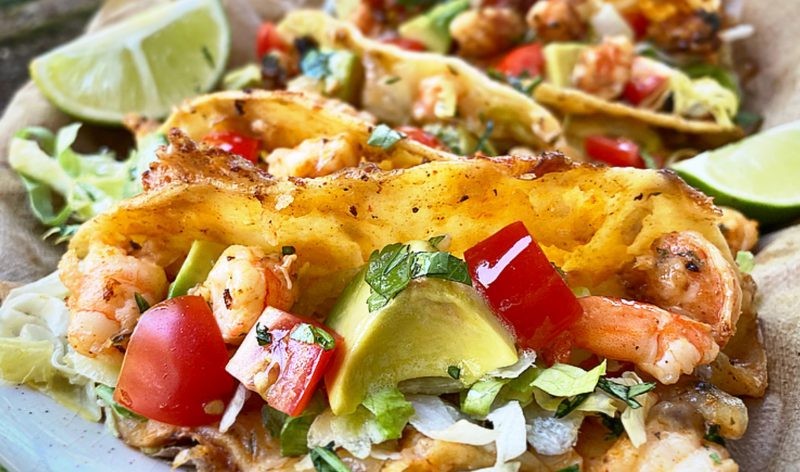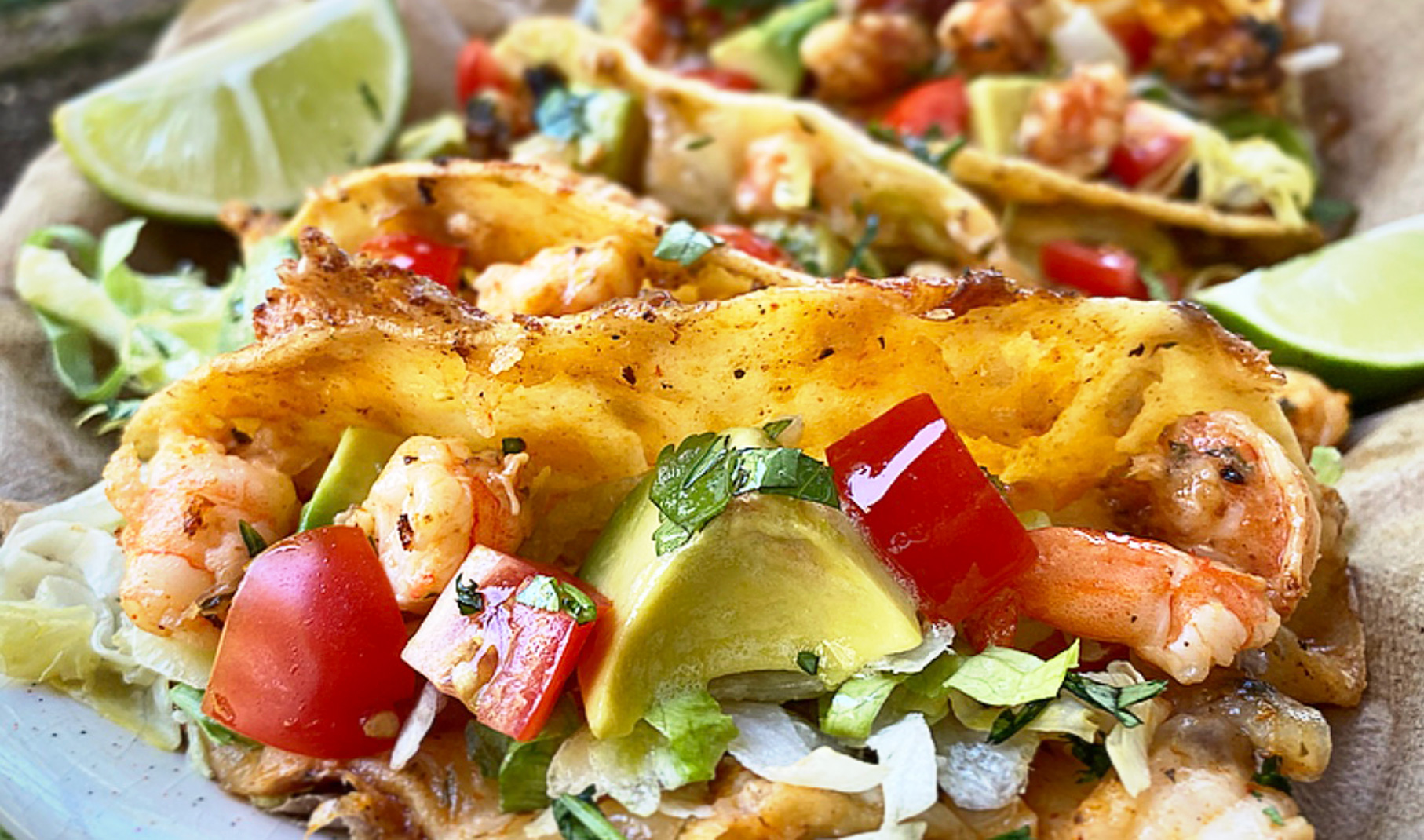 Felix and I are kinda cheesy. We love cheesy movies, cheesy love songs and cheesy tacos! We've never turned our back on a tasty taco, especially when we have some spicy shrimp to pile inside! So, we wondered what would happen if we mixed up the flavors of a melty Jack quesadilla with our sautéed shrimp tacos, and then threw in some avocado, peppers and lots of garlic. Well, it turns out, it's freaking delicious!
We aren't afraid of some heat in our tacos, so we've used a serrano chile pepper, a jalapeño and some healthy dashes of Tapatio hot sauce. If you want it a bit less spicy, just omit the serrano, and season to your taste. Just don't skimp on the shrimp. We have a thing for these little guys — we love to eat them up in tacos!
Go ahead and give in to your cheesy side with us. Put on some cheesy 1980s movie, like "The Three Amigos" or "Top Secret" ("I know a little German. He's right over there!"). Or a cheesy pop hit like Wall of Voodoo's "Mexican Radio," then sit down to enjoy these tasty tacos for some cheesy fun with your cheesy friends. You might hear something along those lines playing at our homes while we eat tacos. If so, you're welcome to pop your head in the window Pee-wee Herman style. We'll share our tacos if you'll share yours!
Cheesy Shrimp Tacos Recipe
SERVES
4
DIFFICULTY
Easy
PREP TIME
15 min
COOK TIME
10 min
DIET: None
SERVES: 4
DIFFICULTY: Easy
PREP TIME: 15 min
COOK TIME: 10 min
Ingredients
½ white onion, chopped fine
1 Roma tomato, chopped
1 serrano chile, seeded and minced
1 jalapeño, seeded and minced
3 cloves garlic, minced
drizzle of olive oil
1 lb raw shrimp, cut into half or thirds depending on size
dash of hot sauce to taste (Tapatio)
1 T ketchup
1 lime, juice of
1 T taco seasoning
¼c cilantro, chopped
¼c vegetable oil
12 corn tortillas
½ lb Jack cheese, shredded
1 avocado, cut into cubes
1/4 head iceberg lettuce, shredded
lime wedges
chopped tomato, as garnish
Instructions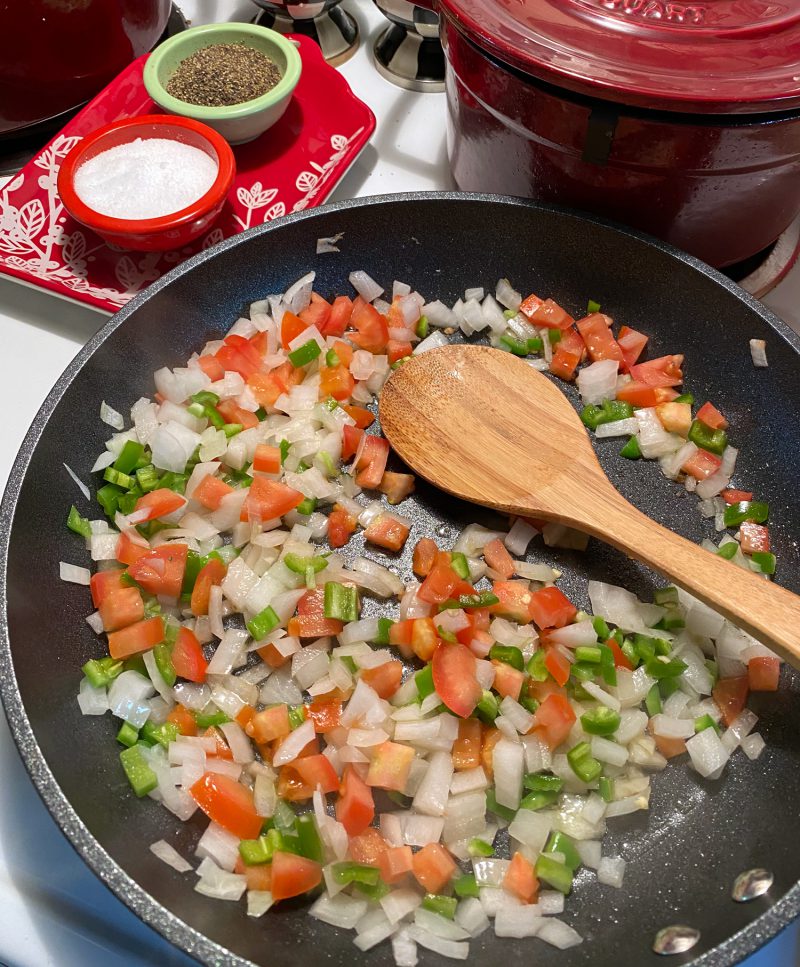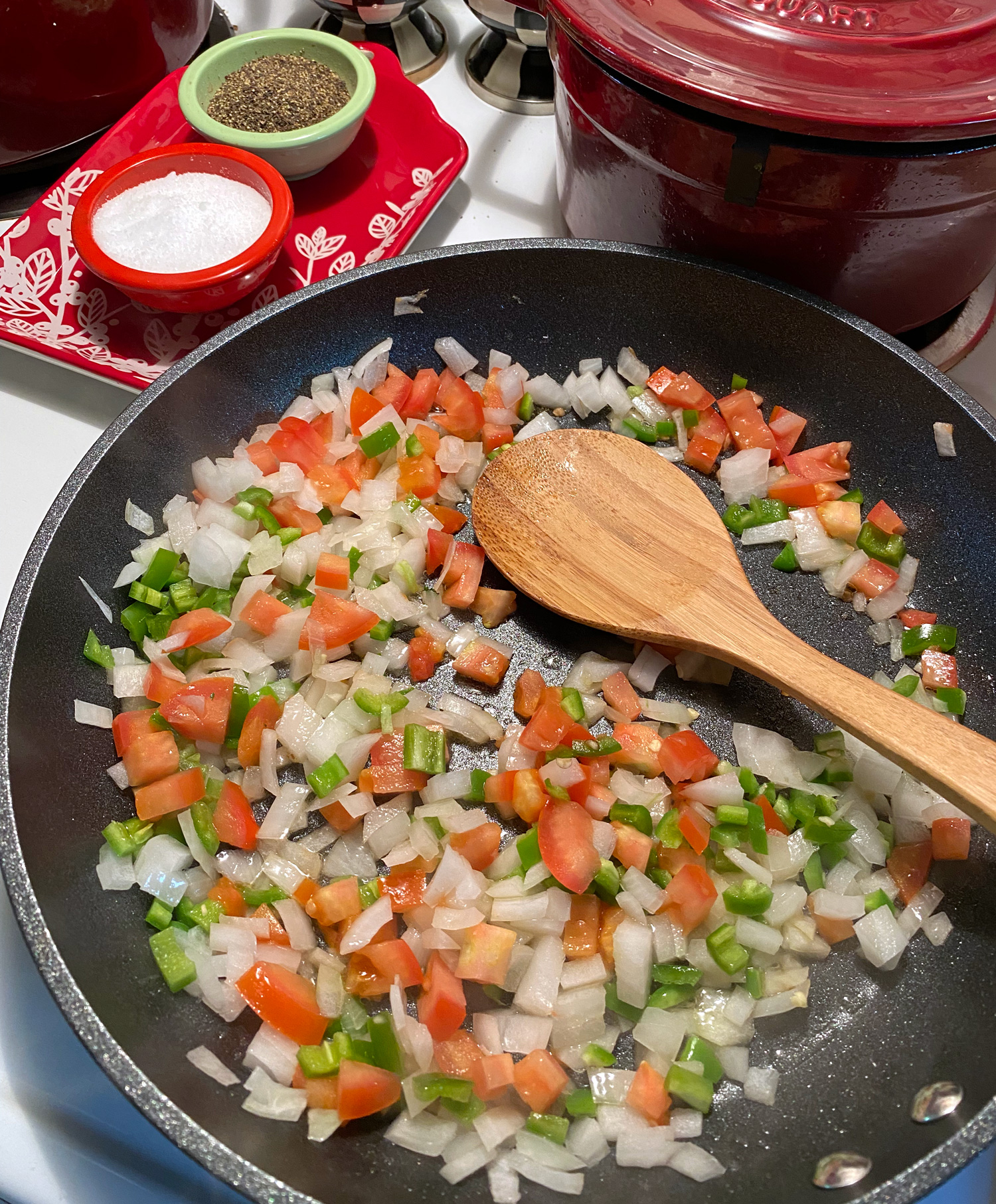 Add onion, tomato, chilis and garlic to sauté pan with a drizzle of olive oil. Cook 1 min.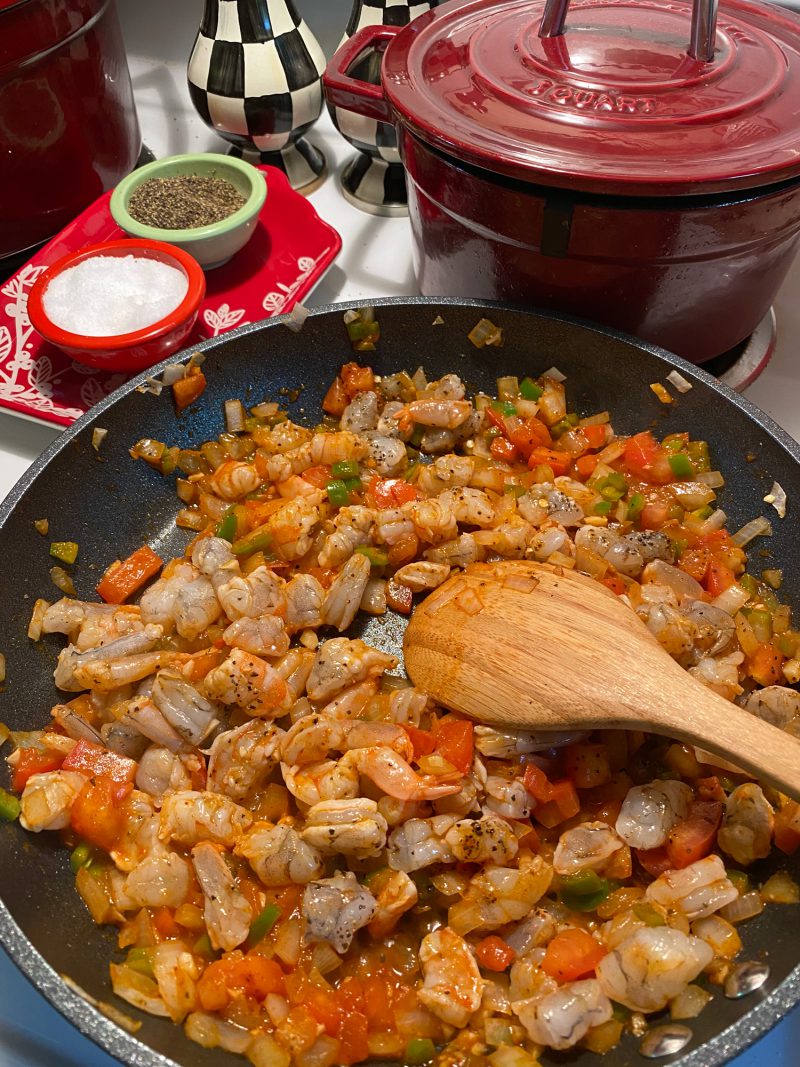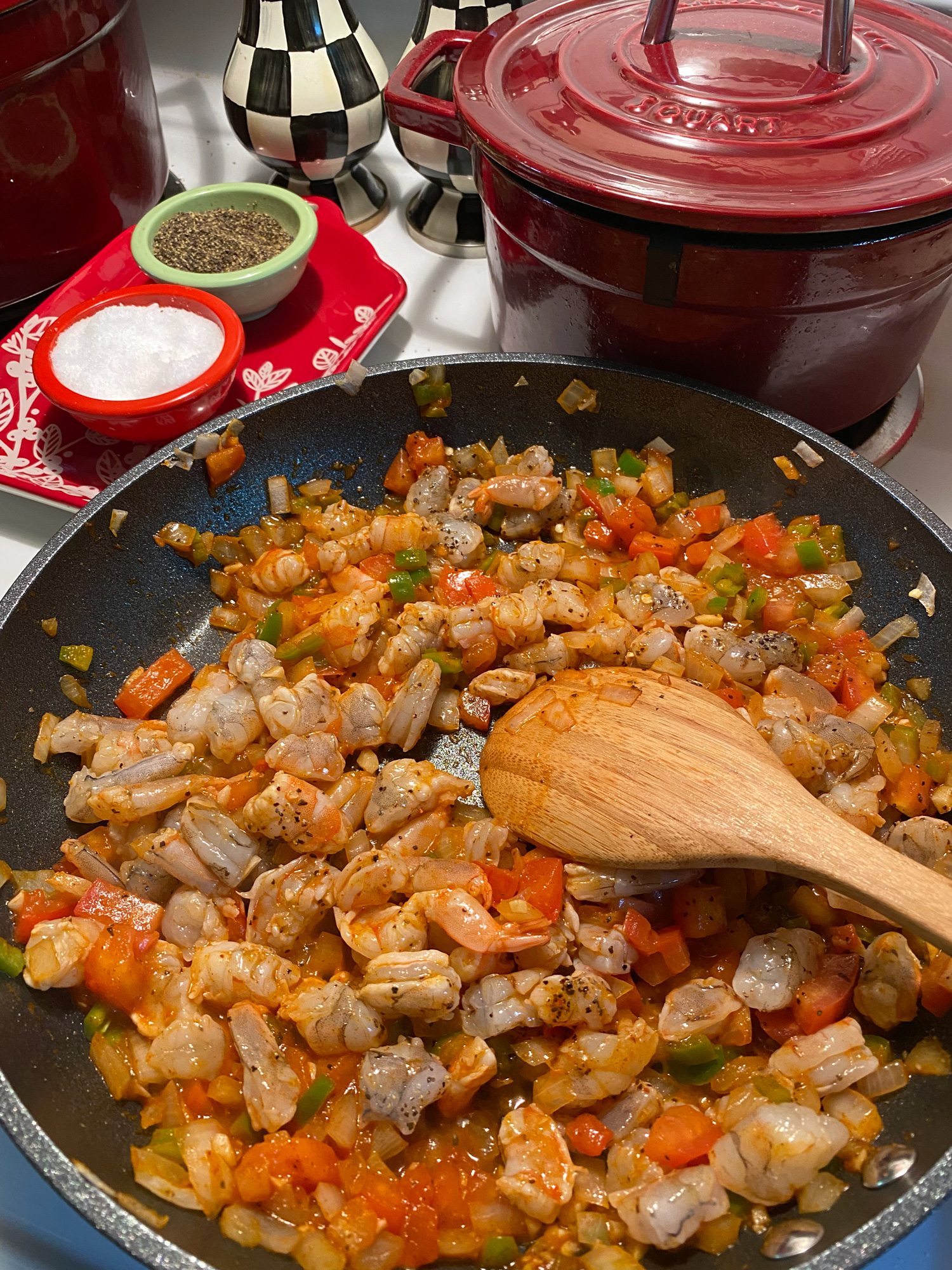 Add shrimp and cook just until pink, 2 min more. Add hot sauce, ketchup, lime juice, taco seasoning and cilantro, then toss to combine. Remove from heat and set aside.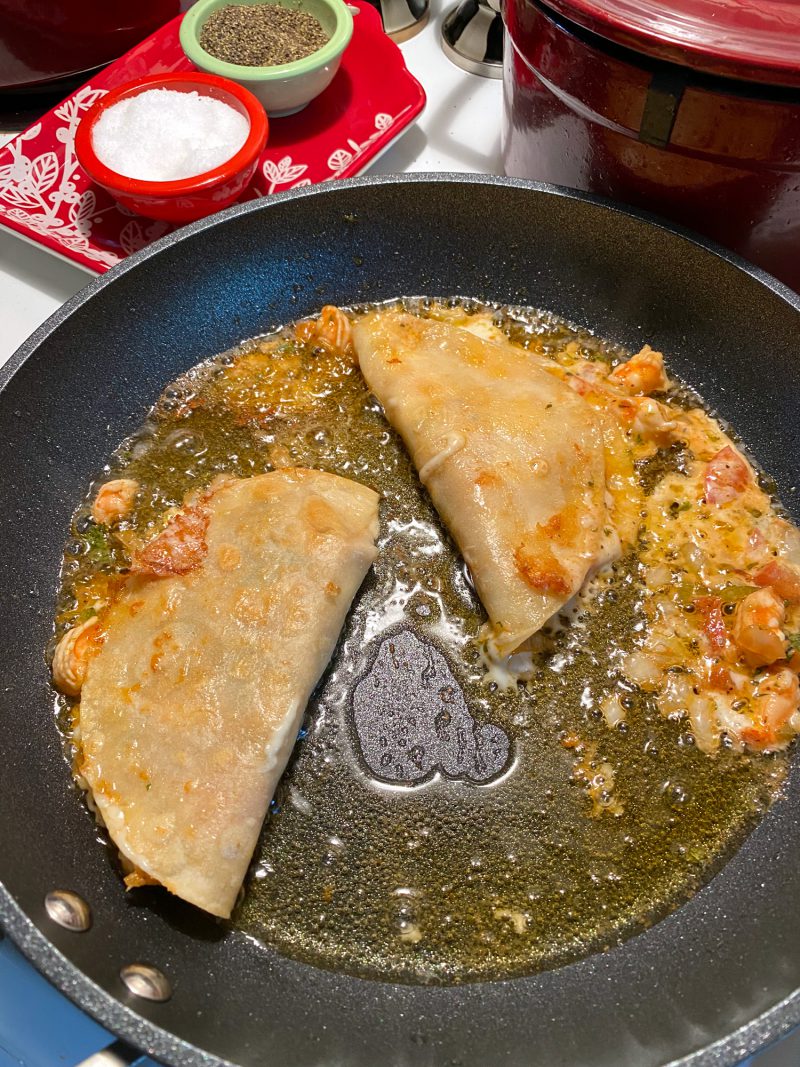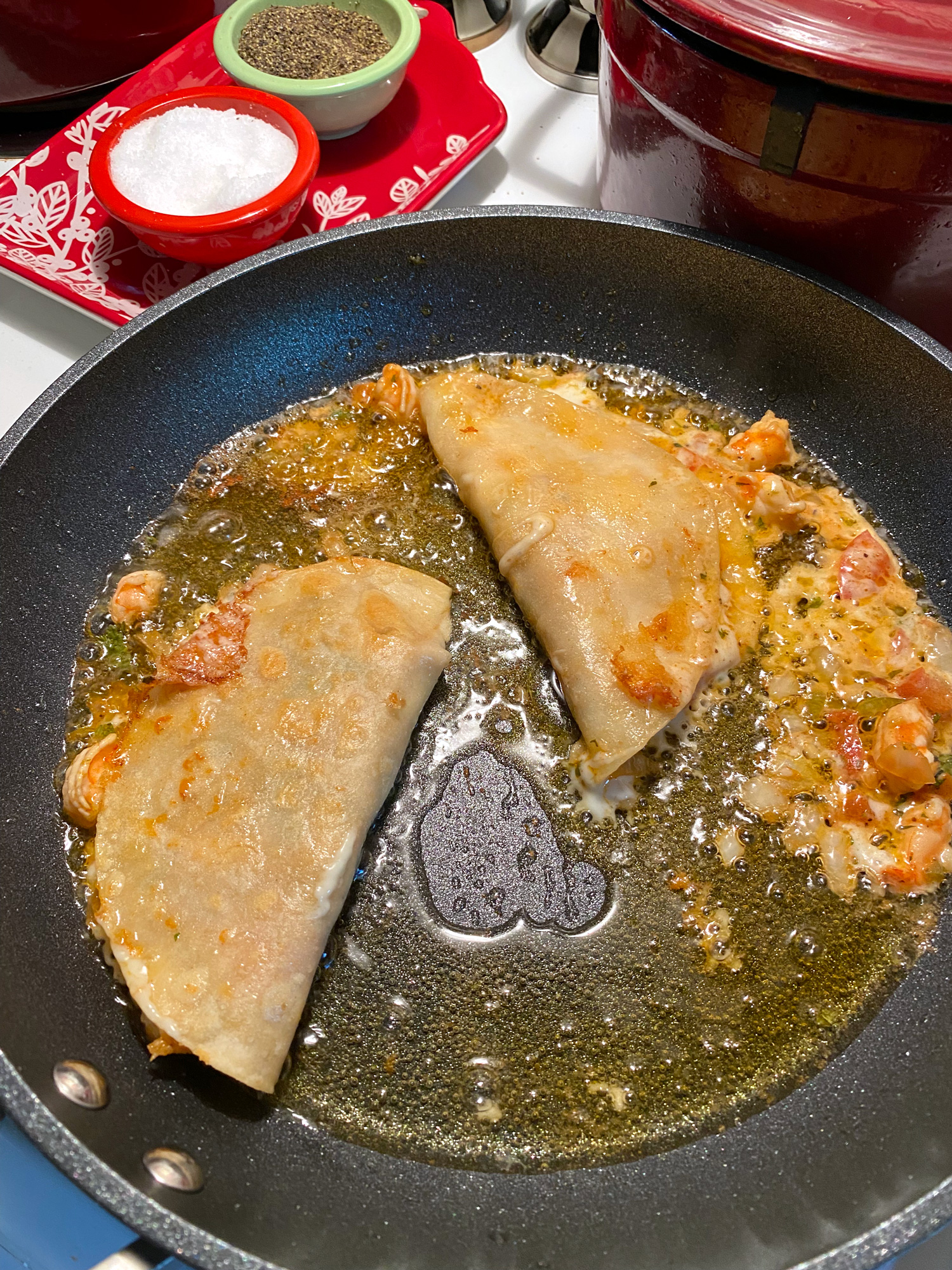 Wipe sauté pan and add a drizzle of vegetable oil. Place a corn tortilla in pan and fill lightly on one side with a quarter cup or so of shrimp mixture, topping with a sprinkle of cheese. Fold tortilla over filling and fry 1 min per side. Transfer to serving plate and repeat with remaining tortillas and filling, adding more oil, as needed. Garnish tacos with avocado, lettuce, lime wedges and more chopped tomato.
Meet the Makers
Felix & Greg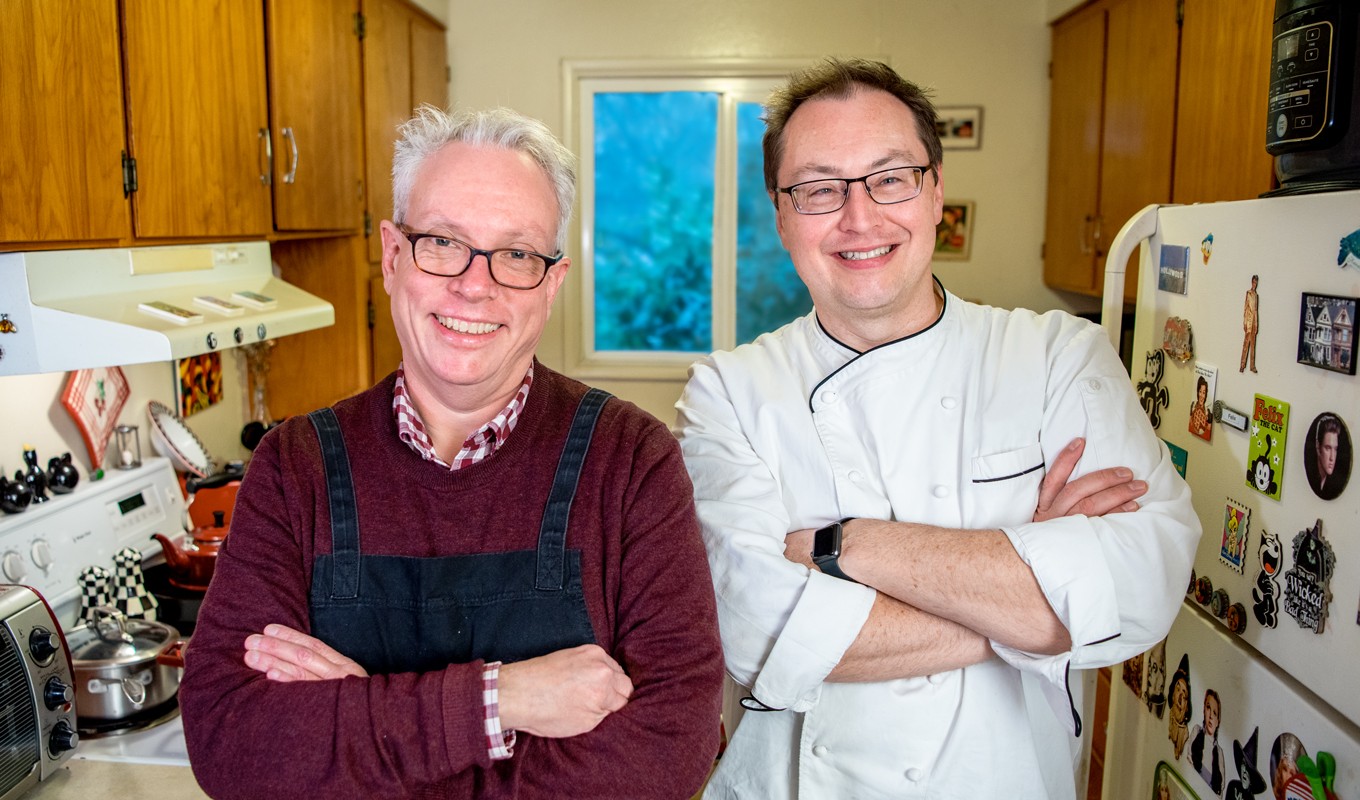 FELIX HUCK
Recipe Creator & Food Photographer
An artist and shutterbug, Felix finds beauty and inspiration in food and nature. He invents and photographs the recipes you'll find here.
GREG CABEZA
Professional Chef & Food Blogger
A food aficionado and lifelong music fan, Greg is an experienced artisan chef. He's also co-recipe creator and food blogger at Felix & Greg.
SUBSCRIBE TO OUR EMAILS
Good ideas could be cooking in your inbox. Sign up for our newsletter.